This website is intended as an adjunct to the paperback book 'Camp Every County, Washington' by Brendan J. McDonald, available on Amazon.com. Included on this website are photographs and texts which could not be included in the paperback edition, where you will find full narrative versions of each section found below.
LEWIS COUNTY (Chehalis/Centralia)
Ohanapecosh Campground (Lewis Co.'s MOST UNIQUELY WASHINGTON CG)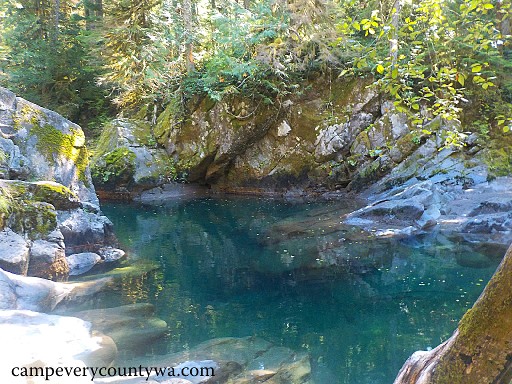 The crystalline waters of the Ohanapecosh River will dazzle you.
For more photos of Ohanapecosh MRNP click HERE
Walupt Lake Campground (one of Lewis Co.'s BEST CGs FOR ENTIRE FAMILIES with access to BEST BOAT-IN SITES)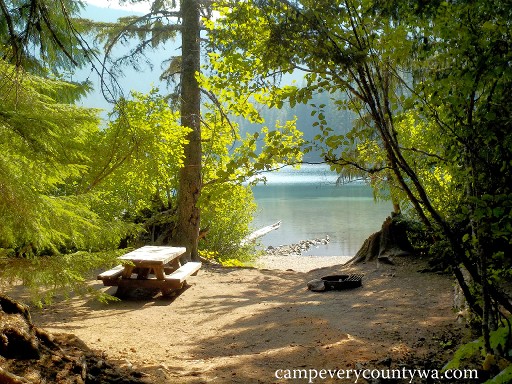 The safe swimming shores of Walupt Lake make it a family favorite
For more photos of Walupt Lake CG click HERE
Chambers Lake Campground (Lewis Co.'s BEST RUSTIC CG)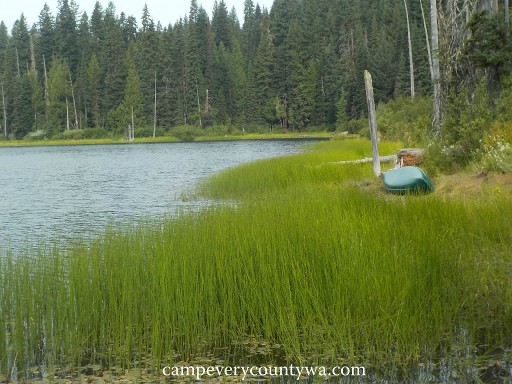 Placid, verdant Chambers Lake is the centerpiece of a decommissioned USFS campground that is more popular now than ever before.
For more photos of Chambers Lake CG click HERE
Soda Spring Forest Camp (Lewis Co.'s BEST FREE CG)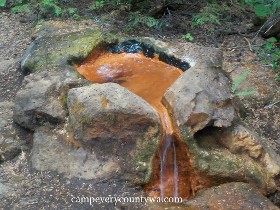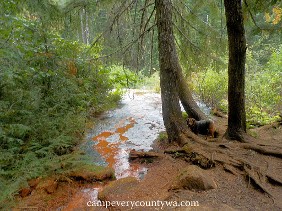 The stone cauldron pours down the orange-striped water of Soda Spring
onto the mineral flat below
For more photos of Soda Spring Forest Camp click HERE
Iron Creek Campground (Lewis Co.'s MOST APPEALING CGs TO THE SENSES)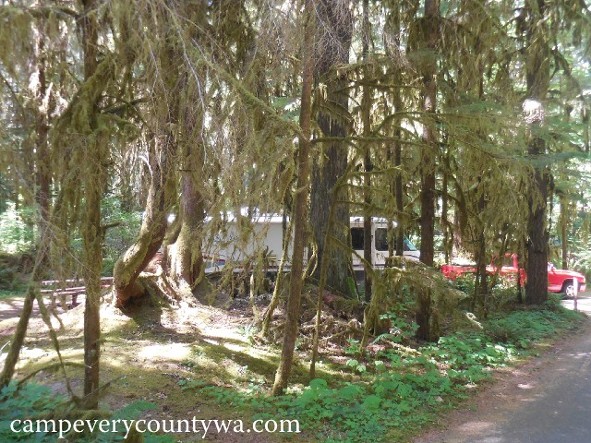 Iron Creek is a campground with that old USFS charm
For more photos of Iron Creek Campground click HERE
Ike Kinswa State Park (Lewis Co.'s BEST EQUIPPED/BEST CG FOR RVs)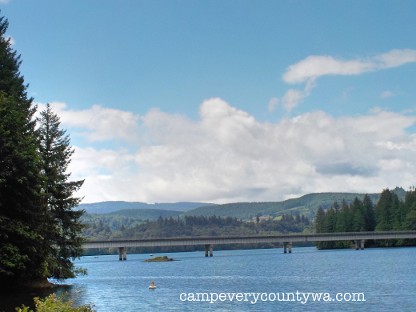 Ike Kinswa State Park sits on a peninsula between the Cowlitz River
and Tilton River Arms of Mayfield Lake
For more photos of Ike Kinswa S.P. click HERE
Rainbow Falls State Park/Willapa Hills Trail State Park (Lewis Co.'s BEST BIKE-IN CG)


Autumn is a great time to camp at Rainbow Falls on an overnight bicycle ride from Chehalis to the coast.
For more photos of Rainbow Falls S.P. click HERE
Accompanying these developments is the inclusion of the Willapa Hills Trail S.P., which comes within a hundred yards of the park. This 56-mile trail originates in Chehalis and ends at the western end of South Bend on Willapa Harbor in Pacific County. It currently has no campgrounds of its own, except for Rainbow Falls S.P. It is a work in progress intended for hikers, bikers, and equestrians. The path follows the old Pacific Northern Railroad, and most of the old railroad bridges have been fully repaired. The trail itself is being paved in small sections as funding allows. Check the status of the trail before setting out on bicycle or horseback. In the meantime, a good day hike along the trail begins in the town of Pe Ell and extends to the prettiest part of the Willapa Hills near Walville Peak. This is a very pretty part of the State that until recently has been inaccessible.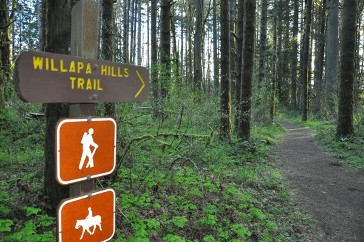 The Willapa Hills Trail extends from Chehalis to South Bend in Pacific County
Packwood Lake Hike-In

(Lewis Co.'s BEST HIKE-IN C.G.)


Lewis Co.'s largest natural lake offers campers early season access when other campgrounds are under the weather with snow pack. The trade off is that you'll have to hike in 4 miles to get there. But never fear, this trail is used by hikers of all ages, and catches views of the jagged Goat Rocks, Mt. Rainier, and Agnes Island in the middle of calm and picturesque Packwood Lake.




Overview

: This historic Gifford National Forest campground is located 87.8 miles southeast of Chehalis and 13.1 miles east of Packwood on 452 acre Packwood Lake at 2,857' elevation, open April to November, best June to October; GPS 46.609, -121.626.


Facilities

: Campsites with fire grills dot the lake. There are two sites near pit toilets near the north end.


Recreation

: Fishing is good for rainbow trout, but fishing with bait is prohibited (lures only), and lures must contain only a single barbless hook. Many campers pack in inflatable watercraft and even canoes. Wildflower viewing is exceptional, including bear grass, candyflower, flowering currant, pinedrops, salmonberry, vanilla leaf, and white anemone. Additional hiking will take campers to Mosquito Lake and Lost Lake.


Trailhead for Packwood Lake Trail #78

: Travel ling on Hwy 12 eastbound, continue 0.3 miles beyond Packwood, then turn right on Snyder Rd. Drive 1.2 miles when the road changes names to FR 1260 and continue for another 4.5 miles to the trailhead at the end of the road. GPS for TH: 46.6084, -121.6271.


Campsites

(Approx. 8 dispersed campsites, no hookups or reservations, FREE with a NW Forest Pass): Sites are primitive, with many blow downs for firewood. They are shady, and of variable sizes to accommodate larger parties. All but 1 or 2 of the sites are on the lakeshore, and all have at least one or more sections of flat surface.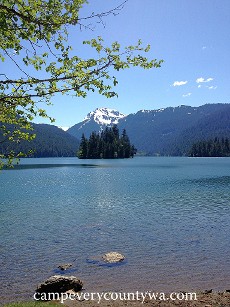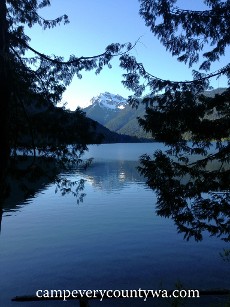 Views of Packwood Lake and the Goat Rocks Wilderness Area
For more photos of Packwood Lake Hike-In click HERE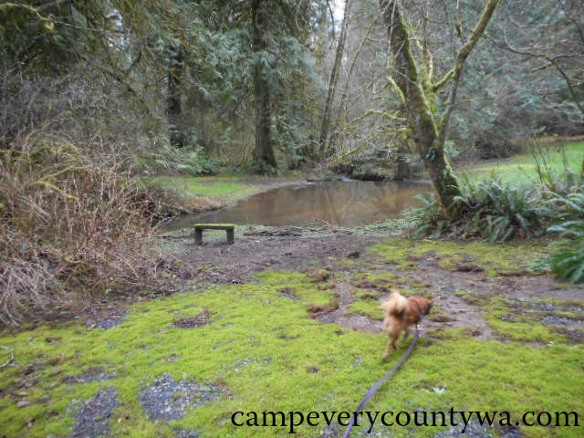 Lewis and Clark State Park is lush, wet, wild, and enveloped by old growth forest
For more photos of Lewis and Clark S.P. click HERE
Riffe Lake Area
Riffe Lake is actually a reservoir built out of the western flowing Cowlitz River behind the Mossyrock Dam. At 11,336 acres, it stretches for 13 miles along Highway 12 between Morton and Glenoma. Locals might remember the reservoir as "Mossyrock Lake" or "Davisson Lake," its former names. It was finally re-named Riffe Lake in 1976 for the community of Riffe, which was inundated by the creation of the Reservoir. It was the least they could do.

Taidnapam Park

(Lewis Co.'s BEST CG FOR ENTIRE FAMILIES)
Although this is the newest of the Tacoma Power Parks, built in 1994, it has been a campground of sorts for over 4000 years, beginning with the Taidnapam Tribe, which camped and lived on this land. Things have changed -- now the campground is located on beautiful Riffe Lake, surrounded by the Cowlitz Wildlife Area, providing fishing, wildlife viewing, bird watching, an interpretive history of the Tribe, and good camping.
#NOTE: as of 2017, lake levels have been dropped an additional 30' for safety reasons. The swimming area and in-campground boat launch are closed for the foreseeable future#


Overview

: This big personality park is located 50 miles east of Chehalis and 9.5 miles southeast of Morton on 50 acres around the eastern tip of Riffe Lake, operated by Tacoma Power at 774' elevation, open Jan. 1 to Dec. 20 yearly, group camps open April 15 to Oct. 15; GPS 46.46845813, -122.16425657.


Facilities

: Well-equipped and growing, amenities include bathrooms with showers (ADA), picnic tables, fire rings, a Day Use Area with kitchen shelter, a playground, pedestal barbeque's, volleyball net, 2 boat launches, fish cleaning stations, a telephone, interpretive signs for tribal artifacts, camp hosts, and an RV dump station. The most famous facility here is the Fishing Footbridge (see below).


Recreation

: This includes hang gliding, stargazing from the Day Use Area, fishing for smallmouth bass, bluegill, black crappie, coastal cutthroat, Chinook salmon, coho salmon, and brown trout. The Taidnapam Park Wetlands Wildlife Refuge, accessible from with the campground, is noted for wildlife and bird viewing. It provides approximately 10 miles of multiuse trails to explore a variety of habitats and species, as well as trout fishing.


Campsites

(163 individual ADA accessible back-in and pull-through sites for tents or RVs up to 40' with partial or full hookups 30/50 amps, plus a primitive group camp with 12 sites, and a developed group camp with 22 sites, all reservable): The campsites are organized into two loops, 2 group camps, and a tent spur. The older loop (sites 1-52) includes 18 sites with full hookups and 34 w/water & electric 30 amp -- 2 of these are ADA for wheelchair campers. This is heavily forested with Douglas fir and sugar maples providing the best individual camping due to privacy and shade. The newer multi-loop (sites 100-107 are walk-in tent sites, 200-264 have partial or full hookups) is more open and bare. The developers have planted salal, vine maple, and Oregon grape to divide the sites, but they have not grown up to enough to provide much privacy. This may improve in time, but it seems that planting real trees would have improved this loop's campworthiness. Sites 53-74 make up the developed Group Camp, 18 of which have full hookups -- 2 of these are ADA. It includes a kitchen shelter. The tent spur (sites 75-90) is a flat, forested area near the Boat Launch, with 2 ADA sites (more below).


Trip Notes

: This is one quirky campground! Fortunately, it also has some quality camping. The Fishing Footbridge is a delight, even with water levels so low. The fishermen we met were content to climb down the shore at the end of the bridge to fish, rather than dangle their lines a good 50' from the top. From the bridge, a pedestrian underpass (or tunnel) took us to the swimming and Day Use Area with no water, but great playground and picnic area. Closer to the campground are other special touches, including a replicate of a Wasas Indian canoe. The developed Group Camp (for RVs) is impressive with its picnic shelter and sports fields, but all sites were on a large single parking lot-like gravelled square, seeming more like lodging than camping. The Primitive Group Camp was more natural, but situated just behind the busy Day Use Parking Lot. Overall, this remains a delightful camping experience, even during this period of low water levels. We recommend, however, that campers focus on camping in the older RV loop and the walk-in tent sites. Definitely check on lake levels before setting out at 360 497-7707 or www.tacompower.com.


Local Alternatives

: Mossyrock Park rests on the grassier southwest corner of Riffe Lake. It is a diverse park, similar to Taidnapam, and a reasonable alternative. It is less private, and less interesting, but has its own store. Cowlitz Falls C.G., operated by Lewis PUD, is 6 miles east of Taidnapam on the Cowlitz River/Lake Scanea. Much like Rainbow Falls and Klamath Falls -- there is no waterfall due to the Cowlitz Falls Dam. While the campground is rather plain, it remains popular, is rather large, contains 100 sites (40 with partial hookups), and can accommodate tents and RVs of any size.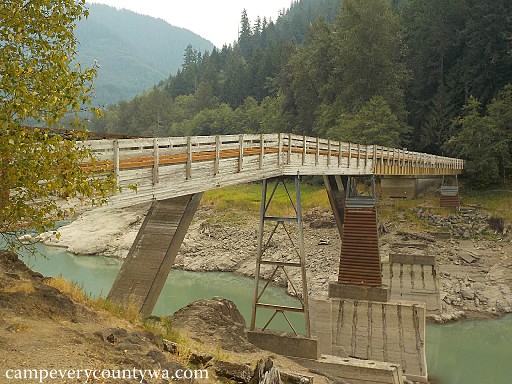 The Fishing Footbridge is Taidnapam Park's most identifiable icon. The Lake level has been dropped an additional 30' for safety reasons.
For more photos of Taidnapam Park click HERE