LEWIS COUNTY (Chehalis/Centralia)
This "mother of counties" once contained half of present-day Washington and British Columbia. Now it is but a long narrow strip stretching from the Willapa Hills to the Cascade Range, but still includes old growth forests, mountain peaks, lakes, and even part of MRNP.
Southeast Mount Rainier National Park (MRNP)
The southeast corner of MRNP occupies the northeast corner of Lewis Co. The most beautiful rivers and scenery (apart from Mt. Rainier itself) are found here, including the best camping in the National Park.

Ohanapecosh Campground

(Lewis Co.'s MOST UNIQUELY WASHINGTON CG)
The snow-fed Ohanapecosh River could be a National Park in itself -- it is that beautiful. The name Ohanapecosh derives from the Taidnapam Indian word for "standing on the edge." This is very telling, as camping alongside this river, sitting high on its rocks and staring down into the crystalline blue waters could become a wonderful obsession.


Overview

: This exceptional campground is located 82 miles east of Chehalis and 12 miles northeast of Packwood in MRNP at 1914' elevation, open late May to late September, weather permitting; GPS 46.731100, -121.570280.


Facilities

: These are good as National Parks go, including both vault and flush toilets (no showers), picnic tables, fire rings, drinking water, an amphitheater, hiking trails, a Visitor Center, camp hosts, and an RV dump.


Recreation

: Nearby are popular hikes to Silver Falls and the Grove of the Patriarchs. The latter is a 1.5 mile loop just up Highway 123 in the middle section of the Ohanapecosh River where thousand year old evergreens rule the sky. This hike is nearly flat, and good for all ages.


Campsites

(188 sites for tents or RVs up to 32' in 8 loops, both back-ins and pull-throughs, plus 10 walk-in sites, no hookups, reservable): Sites are large, well-spaced, shaded, and on asphalt parking pads. Among the best are four of the G Loop walk-in sites (18–21), which provide a natural sound barrier despite the 100-yard downhill walk. Other best sites include the E Loop, where generators aren't allowed giving more daytime quiet. Vegetation is thick, including old growth Douglas fir, western hemlock, and spruce.


Trip Notes

: The campground is quite complex, with much of the scenery and activities overshadowed by the beauty of the Ohanapecosh River. The hot springs are worth the walk, though they are leaking rivulets of hot, colored mineral water, not soaking tubs, so check your expectations. The trail to Silver Falls is accessible from Loop B in the campground, but shorter hikes to the same can be found just 1.6 miles north of Ohanapecosh on Highway 123 (hike is only 0.6 miles). Another shortcut to Silver Falls is the Stevens Canyon Road just west of the Stevens Canyon Entrance, across from the Grove of the Patriarchs trailhead (hike is 1.2 miles). Camp away, but don't forget these very accessible recreation options.


Local Alternative

: La Wis Wis CG sits at the confluence of the Ohanapecosh River, the Clear Fork of the Cowlitz River, and Purcell Creek. This is one of the oldest USFS parks in Washington, with vintage details in picnic tables and shelters. Campsites are large but hemmed in by old growth forest, which provides partial shade but limits maneuverability. While the old growth forest of Douglas Fir, western hemlock, western red cedar, Pacific yew, and big leaf maple may cause fits for the maintenance crew, it is the park's biggest draw, rivaled only by the park's 3 beautiful rivers.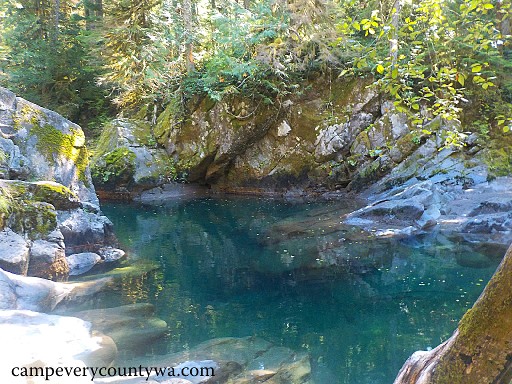 The crystalline waters of the Ohanapecosh River will dazzle you.
For more photos of Ohanapecosh MRNP click HERE
Packwood/Goat Rocks Area
Packwood may not be the largest town in Lewis Co., but it has the most influence where recreation is concerned. It is the gateway to White Pass, lies in the heart of volcano country, and sits on the edge of the 108,023 acre Goat Rocks Wilderness. In such an area where mountain goats outnumber people, recreation is an inseparable part of the mountainous landscape.

Walupt Lake Campground

(one of Lewis Co.'s BEST CGs FOR ENTIRE FAMILIES with access to BEST BOAT-IN SITES)
What can you say about a remote campground that requires a 21-mile drive on dusty, pot-holed, washboard gravel roads, but is still one of the most popular in Washington? Read on, campers.


Overview

: This Gifford Pinchot National Forest campground is tucked away on 381.6 acre Walupt Lake located 92.7 miles southeast of Chehalis and 23.3 miles southeast of Packwood at 3900' elevation, open mid-June through late September; GPS 46.42306, -121.47361.


Facilities

: Mixed rustic facilities include pit toilets, fire rings, piped water (for drinking only!), thick beveled picnic tables (a real plus), garbage service, a Day Use Picnic Area, a primitive boat launch, hiking trails, and camp hosts in summer.


Recreation

: Swimming, fishing and hiking are the draws here, particularly with the campground's proximity to the Goat Rocks Wilderness Area. Walupt Lake Trail # 101 is an easy hike along the northern edge of the lake. The Nanny Ridge Trail # 98 is steep but offers great views of the Goat Rocks Wilderness. Be sure to fill out a Wilderness Permit before entering the Wilderness. Fishing is mostly for rainbow and cutthroat trout. Swimming is popular, particularly with families.


Campsites

(42 sites for tents or RVs up to 40', including 6 walk-in and 3 group sites, no hookups, most sites reservable): Sites here are all back-in and heavily forested, shady, and divided into two loops. Site size is remarkable: many are so large that there are several "rooms" where campers can set up multiple tents, screen rooms, sitting areas, etc. All are flat, with the exception of the waterfront walk-ins (Sites 37-42), with parts of sites on multiple levels. Parking is on gravel surrounded by sub alpine silver fir, cedar and hemlock. Most sites are deserted during fishing and hiking hours, making an otherwise busy campground much quieter during the day.


Trip Notes

: As you enter the campground, the Lake seems much smaller than its actual size. Be sure to hike the first 1.5 miles of Walupt Lake Trail to the northeast corner of the Lake for an appreciation of its full breadth. Here, we found boat-in campers with children, an excellent and easy place for first-timers. This half of the Lake crosses into the Goat Rocks Wilderness, so permits are required for overnighters. The Lake itself provides good swimming for families, as a "shelf" extends out all along the north shore, giving shallow water for the first 50' out, where parents can supervise their kids with less worry. The "line" for the deeper water is very visible. When the sun shines directly down, the water shimmers from the sand and rock beneath the surface, increasing its appeal. As for boaters, the shallow shore waters keep away the larger boats, and human-powered and smaller motorboats co-exist beautifully. The reflections from the surrounding mountains on the Lake add the cherry on top.


Directions

: From I-5, drive 62 miles east on Hwy 12 (to about 2.5 miles west of Packwood) and turn right/south on FR 21. Follow 21 south, past the Johnson Creek Sno-Park, to FR 2160. Follow 2160 east to the campground. Directions are well-marked.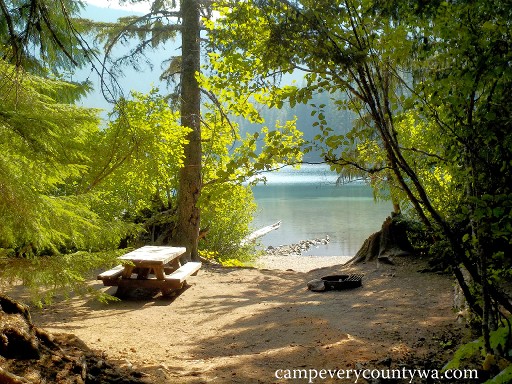 The safe swimming shores of Walupt Lake make it a family favorite
For more photos of Walupt Lake CG click HERE
Chambers Lake Campground

(Lewis Co.'s BEST RUSTIC CG)


For those who want a whole lot more rustic, more quiet, and a little less gravel road to drive, Chambers Lake CG is a decommissioned USFS campground on the same road as Walupt Lake, but a few miles closer to Packwood. The fragile, placid, verdant lake has a quiet charm for canoers/kayakers, as well as a base camp for experienced hikers.




Overview

: This forest campground is located 83.7 miles southeast of Chehalis and 14.3 miles southeast of Packwood on 14.4 acre Chambers Lake at 4465' elevation, open weather permitting; GPS 46.4678937, -121.5373064.


Facilities

: This most rustic of campgrounds has homemade fire pits, a few fire grills, and a very nicely constructed vault toilet. There is no drinking water.


Recreation

: Canoeing/kayaking are excellent for those who take it slow. Hikers are in close proximity to the Berry Patch Trailhead with hiking access to the Goat Rocks Wilderness via Goat Ridge Trail #95, Jordan Creek Trail #94, and Lily Basin Trail #86. Swimming and motor boating are not allowed. Fishing is not recommended.


Campsites

(14 sites for tents and smaller RVs, including one double site, no hookups or reservations, FREE with a NW Forest Pass): All sites are arranged in a single loop, as though the USFS still maintained the campground! Sites range from the very simple, with nothing more than a fire pit of rocks, to large flat spaces with lake access. Lush vegetation includes grand fir, hemlock, and cedar.


Trip Notes

: There is a quirkiness to this campground that invites a vast variety of campers, yet remains quiet enough for equestrians to trust that their prized horses won't be spooked by the neighbors. Those looking for rest can float all day on tiny Chambers Lake, while the more pent up can spend their days conquering some of the most difficult hiking trails in the area.


Directions

: Take the same FR 21 toward Walupt Lake and drive 12 miles before turning left/east onto FR 2150, and follow it to the campground.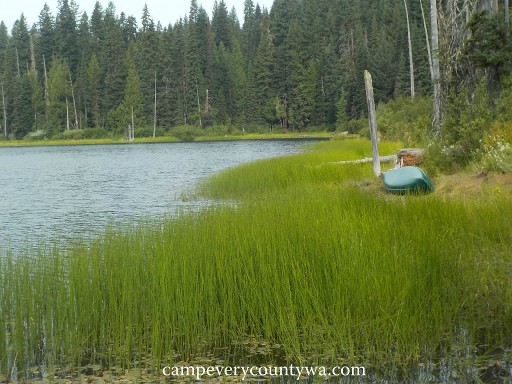 Placid, verdant Chambers Lake is the centerpiece of a decommissioned USFS campground that is more popular now than ever before.
For more photos of Chambers Lake CG click HERE
Packwood Lake Hike-In

(Lewis Co.'s BEST HIKE-IN C.G.)


Lewis Co.'s largest natural lake offers campers early season access when other campgrounds are under the weather with snow pack. The trade off is that you'll have to hike in 4 miles to get there. But never fear, this trail is used by hikers of all ages, and catches views of the jagged Goat Rocks, Mt. Rainier, and Agnes Island in the middle of calm and picturesque Packwood Lake.




Overview

: This historic Gifford National Forest campground is located 87.8 miles southeast of Chehalis and 13.1 miles east of Packwood on 452 acre Packwood Lake at 2,857' elevation, open April to November, best June to October; GPS 46.609, -121.626.


Facilities

: Campsites with fire grills dot the lake. There are two sites near pit toilets near the north end.


Recreation

: Fishing is good for rainbow trout, but fishing with bait is prohibited (lures only), and lures must contain only a single barbless hook. Many campers pack in inflatable watercraft and even canoes. Wildflower viewing is exceptional, including bear grass, candyflower, flowering currant, pinedrops, salmonberry, vanilla leaf, and white anemone. Additional hiking will take campers to Mosquito Lake and Lost Lake.


Trailhead for Packwood Lake Trail #78

: Travel ling on Hwy 12 eastbound, continue 0.3 miles beyond Packwood, then turn right on Snyder Rd. Drive 1.2 miles when the road changes names to FR 1260 and continue for another 4.5 miles to the trailhead at the end of the road. GPS for TH: 46.6084, -121.6271.


Campsites

(Approx. 8 dispersed campsites, no hookups or reservations, FREE with a NW Forest Pass): Sites are primitive, with many blow downs for firewood. They are shady, and of variable sizes to accommodate larger parties. All but 1 or 2 of the sites are on the lakeshore, and all have at least one or more sections of flat surface.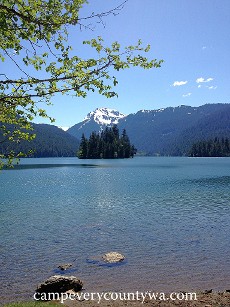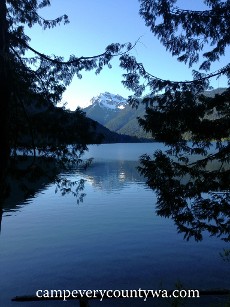 Views of Packwood Lake and the Goat Rocks Wilderness Area
For more photos of Packwood Lake Hike-In click HERE
Soda Spring Forest Camp

(Lewis Co.'s BEST FREE CG)
It takes a small natural wonder to stand behind a small natural campground. The cold water spring was once the source of carbonated water for bygone industries. The old bottling facility is long gone, but the orange-tinted cold water spring is now surrounded by this compact forest campground. Note: Don't confuse this with the Soda Springs CGs on Bumping Creek in Yakima Co., on the Little Wenatchee River in Chelan Co., or on the Soda Springs Wildlife Unit in Klickitat Co.


Overview

: This Wenatchee National Forest campground is located on the far west side of White Pass 13.5 miles northeast of Packwood at 3200' elevation, open mid-May to October; GPS 46.7031685, -121.4809193.


Facilities

: A bit on the rustic side and isolated, this campground has one old-style double vault toilet, picnic tables, and fire grills. There is no potable water or camp host.


Recreation

: Campers should take the short walk to see Soda Spring (see below). The Cowlitz Trail #44 Trailhead (located in the campground) accesses the William O. Douglas Wilderness for hiking and exploration.


Campsites

(6 rustic sites plus 2 dispersed sites along Summit Creek for tents and truck campers, no hookups or reservations, FREE): The campground is a single loop on a plateau above Summit Creek, and heavily forested with Douglas fir, western hemlock, and silver fir. Privacy is optimal due to dense vegetation and spacing of the sites. Note that Summit Creek is not visible from the upper campsites. Trailers should not attempt camping here, as the last hundred yards has some tough, problematic ruts.


Trip Notes

: This compact USFS campground is a smaller version of some of our favorites. Just listen for the sound of gurgling water, then climb down a steep 60 yard trail past maidenhair ferns, huckleberry bushes, and bunchberries to the colorful, bubbling soda spring. It is contained in a stone cauldron, with a perfect stone spout where the orange tinged mineral water splashes down onto a long flat mineral bed, forming wide striped ribbons trickling down to Summit Creek below. This spring far outshines the soda springs in the other 3 counties mentioned above.


Local Alternative

: Campers will pass Summit Creek CG on the way to Soda Spring. This less private campground, however, is exposed to road noise, and has little privacy between sites. Yet, the Creek itself is quite pretty and draws more campers than Soda Spring.


Directions

: From Packwood, continue on Hwy 12 for 9 miles to FR 45 and turn left/north. Drive 0.35 miles to FR 4510. Drive an additional 4.2 miles, and bear right on FR 4510 052 past Summit Creek CG all the way to Soda Spring Forest Camp.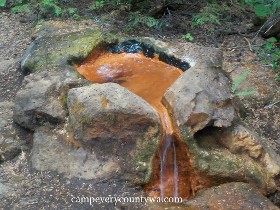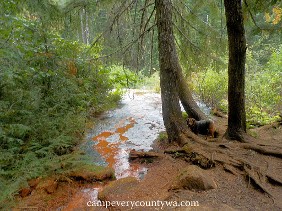 The stone cauldron pours down the orange-striped water of Soda Spring
onto the mineral flat below
For more photos of Soda Spring Forest Camp click HERE
Randle Area
This major recreational crossroads in the center of Lewis Co. connects the wilderness areas of the Gifford Pinchot National Forest down Highway 131 with the Cowlitz River reservoirs and White Pass ski area along Highway 12. The town itself is mostly a long stretch of RV parks, restaurants, gas stations, and a Ranger Station, and the local high school, but provides the services for campers for a very large and varied region.

Iron Creek Campground

(Lewis Co.'s MOST APPEALING CGs TO THE SENSES)
This campground gets kudos from nearly everyone for its moss-covered old growth trees, ferns that are among the largest in Washington, and the utter stillness of this exceptional stand of forest.


Overview

: This Gifford Pinchot National Forest campground is located 61.9 miles southeast of Chehalis and 12 miles south of Randle at the confluence of Iron Creek and the Cispus River at 1200' elevation, open mid-May through late September; GPS 46.431, -121.984.


Facilities

: In true USFS fashion, facilities include vault toilets, potable water, picnic tables, fire grills, and camp hosts.


Recreation

: Fishing is good for cutthroat trout, rainbow trout, and whitefish. Family-friendly hiking is plentiful. Iron Creek Old Growth Trail #87 (0.3 miles) begins at the Iron Creek Picnic Area and winds through exceptional old growth forest with views of the Cispus River. Iron Creek Campground Loop Trail #187 is a wide, level trail that circles the entire campground (1.5 miles). Woods Creek Watchable Wildlife Trail #247 is just north of the campground, and loops through five ecological areas with interpretive signs. Other nearby hiking trails include Camp Creek Falls Trail #260, a short hike up a steep slope leading to the 20' waterfall; Kraus Ridge Trail #275, a good 4.4 mile early season hike with views of the Cispus River and Tower Rock; and Layser Cave Trail #290, a 0.25 mile walk to a cave where animal bones and stone tools found on the floor of the cave enabled archaeologists to piece together a 7,000 year history of human habitation.


Campsites

(98 back-in and pull-through sites for tents and RVs up to 40', some doubles, no hookups, reservable): These nearly perfect sites are arranged in 4 camping loops - large, wooded, private, and with asphalt parking pads. Many spots back up to the Cispus River. Vegetation includes hardwoods, old growth Douglas fir, western red cedar and hemlock. The best sites are 10, 14, 22, 37, 38, 39, 57, 61,66, and 81. This campground is often overlooked for the better known lakeside campgrounds like Takhlakh Lake and Walupt Lake, but offers terrific forest camping that rivals anything in the area.


Trip Notes

: This campground carries that old familiar USFS charm. We did not have time to walk the trail around the campground which has several access "beaches" to the Cispus River. We will be camping here in August of 2018.


Local Alternative

: A nearby alternative is Tower Rock CG, which is smaller and less scenic than Iron Creek.


Local Attraction

: The Windy Ridge Viewpoint at Mount St. Helens is approximately 20 miles away.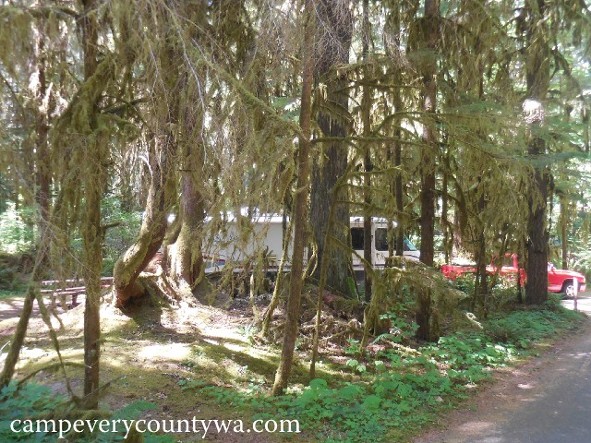 Iron Creek is a campground with that old USFS charm
For more photos of Iron Creek Campground click HERE
Riffe Lake Area
Riffe Lake is actually a reservoir built out of the western flowing Cowlitz River behind the Mossyrock Dam. At 11,336 acres, it stretches for 13 miles along Highway 12 between Morton and Glenoma. Locals might remember the reservoir as "Mossyrock Lake" or "Davisson Lake," its former names. It was finally re-named Riffe Lake in 1976 for the community of Riffe, which was inundated by the creation of the Reservoir. It was the least they could do.

Taidnapam Park

(Lewis Co.'s BEST CG FOR ENTIRE FAMILIES)
Although this is the newest of the Tacoma Power Parks, built in 1994, it has been a campground of sorts for over 4000 years, beginning with the Taidnapam Tribe, which camped and lived on this land. Things have changed -- now the campground is located on beautiful Riffe Lake, surrounded by the Cowlitz Wildlife Area, providing fishing, wildlife viewing, bird watching, an interpretive history of the Tribe, and good camping.
#NOTE: as of 2017, lake levels have been dropped an additional 30' for safety reasons. The swimming area and in-campground boat launch are closed for the foreseeable future#


Overview

: This big personality park is located 50 miles east of Chehalis and 9.5 miles southeast of Morton on 50 acres around the eastern tip of Riffe Lake, operated by Tacoma Power at 774' elevation, open Jan. 1 to Dec. 20 yearly, group camps open April 15 to Oct. 15; GPS 46.46845813, -122.16425657.


Facilities

: Well-equipped and growing, amenities include bathrooms with showers (ADA), picnic tables, fire rings, a Day Use Area with kitchen shelter, a playground, pedestal barbeque's, volleyball net, 2 boat launches, fish cleaning stations, a telephone, interpretive signs for tribal artifacts, camp hosts, and an RV dump station. The most famous facility here is the Fishing Footbridge (see below).


Recreation

: This includes hang gliding, stargazing from the Day Use Area, fishing for smallmouth bass, bluegill, black crappie, coastal cutthroat, Chinook salmon, coho salmon, and brown trout. The Taidnapam Park Wetlands Wildlife Refuge, accessible from with the campground, is noted for wildlife and bird viewing. It provides approximately 10 miles of multiuse trails to explore a variety of habitats and species, as well as trout fishing.


Campsites

(163 individual ADA accessible back-in and pull-through sites for tents or RVs up to 40' with partial or full hookups 30/50 amps, plus a primitive group camp with 12 sites, and a developed group camp with 22 sites, all reservable): The campsites are organized into two loops, 2 group camps, and a tent spur. The older loop (sites 1-52) includes 18 sites with full hookups and 34 w/water & electric 30 amp -- 2 of these are ADA for wheelchair campers. This is heavily forested with Douglas fir and sugar maples providing the best individual camping due to privacy and shade. The newer multi-loop (sites 100-107 are walk-in tent sites, 200-264 have partial or full hookups) is more open and bare. The developers have planted salal, vine maple, and Oregon grape to divide the sites, but they have not grown up to enough to provide much privacy. This may improve in time, but it seems that planting real trees would have improved this loop's campworthiness. Sites 53-74 make up the developed Group Camp, 18 of which have full hookups -- 2 of these are ADA. It includes a kitchen shelter. The tent spur (sites 75-90) is a flat, forested area near the Boat Launch, with 2 ADA sites (more below).


Trip Notes

: This is one quirky campground! Fortunately, it also has some quality camping. The Fishing Footbridge is a delight, even with water levels so low. The fishermen we met were content to climb down the shore at the end of the bridge to fish, rather than dangle their lines a good 50' from the top. From the bridge, a pedestrian underpass (or tunnel) took us to the swimming and Day Use Area with no water, but great playground and picnic area. Closer to the campground are other special touches, including a replicate of a Wasas Indian canoe. The developed Group Camp (for RVs) is impressive with its picnic shelter and sports fields, but all sites were on a large single parking lot-like gravelled square, seeming more like lodging than camping. The Primitive Group Camp was more natural, but situated just behind the busy Day Use Parking Lot. Overall, this remains a delightful camping experience, even during this period of low water levels. We recommend, however, that campers focus on camping in the older RV loop and the walk-in tent sites. Definitely check on lake levels before setting out at 360 497-7707 or www.tacompower.com.


Local Alternatives

: Mossyrock Park rests on the grassier southwest corner of Riffe Lake. It is a diverse park, similar to Taidnapam, and a reasonable alternative. It is less private, and less interesting, but has its own store. Cowlitz Falls C.G., operated by Lewis PUD, is 6 miles east of Taidnapam on the Cowlitz River/Lake Scanea. Much like Rainbow Falls and Klamath Falls -- there is no waterfall due to the Cowlitz Falls Dam. While the campground is rather plain, it remains popular, is rather large, contains 100 sites (40 with partial hookups), and can accommodate tents and RVs of any size.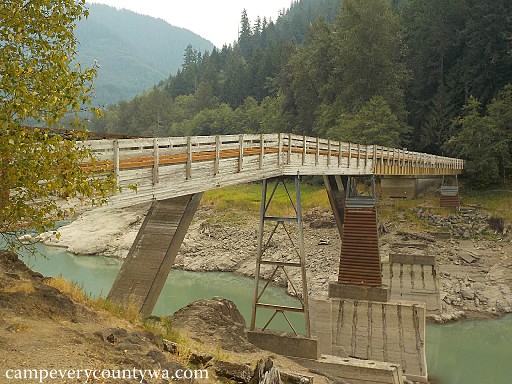 The Fishing Footbridge is Taidnapam Park's most identifiable icon. The Lake level has been dropped an additional 30' for safety reasons.
For more photos of Taidnapam Park click HERE
Mayfield Lake
This beautiful spider-webbed 2,023-acre lake/reservoir was the first formed by damming the Cowlitz River, in this case with Mayfield Dam. Among its multiple fingers, arms and islands, the lake is spotted with many public parks, private resorts, and accesses, making this a water lover's dream.

Ike Kinswa State Park

(Lewis Co.'s BEST EQUIPPED/BEST CG FOR RVs)
This remarkable Park is named after John Ike Kinswa, a Cowlitz Indian who homesteaded this area as a way of settling up with settlers from the east. The developers of Mayfield Lake relocated some Indian graves, leaving others on discreet display within the park.


Overview

: The park is located 28.5 miles east of Chehalis and 3 miles west of Mossyrock on 454 acres on Mayfield Lake at 656' elevation, open year round; GPS 46.5518, -122.5294.


Facilities

: These include bathrooms with showers, picnic tables, fire grills, an accessible island, good cell phone service, horseshoe pits, 40' of dock, 1.5 miles of hiking trails including a 0.5-mile self-guided interpretive trail, and an RV dump station.


Recreation

: Boating, water-skiing, sailboarding and swimming are the biggest recreational draws. Fishing is known for largemouth bass, coastal cutthroat, tiger muskie, yellow perch, northern pike minnow, Chinook salmon, coho salmon, and rainbow trout. The tiger muskie is unique to Mayfield Lake, being sterile hybrids between the northern pike and muskellunge introduced to control the pesky northern pike minnow. Tiger muskies can grow to over 50" and are catch-and-release only.


Campsites

(103 back-in and pull-through sites for tents or RVs up to 60', including 72 with full or partial 30/50 amp hookups, 2 H/B sites, 8 cabins, all reservable): Sites are organized into 4 loops. Loop A (sites 1-41) is closest to the prettier Tilton Arm and has full hookups 30 amp at every site. Sites 14-28 are back-ins with lake access. They are wooded/shaded and large with average to excellent privacy. Loop B (sites 42-72) has water & electric 50 amp hookups in every site, and is closer to the Cowlitz River Arm. These sites are wooded and large with only average privacy. The 2 H/B sites are located between these two loops. Loop C (actually a spur) contains the 8 cabins. Each has an ADA-accessible deck. Loop D (sites 74-101) is good for tents or small RVs with no hookups. These are near the tip of the peninsula with no direct lake access, but are large and wooded with average privacy and peek-a-boo views of both the Cowlitz River and Tilton River Arms of the Lake, giving a more open feel.


Trip notes

: If you drive into this place and feel like you're surrounded by water, there's a reason -- you ARE surrounded by water. The State Park sits in a peninsula where the Cowlitz River and Tilton River Arms of Mayfield Lake (reservoir) join to fill a larger basin behind Mayfield Dam. Water is not visible from most sites, but as you move around the Park you suddenly see water in just about every direction. Keep in mind that the Lake is a reservoir, so the shores are uneven and have little time to season. The real beauty here is the forest, which also surprised us at every bend, and the Day Use Area seemed just as popular with the local deer as it did with the campers. We saw deer swimming in the swimming area, standing idly by in the campground, and holding up traffic as they crossed the roads. So enjoy the forest and wildlife and, if watching the water isn't enough, grab a boat and some water skis and have a bawl.


Local Alternatives

: Mayfield Park is a former county park now operated by Tacoma Power. It contains 55 sites for tents and RVs under 35' due to narrow roads, with many sites right on the Lake. However, sites are smaller with limited privacy.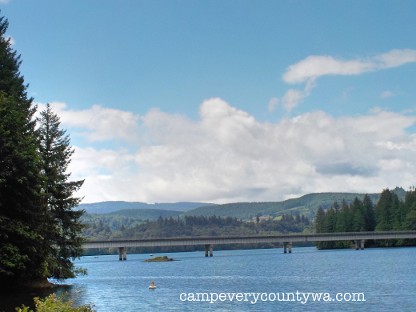 Ike Kinswa State Park sits on a peninsula between the Cowlitz River
and Tilton River Arms of Mayfield Lake
For more photos of Ike Kinswa S.P. click HERE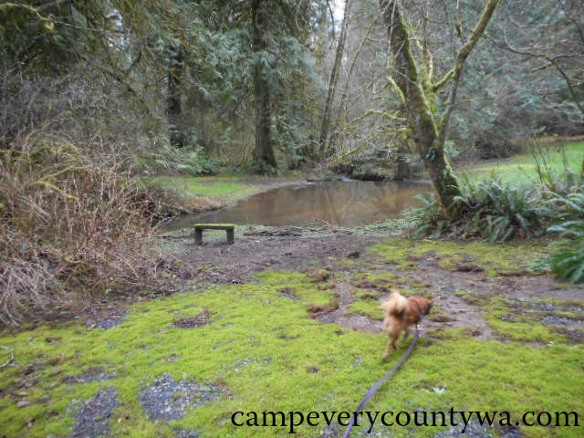 Lewis and Clark State Park is lush, wet, wild, and enveloped by old growth forest
For more photos of Lewis and Clark S.P. click HERE
Willapa Hills/Upper Chehalis Valley Area
The Willapa Hills form the lowest upland region of the entire Pacific Coast Range, gently lifting much of Pacific Co. and far western Lewis Co. They are the source of many rivers, including the Willapa River, Grays River, the Naselle River and, most notably, the Chehalis River.


Autumn is a great time to camp at Rainbow Falls on an overnight bicycle ride from Chehalis to the coast.
For more photos of Rainbow Falls S.P. click HERE

Accompanying these developments is the inclusion of the Willapa Hills Trail S.P., which comes within a hundred yards of the park. This 56-mile trail originates in Chehalis and ends at the western end of South Bend on Willapa Harbor in Pacific County. It currently has no campgrounds of its own, except for Rainbow Falls S.P. It is a work in progress intended for hikers, bikers, and equestrians. The path follows the old Pacific Northern Railroad, and most of the old railroad bridges have been fully repaired. The trail itself is being paved in small sections as funding allows. Check the status of the trail before setting out on bicycle or horseback. In the meantime, a good day hike along the trail begins in the town of Pe Ell and extends to the prettiest part of the Willapa Hills near Walville Peak. This is a very pretty part of the State that until recently has been inaccessible.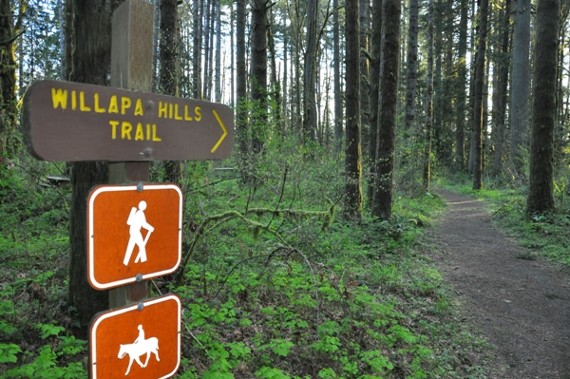 The Willapa Hills Trail extends from Chehalis to South Bend in Pacific County