This website is intended as an adjunct to the paperback book 'Camp Every County, Washington' by Brendan J. McDonald, available on Amazon.com. Included on this website are photographs and texts which could not be included in the paperback edition, where you will find full narrative versions of each section found below.
WHATCOM COUNTY (Bellingham)
Birch Bay State Park
(Whatcom Co.'s BEST EQUIPPED/BEST CG FOR RVs)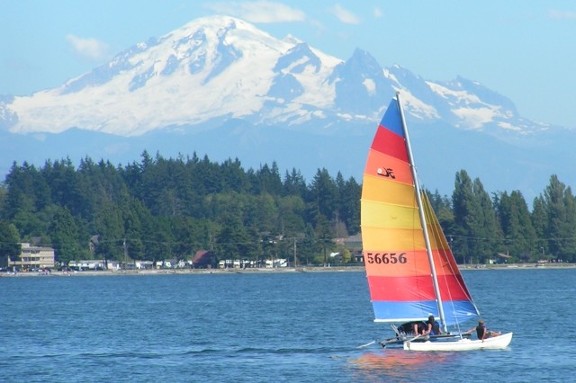 Mt. Baker shines brightly behind Birch Bay
For more photos of Birch Bay S.P. click HERE
Larrabee State Park
(Whatcom Co.'s MOST UNIQUELY WASHINGTON CG)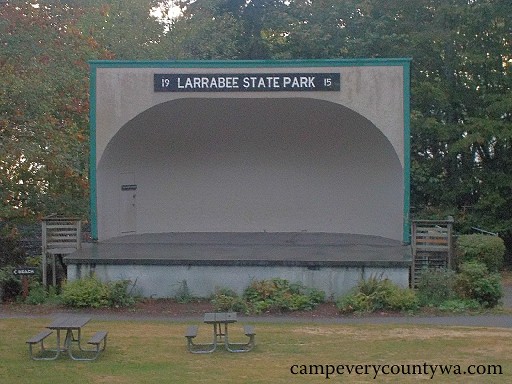 Larrabee State Park is the oldest in the Washington State Park System
For more photos of Larrabee S.P. click HERE
Silver Lake County Park
(Whatcom Co.'s BEST CG FOR ENTIRE FAMILIES)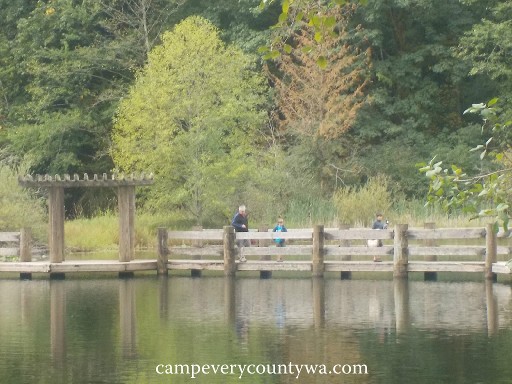 Silver Lake County Park is a series of vintage campgrounds, cabins, and interpretive displays.
For more photos of Silver Lake Co. Park click HERE
Douglas Fir Campground
(Whatcom Co.'s BEST RUSTIC CG)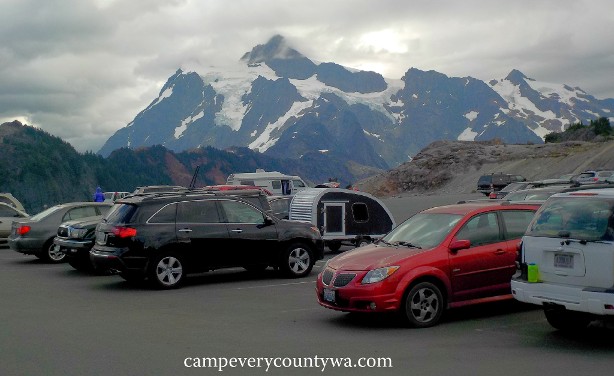 Mt. Shuksan is the real star of "Mount Baker" Highway 542
For more photos of Douglas Fir CG and Mount Baker click HERE
Nooksack/Boyds Creek Campsites
(Whatcom Co.'s BEST FREE CAMPSITES)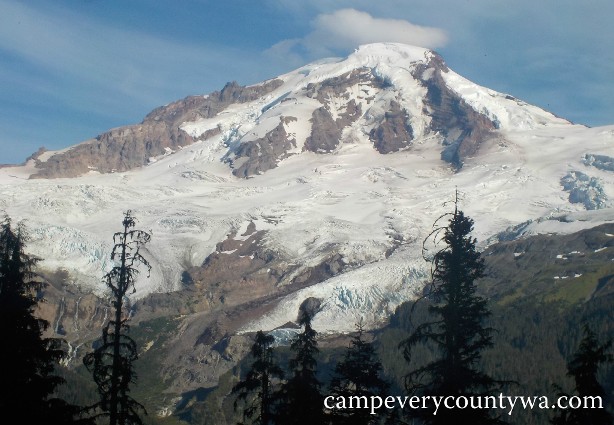 The best views of Mt. Baker can be found south of Glacier off Forest Road 39
For more photos of the Nooksack Boondocking Sites and vicinity, click HERE
Panorama Point Campground
(Whatcom Co.'s MOST APPEALING CG TO THE SENSES)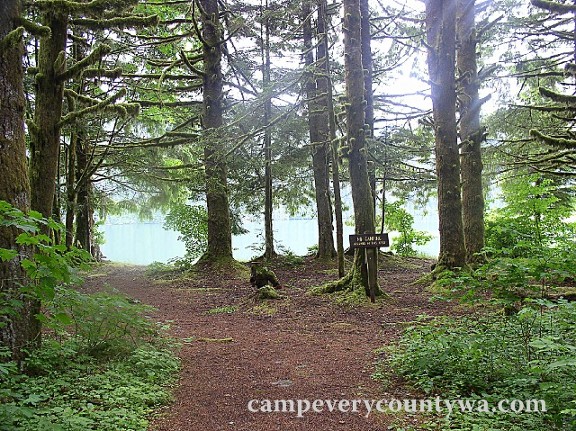 Panorama Point has a fairy tale quality, even on cloudy days
For more photos of Panorama Point CG click HERE
Colonial Creek Campground in NCNP
(Whatcom Co.s BEST BIKE-IN CG)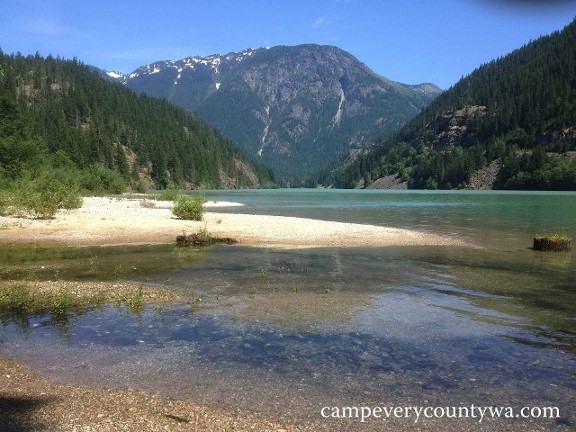 Azure waters and mountain peaks surround Colonial Creek Campground
For more photos of Colonial Creek CG, NCNP click HERE
Excelsior Group Camp

(Whatcom Co.'s BEST GROUP CG)


Camping with your best buds near Mt. Shuksan, Mt. Baker, and one of the most beautiful waterfalls in Washington just has success written all over it.




Overview

: Located 7 miles east of Glacier on Mt. Baker Highway 432, operated by the USFS at 1200' elevation, open mid-May until late September; GPS 48.90639, -121.81778.


Facilities

include vault toilets and potable water. Each of the two camps has a beautiful group shelter. Site A has 6 picnic tables with firepits. Site B has 15 picnic tables with firepits. RVers will want to fill their water tanks ahead of time.


Recreation

includes whitewater rafting and hiking. The Excelsior Pass Trailhead (1 mile east of Excelsior CG on Hwy 432, right side) leads to High Divide Trail #630 with views of Mt. Baker and the Nooksack Valley. Contact the USFS for more information on wilderness hiking trails into the Mt. Baker Wilderness. A walk to Nooksack Falls, a two-part waterfall that tumbles 88' into a deep, rocky river canyon, is also highly recommended. See more below.


Campsites

(Two group tent sites for up to 50-75 people each, no hookups, reservable): Site A accommodates up to 50 people with 6 picnic tables and firepits. Site B accommodates up to 75 people with 15 picnic tables and firepits. Site B is also more private, as you have to pass through Site A to get to Site B. Most large groups reserve both sites simultaneously, but they may also be reserved individually.


Trip Notes

: Location, location, location. These group sites are located down a long, winding gravel road, then nestled against the Nooksack River (Site A) and the Mt. Baker Highway (Site B). They are pretty enough, with sun and shade, but their proximity to Heather Meadows (Mt. Shuksan and Mt. Baker), Artists Point, and being within walking distance of the phenomenal Nooksack Falls could make for an unforgettable group outing.


Washington History

- The Historic Nooksack Falls Power Plant is a 1500 watt facility built by Charles Stone and Edwin Webster with a 47-mile transmission line to provide power to local communities and mining operations. It remains the second oldest operating facility in Western Washington, second only to the Electron Plant at Snoqualmie Falls. Of note, the Nooksack Falls Plant is downstream from the Falls and out of view of visitors, who can better access the plant from the road that passes the entrance to Excelsior Group Camp.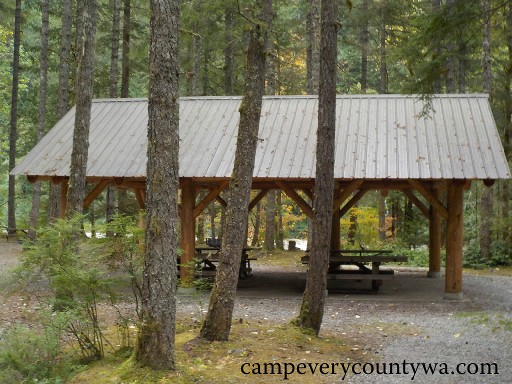 Excelsior Group Camp is equipped with two large group shelters.
For more photos of Excelsior Group Camp and Nooksack Falls click HERE
Pine/Cedar Lakes Campsites

(Whatcom Co.'s

BEST HIKE-IN CAMPSITES)


Chuckanut Mountain, on which these lakes and campsites rest, is criss-crossed with invigorating, back country trails that are still easily accessible. Hikers train on this vertical trail, while this is the first hike-in camping trip for many youngsters and adults alike, with alpine lakes and dramatic views the reward at the end of the trail.




Overview

: Located just south of Bellingham on 140 acres on Chuckanut Mountain, operated by Whatcom County Parks in conjunction with the WDFW at 1446' elevation, open year round; GPS coordinates are unreliable, see directions below.


Facilities

are limited to toilet facilities at the trailhead. Drinking water should be treated or packed in.


Recreation

: Each lake is stocked with with 500-1,000 coastal cutthroat trout fry every spring, so bring your fishing poles. The hike is considered moderate, gaining 1200' elevation in 2 to 2.5 miles with 360 degree views at the top of Chuckanut Mountain. Mountain bikes and horses are not allowed on these trails.


Campsites

(approximately 4 sites for tents, non-reservable) : Sites are primitive at both lakes, are wooded, shaded, and relatively flat. The area is filled with rock outcroppings reflecting the complex geology of the area.


Trailhead

: The Trailhead can be reached from I-5 exit 250 (Fairhaven Pkwy), then west to 30th Street. Then, following signs toward Larrabee S.P., turn left/south on 30th Street to Old Samish Road, turn left/east, and continue 1.5 miles. Parking at the Pine/Cedar Lakes Trail is on the right.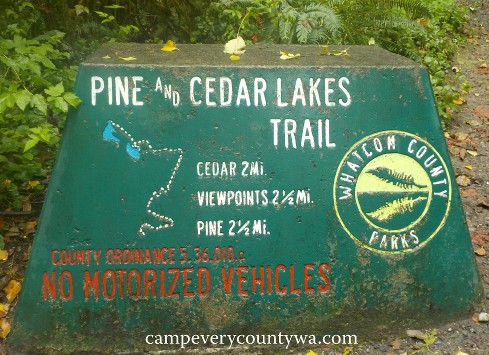 Pine/Cedar Lakes Trail is first hike-in camping trip for many youngsters and adults
For more photos of Pine and Cedar Lakes click HERE
Point Roberts
Point Roberts is a geographic anomaly below the 49th parallel, separated from the continental USA by a quaint little country they call Canada. This juts out into the Strait of Georgia, putting campers right smack dab in the middle of marine life, unmatchable whale watching, and an unparalleled sense of ease.
Lighthouse Marine Park

(Whatcom Co.'s BEST BOAT-IN CG)
This is a lighthouse park without a lighthouse (yet), but the light blinks reliably atop a metal tower until a design, construction, and financing can be worked out. Three currents intermix with the tides here, stirring up the marine wildlife for viewing, including orca pods, harbor seals, and salmon bubbling beneath the surface.


Overview

: Located on Point Roberts 21 on acres with extensive saltwater shoreline, also accessible by automobile, operated by Whatcom County Parks, open April 1st to October 31st; GPS 48.9883827,-123.0568693.




Facilities: These include bathrooms with showers, picnic tables, barbecue grills, a picnic shelter, a boardwalk, a walking/cycling path, play area, a boat launch, and orca viewing platforms. And, oh yes, that flashing light that one day may become a lighthouse.


Recreation

includes orca viewing, beach combing, boating, and birding.


Campsites

(30 sites for tents or RVs up to 30', 2 are ADA, plus 5 group sites for 24-30 each, 4 CMT sites, no hookups, all but the marine sites are reservable):


Local Alternatives

: The only nearby Whatcom Co. boat-in campsites are on Lummi Island with 5 sites on the southeast tip of the Island, located between Bellingham and Orcas Island. It is maintained by the Whatcom Area Kayak Enthusiasts (WAKE), and includes vault toilets, picnic tables, and fire pits. Hozomeen and other Ross Lake CGs are also accessible by boat, and Hozomeen CG can also be reached by car, but requires an extensive drive through Hope, British Columbia in Canada, putting it beyond the scope of this guide.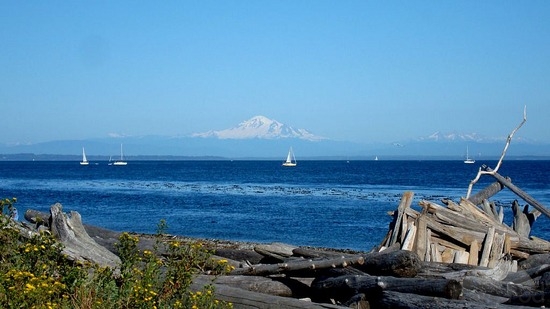 Lighthouse Marine Park on Point Roberts is best known for orca viewing
For more photos of Lighthouse Marine Park click HERE