WHATCOM COUNTY (Bellingham)
The Canadian influence is obvious here the moment you pound your tent stakes into one of the many and varied Whatcom County campgrounds. In fact, access to two of them require passage through Canada. But this only adds to their charm, eh?

Point Roberts
Point Roberts is a geographic anomaly below the 49th parallel, separated from the continental USA by a quaint little country they call Canada. This juts out into the Strait of Georgia, putting campers right smack dab in the middle of marine life, unmatchable whale watching, and an unparalleled sense of ease.
Lighthouse Marine Park

(Whatcom Co.'s BEST BOAT-IN CG)
This is a lighthouse park without a lighthouse (yet), but the light blinks reliably atop a metal tower until a design, construction, and financing can be worked out. Three currents intermix with the tides here, stirring up the marine wildlife for viewing, including orca pods, harbor seals, and salmon bubbling beneath the surface.


Overview

: Located on Point Roberts 21 on acres with extensive saltwater shoreline, also accessible by automobile, operated by Whatcom County Parks, open April 1st to October 31st; GPS 48.9883827,-123.0568693.




Facilities: These include bathrooms with showers, picnic tables, barbecue grills, a picnic shelter, a boardwalk, a walking/cycling path, play area, a boat launch, and orca viewing platforms. And, oh yes, that flashing light that one day may become a lighthouse.


Recreation

includes orca viewing, beach combing, boating, and birding.


Campsites

(30 sites for tents or RVs up to 30', 2 are ADA, plus 5 group sites for 24-30 each, 4 CMT sites, no hookups, all but the marine sites are reservable):


Local Alternatives

: The only nearby Whatcom Co. boat-in campsites are on Lummi Island with 5 sites on the southeast tip of the Island, located between Bellingham and Orcas Island. It is maintained by the Whatcom Area Kayak Enthusiasts (WAKE), and includes vault toilets, picnic tables, and fire pits. Hozomeen and other Ross Lake CGs are also accessible by boat, and Hozomeen CG can also be reached by car, but requires an extensive drive through Hope, British Columbia in Canada, putting it beyond the scope of this guide.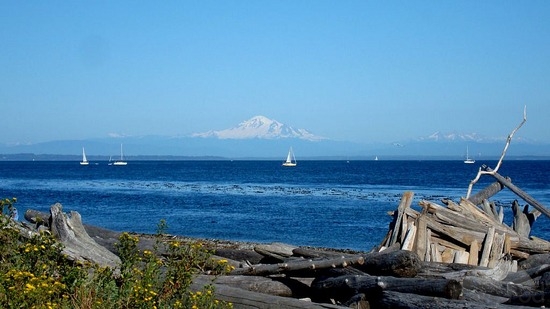 Lighthouse Marine Park on Point Roberts is best known for orca viewing
For more photos of Lighthouse Marine Park click HERE
Salish Sea/Georgia Strait
No, Georgia Strait is not the name of a female country singer, but part of an intricate network of coastal waterways between Vancouver Island in Canada and the mainland that includes the northern coast of Whatcom County. Georgia Strait, the Strait of Juan de Fuca, and Puget Sound interconnect to form the Salish Sea, named for the Coastal Salish people that once inhabited this land. But the Georgia Strait washes many more Canadian than Washington shores, giving this area its strong Canadian connections.
Birch Bay State Park

(Whatcom Co.'s BEST EQUIPPED/BEST CG FOR RVs)
The town of Birch Bay was named for the many species of birch noted by the earliest European explorers. From its inception, this area has been known for its flora, fauna, and recreational activities.


Overview

: This secluded wooded saltwater park is located 20.3 miles northwest of Bellingham and 7.5 miles south of Blaine on 194 acres with 8,255' of saltwater shoreline and 14,923' of freshwater shoreline on Terrell Creek, open year round; GPS 48.9043, -122.7643.


Facilities

: Here you'll find extensive picnic and Day Use facilities, including a Kitchen Shelter with water & electricity, plus 120 unsheltered picnic tables. Campground facilities include 8 bathrooms (1 ADA), 18 showers (2 ADA), picnic tables, fire grills, a boat ramp, an amphitheater, a basketball court, camp hosts, and an RV dump.


Recreation

is quite varied. The waters off Birch Bay are warmer than normal, making for good swimming. Clamming, crabbing, and oyster harvesting are popular (a WDFW recreational license is required). beach combing, swimming, boating, bird watching, and the 0.5-mile Terrell Marsh Interpretive Trail are also popular. The Terrell Creek Marsh is one of the few remaining saltwater/freshwater estuaries in north Puget Sound. It winds throughout the campground, hugging the shoreline just a hundred yards or so away, as if the park were built around it. Here you can view all manner of birds and wildlife, including blue herons.


Campsites

(169 sites, including 20 sites with water & electric 30/50 amp hookups for RVs up to 60', a primitive group camp for up to 60 people, two group camps with 5 sites each, reservable): Sites consist of standard sites in 3 conjoined loops (the A side, sites 75-167), a utility loop for RVs (the B side, sites 1-74), and an unnamed loop for the group sites. The A loop consists of heavily forested back-in sites that are flat with great privacy. The less forested B loop is made up of back-in sites for tents or RVs, with the hookup sites smaller with average privacy. Note that sites 40 through 74 on the B side are tent sites without hookups, so are the closest tent sites to the beach. The best sites overall are 7, 9, 11, 18, 23, 24, 27, 29, 51, 54, 56, 74, 78, 80, 84, 92, 103, 104, 113, 115, 108, and 127.


Trip notes

: We in Western Washington are used to wooded campgrounds, and those set on salt water, but Birch Bay is still full or surprises. Terrell Creek seems to be everywhere you go with its birds and unidentified furry creatures. The beach is very accessible, and watching the sailboats on the Bay seemed to occupy much of our time. We found good clam digging for native littleneck and Manila clams in the sandy gravel as well as butter clams, cockles and horse clams on lower tides. We finally gave in to the temptation, threw some in our pot, and sat back enjoying the local flavor.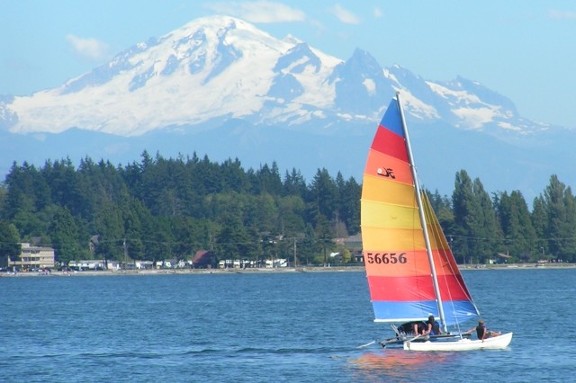 Mt. Baker shines brightly behind Birch Bay
For more photos of Birch Bay S.P. click HERE
Larrabee State Park

(Whatcom Co.'s MOST UNIQUELY WASHINGTON CG)


Overview

: Located 6 miles south of Bellingham (Fairhaven) on Chuckanut Drive on 2,683 acres with 8100' of saltwater shoreline on Samish Bay, open year round; GPS 48.6552, -122.4914.


Facilities

include bathrooms with showers (ADA), picnic tables, fire grills, 2 picnic shelters (reservable), playground, amphitheater, boat launch, Kamp Store, camp hosts, and an RV dump.


Recreation

: This is a great location for boating, fishing, and sailboarding. There are also 13 miles of biking trails, and 15 miles of hiking trails that include the Interurban Trail, the iconic Fragrance Lake Trail (trailhead located just outside the main State Park entrance), and Lost Lake Trail (trailhead 0.5 miles south of entrance).


Campsites

(51 standard tent sites, 26 full utility sites 30/50 amp for RVs up to 60', 8 walk-in sites, and one Group Camp for up to 40): Sites range in size from very small to large. Tent sites are wooded, and often built into the rocky terrain. RV sites are side-by-side, and often in full sun, the best being site T1. The primitive walk-in sites are among the best, and recommended for bicyclists. The Group Camp is beautiful, but located very close to the noisy railroad tracks. Privacy is best in the small loops containing sites 1-7 and 42-49.


Trip Notes

: I first visited this Park several years ago, and found it terribly small. Not in overall acreage, of course, but with a very compact camping and day use area. It seemed like a miniature version of a Washington State Park presented as a display at a World Fair or theme park. This preyed on my mind for years before I took an extended stay here. What I now understood is that it has been largely preserved from its original 1915 character, in the days before aircraft-sized SUVs, tents large enough to envelope some African villages, and RVs larger than the homes in which many of us were raised. This is what makes it utterly unique. Everything is accessible. The Fragrance Lake Trail begins just across Chuckanut Drive from the Park Entrance. The beach and Wildcat Cove are both accessible by foot. Even the bicycle trails to Lost Lake are a short hop away. Additionally, everything was in perfect repair. The rangers, camp hosts, and their assistants were constantly keeping everything meticulously manicured. Yet, many of the sites were built in and around rock outcroppings and vegetation that kept it feeling very natural.
A couple of downsides: yes, the trains are as frequent and loud as the Park Service says. Upside: there is a muralled trail under the tracks that takes you safely and colorfully to the beach area. Downside: boat launching is only possible at high tide. Upside: The boat launch at Wildcat Cove is within walking distance, but far enough away from the camping area to be noise-free.
Conclusion: I think that every Washington camper should camp here at least once in their lifetime. Its diminutive size and preservation of 100-year old structures makes it more quaint than practical, but like me, your stay here will prey on your mind for many years.


Washington History

: Larrabee became the first official Washington State Park in October of 1915 after 20 acres of land was donated by Frances Larrabee. The family eventually donated an additional 1500 acres in 1937, while smaller donors gave an additional 1000-plus acres. Historic Chuckanut Drive, built along the base of the Chuckanut Mountains in 1895, was the first road built to connect Bellingham with Mt. Vernon. First built as a dirt logging road, it parallels the path of the Great Northern Railway. It was graveled and finally paved following the establishment of Larrabee S.P. In 1931 it was established as a Washington State Scenic Byway, designated as State Route 11. To this day, it gives unparalleled views of the Samish Bay and the many islands beyond.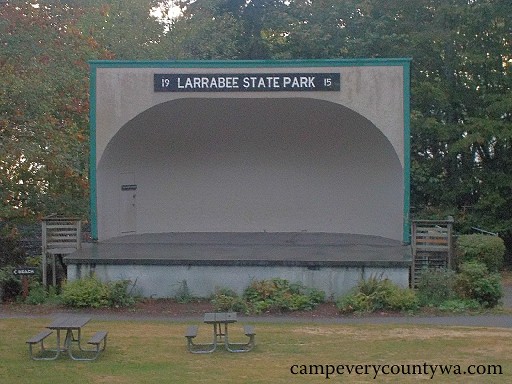 Larrabee State Park is the oldest in the Washington State Park System
For more photos of Larrabee S.P. click HERE
Pine/Cedar Lakes Campsites

(Whatcom Co.'s

BEST HIKE-IN CAMPSITES)


Chuckanut Mountain, on which these lakes and campsites rest, is criss-crossed with invigorating, back country trails that are still easily accessible. Hikers train on this vertical trail, while this is the first hike-in camping trip for many youngsters and adults alike, with alpine lakes and dramatic views the reward at the end of the trail.




Overview

: Located just south of Bellingham on 140 acres on Chuckanut Mountain, operated by Whatcom County Parks in conjunction with the WDFW at 1446' elevation, open year round; GPS coordinates are unreliable, see directions below.


Facilities

are limited to toilet facilities at the trailhead. Drinking water should be treated or packed in.


Recreation

: Each lake is stocked with with 500-1,000 coastal cutthroat trout fry every spring, so bring your fishing poles. The hike is considered moderate, gaining 1200' elevation in 2 to 2.5 miles with 360 degree views at the top of Chuckanut Mountain. Mountain bikes and horses are not allowed on these trails.


Campsites

(approximately 4 sites for tents, non-reservable) : Sites are primitive at both lakes, are wooded, shaded, and relatively flat. The area is filled with rock outcroppings reflecting the complex geology of the area.


Trailhead

: The Trailhead can be reached from I-5 exit 250 (Fairhaven Pkwy), then west to 30th Street. Then, following signs toward Larrabee S.P., turn left/south on 30th Street to Old Samish Road, turn left/east, and continue 1.5 miles. Parking at the Pine/Cedar Lakes Trail is on the right.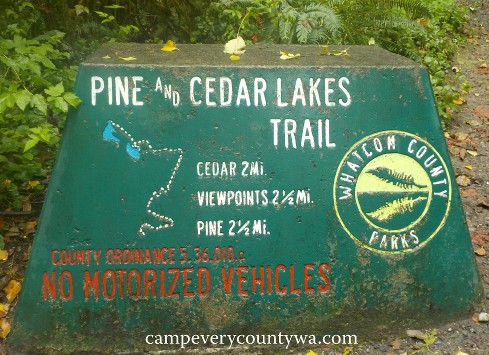 Pine/Cedar Lakes Trail is first hike-in camping trip for many youngsters and adults
For more photos of Pine and Cedar Lakes click HERE
Mount Baker/Nooksack River Region (Highway 542)
Highway 542, better known as the Mount Baker Highway, is a designated State Scenic Highway and National Forest Scenic Byway. It follows the stunning Nooksack River from Bellingham Bay to Mount Baker and Mount Shuksan in a scenic byway that is second to none.

Silver Lake County Park

(Whatcom Co.'s BEST CG FOR ENTIRE FAMILIES)


This is the park that you thought disappeared with the coming of overcrowded and overpruned National and State Parks in the 1940s. Nosiree Bob, this one has stayed under the radar, and will charm the bobby socks right off your feet.




Overview

: Located 40 miles west of Bellingham and 2.5 miles north of Maple Falls on 157.3-acre Silver Lake, operated by Whatcom Co. Parks on 412 acres at 646' elevation, open year round; GPS 48.9719, -122.07,


Facilities

include flush toilets, a bathhouse with showers, drinking water, picnic tables, fire rings, a boat launch, camp hosts, and an RV dump.


Recreation

includes but is not limited to hiking, swimming, boating, fishing, horseback riding, and visiting the good people at the Black Mountain Forestry Center.


Campsites

: The Park consists of a complex of campgrounds and day use facilities.
-

Maple Creek CG

: This, the largest campground at the Park, consisting of six loops with 47 sites. Sites with water & electric 50-amp are 1-6, 25-27, and 29-42 for tents and RVs of any size. Sites 19-24, 28, and 44-46 have water & electric 30 amp hookups. This is also the busiest and most popular campground, near the south end of the Lake on tiny Maple Creek. Sites range from rustic to larger and more developed, and most are shaded. Cascade Cabin, the smallest and most private of the cabins, is near the entrance.
-

Cedar CG

: This campground has only 15 sites in a single loop for tents, truck campers, vans, and small self-contained RVs. It is the prettiest of the campgrounds, near 6 vintage cabins from the 1940s era that sit right on the central portion of the Lake. It also has the best access to the beautiful "bay" and Day Use Area and shelter rentals. The cabins here are perhaps the best of any campground in Washington. Sites are well-spaced and shaded.
-

Red Mountain CG

(do not confuse this with the campground of the same name on the Cle Elum River in Kittitas Co.): This detached campground is connected to the lake by hiking and equestrian trails. It has 28 sites, all with water and electric 50-amp hookups, and is better known as the "Horse Camp," as it boasts two horse stables. It may also be the quietest of the campgrounds, and the best suited for large RVs. The kids, however, may want to be closer to activity on the Lake. Sites have partial shade with fair to good privacy, and often have space available.
-

Group Camp

: Compact and cozy, this 37-site camp with water & electric hookups circles a community shelter. It is removed from the Lake, and is most popular with privacy-oriented, cohesive adult groups such as church and service organizations.


Day Use Area

: This includes the boat launch, the bridged "bay" that is popular with kayakers and canoers, the playground, and both the Silver Lake and Lakeside Lodges (for rent). This beautiful area has the look of a Japanese garden, but with northwest foliage. Here you will find children at play, ducks sleeping undisturbed near the shore, and human-powered boats drifting quietly in and out.
-

Black Mountain Forestry Center

: This remarkable Interpretive Center sits just outside the main entrance to the Park. Visit the Gerdrum House -- a pioneer house built out of a single cedar tree and broad-bladed ax -- and talk to Phil Cloward and other volunteers who have decades of interesting and varied forestry and conservation experience. This is a unique, friendly opportunity to learn about logging methods from the "insiders" while enjoying the many displays -- among which is a 400-year old Nooksack Indian canoe found floating in Silver Lake in pioneer times.


Trip Notes

: This is the oldest continuously running set of campgrounds in Washington, which is apparent the minute you enter the grounds. The cabins have a very 1930s/1940s vintage feel, and are continuously upgraded and maintained. I can think of no better place to take campers out of the modern, mechanized world for awhile and just plain play.


Washington History

: A road was built from the Gerdrum House to the Lake in 1902, which marks the beginnings of Silver Lake Park. New buildings, including a hotel were built to attract tourists. Mr. Gerdrum transported them from the train station in Maple Falls to the Lake by horse and wagon. Private ownership of the Park continued until 1967, when it was sold to Whatcom County. The original founders still have an involvement in the Black Mountain Forestry Center.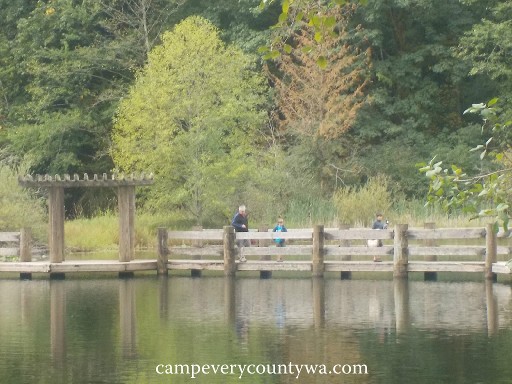 Silver Lake County Park is a series of vintage campgrounds, cabins, and interpretive displays.
For more photos of Silver Lake Co. Park click HERE
Douglas Fir Campground

(Whatcom Co.'s BEST RUSTIC CG)


Imagine camping so far from the lights of the city that the darkness sucks the light right out of your flashlight. That place would be called Douglas Fir Campground. It has the advantage of nearby services in Glacier and Maple Falls, and is also is clearly the best campground in the Mt. Baker National Forest with access to Mt. Baker and Mt. Shuksan.




Overview

: This Mt. Baker-Snoqualmie National Forest campground is located 37.2 miles east of Bellingham and 2 miles east of Glacier at 1200' elevation, open mid-May until late September; GPS 48.902, -121.9133.


Facilities

: The campground is rustic, with only a hand pump for water and ADA vault toilets, which adds to its charm. Each site includes a picnic table and fire ring. Vintage CCC-built stonework and a picnic shelter were recently refurbished for use.


Recreation

: The campground has access to Picture Lake and Artist Point giving great views of Mt. Baker's north slope and Mt. Shuksan. A nearby launching site exists for rafts and kayaks (no motorized boats allowed) for whitewater boating. The most popular hiking trail is Horseshoe Bend #687, accessible from the campground. Gold panning is available at several locations, including Nugents Corner, Nooksack Falls, and the Great Excelsior Mine.


Campsites

(29 sites for tents or RVs up to 57', no hookups, some sites are reservable): Many sites lie on the North Fork of the Nooksack River, all sit among old growth Douglas fir, silver fir, and western hemlock. Most are large, private, and unique. There is some concern for leveling RVs >30'. Among the best sites are site 1 (the most secluded), and sites 8, 12, 13, 14, 17 (off-river). The best riverside site is site 4. Note that only 18 of the sites are reservable.


Trip Notes

: As a big fan of the USFS campgrounds, I'm please to find a campground that rivals those in the Gifford Pinchot National Forest in Skamania County. The real difference here, aside from the obvious proximity to Heather Meadows and Artist Point (with views of Mt. Shuksan and Mt. Baker) is the Nooksack River itself. This section of the River had a milky green gem-like sparkle from the glacial waters. Rock hounds have told me this is the color of the gemstone "adventurine," which is ironic given the popularity of white water rafting in the area. This is simple and pure camping at its best.


Local Alternatives

: The obvious alternative is Silver Fir CG closer to Heather Meadows, but at the time of this writing it has been heavily gravel-led, with an immense amount of vegetation removed as hazard trees. We cannot recommend this as long as sites are available at Douglas Fir.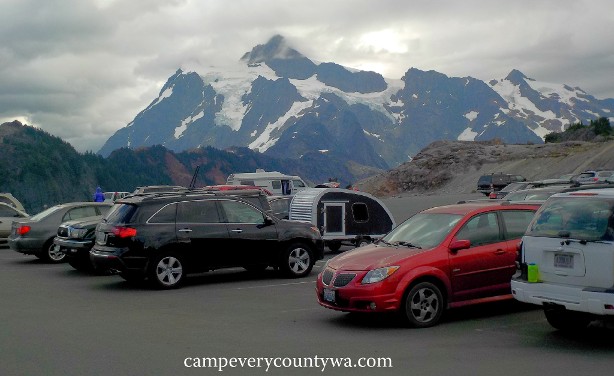 Mt. Shuksan is the real star of "Mount Baker" Highway 542
For more photos of Douglas Fir CG and Mount Baker click HERE
Nooksack/Boyds Creek Campsites

(Whatcom Co.'s BEST FREE CAMPSITES)


This decommissioned campground no longer has an official name, but continues to be used and maintained by campers who appreciate the natural beauty and rustic nature of these campsites. This type of camping is commonly called "boondocking," although officials prefer the term "dispersed camping."




Overview

: These campsites are located 7 miles east of Glacier on Forest Road 37 on the south bank of the North Fork of the Nooksack River, operated by campers in co-operation with the USFS at 906' elevation, open as long as the roads passable; GPS is unreliable in this locale.


Facilities

: None, except for the vault toilets generously provided by the USFS for sanitation purposes. Previous campers have also built huge river rock firepits in all 8 sites.


Recreation

: This features fishing on the Nooksack River. The 0.25-mile Boyd Creek Interpretive Trail is just one mile before the campsite area. Skyline Divide Trail, a 2 mile hike with 1000' elevation, lies 7 miles beyond the camping area at the end of Forest Road 37. Nine miles from Glacier is a paved one-lane road that leads to the best vistas of Mt. Baker in the area, and is highly recommended. The Great Excelsior Gold Mine provides opportunities for both ghost towning and gold-panning/sluicing. The entrance is located 0.5 miles beyond the last campsite. Look for road maker 031 on the left and hike in one mile to the mine, where the open entrance is still visible.


Campsites

(8 sites for tents or RVs of any size willing to travel the gravel road, no hookups or reservations, FREE with NW Forest Pass): sites range from small the extra large, the site at the end of the spur being a double site we are calling sites 7 and 8, all are very private and shaded. Seven of the eight sites are on the riverbank.


Trip Notes

: I don't usually trust boondocking sites, having bad experiences with campers being disruptive and destructive. So I visited this site on a Saturday morning, just as it was filling up, and again on Monday afternoon to check on the carnage. You know what? I couldn't so much as find a bottle cap or a scrap of paper left behind. That guy who was going to town with his chainsaw ended up cutting vine maple branches that were encroaching on the campsites, plus left behind cut up firewood for other campers. This gives a sample as to why these campsites have operated for several decades, and why the USFS has been willing to donate precious time to help them out. Co-operation, self-policing, and contributing to the maintenance -- all in a beautiful rustic setting? Now I know this can work, and work quite well. Just be mindful that this spot fills up early on summer weekends.


Washington History

- The Great Excelsior Mine produced gold and silver, and operated prior to WWI, closing in 1917 due to wartime labor shortages. In its heyday, it produced nearly a million dollars per year in gold and concentrates.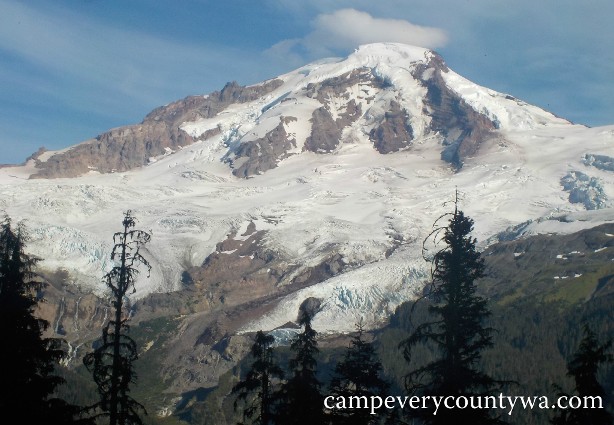 The best views of Mt. Baker can be found south of Glacier off Forest Road 39
For more photos of the Nooksack Boondocking Sites and vicinity, click HERE
Excelsior Group Camp

(Whatcom Co.'s BEST GROUP CG)


Camping with your best buds near Mt. Shuksan, Mt. Baker, and one of the most beautiful waterfalls in Washington just has success written all over it.




Overview

: Located 7 miles east of Glacier on Mt. Baker Highway 432, operated by the USFS at 1200' elevation, open mid-May until late September; GPS 48.90639, -121.81778.


Facilities

include vault toilets and potable water. Each of the two camps has a beautiful group shelter. Site A has 6 picnic tables with firepits. Site B has 15 picnic tables with firepits. RVers will want to fill their water tanks ahead of time.


Recreation

includes whitewater rafting and hiking. The Excelsior Pass Trailhead (1 mile east of Excelsior CG on Hwy 432, right side) leads to High Divide Trail #630 with views of Mt. Baker and the Nooksack Valley. Contact the USFS for more information on wilderness hiking trails into the Mt. Baker Wilderness. A walk to Nooksack Falls, a two-part waterfall that tumbles 88' into a deep, rocky river canyon, is also highly recommended. See more below.


Campsites

(Two group tent sites for up to 50-75 people each, no hookups, reservable): Site A accommodates up to 50 people with 6 picnic tables and firepits. Site B accommodates up to 75 people with 15 picnic tables and firepits. Site B is also more private, as you have to pass through Site A to get to Site B. Most large groups reserve both sites simultaneously, but they may also be reserved individually.


Trip Notes

: Location, location, location. These group sites are located down a long, winding gravel road, then nestled against the Nooksack River (Site A) and the Mt. Baker Highway (Site B). They are pretty enough, with sun and shade, but their proximity to Heather Meadows (Mt. Shuksan and Mt. Baker), Artists Point, and being within walking distance of the phenomenal Nooksack Falls could make for an unforgettable group outing.


Washington History

- The Historic Nooksack Falls Power Plant is a 1500 watt facility built by Charles Stone and Edwin Webster with a 47-mile transmission line to provide power to local communities and mining operations. It remains the second oldest operating facility in Western Washington, second only to the Electron Plant at Snoqualmie Falls. Of note, the Nooksack Falls Plant is downstream from the Falls and out of view of visitors, who can better access the plant from the road that passes the entrance to Excelsior Group Camp.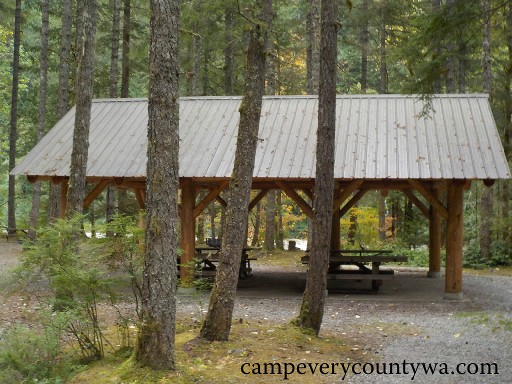 Excelsior Group Camp is equipped with two large group shelters.
For more photos of Excelsior Group Camp and Nooksack Falls click HERE
Baker Lake Region
While the Mount Baker Highway extends west of Mount Baker, beautiful Baker Lake extends due south and extends a full 9 miles. It is in fact a reservoir forged from the Baker River behind the Upper Baker Dam. At 4800 acres it is quite narrow with plenty of developed campgrounds on the western side and views of Mount Baker and the North Cascades that will make you want to kick back and stay awhile.
Panorama Point Campground

(one of Whatcom Co.'s MOST APPEALING CGs TO THE SENSES)
This is not the largest campground on Baker Lake, nor is it the most developed, but it is certainly the most beautiful with a fairly tale quality even on cloudy days.


Overview

: This Mt. Baker-Snoqualmie National Forest campground is located on the west shore of Baker Lake on approx. 20 acres 17.2 miles north of Concrete at 730' elevation, open mid-May to late September; GPS 48.724, -121.6731.


Facilities

: Limited facilities include vault toilets, piped water, garbage bins, picnic tables, fire grills, a gravel boat ramp, camp hosts, and an extensive canopy of trees.
Recreation: Kayaking and canoeing are ideal here, as motorboating is limited by the park's location at the narrow "knuckle" of the Lake. Water-skiing is more popular in wider sections of Baker Lake. There are multiple hiking trails on the east side of the Lake. Fishing is very good for kokanee salmon, Dolly Varden trout, and cutthroat trout.


Campsites

(15 sites for tents and small RVs, 3 of which are multiple sites, no hookups, 9 of the 15 sites are reservable): Sites are average to large, lush, private, the best being 1, 5, 6, 22, 13, 14. Sites are smaller than nearby Horseshoe Cove, but most are close to the Lake. Parking pads are gravel. This campground gives spectacular views of the south face of Mt. Baker, in addition to the recreational opportunities of Baker Lake. Douglas firs have largely replaced the old growth forest due to natural forest fires in the 1840s. It's still fine forest, and in the springtime they bring about an explosion of wildflowers, including coralroot, foamflower, twinflower, twistedstalk, and western trillium.


Trip Notes

: Wow. Since we camped on a series of cloudy days, we expected to be underwhelmed. Granted, the views were blunted by clouds, but it was the vegetation that drew us in. It was whimsical. Fascinating. Engaging. Be sure you choose one of the sites close to the "point." For us, it's the vegetation, not the views, that will bring us back.


Local Alternative

: By far, the best local alternative is Horseshoe Cove CG just three miles south.

This campground is larger and more developed (flush toilets!) than Panorama Point with better lake access, but less spectacular views of Mt. Baker.

The Day Use Area is a bit primitive, but has great lake access, overlooking a small island and the fishermen launching their boats from the "point" jutting out into the Lake. Anglers may prefer this campground. That campsites are also larger for those who prefer more space for their "stuff."




Local Attraction is the Shadows of the Sentinels Trail, a 0.6-mile boardwalked trail which is handicap-accessible. It isn't the Avenue of the Giants or the Trees of Mystery, but it is worth the short drive for the short walk.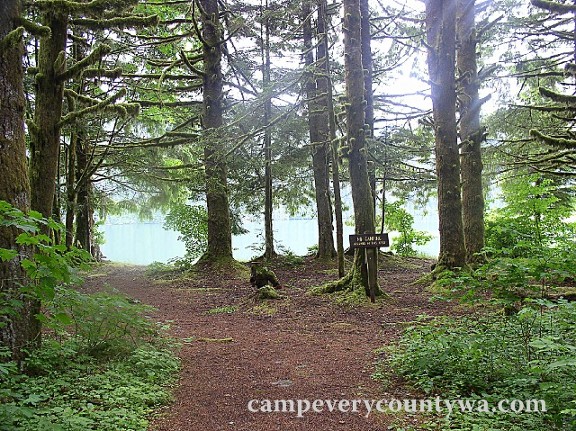 Panorama Point has a fairy tale quality, even on cloudy days
For more photos of Panorama Point CG click HERE
North Cascades National Park (NCNP)
Welcome to Washington's newest and least known National Park. But hidden away in its remote 500,00 acres is a larger than life alpine wilderness with jagged peaks covered with over 300 glaciers, cascading waters, and crystalline lakes of clear sapphire blue.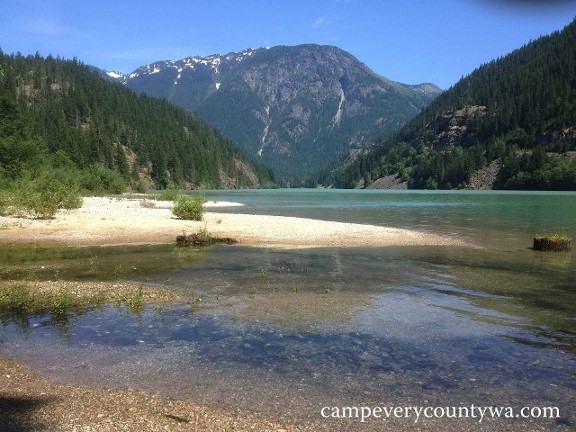 Azure waters and mountain peaks surround Colonial Creek Campground
For more photos of Colonial Creek CG, NCNP click HERE