WAHKIAKUM COUNTY (Cathlamet)
Small, isolated, and mysterious, this county was accessible only by river or canal until the 1930s when the first trans-county highway was built. A backwater county of covered bridges, ghost towns, and Columbia River boat traffic, this makes a damn interesting place to visit.
Cathlamet/Puget Island Area
Described by locals as a "quaint drinking village with a fishing problem," the historic river town of Cathlamet draws tourists who want to step back in time. Its riverboat character, museums, and historic buildings beckon back to a time when life was more deliberate, and camping was more a way of life.
Elochoman Slough Marina RV Park

(Wahkiakum Co.'s BEST BOAT-IN and BIKE-IN CG)
Camp here, and you'll experience this unique part of Washington up close and personal, surrounded by boats, immersed in the Columbia River life, and surrounded by one of the quaintest and most historical towns in Washington.


Overview

: This small and bustling marina campground is located in the river town of Cathlamet on the Columbia River, operated by Wahkiakum Port District 1, open year round; GPS 46.198928, -123.380174.


Facilities

: These include bathrooms with showers, picnic tables, fire grills, laundry, a picnic area with barbecue, a concession stand, launch ramps, camp hosts, and an RV dump station.


Recreation

: Water-focused activities include fishing, boating and, for campers, binge boat watching.


Campsites

(21 back-in tent sites, 7 hookup sites with water & electric 30/50 amp hookups for RVs of any size, 4 cabins, 2 yurts, reservable): Tent camping is divided into two sections. The best sites are on the dike road, a long, narrow peninsula dividing the marina from a small forested barrier island. Here boats must slowly travel the length of the peninsula before turning into the marina. These sites are small with some vegetation and privacy, but quiet and peaceful. The "waterfront sites" sit precariously on the edge of the parking lot and the unobstructed Columbia River. These will be enjoyed by the binge boat watchers less concerned with privacy. The RV sites are pure utility, set on gravel with zero privacy or vegetation. These can be recommended only for those who come purely for marina business. The cabins are nestled into the edge of town, set on a hillside overlooking the marina, and get very high ratings. The yurts seem older, but sit at the end of the dike road with the best boat watching.


Trip Notes

: This is a very unique campground in the most unique of small towns. Campers will be immersed in the river life of Cathlamet and the Columbia River generally. But... if you come to camp here, travel light! Bring the smaller vehicle and the smaller tent, and leave all the extras at home. The marina will supply all that you need.


Local Alternative

: South Welcome Slough Lodge Camping and Moorage is located on Puget Island (a residential island connected to Cathlamet by bridge) and is a newer but smaller alternative to Elochoman. It includes 8 RV sites with water & electric 20 amp hookups, 3 tent sites, an 850 square foot lodge with open panoramic view, full kitchen, and wooden deck.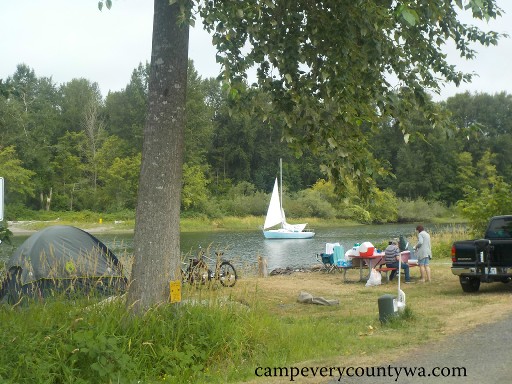 Elochman Marina attracts many local boaters and campers due to its historical river town amenities and pristine rural character.
For more photos of Elochman Marina RV Park click HERE
Skamokawa Area
This town was not settled by Venetians, nor does it resemble Venice in Italy, except of course for the series of natural canals on which it was built. In fact, the town resembles "Who-Ville," depicted by Dr. Seuss, with the buildings much higher than wide, all built around canals, and leaning just a bit. Even if you're simply driving past on Highway 4, this unique and historic town will leave a whimsical and lasting impression that will bring you back.

Skamokawa Vista Park

(Wahkiakum Co.'s MOST UNIQUELY WASHINGTON CG, BEST CG for ENTIRE FAMILIES, and BEST EQUIPPED/BEST CG FOR RVs)


This is W

ahkiakum Co.'s premier camping park set within the historic town of Skamokawa, sometimes called "Little Venice," as the town was built on a series of natural canals. Add a white sand beach on the Columbia River, and you'll be drawn into the endearing character of this town and park.


Overview

: This remarkable park is

located within the river town of Skamokawa on 75 acres on the Columbia River, operated by the Port of Wahkiakum No. 2 at 20' elevation, open year round; GPS: 46.269373, -123.460765.


Facilities

: Generous amenities include bathrooms with showers, picnic tables, fire pits, 2 playgrounds, day use shelters, a basketball court, horseshoe pits, a tennis court, sports fields, a public library at the entrance, Wi-Fi, camp hosts, and an RV dump station.


Recreation

: The disparate activities available include beach combing, kayaking, visiting the historic buildings of Skamokawa, wildlife viewing, fishing, field sports, and boat watching.


Campsites

(59 sites total for tents or RVs up to 35' with consideration for larger RVs. Five sites have yurts. Twelve are primitive sites for tents. RVs sites include 27 with partial and 15 with full 20/30/50 amp hookups. All are reservable): The layout of the campground resembles the old school yard on which it sits. The large, flat sports field lies in the middle, with sites arranged around the Columbia River and into the wooded and beach areas. Sites 1-15 are dual use tent/RV with partial hookups near the office with available Wi-Fi. Sites 27-33 are full hookup sites nestled in the trees, and the best for larger groups, and the most private overall. Not all these sites are perfectly level, however. Sites S3-S9 are flatter with full hookups. Sites T1-T6, V1-V3, and 16, 17 & 18 are primitive tent sites. Sites T1-T6, 17, and 18 are wooded and hear the beach, with site 16 being near the yurts. Sites V1-V3 are more open and on the beach. Sites V4-V15 are near the beach with water/electric hookups.


Trip notes

: Can a campground move the earth? A silly question you say, but in this case they moved tons of white sand onto the shore of this Columbia River gem. A bank of trees protects campsites from the wind of the Columbia River. On weekends, dozens of multi-colored kayaks line the sandy beach, as this is a popular spot for many WA and OR kayak clubs, who enjoy the many canals on which the town of Skamokawa is built.


Local Alternative

: County Line CG, near the Wahkiakum-Cowlitz Co. line on the Columbia River, offers riverfront tent camping (3 sites) and RV camping (18 sites with electric hookups only). It provides good fishing and boat watching.


Local Attraction

: The Julia Butler Hanson Refuge for the Columbian White Tailed Deer is just a short drive to the east. These are the only white tailed deer west of the Cascades, whose population became so low they were once considered extinct. About 300 of these shy creatures now live on the refuge and surrounding communities, though they are known to occasionally wander into the Vista Park.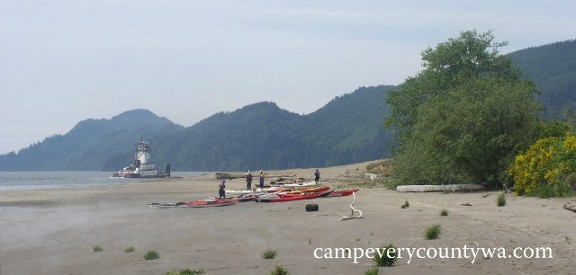 Skamokawa Vista Park features white sandy beaches on the Columbia River
For more photos of Skamokawa Vista and County Line CGs click HERE
Grays River/Deep River Area
Deep River is 2 miles downstream from Grays River, both of which empty into Grays Bay. Several small towns, past and present, line both rivers, along with numerous houseboats and boat launches. It is rustic and natural, with a muddy, backwater feel and character all its own.

Rose Creek Retreat

(Wahkiakum Co.'s MOST APPEALING CG TO THE SENSES)


There is camping, and there is glamping, but here we have what we might call "boutique-ing." This retreat was handcrafted out of land long misused by loggers and factories. Now campers are greeted by the scents of heirloom roses, the sights of eagles and ships floating by, and the hoots of owls as the sun sets over Grays Bay.




Overview

: This boutique camping retreat is located 27 miles northwest of Cathlamet and 8.5 miles south of Grays River, privately operated, open year round; GPS unknown, see directions below.


Facilities

: Tent campers will find restrooms (ADA accessible), a fire pit in the Rose Garden Site, a Day Use area with picnic tables and a fire pit, a Visitor Center, and most notably their own individual wildlife park in each site.


Recreation

: Activities feature relaxing or foraging for mushrooms, huckleberries and wildflowers. Birding, hiking, paddle boarding, canoeing, and kayaking are also popular.


Campsites

(3 sites for tents only, reservations are required): Rose Creek Retreat is unique in that each site is an individually conceived and crafted garden-like camping experience. Here is the breakdown:
The Creekside Garden Site features private camping in a restored forest, intersected by Rose Creek, and interspersed by native trees and hundreds of native roses, providing a lush and serene environment.
The Orchid Garden Site is the most secluded site, underneath canopies of maples, spotted with wild orchids, and interspersed by huckleberry bushes ripe for the picking. It features a hand-built wigwam/wikiup, terrariums and trails.
The Rose Garden Site rests right on the Columbia River with a restored cool, babbling creek running through. Over 30 varieties of tea roses give this site a more formal feel, while still being the best birding site, ensuring that it appeals to all the senses simultaneously. It contains a sleeping gazebo for those seeking a little more luxury.


Trip Notes

: A personal tour from operator Sol Mertz was very telling of the hospitality you will receive here. More telling is the simultaneous scent of the old roses on the bank dropping down to the Altoona-Pillar Rock Road, part of the original residence once located on this spot. One can take in the intoxicating scent of the past, while observe eagles swooping down from the trees onto the mighty Columbia River in search of fish, while taking in the multicolor sunsets rising out of the west. Furthermore, land that was once taken for dead is now being restored to the "Real Washington," making it the most uniquely Washington camping areas in the County, if not the entire State.


Historical Note

: This area long been home to indigenous peoples, later visited by Lewis and Clark, and more recently became the site of two ghost towns, Altoona and Cottardi Station. The decline of the salmon industry meant the demise of these towns, and the land was was heavily logged and left to be overrun by invasive species. The owners stepped in and began using ecological forestry processes to restore the habitat, with the return of several species, including native trees, birds, and other wildlife. The land is now dominated by multiple gardens that showcase the natural beauty of the area.


Local Attraction

: The Grays River Covered Bridge is a popular attraction in the nearby community of Grays River.


Directions

: Traveling west on Hwy 4 from Cathlamet, drive 20.8 miles and turn left/south at the old Rosburg Store (Altoona-Pillar Rock Rd). Drive 6.5 miles down Pillar Rock Rd to Cottardi Heights Rd and turn left. Continue for several hundred feet, parking is to the left. If you have reservations, please disregard the "private property" signs.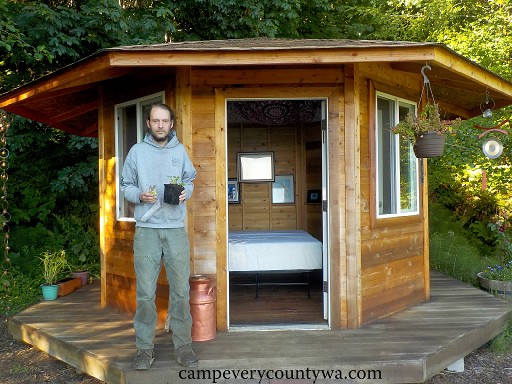 Owner and operator Sol Mertz stands in front of a sleeping gazebo at Rose Creek Retreat
For more photos of Rose Creek Retreat click HERE
OTHER CAMPGROUNDS: There are no Hike-In or Group Campgrounds in Wahkiakum Co. that we can recommend at this time.