THURSTON COUNTY (Olympia)
From the many-fingered waterways of southern Puget Sound, to the amazing Nisqually National Wildlife Refuge, to the glacial prairies at the base of the Capital State Forest, this small county provides a wide variety of camping and recreational opportunities.
Nisqually River Region
The Nisqually River has its source at the Nisqually Glacier on Mount Rainier, but makes its grand exit at the Nisqually River Delta in northern Thurston Co. Its 81-mile journey criss-crosses the Nisqually Indian Reservation, and is their territorial center. Tribal influences make recreation here more solitary and natural than much of the County.

Riverbend Campground

(Thurston Co.'s MOST UNIQUELY WASHINGTON CG)
This at first appears like an RV Park with some long-term residents, but look deeper. On the edge of the campground, on the sandy shores of the Nisqually River, are some of the nicest, most natural tent sites in all of Washington. The campground is also under new management with vast improvements. Warning: don't confuse this with Riverbend RV Park in Okanogan Co.


Overview

: This gated campground is located 12.2 miles east of downtown Olympia and 3.5 miles south of I-5, privately operated on 25 acres at low elevation, open year round; GPS 47.04804, -122.69429.


Facilities

: Updated amenities include bathrooms with showers (ADA), pit toilets near the River, some picnic tables and fire pits, laundry, a playground, picnic area, a boat ramp, Club House with library/games/TV, a mini store, Wi-Fi and cable TV at some sites, a pet play area, friendly camp hosts, and an RV dump.


Recreation:

Disc Golf, horseshoes, and outdoor games are available. Check fishing regulations before setting out, as these change from year to year.


Campsites

(93 sites for tents and RVs up to 60', including 15 tent sites on the River, a mixture of pull-throughs and back-ins with full and partial 30/50 amp hookups, reservable): Sites are large, level and shady on gravel or sand pads, but subject to railroad and military plane noise. The tents sites on the River are rustic and natural, and also the most private. The RV sites surround beautifully manicured grounds. On the edge of the RV area is farmland with llamas who seem to keep many campers entertained.


Trip Notes

: This campground is best for longer stays, those stopping over along I-5, or for tent campers who are less bothered by train or plane noise. The long-term campers are reported as very nice and unobtrusive by most reviewers, and our experience was the same. The crowning jewel is the Nisqually River itself -- very uniquely Washington -- with its opalescent water, easy wading, camping on the sandy beach -- providing one of the best experiences of Washington from the ground up.


Local Attraction

: The amazing Billy Frank Jr. Nisqually National Wildlife Refuge occupies the Nisqually River Delta, where the River meets Puget Sound. Covering 3,114 acres, this is home to over 300 species of birds, mammals, reptiles, and amphibians. There are abundant opportunities for hiking on boardwalk trails, photography, fishing, and environmental education. A section (191 acres) is open to boat access waterfowl hunting. Be sure to visit the Norm Dicks Visitor Center exhibits.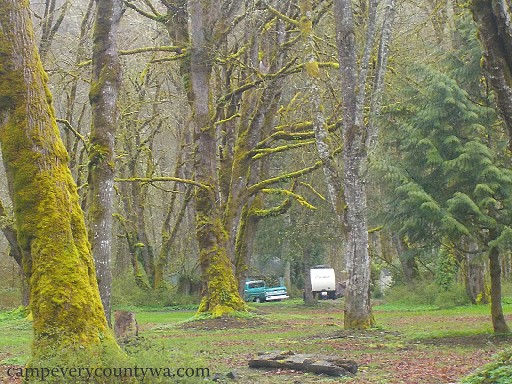 Riverbend Campground is an often overlooked gem on the Nisqually River
For more photos of Riverbend CG click HERE
Thurston County's Prairie Region
Thurston Co. is unique among Puget Sound counties with its sprawling prairies. Those travelling north of Olympia to shop at Cabellas must take the Hawks Prairie exit, but most prairies lie further south where towns are smaller and more scattered. Still, less than 10% of the area's prairies still exist, with only a fraction of that suitable to support its many endangered species. Camp well here, but also appreciate what a remarkable opportunity you have to share this land.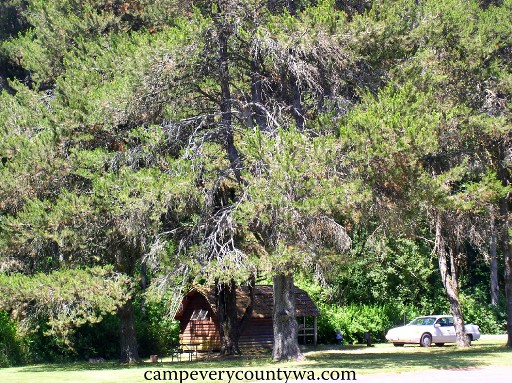 The one lowly cabin at American Heritage is nicely set among mature pines
For more photos of American Heritage CG click HERE
Millersylvania State Park

(Thurston Co.'s BEST CG FOR ENTIRE FAMILIES)


This park was originally called "Miller's Glade," after the Miller family that donated the land. The name was later changed to Millersylvania, or "wooded glade," due to its striking forest, lakes, and prairie land. Its construction by the CCC in 1935 gives it the vintage character of the era, with its brick bathrooms, kitchen shelters, and other stone and wooden buildings.




Overview

: Vintage in every way, this campground is located 11.7 miles south of Olympia on 842 acres with 3,300' of of freshwater shoreline on 38.8 acre Deep Lake at 210' elevation, open year round; GPS 46.91278, -122.90972.


Facilities

: Vintage with modern updates, campers will find bathrooms with showers (ADA), picnic tables, fire grills, 4 kitchen shelters, a boat launch, 100' of dock, a Park Store, concession stand, boat rentals, 8.6 miles of hiking trails, 7.6 miles of biking trails, camp hosts, and an RV dump station.


Recreation

: This includes swimming, boating (speed limit 5 mph, no gas motors), fishing, hiking, and "glamping."


Campsites

(120 tent spaces, 48 full utility sites for RVs up to 45' with full hookups 30 amp, 5 "glamping sites" in the Pampered Wilderness, one group camp for 20-40, the Environmental Learning Center for 150-160, Lakeside Cottage, all are reservable): The tent sites, while shaded and beautiful amid old growth forest, are connected by a series of difficult to maneuver roads, and large vehicles should reserve sites in the RV loop. The most shaded/wooded RV sites are 201-227 and 246-248, others are in full sun. The 5 Pampered Wilderness sites feature furnished hand-made canvas and log cabins with king-sized beds, electricity, mini-fridges, microwaves, gourmet coffee, barbecues with utensils, continental breakfasts, wine glasses, and even s'mores. The Group Camp is wooded and shady, with a group fire pit and kitchen shelter. The Environmental Learning/Retreat Center features a furnished wood lodge with dining hall and equipped kitchen, 19 heated cabins (2 with bathrooms) for 6-8 people each, 4 trailer/RV sites, 2 outdoor classrooms, bathrooms with showers, and an amphitheater.


Trip Notes

: The 1930s-1940s feel of this campground strikes you the minute you enter the camping areas. It is easy to imagine movie stars -- Katherine Hepburn, Humphrey Bogart, and even Mae West -- glamping in the Pampered Wilderness, sipping wine, wading in Deep Lake, and sitting around their respective campfires, while their servants bring them boeuf bourguignon and caviar, before being tucked in beneath the silk sheets of their candlelit canvas tents. Exaggeration? Sure, but this place retains a vintage, Hollywood-type glamor that is a real treasure.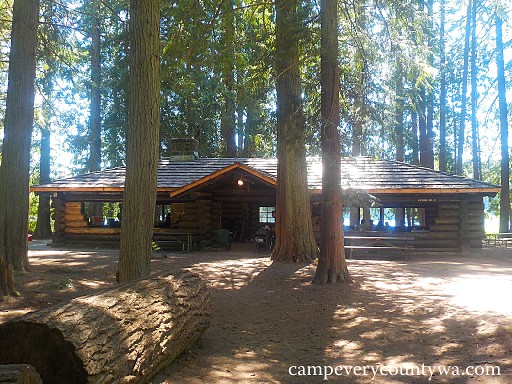 The CCC built Millersylvania State Park in the 1930s, giving it a vintage charm
For more photos of Millersylvania S.P. click HERE
Capital State Forest
The 91,650-acre Capitol State Forest is a "working forest" providing both timber and recreation. These are trust lands managed to provide sustainable revenue in support of schools, state universities and local county public services. These Black Hills lands also provide the majority of the County's trails for ORVs, mountain biking, horseback riding, and hiking, laced with some of the most regenerative campgrounds in Washington.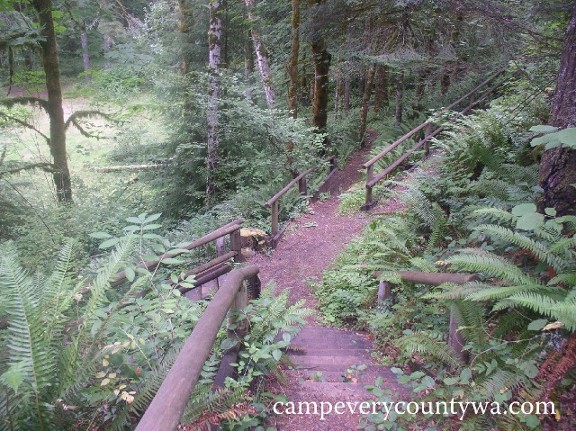 The wooded trail down to Waddell Creek at Margaret McKenny Campground
For more photos of Margaret McKenny CG and vicinity click HERE
OTHER CAMPGROUNDS: There are no Hike-In Only or Boat-In Only Campgrounds in Thurston Co. that we can recommend at this time.