This website is intended as an adjunct to the paperback book 'Camp Every County, Washington' by Brendan J. McDonald, available on Amazon.com. Included on this website are photographs and texts which could not be included in the paperback edition, where you will find full narrative versions of each section found below.
Marble Creek Campground (Skagit Co.'s BEST RUSTIC CG)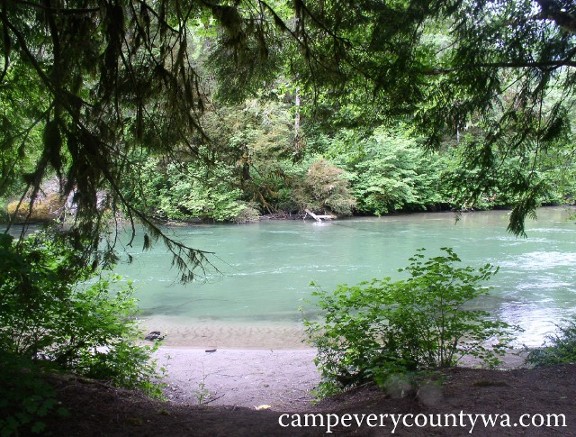 The milky white waters of the Cascade River provide the backdrop for Marble Creek Campground's secluded, rustic camping.
For more photos of Marble Creek CG click HERE
Rasar State Park (Skagit Co.'s BEST EQUIPPED/BEST CG FOR RVs, BEST BIKE-IN CG, and includes BEST GROUP CG)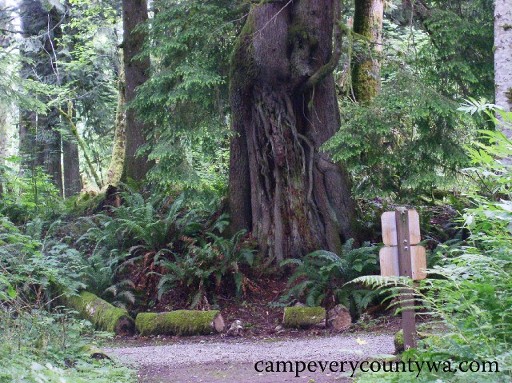 The trees at Rasal State Park reflect a long history of logging and transformation of the land by the flooding river
For more photos of Rasar S.P. click HERE
Bowman Bay Campground at Deception Pass State Park (Skagit Co.'s MOST APPEALING CG TO THE SENSES)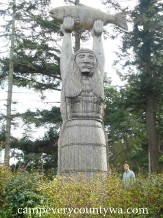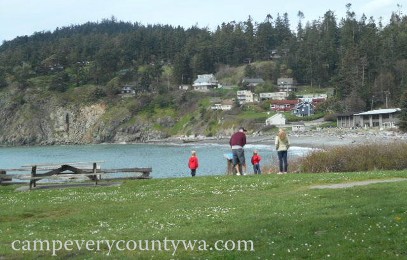 Bowman Bay represents the quieter, gentler side of Deception Pass State Park
For more photos of Bowman Bay CG click HERE
Washington Park

(Skagit Co.'s MOST UNIQUELY WASHINGTON CG, and BEST CG FOR ENTIRE FAMILIES)
The marine views from Wasington Park on Fidalgo Head are among the best in Washington
For more photos of Washington Park click HERE
Lily/Lizard Lakes

(Skagit Co.'s BEST HIKE-IN CAMPSITES)


Blanchard Mountain competes with Chuckanut Mountain for the best views in the area, with small campworthy lakes hanging back from the overlooks. This is the first hike-in camping trip for many youngsters and adults alike, with alpine lakes and dramatic views a reward at the end of the trail.




Overview

: These easy to reach campsites are located on Blanchard Mountain about 15 miles north of Mount Vernon, operated by the DNR at 1900' elevation, open year round. GPS 48.5715, -122.4186.


Facilities

: These include rock fire rings, some with grills, picnic tables, vault toilets, and benches. You must bring your own drinking water and pack out refuse.


Recreation

: In addition to hiking, another trail leads to the Oyster Dome, a rocky promontory on the western slope of Blanchard Mountain, with remarkable views of Samish Bay and the San Juan Islands.


Campsites

(3 sites at Lizard Lake, 6 sites at Lily Lake, non-reservable, FREE with Discover Pass): Campsites are small and scattered, but also wooded and private.


Getting There

: From Mount Vernon, take I-5 north for 15 miles to Exit #240 (Alger). Turn left over the freeway for 0.5 miles, and turn left onto Barrel Springs Road. Drive one additional mile and turn right onto the road marked Blanchard Mountain Trails. Drive past the large parking area on the right and continue for one more mile, keeping to the right. You will pass a trailhead on the left, but continue to the large open area and park there for best trail access.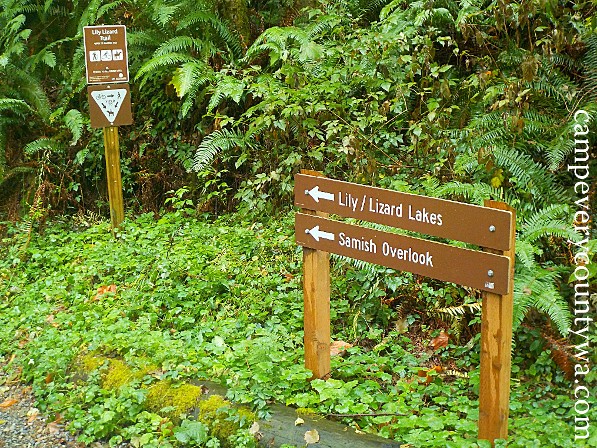 The Lily/Lizard Lake Trail climbs Blanchard Mountain with remarkable views of Samish Bay and the San Juan Islands
For more photos of Lily/Lizard Lakes Campsites click HERE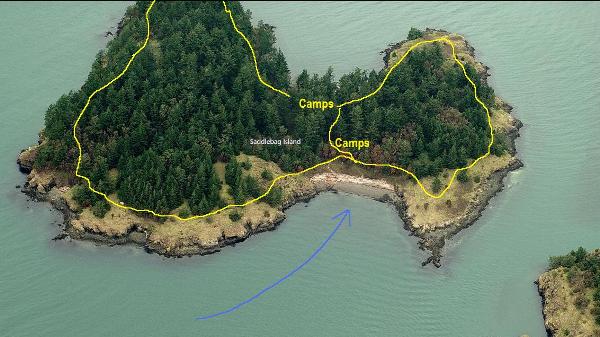 Saddle Bag Island Marine State Park is among Puget Sound's most charming boat-in locations
For more photos of Saddle Bag Island S.P. Boat-In click HERE
OTHER CAMPGROUNDS: There are no FREE drive-in CGs in Skagit Co. that we can recommend at this time.