SKAGIT COUNTY (Mount Vernon)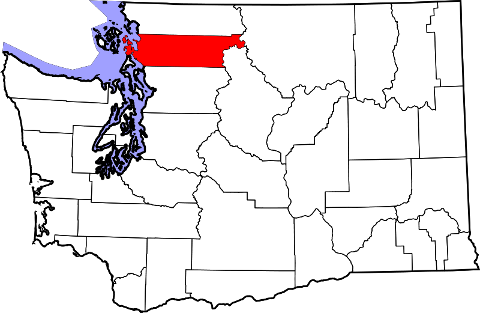 From Rosario Straight, across the tulip fields, and up the mighty Skagit River to the craggy peaks of the North Cascades, this county is a study in diversity.
Highway 20/Skagit Valley/North Cascades Highway
State Route 20 is the northernmost route across the Cascade Mountain Range in Washington, and the state's longest highway stretching 436 miles across the northern regions of Washington. The Skagit Co. portion of this primarily follows the Skagit River from Puget Sound to the North Cascades National Park (NCNP). So your recreational options divided between raging rivers (Rasar State Park) and pure mountain streams (Marble Creek Campground), great choices for any camper.

Marble Creek Campground

(Skagit Co.'s BEST RUSTIC CG)


The Cascade River, on which this campground rests, is a tributary of the Skagit River, and a designated National Scenic River. It is hemmed in by several wildlife areas, and populated with mountain goats, coyotes, pine marten and a variety of migratory birds. If you want nature and seclusion, get on up here.




Overview

: This Mt. Baker-Snoqualmie National Forest campground is located 8 miles east of Marblemount on 12 acres with riverfront on Cascade River/Marble Creek at 900' elevation, open mid-May 18 through late September. GPS 48.5293, -121.2738.


Facilities

: These include vault toilets, picnic tables, fire rings, a boat ramp, and camp hosts in summer.


Recreation

: There is an 8.1-mile hike to the Skagit River confluence and the NCNP.


Campsites

(22 sites for tents or RVs up to 22', no hookups or potable water, reservable): Sites are large and private, along the shores of both the ever changing Cascade River, and the smaller, rushing Marble Creek in old growth forest. Reserve one of the sites 1-12 that are along the Cascade River. The best site is clearly site 12, which has its own road and best riverfront, and could be used as a double site. There is no road noise, only the sound of the River and Creek.


Trip Notes

: This place was less remote than we had imagined. The road (up to the park at least) was paved, and a short distance from Marblemount. The sites themselves were more primitive, but that milky blue Cascade River won us over. Like many parks in this day and age, it could have used a thorough going over with a machete and a lawn mower, as well as some additional gravel on the park road. But this is primitive camping I could really live with, possibly for several days at a time.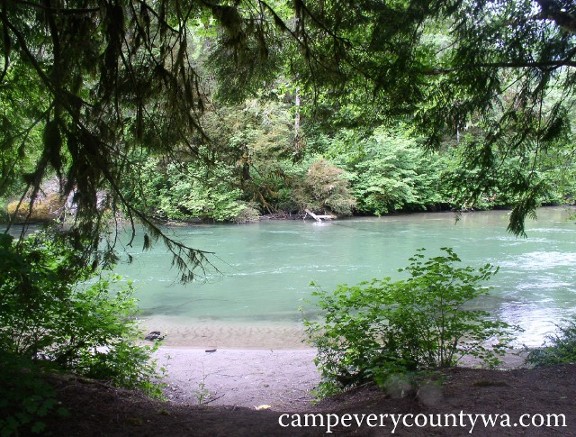 The milky white waters of the Cascade River provide the backdrop for Marble Creek Campground's secluded, rustic camping.
For more photos of Marble Creek CG click HERE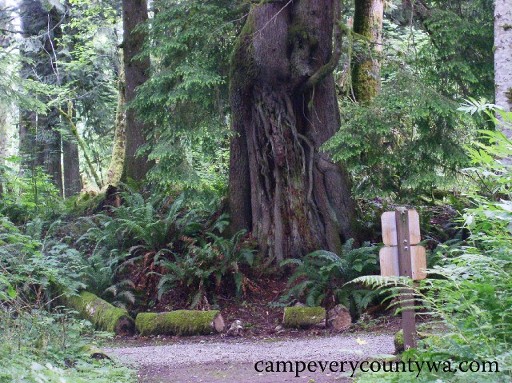 The trees at Rasal State Park reflect a long history of logging and transformation of the land by the flooding river
For more photos of Rasar S.P. click HERE
Puget Sound and Fidalgo Island
The best recreational opportunities in the Puget Sound portion of Skagit County occur on Fidalgo Island, home of the City of Anacortes and the San Juan Ferries. Fidalgo is connected to Whidbey Island in the south by the Deception Pass Bridge, and to the tulip fields of LaConner to the east by the LaConnor Rainbow Bridge across the Swinomish Channel. Fidalgo's 41 square miles offer 8 major lakes, two campgrounds on salt water (below), and ferry access to the San Juan Islands and Vancouver Island, British Columbia.

Bowman Bay Campground at Deception Pass State Park

(Skagit Co.'s MOST APPEALING CG TO THE SENSES)


This former Samish Indian Village, turned military park, then turned fish hatchery, was later converted to this beautiful park by the Civilian Conservation Corps.




#See Island Co. for Cranberry Lake CG at Deception Pass S.P.#




Overview

: This stunningly beautiful campground is located 7 miles south of Anacortes on Fidalgo Island with 77,000' of saltwater shoreline on Rosario Straight, on the north shore of Deception Pass, and is the northern end of Deception Pass S.P., open seasonally. GPS:


Facilities

include bathrooms with flush toilets, showers, running water, playground, 2 cooking shelters, boat launch, campground host. This is the smallest of the 3 campgrounds.


Recreation

includes gray whale watching, hiking, and beachcombing.


Campsites

(20 sites for tents or small RVs, 1 CMT site for boaters, no hookups, reservable): Best sites for privacy are 274, 276, 277, 279, 282. Sites 284-285 are a double site w/average privacy. Sites 287-289 are a triple site w/poor to average privacy. Vegetation is light within the campground, but is surrounded by madronas, cedars, and firs outside the campsite area. This campground has the added bonuses of the Maiden of the Sea statue, as well as Rosario Head with its elaborate tidepools.


Trip Notes

: Here you will find beauty at every turn. Touches include the stone bathrooms, cooking shelters, and even a bronze statue of a CCC worker. The history and complexity of this place is apparent as soon as you pass through the gates. All of the sites have a view of the Bay, and the trail to Rosario Head has the most dramatic madrona and fir trees anywhere. The Maiden of the Sea statue was smaller than I imaged, but no less impressive. When I return to camp at Deception Pass S.P., I will choose this campground, as it is brighter and more scenic than those at Cranberry Lake.


Local Folklore

: The Samish legend of the Maiden of the Sea believes that princess Ko-Kwal-alwoot married the Spirit of the Sea in order to guarantee that seafood would always be plentiful. The statue is located at Rosario head adjacent to Bowman Bay.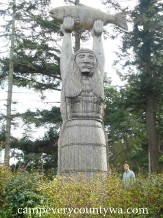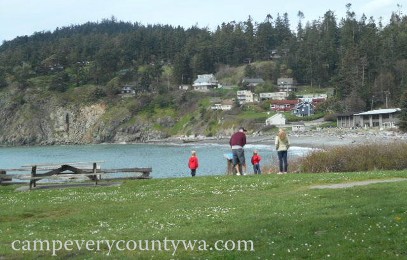 Bowman Bay represents the quieter, gentler side of Deception Pass State Park
For more photos of Bowman Bay CG click HERE
Washington Park

(Skagit Co.'s MOST UNIQUELY WASHINGTON CG, and BEST CG FOR FAMILIES)


This is the part of Fidalgo Island that most people never see -- beyond the City of Anacortes, beyond the ferry docks, and on to the most breathtaking, magnificent precipice around -- Fidalgo Head. And in the middle of this marine wonderland lies a little old campground with the simple name of Washington Park.




Overview

: This exceptional campground is located within and operated by the City of Anacortes on 220 acres with over 2 miles of saltwater shoreline at 135' elevation, open year round; GPS 48.4992, -122.6929.


Facilities

include flush toilets, showers, running water, a day use picnic sites and 3 rentable picnic shelters, a playground, boat launch, an overnight single car parking lot, camp hosts, and an RV dump station.


Recreation

: The most popular recreation is standing and staring for hours at the marine view. This is best accomplished along the the hiking and walking trails, but a single 2-lane road also circles the peninsula with many designated viewpoints.


Campsites

(68 back-in and pull-through sites for tents and RVs of all sizes, including 46 with water & electric 30 amp hookups, 1 group tenting area for up to 30, reservable): The sites can be said to be in three intertwining loops. Sites are wooded and private, but not always level (remember your leveling blocks). All sites are heavily wooded, of average to large in size, and with average privacy. The camping area is not as well engineered as many of our state parks or better private parks, but still very campworthy.


Trip Notes

: The precipice of Fidalgo Head, surrounded by beaches, coves, bluffs, and killer marine views, makes the perfect place to build a campground. The trees were the most fascinating: madronas, firs, and cedars reflected against the backdrop of the pristine waters of Burrows Bay, Rosario Straight, and the San Juan Islands -- all picture perfect views. We spent the majority of our camping time at the bluffs and designated viewpoints taking in marine views that are perhaps the best we've ever seen -- and we've seen quite a few -- but these have remained the most firmly etched in our minds.


In-Park Attraction

: Tonjes H. Havekost (c. 1841-1911) came to the U.S. from Germany in 1866, and settled on 160 acres at Burrows Bay in 1871, acquiring more land as years past. This civic leader and captain of industry died in 1911, donating the first parcel of what would become this beautiful park. He is often quoted as saying, "Make make my tomb a park." A 15-ton granite monument near the Burrows Channel Viewpoint now commemorates his life and major role in building up the City of Anacortes.
The marine views from Wasington Park on Fidalgo Head are among the best in Washington
For more photos of Washington Park click HERE
Lily/Lizard Lakes

(Skagit Co.'s BEST HIKE-IN CAMPSITES)


Blanchard Mountain competes with Chuckanut Mountain for the best views in the area, with small campworthy lakes hanging back from the overlooks. This is the first hike-in camping trip for many youngsters and adults alike, with alpine lakes and dramatic views a reward at the end of the trail.




Overview

: These easy to reach campsites are located on Blanchard Mountain about 15 miles north of Mount Vernon, operated by the DNR at 1900' elevation, open year round. GPS 48.5715, -122.4186.


Facilities

: These include rock fire rings, some with grills, picnic tables, vault toilets, and benches. You must bring your own drinking water and pack out refuse.


Recreation

: In addition to hiking, another trail leads to the Oyster Dome, a rocky promontory on the western slope of Blanchard Mountain, with remarkable views of Samish Bay and the San Juan Islands.


Campsites

(3 sites at Lizard Lake, 6 sites at Lily Lake, non-reservable, FREE with Discover Pass): Campsites are small and scattered, but also wooded and private.


Getting There

: From Mount Vernon, take I-5 north for 15 miles to Exit #240 (Alger). Turn left over the freeway for 0.5 miles, and turn left onto Barrel Springs Road. Drive one additional mile and turn right onto the road marked Blanchard Mountain Trails. Drive past the large parking area on the right and continue for one more mile, keeping to the right. You will pass a trailhead on the left, but continue to the large open area and park there for best trail access.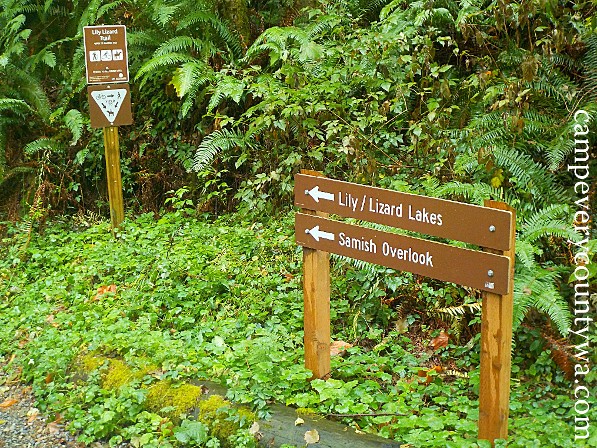 The Lily/Lizard Lake Trail climbs Blanchard Mountain with remarkable views of Samish Bay and the San Juan Islands
For more photos of Lily/Lizard Lakes Campsites click HERE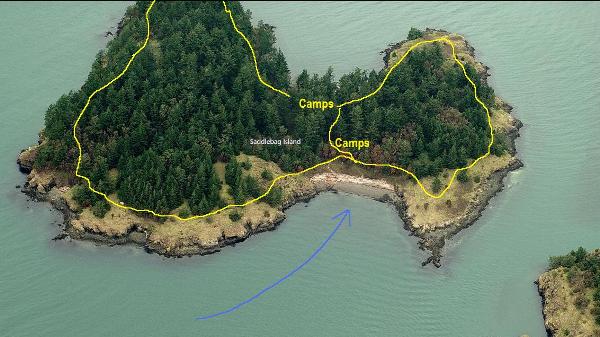 Saddle Bag Island Marine State Park is among Puget Sound's most charming boat-in locations
For more photos of Saddle Bag Island S.P. Boat-In click HERE
OTHER CAMPGROUNDS: There are no FREE drive-in CGs in Skagit Co. that we can recommend at this time.