This county has so many distinct regions, surrounding the rugged City of Tacoma, that you may need to camp several different places before you can grasp its complexity. Start with Mount Rainier National Park, the Key Peninsula, Chinook Pass, and the Nisqually River Plateau before venturing into more remote areas.
Mount Rainier National Park (MRNP)
Mount Rainier among the most recognizable mountain peaks, plus the most glaciated peak in the contiguous U.S.A. It is ranked third of the 128 ultra-prominent mountain peaks of the United States, and spawns six major rivers (the Carbon, Cowlitz, Mowich, Nisqually, Puyallup, and White Rivers). More to the point, it forms the backdrop for much of the recreation in Pierce County and beyond.

Cougar Rock Campground, MRNP

(Pierce Co.'s MOST UNIQUELY WASHINGTON CG)


Set at the southwest corner of 14,410' Mount Rainier, location is the word here, as this semi-rustic campground is close to MRNP's most popular destinations, including Paradise Lodge, Narada Falls, and Longmire.


Overview

: Located 14 miles east of Ashford and 2 miles east of Longmire on the Nisqually River at 3180 elevation, open late May to late September; GPS 46.7674, -121.7927.


Facilities

: Moderate facilities include bathrooms with flush toilets, drinking water, picnic tables, fire grills, RV dump station, and a General Store 2 miles away in Longmire. The Nisqually River is accessible from the Day Use Area across Highway 706.


Recreation

: Hiking is spectacular here, and we strongly recommend acquiring a topographical map of the area. Hiking trails accessible directly from the campground include the 0.7-mile Trail of Shadows (easy); the 2.2-mile Carter Falls/Madcap Falls Loop Trail, the 4.6-mile Rampart Ridge Loop Trail (both moderate); and the 93-mile Wonderland Trail (strenuous) that encircles Mt. Rainier, passing through Longmire, Paradise, and Indian Henry's Hunting Ground. Many other trails start a short drive from the campground, including Christine Falls 4.5 miles east of Longmire (easy), 2-mile Kautz Creep Loop Trail 2.2 miles east of Longmire (moderate), 5.6-mile Comet Falls/Van Trump Park Trail and 7.2-mile Eagle Peak Saddle Loop Trail near Longmire (strenuous).


Campsites

(173 sites for tents or RVs up to 35', no hookups, 5 group sites for up to 12 people each, reservable): Sites are small to medium, most with average privacy, many pull-throughs, most hemmed in by trees. The quietest campsites, however, are in Loop E, which does not allow generators. The campground contains one lookout at the Mountain, borders the Nisqually River, and has the best access to Paradise Lodge. In short, this campground is the best in MRNP for location, but Ohanapecosh CG MRNP (see under Lewis Co.) is the best for camping.


Trip Notes

: This campground has a vintage, Boy/Girl Scout Summer Camp feel. The amphitheater has an especially strong yesteryear feel, and the accessibility of hiking trails is extraordinary (but no hiking on trails for Fido).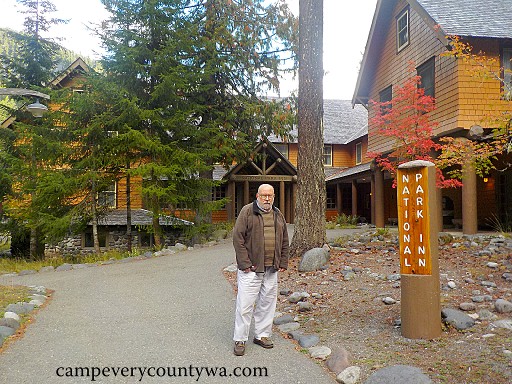 Gary Jones, the most senior of our Camp Every County crew, passed away in October of 2017, just days after finishing the Project
For more photos of Cougar Rock CG, MRNP click HERE
Mowich Lake Campground, MRNP

(Pierce Co.'s BEST FREE CG):


It may take some determination to drive here over the bumpy roads, but once you get here you will find the largest and deepest lake in MRNP, as well one of its most scenic locations.




Overview

: Located off Highway 165 six miles inside the Mowich Entrance of MRNP at 4955' elevation, open early July to early October; GPS 46.939, -121.862.


Facilities

include vault toilets, tent platforms, secure food storage, and picnic tables at 10 of the campsites.


Recreation

: Kayaking/canoeing on Mowich Lake is a must. This is also a good launching point for many trails in the Mt. Rainier Wilderness. The 93-mile Wonderland Trail, which circles Mt. Rainier, is accessible from the campground. Other options are the 5.6-mile round-trip to the Tolmie Peak Lookout which passes the alluring Eunice Lake; and 6-mile round-trip Spray Park Trail with its 354' cascading waterfall. Both are accessible from the campground.


Campsites

(21 walk-in sites for tents, including 3 group sites, no hookups or reservations, FREE with America the Beautiful Pass or Park entrance fee): All sites require a 200-yard walk. All sites are close together with only a modest amount of shade. What you have is camping next to a beautiful, pristine lake with a picture perfect reflection of MRNP. The only bad reviews from from those who could not manage the 17-mile bumpy dirt road to get there. Camper beware.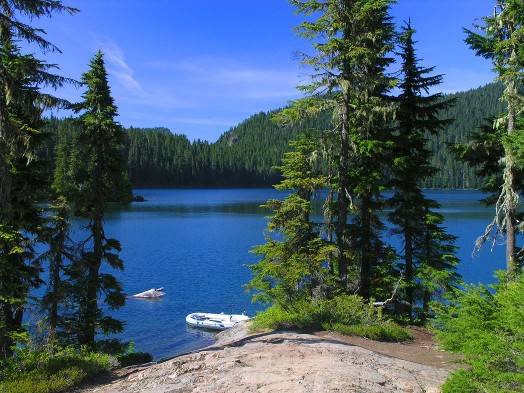 Mowich Lake is the largest and deepest lake in Mount Rainier National Park
For more photos of Mowich Lake CG click HERE

Crystal Lakes Trail Campsites, MRNP

(Pierce Co.'s BEST HIKE-IN CAMPSITES)
This 5.7-mile round trip trail is very "clean" with no rocks, roots, or other trip hazards along the way. Here you will find a pair of sparkling subalpine lakes beloved by hikers of all ages and abilities.


Overview

: Located 36.5 miles east of Enumclaw at 5805' elevation, accessible from July until October; Trailhead GPS 46.9227, -121.5336 (more below).


Facilities

: None. Water from each lake should be treated befor using for drinking water.


Recreation

: The Crystal Lakes Trail continues on to Sourdough Gap and joins the Pacific Crest Trail along the Park's NE boundary.


Trailhead

: From Enumclaw, follow SR 410 for 36.5 miles to trailhead. It is located 4.6 miles past the junction with Crystal Mountain Boulevard and 0.5 mile before Sunrise Road turnoff. The small, easy to miss trailhead is located on the left.


Campsites

(2 dispersed sites each on Lower and Upper Crystal Lakes, FREE with a required Wilderness permit, also free of charge): The Lower Lake campsites are located beyond mid-alpine forests on the south side of the Lake in a smaller, marshy setting ringed by trees. Most campers prefer the Upper Lake campsites, with a good view of the Lake in a spacious subalpine basin with rolling meadows under Crystal Peak and Sourdough Gap.


Trip Notes

: this one is still on our schedules for the summer of 2018.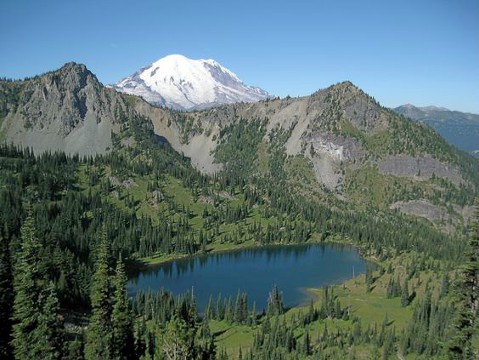 The sparkling, subalpine Crystal Lakes in Mount Rainier National Park are beloved by hikers and campers of all ages and abilities
For more photos of Crystal Lakes Trail Campsites click HERE

Highway 410/Chinook Pass Region
This stretch of Highway 410 is commonly known as the Stephen Mather Memorial Parkway, and includes the beautiful Chinook Pass Scenic Byway. It travels through the Mt. Baker-Snoqualmie National Forest and Mount Rainier National Park with spectacular views of Mount Rainier, dense forests, towering peaks, old growth forests, and lush subalpine meadows. Hey campers -- don't just make this a drive-by! Take off your shows and stay awhile.

Silver Springs Campground

(Pierce Co.'s BEST BIKE-IN CG)
Trees seem to grow in every direction here -- up, down, angled, sideways, and sometimes floating above the ground. No, this is not Avatar, but a heavily forested, natural campground where fallen trees are often left in their natural positions as nature intended.


Overview

: Located 32 miles east of Enumclaw and 7 miles east of Greenwater on the White River, operated by the USFS at 2500' elevation, open April through September; GPS 46.9938, -121.5321.


Facilities

include flush and vault toilets, drinking water, picnic tables, fire grills, and camp hosts.


Recreation

: The main hiking trail accessible from the campground is the Crystal Lakes Trail, which starts near the Crystal Creek Guard Station near the east end of the campground along Highway 410. This is a 5.7-mile round trip hike passing alpine meadows, plus Lower and Upper Crystal Lakes and contains dispersed camping sites (see separate entry above). Other activities are close by in the northeast corner of MRNP, including the Sunrise Lodge.


Campsites

(55 sites for tents and RVs up to 42', no hookups, 1 group site for 20-50, reservable): Sites are spacious and secluded. Natural forest hems in each campsite, providing excellent privacy. It is very shady, cooler in summer heat, but can take on a bit of a chill in cold weather. The most private sites are in the Loop with sites 36-42.


Trip Notes

: This campground reminds you quickly that the White River, which marks the boundary of MRNP, is not far from its source at the Emmons Glacier on Mount Rainier. The riverbed is a rocky floodplain, with a braided river containing many gravel bars. The river struggles to find a single channel here, set between subalpine forest and rolling foothills. But that's its charm, and why it is so "White," still roiling and pushing ahead, inviting exploration. The forest also calls for a closer look. The roots of every tree -- interesting. The way the woodland creek winds its way through the forest and campground -- even more interesting. The many foot bridges across the creek -- nice touches that draw you back into the trees. It is also in close proximity to the lodge and activities around Sunrise with less use and less restrictions than the campgrounds within the National Park.


Washington History

: Henry C. Allen, a confederate soldier, disillusioned by the events of the Civil War, moved west and died in this spot in 1896. His family granted his wish of remaining buried in the forest. His grave site exists in the Park to this day, maintained by local volunteers.


Local Alternative

: The Dalles CG is located 2 miles east of Greenwater at the confluence of Minnehaha Creek and the White River, operated by the USFS at an elevation of 2200', open the Thursday before Memorial Day through Labor Day. There are 44 sites for tents and small RVs, some are reservable. The quietest and most private sites rest along the White River; those along Hwy 410 are less private with some road noise. Sites are interspersed with the largest Douglas firs in the area, and providing good privacy. In short, this campground is about "the trees," surpassed only by Silver Springs CG.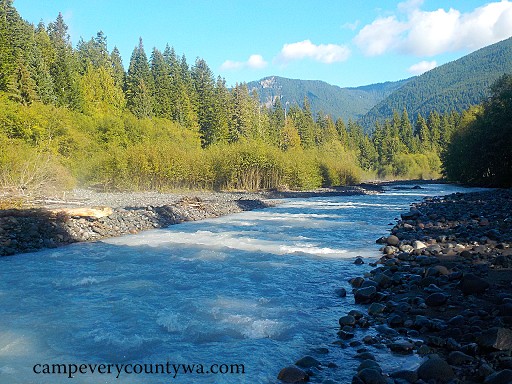 The White River finally achieves a single flow near Silver Springs Campground
For more photos of Silver Springs CG click HERE
Corral Pass Campground

(Pierce Co.'s BEST BEST RUSTIC CG)
Climb, switchback, slow down for the potholes, climb some more... then wonder if you'll get there. Climbing 2800 vertical feet in 6 miles of gravel road may seem endless, but once you arrive, you'll feel like you're on top of the world, and you'll almost be right.


Overview

: This Mt. Baker-Snoqualmie National Forest is located 31 miles east of Enumclaw off Highway 410 just past Milepost 56 at 5,627' elevation, open July to September depending on the snowpack; GPS 47.013, -121.466.


Facilities

include vault toilets, picnic tables, and fire grills.


Recreation

: This is a launching point for any hikers, mountain bikers, and equestrians. The 2.4-mile roundtrip Rainier View Trail 1155 has great vistas of Mt. Rainier. The 4.6-mile out-and-back Greenwater Lakes Trail 1176 accesses the Norse Peak Wilderness, and is popular with horseback riders, accessing Greenwater Lake, Echo Lake, and Hidden lake . Noble Knob Trail 1184 is nearby and open to mountain bikes. Berry picking, mountain wildlife viewing (goats, marmots), and birding are also popular.


Campsites

(22 tent sites, no hookups, non-reservable, FREE with NW Forest Pass): Sites have a good balance of sun and shade, with a beautiful alpine setting.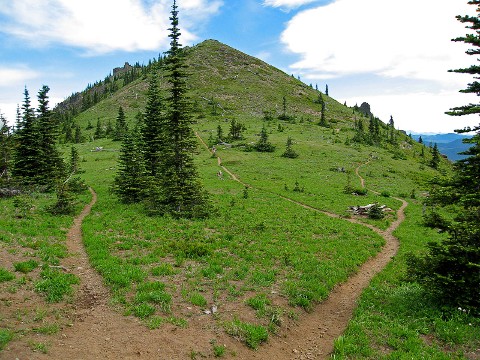 Corral Pass Campground is a rugged, rustic site that seems like the top of the world
For more photos of Corral Pass CG click HERE
Key Peninsula Region
The Key Peninsula is a 16-mile long finger of land that sits in the middle of Puget Sound in the westernmost point of Pierce County. Its history is one of isolation with no roads, but residents traveling via the "Mosquito Fleet" of privately-run ferries. The community of Home began as an anarchist community that kept lawmakers on their toes for decades. The historic Glencove Hotel provided housing for "drummers" who sold their wares (some legal and some not) throughout the Peninsula. But "the boys" have settled down now, and with the building of roads and the passage of time, the "Key" has joined the mainstream of rural communities with some exceptional recreational opportunities.

Penrose Point State Park

(Pierce Co.'s

MOST APPEALING CG TO THE SENSES and BEST BOAT-IN CG)


Overview

: This marine campground is llocated on a narrow channel near Lakebay on the Key Peninsula on 152 acres with 2 miles of saltwater shoreline on Mayo Cove and Carr Inlet, open year round; GPS 47.259, -122.744.


Facilities

include flush toilets, running water, showers, picnic tables, fire rings, 2 covered shelters, dock and moorage, 2.5 miles of hiking trails plus a 0.2-mile interpretive trail, and camp hosts.


Recreation

: Shellfish digging is excellent here, as the area has been enhanced with Manila clams and oysters. Native littleneck clams, butter clams, horse clams, cockles and eastern shoftshell clams are also found on this beach.


Campsites

(82 sites, no hookups, one group camp for 20-50, reservable): The best sites are 7, 8, 18, 36, 49, 52, 63, 65, 68, and 69. All are wooded, none on the water. They have average to good privacy, and shady or partly shady. This is far superior to nearby

Joemma Beach S.P.

, which is good for fishing, swimming, boating, and picnicking, but cannot be recommended for overnight camping.


Trip Notes

: The biggest surprise was the uniqueness of the campsites -- each is very different from the others -- no cookie-cutter state park sites here. Some were long and deep to accommodate large RVs, others were nestled into the rain forest-like vegetation, while others were terraced with steps built into the slope. For me, this is as good as camping gets. The madrona trees and the great picnic area/marina added special touches of color.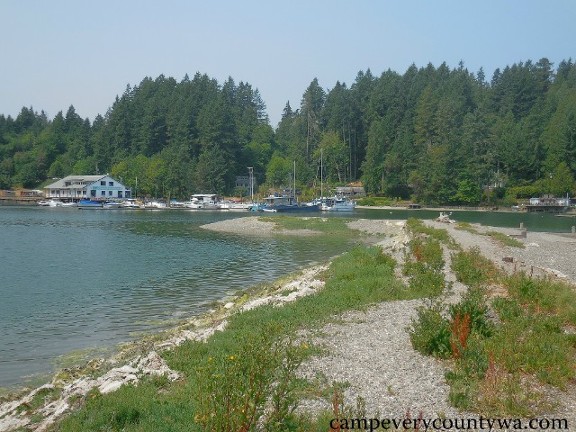 Penrose Point sits on a narrow channel near Lakebay on the Key Peninsula
For more photos of Penrose Point S.P. click HERE
Nisqually River Region
The Nisqually River has its source at the Nisqually Glacier on Mount Rainier. It carves its way through the landscape for 81 miles, emptying into Puget Sound, and forming the border between Pierce County and Thurston County to the south. Along the way, Indian reservations, hydroelectric dams, and rural communities look to it for life, sustenance, and even recreational opportunities.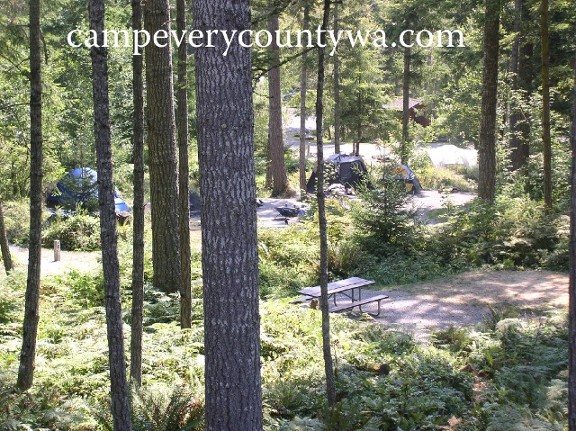 Osprey Campground at Alder Lake Park offers the best camping
For more photos of Alder Lake Park click HERE