KLICKITAT COUNTY (Goldendale/White Salmon)
As you look across the Columbia River from Hood River, Oregon toward Bingen/White Salmon on the Washington side, you see the clear line of demarcation: the end of the wet, forested western side of the Cascades, contrasting the bald rolling hills of the eastern side. The name of the county derives from the Chinook Indian word for "beyond." Indeed, this is the other side of the Columbia Gorge: the dry, laid back, old world side that will take you to a time and place you may never knew existed.
Columbia River Gorge National Scenic Area
Thanks to the Columbia River Gorge National Scenic Area Act of 1986, 290,000 acres along the border of Oregon and Washington have been saved from the impending sprawl of Portland and Vancouver. The Washington side of the Columbia is a little slower, with highways instead of freeways, and smaller towns with more pioneer charm that will remain a wonderland of thousand-foot cliffs, thundering waterfalls, and epic views up and down the vast river.
Maryhill State Park (Klickitat Co.'s BEST EQUIPPED/BEST CG FOR RVs and includes BEST GROUP CG)
This campground is located in Sam Hill's country, a wealthy and accomplished railroad executive, financial manager, and investor. He is responsible for building roads into areas so rural others could only ask, "Where in the Sam Hill is that?" The "castle" he built for his wife Mary is now a world class art museum that looks down on the tiny orchard town of Maryhill and the State Park of the same name.
Overview: Located in Maryhill (across the bridge from Biggs, OR) and 13 miles southeast of Goldendale on 99 acres at187' elevation, open year round; GPS 45.68306, -120.82583.
Facilities: This facility-ready campground includes bathrooms with showers, picnic tables, fire pits, two picnic shelters, four horseshoe pits, two boat ramps, over 200' of dock, a swimming area, 1.1 miles of hiking trails, interpretive kiosks, an RV dump and camp hosts.
Recreation: Sailboarding and windsurfing is excellent here, a preferred place for more experience surfers. Rentals are available in The Dalles, OR. Freshwater fishing, water skiing, and bird watching are also popular.
Campsites (70 sites for tents or RVs up to 60', including 51 with water & electric 50 amp hookups, one group site for up to 200 people, reservable): Sites are large, flat and grassy with shade trees but poor to average privacy. Parking pads are concrete. There is some railroad and highway noise.
Trip notes: This trip was a last minute switch due to snow in the mountains. The park rests right on the Columbia, nestled against the tiny orchard town of Maryhill. It was a clean, interesting stopover, with many local attractions. Personally, I preferred walking the streets of the tiny town of Maryhill, with its old church and quaint businesses, including a shop to repair horse buggies, to the better known tourist sites. All the remaining buildings were frozen to about the year 1920. The world must have seemed much larger then, when a town of just 40 people was the center of these people's universe. Check it out. Eat s'mores, wander through the local orchard, wade in the Columbia, and imagine that you're at the center of the universe.
Local Alternative: Adjacent to Maryhill S.P. is Peach Beach Campark, with 70 sites for tents or RVs. There are 12 dry tent sites, 21 sites with full hookups, and 49 with water & electric 50 amp only.
Local Attractions: A full-scale replica of Stonehenge is located one mile from the park. The Maryhill Museum of Art is nearby. The Goldendale Observatory is13 miles away for star gazers.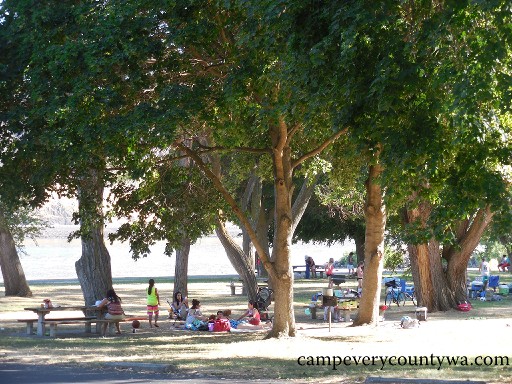 Maryhill State Park is sprawling and always camp-ready.
For more photos of Maryhill S.P. click HERE
Columbia Hills Historical State Park

(Klickitat Co.'s MOST UNIQUELY WASHINGTON CG, BEST CG FOR FAMILIES, MOST APPEALING CG TO THE SENSES and BEST BIKE-IN CG)
This massive State Park is an amalgam of the old Horsethief Lake State Park, the Dalles Mountain Ranch (an historic homestead ranch), and the Crawford Oaks hiking area. The campground itself was the historic site of a Wishram Indian village near the famed Celio Falls (often mentioned in the Lewis and Clark journals). What remains is an area of "terrible beauty" marked by yellow flowers of arrowleaf balsamroot, purple lupine, pockets of gnarled oaks and Osage orange, Indian petroglyphs, and the towering Horsethief Butte that towers over everything like a beacon.


Overview

: The historical and magical campground is located 26.5 miles southwest of Goldendale and 4 miles east of Dallesport on 3338 acres with 2 miles of Columbia River shoreline on 90-acre Horsethief Lake at 3200' elevation, open year round; GPS 45.64556, -121.10389.


Facilities

include flush toilets, running water, showers, a swimming area with a natural wind break in the huge Day Use Area, kayak rentals, 12 miles of hiking trails, and camp hosts.


Recreation

: Excellent windsurfing opportunities are available at Doug's Beach S.P. near Lyle. Rentals are available in Hood River, OR. Rock climbing is popular on Horsethief Butte. Hiking Horsethief Butte and the Crawford Oaks Trail is a must. And don't miss the opportunity to view the amazing Indian petroglyphs and take the guided tour.


Campsites

(20 sites for tents and RVs up to 60', including 8 utility sites with water & electric 30 amp, 4 walk-in tent sites, 2 H/B sites, 1 teepee, 2 platform tents, reservable): Sites lack privacy, and line the back edge of a huge Day Use Area that makes them seem much larger. The camping area sits on spit in the middle of Horse Thief Lake surrounded by water on 3 sides, a true "oasis in the scrubland ". Most inviting is the 14' diameter Plains Indians style teepee, and the two 10' x 12' furnished platform tents, all for rent.


Trip Notes

: It becomes immediately apparent that this campground occupies the site of an ancient Indian village: the petroglyphs are on display just a short walk away, but sadly, the Temani Pesh-wa Trail is closed due to vandalism. Guided tours are available just twice weekly. Two problems were train noise and the wind. The swimming area had a natural wind break, while many of the campsites had both trees and wind break panels to minimize the wind. The Day Use Area also had rows of popular, lodgepole pine, and locust trees to minimize the wind. Horseshoe Butte was an easy hike, providing great views, rock climbing and (though we missed them) more petroglyphs. The Dalles Mountain Ranch is putting more efforts into constructing hiking trails to connect to the Crawford Oaks. While nostalgic, most of the individual displays were closed without explanation. Bottom line: we loved the compact camping and Day Use Area with its access to the petroglyphs and great view of Horsethief Butte. The "RV Park style" camping setup was more than compensated by its openness to the Day Use Area.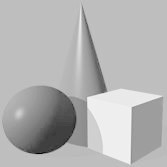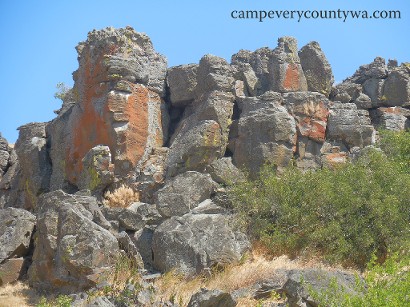 Horsethief Butte at Columbia Hills State Park provides hiking and rock climbing
For more photos of Columbia Hills S.P. click HERE
Klickitat River Area
The 75-mile long Klickitat River was designated as a Wild and Scenic River in 1986. This 2-mile wide canyon boasts dramatic scenery along steep 1500' columnar basalt cliffs. In places, chunks of basalt have fallen into the river from the walls. Wildflowers grow everywhere from spring through midsummer. These are a delight for whitewater rafters, tube floaters, and campers alike, a virtually unknown lush paradise in an otherwise very arid county.
Leidl South Campground (Klickitat Co.'s BEST FREE CG with access to BEST BOAT-IN ONLY CAMPSITES)
This is the most established campground along the Klickitat River, sitting roughly midway between its headwaters near Mt. Adams and rivers' end at the Columbia River town of Lyle. All along the way, there are trails for hikers, gentle rapids for tube floaters, canoers and kayakers, fish for the fisherfolk, and campsites for all varieties of campers.
Overview: This sandy campground is located 13 miles east of Glenwood and 32 miles west of Goldendale on the Klickitat River, operated by the WDFW at 920' elevation, open year round; GPS 45.93694277, -121.1187269.
Facilities: This primitive site has two pit toilets, a few picnic tables, a boat ramp, and stone fire pits in places.
Recreation: Boating access sites for canoers and kayakers are located all along the river: to the north at Summit Creek near the Steel One-Lane Bridge, and to the south at Icehouse Public Access in the town of Klickitat. Keep in mind that the river is less treacherous downstream as it heads to the Columbia River. Rafting from Leidl CG to Icehouse Public Access includes 40 class 1 rapids and a few class 2 rapids, offering plenty of action for open canoers and beginning kayakers. The Pitt Hang Gliding Area is between the towns of Wahkiakus and Klickitat. The Klickitat Trail is a 31-mile hiking, biking, and equestrian trail that follows an old railroad bend, stretching from Lyle to Warwick. A 10-mile section from Lyle to the hamlet of Pitt follows the Klickitat River.
Campsites (35 primitive sites for tents or small RVs, no hookups or reservations, FREE with Discover Pass): The larger section (left side as you arrive) has 23 dispersed sites, 2 of which have tables and rock fire rings. The boat launch is located here, with a few sites on the river. The smaller section (right side as you arrive) has 12 dispersed sites with rock fire rings but no tables. Most of these sites are on the river in a grove of Ponderosa pines, and are rather close together. Each of these two sections has its own pit toilet. Both areas are flat and lightly forested for shade. Of note, there are a few boat-in only campsites downstream from Leidl South CG that, to our knowledge, represent the only boat-in only campsites in the county.
Trip Notes: So sandy! That was our first impression, like a giant set of sand dunes, but flat. And as you explore, you will find a network of small arms filled with campsites of all kinds -- some on the River filled with rafters and kayakers, others nestled between the Ponderosa pine, Scotch pine, and scrub oaks. The River surrounding it on two sides makes it less desolate, and the high banks, rocky but tree-topped, provide more for the eye to see. This is a deserty, beachy riverside campground with diverse activities in all directions. Stay awhile, and it will grow on you.
Local Alternatives: There are primitive campsites at the Icehouse Public Access and Stinson Flats Access (15 campsites here). The boat launch at Stinson Flats has been washed out due to river erosion, so check before setting out. Other small campgrounds with boating access on the Klickitat include Turkey Hole and Mineral Springs Campsite.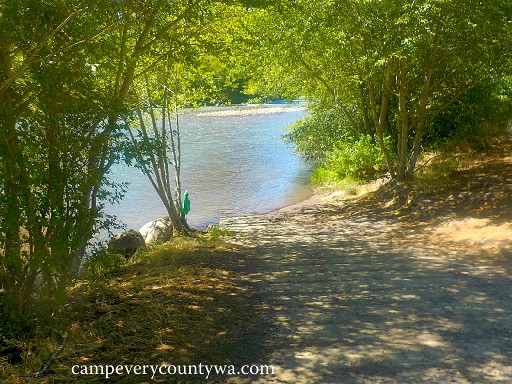 Leidl South Campground on the Klickitat River is where beach meets desert
For more photos of Leidl South C.G. click HERE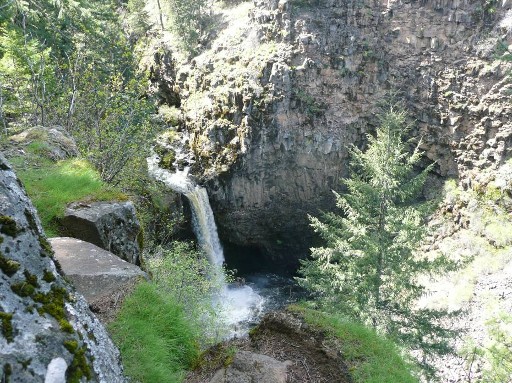 Outlet Creek freefalls 69 feet dumping its waters into a magnificent pool
For more photos of Outlet Creek Campground click HERE
OTHER CAMPGROUNDS: There are no Hike-In Only Campgrounds in Klickitat Co. that we can recommend at this time.