KITTITAS COUNTY (Ellensburg/Cle Elum)
This Central Washington county stretches from Snoqualmie Pass to the Columbia River. It has its beginnings as a stop-over for cowboys driving their herds north to Canada and northwest to the Puget Sound Area. Anyone who has driven I-90 through the county knows it still retains this character. But the outlying areas diversified with the completion of a wagon road over Snoqualmie Pass (1867), the discovery of gold at Swauk Creek (1873), coal mining by French companies near Cle Elum (1883), and the completion of the Yakima River Irrigation Project (1932). Now campers will find frontier mining and railroad towns, orchards, petrified forests, green valleys in the desert, recreational lakes, rodeos, and wind farms.
Eastern Slope of Snoqualmie Pass
As eastbound drivers pass the ski resort at Hyak and begin their descent, the land slowly takes on Ponderosa pine, less rain, more sunshine, and mountain camping on or near the reservoirs of the Yakima River.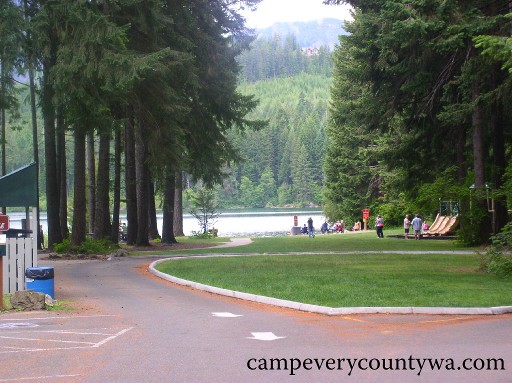 Lake Easton State Park packs a whole lot of camping into a relatively small area
For more photos of Lake Easton S.P. click HERE
Cle Elum River Valley Region
This beautiful valley is part of the Irrigation Project, with the creation of reservoir Lake Cle Elum now at center stage. The French influences are evident here, as prime investors in the coal industry. Native influences are reflected in place names (Cle Elum, for instance, is a Salish term for "swift water," no doubt referring to the once swift Cle Elum River). This valley leads into the incredible Alpine Wilderness Area, with plenty of good camping along the way.

Salmon La Sac Campground

(Kittitas Co.'s MOST APPEALING CG TO THE SENSES)
The name comes from a French description of a native fishing technique whereby they employed woven cedar bark baskets to catch the salmon. It is French in name, but the beauty of the place speaks for itself in any language.


Overview

: Located 16 miles north of Roslyn between the Cle Elum and Cooper Rivers, operated by the USFS at 2360' elevation, opens the weekend prior to Memorial Day, closes according to winter weather; GPS 47.4033, -121.0992.


Facilities

include vault toilets, drinking water by hand pump, picnic tables, fire rings/grills, vintage fireplaces, a picnic shelter, and camp hosts.
Summer Recreation: Hiking, fishing, swimming, horseback riding and mountain biking are among the possibilities. Native blackberry picking is available right in the campground. Hiking trails include the Cooper River Trail (7.8 miles round trip), Pete Lake Trail (15 miles round trip), and Lake Waptus Trail (18.8 miles round trip).


Winter Recreation

: The Sno-Park has 6km of tracks and a skate lane that is shared with snowmobilers; it also has scenic views and sanitary facilities.


Campsites

(69 sites for tents and RVs up to 38', no hookups, reservable): Campsites are large enough to accommodate larger parties, spaced well enough to provide privacy, and wooded enough to provide shade in the summer, where campers like to sit on sun-warmed rocks on the banks of the two rivers. Those along the Cooper River are better shaded and have vintage CCC fireplaces. Those along the Cle Elum River are sunnier, with many double sites and concrete parking pads. The foliage in both is alpine transitional, between the full hemlock, spruce, and Douglas Fir forest of Snoqualmie Pass and the Ponderosa pine forest that begins in earnest to the east.


Trip Notes

: The left side of my brain wants to call this place "Shangri-La-Sac," after the mythical paradise of Shangri-La, but then the right side of my brain reminds me that we're really just on the edge of paradise here. This campground isn't perfect, but pretty close, bordering the Alpine Lakes Wilderness and all it contains. The Cle Elum River in particular draws you in the longer you are there.


Local Alternatives

include Red Mountain CG and the single site portion of Cle Elum River CG to the south. Red Mountain is quite beautiful, sitting right on the Cle Elum River at the base of a high, red topped mountain. The problem here is that unofficial campsites just across the River in the French Cabin and Poverty Flats Areas are extremely noisy, and the USFS is unable to enforce quiet hours or control their activity. Cle Elum River CG is quieter, but unexceptional, and best used as an overflow area for Salmon La Sac CG.


Local Attraction

: The nearby town of Roslyn, a one-time company town for Northern Pacific Railroad's subsidiary coal mines, stands remarkably unchanged from the time of its peak coal production in the late 1800s and early 1900s. Landmarks include the huge company store (still in operation), the Brick Tavern with its famous 20-foot spittoon, and its "segregated" cemetery, representing its one-time fraternal lodges and ethnic diversity. The town was later used as the backdrop for the popular television series "Northern Exposure."


Washington History

: In 1912 French investors backed the Kittitas Railway and Power Company, eager to exploit coal reserves further up the Cle Elum River. Here they built an impressive steep-roofed log structure intended as a railroad depot to transport coal from Salmon La Sac to Yakima. The investors backed out in 1913 with the threat of World War I in their French homeland. The company went bankrupt, and were sued by the Forest Service for unlawfully cutting government timber. The depot was handed over to the USFS in payment, and was used as the ranger district headquarters for over 60 years. It was placed on the National Historic Register of Historic Places in 1974. It stands proudly in the Salmon La Sac area as a testament to the past.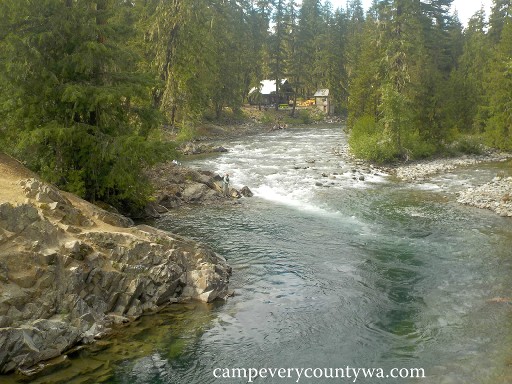 Campsites and cabins at Salmon La Sac Campground sit right on the Cle Elum and Cooper Rivers
For more photos of Salmon La Sac CG click HERE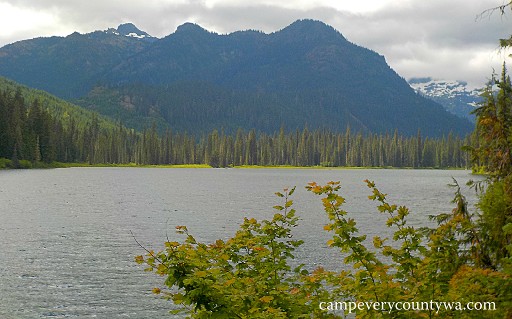 Cooper Lake is among the prettiest lakes in the Alpine Lakes Wilderness
For more photos of Owhi CG click HERE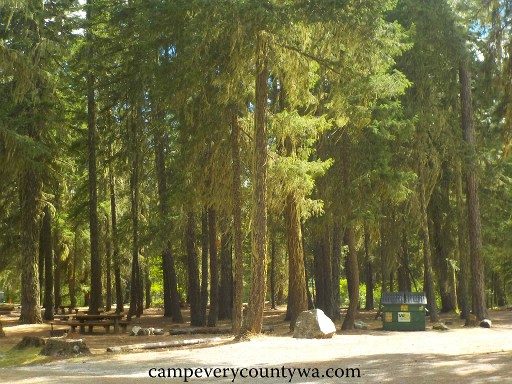 The Cle Elum River Group site is a peaceful place you'll have all to yourselves.
For more photos of Cle Elum River Group Camp click HERE
Tequila Meadows CG/Fish Lake CG

(Kittitas Co.'s BEST FREE CG):


The campground is officially called Fish Lake CG, but it seems prudent to call it by its lesser known name of Tucquala Meadows CG, since there is no Fish Lake and Tucquala "Lake" is really a widening of the beautiful upper Cle Elum River in a broad meadow in the Alpine Lakes Wilderness Area on the eastern slopes of Snoqualmie Pass.




Overview

: Located 29 miles northwest of Cle Elum and 9.9 miles north of Salmon La Sac near 20-acre Tucquala Lake, operated by the USFS at 3,379' elevation, open year round depending on weather conditions; GPS 47.521654, -121.072553.


Facilities

are limited to a vault toilet and fire pits.


Recreation

: Hiking starts at the Tucquala Meadows Trailhead and leads into the Alpine Lakes Wilderness, including the Paddy-Go-Easy Pass Trail, Deception Pass Trail, Squaw Lake Trail, and the Cathedral Trail #1345 which includes Deep Lake, Michael Lake, and Waptus Lake. Other activities include berry picking, fishing, birding, and wildflower viewing, especially in early July.


Campsites

(an estimated 20 sites dispersed over one mile, FREE with NW Forest Pass): the best sites occur before you see the Fish Lake Guard Station, where they are on dirt roads away from the Lake, and are used primarily by hunters in the Fall. The best sites are clearly along the Lake, starting just before Scatter Creek up to the Fish Lake CG sign.


Trip Notes

: "Ah wilderness, where paradise enow!" I don't remember exactly where I first heard that quote, or just what "enow" means, but I do know that wilderness can be paradise sometimes. After 10 miles of rough, narrow, winding roads, and driving across Scatter Creek that still spilled over the road in mid-July, we saw it: beautiful, delicate, gentle Tucquala Lake. So why is the campground called "Fish Lake?" Turns out, according to the Cle Elum Ranger Station, the European settlers didn't know how to pronounce the native word Tucquala (almost sounds like Tukwila) and they decided to give an unexceptional name to an nice campground on an extraordinary body of water. It is serene, still, and calming. If you get lucky enough to find a campsite right on the Lake, it will be "enow".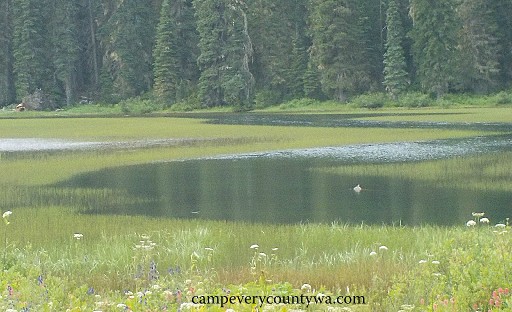 Tucquala Lake is a gentle, delicate introduction to the Alpine Lakes Region
For more photos of Tucquala Meadows/Fish Lake CG click HERE
Teanaway River Valley
This unique but relatively unknown River Valley spreads its many tributaries between Cle Elum Ridge and the City of Ellensburg. Those who venture in find it an inundation of the senses, with crystal clear streams flowing down like ribbons that can cool the feet or the parched throat, providing a private sanctuary to an array of wildflowers, mountain goats and alpine meadows. The signature Teanaway smell is that of Ponderosa pine, flowering yarrow, and sun-warmed earth. A perfect place? Not entirely. This area also contains small wolf packs, the first to return to Kittitas County since they were exterminated 50 years ago. They make ranchers uneasy, but some campers may find comfort in their distant howl.

Navaho Pass Hike-In

(Kittitas Co.'s BEST HIKE-IN CAMPSITES)


This hike-in camping area lies in the heart of the Alpine Lakes Wilderness with perfect views of Mt. Stuart, the Enchantments, and the flat-topped Navaho Peak. The trail gains 3000' in almost 6 miles, but is very gradual. Take your time, and drink it all in.




Overview

: The moderately strenuous Stafford Creek Trail #1359 lies west of Ellensburg, operated by the USFS at 3100' elevation, open seasonally, but often much earlier than other Alpine Lakes Wilderness camping areas; campsite GPS 47.3664, -120.8027.


Facilities

: There is a vault toilet at the trailhead, and water along the trail.


Recreation

: This trail is only a small part of a network of wilderness trails, and connects with Ingalls Creek Trail #1215, Standup Creek Trail #1369, County Line Trail #1226, and Navaho Peak Trail #1369 -- a steep trail that will take you to the top of 7200' Navaho Peak, with better views than those at the campsites.


Stafford Creek Trailhead

: From Ellensburg, travel 20 miles west on I-5 to East Cle Elum Exit 85. Turn right/east on Hwy 970, drive 6.5 miles, and turn left onto Teanaway Rd. After 5.5 miles, bear right onto NF Teanaway Rd. After 6 miles you will pass 29 Pines C.G. Drive another 2 miles, and turn right onto FR 9703. Drive 2.3 miles, and trailhead will be on the left. Trailhead GPS coordinates are 47.366524, -120.802095.


Campsites

(Dispersed tent sites, FREE with a NW Trailhead Park Pass): The dispersed camping areas have partial shade with western white pine, lodgepole pine, silver fir, Western hemlock and Englemann spruce. Most campsites are in a large meadow just before reaching the Pass itself. There are a few prime sites on County Line Trail No. 1226 with excellent view of the mountains and ridges. One campsite marked on many maps is at the intersection with Ingalls Creek Trail #1215.


Trip Notes

: The first thing campers notice here, once they manage to take their eyes off the magnificent alpine scenery, is that most of the sites are nestled away from the great views. This is when hiking turns back to camping, but great camping it is.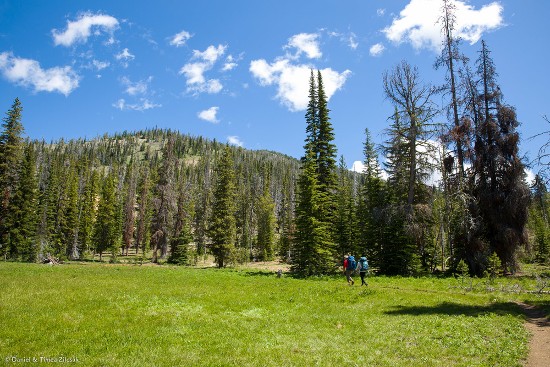 Most of the campsites along Navaho Pass lie in a meadow just before the pass itself
For more photos of Navaho Pass Campsites click HERE
Blewett/Swauk Pass
The mountain pass(es) on which this campground sits was originally a dirt road built over a series of Indian trails to access the gold mines. Over time, and many reincarnations, including rerouting from Blewett to nearby Swauk Pass to accommodate modern traffic, confusion grew over the name. Locals still prefer to call it Blewett Pass, due to its long colorful history, and most campers are fine with that.
Swauk Campground

(one of Kittitas Co.'s BEST RUSTIC CGs)


You want to have the gold mining camping experience "from the ground up?" You've come to the right place. The campground is as primitive as the old gold miners, with few amenities and many remnants of their gold-seeking ventures. Glampers beware.




Overview

: Located 27 miles east of Cle Elum on Swauk Creek off Highway 97, operated by the USFS at 3130' elevation, open weekend before Memorial Day through Tuesday after Labor Day; GPS 47.328, -120.6617.


Facilities

include vault toilets, drinking water, picnic tables, fire rings, picnic shelter, a small ball field, and nature in its purest form.


Summer Recreation

: The best hiking/walking trail is at Sculpture Rock #1397 (2 miles), but there is no fishing. Ghost towning in the nearby sites of Blewett and Liberty are remarkable. Gold panning and sluicing are regular activities in the vicinity.


Winter Recreation

: The nearby ungroomed Sno-Park contains 92kg of marked trails for cross-country skiing and snow shoeing. A Sno-Park Permit is required.


Campsites

(22 sites for tents and RVs up to 30', no hookups or reservations): Sites are in a mixed forest of Ponderosa pine and Western larch, which muffles road noise from Highway 97. But noise insinuates itself from the backside, as Off Road Vehicles (ORVs) are permitted. Privacy is good here, with tent areas on native material and large paved parking aprons, and not perfectly flat (RVers, bring leveling blocks). The sites are in a single loop with two tent spurs. The Civilian Conservation Corps (CCC) built a stone fireplace in the Day Use Area and stone ovens in some sites, all still useable.


Trip Notes

: It's good to disobey the rules sometimes. In this case, we disobeyed the sign that said "no RV Turn Around" and drove up the spur to sites one and two, which are clearly the best sites in the campground. Very spacious, stone fire places built by the CCC, and great alpine forest made this trip pretty swell. We were far from the road noise of Highway 97, and had complete privacy. The rest of the campground, however, does have the road noise and less private sites. Be bold, campers. And for the record, we were able to turn our trailers around just fine.


Washington History

: Liberty is the oldest mining townsite in Washington dating back as early as 1850 in its various incarnations. The Liberty Historic District has been placed on the National Register of Historic Places, with some structures still visible: the former Meaghersville Hotel (a private residence), the Thomas Meagher cabin, an ore flume, a dredge pond/barge, and interpretive signs. Other buildings are owned by the remaining residents of this "ghost town," so be considerate. The original townsite of Old Blewett, one of the most violent mining camps in history, has all but disappeared. Remnants include remains of the 20-stamp mill and a well preserved old mining arrasta, a donut shaped stone used for ore grinding.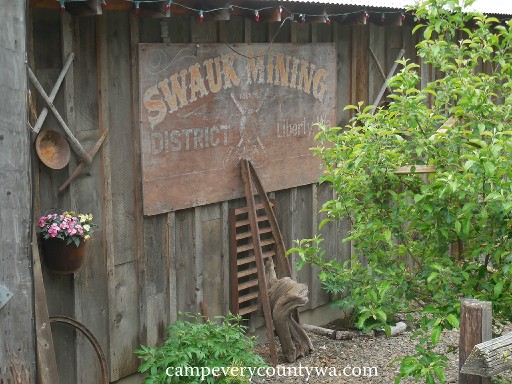 The old town site at Liberty retains artifacts from the glory days of Swauk mining
For more photos of Swauk CG click HERE
Ellensburg/Prairie Region
The bunch grass here can come up to your knees, and the highest structures will be the wind turbines on the high desert ridges. But strap on your cowboy boots and spurs, because camping can be good here, provided you know where to look.
Ellensburg KOA

(Kittitas Co.'s BEST EQUIPPED/BEST CG FOR RVs)


KOA parks can be so crowded and so kid-oriented that you feel like you're dodging herds of lemmings on their way to the swimming pool. They can also be compact, well-equipped and well-placed oases that represent camping at its best. You've arrived in the lemming-free zone.




Overview

: Located just west of Ellensburg with shoreline along the Yakima River at 1542' elevation, open February 21 to Nov. 15. See below for directions.


Facilities

: Extensive amenities include bathrooms with showers, picnic tables, fire grills, badminton, horseshoes, volleyball, basketball, 2 playgrounds, swimming pool (open 5/22-9/15), laundry, Kamp Store, a dog park, cable TV, Wi-Fi, and an RV dump.


Recreation

includes fishing (catch and release) and rafting on the Yakima River.


Campsites

(28 tent sites plus tent village, 80 sites for RVs up to 70' with many pull-throughs, full hookups 30 and 50 amps, 4 cabins, 3 group sites, reservable): Sites are well shaded with towering willows, big leaf maples, firs, spruces, and wind-breaking arborvitaes.


Trip Notes

: Pulling off of I-90 in the blazing sun with very little vegetation to counteract the heat, it is refreshing to pull into this nicely appointed KOA with its many shade trees and the spray of the Yakima River. Yes, it's compact, as most KOAs are, but it remains a good camping experience for those who need to be close to CWU and Ellensburg.


Directions

: From I-90 just west of Ellensburg, take Exit 106. If coming from the west, you'll drive right past the campground. If exiting from the east, go left from the off-ramp.


Local Attractions/Washington History

: The Ellensburg Rodeo (Labor Day Weekend) and Central Washington University (CWU) are Ellensburg's biggest draws. Olmstead Place Historical S.P. is a 217-acre day use park just east of Ellensburg, a living historical pioneer farm named for the family that founded it. Walking trails pass an old log cabin and farmhouse in operation long before modern mechanization. Also on display are farm implements, tools, and clothing, with guided tours available.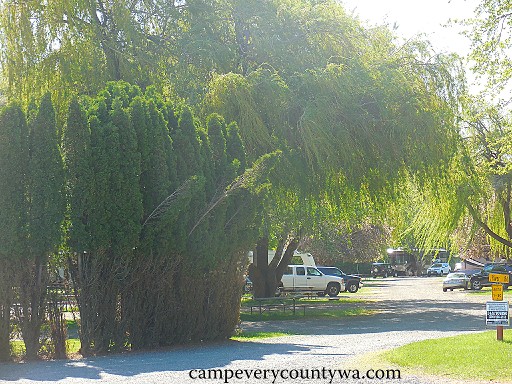 Ellensburg KOA is an oasis in the sizzling prairie, and a cooler way to experience Ellensburg.
For more photos of Ellensburg KOA click HERE
Columbia River Gorge
The wind in this region, just south of the "Gorge at George," can rip the glasses right off your face, but when it calms, you'll find yourself in an idyllic oasis. Yet, schedule your trip around the concerts at the Gorge unless you want to end up in the mosh pit slam-dancing with heavy metal fans. But you already knew that slam-dancing and camping don't mix.
Lake Wanapum State Park/Ginkgo Petrified Forest State Park

(Kittitas Co.'s MOST UNIQUELY WASHINGTON CG)


They've made the desert bloom here, and placed it just south of one of the most fascinating national historic preserves in the nation.




Overview

: Located 3 miles south of Vantage on 7,470 acres with 27,000' of freshwater shoreline on Lake Wanapum/Columbia River, at 663' elevation, open year round; GPS 46.9041, -119.9917.


Facilities

include bathrooms with showers (both ADA), metal picnic tables, fire grills, an excellent swimming area with an outside shower and sandy beach, picnic area, 3 miles of hiking trails, 2 boat ramps, Park Store, camp hosts, and an RV dump.


Recreation: Fishing is known for bass, crappie, walleye, catfish, sunfish, and lake trout.




Campsites

(50 sites for tents and RVs up to 60', all with full hookups 20/30/50 amp, reservable): Sites 1-31 are huge and grassy with adequate privacy provided by their mere size, plus adequate shade provided by leafy trees. Sites 32-50 are not irrigated, a little smaller, and are terraced with desert vegetation, and less shade, with basic desert landscape. Sites are both back-ins and pull-throughs.


Trip notes

: This Park gets my vote for prettiest park with a "deal breaker" – in this case, the WIND. It's all or nothing: either the wind whips up early or the morning, or it is perfectly still. If the wind does start, it lasts all day and is intense. Having said that, it is the most manicured, perfect camping we have experienced. It looks directly over Lake Wanapum (the Columbia River behind the Wanapum Dam). It has separate boating and swimming facilities, both excellent. Most fascinating for us were the nearby wind turbines run by Puget Sound Energy. I would say camp here only with an enclosed trailer, not a tent or tent trailer, unless you're willing to pack up and leave when the wind starts up. Note also that this campground is reachable by bicycle or horseback using the Iron Horse Trail (see King Co.).


Nearby attractions

: Ginkgo Petrified Forest Interpretive Center is 3 miles from the campground. It offers views of the Ice-Age floods basalt landscape. On display are also well-preserved Indian petroglyphs (rock paintings). A private gem shop is located here to discourage gem seekers from wandering onto private land. The Trees of Stone Interpretive Trailhead is a one-mile loop trail just 2 miles west of the Interpretive Center. Here you will find dozens of "ice rafted" petrified logs from the Ice Age floods thousands of years ago. Other attractions: the nearby Gorge Amphitheater for world class concerts, the Puget Sound Energy Wind Farm, and the Wild Horses Monument, an elaborate metal sculpture visible high on the hillside on the east side of Vantage.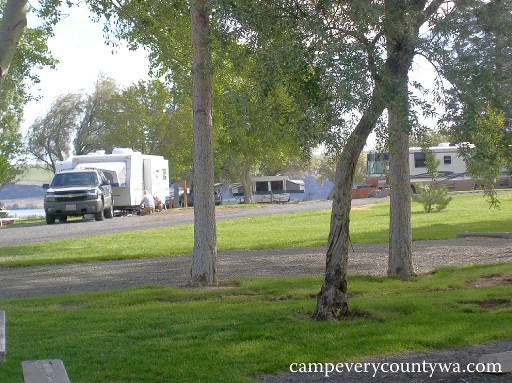 Lake Wanapum State Park offers lush camping in the desert near the
Ginkgo Petrified Forest
For more photos of Lake Wanapum S.P. click HERE