This website is intended as an adjunct to the paperback book 'Camp Every County, Washington' by Brendan J. McDonald, available on Amazon.com. Included on this website are photographs and texts which could not be included in the paperback edition, where you will find full narrative versions of each section found below.
KITTITAS COUNTY (Ellensburg/Cle Elum)
Lake Easton State Park (Kittitas Co.'s BEST CG FOR ENTIRE FAMILIES)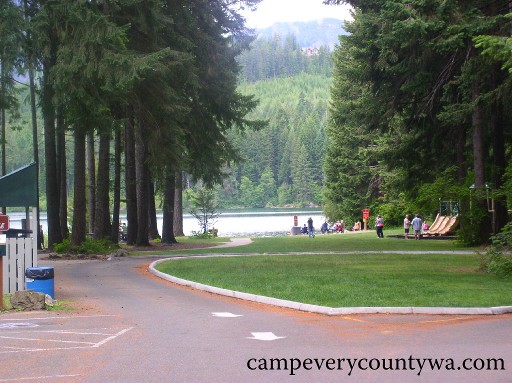 Lake Easton State Park packs a whole lot of camping into a relatively small area
For more photos of Lake Easton S.P. click HERE
Salmon La Sac Campground (Kittitas Co.'s MOST APPEALING CG TO THE SENSES)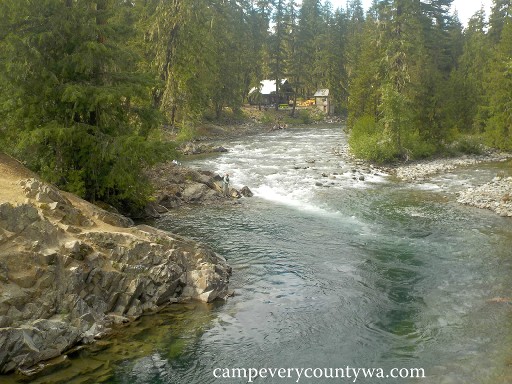 Campsites and cabins at Salmon La Sac Campground sit right on the Cle Elum and Cooper Rivers
For more photos of Salmon La Sac CG click HERE
Owhi Campground (Kittitas Co.'s BEST RUSTIC CGs)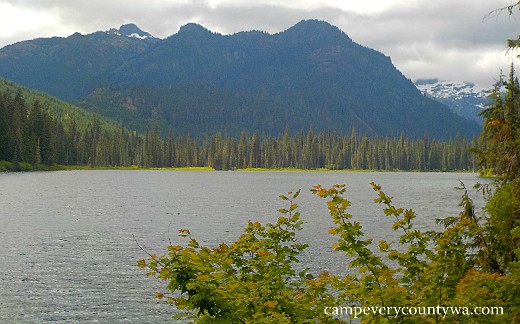 Cooper Lake is among the prettiest lakes in the Alpine Lakes Wilderness
For more photos of Owhi CG click HERE
Tucquala Meadows CG/Fish Lake CG (Kittitas Co.'s BEST FREE CG)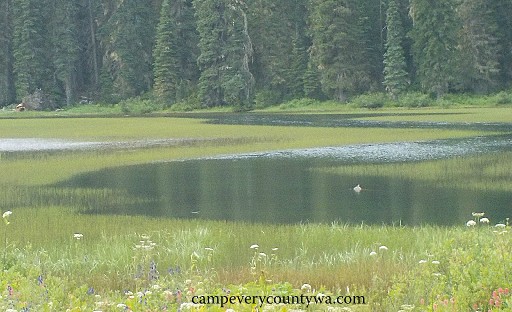 Tucquala Lake is a gentle, delicate introduction to the Alpine Lakes Region
For more photos of Tucquala Meadows/Fish Lake CG click HERE
Ellensburg KOA (Kittitas Co.'s BEST EQUIPPED/BEST CG FOR RVs)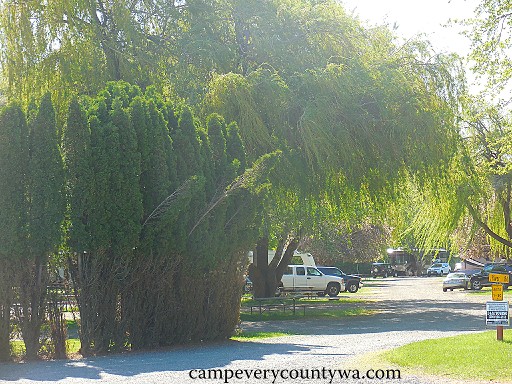 Ellensburg KOA is an oasis in the sizzling prairie, and a cooler way to experience Ellensburg.
For more photos of Ellensburg KOA click HERE
Swauk Campground (Kittitas Co.'s BEST BIKE-IN CGs)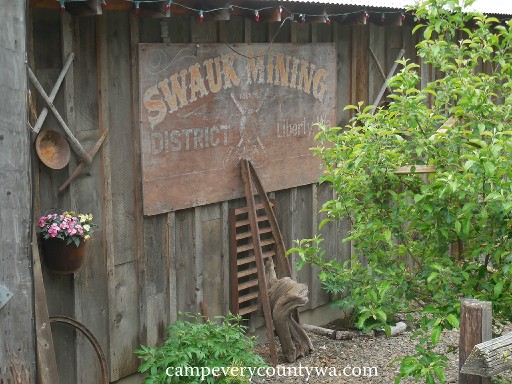 The old town site at Liberty retains artifacts from the glory days of Swauk mining
For more photos of Swauk CG click HERE
Lake Wanapum State Park/Ginkgo Petrified Forest State Park (Kittitas Co.'s MOST UNIQUELY WASHINGTON CG)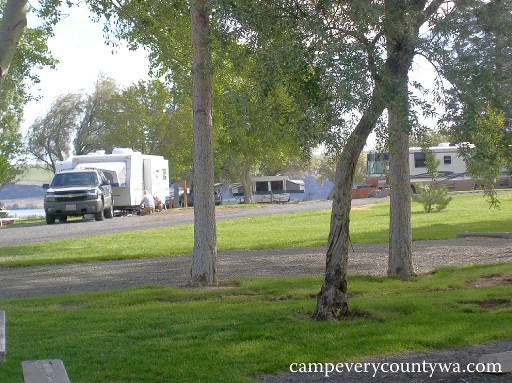 Lake Wanapum State Park offers lush camping in the desert near the
Ginkgo Petrified Forest
For more photos of Lake Wanapum S.P. click HERE
Navaho Pass Hike-In

(Kittitas Co.'s BEST HIKE-IN CAMPSITES)


This hike-in camping area lies in the heart of the Alpine Lakes Wilderness with perfect views of Mt. Stuart, the Enchantments, and the flat-topped Navaho Peak. The trail gains 3000' in almost 6 miles, but is very gradual. Take your time, and drink it all in.




Overview

: The moderately strenuous Stafford Creek Trail #1359 lies west of Ellensburg, operated by the USFS at 3100' elevation, open seasonally, but often much earlier than other Alpine Lakes Wilderness camping areas; campsite GPS 47.3664, -120.8027.


Facilities

: There is a vault toilet at the trailhead, and water along the trail.


Recreation

: This trail is only a small part of a network of wilderness trails, and connects with Ingalls Creek Trail #1215, Standup Creek Trail #1369, County Line Trail #1226, and Navaho Peak Trail #1369 -- a steep trail that will take you to the top of 7200' Navaho Peak, with better views than those at the campsites.


Stafford Creek Trailhead

: From Ellensburg, travel 20 miles west on I-5 to East Cle Elum Exit 85. Turn right/east on Hwy 970, drive 6.5 miles, and turn left onto Teanaway Rd. After 5.5 miles, bear right onto NF Teanaway Rd. After 6 miles you will pass 29 Pines C.G. Drive another 2 miles, and turn right onto FR 9703. Drive 2.3 miles, and trailhead will be on the left. Trailhead GPS coordinates are 47.366524, -120.802095.


Campsites

(Dispersed tent sites, FREE with a NW Trailhead Park Pass): The dispersed camping areas have partial shade with western white pine, lodgepole pine, silver fir, Western hemlock and Englemann spruce. Most campsites are in a large meadow just before reaching the Pass itself. There are a few prime sites on County Line Trail No. 1226 with excellent view of the mountains and ridges. One campsite marked on many maps is at the intersection with Ingalls Creek Trail #1215.


Trip Notes

: The first thing campers notice here, once they manage to take their eyes off the magnificent alpine scenery, is that most of the sites are nestled away from the great views. This is when hiking turns back to camping, but great camping it is.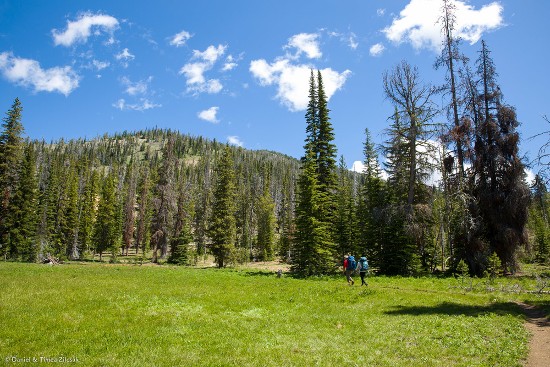 Most of the campsites along Navaho Pass lie in a meadow just before the pass itself
For more photos of Navaho Pass Campsites click HERE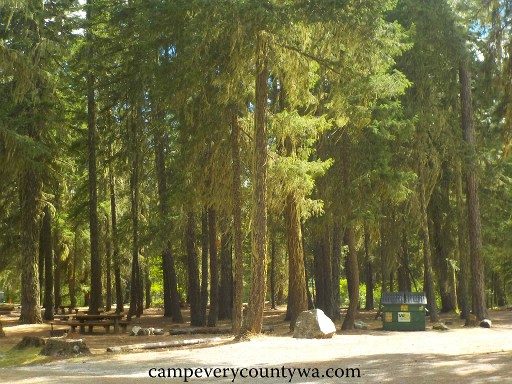 The Cle Elum River Group site is a peaceful place you'll have all to yourselves.
For more photos of Cle Elum River Group Camp click HERE