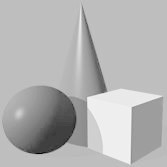 GRAYS HARBOR COUNTY (Montesano/Aberdeen/Ocean Shores)

Most recreation in this coastal county revolve around 95 square mile Grays Harbor, the ocean beaches, the Olympic National Forest, and Lake Quinault to the north. While the communities battle the loss of once-flourishing logging and fishing industries, the campgrounds thrive and are, frankly, very underrated.
Olympic National Forest/Quinault Rain Forest
Glacier-fed Lake Quinault is the centerpiece of the Olympic National Forest in Grays Harbor Co. But other less known destinations -- Wynoochee Lake, the Colonel Bob Wilderness, and the West Fork of the Humptulips River -- rival Lake Quinault in rain forest beauty, old growth forests, and especially camping.
Which is more beautiful - the towering trees in the campground, or the West Fork of the Humptulips River? Most campers will say it's a draw.
For more photos of Campbell Tree Grove CG click HERE
Coho Campground

(Grays Harbor Co.'s MOST APPEALING CG TO THE SENSES):
On the edge of the Olympic rain forest, behind the remote Wynoochee Dam, sits a camground that was kept pristine and isolated for many decades due to a poorly accessible gravel road filled with loud, aggressive logging trucks and the last remaining logging camp in Washington. The logging camp is gone, and the logging trucks are quieter, and now the road has been beautifully paved all the way from Highway 12. Wilderness camping is just a short drive away.


Overview

: Beautifully located 35 miles north of Montesano on 8 acres on the southwestern shore of 1140-acre Lake Wynoochee, managed by Wilderness Adventures LLC under a USFS Special Use Permit at 800' elevation, open mid-May to early October; GPS 47.45806, -123.60222.


Facilities

include flush toilets, drinking water, picnic tables, fire rings, boat launch, a dock in the Dam's Day Use Area, swimming beach, an RV dump, and camp hosts. Showers and laundry are available 3-miles away at Satsop Center.


Recreation

: Hiking, fishing, boating, and swimming are the mainstays. The half mile long Working Forest Nature Trail extends north from the campground. The 12-mile long Wynoochee Lake Shore Trail #878 encircles the Lake. Waterfall seekers should try the many sub-trails off the Lakeshore Trail, including those to Spoon Falls, Maidenhair Falls, and Wynoochee Falls (see below). Fishing is primarily for rainbow trout, with a 12-inch minimum size and 2 fish per day limit. Note that there is no marina for launching larger boats.


Campsites

(46 sites including 8 ADA-friendly walk-in sites and 1 group site for up to 12, no hookups, 3 yurts, reservable): Sites are level, both asphalt back-ins and pull-throughs. Thick vegetation provides excellent privacy. Sites will accomodate any size RV, while the tent walk-in sites (adjacent to the yurt area) are wheelchair-friendly and have limited views of the lake. Some Loop B sites also have partial lake views. Loop A sites are first-come, first served. Trees are a variety of conifers, such as hemlock and Douglas fir, and hardwoods including alders and maples.The adjacent Wynoochee Dam provides a dramatic vista outlook, plus a huge Day-Use Area that gives additional lake access for the campground.


Trip Notes

: Stunning. Pristine. Awe-inspiring. Everything about this campground exceeded mour expectations. The lake water is pure, clear, and crystal blue. The dam itself is like part of the campground. This is in every way a hidden treasure at the southern entrance to the Olympic Mountains that we cannot recommend too highly.


Local Alternative

: Satsop Center CG is an historic Forest Service work center 3 miles east of Coho CG with 4 tent sites, 8 sites for RVs up to 36', some with hookups, and one group site for up to 50 people.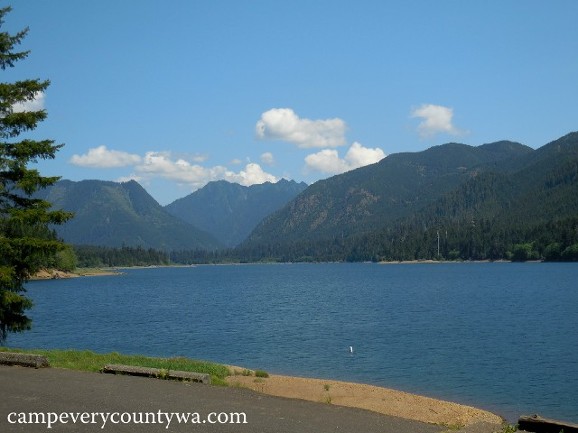 Coho Campground on Lake Wynoochee, once distant and hard to reach,
is now easily accessible
For more photos of Coho CG click HERE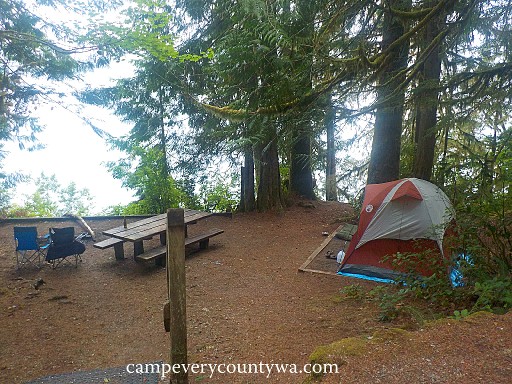 Some sites at Willaby Campground have elevated views of Lake Quinault
For more photos of Willaby CG click HERE
Falls Creek Campground

(Grays Harbor Co.'s MOST UNIQUELY WASHINGTON CGs):
You would expect this campground to be about Lake Quinault, as it sits on a small peninsula jutting out into the glacier-fed, crystalline Lake, but this is among the prettiest rain forest campgrounds anywhere.


Overview

: This small campground is located on the south shore of Lake Quinault on 3 acres, operated by the USFS at an elevation of 200', open summer months only; GPS 47.4696, -123.8454.


Facilities

include bathrooms with flush toilets (ADA), drinking water, picnic tables, fire grills. one shelter built by the CCC, and a boat launch.


Recreation

: swimming, boating (with license and decal), hiking on the Quinault Lakeshore Trail. Keep in mind that the south shore of Lake Quinault sits in the National Forest, not the National Park, so dogs are allowed on all trails.


Campsites

(3 acres, 21 sites for tents or RVs up to 16' plus 10 walk-in tent sites, no hookups, reservable): Most of the sites are tiny and close together, but all are under a heavy umbrella of towering cedars, firs, and spruces, making all sites seem much larger. Site 20 sits right on Falls Creek with a direct view of the falls, while a bridge across Falls Creek takes campers to the more private walk-in sites.


Trip Notes

: Falls Creek is clearly the most beautiful Lake Quinault campground, though it is somehow squeezed into just 3 acres. It seems much larger as it is adjacent to both the Lake and the grounds of Lake Quinault Lodge. The bridge also connects campers to the Quinault Lakeshore Trail, once again making the campground seem larger than life.


Washington History

: Since Teddy Roosevelt visited the Olympic Peninsula in 1903, controversy raged about how much logging, mining, and private exploration should be allowed in the old growth forests. Loggers said the idea of a National Park was too extreme, while conservationists said more land should be set aside. President Franklin Delano Roosevelt visited the Olympic Peninsula in 1937 to quell the controversy. After lunching at the Quinault Lodge, he was taken on a tour. Upon seeing a section of clearcut timber, he said to his guide, "I hope the son-of-a-bitch responsible for this is roasting in hell," not knowing the SOB in question was standing right beside him. The rest is history: the Olympic National Park was established and, after the last parcel was added by Harry Truman in 1953, came to occupy 922,650 acres, making it the fifth largest national park in the lower 48, and one of the few wilderness national parks.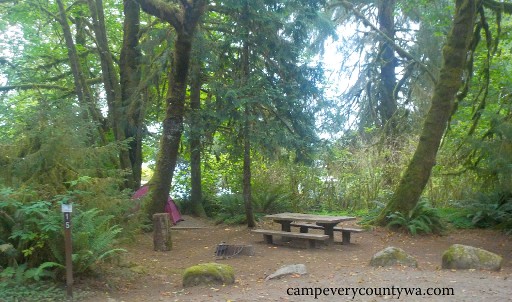 Falls Creek Campground is a Lake Quinault favorite with a Rain Forest feel
For more photos of Falls Creek CG click HERE
North Beach Region
This stretch of ocean beach starts with the soft, shifting sand of Ocean Shores in the south, and slowly evolves to the rocky shores of Ruby Beach and the ONP to the north.
Ocean City State Park

(Grays

Harbor Co.'s BEST CG FOR FAMILIES and includes BEST GROUP CG):
Great dunes, great vegetation, great saltwater marshes, great beach access. This makes it a must see, must camp experience.


Overview

: This beach campground is located 21.2 miles west of Aberdeen just north of the City of Ocean Shores on 170 acres with Pacific Ocean beaches at minimal elevation, open year round; GPS 47.0325865 -124.164064.


Facilities

: This comes well-equipped with bathrooms, flush toilets, showers, running water, an RV dump, campsite hosts, and short trail to Pacific Ocean.


Campsites

(178 sites, including 29 with full hookups 30 amp, two group camps for 20-30 each, reservable): Sites are level, small to medium in size with poor to average privacy, but are lush with easy ocean beach access. See campsitephotos.com for the best sites. For me, the most Loop 4 is the prettiest, with sites surrounded by windswept, mature vegetation.


Trip Notes

: The popularity of this park works against it, as sites are smallish, and the park congested. This visit reminded me, however, how very beautiful are some of the sites (especially Loop 4), and how nice it might be to camp here during the week, or during a less busy time. The ocean access is a great draw, where you will see horseback riders and kites decorating the blue-gray sky. Overall, this campground is a real class act.


Nearby Attractions

: The City of Ocean Shores has restaurants, a cassino, and cycle rentals. Razor clam digging is available in season at Copalis, Iron Springs, and Mocrocks (Moclips) beaches. An appropriate fishing license is required. Check with the WDFW before setting out.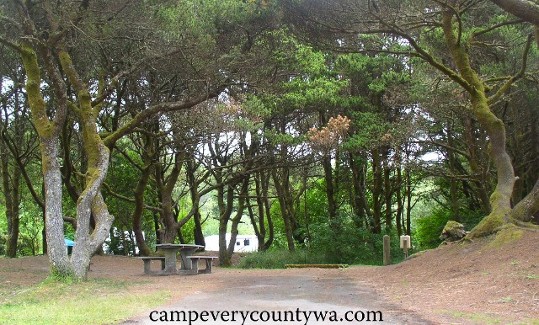 Ocean City State Park has wonderful marine vegetation and even better beaches
For more photos of Ocean City S.P. click HERE
South Beach Region
Notably quieter then Florida's infamous South Beach, this is a gray sandy stretch of beach that ends near the seaport town of Westport to the north, with just enough festivity to spice up your camping experience.
Twin Harbors State Park

(Grays Harbor Co.'s BEST BIKE-IN CG):
The land on which this campground rests was once a military training facility, and is irregularly arranged, but remains one of the most versatile and best campgrounds on Washington's Pacific Coast.


Overview

: Located 19.2 miles west of Aberdeen and 4 miles south of Westport on 172 acres with extensive Pacific Ocean shoreline, west camp open year round; GPS 46.855972 -124.1081.


Facilities

include bathrooms with flush toilets (one ADA bathroom), showers (all ADA), running water, an RV dump, and campground hosts.


Recreation

: Here you'll find Shifting Sands Interpretive Beach Trail and other beach trails, razor clam digging in season (fishing license required), kite flying, plus saltwater fishing in Westport. Birding is excellent at nearby Bottle Beach S.P. featuring 6500' of Grays Harbor shoreline with 130 species of shorebirds for the viewing (and hunting in winter, so be mindful). Surfing is popular at Westhaven S.P. near Westport, although wetsuits are the norm.


Campsites

(265 sites, including 42 with full hookups 30 amp, 4 H/B sites, 2 ADA sites, 1 group site for up to 60, 2 yurts, 5 cabins, reservable): Sites vary from no privacy (RV sites) to good privacy (tent sites). Sites closest to the ocean lack privacy, while those on the east side are more private and framed by high marine vegetation and leafy trees. Best sites are 193, 215, 217, 227, 230, 265, 275, 281, 299.


Trip notes

: Coastal Highway 105 divides park in two, with the more private sites lying on the eastern side. There is very little road noise, as Highway 105 is lightly travelled. We found the RV sites rather small, congested, and lacking privacy. For RVers who need hookups, we recommend the more modern Grayland Beach S.P. (see Pacific Co.) 4.5 miles to the south. The most interesting sites, in my opinion, are those just inside the western entrance (sites 285-307). The loop closest to the beach (sites 308-299) has a few good sites on the outside of the Loop with 2 yurts and 5 cabins for rent. Overall, we enjoyed out camping experience in the eastern loop (sites 86-190) and recommend these sites above all. All sites have good beach access, and are within walking distance for most.


Local attractions

include Westport Lighthouse S.P., with a 135-step climb to the top of this 100' structure, giving great views of the Pacific Ocean, Grays Harbor, and the fishing town of Westport. The town of Westport itself features many shops and restaurants, plus a viewing tower that provides more great views. A similar viewing tower is located at nearby Westhaven S.P.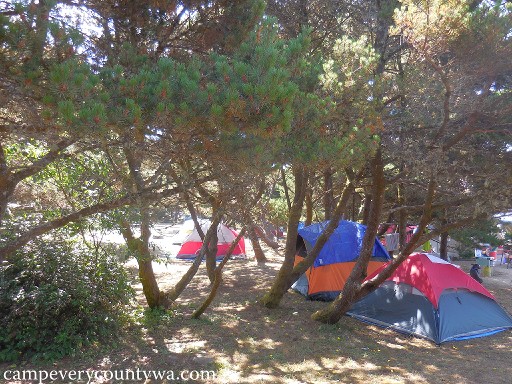 Camping at Twin Harbors State Park surrounds you in beach vegetation with just a short walk to the ocean.
For more photos of Twin Harbors S.P. click HERE