This website is intended as an adjunct to the paperback book 'Camp Every County, Washington' by Brendan J. McDonald, available on Amazon.com. Included on this website are photographs and texts which could not be included in the paperback edition, where you will find full narrative versions of each section found below.
Lake Curlew S.P. (Ferry Co.'s MOST APPEALING CG TO THE SENSES)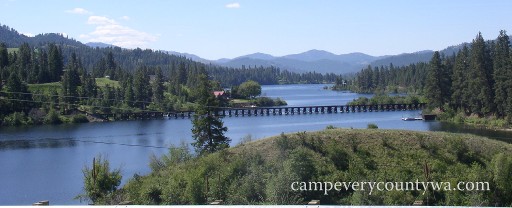 A railroad bridge crosses the northern tip of Lake Curlew,
adding to its many curiosities.
For more photos of Curlew Lake S.P. click HERE
Kuehne Campground (Ferry Co.'s BEST EQUIPPED /BEST FOR RVs and BEST GROUP CG)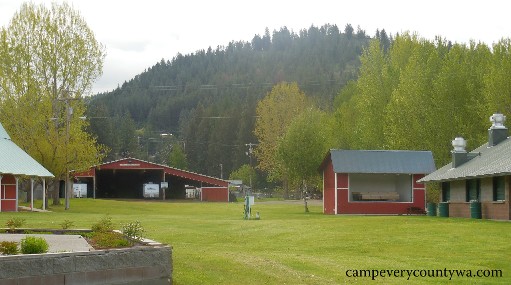 How much more County Fair can you get than the Ferry County Fair?
None more, most would say.
For more photos of Kuehne C.G. click HERE
Swan Lake Campground (Ferry Co.'s BEST CG FOR FAMILIES)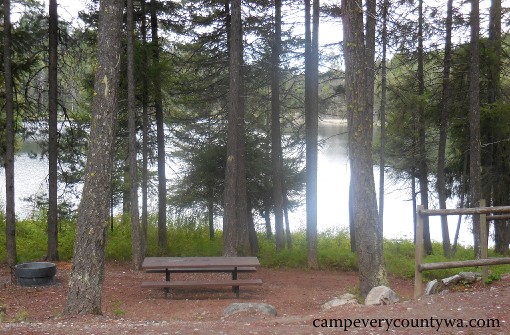 The best sites at Swan Lake rest on the terrace above the Lake.
For more photos of Swan Lake CG click HERE
Kamloops Island Campground (Ferry Co.'s MOST UNIQUELY WASHINGTON CG)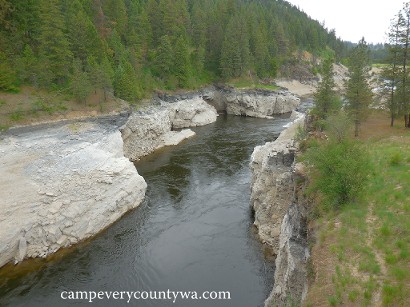 Kamloops Island Campground is separated from the mainland by a short channel,
but what a beautiful channel it is!
For more photos of Kamloops Island CG click HERE
Trout Lake Campground (Ferry Co.'s BEST FREE and BEST RUSTIC CGs)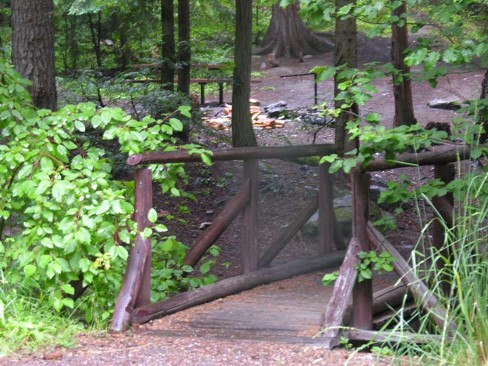 Trout Lake Campground is one of many FREE USFS campgrounds in Ferry County
For more photos of Trout Lake CG click HERE
Keller Campground (Ferry Co.'s BEST BIKE-IN CG)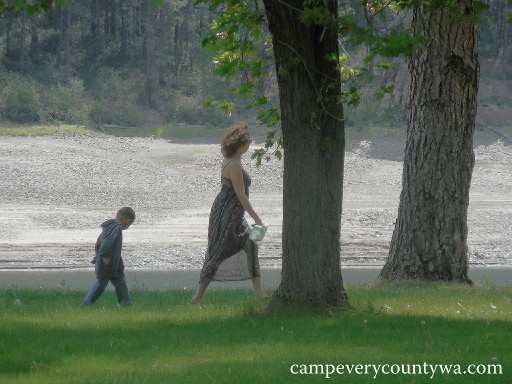 Keller Park has a unique ethereal quality that defies description.
For more photos of Keller CG click HERE
Thirteenmile Trail #23 Hike-In Campsites

(Ferry Co.'s BEST HIKE-IN CAMPSITES)


From the very start, this trail offers sweeping views of the San Poil River, deep canyons, rock outcroppings, waterfalls, forests and wildflowers. It is also unusually versatile. Day hikers can hike any distance, and turn around when they please. More committed and better equipped hikers/campers can continue beyond the 16-mile mark and connect with Hall Mountain Road, which ends just west of Sherman Pass on Highway 20.




Overview

: This enchanting camping and hiking trail is operated by the USFS at 2,020' to 4,350' elevation, open seasonally; GPS 48.481887, -118.727262.


Facilities

: The Trailhead has a vault toilet, picnic tables, fire rings, a parking area, fire rings, a loading ramp, four hitching rails, and a watering hole for horses. Water is available sporadically along the trail, but often dries up in summer. Water should be treated, but it is recommended that you bring your own on the trail.


Recreation

: The trail is good for horse campers. The steep start of the trail makes it inaccessible to snow shoers or cross county skiiers in winter. Side trips along the main trail include those to Fire Mountain and Thirteen Mile Mountain.


Trailhead

: The Trailhead is very easy to find, located just off Highway 21, thirteen miles south of Republic at the border of the Colville Indian Reservation. The trailhead is on the east side of the road at the small campground.


Campsites/Trip Notes

(4 sites at the Trailhead for tents and RVs of any size, and dispersed tent sites along over 16 miles of trail, no reservations, FREE with USFS Pass): After the initial half-mile climb to the ridgeline the trail mostly follows an old cattle trail. Most trail campsites start at the 2-mile mark, and are best at the 4-mile mark, where most day hikers turn around. Beyond this, sites are more private and no less beautiful, as most are set in grasslands, ponderosas, and fields of wildflowers.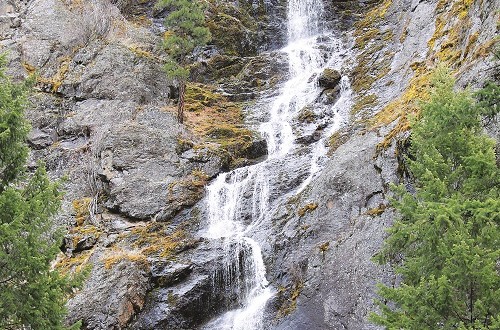 Thirteenmile Trail #23 is lined with waterfalls, deep canyons, and rock outcroppings
For more photos of Thirteenmile Trail #23 Campsites click HERE
OTHER CAMPGROUNDS: There are no BOAT-IN ONLY CGs in Ferry Co. that we can only recommend except those on Curlew Lake (see above) that are also accessible by automobile.