This county has the lowest population density but the best campgrounds and most inriguing tiny towns in Washington. Its history of mining, logging, and farming leave a very earthy stamp on all that you will see and experience.
Republic Area
The quaint pioneer town of Republic, originally called Eureka Gulch, was founded by gold fever in 1896 when the Colville Indian Reservation was opened for mining exploration. Overnight, the valley rang with the sound of pick axes, shovels, and braying mules. Today, this bustling town is the center of commerce and recreational opportunities up and down the San Poil Valley.
Lake Curlew State Park

(Ferry Co.'s MOST APPEALING CG TO THE SENSES)


When does a lake stop being just beautiful and becomes stunning? Answer: When its source is the San Poil River, when it sits mid-way between the towns of Curlew and Republic, and when its shores are spotted with resorts of character that are reachable by canoe or kayak. Yep, that's Lake Curlew!




Overview

: This appealing campground is magnificently located 10 miles north of Republic on 123 acres on 921-acre Curlew Lake at 2182' elevation, open April 1 to November 1; GPS: 48.721, -118.6619.


Facilities

: Good facilities include bathrooms with flush toilets, running water, and showers; picnic tables, fire grills, a swimming area, 80' of dock, 2 boat launches, 2 miles of hiking/biking trails, an amphitheater, RV dump station, Park Store, and camp hosts.


Recreation: Fishing is best for rainbow trout, but also includes large and small mouth bass and tiger muskies. Rock hounding is popular at the Stone Rose public dig site. Kayaking, canoeing, and water skiing are all excellent.




Campsites

(83 sites for tents and RVs of any size, but best up to 35', including 25 with water & electric hookups 50 amp, most are reservable): Sites are large and grassy with poor to average privacy. The RV portion of the park is at the bottom of a "bowl," surrounded by steep hills where white-tailed deer come down to feed morning and night.


Trip Notes

: Despite a lack of privacy, we extended our stay. The 5.5-mile long lake is exquisite for kayaking and canoeing, with many islands, inlets, and a railroad bridge crossing the north end of the lake. Three small resorts (Tiffany's, Black Beach, and the quaint Fisherman's Cove) are accessible by boat, where you can tie up for a beverage or lunch. Everyone being occupied with fishing or other activities balanced the lack of privacy. The old mining town of Republic and the so-called ghost town of Curlew are well worth visiting and lingering, as both have a strong feel of history and a lifestyle connected to the land on which it sits.


Local Alternatives

: Lone Ranch Park, Beal Park, Peggy Brixner Park, and Matney Park, are all managed in a cooperative agreement between Ferry and Stevens Counties.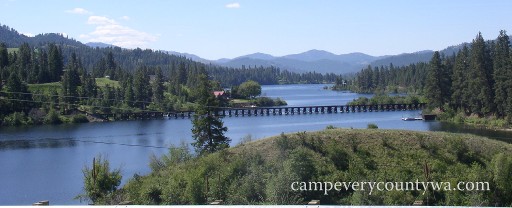 A railroad bridge crosses the northern tip of Lake Curlew,
adding to its many curiosities.
For more photos of Curlew Lake S.P. click HERE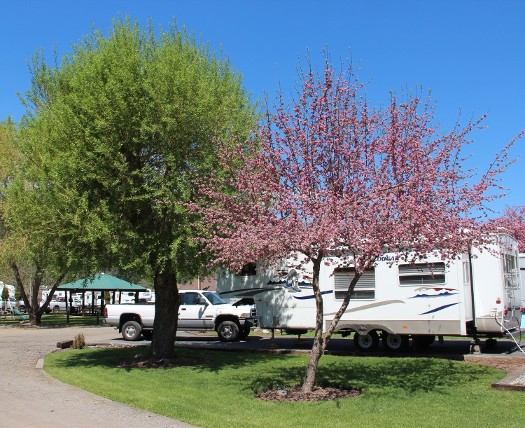 Winchester is a rare RV Park with facilities for all types of campers
For more photos of Winchester RV Park and C.G. click HERE
Kuehne Campground (Ferry Co.'s BEST GROUP CG)
This is the best equipped and most developed of the campgrounds at County Fairs, and you'll be caught up in the locals' love for this area.


O

verview

: This remarkable, open campground is located within the Ferry Co. Fairgrounds 3.5 miles northeast of Republic on O'Brien Creek at 2500' elevation, open year round; GPS coordinates for Republic are 48.6482, -118.7378.


Facilities

: In addition to all the Fair buildings, faciliites include flush toilets, coin-op showers, running water, and a 100-year old antique carousel (operating ONLY during the Fair).


Recreation

: Tiger Trail for hiking or biking extends 3.5 miles to the town of Republic with full services and entertainment.


Campsites

(102 RV sites plus additional tent sites, water & electric 30 amps, reservable): Sites are grassy with no barriers, line O'Brien Creek, and are rarely crowded when the Fair is not in operation. This could make an excellent Group Camp if many conjoining sites were reserved. All of the facilities (except the carousel) are located in the campground itself.


Trip Notes

: A delightful and unexpected find here. We pulled in out of curiosity, having passed this way many times in the past few years. The grounds were meticulous, with fresh red paint most places, reports of a 100-year old carousel during the Fair, and sites that back into a perfect sized creek. It's a place where you can't imagine people being unhappy. It's that cheerful, green, and rarely crowded except during the Fair itself (usually the first week of September) you might want to avoid camping here during that time. Kids will love this place. So did we.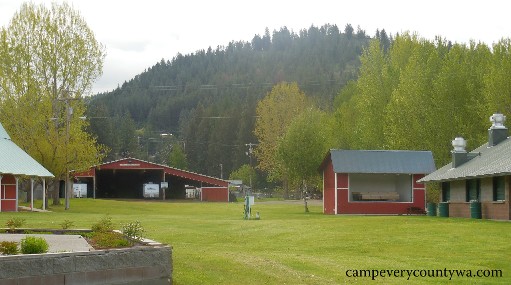 How much more County Fair can you get than the Ferry County Fair?
None more, most would say.
For more photos of Kuehne C.G. click HERE
Swan Lake Campground

(Ferry Co.'s BEST CG FOR FAMILIES)
Swan Lake is the largest and prettiest of this small chain of lakes in the Colville National Forest. Long Lakes gets the nod from fishermen, but if you are looking for the best camping, this is where you'll want to be.


Overview

: This lovely terraced lakefront campground is located 14 miles southwest of Republic on 53.5-acre Swan Lake, one of three campgrounds on four small lakes in a 4-square-mile area, operated by the USFS at 3300' elevation, open mid-May to mid-November; GPS 47.93639, -113.85056.


Facilities

: Good and unique facilities include ADA-accessible vault toilets, water by hand spigots, picnic tables, fire rings, hiking trails, a Day Use Area, and boat launches on Swan, Long, and Ferry Lakes. A key feature at Swan Lake is the Swan Lake Kitchen. Built by the CCC in 1936 and restored in 2009, this large covered shelter with a stone fireplace sits right on the lake and invites swimming, boating, and all-day use. The facility can accommodate up to 35 people and is reservable.


Recreation

: A variety of possibilities include seasonal huckleberry picking, kayaking, canoeing, swimming, and fishing. Fishing is good for trout, but no motorboats are allowed.


Campsites

(Swan Lake: 25 sites for tents and RVs of any size; Long Lake: 12 sites; Ferry Lake 9 sites; no hookups or reservations): Sites are quiet and private. These lakes are used primarily by fly fishermen and, without the intrusion of motorboats, camping is very quiet here. A 0.5-mile trail connects Long Lake with tiny Fish Lake, the smallest of the four lakes. Swan Lake is the largest lake with the largest and nicest campground. Its terraced lakefront sites are the largest, separated in part by hand-hewn log fences. Easy access to the town of Republic is convenient for supplies.


Trip Notes

: Long Lake gets the attention due to its superior fishing (although the sites are beautiful, spacious, and shaded), but Swan Lake is the real gem for camping, particularly the lakefront sites. Ferry Lake also has great sites well above the Lake, and a very accessible boat launch at the end of the road. Human-powered boats do well in all 3 car-accessible lakes.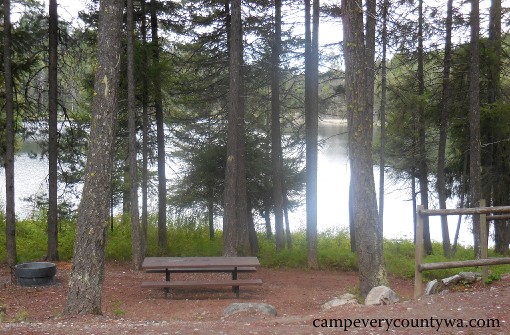 The best sites at Swan Lake rest on the terrace above the Lake.
For more photos of Swan Lake CG click HERE
Thirteenmile Trail #23 Hike-In Campsites

(Ferry Co.'s BEST HIKE-IN CAMPSITES)


From the very start, this trail offers sweeping views of the San Poil River, deep canyons, rock outcroppings, waterfalls, forests and wildflowers. It is also unusually versatile. Day hikers can hike any distance, and turn around when they please. More committed and better equipped hikers/campers can continue beyond the 16-mile mark and connect with Hall Mountain Road, which ends just west of Sherman Pass on Highway 20.




Overview

: This enchanting camping and hiking trail is operated by the USFS at 2,020' to 4,350' elevation, open seasonally; GPS 48.481887, -118.727262.


Facilities

: The Trailhead has a vault toilet, picnic tables, fire rings, a parking area, fire rings, a loading ramp, four hitching rails, and a watering hole for horses. Water is available sporadically along the trail, but often dries up in summer. Water should be treated, but it is recommended that you bring your own on the trail.


Recreation

: The trail is good for horse campers. The steep start of the trail makes it inaccessible to snow shoers or cross county skiiers in winter. Side trips along the main trail include those to Fire Mountain and Thirteen Mile Mountain.


Trailhead

: The Trailhead is very easy to find, located just off Highway 21, thirteen miles south of Republic at the border of the Colville Indian Reservation. The trailhead is on the east side of the road at the small campground.


Campsites/Trip Notes

(4 sites at the Trailhead for tents and RVs of any size, and dispersed tent sites along over 16 miles of trail, no reservations, FREE with USFS Pass): After the initial half-mile climb to the ridgeline the trail mostly follows an old cattle trail. Most trail campsites start at the 2-mile mark, and are best at the 4-mile mark, where most day hikers turn around. Beyond this, sites are more private and no less beautiful, as most are set in grasslands, ponderosas, and fields of wildflowers.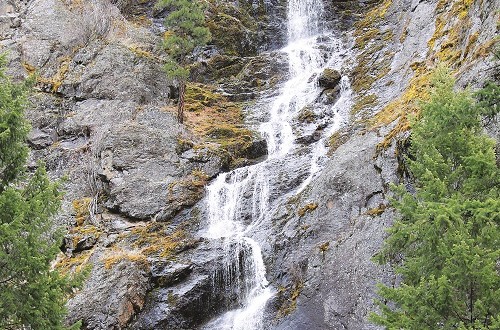 Thirteenmile Trail #23 is lined with waterfalls, deep canyons, and rock outcroppings
For more photos of Thirteenmile Trail #23 Campsites click HERE
Kettle River Arm of Lake Roosevelt
The Grand Coulee Dam created more lakes than just 130-mile long Lake Roosevelt. It also backed up rivers and streams flowing into the massive lake into a series of "Arms," the largest being from the Kettle and San Poil Rivers.
Kamloops Island Campground

(Ferry Co.'s MOST UNIQUELY WASHINGTON CG)


Sometimes geological oddities make great camping. Just why this beautiful chunk of camping bliss broke off from the mainland seems a mystery. But this is camping, so stop overthinking all that, get out your lounge chairs and have a good time.




Overview

: This remarkable little campground is located 2.4 miles south of Boyds with frontage on the Kettle River Arm of Lake Roosevelt, operated by the NPS at 1327' elevation, open year round; GPS 48.679069, -118.117215.


Facilities

: This modestly equipped campground includes vault toilets, picnic tables, fire rings, and a boat dock.


Recreation

: Boating and fishing are available, but most campers, captivated by the Island's beauty, prefer to stay put.


Campsites

(17 sites, no hookups or reservations): Sites seem scenic but primitive, as the park sits in the middle of the gorgeous Kettle River. The Island sits high above the River/Lake with water always in view, and never more than a short walk away. Even standing on the short bridge is captivating, with a view all the way to the main channel of Lake Roosevelt.


Trip Notes

: We'd wanted to camp at this campground for a long time, and pitched our tents during the worst drought in 14 years, when the waters of Lake Roosevelt were at an all-time low. As such, Kamloops Island wasn't much of an island at all, but more like a peninsula with a narrow waterway separating it from Highway 395. But it was still gorgeous. There was of course some road noise, but the views were spectacular, and the camping very, very good. With a little imagination, campers can imagine it as completely surrounded by water and far from the hustle of the towns.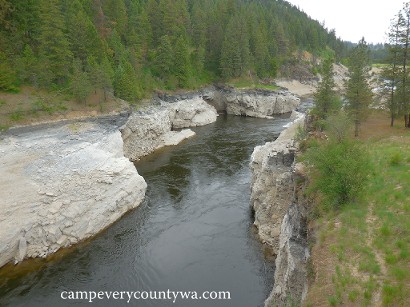 Kamloops Island Campground is separated from the mainland by a short channel,
but what a beautiful channel it is!
For more photos of Kamloops Island CG click HERE
Trout Lake Campground

(Ferry Co.'s BEST FREE CG)


Tiny Trout Lake Campground is used by hikers, fishermen, and hunters, but it gets light use and is one of the quietest camping spots around while still close to services in Kettle Falls.




Overview

: Located 40 miles east of Republic on and 14 miles northwest of Kettle Falls on 11.2-acre Trout Lake, operated by the USFS at 3087' elevation, open year round; GPS 48.62389, -118.239845.


Facilities

: Limited facilities include a vault toilet, picnic tables, fire pits, boat dock and a boat ramp (non-ADA accessible). There is no drinking water or garbage service.


Recreation

includes boating/trout fishing (electric engines only). There is hiking access to Hoodoo Canyon Trail #17, a 4.7-mile hiking trail that intersects the Emerald Lake #94 trail. Wildlife seen in the campground includes moose and whitetail deer.


Campsites

(5 sites for tents and very small RVs, tent pads, non-reservable, FREE with USFS Pass): Campsites are small, private, and located close to the Lake. They are also quiet, being located far from the main road. Vegetation is lush and provides needed shade.


Trip Notes

: This is the perfect little Forest Service Campground on the perfect little lake -- and that is the highest compliment any campground will ever get from me.
Local Alternatives: Other FREE CGs in Ferry Co. include Davis Lake CG, Lake Ellen CG, and Little Twin Lakes CG (all USFS).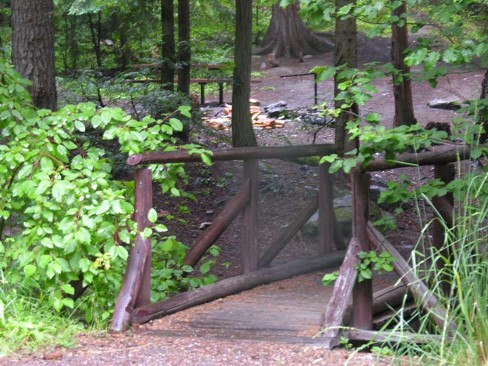 Trout Lake Campground is one of many FREE USFS campgrounds in Ferry County
For more photos of Trout Lake CG click HERE
Colville Indian Reservation
The Colville Indian Reservation occupies the entire southern half of Ferry County. You won't find the big State Parks or luxurious glamping parks, but you will find a series of smaller, utterly unique campgrounds set in pristine forest, and scattered with crystal clear lakes, rivers, and streams.

Keller Campground

(Ferry Co.'s BEST BIKE-IN CG)
This is the most accessible of the campgrounds operated by the Tribe, nestled on a grassy plateau just above the San Poil Arm of Lake Roosevelt. The rising and falling lake levels give it a different look on each visit, but it remains the hidden gem of the Ferry County campgrounds.
Overview: This peaceful campground is located 46 miles south of Republic and 2 miles south of Keller on 4 acres with frontage on the San Poil Arm of Lake Roosevelt, operated by the Confederated Tribes of the Colville Reservation at 1499' elevation, open year round; GPS coordinates are not established.


Facilities

: Good facilities include vault toilets, running water, picnic tables, barbeque pits, a playground, and boating/swimming docks.


Recreation

: These include swimming, boating, and pondering the meaning of life.


Campsites

(about 20 sites, no hookups or reservations): These beautiful, mostly lakeside sites are grassy and flat with beautiful shade trees and poor to moderate privacy. There is some road noise from Highway 21, which will quiet down after dark.


Trip Notes

: This is the Brigadoon of campgrounds. People don't know it's even there, despite passing it many times. It is only accessible from the south, as the entrance road cannot be navigated from the north. Only a small green and white sign saying "campground" (visible only from the south) marks the spot. When you drop down into the Park, there is a certain energy. Everyone I saw was dressed in modern dress, but I couldn't get over the feeling they were native peoples from hundreds of years ago (see the picture below). It was wonderful and peaceful and very restful. Try it, and see if you feel the same way, or if my imagination was simply running away with me.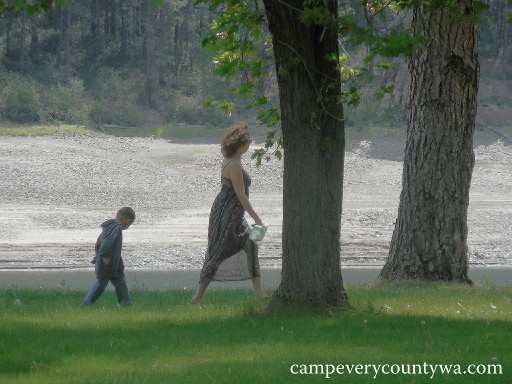 Keller Park has a unique ethereal quality that defies description.
For more photos of Keller CG click HERE
Hartman's Log Cabin Resort

(Ferry Co.'s BEST RUSTIC CG/RESORT)


Very few resorts capture the true "rustic" feel, and even fewer are located on such pristine lakes. You want to get away? This is just the place, but you'll want to bring your own pillow along with your camera.




Overview

: This beautiful but rustic resort is located 57 miles southeast of Republic and 7 miles west of Inchelium on 977-acre South Twin Lake, is privately operated at 2590' elevation, and open April to October 1st; GPS 48.29566, -118.33681.


Facilities

: Modest but plentiful facilities include flush toilets, drinking water, showers, picnic tables, laundry, an off-leash pet area, Cable TV, a Restaurant, the Park Store, Gift Shop, marina, boat launch, and (rustic) boat rentals.


Recreation

includes fishing for rainbow trout, largemouth bass, and perch. Tribal fishing licenses are required for non-tribal members. The North Twin Lake, the smaller of the two, seems more popular than the South Lake for water-skiing, leaving the larger South Lake to the fisherfolk, as well as the kayakers and canoers. A very small passage connects the two lakes, making a perfect passage for canoes/kayaks. Enjoy!


Campsites

(66 sites for tents or RVs up to 26' including 32 with full hookups 30/50 amps, Rustic Log Cabins, Motel Rooms, all reservable): Tent and RV Sites are shaded on gravel pads. There is adequate shade and privacy. Vegetation is largely left in its natural state, although there are lawns around the cabins and motel rooms.


Trip Notes

: Check your expectations. The charm of this place is its rustic nature. If you are expecting to be pampered, I strongly recommend you make other camping choices. If you are the kind of campers who find yourselves verbally criticizing everything about every campground -- you will find no sympathy here -- from anyone, other campers or staff. It is very telling that the most honest reviews are from those who stayed in the log cabins and hotel rooms, and said it was "just like camping." YES! That's the point! Everything about this resort is like camping. You will find a connection to the outdoors without your senses being dulled by modern luxuries, you will see wildlife in its most undisturbed setting, and you'll leave feeling like you've really been camping.


Local Alternatives

: For those who desire the more traditional rustic campground, but also want access to the beautiful Twin Lakes, you are in luck. Rocky Point CG is located along the northeastern shoreline of 744-acre North Twin Lake. Facilities include outhouses, fire rings, garbage cans and a boating / swimming dock. For those who want more activity, we recommend Rainbow Beach Resort, also on North Twin Lake. Warning: this resort is much louder than Hartman's.


Directions

: The Columbia Princess Ferry (crossing the Columbia River/Lake Roosevelt between Inchelium and Gifford), is managed by the Confederated Tribes of the Colville Indian Reservation, and will save time for those arriving from Spokane and other parts east. For those arriving from the West, you can cross the Keller Ferry just north of Wilbur, or follow Peter Dan Rd and beautiful Manila Creek Rd that starts heading east from just north of Grand Coulee and Elmer City. Both of these routes will connect you to Hwy 21, where you will continue north. Continue for 10 miles and turn right/east of Bridge Creek Road toward Inchelium.


Hartman's Log Cabin Resort is rustic and the staff direct, so be forewarned!
For more photos of Hartman's Log Cabin Resort click HERE
OTHER CAMPGROUNDS: There are no BOAT-IN ONLY CGs in Ferry Co. We can only recommend those on Curlew Lake (see above) that are also accessible by automobile.