DOUGLAS COUNTY (Waterville/East Wenatchee)
This Columbia Basin county is nearly encircled by waterways created by various dams, including the awe-inspiring Grand Coulee Dam just over the county line. The best campgrounds lie along the east side of the Columbia River, but are among the best of the best.
Lake Entiat
Lake Entiat is known by many names, including the Rocky Reach Reservoir, but is the result of the damming of the Columbia River by the Rocky Reach Dam just north of Wenatchee. As such, it stretches 43 miles north, forming the border between Chelan County to the west and Douglas County to the east. The once free-flowing river has been transformed into glass-like waters that provide recreation opportunities including water skiing, sailing, jet skiing, kayaking, wind surfing, and of course camping.
Lincoln Rock State Park

(Douglas Co.'s BEST CG FOR ENTIRE FAMILIES, and MOST UNIQUELY WASHINGTON CG)


Abraham Lincoln may have never visited Washington State, but nature has carved his profile into the hillside visible across Lake Entiat. In the center of the park a telescope allows campers to get a close up and personal view. The Park far exceeds this novelty, however, with perfect campsites, new cabins, boat docks (some accessible from individual campsites), day use areas, and sports fields. This is where most locals prefer to camp, and we all know what that means -- it's far more than a novelty -- it's the best all-around campground in the area, and one of the best in all of Washington.




Overview

: This popular campground is located 5 miles north of East Wenatchee on 75 acres with considerable Columbia River/Lake Entiat shoreline at 1000' elevation, open year round; GPS 47.5358, -120.2835.


Facilities

include 5 restrooms (one ADA) with flush toilets and showers, picnic tables/fire grills, boat ramps/docks, a swimming beach, 2 miles of hiking/biking trails, sports fields, an amphitheater, a Park Store (summer only), an RV dump, and camp hosts.


Recreation

includes fishing, swimming, boating, water-skiing, bird-watching, and geocaching. The 5-mile paved Rocky Reach Trail connects the Park and the Apple Capital Loop Trail in East Wenatchee, and is perfect for pedestrians and bicycles. It is ADA accessible.


Campsites/Trip Notes

(94 sites for tents and RVs of any size, including 67 with water & electric 50-amp hookup sites, 12 cabins, reservable): The popularity of this Park lies in its completeness. It has a perfect tent camping loop (Loop A1), providing docks for easy lake access, extremely good shade trees, and easy access to the swimming beach in the Day Use Area. The full hook up loop (Loop A2) accommodates large RVs and has the best view of Lincoln Rock. The quieter, less busy Loop B accommodates both RVs and tents, giving the greatest privacy due to lighter use. This contains four standard cabins available for rent. A group camp and 8 premium cabins are nearby. This is a good all-around campground that is very well laid out and provides something for everybody.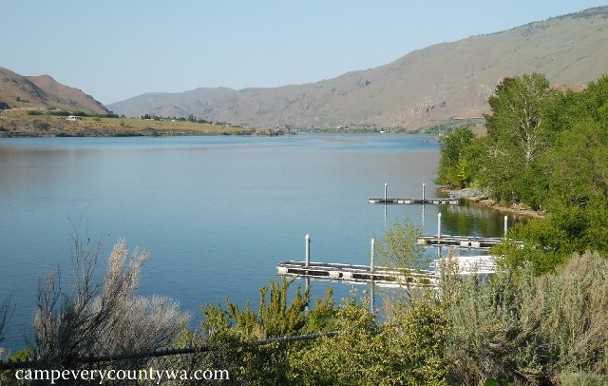 Some campsites at Lincoln Rock State Park have docks on Lake Entiat
For more photos of Lincoln Rock S.P. click HERE
Daroga State Park

(Douglas Co.'s MOST APPEALING CG TO THE SENSES, BEST BOAT-IN CG, BEST BIKE-IN CG, and includes BEST GROUP CG)
This is one of the quirkiest, most geographically-fractured campgrounds in the State Park System; yet, it is one of our favorites. It consists of a walk-on/boat-in island on Lake Entiat protecting a lagoon; RV sites surrounding a red and white power line tower, and a beach area with a stunning concrete promenade connecting the two. Does quirky work for you? Then get over here! Otherwise, Lincoln Rock S.P. might be more to your liking.


Overview

: Located 18 miles north of East Wenatchee on 90 acres with 1.5 miles of Columbia River/Lake Entiat shoreline at 1000' elevation, open year round; GPS 47.713, -120.2099.


Facilities

include bathrooms with showers, picnic tables, fire grills, boat ramps/docks, swimming beach, 2 miles of hiking/biking trails, sports fields, an RV dump, and camp hosts.


Recreation

includes canoeing/kayaking, hiking/biking, and fishing. For golfers, nationally recognized Desert Canyon Gold Course is just 2 miles away.


Campsites

(45 sites, including 28 with water & electric 50 amp hookups, two Group Camps for 150 people each, reservable): Sites are shady with lots of trees, and grassy with great spacing. Tent sites are walk-in/boat-in only, as they are on an island, and the Group Camp ½ mile south the RV sites. RV campers rave about this area and its natural beauty.
Trip Notes: The power line tower in the RV area is a local icon that fits well into the environment. The campers referred to it as the "Electric Eiffel Tower," as though they would miss it if it were gone. They find it no more intrusive than a huge sugar maple of honey locust tree. The tent camping area is equally unique, with walk-in or boat-in sites on a long narrow island connected by causeways and bridges. Camping equipment must be carried in on aluminum carts (provided by the Park) or via the boat launch. The sites are along the western edge of the island, with poplar trees and windbreak fences constructed to minimize the wind. There is a protected lagoon here that is perfect for quiet canoeing or kayaking. The river side has docks available for power-boating. This is certainly one of the prettiest and most unique parks anywhere.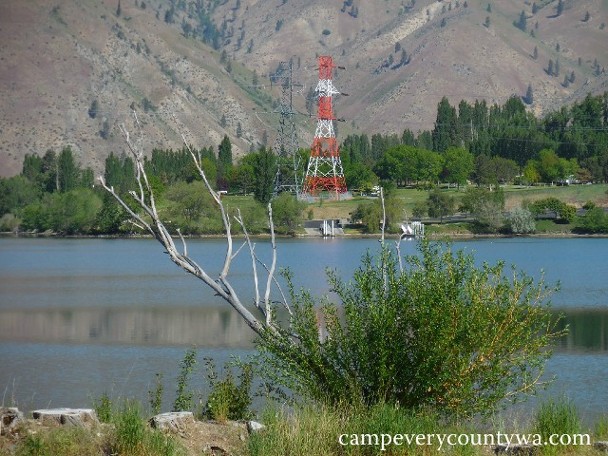 The "Electric Eiffel Tower" at Daroga State Park is a popular landmark that not all campers embrace equally
For more photos of Daroga S.P. click HERE
Beebe Bridge Park and Campground

(Douglas Co.'s BEST EQUIPPED/BEST CG FOR RVs)
This former Columbia River apple orchard was transformed into this newer park as part of a bigger agreement with the local PUD for building the Rocky Reach Dam (downstream) and the Azwell Dam (upstream) to provide recreational opportunities. It is regarded as the best-maintained park in the area, with facilities for RVers, tenters, and especially bicycle campers with easy access off of Highway 97.


Overview

: This pristine and well-constructed park is located 37 miles north of East Wenatchee and 4 miles east of Chelan, managed by the local PUD on 56 acres with one mile of Columbia River footage at 856' elevation, open April 1 to Oct. 31; GPS 47.8063, -119.9743.


Facilities

include bathrooms with showers, a swimming area, picnic shelters, a 2-lane boat launch and dock, a playground, tennis courts, basketball hoops, soccer fields, and an RV dump station.


Recreation

: The River Walk provides a flat, easy walk along the Columbia River accessible to all walkers; fishing and boating are also popular.


Campsites

(46 sites for tents or RVs up to 60' with water & electric 20/30-amp hookups, reservable): This very flat area with its spacious sites, some right on the River, are set in a lush grassy spread with shade trees. Parking pads are concrete, with some privacy provided by the spacing of the sites.


Trip Notes

: This is the Douglas County campground that RVers rave about most. The Park is set in the backdrop of the rusty old Beebe Bridge, contrasted by a sweep of colors -- verdant, rolling lawns, and RVs of all shapes, sizes, and brands -- everything from behemoth buses to Teardrop Trailers pulled by VW Beetles. Even the life jackets at the marina popped with color. The swimming area here, similar to that at Daroga, is a very secluded beachy touch to a very nice camping park.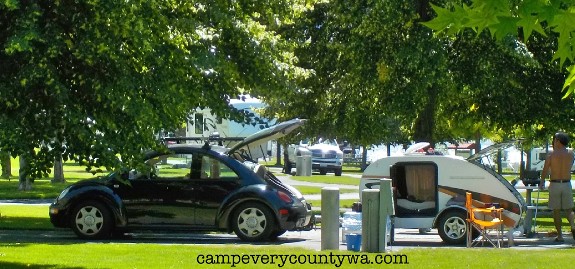 At Beebe Bridge you'll find every kind of RV from behemoth buses to Teardrop Trailers pulled by VW Beetles
For more photos of Beebe Bridge Park click HERE
The Waterville Plateau
Once you leave the long oasis along the Columbia River and head east, you begin to climb high up to the much drier land of ancient lava flows and 10,000 years of glacial activity. But this otherwise barren land will tell you its history, as evidenced by haystack rocks, eskers, and basalt cliffs, all waiting for the curious to come and take a long look.

Douglas Creek Recreation Site, DCRS

(Douglas Co.'s BEST FREE, BEST RUSTIC, and BEST HIKE-IN Campsites)


This camping area is set in dry sage-steppe uplands in a basalt canyon following Douglas Creek with beaver ponds, cascading pools, waterfalls, and smooth boulders that slide right into the crystalline creek -- a place you might call Nature's Water Park, with piped-in music from the songbirds.




Overview

: This remote location is 7 miles southwest of Waterville, operated by the Bureau of Land Management (BLM) at 2625' elevation, open March 1 through Nov. 30. GPS: 47.509525, -119.949487.


Facilities

are non-existent; but the site is sufficiently isolated for campers to shower in the waterfalls and bath in the pools.


Recreation

: The 5-mile Douglas Creek Trail (trailhead GPS 47.4581, -119.8769), just inside the northern entrance of DCRS, is a beautiful, flat interpretive trail that follows Douglas Creek deep into a colorful, volcanic canyon full of songbirds, desert vegetation, and interesting dispersed camping sites. Also popular are horseback riding, hunting, aquatic sports (water slides), and fishing for rainbow trout. This is designated by the Audubon Society as an Important Bird Area of Eastern Washington with black-billed magpie, black-capped chickadee, black-headed grosbeak, Bullock's oriole, lazuli bunting, northern flicker, northern harrier, red-tailed hawk, rock wrens, vesper sparrow, and western meadowlark. The most renowned natural recreation, however, is the quarter-to half-mile stretch of Douglas Creek at the south end of the DCRS that is a series of waterfalls, deep pools, and overhanging campsites that is a famed and cherished swimming area in both Douglas and Chelan Counties.


Recommended Directions

: We strongly recommend approaching DCRS from the north, approximately 5 miles west of the small down of Douglas on Highway 2, then turning right/south onto Rd H SW. The road is long, straight, paved and flat most of the way to the north entrance of DCRS where you will find the trailhead and most of the campsites. Be aware that the road gets progressively worse as you go south, requiring a high-clearance 4-wheel drive vehicle.
Campsites (dispersed campsites, no reservations or hookups, FREE of charge): Sites are set amid cottonwoods filled with songbirds. They are close to the gravel road with dispersed campsites, a rustic but very unique camping experience, an oasis in the midst of a rather barren landscape.


Trip Notes

: This trip was a solo effort on my part, just me and the two dogs. We approached from the north, and easily found the entrance. My main objective was to find the famed "Nature's Water Park" and, after exploring the Trail and much of the Creek, I quickly reached the conclusion we had missed it. The road slowly deteriorated, with the Creek spilling over the road many times, and my new focus became connecting with Palisades Road and getting out of the area before dark. Then suddenly it appeared. I slammed on the brakes and did a double take. Yes, this was it -- the natural water park I saw only bits and pieces of in random photos. Waterfall after waterfall, deep pool after deep pool, slippery rock after slippery rock. I bounded down the hillside towards it, my heart racing with unnatural exuberance, shouting "Yes! This is why we do this!" I did a quick look see to make sure there were no "Swimsuits Required" signs (fat chance!), got down to nature, and canonballed into the first and deepest of the pools. It didn't matter how cool the water was, or if anyone might be watching. Mother Nature had provided me with the object of my desire.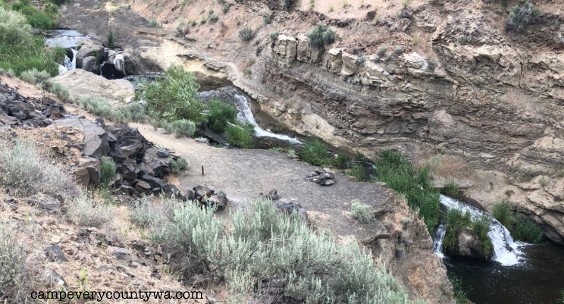 Most metropolitan areas have water parks,
but Mother Nature provided this one on Douglas Creek
For more photos of Douglas Creek Recreatiion Site click HERE