COWLITZ COUNTY (Kelso/Longview)

This small but explosive county is dominated by the western flow from the eruption of Mount St. Helens in 1980, which has largely redefined the recreational opportunites where the force and regenerative powers of nature are so evident.
Silver Lake/Spirit Lake Memorial Highway 504
Silver Lake was formed thousands of years ago by an eruption of Mount St. Helens, and is now 1424-acres large providing wetland and woodland trails, fishing, and boating opportunities. Spirit Lake, once regarded as the single most beautiful alpine lake in Washington, was all but destroyed in the eruption of 1980, making it inaccessible to current generations for recreational use. But all is not lost: the Johnson Ridge Observatory, the closest driving point to Mt. St. Helens, provides a birds-eye view and details the history of Spirit Lake and the volcano. Furthermore, environmentalists and visitors alike are amazed by the Lake's natural, unexpected regenerative power, making the Observatory a destination in itself.
Seaquest State Park

(Cowlitz Co.'s MOST UNIQUELY WASHINGTON CG, BEST EQUIPPED/BEST CG FOR RVs, and BEST BIKE-IN CG)
This campground sits safely 30 miles west of the unpredicable Mount St. Helens, and is undeniably the best campground for viewing the history and devastating aftermath of its May 1980 eruption.


Overview

: This polished Park is located 6 miles east of Castle Rock near Silver Lake on 475 acres at 665' elevation, open year round; GPS 46.29861, -122.81694.


Facilities

: The Park is well-equipped with bathrooms with showers (ADA), picnic tables, fire grills, amphitheater, playground, Mount St. Helens Visitor Center, 7 miles of hiking trails (1-mile is ADA accessible), volleyball field, camp hosts, and an RV dump station. The group camp offers a covered shelter for tables, a fire pit, two braziers, and hose bib.


Recreation

: This includes hiking, fishing on Silver Lake, bird-watching, walking the forest trails, and visits to the Johnson Ridge Observatory.


Campsites

(58 tent sites, 33 utility sites for RVs up to 50' including 17 with electric & water and 16 with full hookups 50 amp, 4 H/B sites, 5 yurts - some pet friendly, one group camp with 3 Adirondack shelters for up to 25 people, reservable): There are 4 loops: the south and two north loops are in a forested setting of secondary old-growth forest, and are spacious with good privacy; the T-loop with full hookups for RVs is a no-barrier area with smaller sites. We especially recommend the sites on the north end of the North Loop (sites 40-48), as these back into the largest green belt. The South Loop is also very good for tenters, but the RV Loop we recommend with some hesitation, as this has a side-by-side field appearance with less privacy. Nonetheless, it remains the best RV option in the County, free of long term residents, high prices, and remains very campworthy in a forested environment.


Trip notes

: This is a very wooded, shady, and great camping park that gives access to Mount St. Helens (don't underestimate it! And listen to the rangers' talks at Johnson Ridge!). The park itself offers wonderful wooded walking trails, and a tunnel under Highway 504 to the Mt. St. Helens Visitor Center and a wetland area on Silver Lake with a 1.0-mile boardwalk trail. It is nice to then leave the wetlands, take the tunnel back into the Park, and find yourself once again in towering old growth forest. The Group Camp sits in the middle of the campground, with some loss or privacy.


Local Alternatives

: The Longview North/Mount St. Helens KOA is just 4 miles west (2 miles off I-5 on Highway 504) with premium RV sites, rental RVs, a dog park, a new playground and, best of all, excellent reviews. The Kid Valley CG is a small family-operated facility near the Kid Valley Store and gas station with full-facility sites for tents and RVs. This small campground is located 22 miles east of Seaquest S.P., much closer to Johnson Ridge on Mt. St. Helens, making it attractive to those on bicycle.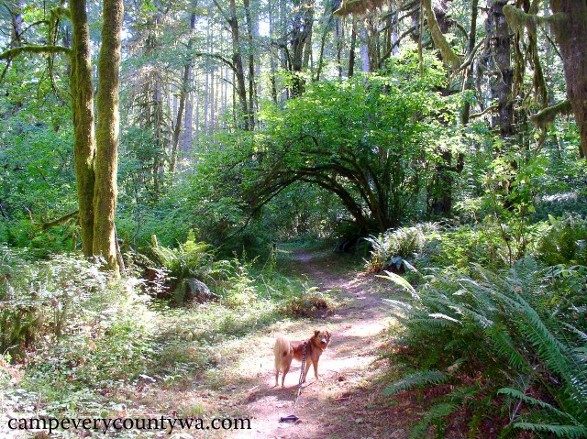 My dog Boca in the wooded acres behind Seaquest State Park
For more photos of Seaquest S.P. click HERE
Merrill Lake Natural Resources Conservation Area
This area, located at the foot of Mt. St. Helens, is a prime habitat noted for protected animal, plant, fish, and bird species. These include the Cascade torrent salamander, osprey, bald eagle, old growth forest, and brown trout. It is rare to find a campground in such an area, making it a prime opportunity for campers who appreciate nature in its purest form.
Merrill Lake Campground

(Cowlitz Co.'s BEST FREE and BEST RUSTIC CG)
Merrill Lake was formed in 1980 when lava flows from Mt. St. Helens blocked the many small streams flowing through this valley, making it the most unique and largest naturally-formed lake in the area. It is also proclaimed by many as "one of Washington's Premier Fly Lakes" and a tent campers paradise.


Overview

: This remarkable campground is located 23 miles east of Woodland and 4.7 miles northwest of Cougar on 283.4-acre Merrill Lake on 114 acres, operated by the DNR at 1524' elevation, open April to November; GPS 40.54812, -120.81201.


Facilities

include pit toilets, picnic tables, fire pits, a two-mile interpretive trail, a gravel boat launch (electric motors and human-powered boats only), and camp hosts. There is no pumped or piped water.


Recreation

: The 2-mile Merrill Lake Old Growth Interpretive Trail is a must for those who enjoy the look and feel of Washington's oldest and most developed vegetation. The Lake is an excellent catch-and-release fishing lake stocked with eastern brook trout, rainbow trout, Yellowstone cutthroat, and, more recently, the protected brown trout. Bird-watching for eagles, ospreys, bufflehead, common goldeneye, and hooded merganser is also popular. Canoeing and kayaking are exceptional.


Campsites

(11 sites for tents, no hookups or reservations, has 3-day stay limit, FREE with Discover Pass): Sites are exceptionally large, most of which could fit multiple tents. They are nicely spaced, allowing optimal privacy. All are forested, but they do not have lake views. The one disadvantage is that all sites are walk-in (albeit, a short distance), so it is limited to tent camping only. Tenters may consider this a distinct advantage.


Trip Notes

: Wow. We didn't expect this. After visiting hundreds of campgrounds on this 5-year journey, we thought we had a pretty good idea what DNR campgrounds looked like. But this wasn't "shaggy." It was like walking into an old house and finding it appointed with polished mahogany --- warm, rich, and inviting. We loved the footbridge over the small stream in the parking lot with its towering rain forest-like trees divided, the campsite spur on the right, and the Old Growth Interpretive Trail to the left. This trail gives the best views of the Lake. People mistake it for a reservoir, because the shoreline is poorly defined; but the Lake was formed with the 1980 Mt. St. Helens eruption, and nature has not yet had time to work its magic. Tent campers will find magic here -- so much in fact that the DNR limits campers to 3-day stays due to its popularity.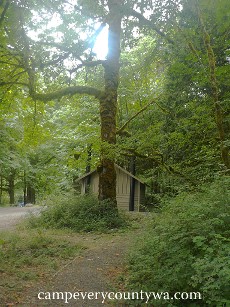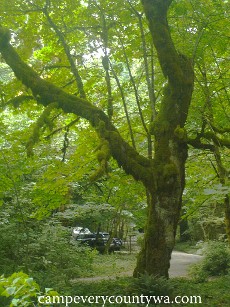 Merrill Lake Campground has the warm, rich and inviting charm of a well-appointed old house
For more photos of Merrill Lake CG click HERE
North Fork Lewis River Reservoir Area
Unlike the naming of Lewis County to the north, the Lewis River was not named after Merriwether Lewis of Lewis and Clark fame, but for surveyer Adolphus Lee Lewis who took a donation land claim on the river's west bank. These are humble beginnings for a river that drains over 1000 square miles of land, supports three major reservoirs and provides the majority of hydroelectric power for a wide area, not to mention a multitude of recreational faciliities for a 95-mile stretch in southern Cowlitz Co. and beyond.

Beaver Bay Campground

(Cowlitz Co.'s MOST APPEALING CG TO THE SENSES, and BEST GROUP CG)
This is one of the campgrounds founded by PacifiCorp, whose 510 megawatt hydroeletric facilities were built from 1931 to 1958. They are fortunately located in the shadow of Mount St. Helens and the Cascade Mountains. The campgrounds take every opportunity to connect campers with this world of natural beauty.


Overview

: This appealing campground is located 34.5 miles east of Woodland just east of the town of Cougar on 3780-acre Yale Lake (reservoir), operated by PacifiCorp at 512' elevation, open the Friday before the last weekend in April until the end of September; GPS 46.061201, -122.268777.


Facilities

include bathrooms with showers, drinking water, picnic tables, fire grills, a Day Use Area, a playground, swimming beach, boat launch, and camp hosts.


Recreation

: Here you'll find swimming, fishing for bull trout, coastal cutthroat, and kokanee. Nearby hiking, spelunking, and interpretive opportunies include the Ape Caves Trail #239, leading through the third largest lava tubes in America; the Lava Canyon Trail #184 leads 5 miles through a steep, rugged canyon including lava fields, a swinging bridge, a steel ladder climb, and thunderous waterfalls; and the Windy Ridge Observatory, with eastern-side views of Mount St. Helens, Spirit Lake, and interpretive programs.


Campsites

(63 sites for tents or RVs of any size, one group camp with 15 spots, no hookups, reservable): Sites are divided into two complex loops. Loop A (sites A1-A41) is bisected into 10 rows, some near the shore of Yale Lake (A1-A8 and A31-A40), while others set back into the forest (A23-A29). This entire loop is resevable. Loop B has 3 rows, one of which sits right on the main road near the Day Use/Swimming Area, and is the busiest of the Loops. Privacy is average, sites are large and flat back-ins with parking on natural materials. In between is the Group Camp, which comprises a single cohesive loop. This has relative privacy with a separate entrance.


Trip Notes

: We camped in the middle of the A Loop, and confess it took an hour or two to warm up to the place. Sites were occupied by equipment, but devoid of humans. We soon found that the activity and energy of the place is at the far end of the campground at the delightful Day Use and swimming area. Its small "bay" resembles a miniature Cape Cod with its curved arm enveloping a safe and fairly warm natural pool. Kids found logs on which to float, while adults relaxed. We found other campers along the crude banks of the reservoir, relaxing in lawn chairs or launching kayaks. We also discovered the trail that lead all the way to Cougar CG and the town of Cougar. Back at the campground, we found the quiet we needed, a good balance of rest and recreation.


Local Alternative

: Cougar CG, also operated by PacifiCorp, is just 1.4 miles west and is like Beaver Bay CG in every way, except slightly less secluded. It has 45 tent sites with restrooms, showers, a boat ramp, and a swiming beach on Yale Lake.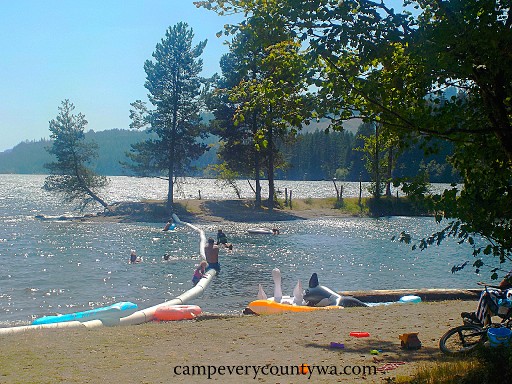 Yale Lake is the prettiest and most versatile of the 3 Lewis River Reservoirs
For more photos of Beaver Bay CG click HERE
Cresap Bay Park

(Cowlitz Co.'s BEST CG FOR FAMILIES)


This is the only campground on beautiful Lake Merwin, the largest of the Lewis River reservoirs, and also the newest of the PacifiCorp campgrounds.


Overview

: This popular campground is located 27 miles east of Woodland on Merwin Lake (reservoir), operated by PacifiCorp at 441' elevation, open Friday before Memorial Day through end of September; GPS 45.9684, -122.3851.


Facilities

include bathrooms with showers and water, picnic tables, fire grills, a Day Use Area, a swimming beach, an amphitheater, a 23-slip marina, a 2-lane boat ramp, a 1.5-mile nature trail, camp hosts, and an RV dump station. The compact Group Camp has a covered shelter with fireplace, sink, and electricity.


Recreation

includes hiking, swimming, and boating. Fishing is good for bull trout, Chinook salmon, Coho salmon, Dolly Varden, kokanee, northern pike minnow, sculpin, and tiger muskie. All but bull trout and Dolly Varden are catch and release. Kayaking is magnificent, particularly and the reservoir narrows east, bound on both sides by rock cliffs.


Campsites

(56 sites for tents or RVs of any size, no hookups, one group camp with 15 sites, all reservable): The sites are cleverly arranged into 4 conjoined loops, only 3 of which are named, plus a long circle of sites on the periphery. Sites 1T-7T are walk-in campsites right on the water. Sites 2-32, which encircle the 4 conjoined loops, are among the most private, as they back up to green spaces. The A, B, and C loops, in the middle of all this, are still arranged for privacy, are large in size, and flat. Most are back in sites, with a small number of pull-throughs that favor large RVs (sites 5, 6, 10, 25, and 4B.)


Trip Notes

: This is a very tight, well-designed, high energy campground where boys on bikes can simultaneously pursue their adventures on the trails and waterways, kayakers explore the cliff-lined waterways to the east, and camp cooks attempt the perfect stew, soup, or mixed grill, and all get along gloriously. Its popularity can work against it, as the Park can fill to capacity early on summer weekdays when the Day Use Area is free and exceeds capacity, and visitors are turned away. But its popularity also testifies to its wide appeal and "everybody friendly" atmosphere.


Local Alternative

: For those campers who prefer the lower energy end of the camping spectrum, Saddle Dam CG is close by. The dam is of the earthen type (not hydroelectric), built to redirect the reservoir waters from seeping away, so waters are calm and still. Camping is in a single dispersed area with access to a very nice swimming and picnicking area just below the Dam. Water, restrooms and showers provided. Use is first come, first served.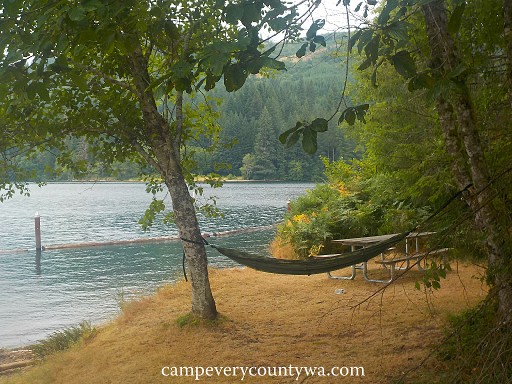 Cresap Bay Park sits on Lake Merwin, the westernmost of the 3 Lewis River Reservoirs
For more photos of Cresap Bay CG click HERE
OTHER CAMPGROUNDS: There are no Hike-in or Boat-in campgrounds in Cowlitz Co. that we can recommend at this time.