COLUMBIA COUNTY (Dayton/Starbuck)

Rolling hills and green valleys dominate this small southwestern county that is neither on the Columbia River nor the Columbia Basin. Lewis and Clark passed through here, both to and from the west, leaving their mark in this peaceful place where time stands still.
Dayton Area
This most Americana of Washington towns is surrounded by rolling hills with the long-abiding legacy of Lewis and Clark visible around every turn. Somehow, despite the most basic needs of the pioneers, they saved stands old-growth forest, historic meadows, rivers, and streams for perpetuity.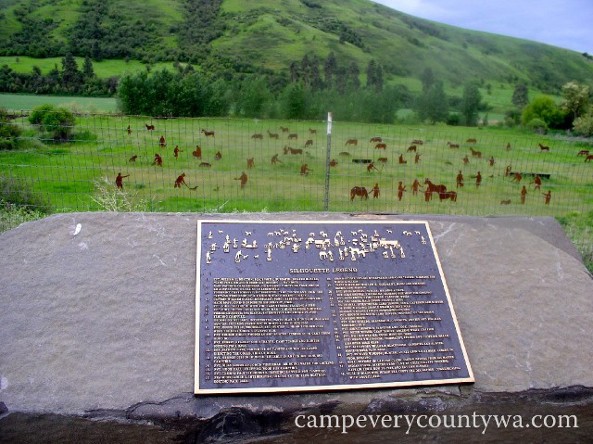 Columbia County has Lewis and Clark written all over it
For more photos of Lewis and Clark Trail S.P. click HERE
Snake River Area
The Snake is a 1078-mile long tributary of the Columbia River that forms the northern boundary of Columbia County. This section of the Snake has been dammed and transformed it into a long series of lakes, taming the wild river but creating a larger camper's paradise.
Lyons Ferry Marina KOA

(Columbia Co.'s MOST UNIQUELY WASHINGTON CG)
Ferries have been used to cross the Snake River since the mid-1860s, and were replaced by bridges starting in the 1920s. The Lyons Ferry Bridge is on the National Register of Historic Places, providing vistas of the confluence of the Snake and Palouse Rivers that far surpass those of the old ferry boat days.


Overview

: This "elevated" campground is located 7 miles northwest of Starbuck with 5000' of Snake River waterfront at 630' elevation, open year round; GPS 46.585929, -118.220111.


Facilities

include flush toilets, running water, showers, picnic tables, fire rings, shaded picnic sites, a fenced Dog Park, kayak rentals, Kampstore and Snake River Cafe, fish cleaning stations, Wi-Fi, moorage for boaters, outdoor movies on summer nights, and swimming at Lyons Ferry S.P. (2 miles north).


Recreation

: Wildlife viewing is accessible in the adjacent 12-acre wildlife area. Boating takes charge here, along with fishing for bass, catfish, pike minnow, rainbow trout, steelhead, and walleye.


Campsites

(40 tent sites, 18 RV sites w/partial and full hookups 30/50 amp, reservable) Campsites have poor to average privacy, but are flat, well-engineered, somewhat shaded, and close to all amenities. They can accommodate RVs of any size.


Site Visit

5/17/14: There we were, on an 11-day tour through 5 counties in southeastern W ashington. We had just left Windust, for which we were poorly prepared, having no food with us. It was a great relief to pull into the Snake River Grill at Lyons Ferry Marina, where we could get a late breakfast, batteries for our cameras, and ice for our ice chest. More to the point, there was something very captivating about this environment. We're not fishermen, just campers, yet the busy marina beneath the 2040' Lyons Ferry Bridge and the three-quarter mile-long Joso High Railroad Bridge provided a very cozy, tucked-in feeling that made us want to stay much longer.


Historic Note

: The bridge was originally built in 1927 to cross the Columbia River at Vantage, Washington. In the early 1960s, the construction of the Wanapam Dam raised the water levels and a higher bridge was needed. The original bridge was dismantled and placed into storage, while a new bridge replaced the old at Vantage. In 1968 the original 1927 bridge was erected here in its current location at Lyons Ferry.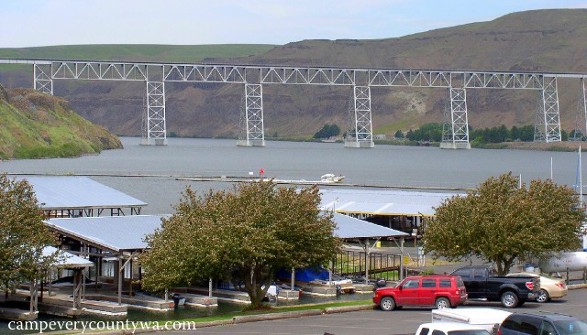 The High Railroad Bridge at Lyons Ferry once crossed the Columbia at Vantage
For more photos of Lyons Ferry Marina KOA click HERE
Tucannon River Valley
This area is a nice transition between the hilly wheat lands of northern Columbia County and the abject wilderness of the southern county. The River flows through the W.T. Wooten State Wildlife Area, providing just the right balance and nature and civilization that will appeal to most campers.
Dayton/Pomeroy KOA

(Columbia Co.'s BEST EQUIPPED/BEST CG FOR RVs)


This remarkable KOA Park has been the recipient of the Founder's Award and President's Award on many occasions. Furthermore, it is located on the edge of the Wooten State Wildlife Area with at least 8 small fishing lakes nearby. This Kampground has the look and feel of a finely-maintained forest village with happy kampers and wild turkeys everywhere you look.




Overview

: Also known as the Blue Mountain KOA and The Last Resort KOA, this meticulous Kampground is tucked away southeast of Dayton on Tum-a-lum Creek near the Tucannon River at 1964' elevation, open March to November; the Park requests that you do not arrive by GPS, and will provide directions upon reservation confirmation.


Facilities

: This best-equipped campground features bathrooms with showers and running water, picnic tables, fire grills, a covered picnic shelter, a Meeting Hall, playground, group fire pit, and horseshoe pits; The Last Resort Kamp Store with gas pumps and ATM machine; Wi-Fi supporting mobile devices with on-site tech support; RV dump, propane, firewood, and garbage service.


Recreation

: Fishing predominates in the spring, and hunting in the fall. Summer features hiking access in the nearby national forest and wilderness areas.


Campsites

(6 tent sites, 33 sites for RVs up to 70' with full hookups 30/50 amp, 6 cabins including 5 with kitchens and bathrooms, reservations recommended): The tent sites are better spaced and separate from the more closely placed back-in and pull-through RV sites. All are forested and shaded with enough vegetation for privacy, with grassy areas in between.


Trip Notes

: This lovely KOA Park is a beehive of activity during spring fishing season, but then quickly settles back into the forest and nearby rivers and streams. A summer of early fall visit is recommended.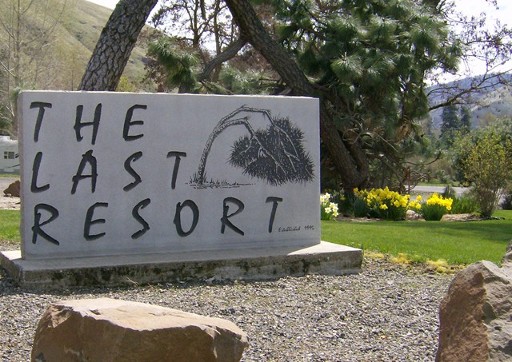 The Dayton/Pomeroy KOA is also known as the Blue Mountains KOA and,
more familiarly, The Last Resort.
For more photos of the Dayton/Pomeroy KOA click HERE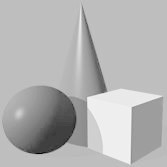 Tucannon Campground

(Columbia Co.'s

MOST APPEALING CG TO THE SENSES)
Calling the Dayton/Pomeroy KOA "The Last Resort" (above) is a bit hasty, because the last and best campground in the Tucannon Valley is 9 miles south on a terrace above the Tucannon River. Tucannon CG isn't quite free, isn't exactly rustic or well-equipped, and has no great Kamp Store -- it is simply the perfect USFS campground on the perfect river before it drops into the wilderness.


Overview

: This Umatilla National Forest campground is located about 50 minutes from Dayton, operated by the USFS at 2600' elevation, open early spring to late fall; GPS 46.243, -117.6886.


Facilities

include vault toilets, no piped-in water, picnic tables, fire grills.


Recreation

includes multiple hunting and hiking opportunities. Trails lead to Mt. Misery and the Wenaha Wilderness Area, which extends into northeast Oregon.


Campsites

(17 sites for tents and RVs of any size, no hookups or reservations, FREE with NW Forest Pass): Sites are well maintained, extremely spacious, private, and lush with vegetation. Four sites are near the River itself. Family members find this a great getaway, despite being best known by fishermen (spring) and hunters (fall). Summer is left to the campers.


Trip Notes

: This area was quite different than we expected. First, it was not nearly as remote as reviews indicated. The Tucannon Road was a paved, flat road that extended 29 miles from Highway 12 to the Tucannon Campground. The last 9 miles, from the KOA Park to the campground itself, was crowded with at least 8 Washington Department of Fishing and Wildlife campgrounds where people parked/pitched tents randomly in large open areas, and crowded the river with fishing gear. Additionally, there were several small ponds stocked with trout for the more fair weather fishermen. Even the historic Tucannon Guard Station (available for rent) had makeshift campsites filled with fishermen right up to the back porch. In short, we were glad to reach the so-called "fishing campground" of Tucannon to get away from all the fishermen along the way. Take this advice: camp in summertime, not during spring fishing season. The campground itself is lovely, removed from the hubbub, with a great stretch of the Tucannon River and great wooded campsites.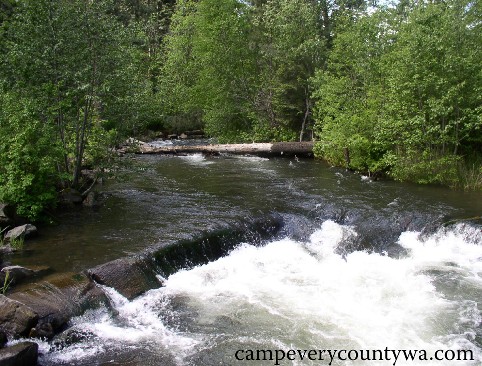 The spray from the Tucannon River keeps Tucannon Campground cool on hot summer days
For more photos of Tucannon CG click HERE
Wenaha-Tucannon Wilderness
This lonely wilderness, stretching down into northeast Oregon, is 176,557 acres of steep-walled river canyons, smooth-topped tablelands, and harsh climate extremes. It is also the land of Rocky Mountain elk, mule deer, white-tailed deer, black bears, coyotes, cougars, bobcats, and snowshoe hares. If you climb high enough, you might even be lucky enough to catch a glimpse of Big Horned sheep.
Godman Campground

(Columbia Co.'s BEST FREE and BEST RUSTIC CG)
There is a popular legend that this campground received its name when Lewis and Clark first entered the area and exclaimed, "God, man, where in the [Sam Hill] are we?" Nothing in the Lewis and Clark journals indicates that they ever spoke this way, but it does speak to the remoteness of the area. The last 11 miles of the drive have incredible scenic beauty leading to one of the best rustic campgrounds in Washington, nestled up against the natural beauty of the Wenaha-Tucannon Wilderness.
Overview: This treasure trove of a USFS campground is located 27 miles southeast of Dayton at 6050' elevation, open May through October, weather permitting; GPS 46.099718, -117.786291.


Facilities

: Primitive facilities include a vault toilet, picnic tables, fire grills, a group picnic shelter, horse facilities with hitching rails and feed mangers, and a Guard Station (rentable and usually available). There are 1930s touches throughout the campground from early development by the Civilian Conservation Corps. There is no drinking water, aside from the spring for the horses.


Summer Recreation

: The 200-mile network of roller-coaster hiking and equestrian trails in the Wenaha-Tucannon Wilderness are accessible from West Butte Trail #3138, recommended for the more experienced only.


Winter Recreation

: You'll likely need a snowmobile to get here, but the snowmobile trails and snowshoeing meadows are popular with sturdy winter sport fans.


Campsites

(5 tent sites, plus 3 sites for tents or small RVs, no hookups or reservations, FREE except during hunting season. The Godman Guard Station is available for rent): Sites could be described as "semi-dispersed," with most sited wrapped around the heavily forested ridge at the turn in the road, all with magnificent views are available from every site. And at dusk, sunsets remind you of just how beautiful the wilderness can be.


Trip Notes

: It takes a little commitment to get here -- a good Forest Service Map, a higher sitting vehicle to maneuver the ruts in the road, perhaps a 4-wheel drive to dodge the limbs overhead, and a watchful eye for wildlife that may never have encountered humans before. That being said, the journey will reward you with a very different feel than closer-in campgrounds. But if you have any trepidations, you might choose Tucannon CG instead.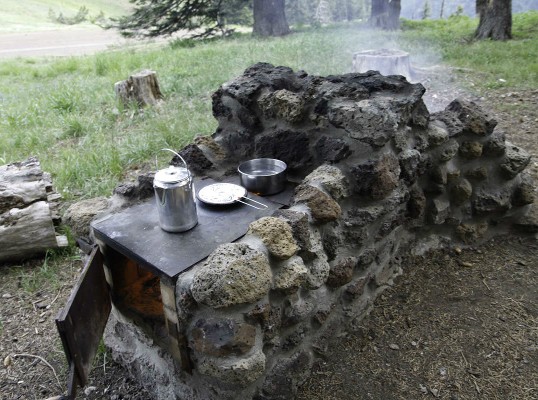 Despite its remote, rustic nature, Godman Campground has vintage features provided by the Civilian Conservation Corps from the 1930s.
For more photos of Godman C.G. click HERE