This website is intended as an adjunct to the paperback book 'Camp Every County, Washington' by Brendan J. McDonald, available on Amazon.com. Included on this website are photographs and texts which could not be included in the paperback edition, where you will find full narrative versions of each section found below.
CHELAN COUNTY (Wenatchee/Leavenworth)
Lake Chelan State Park (Chelan Co.'s BEST CG FOR ENTIRE FAMILIES)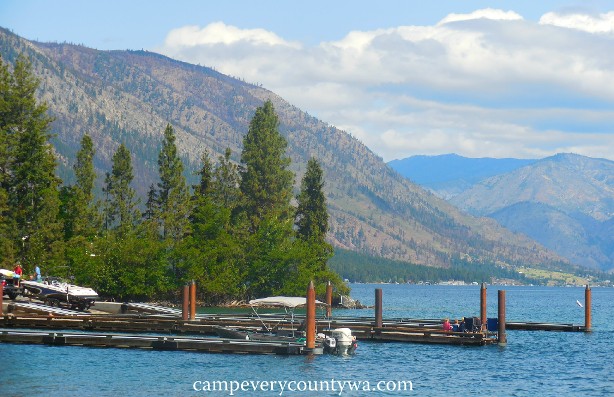 Lake Chelan is synonymous with water recreation
Click here for more photos of Lake Chelan S.P.
Napeequa Crossing Campground (Chelan Co.'s BEST FREE CG)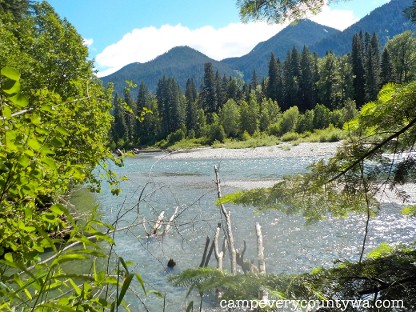 Napeequa Crossing Campground is set high in the Wenatchee National Forest
For more photos of Napeequa Crossing CG click HERE
Lake Wenatchee State Park (one of Chelan Co.'s MOST APPEALING CGs TO THE SENSES)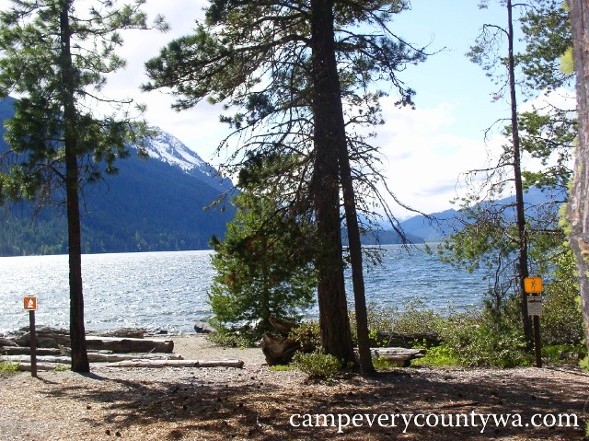 Lake Wenatchee is where you can watch a mighty river spring out of a mighty lake
For more photos of Lake Wenatchee S.P. click HERE
Wenatchee Confluence State Park (Chelan Co.'s MOST UNIQUELY WASHINGTON CG)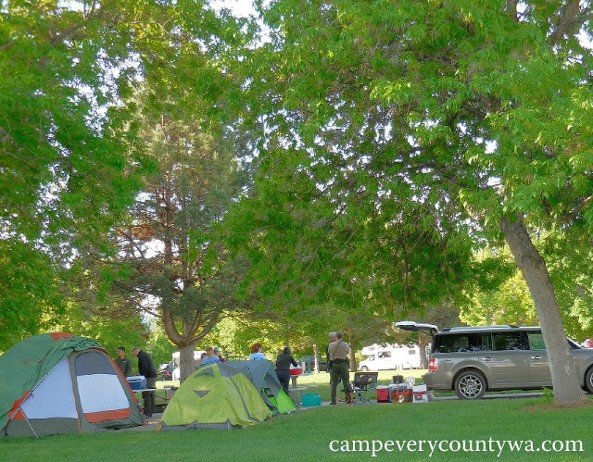 Rangers keep watch over Wenatchee Confluence State Park
For more photos of Wenatchee Confluence State Park click HERE
Johnny Creek Campground (one of Chelan Co.'s MOST APPEALING CGs TO THE SENSES)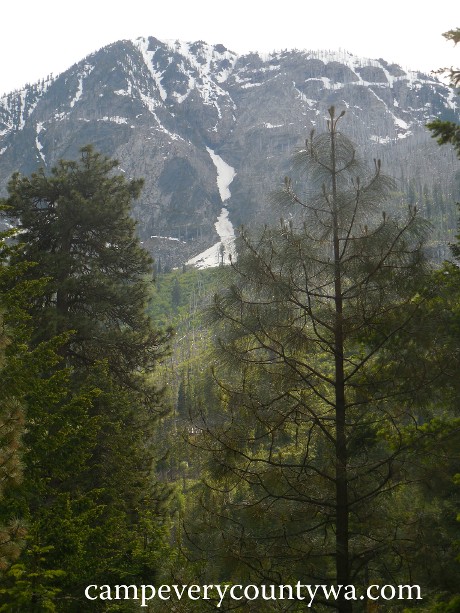 Mount Cashmere keeps a watchful eye on Johnny Creek Campground
For more pictures of Johnny Creek CG click HERE
Entiat City Park (Chelan Co.'s BEST EQUIPPED/BEST CG FOR RVs, and BEST BIKE-IN CG)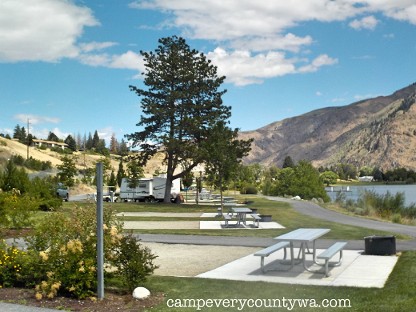 The resilient City of Entiat justifiably boasts of its "Entiattitude"
For more photos of Entiat City Park click HERE
Silver Falls Campground (Chelan Co.'s BEST RUSTIC CG)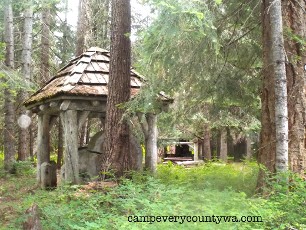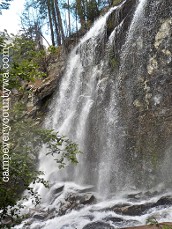 The handiwork of the Civilian Conservation Corps and the majesty of Silver Falls combine to make Silver Falls CG one of the best in Washington
For more photos of Silver Falls CG click HERE
Domke Lake Ferry-In/Hike-In/Fly-In Campground

(Chelan Co.'s BEST HIKE-IN CG)
This is among the most remote campgrounds on this website, but a place my father and his camping/fishing friends went yearly for the last 25 years of his life. I think we all need that one special campground to which we always return, and this was certainly his.


Overview

: located 39 miles northeast of Chelan requiring a 3.5-mile hike from Lucerne, operated by the USFS at 2210' elevation, open June to October and is FREE with USFS Pass. Domke Lake sits in a saddle above Lake Chelan, is 272 acres in area, 129' deep, 1 mile long and 0.5 miles wide. Many people reach this campground by floatplane; the rest of us can reach it by taking a ferry from Chelan to Lucerne (40 miles) and hiking in 3.5 miles. Open year round; GPS 48.183, -120.59.


Facilities

(both Domke Lake and Lucerne Campgrounds): pit toilets, no running water, picnic tables, fire rings.


Activities

: Boat and shore fishing are popular for Westcope cutthroat and rainbow trout (boat rentals are available at nearby Domke Lake Resort). Domke Lake Recreational Trail #1280 starts 1/4 mile from Lucerne. Domke Mt. Trail climbs to the 4067' summit of Domke Mountain, a day hike from the campground with the most panoramic views of Lake Chelan. Lower Railroad Creek Trail 1240.2 leads to Holden Village. Trails also lead into the Glacier Lake Wilderness Area for hiking. These include Emerald Park Trail #1230, Mirror Lake Trail #1230.1, and 45 Mile Drive Trail #1432.


Domke Lake #1280 Trailhead

: Boat 40 miles from Chelan, 24 miles from Fields Point Landing, or 21 miles from 25-Mile Creek S.P. to Lucerne Landing. From here, hike along the Railroad Creek Road #3100 for approximately 0.25 miles to the TH. Hike up the Domke Lake Trail for 3.5 miles.


Campsites

(8 primitive sites in 3 small campgrounds, no reservations): The 8 sites are spread between Domke Lake Camp, Stuart Camp and Hatchery Camp. These offer great privacy and spectacular views, but few amenities. Lucerne Campground has 3 tent sites. Domke Lake Resort has cabin rentals.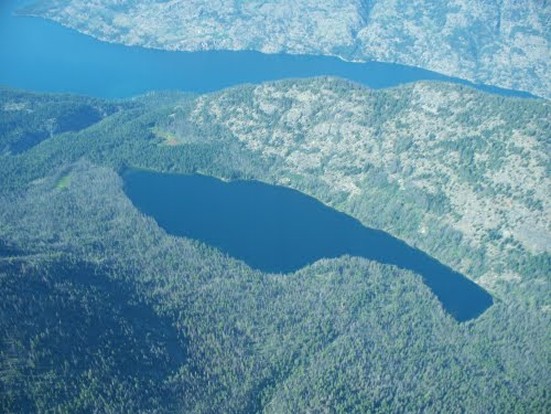 Domke Lake sits in a saddle high above Lake Chelan
For more photos of Domke Lake Hike-In click HERE

Bridge Creek Group Camp

(Chelan Co.'s BEST GROUP CG)
Get your extended family or best buds together for a hiking, whitewater rafting, or camping adventure.


Overview

: This small Group Camp is located 16 miles from Leavenworth, operated by the USFS at 1800' elevation, open late April to mid-October; GPS 47.5627, -120.7816.


Facilities

: Here you can expect vault toilets, picnic tables, a group fire ring, garbage bins, vault toilets, and picnic shelter. There is no drinking water.


Activities

: the park's popularity stems largely from its natural beauty and access to the Alpine Lakes Wilderness and the City of Leavenworth.


Campsites

(6 individual sites plus one group site for up to 70 people, no hookups, group site reservations required): Sites are wooded with pine and fir and are best for tent camping but can accommodate RVs up to 22'.


Trip Notes

: Most group campgrounds are arranged in a loop for camaraderie. This is arranged on one side of a dead end road. Moreover, the individual sites (which can be occupied by campers outside the group) at the entrance are so far below the road it is tricky to get much equipment down there. The good news: this is a uniquely beautiful section of Icicle Creek with very dramatic rockery on the other side. The individual sites at the entrance may be of benefit to the group. These would be ideal for a group that, like many I have organized, has one or two families who are best kept a short distance away; or, to be more kind, for those for whom all would benefit from some additional privacy. I think you get my drift.


Local Alternative

: The group campground adjacent to Silver Falls CG (see below) is among the best forested group campgrounds. It's only disadvantage is the traffic and sharing the campground with campers outside of your group. But it contains that good ole' CCC charm, and its proximity to the Falls make it an attractive option.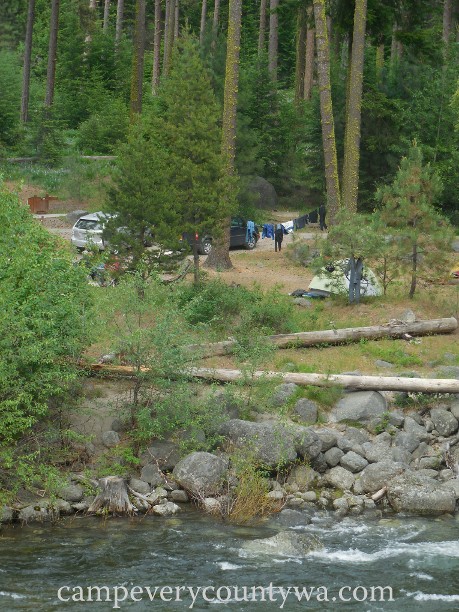 Bridge Creek Group Camp allows some welcome space between sites
For more photos of Bridge Creek Group click HERE
Weaver Point Boat-In/Hike-In Campground

(Chelan Co.'s BEST BOAT-IN CG)


Don't you hate tortured cliches like "getting there is half the fun"? You know what's even worse? When these trite little sayings are TRUE. In order to get here, you must ride the Lady of the Lake up the length of the 55-mile Lake, disembark at the premier resort town of Stehekin, then arrange transportation to the campground. You will arrive breathless but happy.




Overview

: This campground is tucked away on the extreme northern tip of Lake Chelan across from Stehekin Landing, 55 miles north of Chelan, operated jointly by the NPS and USFS at 1104' elevation, normally open mid-June through mid-October; GPS 48.3156916, -120.6762107.


Facilities

: Limited facilities include 2 flush toilets (ADA) plus pit toilets, treated water, picnic tables, fire grills, food storage lockers, and one small dock with limited moorage.


Recreation

: The site rests at the junction of the Stehekin River and the Devore Creek Trail #1244. Other trails directly accessible are the Company Creek Trail #1243 and 10-Mile Trail #1270. Boating, paddling, fishing, and climbing are also popular.


Getting There

: The Lady of the Lake does not stop at Weaver Point. It stops in Stehekin, where the Golden West Visitor Center can help campers rent kayaks or arrange a short trip boat trip across the Stehekin River to the CG. Another option from Stehekin is a short bus ride up to Harlequin CG, where campers can connect with the beautiful 7.2-mile Stehekin River Trail to Weaver Point CG.


Campsites

(22 tent sites, no hookups, but reservations will soon be available for ADA campers, currently FREE of charge with USFS Pass): The campsites are surrounded by 9,000' high peaks, and arguably the most beautiful Lake in Washington, so you may not be looking down much.


Trip Notes

: We plan to visit this campground very soon and take our own pictures of the campsites. This campground is also undergoing vast changes, so we want to keep you informed from the best first-hand sources.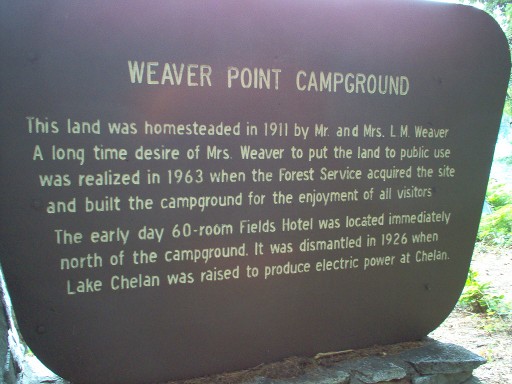 Weaver Point Campgrounds rests at the far northern tip of Lake Chelan
For more photos of Weaver Point CG click HERE