CHELAN COUNTY (Wenatchee)
90% of this large county is owned by state and federal governments, providing not only hydroelectric power and irrigation, but many and varied recreational opportunities. From the alpine village of Leavenworth to the grandeur of Lake Chelan, Washington's largest natural lake, you will be drawn in by stunning beauty.
Lake Chelan Region
"Chelan" is a Salish Indian word meaning both "lake" and "blue water." The Lake is the third deepest lake in the U.S. with a depth of 1486'. From the country's most remote resort at Stehekin to the not-so-remote town of Chelan, this 55-mile pristine azure lake will forever change the way you view camping in Eastern Washington.
Lake Chelan State Park

(Chelan Co.'s BEST CG FOR ENTIRE FAMILIES)
This is the premier campground of awe-inspiring Lake Chelan, and one of the most "everybody oriented" parks anywhere.


Overview

: This most iconic of campgrounds is located 7 miles north of Chelan on 127 acres with 6000' of west Lake Chelan shoreline at 1140' elevation, open Feb. 1 to Nov. 1; GPS 47.8716, -120.1961.


Facilities

: The Park is well-equipped with bathrooms/showers, fire rings/grills, picnic tables, a playground, a large sandy swimming area, a boat ramp plus 495' of dock, grassy play fields, 0.2 miles of ADA trails, 2 miles of hiking trails, an RV dump, and campground hosts. This is also a stop for Lady of the Lake Ferry.


Recreation

: Trout records are often broken here. Fishing is best for Chinook salmon, kokanee, lake and rainbow trout. Swimming is also king, as are boating, jet skiing, and water skiing.


Campsites

(146 sites, including 18 with water & electric 50 amp hookups plus 17 with full hookups, reservable): Most sites have lake views. The news is good for tenters and bad for RVers. RV sites 1-35 are in full sun (and it gets intense!), or very small and back up to desert vegetation. Newer tent sites (36-76) have been built on the hillside overlooking the Lake. While sloped sites are normally a big negative, these are brilliantly designed, with individual stairways and well-terraced. Some sites have 2 or 3 small landings: one for a tent, and for a picnic table and one for viewing the Lake. All drop down to a walkway along the water for fishing, boating, or watching the unbelievable scenery. The most popular sites are in the West Loop (sites 72-144) which are shaded and more private, with a few sites lining a small creek. Overall this is still the best of the Lake Chelan campgrounds for children. For alternatives, see 25-Mile Creek S.P. (below) which may be a better launching point for activities in the north Lake Chelan Area and better for those with large RVs who need hookups.


Trip Notes

: Though we grew up on Willapa Bay, a place surrounded by water, our parents say my brothers and I practically leaned to swim at Lake Chelan. We had daily opportunities to swim in rivers, the bay, and the ocean, but we naturally took to Lake Chelan and preferred it. Leave it to kids to declare the obvious.


Local Alternative

: Twenty-Five Mile Creek State Park lies just 2 miles north of Lake Chelan S.P. Some view it as an overflow campground for Lake Chelan CG, but it has its own character. RVers are happier here, and this is the preferred CG of the Camp Every County crew. We saw several larger RVs meticulously squeeze into small spaces with good results. Despite having less privacy than Lake Chelan S.P., this might better suit those more interested in camping than the activities available. Sacrifice a little space and privacy for less noise and hubbub? We're in.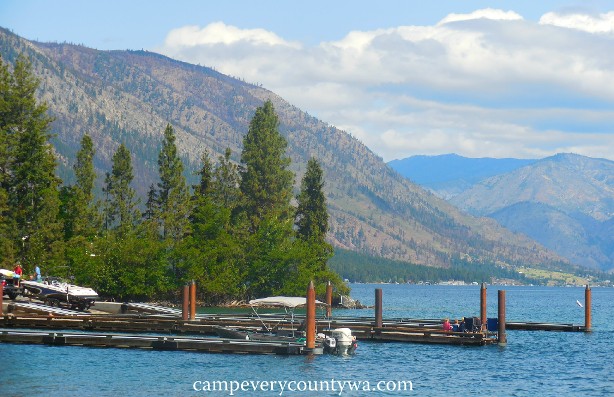 Lake Chelan is synonymous with water recreation
Click here for more photos of Lake Chelan S.P. and 25-Mile Creek S.P.
Domke Lake Ferry-In/Hike-In/Fly-In Campground

(Chelan Co.'s BEST HIKE-IN CG)
This is among the most remote campgrounds on this website, but a place my father and his camping/fishing friends went yearly for the last 25 years of his life. I think we all need that one special campground to which we always return, and this was certainly his.


Overview

: located 39 miles northeast of Chelan requiring a 3.5-mile hike from Lucerne, operated by the USFS at 2210' elevation, open June to October and is FREE with USFS Pass. Domke Lake sits in a saddle above Lake Chelan, is 272 acres in area, 129' deep, 1 mile long and 0.5 miles wide. Many people reach this campground by floatplane; the rest of us can reach it by taking a ferry from Chelan to Lucerne (40 miles) and hiking in 3.5 miles. Open year round; GPS 48.183, -120.59.


Facilities

(both Domke Lake and Lucerne Campgrounds): pit toilets, no running water, picnic tables, fire rings.


Activities

: Boat and shore fishing are popular for Westcope cutthroat and rainbow trout (boat rentals are available at nearby Domke Lake Resort). Domke Lake Recreational Trail #1280 starts 1/4 mile from Lucerne. Domke Mt. Trail climbs to the 4067' summit of Domke Mountain, a day hike from the campground with the most panoramic views of Lake Chelan. Lower Railroad Creek Trail 1240.2 leads to Holden Village. Trails also lead into the Glacier Lake Wilderness Area for hiking. These include Emerald Park Trail #1230, Mirror Lake Trail #1230.1, and 45 Mile Drive Trail #1432.


Domke Lake #1280 Trailhead

: Boat 40 miles from Chelan, 24 miles from Fields Point Landing, or 21 miles from 25-Mile Creek S.P. to Lucerne Landing. From here, hike along the Railroad Creek Road #3100 for approximately 0.25 miles to the TH. Hike up the Domke Lake Trail for 3.5 miles.


Campsites

(8 primitive sites in 3 small campgrounds, no reservations): The 8 sites are spread between Domke Lake Camp, Stuart Camp and Hatchery Camp. These offer great privacy and spectacular views, but few amenities. Lucerne Campground has 3 tent 3 sites. Domke Lake Resort has cabin rentals.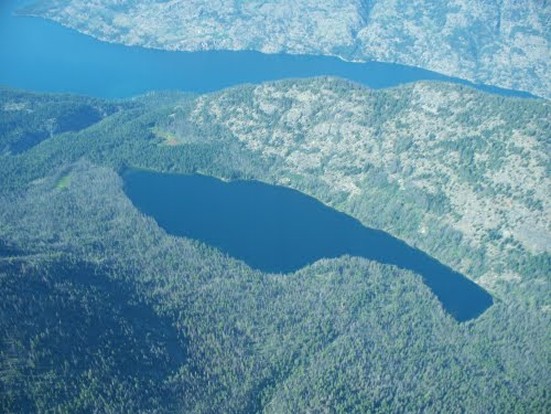 Domke Lake sits in a saddle high above Lake Chelan
For more photos of Domke Lake Hike-In click HERE

Weaver Point Boat-In/Hike-In Campground

(Chelan Co.'s BEST BOAT-IN CG)


Don't you hate tortured cliches like "getting there is half the fun"? You know what's even worse? When these trite little sayings are TRUE. In order to get here, you must ride the Lady of the Lake up the length of the 55-mile Lake, disembark at the premier resort town of Stehekin, then arrange transportation to the campground. You will arrive breathless but happy.




Overview

: This campground is tucked away on the extreme northern tip of Lake Chelan across from Stehekin Landing, 55 miles north of Chelan, operated jointly by the NPS and USFS at 1104' elevation, normally open mid-June through mid-October; GPS 48.3156916, -120.6762107.


Facilities

: Limited facilities include 2 flush toilets (ADA) plus pit toilets, treated water, picnic tables, fire grills, food storage lockers, and one small dock with limited moorage.


Recreation

: The site rests at the junction of the Stehekin River and the Devore Creek Trail #1244. Other trails directly accessible are the Company Creek Trail #1243 and 10-Mile Trail #1270. Boating, paddling, fishing, and climbing are also popular.


Getting There

: The Lady of the Lake does not stop at Weaver Point. It stops in Stehekin, where the Golden West Visitor Center can help campers rent kayaks or arrange a short trip boat trip across the Stehekin River to the CG. Another option from Stehekin is a short bus ride up to Harlequin CG, where campers can connect with the beautiful 7.2-mile Stehekin River Trail to Weaver Point CG.


Campsites

(22 tent sites, no hookups, but reservations will soon be available for ADA campers, currently FREE of charge with USFS Pass): The campsites are surrounded by 9,000' high peaks, and arguably the most beautiful Lake in Washington, so you may not be looking down much.


Trip Notes

: We plan to visit this campground very soon and take our own pictures of the campsites. This campground is also undergoing vast changes, so we want to keep you informed from the best first-hand sources.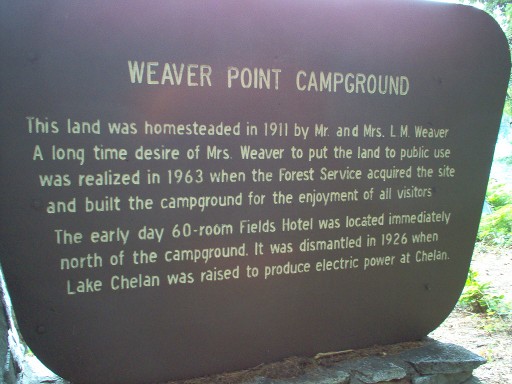 Weaver Point Campgrounds rests at the far northern tip of Lake Chelan
For more photos of Weaver Point CG click HERE
Highway 2/Cascade Region
This eastern section of the Cascades is unlike the other eastern slopes -- the same atmosphere that made it very natural for the City of Leavenworth to transform itself into a Bavarian alpine village. That environment permeates every valley, creek, and river in this exceptionally beautiful region.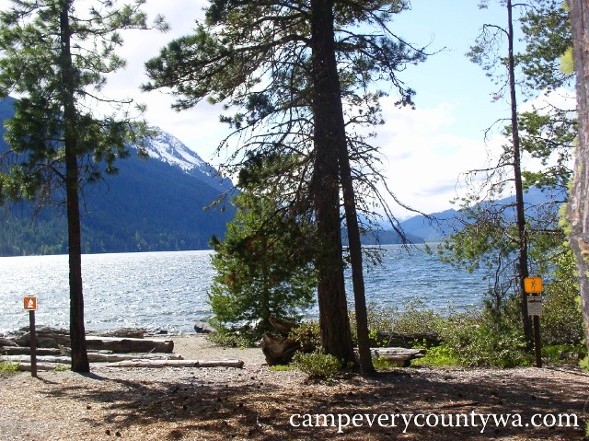 Lake Wenatchee is where you can watch a mighty river spring out of a mighty lake
For more photos of Lake Wenatchee S.P. click HERE
Napeequa Crossing Campground

(Chelan Co.'s BEST FREE CG)
Napeequa is a Salishan word meaning "white water" because the river is nearly white in spring and summer due to glacial melt in this U-shaped trough through which the Napeequa River meanders in this most interesting of valleys.


Overview

: This very basic campground is located 31.2 miles northwest of Leavenworth (6 miles beyond Lake Wenatchee) at the junction of the White and Napeequa Rivers, operated by the USFS at 1942' elevation, open year round, FREE of charge; GPS 47.921, -120.896.


Facilities

: Limited amenities include vault toilets, picnic tables, and fire grills. There is no drinking water.


Recreation

: Hiking is excellent, the star being dramatic, kid- and dog-friendly Twin Lakes Trail #1503, which starts at the campground. The 8.4 mile round trip trail into the Glacier Peak Wilderness passes miles of wild ginger with views of Mt. David, wetlands, giant cedars, and of course two alpine lakes. There is one river crossing, so spring and summer are best. Note that that there is no fishing in the Napeequa River.


Campsites

(5 sites for tents or RVs up to 30', no hookups or reservations): Sites are on native material, with good privacy due to spacing in this moderately forested campground with black cottonwood, western red cedar, big-leaf maples, Douglas fir, and Ponderosa pine. The site just before the kiosk is huge, with small finger trails leading to other tent sites among the trees, and could easily be adapted to fit a multi-family group of friends.


Trip Notes

: This was a solo effort on my part, just the dogs and me. The two rivers, especially the White River, provided a backdrop of both visual and audible beauty. This campground has been around the block -- very old, obsolete wooden signs are posted in seemingly random places, though it didn't feel as remote as I anticipated (a Christian kid's camp was just across the bridge over the Napeequa River). There seemed to be visual surprises as you moved around the area -- unexpected mountain views, trails, and markings that reminded me that a lot of campers have been here before. Just one warning: bring extra bug spray, and even a fogger.


Local Alternative

: White River Falls CG, just down the road, is a beautiful alternative that is also FREE. The caution is that there is no viewing platform or direct view of the falls, and viewing is very treacherous, with both injuries and deaths reported. This is also walk-in camping with no specified parking area. But it provides quiet forested camping for those who don't want much company.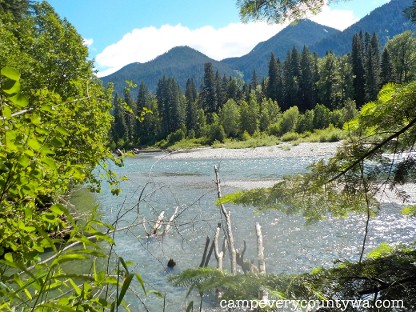 Napeequa Crossing Campground is set high in the Wenatchee National Forest
For more photos of Napeequa Crossing CG click HERE
Icicle Creek/Leavenworth Area
Icicle Creek is not a frozen stream with icicles, but derives its name from the native word na-sik-elt (or a-sik-el) meaning "narrow canyon." More to the point, Icicle Creek sits in a long, narrow canyon in the "American Alps" dotted with a wide variety of campgrounds.
Johnny Creek Campground

(one of Chelan Co.'s MOST APPEALING CGs TO THE SENSES)
Johnny? Who's Johnny? No one seems to know; and while some might assume this translates into "Plain Jane Campground" or "Generic Eastern Washington Campground," the babbling woodland Johnny Creek, the wild water of Icicle Creek, and the towering Washington Alps prove otherwise.


Overview

: This Park is nicely located 12.4 miles southwest of Leavenworth near the confluence of Johnny Creek and Icicle Creek, operated by the USFS at 3100' elevation, open April 20 to October 15; GPS 47.5983, -120.8182.


Facilities

: Standard USFS touches include vault toilets (ADA), drinking water, picnic tables, fire pits/grills, an RV dump, and camp hosts.


Recreation

: Hiking is central here, ranging from easy to very difficult: Icicle Creek Nature Trail (1 mile loop), Icicle Gorge Trail (3.5-mile loop, good for families), Colchuck Lake (9-mile loop, 2000', elevation gain), Fourth of July Creek (12-mile round trip, 4400' gain), and The Enchantments (18-mile loop, 6000' gain). White water rafting comes in a close second, with access points at most Icicle Creek campgrounds. Fishing on Icicle Creek is good for Chinook, Coho and trout. Gold-panning and rock hounding are said to be good. And of course, the town of Leavenworth provides activities for the Bavarian in all of us.


Campsites

(65 sites including 5 walk-in sites and 9 double sites, no hookups or reservations): Sites are in two sections - the larger, sunnier Upper Section across the road from Icicle Creek, and a smaller Lower Section with pull-through sites right on Icicle Creek. Best sites are 1, 2, 5, 6, 7, 10, 41, and 116. Pad sites are gravel, sites in the Upper Section can accommodate RVs up to 50'. Sites are shady/partial sun, and medium to large in size with good privacy, particularly in the Upper Section.


Trip Notes

: To say "ah-sic-al" is a narrow canyon is an understatement. It is narrow like the edge of a razor blade, and seems to suddenly close in on you. Fortunately, it widens slightly by the time you hit Johnny Creek, and is more cozy than confining. Walk-in tent site 41 is typical of the surprising array of campsites. Here, little Johnny Creek divides into two smaller streams forming waterfalls, then rejoins at the far end of the site. Sites along Icicle Creek rest on raging water with a direct view of Mt. Cashmere. It is easy to see why this campground is a favorite among residents of Leavenworth.


Local Alternatives

: There are really no bad campgrounds along Icicle Creek Road. Starting nearest Leavenworth and going west, we have Eightmile CG (45 sites for tents or RVs up to 50'), then comes Johnny Creek CG; then Ida Creek CG (10 sites and quieter), Rock Island CG with the best access to the Alpine Lakes Wilderness, and Blackpine Horse Camp for equestrians. Also sandwiched in are two group camps (Bridge Creek and Chatter Creek, see below).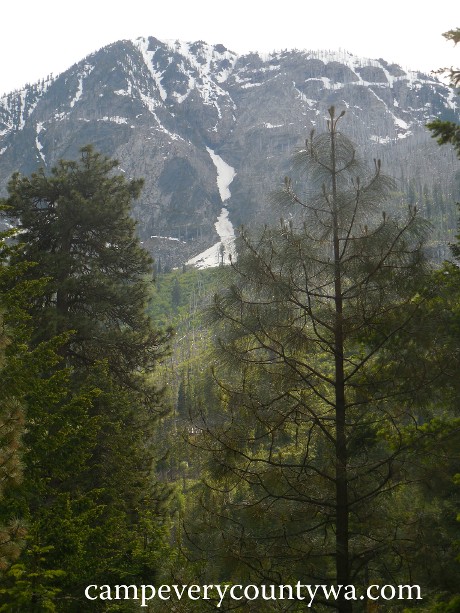 Mount Cashmere keeps a watchful eye on Johnny Creek Campground
For more pictures of Johnny Creek CG click HERE
Bridge Creek Group Camp

(Chelan Co.'s BEST GROUP CG)
Get your extended family or best buds together for a hiking, whitewater rafting, or camping adventure.


Overview

: This small Group Camp is located 16 miles from Leavenworth, operated by the USFS at 1800' elevation, open late April to mid-October; GPS 47.5627, -120.7816.


Facilities

: Here you can expect vault toilets, picnic tables, a group fire ring, garbage bins, vault toilets, and picnic shelter. There is no drinking water.


Activities

: the park's popularity stems largely from its natural beauty and access to the Alpine Lakes Wilderness and the City of Leavenworth.


Campsites

(6 individual sites plus one group site for up to 70 people, no hookups, group site reservations required): Sites are wooded with pine and fir and are best for tent camping but can accommodate RVs up to 22'.


Trip Notes

: Most group campgrounds are arranged in a loop for camaraderie. This is arranged on one side of a dead end road. Moreover, the individual sites (which can be occupied by campers outside the group) at the entrance are so far below the road it is tricky to get much equipment down there. The good news: this is a uniquely beautiful section of Icicle Creek with very dramatic rockery on the other side. The individual sites at the entrance may be of benefit to the group. These would be ideal for a group that, like many I have organized, has one or two families who are best kept a short distance away; or, to be more kind, for those for whom all would benefit from some additional privacy. I think you get my drift.


Local Alternative

: The group campground adjacent to Silver Falls CG (see below) is among the best forested group campgrounds. It's only disadvantage is the traffic and sharing the campground with campers outside of your group. But it contains that good ole' CCC charm, and its proximity to the Falls make it an attractive option.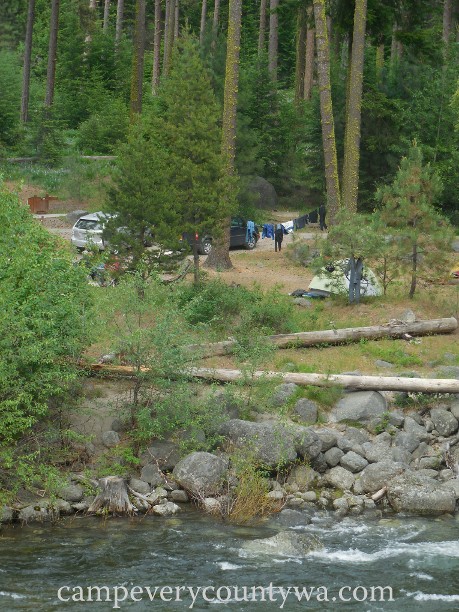 Bridge Creek Group Camp allows some welcome space between sites
For more photos of Bridge Creek Group click HERE
Columbia River Region
The bad news is that this stretch of the Columbia has been dammed beyond recognition. The good news is that it has been managed very well with great efforts to both restore the River and provide exceptional recreational possibilities.
Wenatchee Confluence State Park

(Chelan Co.'s MOST UNIQUELY WASHINGTON CG)
This park was created to reclaim what was lost in the damming of the Columbia, namely, the native natural flora of the shoreline (see Horan Natural Area, below). It achieves that end quite well, plus gives great camping in the middle of a growing city that is dubbed the Apple Capital of Washington.


Overview

: This Park is strategically located within the city limits of Wenatchee on 197 acres with 8,625' of freshwater shoreline along the confluence of the Columbia and Wenatchee Rivers at 780' elevation, open year round; GPS 47.4596, -120.3272.


Facilities

: Included are 6 bathrooms with flush toilets (all ADA), 16 showers (8 ADA), a playground, swimming area, boat launch, 4.5 miles of hiking trails, an RV dump, and camp hosts.


Recreation

: Bird watching is a given here, with too many species to mention. The most notable are bald and golden eagles, Barrow's goldeneye, black and Vaux's swifts, Calliope and Rufous hummingbirds, Cassin's vireo, common loons, greater scaups, greater white-fronted geese, Hammonds flycatchers, Lewis's and pileated woodpeckers, red-naped sapsuckers, and western bluebirds. Wildlife includes beavers, mink, mule deer, muskrats, otters, and raccoons. The 11-mile Apple Capital Recreation Trail for pedestrians, cyclists, dog walkers, in-line skaters, and joggers circles the Columbia River with 10 miles of asphalt trails. This connects Wenatchee Waterfront Park (with a sculpture garden and narrow gauge railroad) and Walla Walla Point Park (with sports fields and a swimming lagoon) to the Confluence camping area and Horan Natural Area. Spurs on the Douglas County side of the river connect to Lincoln Rock S.P. and 70-acre Kirby Billingsly Hydro Park. Vegetation within Horan includes a very rare stand of black cottonwood.


Campsites

(51 sites with full hookups 30 amps, one Group Camp for 50-300, reservable): Sites are large and grassy, but it is a challenge to balance privacy with adequate shade. The camping area (the North Confluence) has the feel of a very large RV park, but the South Confluence is a man-made wetland area known as the Horan Natural Area. It is a series of canals, small islands, upland vegetation, and wood duck nest boxes, which in turn provide habitat for birds, reptiles, amphibians, and small mammals. Many species of plants are found nowhere else in the world. Visitors can walk the gravel pathways and take this in from 15 viewing sites/kiosks.


Trip Notes

: The North Confluence/camping area is very bright and cheery, with sufficient room for privacy. It is one sprawling green lawn dotted with mature shade trees, a great place to enjoy the sun without overexposure. The South Confluence/Horan Natural Area has been left in a very natural state, not like a botanical garden, which I appreciated. It provides an opportunity to escape the human world and get back to nature.


Washington History

: The confluence was an important gathering place for Native Americans. It soon gave way to orchards owned by the Horan Family. In 1990, 100 acres were purchased by the Chelan County PUD and converted to a wetland as mitigation for the creation of the Rocky Reach Dam to the north in order to protect native species. Thus the Horan Natural Area was formed.


Local Attractions

: The most intriguing side trip is to Ohme Gardens, a 40-acre Garden Park on top of a craggy bluff overlooking the City of Wenatchee. Here you will find elaborately constructed rock gardens, trails, ponds, and meticulous plantings that make for a great day out.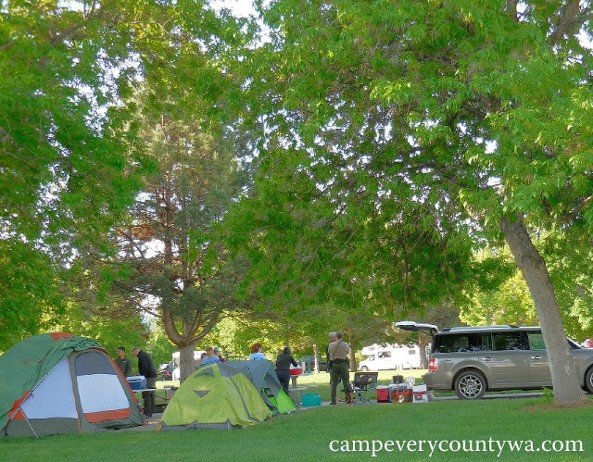 Rangers keep watch over Wenatchee Confluence State Park
For more photos of Wenatchee Confluence State Park click HERE
Entiat City Park

(Chelan Co.'s BEST EQUIPPED/BEST CG FOR RVs, and BEST BIKE-IN CG)
The City of Entiat, which has been displaced numerous times due to damming of the Columbia River, justifiably boasts of its "Entiattitude," durability, and love of the outdoors.


Overview

: This well-equipped and well-appointed campground is located 17 miles north of Wenatchee on Lake Entiat (Columbia River), operated by the Chelan Co. PUD on 40 acres with , open year round; GPS 47.669413, -120.21694.


Facilities

: The Park has restrooms with showers (ADA), 2 picnic shelters, an outdoor museum, playground, marina with a 2-lane boat launch, laundry, camp hosts, and an RV dump.


Recreation

includes swimming, boating, and fishing on Lake Entiat.


Campsites

(26 tent sites and 31 sites for RVs of any size with full hookups 30 amp, reservable, open year round): The sites are arranged somewhat in the traditional side-by-side RV Park style, but are well appointed and run lengthwise along the river, avoiding the congestion of a large grid. The entire campground is meticulously planted with lawns, shrubbery, and flowers.


Trip Notes

: Wow. When did all this happen? 2015, that's when. Everything is new, modern, and inviting. The small amount of traffic noise is nothing when you're right on the water. Entiat has just enough facilities within walking distance to accommodate bicyclers and most other campers. This is the envy of city parks, with its extensive waterfront, rolling Day Use Area, and unique touches that makes it a complete package for everyone from bicyclers to the most ardent RVers.


Special Attraction

: The Entiat Museum, in the Day Use Area of the Park, resides in a home built in 1895, and is one of the two remaining buildings after the catastrophic flood in the 1950s when Rocky Reach Dam was constructed. It displays historical items of the logging and fruit industries of the early years. It is open every Saturday from Memorial Day through Labor Day weekends.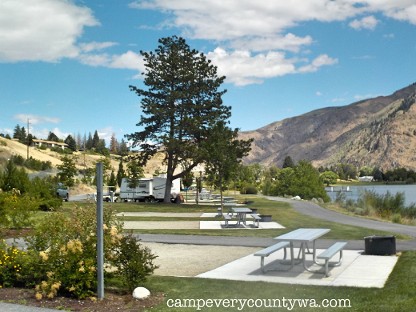 The resilient City of Entiat justifiably boasts of its "Entiattitude"
For more photos of Entiat City Park click HERE
Glacier Peak Wilderness Area
The 566,057 acre Glacier Peak Wilderness features 10,541 foot Glacier Peak, the most remote major volcanic peak in the Cascade Range with more active glaciers than any other place in the lower forty-eight states. Popular with wilderness hikers and campers, there are recreational opportunities of all kinds.
Silver Falls Campground

(Chelan Co.'s BEST RUSTIC CG)


Silver Falls has not just one, but a series of waterfalls extending along a half-mile trail. And the campground is so uniquely appointed by the handiwork of the CCC that the two -- the campground and the Falls -- fit together to make the perfect camping combination.




Overview

: This rustic gem is located 31 miles northwest of Entiat on 26 acres at the junction of the Entiat River and Silver Creek, operated by the USFS at 2400' elevation, open Memorial Day to Labor Day; GPS 47.95806, -120.5375.


Facilities

: USFS amenities include vault toilets, drinking water, picnic tables, fire rings, and a camp host (summer only).


Recreation

: The amazing Silver Falls National Recreation Trail leads from the campground over a series of hand hewn bridges and switchbacks to the even more amazing Silver Falls just 0.5 miles away (see more below). Whitewater rafting is also popular on the Entiat River.


Campsites

(31 sites for tents or RVs up to 35', no hookups, one group site for 40 people, reservations for group site only): Sites are in two loops, all back-ins, and large with good privacy. Shade comes from White fir, Douglas fir, and Jeffrey pine. Pads are on native materials.


Trip Notes

: There is a certain rustic artistic flare going on here. One CCC kiosk seems to have been built only to protect some cut logs they couldn't use elsewhere (art imitating life?), so the campground takes on a very rustic but playful atmosphere. And the Group Camp is second to none -- eclipsed only by the fact that it is not a totally separate entity like Bridge Creek Group Camp on the Icicle River. It's big. It's beautiful. And you're gonna love it.


Local Alternatives

: Other USFS campgrounds in the vicinity include Cottonwood (25 sites), Spruce Grove CG (2 sites), North Fork CG (8 sites), Lake Creek/Entiat CG (19 sites), and Fox Creek CG (16 sites).


Local Attraction

: Silver Falls cascades 140' down the side of a valley, shooting at a 45-degree angle, dropping powerfully onto a jumble of moss-covered boulders and logs. The spray is enough to cool even the most overheated hiker, but is also a remarkable photo opportunity. And it's only a 0.5-mile walk from the CG!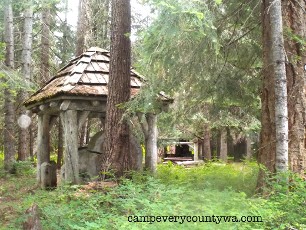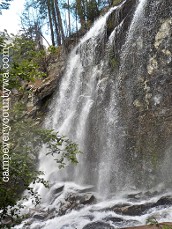 The handiwork of the Civilian Conservation Corps and the majesty of Silver Falls combine to make Silver Falls CG one of the best in Washington
For more photos of Silver Falls CG click HERE