This website is intended as an adjunct to the paperback book 'Camp Every County, Washington' by Brendan J. McDonald, available on Amazon.com. Included on this website are photographs and texts which could not be included in the paperback edition, where you will find full narrative versions of each section found below.
Yakima Sportsman State Park
(Yakima Co.'s BEST EQUIPPED/BEST CG FOR RVs)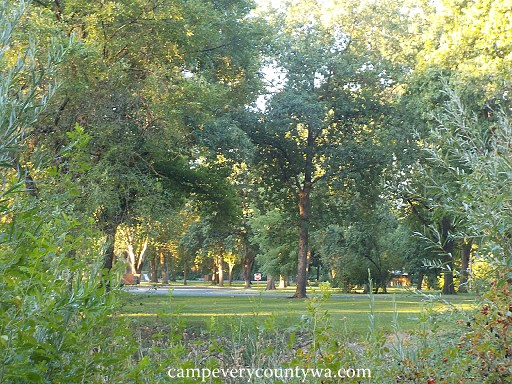 Lush and verdant, Yakima Sportsman State Park gives campers an experience of the desert in bloom.
For more photos of Yakima Sportsman S.P. click HERE
Hell's Crossing Campground
(Yakima Co.'s MOST APPEALING CGs TO THE SENSES)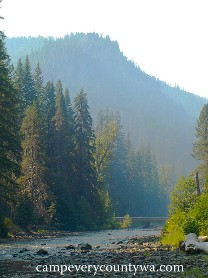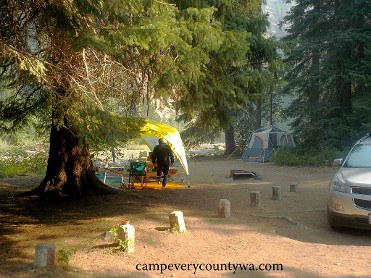 The American River bisects Hells Crossing CG
inviting campers to come out and play.
For more photos of Hells Crossing CG click HERE
Clover Flats Campground
(Yakima Co.'s BEST FREE CG)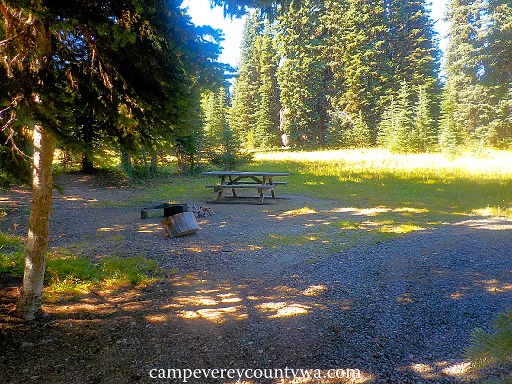 The meadows at Clover Flats create a carnival of yellow and purple wildflowers
For more photos of Clover Flats Campground click HERE
Hause Creek Campground
(Yakima Co.'s BEST BIKE-IN CG)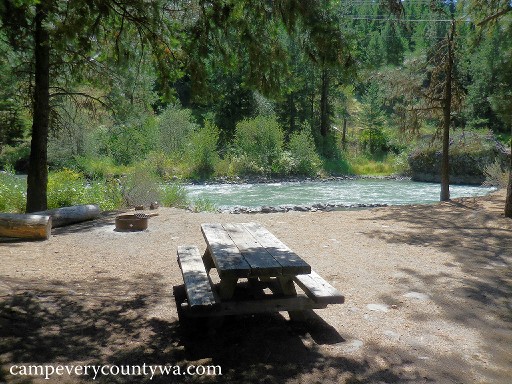 Hause Creek Campground sits beside the ever-changing Tieton River, whose spray is a refreshing relief in an otherwise hot, arid area.
For more photos of Hause Creek and Windy Ridge CGs click HERE
Indian Creek Campground
(Yakima Co.'s BEST CG FOR ENTIRE FAMILIES )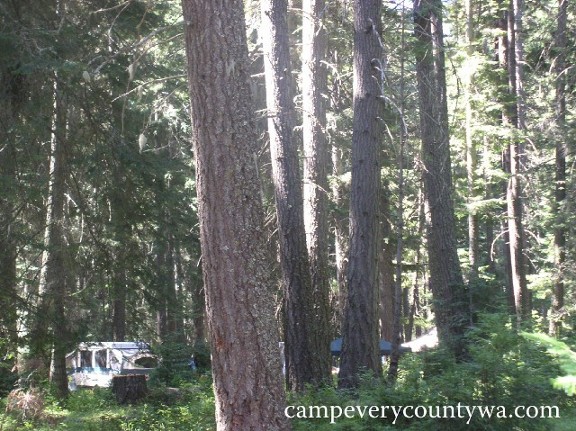 Indian Creek Campground is nestled along tall pines with eagles in the tree tops.
For more photos of Indian Creek Campground click HERE
Clear Lake Recreation Area (Yakima Co.'s MOST UNIQUELY WASHINGTON CG
and includes one of Yakima Co.'s BEST GROUP CGs)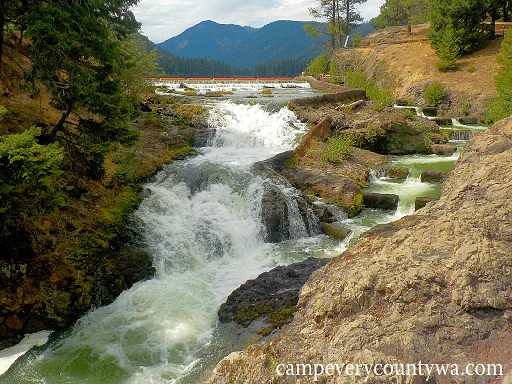 The main spillway from Clear Lake is the centerpiece for uniquely Washington camping between the Rimrock and Clear Lake Reservoirs.
For more photos of Clear Lake Recreation Area click HERE
Bird Lake Campground
(Yakima Co.'s BEST RUSTIC CG)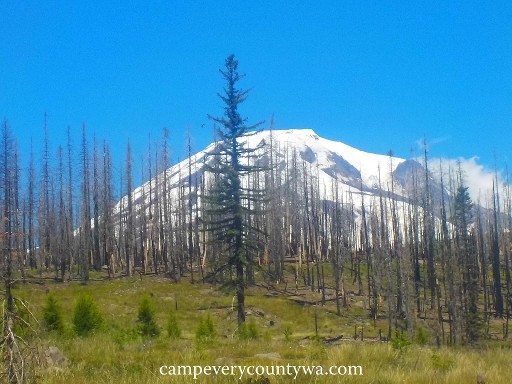 The Cougar Creek forest fire of 2016 left Bird Lake Campground unaffected,
but the already rough road was significantly damaged.
Campers are hoping for re-opening in 2019.
For more photos of Bird Lake CG click HERE
Cedar Springs Campground

(one of Yakima Co.'s MOST APPEALING CGs TO THE SENSES)
Sometimes campers return to a campground simply because it feels right. Cedar Springs is among the most rustic in the Bumping River drainage, but its bouncing stretch of river, spacious sites, and the deep, penetrating scent of cedar trumps the more developed campgrounds in the vicinity.
Overview: This Wenatchee National Forest campground is located 47 miles northwest of Yakima along the Bumping River at 3100' elevation, open mid-May to mid-September, weather permitting; GPS 46.97333, -121.16306.


Facilities

: Expect amenities limited to vault toilets, drinking water by hand pump, and picnic tables.


Activities

: This prime location gives good access to the Little Naches Wilderness Area, Boulder Cave National Recreation Trail, and the in park trailhead to American Ridge Trail #958 with incredible ridgeline views that connects up with the Pacific Crest Trail.


Campsites

(15 sites for tents and RVs up to 22', including 2 double sites, no hookups, reservable): Most sites are back-in, 2 are pull-throughs. They are large to extra large, wooded and shady, and have good privacy. Sites border the Bumping River, and are rustic, with parking on native material and few amenities (so few that they don't even have an actual spring).


Trip Notes

: If you wonder where the Bumping River got its name, book a couple of nights at Cedar Springs. The River narrows and deepens here, bumping against hidden barriers, bouncing up, then bumping again in a show of alpine playfulness. You silly river, you make me laugh! This is a better choice than more developed campgrounds for campers who simply want to sit beside a cool river, let the therapeutic cedar balm recharge their tired minds, and read a good book.


Local Alternatives

: Nearby Soda Springs CG is a little better for RVs with a natural mineral spring and an interpretive trail. It has, however, so many downed trees that it looks unnatural. It may provide more novelty for children and be safer, as the Bumping River here is broader and shallower with more possibilities for safe water play. American Forks CG is closer to Hwy 410, but seems less well-maintained than other campgrounds on the Bumping River Rd. Cougar Flat CG is further down the road -- campworthy, but rather ordinary.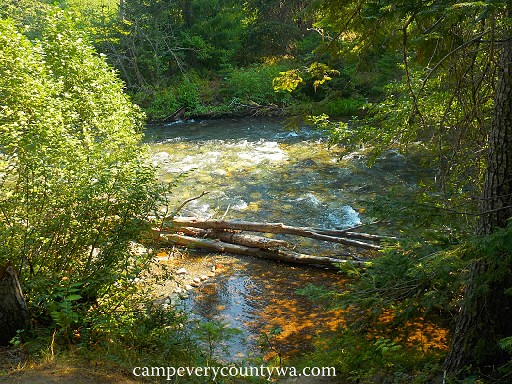 The Bumping River bumps against hidden barriers all along Cedar Springs Campground
For more photos of Cedar Springs CG click HERE
Indian Flat Group Camp

(Yakima Co.'s BEST GROUP CG)
This, the most developed group camp on the eastern side of Chinook Pass, is a popular spot for camping tribes of all kinds.


Overview

: This Wenatchee National Forest group campground is located 35 miles west of Naches on the Bumping River at 2695' elevation, open late May until late September; GPS 46.981, -121.14.


Facilities

: USFS amenities include vault toilets, drinking water, 8 picnic tables, and a group fire ring.


Recreation

: Hiking trails lead to Fife's Ridge and West Quartz Creek.


Campsites

(No individual sites, one group site for 66 people and 22 vehicles, no hookups, reservable): The campground, set along the American River, is one large loop with several spurs attached. It can accommodate RVs up to 30'. It is located less than a mile from Cedar Springs Campground (above), and provides the same relaxing atmosphere. Best of all, your camping tribe will have the entire campground to yourselves.


Trip Notes

: This campground has a unique charm that is a combination of the sheer beauty of the American River, the mature forest, the isolated/private nature of this Group Camp (always a plus), and mature forest. My sometimes fussy dog Billie Jo took a liking to this campground, and had to be coaxed away when it came time to leave. Truth is, I didn't want to leave, either.


Local Alternatives

: A nearby alternative is

Pine Needle Group Camp

, located on the American River, also operated by the USFS at 3000' elevation (No individual sites, one group site for up to 60 people, reservations required). While similar, the big disadvantage is no drinking water. The best Group Camp On White Pass is part of Clear Lake Recreation Area (see below).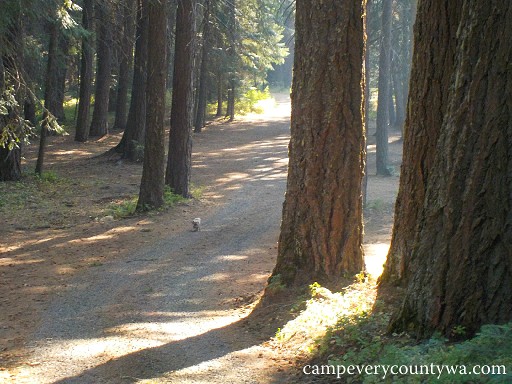 My dog Billie Jo took an unusual liking to this campground, and was the last to leave.
For more photos of Indian Flat Group Camp click HERE
Twin Sisters Lakes Hike-In

(Yakima Co.'s BEST HIKE-IN CAMPSITES)


The Twin Sisters Lakes are on the northern edge of a four square mile basin filled with ponds and small lakes that seems much like trying to count the stars, in that the myriad of streams, lakes, ponds, mountain peaks, and geological wonders are countless.




Overview

: This family-friendly 4-mile out-and-back hike-in camping spot is located 67 miles northwest of Yakima along Twin Sisters Lakes Trail #980 on 40.4-acre Little Sisters Lake and 103-acre Big Sisters Lake, operated by the USFS at 5200' elevation, open late June through October; GPS 46.7520, -121.3615.


Facilities

: These primitive sites have water available at Deep Creek and each of the two lakes. As with other wilderness areas, a portable toilet is advisable.


Recreation

: Note that the area is also popular with equestrians. Fishing is good in both lakes for brook trout and golden trout. This camping area has immediate access to a complex network of other wilderness trails.


Deep Creek TH/Twin Sisters TH

: From Yakima, travel east on Hwy 12 for 15 miles, then continue straight/right onto Hwy 410 (Chinook Pass Hwy) and continue for 29 miles. Turn west onto Bumping River Road/Forest Rd 1800 and drive 13.5 miles. Here, about 2.3 miles after passing the turn to Bumping Lake C.G., veer left onto USFS Rd 1808 and drive 7.2 miles to Deep Creek C.G. with parking at the trailhead.




Campsites

(4 formal sites near each of the 2 lakes, many informal but established sites along main and side trails, no reservations, FREE with a Northwest Forest Pass): Formal campsites are near the junction of Twin Sisters and Sand Ridge Trail #1104. The best sites are on the east side of Little Sisters Lake on a short bluff with peek-a-boo views of Mt. Rainer. Many informal but established sites lie along smaller trails established by hikers and elk. An short hike to Big Sisters Lake leads to a 0.6-mile campsite trail along the south shore of the Lake, while 2 additional sites along the Lake have views of Tumac Mountain, one of several small volcanic vent cones that dot this high plateau. In fact, the two lakes have many inlets and marshes providing privacy, but also wet feet. Note also that many lakeside campsites are periodically closed for restoration due to overuse. The good news is that the two big lakes and many ponds and mountain peaks are visible from most sites.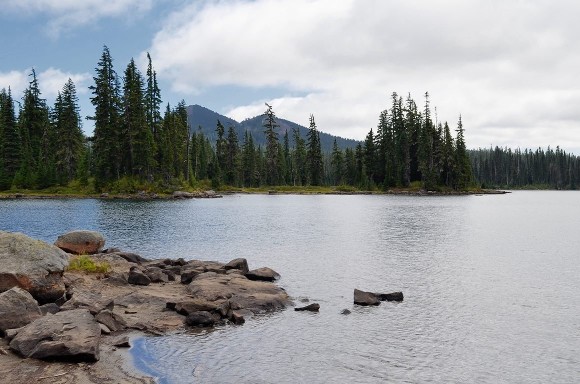 Little Sisters Lake has views of both Mt. Rainier and Mount Tumac, a volcanic vent cone that remains snow-capped until mid-summer.
For more photos of Twin Sisters Lakes Hike-In click HERE