The complexity of this, Washington's second largest county, comes from one of the world's most "fruitful" agricultural valleys surrounded by the mountainous Norse Peak Wilderness to the northwest, the William O. Douglas Wilderness to the west, the Mount Adams Wilderness to the southwest, and the Wenas Wildlife Area to the east. There is definitely something for everybody.
Yakima Valley
Don't let the velvety brown hills of the Yakima Valley seduce you into overlooking the verdant valley of orchards at your feet. In fact, since the Yakima Reclamation Project completed irrigation of the Valley in 1910, Yakima County has become the leading global producer of apples, hops, mint, and asparagus, with quality wine production increasing every year. Furthermore, commercial promoters tout the City of Yakima as "The Palm Springs of Washington" (more about that below).
Yakima Sportsman State Park

(Yakima Co.'s BEST EQUIPPED/BEST CG FOR RVs)


Described as an "oasis in the desert," this park was created by the Yakima Sportsman's Association for wildlife preservation and game management. It rests along the beautiful Yakima River surrounded by orchards, ranches, and the city of Yakima. There are over 140 species of birds here, in addition to other wildlife. Just sit back, buy some local fresh fruit or wine, and enjoy.


Overview

: This fine natural campground is

located on the outskirts of the City of Yakima on 277 acres at 1066' elevation, open year round; GPS 46.5919, -120.4555.


Facilities

: Well-equipped and well-appointed, campers will find bathrooms with showers, running water, a playground, ponds for bird-watching and wildlife viewing, a Park Store, camp hosts, and an RV dump. The Juan A. Alvarez Living Classroom includes a short, paved ADA-accessible trail. It includes ponds, wooden bridges, and a viewing platform that affords visitors an inside look into a living, working wetland.


Recreation

: Birders will find black-capped chickadees, wood ducks, great blue herons, belted kingfishers, black-billed magpies, great horned owls, screech owls, Bewick's wrens, and downy woodpeckers. The park connects to the Yakima River Greenway Trail with 18 miles of paved walkways providing fishing lakes, picnic areas and river access, all open to the public free of charge year round.


Campsites

(70 sites for tents and RVs up to __', 36 with 30 amp full hookups, reservable): The sites are divided into three groups. The center group consists of 3 rows or "islands." The first island is the main RV strip where sites are side-by-side, similar to most standard RV parks, but very grassy and well-manicured. The middle strip is a tree-lined green space, while the third is a lightly used tent strip that is also popular with truck-mounted campers and camping vans. It is also tree lined and provides more shade. The main tenting area (sites 37-64) forms a half circle around the three islands. These sites get the most privacy and the least traffic, with sites that are treed and of average to large in size. The Camp Every County Team's favorite sites are the two loops near the Greenway Trail and the River (sites 17-26 and 27-36). Each of these sites had its own huge shade tree, had relatively little car traffic, and seemed larger, being on the campground's edge.


Trip Notes

: Yakima is one of our favorite cities; yet, we found it amusing that promoters dub it the "Palm Springs of Washington." No, very few think this campground is like Palm Springs, and we couldn't be happier! Yakima Sportsman is lush and verdant with a lot of depth and diversity. For the sake of completeness, let's take a deeper look:

Three Reasons Yakima is NOT like Palm Springs:
1. Palm Springs doesn't have factories and fruit stands on every street corner. Yakima is more industrial and less of a playground for the rich.
2. Yakima is less commercial, mercifully free of chic boutiques selling "gorgeous things."
3. Palm Springs isn't covered with snow in the winter.

Three Reasons Yakima IS like Palm Springs:
1. Yakima has 300 days of sunshine per year. Palm Springs has 269 days of sunshine per year (advantage: Yakima).
2. The average July-August temperature in Yakima is 87.5 degrees Fahrenheit. That of Palm Springs is 107.5 (advantage... Yakima?).
3. Yakima always has fresh local fruit, wine and vegetables at its disposal. Palm Springs and the Coachella Valley do pretty well, but their chief crop is dates (the fruit nobody eats). Advantage? You get the picture.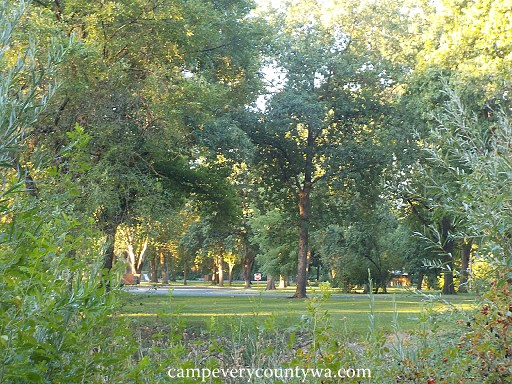 Lush and verdant, Yakima Sportsman State Park gives campers an experience of the desert in bloom.
For more photos of Yakima Sportsman S.P. click HERE
Ahtanum State Forest
This 75,000-acre working forest provides habitat for native plants and animals, water retention for much needed irrigation, and diverse recreational opportunities. Ecosystems range from shrub-steppe in the eastern portion to high alpine in the western area with year round activities including camping, bird watching, hiking, horseback riding, off-road vehicle riding, mountain biking, snowmobiling, hunting, and sightseeing.

Clover Flats Campground

(Yakima Co.'s BEST FREE CG)


Rule of Thumb: if you want the best wilderness camping, you have to drive until the road is impassible. This rings true of Yakima County and Clover Flats, but you'll be on top of the world, surrounded by summer wildflower displays that only the high desert can provide.




Overview

: This high-elevation campground is located 43 miles west of Yakima, operated by the DNR at 6345' elevation, open year round, except during heavy snows; GPS 46.507, -121.177.


Facilities

: Better than expected facilities include pit toilets, drinking water, picnic tables, fire grills, and garbage cans.


Recreation

: The most prevalent activities are hiking in the summer and snowmobiling in the winter. Photography is also popular, being in the shadow of 6,981' Darland Mountain, with unobstructed views of Mt. Jefferson, Mt. Hood, Mt. Adams, Mt. St. Helens and Mt. Rainier. Eagle Nest Vista, an overlook just one-half mile east of the campground, provides dramatic views of the North Fork Ahtanum drainage, Dome Peak, and the Goat Rocks Wilderness Area.


Campsites

(9 sites for tents or RVs up to 24', no hookups or reservations, FREE with Discover Pass): Be aware that the last 3.2 miles to the campground is a one-land gravel road with a steep 12% grade. This stretch is recommended for (but not limited to) high-clearance vehicles without trailers, though we pulled our pop-i[ trailer quite successfully in August. The campsites provide tent pads on native material, surrounded by subalpine vegetation, meadows, and mountain peaks. Note also that snow may remain in patches well into June, but should not be a deal breaker.


Trip Notes

: Wow, surprise beauty of the summer. The expansive meadows are a carnival of yellow and purple wildflowers beneath the tall, slender, and architecturally layered alpine trees that create statuesque silhouettes against the blue summer sky. We were so entranced we never left for Darland Mountain, though we spent some time at Eagle Nest Vista on the trip out. Clover Flats is a delight to the eyes, olfactory glands, and even to the skin, where the balm of the alpines is like menthol that stays with you long after you leave.


Local alternative

: A nearby but busier alternative is Tree Phones CG, which is on the Middle Fork of Ahtanum Creek and has more hiking opportunities, but also is the center for organized marathon runs and All Terrain Vehicle (ATV) activity. It is also has better facilities for equestrians, with hitching posts and access to horse trails. It is, however, rather stark and much prettier in winter when covered with snow, if you get my drift (pun intended). Most campers will find Ahtanum Meadows CG, near the end of the paved road up to Clover Flats, the best and prettiest all around camping alternative.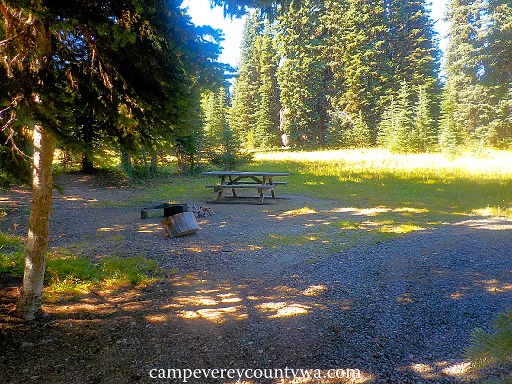 The meadows at Clover Flats create a carnival of yellow and purple wildflowers
For more photos of Clover Flats Campground click HERE
Chinook Pass Scenic Byway/Hwy 410
The Eastern portion of this, Washington's premier scenic byway, takes you up and over 5430' Chinook Pass with spectacular views of Mt. Rainier, towering peaks, caves and river canyons, all the way to the fertile Naches Valley. Along the way, you will follow the American, Bumping, and Naches Rivers, plus campgrounds that will make you want to stop and stay awhile.
Hell's Crossing Campground

(one of Yakima Co.'s MOST APPEALING CGs TO THE SENSES)
Don't let the off-putting name intimidate you -- this campground is named for the hellish difficulty pioneers had crossing this section of the Cascades back in the day. These days our state highway system makes it easier, at least in the summer months. It is far from heaven, but some find it pretty close.


Overview

: This Wenatchee National Forest Campground is located 14.3 miles northeast of Chinook Pass and 52 miles northwest of Yakima on the American River at 3268' elevation, open late May through mid-September; GPS 46.9648364, -121.266476.


Facilities

: Rustic amenities include vault toilets, picnic tables, vault toilets, and drinking water.


Recreation

: Trout fishing, swimming, and rafting are popular on the American River. Goat Creek Trail #205 (accessible from the campground) is a 5.5-mile loop that offers a breathtaking view of Goat Peak. Pleasant Valley Trail #999 is a 5.4-mile loop, also accessible from the campground and relatively flat, that takes hikers into the William O. Douglas Wilderness and Pleasant Lake.


Campsites

(6 tent sites plus 12 sites for tents or RVs up to 20', no hookups, reservable): Sites are in two sections, each with its own entrance. Sites 1-10 lie on the east side of the American River, with sites 11-18 on the west. Each section ends in a sharp loop, where the best sites are found (sites 10 and 18). Most sites are back-in with only a single pull-through (site 9). They are flat and well-spaced with moderate shade. East side sites have gravel parking pads, west side sites are dirt and rock. Some sites are perched high above the river banks, others rest right on the shore. All others are a short walk from the river.


Trip Notes

: The American River seems to envelope campers here, being so visible and tangible to every campsite. This is a campground for river lovers, a real showpiece, with the river running down the middle like a long, straight, wide and wet dividing line to give the sites more distance from each other, inviting campers on both sides to come out and play.


Local Alternative

: While Hells Crossing is for river lovers, nearby Lodgepole CG is a forest campground for lovers of Ponderosa and lodgepole pines, old growth Douglas fir, and western red cedar. It is more developed than Hells Crossing with paved parking pads, but is at higher elevation and across Hwy 410 from the American River.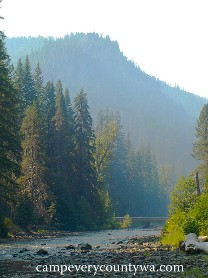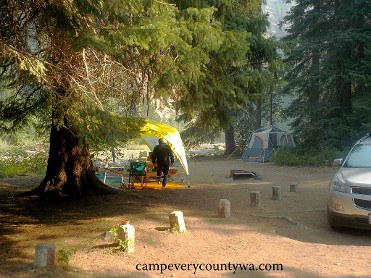 The American River bisects Hells Crossing inviting campers to come out and play.
For more photos of Hells Crossing CG click HERE
Indian Flat Group Camp

(Yakima Co.'s BEST GROUP CG)
This, the most developed group camp on the eastern side of Chinook Pass, is a popular spot for camping tribes of all kinds.


Overview

: This Wenatchee National Forest group campground is located 35 miles west of Naches on the Bumping River at 2695' elevation, open late May until late September; GPS 46.981, -121.14.


Facilities

: USFS amenities include vault toilets, drinking water, 8 picnic tables, and a group fire ring.


Recreation

: Hiking trails lead to Fife's Ridge and West Quartz Creek.


Campsites

(No individual sites, one group site for 66 people and 22 vehicles, no hookups, reservable): The campground, set along the American River, is one large loop with several spurs attached. It can accommodate RVs up to 30'. It is located less than a mile from Cedar Springs Campground (above), and provides the same relaxing atmosphere. Best of all, your camping tribe will have the entire campground to yourselves.


Trip Notes

: This campground has a unique charm that is a combination of the sheer beauty of the American River, the mature forest, the isolated/private nature of this Group Camp (always a plus), and mature forest. My sometimes fussy dog Billie Jo took a liking to this campground, and had to be coaxed away when it came time to leave. Truth is, I didn't want to leave, either.


Local Alternatives

: A nearby alternative is

Pine Needle Group Camp

, located on the American River, also operated by the USFS at 3000' elevation (No individual sites, one group site for up to 60 people, reservations required). While similar, the big disadvantage is no drinking water. The best Group Camp On White Pass is part of Clear Lake Recreation Area (see below).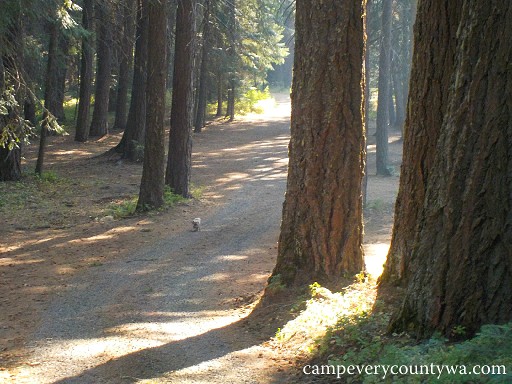 My dog Billie Jo took an unusual liking to this campground, and was the last to leave.
For more photos of Indian Flat Group Camp click HERE
Cedar Springs Campground

(one of Yakima Co.'s MOST APPEALING CGs TO THE SENSES)
Sometimes campers return to a campground simply because it feels right. Cedar Springs is among the most rustic in the Bumping River drainage, but its bouncing stretch of river, spacious sites, and the deep, penetrating scent of cedar trumps the more developed campgrounds in the vicinity.
Overview: This Wenatchee National Forest campground is located 47 miles northwest of Yakima along the Bumping River at 3100' elevation, open mid-May to mid-September, weather permitting; GPS 46.97333, -121.16306.


Facilities

: Expect amenities limited to vault toilets, drinking water by hand pump, and picnic tables.


Activities

: This prime location gives good access to the Little Naches Wilderness Area, Boulder Cave National Recreation Trail, and the in park trailhead to American Ridge Trail #958 with incredible ridgeline views that connects up with the Pacific Crest Trail.


Campsites

(15 sites for tents and RVs up to 22', including 2 double sites, no hookups, reservable): Most sites are back-in, 2 are pull-throughs. They are large to extra large, wooded and shady, and have good privacy. Sites border the Bumping River, and are rustic, with parking on native material and few amenities (so few that they don't even have an actual spring).


Trip Notes

: If you wonder where the Bumping River got its name, book a couple of nights at Cedar Springs. The River narrows and deepens here, bumping against hidden barriers, bouncing up, then bumping again in a show of alpine playfulness. You silly river, you make me laugh! This is a better choice than more developed campgrounds for campers who simply want to sit beside a cool river, let the therapeutic cedar balm recharge their tired minds, and read a good book.


Local Alternatives

: Nearby Soda Springs CG is a little better for RVs with a natural mineral spring and an interpretive trail. It has, however, so many downed trees that it looks unnatural. It may provide more novelty for children and be safer, as the Bumping River here is broader and shallower with more possibilities for safe water play. American Forks CG is closer to Hwy 410, but seems less well-maintained than other campgrounds on the Bumping River Rd. Cougar Flat CG is further down the road -- campworthy, but rather ordinary.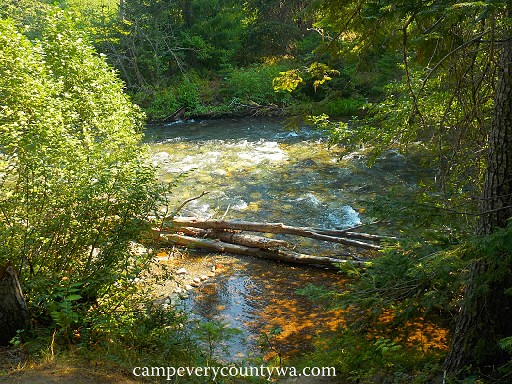 The Bumping River bumps against hidden barriers all along Cedar Springs Campground
For more photos of Cedar Springs CG click HERE
White Pass Scenic Byway/Highway 12
Yakima County has a second National Scenic Byway and, although this mountain pass is of lower elevation and less "White" than Chinook Pass, the recreational possibilities include mountains, lakes, rivers and, if you're a devoted camper, one rip-roaring good time.
Hause Creek Campground

(Yakima Co.'s BEST BIKE-IN CG)
This river is wild. The Tieton River, that is. And not "wild" as in "wilderness." That crazy river tumbles, buckles, changes flow, and changes back again every 50 or 60 yards -- a welcome and refreshing relief in this otherwise arid campground.
Overview: This Wenatchee National Forest campground located 4 miles east of Rimrock Lake on the Tieton River at 2600' elevation, open April 20 to Sept. 26. GPS 46.67556, -121.07639.


Facilities

include flush toilets, drinking water, picnic tables, fire rings/grills, and camp hosts.


Recreation

: Whitewater rafting is the most exhilarating activity here, particularly in September when the Bureau of Land Reclamation releases extra water from Rimrock Lake into the Tieton River. This is also close to great hiking opportunities, including the Boulder Cave National Recreation Trail and the Goat Rocks Wilderness.


Campsites

(42 sites, no hookups, reservable): The campground is located east of and below Rimrock Lake Dam, bordered on one side by the Tieton River. Trees within the campground include larch, aspens, alders and, of course, Ponderosa pine. This is more developed than most of the other campgrounds on the eastern slope of the White Pass Highway, with good river access and well-spaced campsites ensuring good privacy with shade trees.


Trip Notes

: Yes, this campground is about the River. Loved it, liked the big, spacious campsites cooled by the light spray of the River. There are signs everywhere of people having fun. At one site, a camper erected a makeshift sculpture of a sea serpent out of dry tree roots, expressing his/her fanciful feelings about what else the river might hold. I suspect that person was having a good time, the true mark of a good campground.


Local alternatives

: Willows CG is a perplexing popular campground just 3 miles east. To us it seemed ordinary and "messy," although there were 2 or 3 good sites on the Tieton River. Six miles further east lies quiet, breezy Windy Point CG, with most sites (10 in all) on a calmer stretch of the Tieton River. A tall, slender waterfall is very visible on the opposite shore. As daytime temperatures can soar, the low, constant breeze is welcome relief. Other advantages include less extreme day/night temperature changes due to lower altitude. Windy Point can accommodate tents or RVs up to 37'.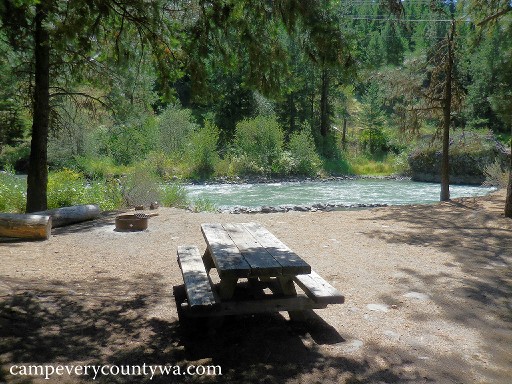 Hause Creek Campground sits beside the ever-changing Tieton River, whose spray is a refreshing relief in an otherwise hot, arid area.
For more photos of Hause Creek and Windy Ridge CGs click HERE
Indian Creek Campground

(Yakima Co.'s BEST CG FOR ENTIRE FAMILIES )
Remnants of vintage park, eagles in tall trees, and a broad creek flowing through a rocky creek bed just begging to be splashed... Ah, I'm a kid again.


Overview

: Also a Wenatchee National Forest campground, this gem is located on Rimrock Lake east of White Pass at 3000' elevation, open late May until early September; GPS 46.645, -121.2425.


Facilities

include vault toilets, drinking water, picnic tables, fire rings/grills, picnic shelter, and camp hosts.


Recreation

: Fishing on Rimrock Lake produces primarily kokanee salmon and trout. Swimming is possible where Andy Creek runs into Rimrock Lake. Motorized and non-motorized boating are popular. Wildlife viewing includes bald eagles, black bear, deer, gray wolves, grizzly bear, mountain goats, and the northern spotted owl.


Campsites

(38 sites, no hookups, reservable): Sites are wooded, spacious, and private. None border Rimrock Lake, which is reachable by short trails. Located on the eastern side of the Cascades, it is heavily forested with Ponderosa Pines, and less arid than campgrounds just a few miles east. Be careful when making reservations, however, as some of the websites have mis-numbered the campsites.


Trip notes

: I love this place. It is nestled against Silver Beach Resort, one of those tiny, congested, frenetic, unreasonably popular RV parks that I regard as "camping in fast motion." Just steps away, Indian Creek is the opposite: quiet, spacious, and uncrowded with great forest and vegetation. There are hidden remnants of vintage park everywhere, as this park has seen better days. But I loved wading in rocky Indian Creek, following it to Rimrock Lake, looking up and seeing eagles high in the trees, and feeling like a kid again. Isn't that what camping should be about?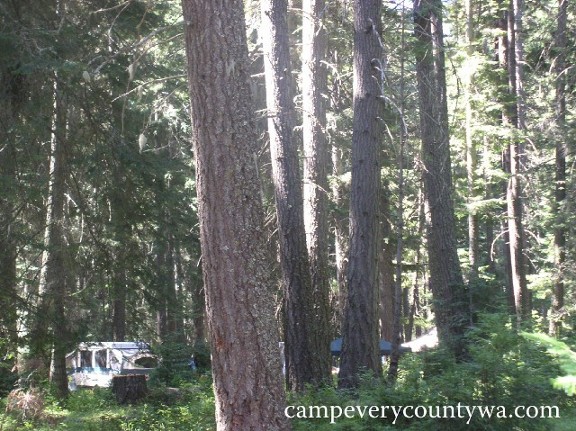 Indian Creek Campground is nestled along tall pines with eagles in the tree tops.
For more photos of Indian Creek Campground click HERE
Clear Lake Recreation Area

(Yakima Co.'s MOST UNIQUELY WASHINGTON CG and includes one of Yakima Co.'s BEST GROUP CGs)


This recreation complex is a series of named and unnamed campgrounds, boat launches, and day use areas. It stretches between the dam and spillway of Clear Lake to the western edge of Rimrock Lake. Don't let its complexity deter you -- it is underutilized, and a delight to those of us looking for uniquely Washington camping.




Overview

: This Okanogan-Wenatchee National Forest camping area is located 7 miles west of White Pass on 232-acre Clear Lake and the North Fork of the Tieton River at 2994' elevation, open Memorial Day weekend through Labor Day; GPS 46.63111, -121.26667.


Facilities

: Scattered amenities include vault toilets, picnic tables, fire rings, drinking water at Clear Lake South, garbage service, two fishing platforms in the detached Day Use Area (more below), a boat launch (a fee is charged), camp hosts, and an RV dump.


Recreation

: The campground offers all manner of water adventures, including fishing for eastern brook and rainbow trout, canoeing, kayaking, and no-wake motorboating. There is no swimming in Clear Lake itself, though it is good in the outlet creeks from the Lake that re-join to resume the Tieton River below.


Campsites

(59 sites for tents or small RVs, about 4 dispersed walk-in sites, 1 group site for up to 40 people requiring reservations, no hookups, no reservations for individual sites): The sites are set in a rich forest of Ponderosa pine, grand fir, and hemlock. They are distributed as follows:

-

Clear Lake North

: This, the first camping area, is divided into two campgrounds. Three-Day CG (not recommended) is far from the River and fairly cramped. Spring CG rests on a flat bench above the River, with steep trails to the bottom, providing both swimming opportunities and views of Rimrock Lake. These sites are large, spread out, and uniformly wooded. The two campgrounds have a combined 36 sites, 3 of which are doubles, no hookups or reservations.

-

Group Camp

: This perfectly flat camping area is separated from the River below by rock outcroppings that make good climbing, but a dangerous temptation to kids who might want to jump off into the water (don't try it!). It can be seen from FR 740 above, and Fish Hawk CG across the River. This closely rivals Indian Flat Group Camp on Chinook Pass (above), lacking only in less than perfect privacy. It can accommodate up to 40 campers, with a group fire ring, three large group picnic tables, and vault toilets. There are no hookups, but reservations are required.

-

Clear Lake South

: The sites fall into 4 distinct areas: 1) One drive-in site and several dispersed walk-in sites on the small hill just before that marvelous spillway giving campers the most direct access to Clear Lake (very popular!); 2) A small Day Use area on an "island" between the spillway and the outlet creek from Clear Lake Dam; 3)

Fish Hawk CG

, the best of the individual camping areas, rests along the combined outlet creeks from the spillway and the dam (the re-formed Tieton River) with good views of both; 4) Cold Creek CG is a series of developed but scattered sites closer to the dam, on the road to the private Prime Timer CG (for special needs kids and adults) and the boat launch. Some will like the privacy of the sites, but we found them rather ordinary. Sites 15 and 16 have a direct view of the dam. The two combined campgrounds have 22 sites for tents or RVs up to 22', no hookups or reservations.

-

Clear Lake Boat Launch

: This is a Day Use Area that charges a fee for boat launching. It may be the best single spot overall for viewing the Lake, rivaled only by the detached Day Use Area on the west shore of the Lake (below).

-

Clear Lake Day Use Area

: This larger no barrier Day Use Area sits on 7opposite (west) shore of Clear Lake, with a large picnic shelter, paved trails, fishing, nature walks, wildlife viewing, picnic areas, and non-motorized boating. The two fishing platforms and unobstructed view of the Lake make this a destination for most campers.



Trip Notes

: Clear Lake could really be called Upper Rimrock Lake, as it is part of Rimrock, but sits higher, with about one mile of waterways connecting the two. The minute we saw that many-layered spillway, we were hooked! It was like camping IN the Tieton River, surrounded by it, part of it, and it part of us. You could safely wade or swim in the cold water, and follow it all the way to Rimrock. We camped here in August, when we expected water levels to be at their lowest -- we were glad to be wrong! Water levels were at their highest point. You might check before heading out, though. The camping is likely less dramatic if no water is pouring out of the spillway.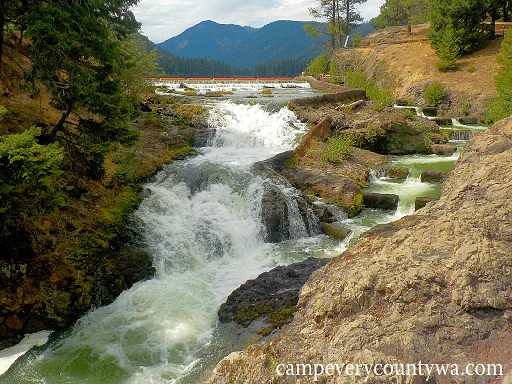 The main spillway from Clear Lake is the centerpiece for uniquely Washington camping between the Rimrock and Clear Lake Reservoirs.
For more photos of Clear Lake Recreation Area click HERE
William O. Douglas Wilderness Area
This 169,801-acre wilderness area was named for the late U.S. Supreme Court Justice William O. Douglas, who made his home in Goose Prairie near Bumping Lake, and known for his popular book, "Of Men and Mountains." The area, most of which was explored on foot by Justice Douglas, includes high-elevation forest, high alpine lakes, basalt table mountains, and eastern edge mid-elevation pine forest and bare ridges.

Twin Sisters Lakes Hike-In

(Yakima Co.'s BEST HIKE-IN CAMPSITES)


The Twin Sisters Lakes are on the northern edge of a four square mile basin filled with ponds and small lakes that seems much like trying to count the stars, in that the myriad of streams, lakes, ponds, mountain peaks, and geological wonders are countless.




Overview

: This family-friendly 4-mile out-and-back hike-in camping spot is located 67 miles northwest of Yakima along Twin Sisters Lakes Trail #980 on 40.4-acre Little Sisters Lake and 103-acre Big Sisters Lake, operated by the USFS at 5200' elevation, open late June through October; GPS 46.7520, -121.3615.


Facilities

: These primitive sites have water available at Deep Creek and each of the two lakes. As with other wilderness areas, a portable toilet is advisable.


Recreation

: Note that the area is also popular with equestrians. Fishing is good in both lakes for brook trout and golden trout. This camping area has immediate access to a complex network of other wilderness trails.


Deep Creek TH/Twin Sisters TH

: From Yakima, travel east on Hwy 12 for 15 miles, then continue straight/right onto Hwy 410 (Chinook Pass Hwy) and continue for 29 miles. Turn west onto Bumping River Road/Forest Rd 1800 and drive 13.5 miles. Here, about 2.3 miles after passing the turn to Bumping Lake C.G., veer left onto USFS Rd 1808 and drive 7.2 miles to Deep Creek C.G. with parking at the trailhead.




Campsites

(4 formal sites near each of the 2 lakes, many informal but established sites along main and side trails, no reservations, FREE with a Northwest Forest Pass): Formal campsites are near the junction of Twin Sisters and Sand Ridge Trail #1104. The best sites are on the east side of Little Sisters Lake on a short bluff with peek-a-boo views of Mt. Rainer. Many informal but established sites lie along smaller trails established by hikers and elk. An short hike to Big Sisters Lake leads to a 0.6-mile campsite trail along the south shore of the Lake, while 2 additional sites along the Lake have views of Tumac Mountain, one of several small volcanic vent cones that dot this high plateau. In fact, the two lakes have many inlets and marshes providing privacy, but also wet feet. Note also that many lakeside campsites are periodically closed for restoration due to overuse. The good news is that the two big lakes and many ponds and mountain peaks are visible from most sites.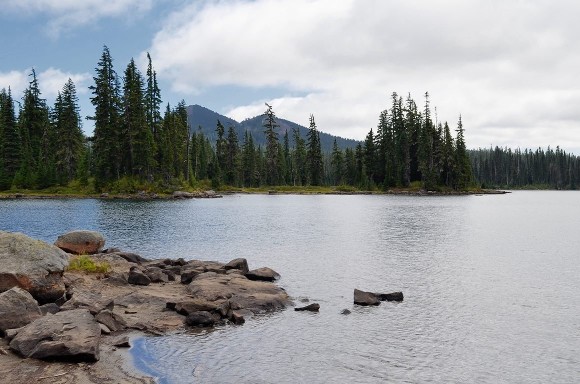 Little Sisters Lake has views of both Mt. Rainier and Mount Tumac, a volcanic vent cone that remains snow-capped until mid-summer.
For more photos of Twin Sisters Lakes Hike-In click HERE
Yakama Nation Mt. Adams Recreation Area
This is the only area within the Yakima Reservation forested western boundary that is open to non-Yakamas -- and as close to Mt. Adams as non-tribal campers can get. It is an entirely unique camping world, with primitive campgrounds and views of Mt. Adams from the east that most of us would never otherwise see. Add this one to the top of your bucket list. But don't wait too long -- public access to this breathtaking land has been under dispute.
Note: The Yakama Tribe prefers the traditional spelling of "Yakama," while the City and County prefer the spelling "Yakima."

Bird Lake Campground

(Yakima Co.'s BEST RUSTIC CG)


It is refreshing to find rustic campgrounds that are also great for families. Nestled at the eastern foot of 12,280' Mt. Adams, with family-friendly hiking trails that are among the best in Washington, breathtaking views, and good fishing all come together here in the forested boundary of the Yakama Reservation.




Overview

: This uniquely beautiful rustic campground is located 135 miles southwest of Yakima on Bird Lake operated by the Yakama Nation Tribe at 5,597' elevation, open early July to September; GPS 46.141285, -121.440683.




Facilities

: Limited facilities include vault toilets, picnic tables, fire grills, and garbage cans. Water is available, and firewood is provided free of charge.




Recreation

: Fishing is notable for largemouth bass, smallmouth bass, spotted bass, striped bass, white bass, catfish, crappie, eastern brook trout, and walleye. Fishing permits required (available at campground). Hiking includes the Bird Lake - Crooked Creek Falls - Bluff Lake Loop Hike (4-mile loop), the amazing Bird Creek Meadows Trail (3-mile loop), also known as the Trail of Wildflowers, and the spur to Hellroaring Canyon viewpoint. No mountain bikes, ATVs, or motorcycles are permitted on the trails. This is considered one of the best family hikes in Washington.


Campsites

(21 sites for tents, no hookups or reservations, tribal camping permits required - available at campground): These beautiful but primitive sites are set in old-growth Douglas fir and Ponderosa pine. Most have quick shore access, or at least a view of the lake. Only electric motors are allowed on the lake.


Directions

: Start in the town of Trout Lake in Klickitat Co. Head due north on the Mount Adams Recreation Highway/Road #23 for 5 miles. Turn right/northeast onto Forest Road 82 for another 5 miles, when the road will merge with Forest Road 8225. After one mile, bear left onto Bench Lake Road/Tribal Route 285. Continue for 4 miles to Mirror Lake C.G. where you can self-register for a required entry permit to the area. Turn left onto Bird Lake Road and continue 1.77 miles to Bird Lake C.G. Note that all roads after the Mount Adams Recreation Highway are gravel and dirt, and extremely rough, only suitable for 4-wheel drive trucks or high clearance vehicles.


Trip Notes

: It had been years since we camped at delightful Bird Lake, so we were disappointed when we eagerly set out, only to be stopped by a rather prominent "ROAD CLOSED" sign. Stay tuned, as optimists are predicting re-opening in 2019.


Local Alternative

: The best local alternative is the larger Bench Lake CG (Mirror Lake CG was severely damaged by fire in 2016). Simply continue 4 miles north on Bench Creek Road at Mirror Lake CG instead of turning west onto Bird Lake Road. Bench Lake is more than twice the size of Bird Lake, has similar facilities, and has immediate access to Hellroaring Creek Trail #110, a more primitive trail than those accessible from Bird Lake CG.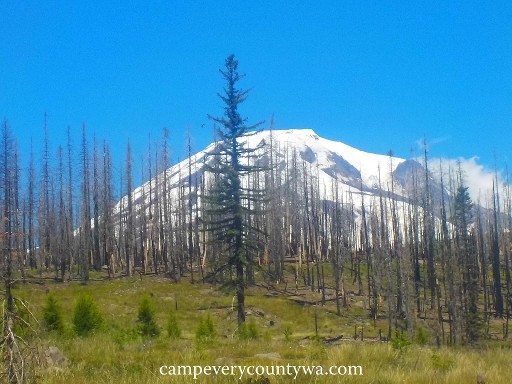 The Cougar Creek forest fire of 2016 left Bird Lake Campground unaffected,
but the already rough road was significantly damaged.
Campers are hoping for re-opening in 2019.
For more photos of Bird Lake CG click HERE