WHITMAN COUNTY (Colfax/Pullman)

This is Palouse Country, a region of rolling, asymmetrical hills without continuous valleys or ridges, not shaped by rivers and streams, but by a series of wind dunes. When spring comes, and the colors explode, you won't be able to take your eyes off of it.
Kamiak Butte County Park

(Wh

i

tman Co.'s MOST UNIQUELY WASHINGTON and MOST APPEALING CG TO THE SENSES)
Kamiak Butte was named a National Natural Landmark based on its unique geology, incredible views, 170 plant species, 130 bird species, and 30 mammal species. How good does the campground have to be for this place to still be great?


Overview

: This amazing county park is located 17 miles east of Colfax and 2 miles south of Palouse on 298 acres, operated by Whitman County Parks at 3631' elevation, open year round; GPS 46.8905, -117.1360.


Facilities

: This park comes well-equipped with picnic tables, fire grills/pits, a playground, amphitheater, 3 small shelters for up to 35 people each, and one large shelter for up to 100 people.


Recreation

: The park's claim to fame is its 5 miles of trails. The 3.5 mile Pine Ridge Trail is part of the National Trails System, reaching an elevation of 3641'. The Sunset Trail circles around and below the campground itself, making itself available to campers at just the right time of day. Birding watching includes warblers, woodpeckers, nuthatches, flycatchers, black-headed grosbeaks, Rufous-sided towhees and the occasional gray catbird.


Campsites

(9 sites for tents or small RVs, no hookups or reservations): Sites are wooded and private, arranged in a single loop. The best sites are 3 and 4 (site 4 can accommodate a large RV). The campground and north face of the butte are covered in mature Ponderosa pine, Douglas fir and western larch, and said to be the largest forested tract in all of Whitman County.


Trip Notes

: It's a wonder how some of these smaller counties can come up with such magnificent county parks. Of course, it helps to have a National Natural Wonder in your back pocket, but this place exceeded our camping expectations. This well-kept campground, entirely detached from the Day Use Area, has a lush, manicured charm that makes it well worth the trip.


Washington History

: The park is named after Chief Kamiakin, the leader of the Yakama, Palouse, and Klickitat peoples who staged an uprising known as the Yakima Wars of 1855-1858. He was defeated and fled, but later returned peacefully to his native homeland.
Geological History: The Butte itself is an "island," consisting of Precambrian quartzite projecting approximately 1,000 feet above the surrounding wheat fields. The reddish rocks once formed the bed of an ancient sea, and the grains of sand embedded in them act as suncatchers, causing them to glitter in the Palouse sun.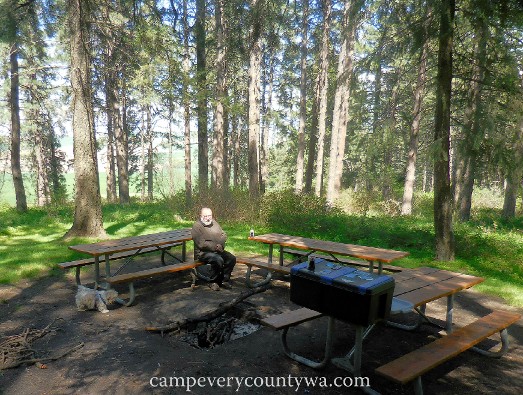 Kamiak Butte far exceeded our camping expectations
For more photos of Kamiak Butte County Park click HERE
Wawawai County Park (Whitman Co.'s BEST CG FOR ENTIRE FAMILIES and BEST BIKE-IN CG)
Wawawai (pronounced Wa-WAA-Wee) was a native village for hundreds of years, giving way to a premier orchard community on the Snake River, until it was inundated by the creation of the Lower Granite Dam in 1975. The park now occupies the site of the original post office, but now you'll have to buy your stamps elsewhere.
Overview: This cohesive little county park is located 29 miles south of Colfax on Lower Granite Lake (Snake River) on 49 acres, operated by Whitman County Parks at 791' elevation, open year round; GPS 46.6359, -117.3728.
Facilities: You'll find vault toilets, drinking water from mid-April through mid-October, covered picnic tables, fire grills, a playground, a fishing pond, a nearby boat launch at Wawawai Landing, one large reservable group shelter for up to 100 people with 10 picnic tables and a barbecue grill, and a half-mile interpretive trail ending at a bird-viewing platform. A special feature is an underground earth-sheltered house built right into the hillside that serves as the park ranger's home.
Recreation: The park features a small bay off the confluence of Wawawai Creek and the Snake River appropriate for non-motorized boats and fishing. Fishing is best on the Snake River itself and includes summer steelhead. Bird watching includes wrens, goldfinches, California quail, song sparrows and white-crowned sparrows, red-tailed hawks, robins, and black-billed magpies. There are also numerous shaded walking areas around the park.
Campsites (5 pull-through tent sites including 2 with sand tent pads, plus 4 pull-through RV sites, no hookups or reservations): All 9 sites are large and paved with adequate privacy. Some sites are pull-throughs, and all are shady and relatively flat.
Trip Notes: This Park is known for such icons as the earthen house and the Picnic Pavilion, but the camping area is every bit as beautiful, separated from the hilly Day Use Area by a concrete path. The shade trees, and the Whitman County Parks' attention to detail with the placement of its covered picnic shelters and interpretive signs make this stand out as one of the best county parks in Washington.
Washington History: The Palouse and Nez Perce tribes occupied this site for thousands of years before the coming of the settlers from the east. The original name was Wawawa, which means "talk, talk," or council grounds. The area is now known as a wine producing area.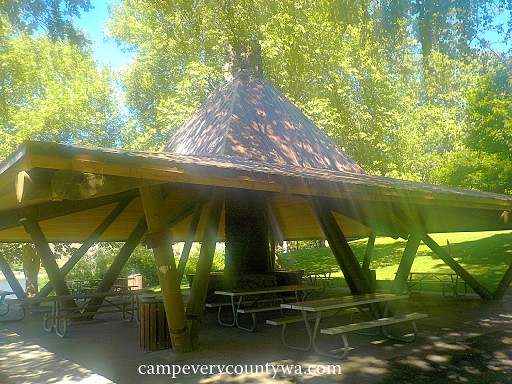 Swimming, boating, and the iconic picnic shelter make Wawawai County Park a great camping destination
For more photos of Wawawai Co. Park click HERE
Boyer Park and Marina

(Whitman Co.'s BEST EQUIPPED/BEST CG FOR RVs)


Boyer Park was built in 2013 to fill an RV camping void in this remote Snake River region. But don't let its remoteness fool you! This place has modern, upscale facilities and, despite being known as an RV park, is equally inviting to tent campers.




Overview

: This lush park is located 24 miles southwest of Colfax on the Snake River, privately operated on 140 acres at 640' elevation, open year round; GPS 46.6791, -117.4457.


Facilities

: This well-equipped park includes bathrooms with showers, picnic tables, barbecue pits, laundry, garbage collection, a swimming area, playground, volleyball court, boat launch and marina, meeting rooms, a bike/jogging path, Convenience Store, the Snake River Grill, and an RV dump.


Recreation

: The many recreational opportunities include boating, fishing, swimming and hunting.


Campsites

(3 walk-in tent sites, plus 28 full-hookup 20/30/50 amp RV sites, 28 of which are long-term sites for winter or spring, and 20 water & electric 30 amp RV sites. There are also 4 motel rooms and 4 rustic wood cabins. All sites, motel rooms, and cabins are reservable): The Park is divided into 3 campgrounds. The Main Campground (28 full hookup sites plus 3 walk-in tent sites) are mostly occupied by longer-term RV campers in the winter and spring. The Central Park (13 sites, water only) were occupied exclusively by tent campers. The South Park (20 sites partial hookups) seemed to be the newest loop, and occupied mostly by smaller RVs. Sites are average in size with average privacy, but lush and green.


Trip Notes

: This is a text book example of how irrigation can make the desert bloom. Bright and shiny, great food, an entire one-third of the Park (Central Park) reserved for tent campers, remarkable beach with an explorable island, and a quirky gift shop that will make you chuckle. The wind can be very strong here, despite the tall trees that lessen the blow. There are no places like this anywhere else in the area, with a wide variety of services, standing head and shoulders above its competitors. Hey! Get your camp on and get set for a great time.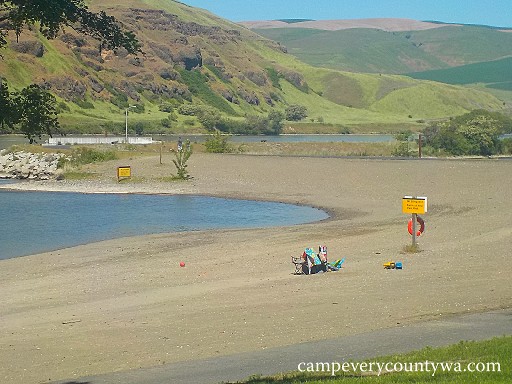 Boyer Park and Marina attracts RVers, tent campers, and boaters alike
For more photos of Boyer Park and Marina click HERE
Nisqually John Landing Recreation Area

(Whitman Co.'s BEST FREE and BEST RUSTIC CG)
"Who was Nisqually John? Why, he's an historical figure," was the answer we got whenever we asked about the naming of this campground. All we know is that this guy named John once landed his craft on the Snake River here, and was lucky enough to have one of the nicest campgrounds in the area named after him.


Overview

: This primitive campground is located 44 miles south of Colfax and 14 miles west of Clarkston on 8 acres on Lower Granite Lake, operated by the US Army COE at 659' elevation, open all year; GPS 46.4766, -117.2354.


Facilities

: Limited facilities include a vault toilet, picnic tables, metal fire grills (fires prohibited mid-June to mid-October), a Day Use Area, a one-lane boat launch, and garbage service.


Recreation

includes hiking up to the 3,070 acre Nisqually John Habitat Management Unit and Nisqually John Canyon (1.9 miles each way), kite flying, and steelhead fishing.


Campsites

(several dispersed tent sites, no hookups or reservations, FREE of charge): This rarely camped-in campground is right on the Snake River/Lower Granite Lake, nestled into a small canyon with a small bay nearby. The grassy sites are walk-ins, but many enjoy camping on the edge of the gravel parking area. There is some train noise.


Trip Notes

: I guess nobody told these campers that they're not supposed to have this much fun in a FREE campground. The tent campers were tucked away in their little alcove sites on the River, while the RV campers parked on the edge of the parking lot, spreading out their bounty on the well-manicured lawns. It is an astonishingly simple but brilliant layout for a campground, and perhaps others should follow their example.


Local Alternatives

: The best single FREE alternatives in Whitman Co. are operated by US Army Corps of Engineers and are located along the north shore of the Snake River. These include (west to east) Riparia (aka Lake West Park), North Shore Tailrace, Wawawai Landing, and Blyton Landing. Nisqually John Landing lies east of these campgrounds.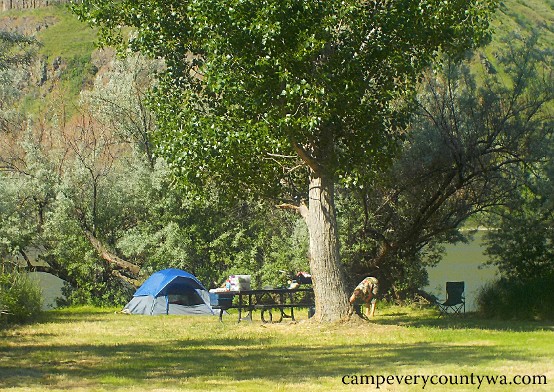 Nisqually John Landing has an astonishingly simple but brilliant layout
For more photos of Nisqually John Landing click HERE
OTHER CAMPGROUNDS: There are no Group Campgrounds, Hike-In Only Campgrounds, or Boat-In Only Campgrounds in Whitman Co. that we can recommend at this time.