This website is intended as an adjunct to the paperback book 'Camp Every County, Washington' by Brendan J. McDonald, available on Amazon.com. Included on this website are photographs and texts which could not be included in the paperback edition, where you will find full narrative versions of each section found below.
STEVENS COUNTY (Colville)
Sheep Creek Campground
(Stevens Co.'s BEST FREE CG)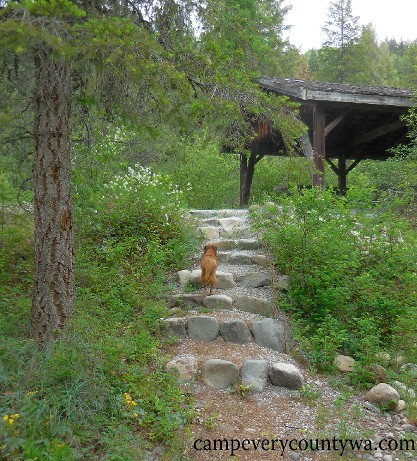 My dog Boca climbs the stone steps to the Sheep Creek Day Use Shelter
For more photos of Sheep Creek CG click HERE
Lake Thomas Campground
(Stevens Co.'s BEST BIKE-IN CG)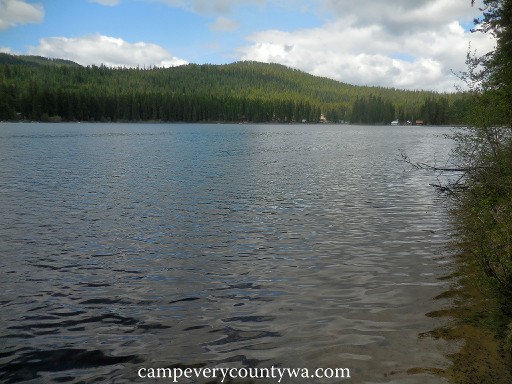 Lake Thomas is the largest and quietest lake in the Little Pend Oreille chain
For more photos of Lake Thomas CG click HERE
Douglas Falls Grange Park Campground
(Stevens Co.'s BEST CG FOR ENTIRE FAMILIES)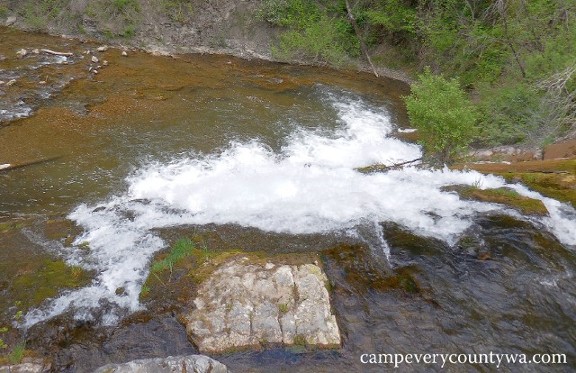 The Falls at Douglas Falls Grange Park have been used to run a sawmill, a distillery, and now a popular campground near Colville
For more photos of Douglas Falls Grange Park CG click HERE
Kettle Falls Campground
(Stevens Co.'s MOST UNIQUELY WASHINGTON CG
and includes BEST GROUP CG)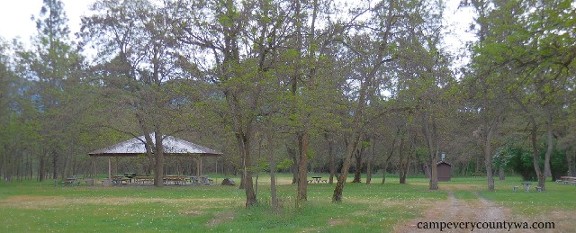 Kettle Falls Campground is built of the original townsite of Kettle Falls
For more photos of Kettle Falls Campground click HERE
Hunters Campground
(Stevens Co.'s MOST APPEALING CG TO THE SENSES)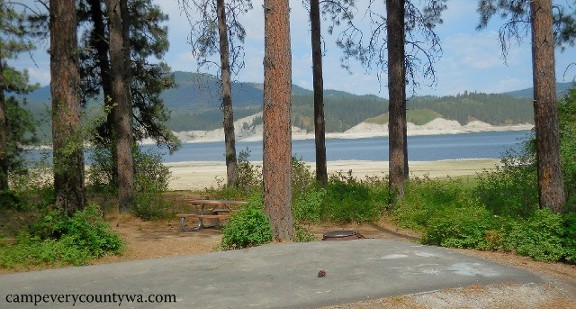 Hunters Campground has one of the best views of Lake Roosevelt
For more photos of Hunters CG click HERE
Deer Lake RV Resort and Campground
(Stevens Co.'s BEST EQUIPPED/ BEST CG FOR RVs)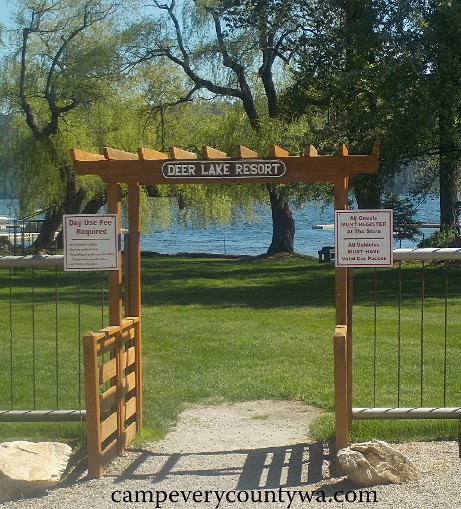 Deer Lake Resort rests on the largest and most pristine of the lakes
in the Colville Watershed
For more photos of Deer Lake Resort click HERE
Lake Spokane CG
(Stevens Co.'s BEST RUSTIC CG)
#under contruction#
Sherlock Peak Trail #139 Dispersed Campsites

(Stevens Co.'s BEST HIKE-IN ONLY CAMPSITES)
This rugged, wooded trail is best known for its panoramic views of the Columbia River, the Pend Oreille Valley, and Deep Creek. Spring and summer will add blankets of wildflowers, while fall brings magnificent splashes of red when the huckleberries burst onto the scene. This is one of the most remote corners of Washington, where you will find solitude after a short though steep hike.


Overview

: This rugged 3.4 mile trail is located 40 miles northeast of Colville and 25 miles west of Northport on the way to 6,365' Sherlock Peak, operated by the USFS at 4620' to 6200' elevation, open seasonally; GPS 48.8841, -117.5260.


Facilities

: You're on your own in the wilderness. Don't forget to pack drinking water, and pack out what you pack in.


Recreation

: Equestrians and mountain bikers also enjoy this and adjoining trails. Side trails include the Silver Creek Trail and those to Abercrombie Mountain and Gunsight Pass.


Trailhead

: From downtown Colville, turn east on Hwy 20, and at 1.1 miles turn left/north onto Aladdin Rd. Drive north for 23 miles, then veer right onto Deep Lake Boundary Rd to Leadpoint. Turn east at Leadpoint and follow FR 4720 to road junction 070. Follow road FR 070 to FR 075. Follow FR 075 to trailhead.


Campsites

(dispersed, primitive, no reservations): Some sites are located at the trailhead, while others are along the Trail. The best campsite is located just where the Trail ends. Note that the main trail does not go up to the peak, but secondary trails do reach the top.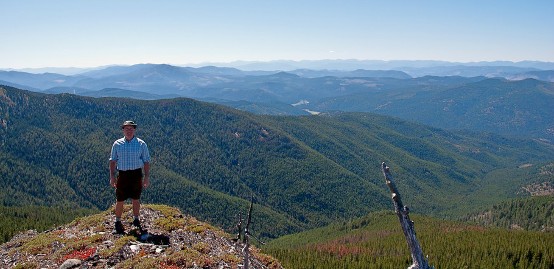 Sherlock Peak Trail gives panoramic views of of the Columbia River and the Pend Oreille Valley
For more photos of Sherlock Peak Trail #139 Campsites click HERE
Lake Spokane Boat-In Campsites, Stevens Co.

(Stevens Co.'s BEST BOAT-IN CAMPSITES)


Long Lake Dam, which created Lake Spokane from a 25-mile stretch of the Spokane River, is owned and operated by the Avista Corporation. They have created a series of 10 boat-in only campsites on both shores of the Lake for recreational use. You want to get away from the crowds without giving up Lake Spokane? This is your place.




O

verview: Located 18 miles west of Spokane on the north shore of 4,748-acre Lake Spokane (a.k.a. Long Lake), owned by the Avista Corporation and managed by Riverside S.P. at 1536' elevation, open year round; GPS coordinates for nearest access at Long Lake Dam put-in are 47.83722, -117.83972.


Facilities

include vault toilets, boat docks in each group of campsites, concrete tables, fire pits, sitting rocks, and graded areas.


Recreation

includes sail boating, windsurfing, boating of all kinds, plus trout and bass fishing March through October.


Boat-In Access

: These sites are best accessed from the Long Lake Dam Picnic Area. This is located at the western extreme of Lake Spokane. Alternatively, they can be reached from Lake Spokane CG, which requires a longer boat ride/paddle.


Campsites

(6 boat-in sites on the Stevens Co. side, plus 4 on the Spokane Co. side, no hookups or reservations): The closest boat-in sites to the Long Lake Dam Picnic Area are referred to as the "North Shore A & B." Three additional sites, just east, are named the "Amy Lane" sites. An additional "informal" boat-in site is further to the east near the town of Tumtum.


#For more information, see Lake Spokane Boat-In Campsites under Spokane Co.#




Stevens Co. Boat-In Alternatives

: Most of the Lake Roosevelt campgrounds have boating docks; however, they are inaccessible by boat when Lake levels drop in spring and early summer. The best boat-in only alternative is Summer Island CG near confluence of Lake Roosevelt and the Kettle River. There are six campsites, but if you're lucky, you will have this small island all to yourself. Visit in mid to late summer due to water level fluctuations.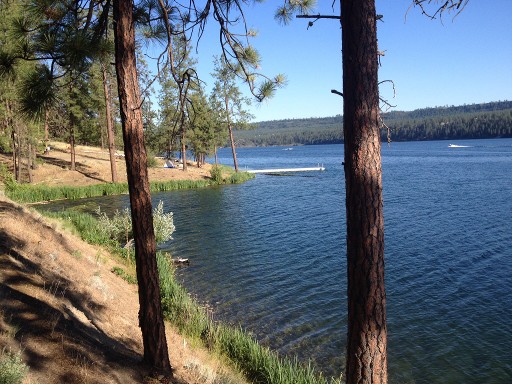 The Lake Spokane Boat-In sites are the best in Stevens County
For additional photos of Lake Spokane Boat-In Campsites click HERE