STEVENS COUNTY (Colville)

This county encompasses some of the earliest exploration in Washington. Salmon harvesting, mines, and refineries have largely been replaced by tourism and recreation. The campgrounds here express their communities more than any other county, tied together by history and community bonds.
Northport Area
The town of Northport, just 7 miles from the Canadian border, was the heart of a late 1800s mining boom. Its towering smelter, combined with connections with the railroad and Columbia River, helped make it "one of the rowdiest mining towns in the west." The smelters are shut down now, and the community has survived decades of quiet desperation during hard times, but it has come out as one of the friendliest and most cohesive communities in Washington, making a great backdrop for equally welcoming camping.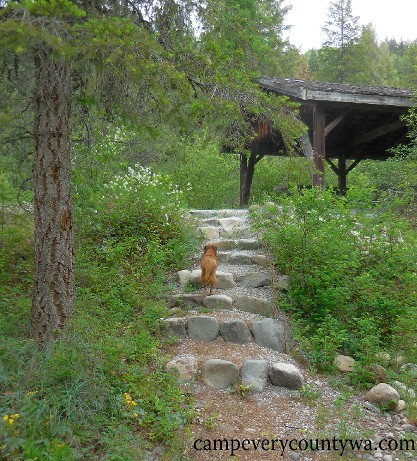 My dog Boca climbs the stone steps to the Sheep Creek Day Use Shelter
For more photos of Sheep Creek C.G. click HERE
Sherlock Peak Trail #139 Dispersed Campsites

(Stevens Co.'s BEST HIKE-IN ONLY CAMPSITES)
This rugged, wooded trail is best known for its panoramic views of the Columbia River, the Pend Oreille Valley, and Deep Creek. Spring and summer will add blankets of wildflowers, while fall brings magnificent splashes of red when the huckleberries burst onto the scene. This is one of the most remote corners of Washington, where you will find solitude after a short though steep hike.


Overview

: This rugged 3.4 mile trail is located 40 miles northeast of Colville and 25 miles west of Northport on the way to 6,365' Sherlock Peak, operated by the USFS at 4620' to 6200' elevation, open seasonally; GPS 48.8841, -117.5260.


Facilities

: You're on your own in the wilderness. Don't forget to pack drinking water, and pack out what you pack in.


Recreation

: Equestrians and mountain bikers also enjoy this and adjoining trails. Side trails include the Silver Creek Trail and those to Abercrombie Mountain and Gunsight Pass.


Trailhead

: From downtown Colville, turn east on Hwy 20, and at 1.1 miles turn left/north onto Aladdin Rd. Drive north for 23 miles, then veer right onto Deep Lake Boundary Rd to Leadpoint. Turn east at Leadpoint and follow FR 4720 to road junction 070. Follow road FR 070 to FR 075. Follow FR 075 to trailhead.


Campsites

(dispersed, primitive, no reservations): Some sites are located at the trailhead, while others are along the Trail. The best campsite is located just where the Trail ends. Note that the main trail does not go up to the peak, but secondary trails do reach the top.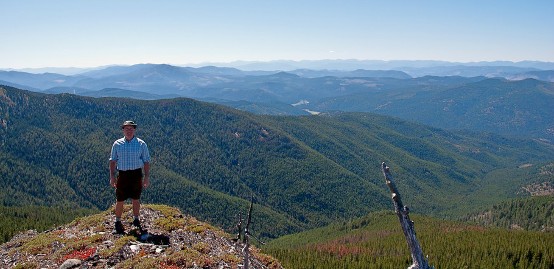 Sherlock Peak Trail gives panoramic views of of the Columbia River and the Pend Oreille Valley
For more photos of Sherlock Peak Trail #139 Campsites click HERE
Little Pend Oreille Lakes Region
This small section of the Colville National Forest along Highway 20 straddles the Stevens County-Pend Oreille County line. It includes a small chain of 5 lakes ranging in size from 26 acres (Sherry Lake) to 163 acres (Lake Thomas). All 5 lakes are connected by the slow-moving Little Pend Oreille River. This forms a white lily channel between the lower four lakes that can make for a spectacular paddling adventure. Six different campgrounds sprinkle the five lakes.

Lake Thomas Campground

(Stevens Co.'s BEST BIKE-IN CG)


Lake Thomas is the quietest campground in a very pretty series of lakes that are known for ORV use. This lake is special, being not only the largest, but also the only lake in the chain that does not allow ORVs. They have their fun far away, while we have our camping fun right here, right now.
Overview: This beautiful terraced lake campground is located 26 miles east of Colville and 8 miles south of Ione on 163-acre Lake Thomas, operated by the USFS on 43 acres at 3290' elevation, open Memorial Day to Labor Day; GPS 48.6238, -117.5358.


Facilities

: Good faciliities include pit toilets, running water, fire pits, picnic tables, tent pads, bear-proof garbage bins, boat launch, and camp hosts who drive through daily.


Recreation

: This spot is known for fishing for large mouth bass, black crappie, yellow perch, brook trout, and rainbow trout. This lake chain is in the middle of an extensive network Off-Road Vehicle (ORV) Trails. Hiking is popular at Rufus Trail #148. The sandy lakeshore makes for good swimming. This is also located along a popular bicycle route from Colville to the Pend Oreille Valley, and is a good bicycle stop over with adequate services for resupplying.


Campsites/Trip Notes

(16 back-in and pull-through sites for tents or RVs up to 16', no hookups or reservations): Lake Thomas has the advantage of being the largest of the lakes, and does not allow ORVs to be driven in or out of the campground, though it is near ORV trails. It is quiet most of the time. Sites are located on a wooded hillside, most along the Lake. Note that the lower lakes (Heritage, Thomas, and Gilette) share the shore with private residences, and their campgrounds are not recommended due to motorboat and ORV noise. Lake Thomas is quieter than the rest, which is immediately noticeable.


Nearby alternatives

: There are two reasonable camping alternatives in the Little Pend Oreille chain. Beaver Lodge Resort (38 sites for tents or RVs up to 40' including water and electric 30 amp hookups and 10 cabins) has the most amenities, but is quite busy. Lake Leo (8 sites, no hookups or reservations, across the county line in Pend Oreille Co.) is detached from the rest, and is clearly the quietest campground in this chain of lakes, making good camping for those seeking less activity.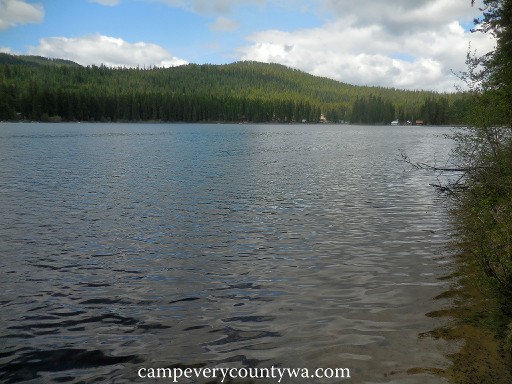 Lake Thomas is the largest and quietest lake in the Little Pend Oreille chain
For more photos of Lake Thomas CG click HERE
Colville Area
The history of the City of Colville is really the history of Fort Colville, which was located at 3 different locations at various times. The original Fort Colville was built north of Kettle Falls by British agents for the Hudson's Bay Company, and lasted until the 49th Parallel was established as the border between Canada and the U.S., ceding the land to American soldiers. The U.S. Army then built a new Fort Colville in Pinkney City, just one mile from the present day Douglas Falls Grange Park. As a more promising city was platted 3 miles away, and Fort Colville was slated for closure, developers were encouraged to change its name from Belmont to Colville, so that the county seat could be moved to this location -- and the rest is history.

Douglas Falls Grange Park Campground

(S

tevens Co.'s MOST UNIQUELY WASHINGTON CG)


This campground dates fro 1855, when Pioneer R.H. Douglas harnessed the 60-foot Mill Creek Falls first as a sawmill, then, when that failed, as a distillery. That means spirits, folks. The City of Colville has used the grounds for community gatherings ever since, with athletic fields and picnic shelters adjoining the campground. It has become a popular meeting place, even when the spirits aren't flowing.




Overview

: This unique campground is located 3 miles northeast of Colville with 120 acres on Mill Creek, operated by the DNR at 1823' elevation, open April through November; GPS: 48.61665, -117.90535.


Facilities

: Numerous facilities include vault toilets, drinking water, picnic tables, fire rings, a ball field, and a picnic shelter, and camp hosts.


Recreation

: The 0.2-mile Douglas Falls Grange Park Nature Loop Trail is a delight, and allows campers to see the Falls on Mill Creek both from above and below.


Campsites

(12 sites back-in sites for tents or small RVs, no hookups or reservations, FREE with Discover Pass): Sites are wooded with grass pads and good privacy, albeit somewhat primitive. This is best for tent campers, and very close to the city of Colville. It includes a 0.2-mile walk to the 60' waterfall on Mill Creek, plus a cable walking bridge, giving this park a very remote feeling.


Trip Notes

: This campground is very steeped in history -- not in an academic sense, but in a way that takes you back to the feeling of pioneer times. Everything has a hand-made, custom feel. The Day Use Area is used by the community of Colville, and the pastoral areas around the park are left very natural. Don't come here expecting Disneyland, just good, natural camping, and an experience of vintage Washington.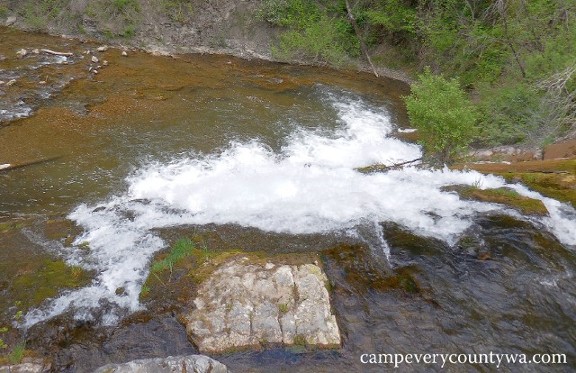 The Falls at Douglas Falls Grange Park have been used to run a sawmill, a distillery, and now a popular campground near Colville
For more photos of Douglas Falls Grange Park CG click HERE
Upper Lake Roosevelt
Lake Roosevelt is a 150-mile long reservoir formed from the Columbia River behind Grand Coulee Dam. The Upper Arm, separating Ferry and Stevens Counties, runs north-south from north of the Canadian border to roughly Fort Spokane. During the spring, the reservoir water level decreases substantially, and the appearance of the many campgrounds in the shallower Upper Arm changes accordingly. Yet, the campgrounds remain popular throughout the year, showcasing their resilience and timeless beauty.

Kettle Falls Campground

(includes Stevens Co.'s BEST GROUP CG)


The campground occupies the original townsite of Kettle Falls. The falls were submerged by the creation of Lake Roosevelt after the completion of Grand Coulee Dam, and the townsite moved to higher ground in 1938.


Overview:

This underrated campground is

located 3 miles west of the current city of Kettle Falls, managed by the NPS at 1631' elevation, open year round; GPS 48.28638, -118.12003.


Facilities

: This extensive campground includes vault toilets, running water (seasonal), picnic tables, fire rings, picnic shelters, a playground, an amphitheater, softball fields, a boat launch/dock, fish cleaning stations, a marina with a "floating bathroom," houseboats for rent, camp hosts, and an RV dump station.


Recreation

: Boating, fishing and water skiing are popular here, although the Lake is not very accessible to swimmers.


Campsites

(77 sites for tents and RVs up to 30', no hookups, 2 Group Camps for 50-75, reservable):

Sites are level with many asphalt back-ins. The vegetation is thin stands of Ponderosa pine, providing average privacy, as the sites are of average size. Caution: There is some daytime noise from a nearby mill.


Trip notes

: My campanion Tom, who arrived at the campground several hours before me, dubbed the campground as "rather boring, just 3 camping loops and a dry marina." True, Roosevelt Lake levels were at an all time low, but I decided to take my dog Boca and explore the entire campground myself. The famed houseboats and "floating bathroom" were stranded on dry ground, but I was impressed that other boats were still able to launch (not true of nearby Evans, Marcus Island, or other campgrounds). Then we spotted a simple sign that said "Trail," pointing away from the marina. We found ourselves in a stunning Locust Grove, worlds apart from the familiar coastal firs and spruces of my hometown. Soon we came to another sign that said "Group Camp." We entered from the backside, preferring to stay among the locust trees and off the asphalt road. Suddenly, I spotted another sign. This said "Gust Weigelt, Manufacturer and Importer, Harnesses and Saddles..." I saw remnants of the foundations, sidewalks, and steps to the businesses that lined the main commercial streets of pre-1938 Kettle Falls. I became mesmerized by the feeling that I had been transported back 80 years. I stayed until nearly dark, just taking it all in. This was the ultimate experience of "experiencing Washington State from the ground up," the very purpose of this project. When you visit this campground, do not miss this part of the experience.


Local Alternatives

: A nearby alternative is Evans CG to the north (46 sites, no hookups or reservations). Its one advantage over Kettle Falls is a swimming beach, open when lake levels are higher. Marcus Island CG is intriguing when the water levels are high, and the entire park turns into a long, narrow island with a causeway to the mainland; when the levels are low, it looks like a narrow wooded ridge and loses some of its charm. Check lake levels before heading out.


Local Attractions

: Include Saint Paul's Mission and Fort Colville.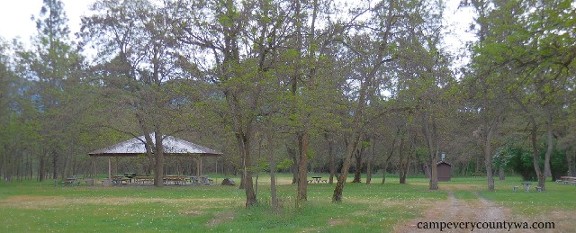 Kettle Falls Campground is built of the original townsite of Kettle Falls
For more photos of Kettle Falls Campground click HERE
Hunters Campground

(Stevens Co.'s MOST APPEALING CG TO THE SENSES)
This campground rests on a blunt prominence of Lake Roosevelt where it take a short but sharp turn to the east. As such, it has a wide vista of views for very long stretches. Every time you walk a few yards or turn your head, you will see something different and wonderful.


Overview

: This panoramic campground is located 41 miles southwest of Colville and 3 miles west of Hunters with extensive Lake Roosevelt shoreline, managed by the NPS at 1314' elevation, open year round; GPS 48.12463, -118.3119.


Facilities

: This nicely equipped campground includes vault toilets, running water (seasonal), picnic tables, fire rings, a massive boat launch/dock, a great swimming area, an RV dump, and camp hosts.


Recreation

: Sure, there are fishing, boating, and other water sports on the Lake, but these views could easily mesmerize most campers into just staring for days.


Campsites

: (37 individual sites plus 3 group sites for up to 25 people each, no hookups, reservations required for group sites): Individual sites along the water are flat, whereas those away from the Lake can be slightly sloped. Privacy is moderate to good, and all have some shade trees. The best sites are along the River, although these are few in number, and weekdays may be better for arrival, since there are no reservations for individual sites.The group sites are all flat. Note that the group sites are not on the Lake, but have partial lake views. This is one of the more developed group sites, although its popularity can work against it in terms or privacy.


Trip Notes

: The view of Lake Roosevent is phenomenal from here, as the campground sits where the Columbia River takes a sharp 90 degree turn, and we felt as if we were staring at two different arms of the River at the same time. We could see this sweeping view from the individual campsites, which were a surprise for us, as only the group campground gets attention. The 3 group camps were way too close together for our liking, and our tendency might be to reserve all three at one time with a larger group.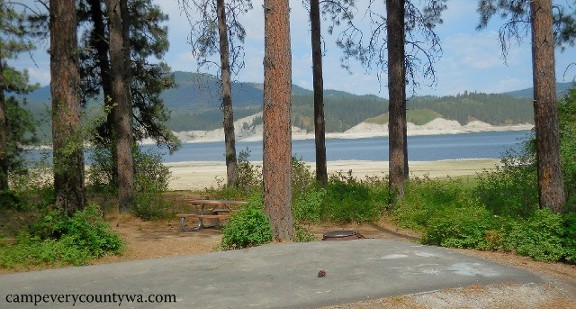 Hunters Campground has one of the best views of Lake Roosevelt
For more photos of Hunters CG click HERE
The Colville River Watershed
The Colville River Watershed covers over 1,000 square miles and over 40% of the entire land area of Stevens County. The Colville River begins at the confluence of Sheep Creek and Deer Creek near Springdale in the south end of the County, and flows 53 miles before emptying into the Columbia River/Lake Roosevelt just south of Kettle Falls. There are a number of natural lakes in this area that provide camping. Many of the streams have been dammed for irrigation, leaving many more reservoirs stocked with fish and just waiting for anglers, water skiers, and campers to investigate the area's many possibilities.
Deer Lake RV Resort and Campground

(Stevens Co.'s BEST EQUIPPED/ BEST CG FOR RVs and BEST CG FOR FAMILIES)
Deer Lake is the largest and most pristine of the natural lakes in the Colville Watershed, surrounded by lush forests, abundant wildlife, and mountain peaks. The Resort manages to meld a perfect mixture of luxury, nature, and a good time to be had by all.


Overview

: This large campground is located 35 miles north of Spokane and 35 miles south of Colville on 1,146 acre Deer Lake, privately operated on 195 acres at 2474' elevation, open (March 1 through October 3; GPS 48.11176, -117.58663.


Facilities

: This well-equipped resort includes picnic tables, fire rings, laundry, Wi-Fi, an amphitheater, a swimming area, Country Store, the Country Griddle Cafe, Mini Golf, organized Water Sports, boat slips, boat rentals (motor boats, row boats, paddle boats, and kayaks), boat launch and docks, trash pick up, excellent camp hosts, and an RV dump.


Recreation

includes fishing for black bass, largemouth bass, smallmouth bass, crappie, perch, kokanee salmon, and rainbow trout. Boating, hiking, sailing, cross-country skiing, swimming, wildlife viewing, birding, and kayaking are also popular.
Campsites (16 tent sites and 65 RV sites with full hookups 30/50 amp, 3 Regular Cabins, 1 Loft Cabin, 4 Camp Wagons, 2 Condos, 1 House with 2 units, all reservable): RV sites are both pull-through and back-in, and closely spaced. Tent sites are more wooded and spread out. Privacy may be a challenge here, and shade is at a premium, as the tent sites are dispersed on a large lawn, and the RV area has very little vegetation between sites.


Trip Notes

: We preferred this lake and campground to the others in the watershed for its natural feel. You know immediately that it is a natural, spring fed lake, as its crystal waters mirror the mountain peaks and thicker forests, and create the backdrop for mesmerizing sunsets. Unique to this place are the Camp Wagons, which are small covered wagon-like tents that can sleep a small family -- very novel -- and the Water Sports -- organized games on the Lake. Families definitely love this place. Note that it is very busy in the summertime, so be prepared to have lots of company.


Local Alternatives

: Nearby Winona Beach Resort sits on 472-acre Waitts Lake/Reservoir with plenty of old world charm, but also has a large number of long term residents. This well-equipped facility includes bathrooms with flush-toilets and showers, picnic tables, fire rings, a playground, Wi-Fi, a swimming beach, 5 boat docks, boat rentals, boat launching facilities, a snack bar, antique store, general store, and an RV dump. It has 64 sites for tents and RVs up to 40', 57 with full and partial 30/50 amp hookups, with 8 cabins. The 20 RV sites on the lakeshore are the best in the Park, and are separated from the long-term residents who can make some campers feel like they're lodging instead of camping. If you feel otherwise, this might be your better choice for people who like a less crowded camping experience, although this depends on where you're placed.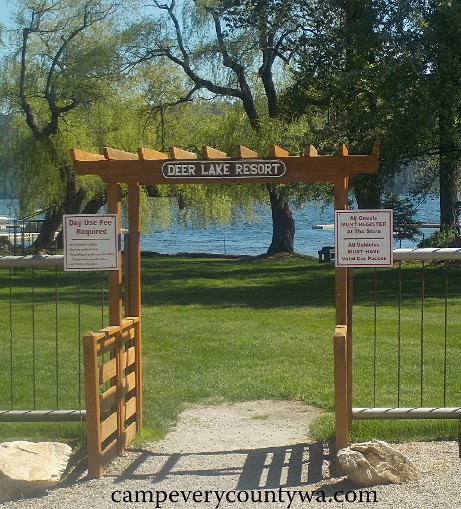 Deer Lake Resort rests on the the largest and most pristine of the lakes in the Colville Watershed
For more photos of Deer Lake Resort click HERE
Spokane River
The Spokane River drains beautiful Lake Couer D'Alene in northern Idaho and empties into the Columbia River/Lake Roosevelt near Fort Spokane. Along the say, especially along the River's north shore, campers find a reprieve, far from the city lights of Spokane or the larger or more commercial parks along the way.

Lake Spokane Campground

(Stevens Co.'s BEST RUSTIC CG)
Lake Spokane, also known as Long Lake, is a 25-mile long reservoir running between Nine Mile Falls Dam and Long Lake Dam to the west.


Overview

: This pretty little campground is located 22.1 miles northwest of Spokane on the north shore of 4,748-acre Lake Spokane, owned by DNR and operated by the Avista Corp. in cooperation with Riverside S.P. at 1700' elevation, open April 15 to October 15; GPS: 47.9046, -118.30915.


Facilities

: Limited facilities include vault toilets, drinking water by hand pump, picnic tables, fire grills, a two-lane boat launch, swimming beach, cell phone service, and camp hosts.


Recreation

: These include swimming, fishing for bass and trout, and boating activities of all kinds including water skiing, windsurfing, sail boating, and kayaking/canoeing.


Campsites

(12 sites for tents or RVs up to 30', only site 10 has hookups and is reservable): Sites retain that shaggy DNR appearance -- very functional but natural, surrounded by Ponderosa pine, overlooking Lake Spokane from a small bluff. Site 10, unlike the other sites, comes equipped with full hookups, a private toilet, and a killer view of Lake Spokane from the edge of the bluff.


Trip Notes

: This rustic gem is used primarily by boaters entering Lake Spokane. The campground may be rustic, but the Day Use Area shines brightly, well equipped and well manicured. The day users come and go, but then we campers have the place all to ourselves, overlooking the seemingly endless lake from our folding chairs and our cold beverages without a care in the world. Balance is good, and you'll find it right here.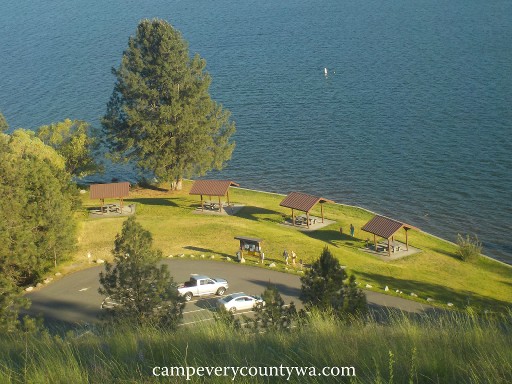 Looking down at the Lake Spokane Day Use Area from the campground above
For more photos of Lake Spokane CG click HERE
Lake Spokane Boat-In Campsites, Stevens Co.

(Stevens Co.'s BEST BOAT-IN CAMPSITES)


Long Lake Dam, which created Lake Spokane from a 25-mile stretch of the Spokane River, is owned and operated by the Avista Corporation. They have created a series of 10 boat-in only campsites on both shores of the Lake for recreational use. You want to get away from the crowds without giving up Lake Spokane? This is your place.




O

verview: Located 18 miles west of Spokane on the north shore of 4,748-acre Lake Spokane (a.k.a. Long Lake), owned by the Avista Corporation and managed by Riverside S.P. at 1536' elevation, open year round; GPS coordinates for nearest access at Long Lake Dam put-in are 47.83722, -117.83972.


Facilities

include vault toilets, boat docks in each group of campsites, concrete tables, fire pits, sitting rocks, and graded areas.


Recreation

includes sail boating, windsurfing, boating of all kinds, plus trout and bass fishing March through October.


Boat-In Access

: These sites are best accessed from the Long Lake Dam Picnic Area. This is located at the western extreme of Lake Spokane. Alternatively, they can be reached from Lake Spokane CG, which requires a longer boat ride/paddle.


Campsites

(6 boat-in sites on the Stevens Co. side, plus 4 on the Spokane Co. side, no hookups or reservations): The closest boat-in sites to the Long Lake Dam Picnic Area are referred to as the "North Shore A & B." Three additional sites, just east, are named the "Amy Lane" sites. An additional "informal" boat-in site is further to the east near the town of Tumtum.


#For more information, see Lake Spokane Boat-In Campsites under Spokane Co.#




Stevens Co. Boat-In Alternatives

: Most of the Lake Roosevelt campgrounds have boating docks; however, they are inaccessible by boat when Lake levels drop in spring and early summer. The best boat-in only alternative is Summer Island CG near confluence of Lake Roosevelt and the Kettle River. There are six campsites, but if you're lucky, you will have this small island all to yourself. Visit in mid to late summer due to water level fluctuations.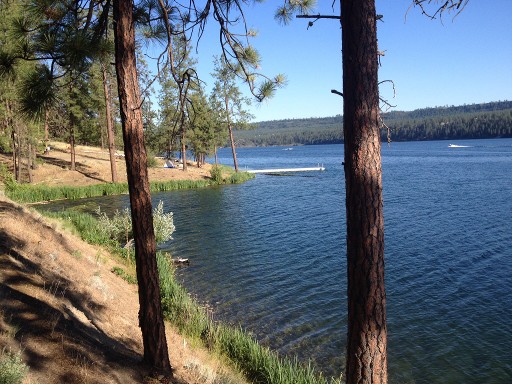 The Lake Spokane Boat-In sites are the best in Stevens County
For additional photos of Lake Spokane Boat-In Campsites click HERE