There is no denying that the City of Spokane dominates this smallish county of the same name. Outside the City are mostly small fishing resorts, an Air Force base, and college campuses; but inside, along the Spokane River, on Mount Spokane, and even nestled among the suburbs, you'll fine some pretty worthwhile camping.
Riverside State Park
This 14,000-acre behemoth State Park is the largest in Washington, barely outsizing its neighbor Mount Spokane S.P.; but don't take this to mean it lives in Mount Spokane's shadow. Oh no, no, no, no. It outshines Mount Spokane in nearly every form of summer recreation, including boating, swimming, fishing, and especially camping.
Bowl and Pitcher Campground at Riverside State Park

(Spokane Co.'s MOST APPEALING CG TO THE SENSES)


Riverside S.P. began here, built by the CCC in the 1930s. It still retains that vintage charm, most notably in the iconic suspension bridge over the roiling and churning Spokane River.




Overview

: Located 6 miles from downtown Spokane at 1707' elevation, open year round; GPS 47.696, -117.4944.


Facilities

include bathrooms with flush toilets, picnic tables, fire grills, a CCC Picnic Shelter (rentable), an amphitheater, camp hosts, and an RV dump station.


Summer Recreation

include swimming, fishing, boating, horseback riding, whitewater rafting, and hiking. The Centennial Trail offers 37 miles of biking and hiking trails, then, for those who won't be confined to the State Park boundaries, continues through downtown Spokane, the Spokane Valley, and on to Couer d'Alene Idaho. See other Riverside S.P. campgrounds for more recreational information.


Winter Recreation

includes cross-country skiing, snowshoeing, snowmobiling and all around snow play.


Campsites

(32 back-in sites for tents and RVs up to 45', including 17 with water & electric 30/50 amp hookups, reservable): Sites are lightly forested with Ponderosa pine with graveled pads. Sites are small to average, level and open with poor to average privacy. Sites 1-14 have less shade, but are larger and have a view of the river, all have hookups; sites 15-17 are hookup sites that are smaller with better shade, and the best RV sites overall; sites 18-33 are tent sites that are smaller with better shade. Sites 32 and 33 are the best tent sites overall.


Trip Notes

: The big draw is the Spokane River with its spire-like geological formations and the foot bridge originally built by the CCC. It has since been rebuilt for easier and safer crossing. This leads to great hiking beyond (including the Centennial Trail), but the view from the bridge alone is worth the trip. As most RV sites (1-14) get full sun, be sure to bring a canopy. When we campws here, I spend much of my time in a lawn chair by the River, shaded by the rock formations, and reading a good book.


Local Alternatives

: An Equestrian CG lies to the south across the River with 21 sites, restrooms, an-ADA mounting platform, a newly renovated riding arena, and gateway to miles and miles of trails. The campground is located just off Aubrey L. White Parkway. Also see Nine Mile Recreation Area (below).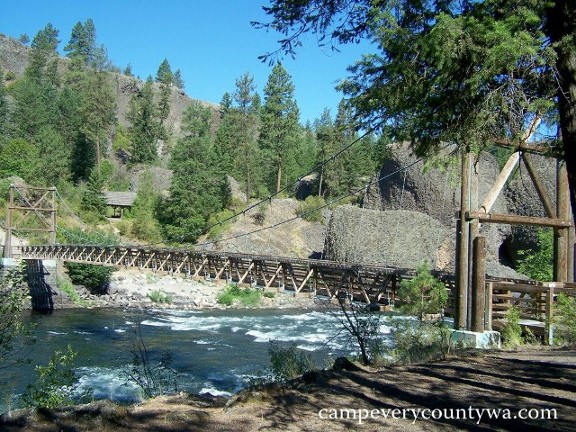 The iconic foots bridge at Riverside State Park was originally built by the CCC but later replaced for safer crossing
For more photos of Riverside S.P. click HERE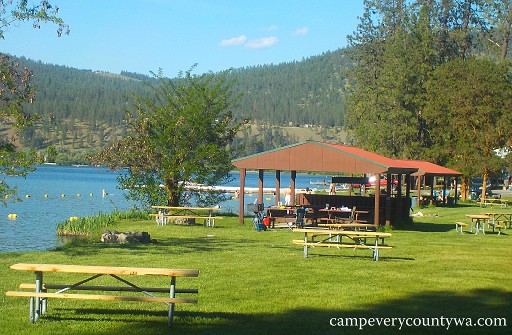 Campers are drawn to Nine Mile Recreation Area by the simple beauty of Lake Spokane
For more photos of Nine Mile Recreation Area and CG click HERE
Lake Spokane Boat-In Campsites, Spokane Co.

(Spokane Co.'s BEST BOAT-IN CAMPSITES)


Long Lake Dam was the largest and tallest (213 feet) hydroelectric power project in the world when completed on the Spokane River in 1917, and is listed in the National Register of Historic Places. Although now surpassed by larger dams, the shores of 25-mile long Lake Spokane (formerly Long Lake) are a camper's and boater's delight.




Overview

: Located 18 miles west of Spokane on the south shore of 4,748-acre Lake Spokane within Riverside S.P., operated by the Avista Corporation and WDFW at 1536' elevation, open year round; GPS coordinates for nearest access at Lake Spokane CG are 47.835739, -117.76337.


Facilities

include vault toilets, boat docks in each group of campsites, concrete tables, fire pits, sitting rocks, and graded areas.


Recreation

includes sail boating, windsurfing, boating of all kinds, plus trout and bass fishing March through October.


Boat-In Access

: These sites can be accessed from Nine Mile Rec. Area CG, but require a 10-12 mile paddle for kayakers/canoers. The most immediate access is from Lake Spokane CG on the north side/Stevens Co. side of the Lake, where boaters will find ample parking and a 2-lane boat launch.


Campsites

(4 boat-in sites on the Spokane Co. side, plus 6 on the Stevens Co. side, primitive/no hookups, no reservations): The 3 closest boat-in sites to Lake Spokane CG are referred to as the "Mulay Boat-In" sites. A fourth site, sitting at the southernmost saddle of the Lake, is unnamed.
#For more information, see Lake Spokane Boat-In Campsites under Stevens Co.#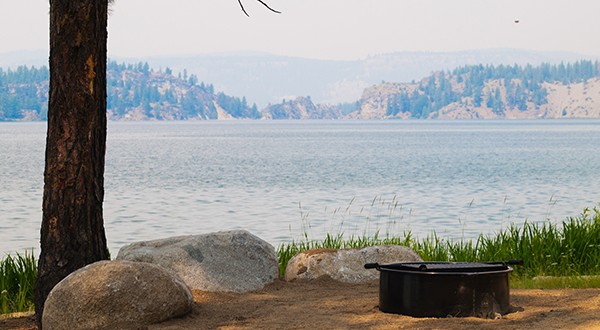 Boat-In only campsites line Lake Spokane on the north and south shores
For more photos of the Lake Spokane Boat-In Sites click HERE
Mount Spokane State Park
Located on 13,919 acres, Washington's largest state park was largely inspired by the Civilian Conservation Corps (CCC) in the 1930's, leaving behind remnants in the form of stone and log lodges, historic cabins, heritage sites, and picnic shelters. But nature created the biggest inspiration of all, namely 5,883-foot Mount Spokane, from which visitors can see Idaho, the City of Spokane, and the entire Selkirk Mountain Range. Hikers and snow shoers find a complex system of trails, skiers find ski slopes that are sometimes open into June, and campers find small campgrounds nestled between this whirlwind of possibilities.

Bear Creek Lodge Campground

(Spokane Co.'s BEST BIKE-IN CG)
When Bear Creek Lodge opened in 1952 it was touted as the widest single span wood structure west of the Mississippi. Major improvements began in 2001 by the original Linder family, and it remains a family-run business.


Overview

: The cozy lodge and campground are located 25 miles northwest of Spokane at the entrance to Mt. Spokane S.P., family-operated at 3100' elevation, open May to mid-October; GPS 47.8825° N, 117.1352° W.


Facilities

: These include two unisex bathrooms with showers, drinking water, picnic tables, fire grills and a camp host. The Lodge itself features 15 rooms, high speed internet service (AirPipe), restaurant serving American-style cuisine (chicken and country-style barbecued pork ribs, vegan and gluten-free dishes).


Recreation

: See Bald Knob CG (below). A horse unloading dock is located one-quarter mile inside the S.P. entrance.


Campsites

(13 sites for tents or RVs of any size, water & electric 110 volt hookups, reservations are recommended): Sites are small to medium in size with shade trees and average privacy. Level sites are good for RVs, providing both good access to the Lodge and quiet camping.


Trip Notes

: It's a family thing. Is everything perfect at every moment? Of course not, but it will be attended to, and it will be done well. The welcome sign at the entrance to the tubing hill tells it all -- Welcome! And once you get used to feeling welcome, go to the Lodge and have a nice dinner. The s'mores can wait until tomorrow.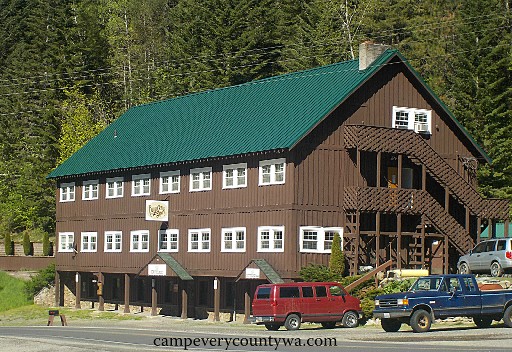 When Bear Creek Lodge opened in 1952 it was touted as the widest single span wood structure west of the Mississippi
For more photos of Bear Creek Lodge CG click HERE
Bald Knob Campground

(includes Spokane Co.'s BEST GROUP CG)
It may be right off the drive to the top of 5,883' Mount Spokane, but arriving by bicycle or hiking trails helps campers further appreciate this otherwise unexceptional campground. Summertime campers come for the views, which extend as far as British Columbia and Montana, or the other mountain peaks in this southernmost reach of the Selkirk Mountain Range. Winter visitors come for the ski lifts, snow shoeing, and the 300' of snow that gathers every year.


Overview

: Located 25 miles northwest of Spokane at 5111' elevation, open late May to mid-September depending on snow; GPS 47.9129, -117.1128.


Facilities

: Flush restroom, vault toilet at the Group Site, drinking water, one kitchen shelter. The Park has five lookout structures, including the 1933 native stone Vista House at the summit offering sweeping views. The CCC-built Cook's Cabin is reachable by a short hike. Nearby Quartz Mountain offers a rentable fire lookout with wrap-around windows that sleeps 4, perched at 5129' with views to match.


Summer Recreation

: Hiking and horseback riding on 100 miles of trails, bicycling in 90 miles of trails, including the popular ride to the summit. Huckleberry picking, geocaching at the summit, and bird-watching are popular, plus berry picking is exceptional. And finally: Skiing in June! Call ahead for those times when the campground and slopes are open simultaneously.


Winter Recreation

: Mt. Spokane S.P. Sno-Park features cross-county skiing and a 23km skate lane, and is shared by snow mobilers. A Groomed Sno-Park Pass is required.


Campsites

(8 back-in sites for tents or RVs up to 30', one group campground for up to 60 people, no hookups or reservations): Sites are small to medium, with little vegetation between sites, though the campground itself is surrounded by forest.


Trip Notes

: While the campground is rather plain, this provides a distinct advantage for group campers who are seeking space and relative privacy. It is a great gathering place for the many activities throughout the park, but it is also good camping for those willing to create their own camping environment surrounded by family and friends.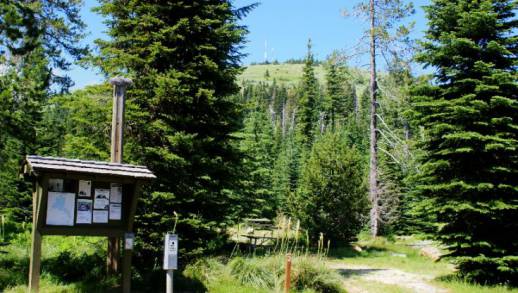 Bald Knob Campground allows bicyclers to explore Mount Spokane up close and personal
For more photos of Bald Knob CG click HERE
The Spokane Suburbs
A few Spokane suburbs make up the remainder of Spokane County. South of Cheney lies the Turnbull National Wildlife Refuge which is great for wildlife viewing, but not camping. Just west of Spokane is the Medical Lake Area -- great for fishing and boating, but again, not for camping. And the Spokane Valley? No camping here. For suburban camping, we must turn to the communities of Cheney, Deer Park and Liberty Lake.
Dragoon Creek Campground

(Spokane Co.'s BEST FREE and BEST RUSTIC CG)


Funding from the Discover Pass re-opened this much-loved campground near Deer Park. Wade in the stream, stroll through the piney forest, and enjoy rustic camping near great facilities.




Overview

: Located 14 miles north of Spokane off Hwy 395 on the banks of Dragoon Creek (a tributary of the Little Spokane River), operated by the DNR at 1971' elevation, maximum 3-day stay, open May to September.; GPS 47.8884, -117.4433.


Facilities

include vault toilets, drinking water, picnic tables, fire grill, picnic shelters, grassy meadows near the Creek, camp hosts.


Recreation

: This includes trout fishing, wading in the Creek and its pools, kite flying and Frisbee throwing. The Deer Park Golf Course is nearby.


Campsites

(23 back-in sites for tents or RVs up to 40', no hookups or reservations, FREE of charge with Discover Pass): Sites are in 2 loops, upper and lower, are well-spaced with good shade trees.


Trip Notes

: This campground is about location, located just north of the Spokane city limits surrounded by multiple family farms. It has that shaggy DNR look, where nothing is quite perfect, nor does it strive to be, but provides a rustic and comforting camping experience. There is little access to Dragoon Creek itself, but its rippling waters provide coolness in the summer heat and will lull you to sleep at night.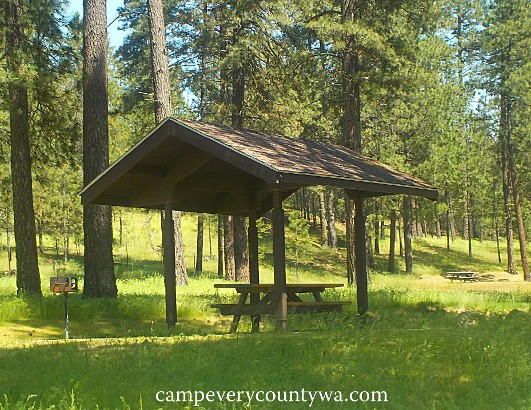 The simple campground at Dragoon Creek has been kept open by public demand
For more photos of Dragoon Creek CG click HERE
Ponderosa Falls RV Resort and Campground

(Spokane Co.'s BEST EQUIPPED/BEST CG FOR RVs)
As you wander around the myriad of tent and RV sites, cabins, bungalows, playgrounds, and miniature golf lanes, you will occasionally find glimpses of cartoon bear images that tweak the memories of the older, but may be lost on the younger. That is because this is a former Yogi Bear's Jellystone Park, modeled after the old children's cartoon, now retro-fitted for modern campers. Ironically, you will find far more adult campers than children, who are more drawn to campgrounds like Nine-Mile and Liberty Lake, where they have more room to roam, trees to climb, and their own adventures to create.


Overview

: Located 10 miles west of Spokane near Cheney, operated by K/M Resorts at 2535' elevation, open year round; GPS 47.584609, -117.540926.


Facilities

: This well-equipped facility includes bathrooms with showers, a heated indoor pool and sauna, workout room, playground, miniature golf, sports courts, community fire pit, laundry, Wi-Fi, Cable TV, Camp Store, RV dump, and camp hosts.


Recreation

: It's playtime, campers. Put down the fishing poles, hiking boots, and body boards, and just play.


Campsites

(28 tent sites,156 RV sites with full hookups 30/50-amp, 5 bungalows, 7 cabins, reservable): The Park is becoming surrounded by suburban sprawl, visible through the chain link fence that surrounds the campground on two sides. RV sites are a mixture of back-ins and pull-throughs on gravel or sandy pads. Tent sites are walk-ins with parking close by. Our favorite sites are those on the hillside interspersed with the cabins and bungalows. Some have camping decks that overlook the rest of the Park. This small area has its own bathrooms and a dish washing sink, and affords more privacy than the rest of the Park.


Trip Notes

: This one is rather commercial, but that's its strength, provided that's what you're looking for. Some RV sites on the upper level have decks that look out over the rest of the Park. The cabins and bungalows have similar views. And it's hot over here -- an indoor pool can be a relief; plus they have separate times for children, adults, and families. Miniature Golf adds another dimension, but is a "sport" only the most hopeless of competitors will take too seriously. Yes, the falls are artificial, but you're not in the wilderness, you're in the suburbs near Cheney. Take a load off, loosen up, and have a little fun.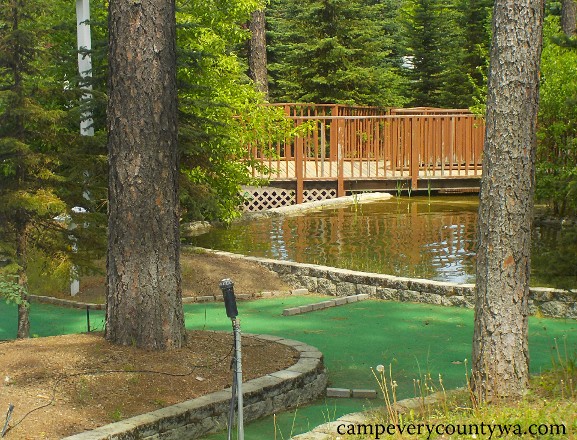 Touches of the old Yogi Bear Jellystone Park are slowly disappearing,
giving way to a modern RV campground.
For more photos of Ponderosa Falls RV Resort and CG click HERE
Liberty Lake Regional Park

(Spokane Co.'s MOST UNIQUELY WASHINGTON CG, and includes BEST HIKE-IN Campsite at Camp Hughes Cabin)
One of the largest county parks in the State of Washington, Liberty Lake Regional Park comprises over 3,591 acres of wetlands, lakeshore, rain forest-like wetland forests, irrigated turf, and conservation areas.


Overview

: This ever-evolving park is located 17 miles southeast of Spokane on 696-acre Liberty Lake, operated by Spokane County Parks at 2073' elevation, with camping for the main campground open May 1st to Sept. 30th; camping along the Liberty Lake Loop Trail is open year round; GPS (see below).


Facilities

: These include bathrooms with showers, picnic tables, fire grills, a Picnic Shelter, swimming beach with lifeguards, BBQ area, playground, 7 miles of hiking trails, nearby WDFW boating access, RV dump, and camp hosts.


Recreation

: Here we start with fishing for trout, large and small mouth bass, and bluegill. Also popular are swimming, volleyball, and especially hiking. The Liberty Lake Loop Traihead is just off the RV area, the start of an 8.5-mile round trip hike up to waterfalls, shaded forest, and cedar groves. The trail is well maintained and considered of moderate difficulty with a 1483' elevation gain. Diamond spikes and trekking poles are recommended. Mountain biking is also permitted. The equally long Edith Hansen Riding Trail shares the same forests, but is reserved exclusively for horseback riders. The trailhead is located near an equestrian-friendly parking area off of S. Idaho Road.


Campsites

(9 tent sites, 17 sites for RVs of any size, water/electric 30 amp hookups, 2 Lake View cabins plus the Camp Hughes Cabin, 1 Group Site, reservable): Tent sites 4-13 sit on the edge of marshy grasslands once covered by lake water. The area was drained a century or so ago for pasture land, and is now being restored to its original ecosystem. Sites here are back-ins and reasonably spaced with views of the distant lake. Sites 1-3 sit higher up, and were closed for restoration during our stay. RV sites have gravel pads, and are all long side-by-side pull-throughs. Privacy is only average with partial shade. The Lake View cabins are very new and modern, with excellent lake views. The most famous cabin, known as the Hughes Cabin, makes for the best hike-in campsite in the area.


Trip Notes

: It took a second stay here to finally get it -- this is a live, evolving ecosystem. On our first trip, we wondered why the camping area was not on the Lake; on this, our second stay, we realized that those verdant green pasture lands were originally the south end of the lake, when the pragmatic needs of this once rural area meant draining it for livestock. Maybe if we come back in a few decades, our sites will be lakefront once again. Until then, it is an interesting, quirky place that the kids love, and where adults can find plenty of R & R.


Other Alternatives

: Other Spokane Co. hike-in campsites include those on the Fisk Property, the newest addition to Riverside S.P. This area is still under development.


Directions

: GPS is not accurate here, so follow these directions westbound on I-90 through Spokane:

Take Liberty Lake exit 296


Enter roundabout and exit onto Liberty Lake Road to head south over the freeway

Turn left to go east on E Appleway Avenue

Turn right on N Molter Road and continue 1.1 mi until you reach E Valleyway Avenue (golf course pond on left)

Turn Left on E Valleyway Avenue and continue, become S Lakeside Road, stay left at the "Y", road narrows (2.5 mi)

Turn right on S Zephyr Road to park entrance (.4 mi)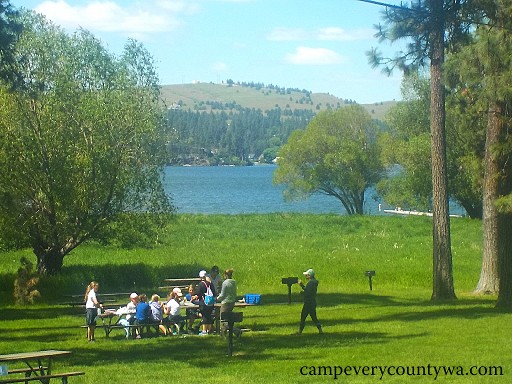 Liberty Lake Regional Park offers a quirky place kids love, and where adults can find plenty of R & R
For more photos of Liberty Lake Regional Park click HERE