This website is intended as an adjunct to the paperback book 'Camp Every County, Washington' by Brendan J. McDonald, available on Amazon.com. Included on this website are photographs and texts which could not be included in the paperback edition, where you will find full narrative versions of each section found below.
Bowl and Pitcher Campground at Riverside State Park
(Spokane Co.'s MOST APPEALING CG TO THE SENSES)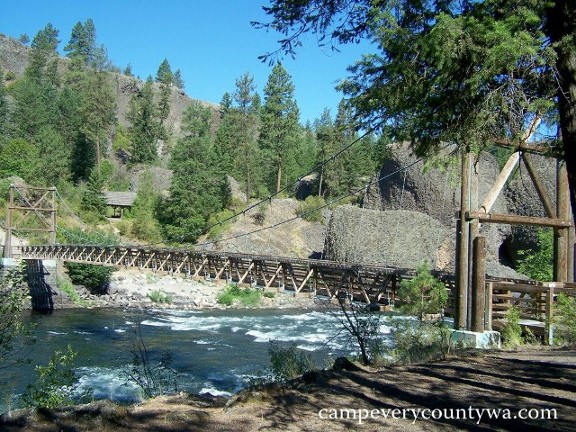 The iconic footbridge at Riverside State Park was originally built by the CCC but later replaced for safer crossing
For more photos of Riverside S.P. click HERE
Nine Mile Recreation Area and Campground at Riverside State Park (Spokane Co.'s BEST CG FOR ENTIRE FAMILIES)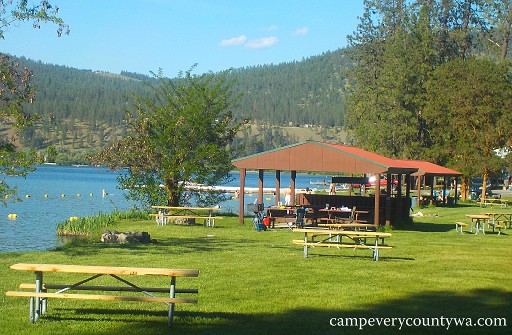 Campers are drawn to Nine Mile Recreation Area by the simple beauty of Lake Spokane
For more photos of Nine Mile Recreation Area and CG click HERE
Bear Creek Lodge Campground (Spokane Co.'s BEST BIKE-IN CG)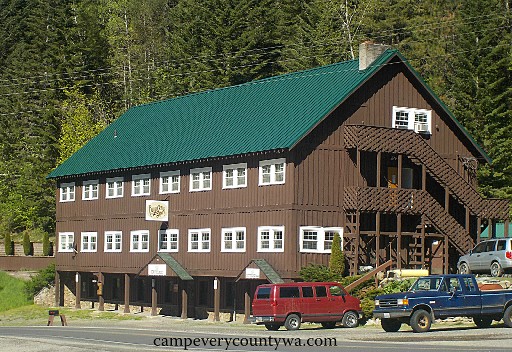 When Bear Creek Lodge opened in 1952 it was touted as the widest single span wood structure west of the Mississippi
For more photos of Bear Creek Lodge CG click HERE
Dragoon Creek Campground (Spokane Co.'s BEST FREE and BEST RUSTIC CG)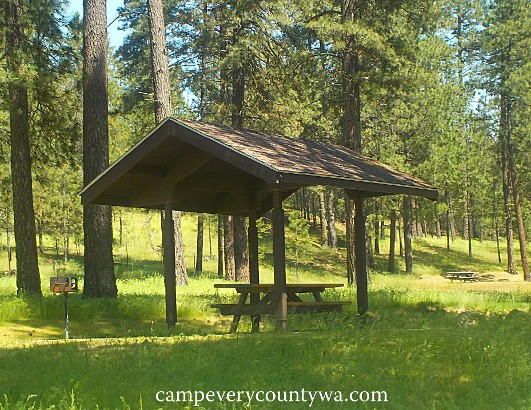 The simple campground at Dragoon Creek has been kept open by public demand
For more photos of Dragoon Creek CG click HERE
Ponderosa Falls RV Resort and Campground (Spokane Co.'s BEST EQUIPPED/BEST CG FOR RVs)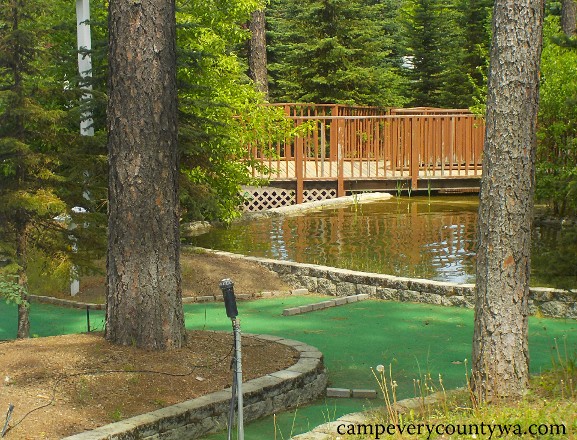 Touches of the old Yogi Bear Jellystone Park are slowly disappearing,
giving way to a modern RV campground.
For more photos of Ponderosa Falls RV Resort and CG click HERE
Liberty Lake Regional Park (Spokane Co.'s MOST UNIQUELY WASHINGTON CG, and includes BEST HIKE-IN Campsite at Camp Hughes Cabin)s (2.5 mi)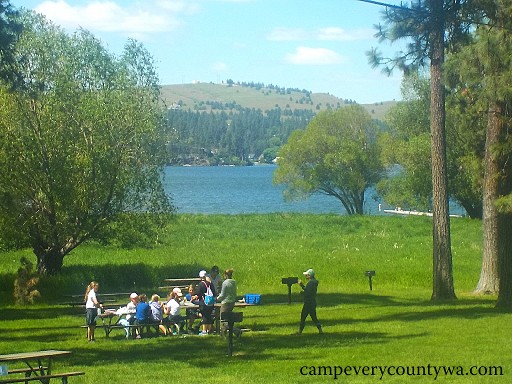 Liberty Lake Regional Park offers a quirky place kids love, and where adults can find plenty of R & R
For more photos of Liberty Lake Regional Park click HERE
Bald Knob Campground

(includes Spokane Co.'s BEST GROUP CG)
It may be right off the drive to the top of 5,883' Mount Spokane, but arriving by bicycle or hiking trails helps campers further appreciate this otherwise unexceptional campground. Summertime campers come for the views, which extend as far as British Columbia and Montana, or the other mountain peaks in this southernmost reach of the Selkirk Mountain Range. Winter visitors come for the ski lifts, snow shoeing, and the 300' of snow that gathers every year.


Overview

: Located 25 miles northwest of Spokane at 5111' elevation, open late May to mid-September depending on snow; GPS 47.9129, -117.1128.


Facilities

: Flush restroom, vault toilet at the Group Site, drinking water, one kitchen shelter. The Park has five lookout structures, including the 1933 native stone Vista House at the summit offering sweeping views. The CCC-built Cook's Cabin is reachable by a short hike. Nearby Quartz Mountain offers a rentable fire lookout with wrap-around windows that sleeps 4, perched at 5129' with views to match.


Summer Recreation

: Hiking and horseback riding on 100 miles of trails, bicycling in 90 miles of trails, including the popular ride to the summit. Huckleberry picking, geocaching at the summit, and bird-watching are popular, plus berry picking is exceptional. And finally: Skiing in June! Call ahead for those times when the campground and slopes are open simultaneously.


Winter Recreation

: Mt. Spokane S.P. Sno-Park features cross-county skiing and a 23km skate lane, and is shared by snow mobilers. A Groomed Sno-Park Pass is required.


Campsites

(8 back-in sites for tents or RVs up to 30', one group campground for up to 60 people, no hookups or reservations): Sites are small to medium, with little vegetation between sites, though the campground itself is surrounded by forest.


Trip Notes

: While the campground is rather plain, this provides a distinct advantage for group campers who are seeking space and relative privacy. It is a great gathering place for the many activities throughout the park, but it is also good camping for those willing to create their own camping environment surrounded by family and friends.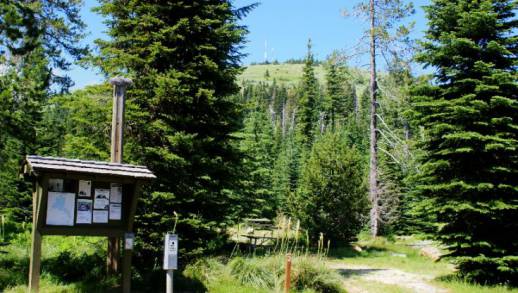 Bald Knob Campground allows bicyclers to explore Mount Spokane up close and personal
For more photos of Bald Knob CG click HERE
Lake Spokane Boat-In Campsites, Spokane Co.

(Spokane Co.'s BEST BOAT-IN CAMPSITES)


Long Lake Dam was the largest and tallest (213 feet) hydroelectric power project in the world when completed on the Spokane River in 1917, and is listed in the National Register of Historic Places. Although now surpassed by larger dams, the shores of 25-mile long Lake Spokane (formerly Long Lake) are a camper's and boater's delight.




Overview

: Located 18 miles west of Spokane on the south shore of 4,748-acre Lake Spokane within Riverside S.P., operated by the Avista Corporation and WDFW at 1536' elevation, open year round; GPS coordinates for nearest access at Lake Spokane CG are 47.835739, -117.76337.


Facilities

include vault toilets, boat docks in each group of campsites, concrete tables, fire pits, sitting rocks, and graded areas.


Recreation

includes sail boating, windsurfing, boating of all kinds, plus trout and bass fishing March through October.


Boat-In Access

: These sites can be accessed from Nine Mile Rec. Area CG, but require a 10-12 mile paddle for kayakers/canoers. The most immediate access is from Lake Spokane CG on the north side/Stevens Co. side of the Lake, where boaters will find ample parking and a 2-lane boat launch.


Campsites

(4 boat-in sites on the Spokane Co. side, plus 6 on the Stevens Co. side, primitive/no hookups, no reservations): The 3 closest boat-in sites to Lake Spokane CG are referred to as the "Mulay Boat-In" sites. A fourth site, sitting at the southernmost saddle of the Lake, is unnamed.
#For more information, see Lake Spokane Boat-In Campsites under Stevens Co.#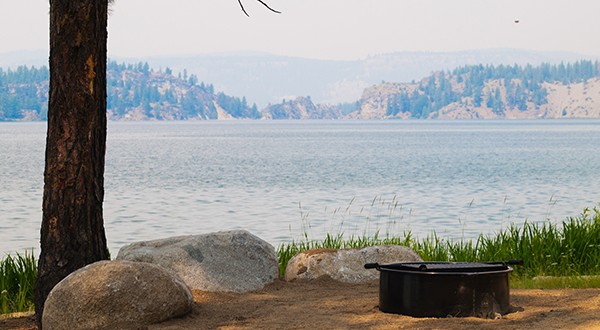 Boat-In only campsites line Lake Spokane on the north and south shores
For more photos of the Lake Spokane Boat-In Sites click HERE