This website is intended as an adjunct to the paperback book 'Camp Every County, Washington' by Brendan J. McDonald, available on Amazon.com. Included on this website are photographs and texts which could not be included in the paperback edition, where you will find full narrative versions of each section found below.
SNOHOMISH COUNTY (Everett)
Verlot Campground (Snohomish Co.'s BEST CG FOR ENTIRE FAMILIES)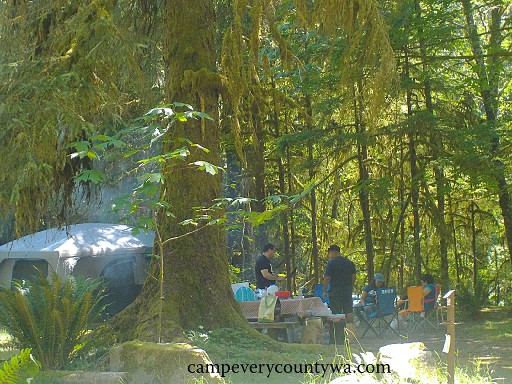 Verlot Campground, just off the Mountain Loop Highway, has a deep woods feel
For more photos of Verlot CG click HERE
Barlow Pass Boondocking Sites (Snohomish Co.'s BEST FREE CAMPSITES)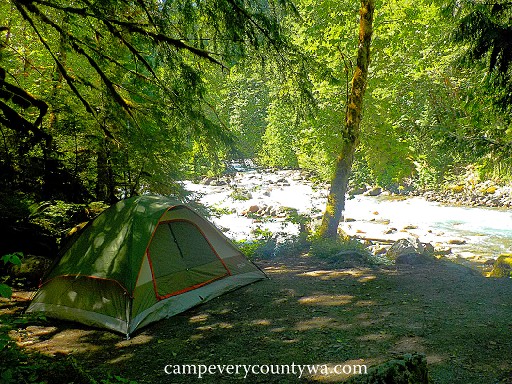 The Barlow Pass Boondocking Sites steal the show for those willing to venture onto gravel roads
For more photos of the Barlow Pass Boondocking Sites click HERE
Bedal Campground (Snohomish Co.'s BEST RUSTIC CG)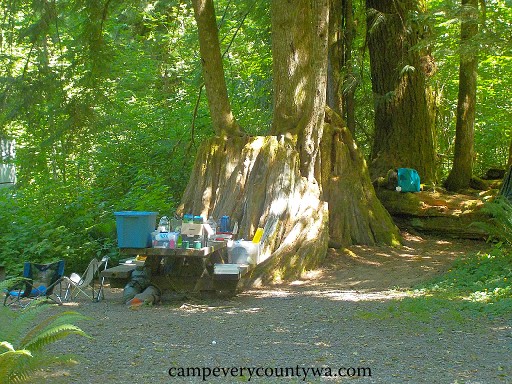 Bedal Campground shows that second grown timber can make for the best camping (given 100 years to grow back, of course)
For more photos of Bedal CG click HERE

Kayak Point County Park (Snohomish Co.'s BEST EQUIPPED and MOST UNIQUELY WASHINGTON CG)



Kayak Point Park's luxuriant campground is matched only by its
magnificent shoreline.
For more photos of Kayak Point County Park click HERE
Beckler River Campground (Snohomish Co.'s BEST BIKE-IN CG)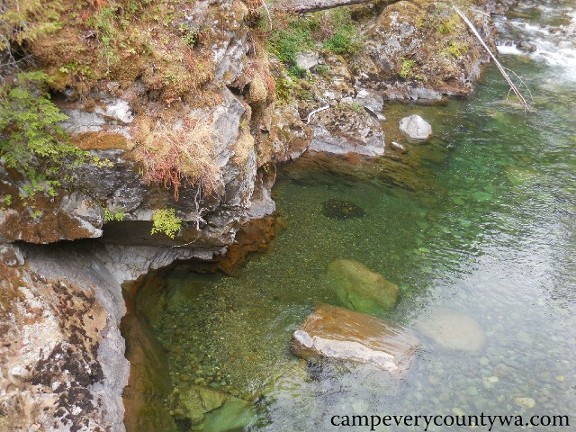 The crystalline waters of the Beckler River are said to be laden with gold,
red garnets, and adventurine.
For more photos of Beckler River CG click HERE
Troublesome Creek Campground (Snohomish Co.'s MOST APPEALING CG TO THE SENSES)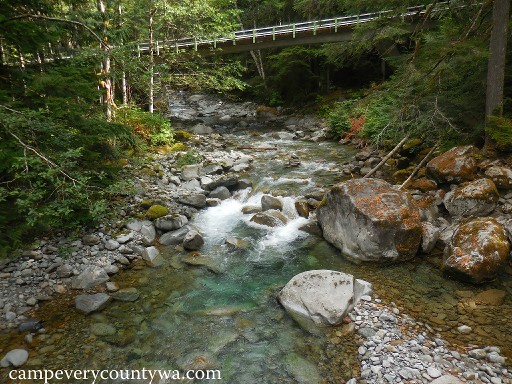 Troublesome Creek's deceptive currents have earned it its name
For more photos of Troublesome Creek CG click HERE
Wiley Creek Group Camp (Snohomish Co.'s BEST GROUP CG)
This, the best Group Camp in Snohomish County, is located on the paved section of the Mountain Loop Highway between Granite Falls and Barlow Pass, just beyond the Verlot Public Service Center.
Overview: Located 15 miles east of Granite Falls on the South Fork of the Stillaguamish River and Wiley Creek, operated by the USFS at 1073' elevation, open late May to mid-September; GPS 48.0739264875, -121.714986839.
Facilities: Group facilities include vault toilets, picnic tables, rock barbecue pits, a swimming hole and boat ramp. There is no potable water.
Recreation includes swimming and hiking on the Mountain Loop trails.
Campsites (2 Group Camps, 3 Adirondack Shelters, reservable): Group Camps A and B hold 20 people each. Group A has 2 Adirondack shelters, one holding 8 people (Beaver Lodge), and the second holding up to 12 with an attic floor (Cougars Den). The Group B shelter is two levels and can hold up to 20 people (Eagles Roost). There are also multiple tent/RV sites. These group camps are particularly popular with youth groups, scouts, and church organizations, but appeal to any close-knit group. Both camps can be rented at once.
Trip Notes: This is really two group camps that are side-by-side, so the experience can depend on the other group, and how well behaved you want to be. We had the A side to ourselves and enjoyed the tent sites by the creek with most of us sleeping up on the hill in the Adirondacks.
Local Alternatives: Other group campgrounds spot the paved portion of the Mountain Loop Highway before Barlow Pass: Esswine Group (for 30-75 people with some traffic noise, sits on Long Creek), Boardman Creek Group (for up to 35, some traffic noise, sits in the River), Tulalip Mill Group (for up to 60 next to Old Mill Pond), Marten Creek Group (for up to 25, but not recommended for children due to the steep riverbank), Coal Creek Bar Group (for up to 25 and 5 vehicles, good for children), and Beaver Creek Group (a flat campground for up to 25 with a magnificent view of Big Four Mountain (accommodates RVs up to 50' and is excellent for small children). All group campgrounds have fault toilets, picnic tables and fire rings, but no drinking water.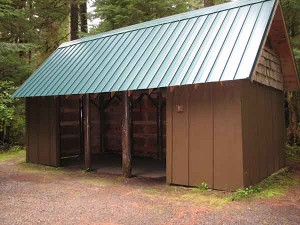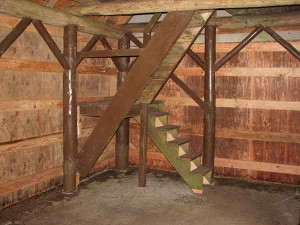 The double-decker Eagles Roost Adironack Shelter at Wiley Creek Group Camp
For more pictures of Wiley Creek Group Camp click HERE
Monte Cristo Hike-In Campground

(Snohomish Co.'s BEST HIKE-IN CG)
Washington's premier ghost town started amidst the gold and silver boom of the 1890s, becoming so prosperous that John D. Rockefeller invested heavily in the town's future. Even Frederick Trump (Donald Trump's grandfather) operated a boom-town hotel and brothel there. By the 1920s the town, with the decline of mining, but surrounded by mile-high mountain peaks, became a noteworthy resort town. After many floods and many operators, a key section of the road to the town collapsed into the Sauk River during the flood 1980. The only remaining business, the Monte Cristo Lodge, burned down in 1983, and the town was finally abandoned. A small camp once part of the Rattler Mining Claim was acquired by the U.S. Forest Service and became the campground above the town. The USFS and newly established Monte Cristo Preservation Society of Everett now work together to preserve the remaining buildings, landmarks, and history of the town for perpetuity to be enjoyed by campers, hikers, and history buffs.


Overview

: This unique Snoqualmie National Forest campground is located 4 miles south of Barlow Pass on Monte Cristo Trail #53 at 2762' elevation, open year round. GPS 47.987, -121.392.


Facilities

: As hike-in campgrounds go, amenities are good, including a few picnic tables, fire pits, fire grills, tent pads, and the most peculiar toilet every sprung from the USFS -- a kind of primitive outhouse without the house! Just two privacy screens and a box in the ground. Also, be sure to bring your own water (and your own TP!).


Recreation

: The Monte Cristo Trail #3 is a relatively flat trail that, except for a half-mile stretch before the Sauk River crossing, follows the old road to the Monte Cristo townsite and campground. Other accessible trails from the townsite include Poodle Dog Pass #708 to Silver and Twin Lakes, and the strenuous but stunning Glacier Basin Trail #719.


Campsites

(8 tent sites, no hookups or reservations, FREE with NW Forest Pass): Only 3 of these sites have picnic tables, fire pits, and tent pads. The rest are little wooded spots by the side of the road that seem to be preferred by one-nighters, lightly equipped campers or mountain bikers. Be mindful this is set on two former roads that are the only flat spots in the campground. Even getting to that peculiar box toilet requires a climb.


Trip Notes

: Campers often tell me, "I don't want my campgrounds to look like Disneyland," but instead prefer seclusion and quiet. Well, Monte Cristo is not Disneyland -- it's the real thing: an actual ghost town where people once lived and prospered for generations. It is easy to sit back here and imagine the cable-bucket aerial tramways hauling ore down to the townsite, and the bustling railroad card carrying away tons of concentrated ore to communities closer to Puget Sound, while the miners imagined they would become the most prosperous gold and silver mining area in the Western Hemisphere. But its isolation took its toll, the mining claims were overestimated, and the boom died. Today you'll find quiet -- a quiet that invites you to be still, to take it all in, to be respectful of the land left behind, framed as it is by Washington's most dramatic mountains. Here's the bottom line: this may be Washington's premier ghost town, but it offers something for everyone. The less nostalgic will find that the real stars are the Sauk River, and the mountains of both sides of this narrow pass. They themselves will leave you speechless.


Historic Note

: The Monte Cristo Preservation Association (MCPA) of Everett was formed in 1983 to preserve the towns remaining structures and relics. It is a private, non-profit organization that seeks volunteers to help maintain and preserve the historical and environmental values of this century-old mining area. For more info see http://mc-pa.org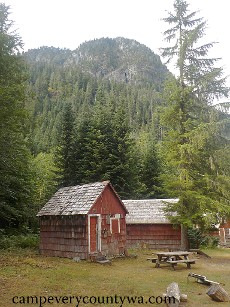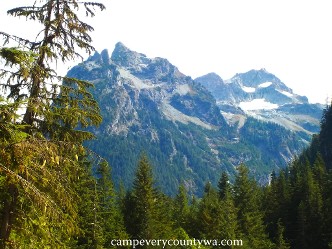 The ghost town of Monte Cristo still lives on for those willing to hike the 4 miles through this mountain wonderland to find it.
For more pictures of Monte Cristo Hike-In CG click HERE
OTHER CAMPGROUNDS: There are no Boat-In Only Campgrounds in Snohomish Co. that we can recommend at this time.