SNOHOMISH COUNTY (Everett)
This is one of the fastest-growing counties in Washington, but still has some of the most confusing and wonderful back roads. From the "cut off" campground at Troublesome Creek to the variety of campgrounds on the Mountain Loop Highway to Puget Sound, there are treasures around every bend.
Mountain Loop Highway 92/FR 20
The paved State Highway 92 stretches from Granite Falls to Barlow Pass, where the pavement ends, and one-lane graveled Forest Road 20 stretches to Darrington. Most car campers stick to the paved portion, while the more adventurous choose to follow the gravel road deeper into the wilderness. In truth, the Mountain Loop Trail is only a half loop, extending from Granite Falls to Darrington. The second half traverses the non-mountain towns of Oso, Arlington, and Jordan.
Verlot Campground

(Snohomish Co.'s BEST CG FOR FAMILIES)
This compact campground is nestled between Hwy 92 and the South Fork Stillaguamish River, with Benson Creek flowing through the west end, providing the kids with a safe place for unsupervised adventures in this small forested creek. Adults will enjoy the low rumble of the River, and the mixed shade and sun.


Overview

: This popular Snoqualmie National Forest campground is located 11.1 miles west of Granite Falls on the South Fork of the Stillaguamish River at 1004' elevation, open year round with services provided April 27 through October 30; GPS 48.0904, -121.7778.


Facilities

: Familiar USFS amenities include ADA-friendly vault toilets, picnic tables, fire grills, and 6 water spigots. Close by is the Verlot Service Center which can provide information and written materials.


Recreation

: The river provides fishing for trout, plus limited wading and tubing. The Mountain Loop Trails are close at hand for hiking and mountain biking.




Campsites

(8 sites for tents only, 17 sites for tents and small RVs, no hookups, reservable): Sites are arranged in two small loops with sites 1-3 and 6-18 on the Stillaguamish River. Sites 4-5 are on the Benson Creek, while sites 19-26 are higher and quite shady. All sites are back-ins, have gravel parking pads, and tent pads on native material. There is only low road noise here, despite being close to Hwy 92.


Trip Notes

: The most unique feature is the series of wooded bridges and boardwalks that allow exploration across Benson Creek into the deeper forest, without danger of kids crossing the highway. They will have to use their imaginations here, but all the building blocks are provided for great adventures.


Local Alternatives

: Turlo CG is just 0.2 miles west of Verlo, and consists of a very shady single loop along the Stillaguamish. It may be quieter here, but some campers find it too shady. Red Bridge C.G. is 7.1 miles east just beyond (you guessed it) the big red bridge over the Stillaguamish. There is better tubing here, but no potable water, making it a deal breaker for some.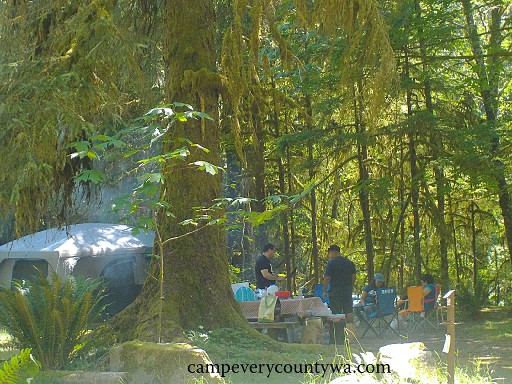 Verlot Campground, just off the Mountain Loop Highway, has a deep woods feel
For more photos of Verlot CG click HERE
Wiley Creek Group Camp

(Snohomish Co.'s BEST GROUP CG)
This, the best Group Camp in Snohomish County, is located on the paved section of the Mountain Loop Highway between Granite Falls and Barlow Pass, just beyond the Verlot Public Service Center.


Overview

: Located 15 miles east of Granite Falls on the South Fork of the Stillaguamish River and Wiley Creek, operated by the USFS at 1073' elevation, open late May to mid-September; GPS 48.0739264875, -121.714986839.


Facilities

: Group facilities include vault toilets, picnic tables, rock barbecue pits, a swimming hole and boat ramp. There is no potable water.


Recreation

includes swimming and hiking on the Mountain Loop trails.


Campsites

(2 Group Camps, 3 Adirondack Shelters, reservable): Group Camps A and B hole 20 people each. Group A has 2 Adirondack shelters, one holding 8 people (Beaver Lodge), and the second holding up to 12 with an attic floor (Cougars Den). The Group B shelter is two levels and can hold up to 20 people (Eagles Roost). There are also multiple tent/RV sites. These group camps are particularly popular with youth groups, scouts, and church organizations, but appeal to any close-knit group. Both camps can be rented at once.


Local Alternatives

: Other group campgrounds spot the paved portion of the Mountain Loop Highway before Barlow Pass: Esswine Group (for 30-75 people with some traffic noise, sits on Long Creek), Boardman Creek Group (for up to 35, some traffic noise, sits in the River), Tulalip Mill Group (for up to 60 next to Old Mill Pond), Marten Creek Group (for up to 25, but not recommended for children due to the steep riverbank), Coal Creek Bar Group (for up to 25 and 5 vehicles, good for children), and Beaver Creek Group (a flat campground for up to 25 with a magnificent view of Big Four Mountain (accommodates RVs up to 50' and is excellent for small children). All group campgrounds have fault toilets, picnic tables and fire rings, but no drinking water.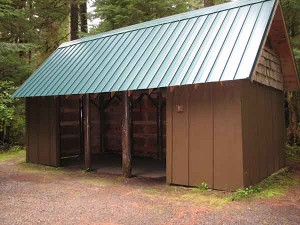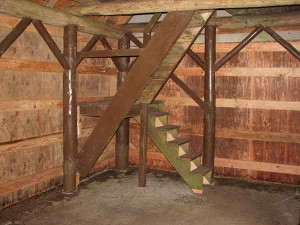 The double-decker Eagles Roost Adironack Shelter at Wiley Creek Group Camp
For more pictures of Wiley Creek Group Camp click HERE
Monte Cristo Hike-In Campground

(Snohomish Co.'s BEST HIKE-IN CG)
Washington's premier ghost town started amidst the gold and silver boom of the 1890s, becoming so prosperous that John D. Rockefeller invested heavily in the town's future. Even Frederick Trump (Donald Trump's grandfather) operated a boom-town hotel and brothel there. By the 1920s the town, with the decline of mining, but surrounded by mile-high mountain peaks, became a noteworthy resort town. After many floods and many operators, a key section of the road to the town collapsed into the Sauk River during the flood 1980. The only remaining business, the Monte Cristo Lodge, burned down in 1983, and the town was finally abandoned. A small camp once part of the Rattler Mining Claim was acquired by the U.S. Forest Service and became the campground above the town. The USFS and newly established Monte Cristo Preservation Society of Everett now work together to preserve the remaining buildings, landmarks, and history of the town for perpetuity to be enjoyed by campers, hikers, and history buffs.


Overview

: This unique Snoqualmie National Forest campground is located 4 miles south of Barlow Pass on Monte Cristo Trail #53 at 2762' elevation, open year round. GPS 47.987, -121.392.


Facilities

: As hike-in campgrounds go, amenities are good, including a few picnic tables, fire pits, fire grills, tent pads, and the most peculiar toilet every sprung from the USFS -- a kind of primitive outhouse without the house! Just two privacy screens and a box in the ground. Also, be sure to bring your own water (and your own TP!).


Recreation

: The Monte Cristo Trail #3 is a relatively flat trail that, except for a half-mile stretch before the Sauk River crossing, follows the old road to the Monte Cristo townsite and campground. Other accessible trails from the townsite include Poodle Dog Pass #708 to Silver and Twin Lakes, and the strenuous but stunning Glacier Basin Trail #719.


Campsites

(8 tent sites, no hookups or reservations, FREE with NW Forest Pass): Only 3 of these sites have picnic tables, fire pits, and tent pads. The rest are little wooded spots by the side of the road that seem to be preferred by one-nighters, lightly equipped campers or mountain bikers. Be mindful this is set on two former roads that are the only flat spots in the campground. Even getting to that peculiar box toilet requires a climb.


Trip Notes

: Campers often tell me, "I don't want my campgrounds to look like Disneyland," but instead prefer seclusion and quiet. Well, Monte Cristo is not Disneyland -- it's the real thing: an actual ghost town where people once lived and prospered for generations. It is easy to sit back here and imagine the cable-bucket aerial tramways hauling ore down to the townsite, and the bustling railroad card carrying away tons of concentrated ore to communities closer to Puget Sound, while the miners imagined they would become the most prosperous gold and silver mining area in the Western Hemisphere. But its isolation took its toll, the mining claims were overestimated, and the boom died. Today you'll find quiet -- a quiet that invites you to be still, to take it all in, to be respectful of the land left behind, framed as it is by Washington's most dramatic mountains. Here's the bottom line: this may be Washington's premier ghost town, but it offers something for everyone. The less nostalgic will find that the real stars are the Sauk River, and the mountains of both sides of this narrow pass. They themselves will leave you speechless.


Historic Note

: The Monte Cristo Preservation Association (MCPA) of Everett was formed in 1983 to preserve the towns remaining structures and relics. It is a private, non-profit organization that seeks volunteers to help maintain and preserve the historical and environmental values of this century-old mining area. For more info see http://mc-pa.org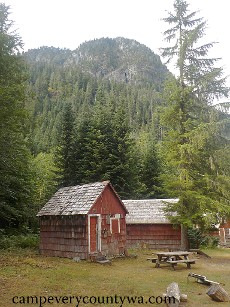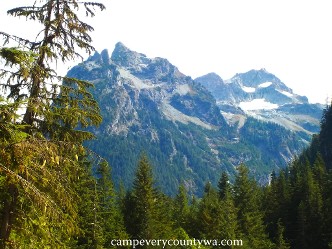 The ghost town of Monte Cristo still lives on for those willing to hike the 4 miles through this mountain wonderland to find it.
For more pictures of Monte Cristo Hike-In CG click HERE
Barlow Pass Boondocking Sites (Snohomish Co.'s BEST FREE CAMPSITES)
The prettiest part of the Mountain Loop Highway is overlooked by most, when drivers stop exploring when the paved road ends at Barlow Pass. But the next 8 mile stretch of gravel road, between Barlow Pass and Bedal CG, reveals the prettiest mountain peaks, marshes, waterfalls, and campsites in the entire Loop.
Overview: This initial 8 mile stretch of FR 20 is located 16 miles southeast of Darrington, and stretches to Barlow Pass 30.5 miles east of Granite Falls, operated by the USFS at 1250' - 2300' elevation, open late May to early September; GPS for Barlow Pass is 48.026927, -121.443853.
Facilities: These beautiful campsites have no amenities except those provided by Mother Nature.
Recreation: This features hiking the Mountain Loop Trails, in particular the short Barlow Point Trail #709 to the Barlow Point Lookout; and the 8 mile round trip Monte Cristo Trail #53 to the incredible ghost town of the same name. At Monte Cristo itself, other hiking trails include the 11-mile round trip Silver Lake Trail #708, and the Twin Lake Trail #708.1 just beyond (add an additional 6 miles round trip).
Campsites (Approx. 12 riverside sites for tents and 3 non-riverside sites for tents and small RVs, non-reservable, FREE with NW Forest Pass): The sites are varied, with some resting on the River as a singular unit. This was the exception, as most were on 2-3 levels, one for parking, one for tenting, and yet another for cooking. At one site at the Deer Creek Road 4052 (marked by a USFS sign), campers will find a large parking lot normally used for winter sports. Here there is a large, lovely campsite just off the lot (GPS 48.085163° N, 121.552699° W). This site has been used by RVers. There will be some daytime road noise in all sites, but the rush of the River will largely neutralize it.
Trip Notes: This was the most unexpected find for the summer of 2017. We finally went camping at Bedal, but along the way were distracted by the beautiful South Fork of the Stillaguamish River, and the individual campsites that dotted it. There were a small number of sites off the river suitable for small RVs such as ours. Bedal was great, though crowded on the holiday weekend, and made us long for the relative solitude of the boondocking sites along FR 20.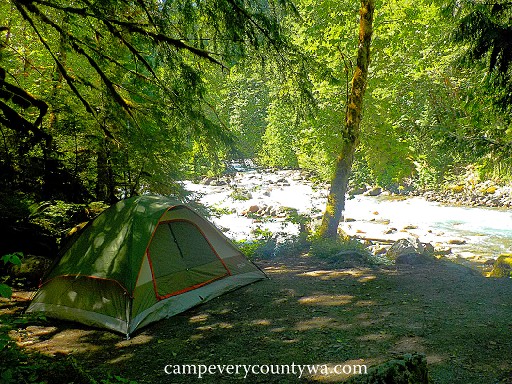 The Barlow Pass Boondocking Sites steal the show for those willing to venture onto gravel roads
For more photos of the Barlow Pass Boondocking Sites click HERE
Bedal Campground (Snohomish Co.'s BEST RUSTIC CG)
It isn't quite a wilderness campground, but resembles the prettier parts of Appalachia in this remote, single-lane gravel road area settled by Tarheels from North Carolina. No Hatfields, no McCoys, no banjos in the distance, just a lovely, primitive spot on a sharp turn of the babbling North Sauk River; GPS 48.0968, -121.3869.
Overview: Located 16 miles southeast of Darrington at the confluence of the North and South forks of the Sauk River, operated by the USFS at 1253' elevation, open late May to early September.
Facilities: You'll find vault toilets (but no drinking water), picnic tables, fire rings, a boat launch for non-motorized boats, garbage service, an 18' by 18' Adirondack shelter built of old growth timber, and camp hosts. There is an RV dump at Clear Creek CG 8 miles to the north.
Recreation: Featured are hiking and whitewater rafting/kayaking. The Bedal Creek Trail follows a mining trail to Bedal Basin and on to Sloan Peak where you may see mountain goats, but will definitely see meadows filled with trillium, asters, and bleeding hearts. A less ambitious hike is to North Sauk Falls, just one mile from the campground. The whitewater section between Bedal and White Chuck Put-In to the north is recommended for beginning paddlers who go with more experienced paddlers.
Campsites (22 back-in and pull-through sites for tents or RVs up to 21', no hookups, reservable): The sound of rushing water can be heard from every campsite. Sites are shady and private, especially those by the River. All sites have tent pads on native material, parking pads are graveled.
Trip Notes: When is second growth forest better than old growth forest? The politically correct answer, of course, is NEVER! But now that we've kept the absentee critics at bay, campers have to marvel at the many old growth stumps with multiple second growth trees growing large and in charge. The old growth was cut well over 100 years ago, so this campground is bursting with mature, healthy native trees that provide shade in this most rustic setting.
Directions: Take I-5 North through Everett to Exit 194. Follow Highway 2 for about two miles. Stay in the left lane and merge onto Lake Stevens Highway 204. Follow for two miles to Highway 9. Take the left onto Highway 9 toward Lake Stevens, continue for just under two miles and take Highway 92 to Granite Falls. Take a right and follow for about nine miles to the Mountain Loop Highway.
Washington History: The Campground is named after an early pioneer family led by James Bedal, who married the daughter of the last Sauk Indian chief. Their children became trail guides, fire lookout keepers, and remarkable historians of the Sauk-Suiattle Tribe. The resulting hamlet of Bedal grew into a small logging settlement with a schoolhouse and nearby store. The campground is on part of the homestead, and remnants of Harry Bedal's cabin can still be found at the base of Sloan Peak.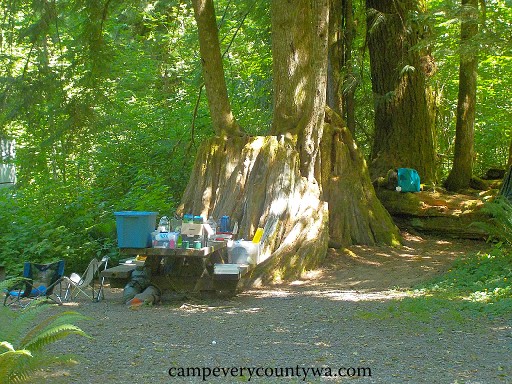 Bedal Campground shows that second grown timber can make for the best camping (given 100 years to grow back, of course)
For more photos of Bedal CG click HERE

Port Susan on Puget Sound
The most campworthy stretch of Puget Sound in Snohomish Co. is its northern half, stretching from the Tulalip Indian Reservation to the mouth of the Stillaguamish River near Stanwood. This shoreline borders Port Susan, a strait and bay bounded by Camano Island to the west and the mainland to the east. This seemingly enclosed body of water features many resorts, Bed & Breakfasts, RV parks and, best of all, one of the Camp Every County Crew's favorite campgrounds.

Kayak Point County Park

(Snohomish Co.'s BEST EQUIPPED and MOST UNIQUELY WASHINGTON CG)
County Parks aren't supposed to be this good... Great job, Snohomish County! Great waterfront, lush campsites, terrific rentals... amazing.


Overview

: This luxuriant campground is located 13 miles south of Stanwood on 670 acres with 3300' of Puget Sound waterfront, open year round; GPS 48.136987, -122.363743.


Facilities

: Included are flush toilets, running water, showers, picnic tables, fire rings/grills, a boat ramp and 300' pier. Featured is a huge, elaborate, plus an inviting playground for the kids (and adults, if no one is watching).


Recreation

: Windsurfing, fishing, and boating are the main event. Kayak Point Golf course is just 1 mile away.


Campsites

(32 sites for tents and RVs up to 25', 23 with water & electric 30 amp hookups, 10 yurts, one cabin/cottage, 2 ADA sites, reservable): Sites are spacious with shade trees, none on the water, but quiet and well patrolled. Premium sites are 7, 8, 9, 11, 13, and 15. Included are 23 pull-through sites. The Park gets heavy day use on summer weekends. It has an extensive yurt village plus Kayak Kottage (available for rent).


Trip notes

: This was a last minute change for us. We had reservations at Gold Basin, but the campground was closed down to repercussions of the Oso landslide. So, we were stunned when we drove into this beautiful, lush park and scored the biggest and best site (site 15). Green flowed everywhere, with beds of ivy stretching back from the open area, and trees forming a thick canopy over us. A County Park? This was as nice or nicer than many State Parks, reminiscent of Manchester S.P. My dog Boca and I ventured down the steep trails to the common area many times, enjoying the party atmosphere down below. A wedding and a birthday party were held during our stay. This was the best surprise of the summer. One caution: we were told by rangers that the Park is completely booked on weekends (we were there on a weekday). Stay during the week if you can to ensure a quieter stay.

Kayak Point Park's luxuriant campground is matched only by its
magnificent shoreline.
For more photos of Kayak Point County Park click HERE
Stevens Pass Greenway Scenic Byway (Highway 2)
The Greenway follows the historic Great Northern Railway's Iron Goat Trail, connecting Everett with Stevens Pass, and a friendly collection of rustic communities along the way. Visitors can hike, ski, white water kayak, enjoy views of snow-capped spires, or pitch their tents in some great campgrounds settled among the mountain peaks.
Beckler River Campground (Snohomish Co.'s BEST BIKE-IN CG)
Beckler River is a tributary of the South Fork of the Skykomish River. At only 8 miles long, the Beckler exhibits numerous cascades and rapids in narrow channels and a rocky river bottom with many boulders. It owes its crystalline water to a lack of development along its shores.
Overview: This pristine campground is located 2.1 miles east of Skykomish on 12 acres with extensive shoreline on the Beckler River, operated by the USFS at 1100' elevation, open May 26 - September 6; GPS: 47.7326, -121.3332.
Facilities: Unique amenities include ADA vault toilets, picnic tables, fire grills, drinking water by solar-powered spigot, and camp hosts.
Recreation: This is a campground known as a quiet getaway, and not so much for its activities. Swimming and tubing are common in the River, and fishing is limited to brook and rainbow trout. Gold panning is good nearby, but red garnets are most unique here. Hiking is accessible, including the Beckler River Trail, which gives a vista of the Skykomish Valley and leads to remains of a trapper's cabin. There is also access to the Pacific Crest Trail. Iron Goat Trail #1074, a short drive from the campground, leads to the ghost town of Wellington, decimated by a massive deadly avalanche in 1900.
Campsites (27 back-in and pull-through sites for tents and small RVs including 2 ADA sites, no hookups or reservations): Sites are wooded and spacious, allowing good privacy with old growth Douglas fir, Western red cedar, Western hemlock, and vine maple. Many sites are near the River.
Trip Notes: This compact campground was much tidier and better laid out than nearby Money Creek and Miller River Group (both in King Co.). The sites are larger, with picnic tables situated further back into the trees. Some of the pull-through sites were ridiculously large. Many sites had direct river access. The river itself had stunning sections of crystalline water said to be laden with gold and red garnets. Bring out your gold pans and find out for yourselves!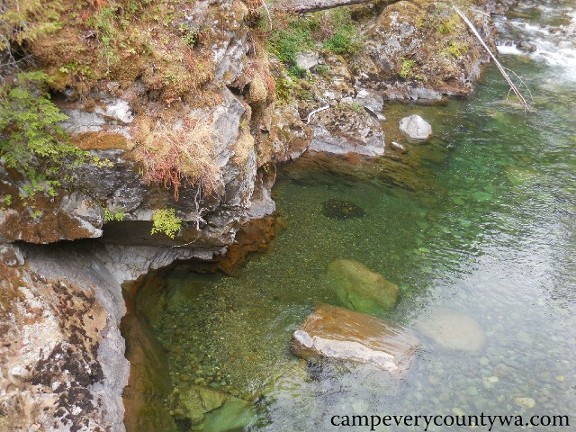 The crystalline waters of the Beckler River are said to be laden with gold and red garnets.
For more photos of Beckler River CG click HERE
Troublesome Creek Campground

(Snohomish Co.'s MOST APPEALING CG TO THE SENSES)


Turn up the color wheel, Mother Nature, this is a remote campground with amenities, a great river, great hikes and... must I repeat myself? Great color everywhere!




Overview

: Located 18 miles northwest of Skykomish at the confluence of the North Fork of the Skykomish River and Troublesome Creek, operated by the USFS at 1243' elevation, open mid-May to mid-September; GPS 47.89778, -121.4025.


Facilities

: Here you will find vault toilets, drinking water, picnic tables, fire rings, garbage pick up, a sturdy footbridge across Troublesome Creek, and camp hosts.


Recreation

: Fishing is good for steelhead and salmon. The 3.5-mile hike to Blanca Lake is highly recommended. This beautiful lake has stunning blue-green water fed by glacier melt.


Campsites

(25 back-in and pull-through sites for tents and RVs up to 25', no hookups, reservable): Sites are in three sections: the upper loop (sites 11-13 and 21-25) has the best privacy and heaviest forest, but can be dark and too shady for some. The middle spur (sites 14-20) sits above pretty Troublesome Creek, and may be the nicest sites for those who don't want to access the Skykomish River. The lower loop (sites 1-6 and walk-in sites 7-10) has average to fair privacy, but is your best bet for those who want access to the North Fork of the Skykomish, either for fishing, or to have the sound of the gentle current lull you to sleep at night. Both loops and the spur can accommodate small RVs; no RVs in sites 19-25.


Trip Notes

: The drive to Troublesome Creek explains its low use. The original road from Index was washed out in 2006 and was beyond repair and remains permanently closed. Access is now through Skykomish with 18 miles of mostly gravel roads. They are passable, however, and well worth the patience and white-knuckling to get there. The Skykomish River and Troublesome Creek (don't swim in the creek, some have had "trouble" with its deceptive currents) are exceptionally inviting and welcoming, a real delight to the senses. The colors here are exceptional, from the deep green-black of the upper loop, to the gentler greens of the salmon berries, ferns, vine maples, silver firs, hemlocks, and big leaf maples of the lower loop. The Creek offers a glimmering azure blue to the middle spur, while the River is clear and crystalline, with green rocks reflected in the filtered sunlight. So don't turn around and give up on the gravel roads -- you will have missed a one of a kind campground.


Local Alternative

: San Juan CG sits just 3 miles east. This has 9 campsites and rests right on the Skykomish River.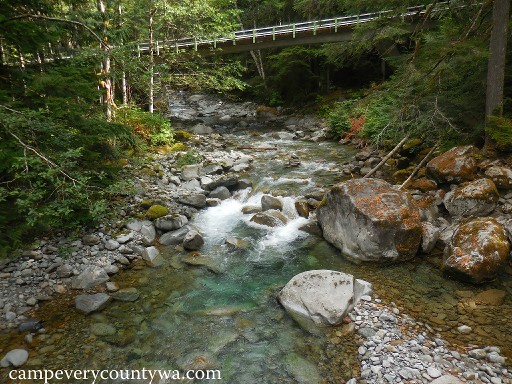 Troublesome Creek's deceptive currents have earned it its name
For more photos of Troublesome Creek CG click HERE
OTHER CAMPGROUNDS: There are no Boat-In Only Campgrounds in Snohomish Co. that we can recommend at this time.