SAN JUAN COUNTY (Friday Harbor)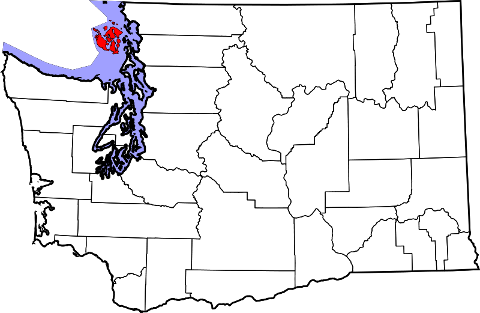 Paradise! 172 named islands, 4 islands with camping accessible by ferry, 16 boat-in only campgrounds, 4 DNR campgrounds, picturesque villages, gorgeous harbors, restaurants, luxurious resorts, primitive fishing camps, and all of it surrounded by pristine water. Paradise!
Orcas Island
This horseshoe-shaped island, the largest of the San Juans, is also the most diverse. From Mount Constitution to rustic back-to-nature Doe Bay to the upscale Rosario Resort, the island encompasses forests, wetlands, bogs, hills, and lakes. There is something here to satisfy everyone's recreational craving.
Moran State Park Ferry-In

(San Juan Co.'s BEST CG FOR FAMILIES and includes BEST GROUP CG)
This sweeping State Park, founded in 1921, is the fourth largest in Washington. Its development by the Civilian Conservation Corps (CCC) in the 1930s make it arguably the most iconic in the entire State Park System.


Overview

: This historic park is located on the east side of 57.7-square mile Orcas Island on 5,252 acres at elevations from 932' to 2409', open year round; GPS 48.65956, -122.85796.


Facilities

: The Park contains over 20 vintage structures built by the CCC. The most memorable is the Mount Constitution observation tower, which gives sweeping views of the San Juans and the mainland. The 3 Cascade Lake campgrounds (North End, Midway, South End) include picnic tables, fire grills, running water, bathrooms, showers, a snack bar, a formal swimming area, seasonal boat rentals, camp hosts, and an RV dump. There is a rentable Vacation House at Camp Moran. Other facilities vary among the 6 campgrounds (see more below).


Recreation

: The Park includes two large freshwater lakes. 175.8-acre Cascade Lake is surrounded by a hiking trail. 194.5 acre Mountain Lake is warm for swimming (by northwest standards) and good for kayaking. Both are stocked with rainbow, cutthroat, and kokanee trout. Smaller freshwater lakes (accessible on foot) include Twin Lakes and Summit Lake. Trails include 6 miles for horses, 11 miles for bikes, and 38 miles for hikers. There are 2 boat ramps (one on each lake) for non-motorized boats.


Campsites

(117 sites for tents or RVs up to 45' and 34 sites for tents only, no hookups, plus a Group Camp for up to 56 people, reservable): There are 6 campgrounds within Moran S.P., the first three of which are set on Cascade Lake.
1. North End Campground contains 52 sites near the entrance with a swimming area and log kitchen shelter. It is also near the RV dump, and less private with partial shade. Sites are slightly sloped with gravel pads. Three sites are pull-throughs. There is some traffic noise.
2. The 49 sites of Midway Campground are the favorite of the Camp Every County Crew, due to its ideal setting on Cascade Lake and proximity to the boat launch. The few sites on the Lake (24-30) are the most private, and the best sites overall. Other sites are less flat, but have good lake views. Expect partial shade and gravel pads. All sites are back-ins.
3. South End Campground has 11 lake shore sites, including one ADA site, plus an ADA accessible bathroom made of stone and wood. All sites are flat. This is ironically the most popular and most private camping area on the Lake.
4. A 6-site H/B campground lies just beyond Cascade Lake, and is more primitive with an Adirondack Shelter and vault toilet. Campers with vehicles are not allowed. There are no reservations.
5. Mountain Lake Campground is more rustic than camping on Cascade Lake. It has 19 sites in a single loop on a small peninsula surrounded by the Lake. Sites are relatively flat with partial shade and pads of native material. It has picnic tables, fire grills, and a vault toilet.
6. Group Camp - A single loop located near Mountain Lake, this 7-site campground features the Mt. Lake Picnic Shelter with a stone fireplace, and a plumbed bathroom.


Trip notes

: This CCC-era campground greets you with a concrete arch that welcomes campers into a little piece of paradise. You will find yourselves so charmed by tree-lined Cascade Lake that you may not notice at first that the Park is made entirely out of native materials. The deer, who wander everywhere at will, will make you feel like you're part of the very landscape. You'll seen forget that you're an island in the Salish Sea until you make the trek up to Mt. Constitution. Here you'll find the Park's centerpiece -- the stone observation tower -- that is the highest point of the San Juan chain. On a clear day you'll be able to view Mt. Baker on the mainland, Vancouver Island Canada to the east, and dozens is islands in between. More than any other park, Moran transports you to another time where you can lose yourself in pristine natural beauty.


Historic Note

: The Park is named after Robert Moran, a former shipbuilder and twice Seattle mayor who donated the land in 1921. He watched its development from his mansion at Rosario, which slowly became a famous resort destination in its own right. While the CCC worked tirelessly to give the State Park its now vintage character, Moran sold Rosario Resort in 1938 and moved into a modest house near the Orcas Ferry Landing, where he died in 1943 at the age of 86.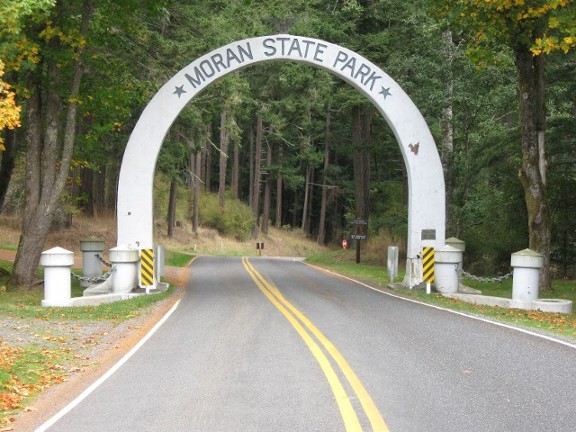 The Arch at Moran State Park welcomes campers to paradise
For more photos of Moran S.P. click HERE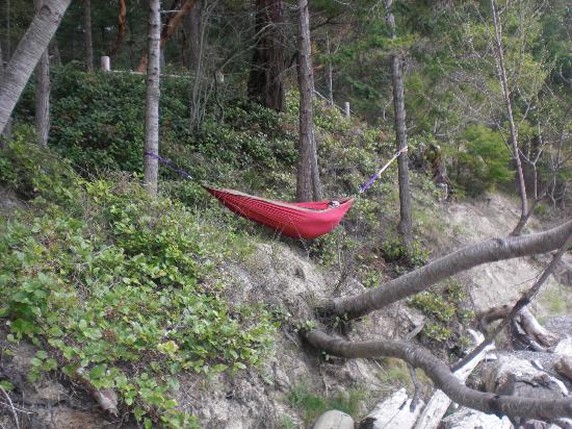 The sloped bank at Obstruction Pass State Park is an opportune place to string up a hammock and watch the world go by
For more photos of Obstruction Pass S.P. click HERE
Jones Island Marine State Park Boat-In

(San Juan Co.'s Best BOAT-IN CG)


The ferry may not stop here, but you can get to this beautiful island from the quaint town of Deer Harbor on the southwest corner of Orcas Island. A mere 2.5-mile paddle will lead to one of the best camping islands in the San Juan Archipelago.




Overview

: This unique island park and wildlife refuge is part of the growing Cascadia Marine Trail and occupies 188 acres with 25,000 feet of saltwater shoreline, open year round; GPS 48.61384788, -123.04612099.


Facilities

: These includes 6 composting toilets, picnic tables, fire rings, drinking water available from May to September, a Picnic Shelter, two Adirondack shelters for up to 16, a paved ADA trail down the middle of the Island, a small apple and pear orchard, 128' of dock at the North Cove, 7 mooring buoys (4 at North Cove and 3 at South Cove),


Recreation

: This includes 4 miles of hiking trails. Campers find the fauna captivating -- the deer have become all too tame, but the flora also draws attention -- prickly pear cactus, madronas along the shore, moss-covered rocks, plus well-spaced Douglas fir and Garry oak trees.


Campsites

(24 sites, 2 of which are for canoers/kayakers only, one group campground for up to 65, reservations for group site only): Sites are in 3 areas. The South Cove CG includes the kayaker sites and the Group Camp with its Adirondack shelters. The West Side CG is more dispersed, with some sites on a bluff. North Cove CG is frequented by motor-boaters, and a little louder. Pets are permitted. A loop trail cuts through the middle of the island and along the west shore.


Trip Notes

: I'm neither a daredevil nor a seasoned kayaker, so the thought of paddling 2.5 miles across open sea caused some loss of sleep from my overnight lodging in Deer Harbor. But as day broke, other kayakers showed me how to hug the shoreline of Orcas Island for all but a 0.5-mile stretch to the South Cove of Jones Island. And I was relieved to find the ferry ran on the OTHER side of the island, leaving my short passage relatively wake free. I was most surprised to find so much green grass, small tame deer everywhere (black-tails), and less impressed by raccoons who made off with most of my food. People here call them trash pandas, and indeed they were. But everyone shares, humans and animals alike, particularly on the noisier north end. My short, clunky kayaking trip, despite my inexperience, is one I hope to make again very soon.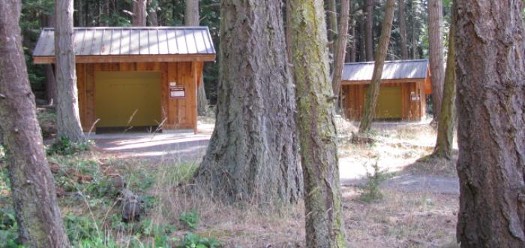 Two Adirondack Shelters on Jones Island make it seem less remote.
For more photos of Jones Island S.P. Boat-In click HERE
Shaw Island
This pint-sized island, the smallest of the four islands connected by WA State ferries, lies at the geographical center of the San Juan Chain. As such, it is not to be overlooked, as island residents claim the San Juans revolve around Shaw.
Shaw Island County Park Ferry-In

(San Juan Co.'s BEST RUSTIC CG)
Note that the Washington State Ferries make only irregular stops at Shaw Island, so plan accordingly.


Overview

: This sandy, hidden away campground is located on the south end of 7.7-square mile Shaw Island at 54' elevation, open year round; GPS 48.572323, -122.95212.


Facilities

: These include a vault toilet, picnic tables, fire grills, water spigots in season, a boat launch, picnic shelter, baseball diamond, and sandy beaches.


Recreation

: It addition to beach combing, boating, and baseball, you may want to delve into a little island combing. The island is very private (with 165 privacy-loving residents), but is interspersed with great photographic opportunities. These include island marine views, the one-room schoolhouse (still in operation), the museum fashioned out of the old log cabin post office, and the modern but rustic-looking library designed by Shaw Island resident Coonie Cameron.


Campsites

(11 sites for tents only, including 2 H/B and one group site for up to 8 people, no hookups, reservable): Like the Island, the sites are quite small -- too small for RVs or trailers. Six sites rest on the bluff.


Trip Notes

: Sure is a compact little thang. After staying on Orcas, the first thing we noticed about Shaw is there are no restaurants, B&Bs, motels, hotels, gas stations, boutiques, hardware stores, movie theaters, fast-food joints, sidewalks or street lights. This, for us, is what gives it a rustic character. It's just camping here! We managed a one-nighter in our small tent trailer, but won't bring it next time. This is for tenters only. What we have here is an island that is rustic on the outside, but filled with curious and adventuresome people.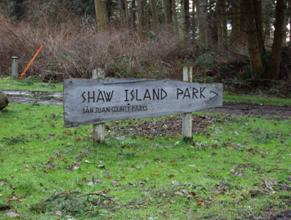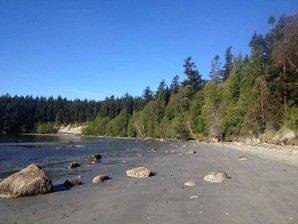 Shaw Island County Park in the San Juan Archipelago
For more photos of Shaw Island Co. Park click HERE
Lopez Island
The gentle topography of Lopez sets it apart from the rocky bluffs of San Juan Island, and the hills and mountains of Orcas Island. This is roughly 30 square miles of rolling farmlands, quiet bays and driftwood-strewn beaches, where sheep look up at you with curiosity, bicyclers are given the right-of-way, and residents wave at you from their cars. Lopez has been dubbed "the Friendly Isle."
Spencer Spit State Park Ferry-In

(San Juan Co.'s MOST APPEALING CG TO THE SENSES, and BEST BICYCLE-IN CG)


The 1/4-mile-long spit grows, shrinks, and disappears, depending on the tide. Views of Orcas Island, an old homestead for picnicking, and walk-in campsites make this a great camping destination.




Overview

: This unique campground with its "disappearing beach" is located on the northeast side of Lopez Island on 200 acres, open year round; GPS 48.534265, -122.861056.


Facilities: These include 2 bathrooms (no showers), running water, picnic tables, fire grills, 3 picnic shelters, one of which is old Spencer's 1913 homesteading cabin, a 15-table picnic area on the Spit, kayak and bike rentals, kayaking tours, 11 mooring buoys, 2 miles of hiking trails, camp hosts, and an RV dump station.




Recreation

: Bicycling is king here, as Lopez offers the perfect conditions: quiet, flat roads, low traffic, and great rest stops at Lopez Village and Richardson. You will also find kayaking, crabbing, clamming, saltwater fishing, swimming, diving, and bird watching.


Campsites

(37 sites for tents or small RVs, including 7 walk-in sites, including site 6 with an Adirondack shelter, plus 7 H/B sites, one Cascadia Marine Trail site, 3 group camps for 24-50 people each including the G1 site with an Adirondack shelter, no hookups, reservable): Sites are medium-sized with good privacy. Nine of the tent/RV sites are pull-throughs and popular with campers in small RVs, others are back-ins. Group Camp 2 is the largest of the 3 group tenting sites. Sites are separated by thick marine vegetation. All sites are flat with parking on gravel.


Trip notes

: The Spit itself is fascinating, with views of nearby islands and passages. The island is perfectly flat, making it great for bicycling, passing fields of sheep and llama, and many bed & breakfasts. Camping was comfortable enough, but somewhat cramped, so people need to leave their campsites to appreciate the place to its fullest. The kayaking opportunities are good in the passage between Lopez and Decatur Islands. I must confess that, other than bicycling, I spent the majority of my time watching the fascinating beach and lagoon, which seemed in a constant state of change with the tide, sun, and clouds making it seem very much like a slowly turning kaleidoscope of iridescent colors.


Local Alternative: Odlin Co. Park sits near the Lopez Ferry terminal and offers 31 sites (10 of which are on the beach), vault toilets, and potable water. The sites accommodate RVs better than Spencer Spit, but there are no hookups.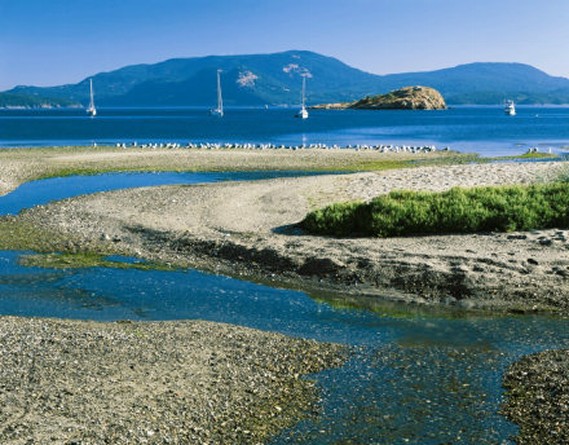 The incredible "Disappearing Beach" of Spencer Spit State Park
For more photos of Spencer Spit S.P. click HERE
San Juan Island
This, the second largest island in the San Juan Chain, is home to the quaint village of Friday Harbor, the upscale resort town of Roche Harbor, plus many small lakes, gravel beaches, rocky bluffs, and unobstructed marine views.
San Juan County Park

(San Juan Co.'s MOST UNIQUELY WASHINGTON CG)
Rocky bluffs and gravel beaches overlook Haro Strait and with views of the Strait of San Juan de Fuca, the Olympic Peninsula, and Vancouver Island. It is also the site of the only west coast war with Britain, the Pig War of 1859, but now it is a peaceful place (no more pigs or bullets, please).


Overview

: This small but popular campground is located on the west side of 55.5-square mile San Juan Island on 12 acres with 300' of rocky beach on Small Pox Bay, open year round; GPS 48.5416, -123.1597.


Facilities

: Included are flush toilets, running water, picnic tables, fire grills, a small picnic shelter, historic and newly-restored Brann Cabin, a pebbly beach, boat launch, and camp hosts.


Recreation

: Historic English Camp is adjacent to the Park (see below). San Juan Island is known for whale watching, sea kayaking, bicycling, and fishing.


Campsites

(19 sites for tents or RVs up to 25', plus one H/B/kayaker site, a walk-in group camp for up to 20 people, no hookups, reservable): Most sites have water views across an open meadow surrounded by trees. There are no barriers between sites, so privacy is compromised, though sites are large enough to minimize this. There are no waterfront sites. Parking pads are on grass.


Trip Notes

: My oldest memory of this Park was camping here as a child with my family. I wandered down to the small, protected harbor to see, 20 or 30 yards offshore beneath the crystalline waters, the distinct shape of a giant conch shell. Wanting this shell for myself, I kept my discovery from my family and especially my two aggressive brothers. I awkwardly asked the park host about low tide, in the roundabout way only a 9 year old could muster, and set my sights on 6:00 a.m. I snuck out of bed the next morning, sleeping little all night long, and wandered down to the shore undiscovered. I looked out into the surf. There it was, the object of my desire, the one thing that I thought would earn me permanent bragging rights with my brothers, but... it wasn't a conch shell in the TRUEST sense. Not quite. But it stared back at me, with its two giant eyes, neither judging nor mocking me, with a woeful empathy. No, the giant fish head I mistook for a conch shell seemed certain to keep my guilty little secret forever. I have never told my family his story, but now they can laugh all they like.


Local Alternative

: Posey Island Marine S.P. Ferry-In/Boat-In is located just off of Roche Harbor on 1 (one) acre with 1000' of shoreline. There are only 2 campsites with an 8-person per site limit and has no drinking water. It is remarkable for several reasons. First, it has reservations, which are required at least 14 days in advance. Second, only those with non-motorized boats may camp there. Third, it is an easy kayak/canoe trip from Roche Harbor. Keep in mind that vacations homes are visible across the water, so it is not quite a desert island experience. The 8 people per site limit is strictly enforced, so behave yourselves out there.


Historic Notes

: The old 1890s cabin of homesteader Lewis Brann has been accurately preserved to its original condition, sitting among the campsites to remind campers of the Park's historic past.
Local Attractions: Lime Kiln S.P. is a 36-acre day use only park that is considered one of the best whale watching spots on earth. From the safety of a 1919-era lighthouse on a sea cliff, visitors are greeted from below by spouting Orcas, slap-happy gray whales, barking sea lions and splashing porpoises.
Adjacent to San Juan Co. Park is the historic English Camp where, in 1849, the killing of a pig brought England and the Unites States to the brink of war over ownership of the Island. The American Camp is located 5 miles south, as both Camps co-existed peacefully until the 1872 when the Island was declared the territory of the U.S. A few buildings, a formal garden, and a cemetery remain in the English Camp, along with a 45-minute loop through woodland and along the bay. There are also interpretive programs throughout the year.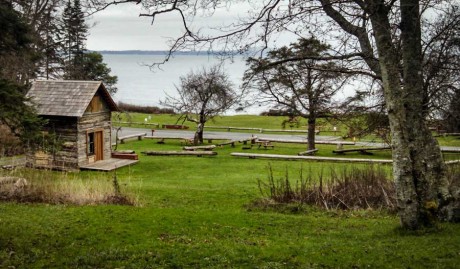 Historic Brann Cabin is preserved among the campsites at San Juan County Park
For more photos of San Juan Co. Park click HERE
Lakedale Resort

(San Juan Co.'s BEST EQUIPPED CG)
This Resort is surrounded by three long-armed spring fed lakes, providing glamping opportunities for campers and jet-setters alike.
Overview: This best-equipped of campgrounds is privately owned on 82 acres between the towns of Roche Harbor and Friday Harbor, open Mar 1 to Oct 31; GPS: 48.57617, -123.082258.


Facilities

include picnic tables and fire pits, bathrooms with showers, chemical toilets, running water, boat rentals, sport courts, a General Store, a Mess Tent for Cabin and Cottage guests (continental breakfast), Wi-Fi, and camp hosts. Lodging includes 21 luxury canvas cabins, 1 canvas bunkhouse, 6 log cabins, 7 yurts, a 10-room hotel/lodge, and 1 on-site Airstream rental.


Recreation

: On-site recreation includes lake fishing, boating, swimming, and volleyball.


Campsites

(41 tent sites, 5 sites with water/electric sites 50 amps for RVs of any size, all reservable): I will comment only on the tent and RV sites, as the management of most private resorts prefer to speak for themselves on their lodging facilities (http://www.lakedale.com). Many of the tent sites have lakes views, but the RV sites do not. The RV sites are well spaced, flat, and very private. The tents sites are more unevenly space, with privacy ranging from average to very good. Both RV and tent site are well-shaded with mature trees.


Trip Notes

: I'll give this place credit. It struts its jet-set/glamping facilities rather gracefully. All facilities, including camping and RV sites, are set among trees within view of these finger lakes. The various groups of campers (yurts vs. cabins. vs. campsites, etc.) seem to peacefully co-exist like a mosaic, with only occasional awareness of the other. On the other hand, these are the priciest camping facilities in the island chain, but still a good value for all that is offered. For specific information, contact lakedale.com/family-camping-and-RV-site-on-San-Juan-island/ as rates are subject to change.
Local Alternative: The San Juan Co. Fairgrounds are located less than one mile from downtown Friday Harbor, GPS 48.526157, -123.016118. Here you'll find restrooms with showers, camp hosts, with RV waste disposal available in Friday Harbor. There are 8 RV pedestals for RVs up to 45' with water/electric 20/30 amps, 1 tent site with no hookups, with reservations strongly encouraged. Sites are back-in, side-by-side in a straight row, flat, and well-maintained. However, this is rather Plain Jane camping, although more affordable than Lakedale Resort. Also, unlike camping at Kuehne CG (Ferry Co.) or the Garfield Co. Fairgrounds, the Fair is more carnival-like and can be quite noisy close to Fair time.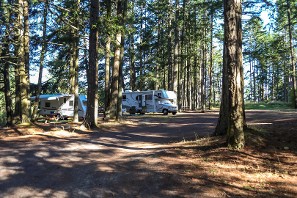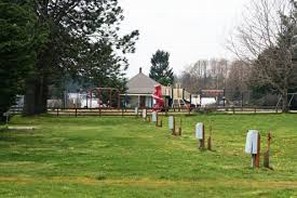 Lakedale Resort and the San Juan Co. Fairgrounds offer facilities for RV camping.
For more photos of Lakedale Resort go to http:/www.lakedale.com

OTHER CAMPGROUNDS: There are no FREE drive-in CGs in San Juan Co. that we can recommend at this time.