This website is intended as an adjunct to the paperback book 'Camp Every County, Washington' by Brendan J. McDonald, available on Amazon.com. Included on this website are photographs and texts which could not be included in the paperback edition, where you will find full narrative versions of each section found below.
PEND OREILLE COUNTY (Newport/Metaline Falls)
Panhandle Campground (Pend Oreille Co.'s BEST BIKE-IN CG)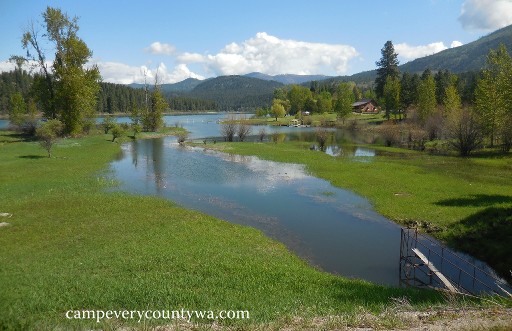 Panhandle Campground sits on the Middle Reach of the Pend Oreille River
For more photos of Panhandle CG click HERE
Pioneer Park (Pend Oreille Co.'s MOST APPEALING CG TO THE SENSES)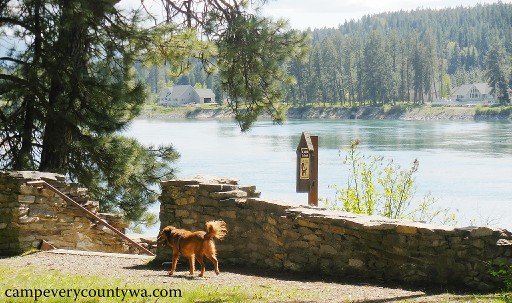 The stone steps at Pioneer Park on the South Reach of the Pend Oreille River
For more photos of Pioneer Park click HERE
East Sullivan Campground (includes Pend Oreille Co.'s BEST CG FOR FAMILIES and BEST GROUP CG)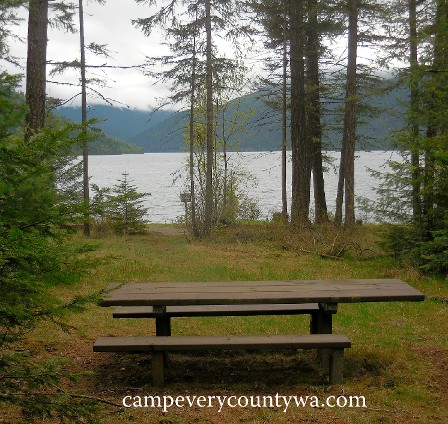 East Sullivan Campground is separated from Sullivan Lake only by lush vegetation
For more photos of the Sullivan Lake CGs click HERE
Big Meadow Lake Campground (Pend Oreille Co.'s BEST FREE and BEST RUSTIC CG)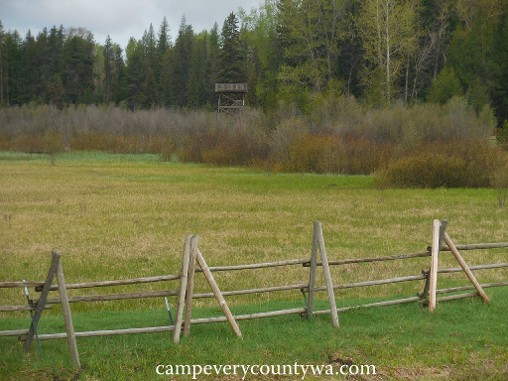 Big Meadow Lake is criss-crossed with decades old grape stake fences, their purpose long forgotten
For more photos of Big Meadow Lake CG click HERE
Newport/Little Diamond Lake KOA (Pend Oreille Co.'s BEST EQUIPPED/BEST CG FOR RVs)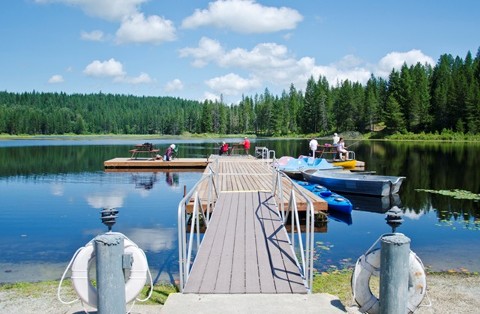 This little diamond of a lake (now called Little Diamond Lake) has been renamed from its unfortunate and inaccurate former name of Mallard Marsh
For more photos of the Newport/Little Diamond Lake KOA click HERE
Bead Lake Hike-In Campsites

(Pend Oreille Co.'s BEST HIKE-IN CAMPSITES)


This is not only the largest lake in Pend Oreille County, but is also one of Washington's most beautiful lakes. Its extremely deep blue crystalline waters lie in a mountainous region of the County surrounded by well timbered hills. Hikers report over and over that they set out to hike only 1 or 2 miles, but end up finishing the entire 11.4-mile out-and-back trail, being so captivated by alpine beauty the entire way.




Overview

: This surprisingly beautiful Bead Lake #127 Trail and campsites are located 10.4 miles northeast of Newport on 720-acre Bead Lake, operated by the USFS at 3050' elevation, accessible from April until October; GPS 48.29829, -117.11283.


Facilities

: These are primitive campsites with only fire rings. There is a vault toilet at the trailhead.


Recreation

includes hiking or boating or whatever else campers cook up along the way. Some choose to mountain bike the trail. Of note for fishermen: the Lake is not stocked by the WDFW, but contains self-reproducing populations of kokanee, lake trout, burbot, plus numerous northern pikeminnows, making for a unique fishing experience.


Trailhead

: This easy to find trailhead is located at the Bead Lake Boat Launch and parking area at the south end of the Lake (no camping here). To get here, travel east through Newport on Hwy 2. Once you have crossed the bridge over the Pend Oreille River, take an immediate left onto LeClerc Creek Road (County Road 9305). After 2.8 miles, turn right onto Bead Lake Road (County Road 3029). After 6 miles, turn right onto Bead Lake Loop Road and follow it for 0.2 miles to the turnoff for the boat launch.


Campsites

(4 primitive sites, no hookups or reservations, FREE with NW Forest Pass): Note that much of the west side of the Lake is taken up by private residences. You will be hiking or boating on the east side. Campsites are located along the Bead Lake #127 Trail at 1.0 (this is called the Mineral Bay boat-in site). Another, called the "enchantment" campsite," is located at 1.5 miles at the end of the anchor-shaped lake's southeast arm in a thick cedar grove. A third site is located at mile 4. Additional campsites are located at 4.6 miles, on spur trail 127.1, which dead ends in another 1.1 miles. These sites are not directly boating-accessible.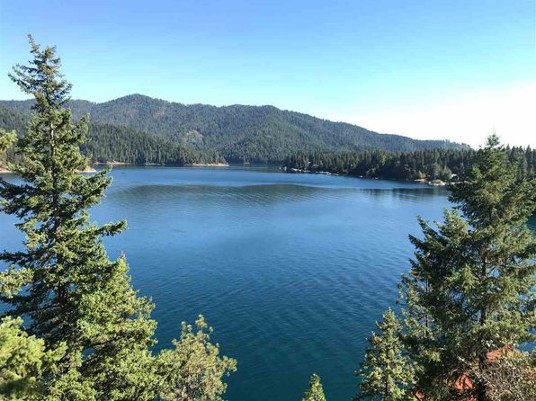 Bead Lake is not only the largest lake in Pend Oreille County, but also one of the most beautiful in Washington
For more photos of Bead Lake Hike-In Campsites click HERE