This website is intended as an adjunct to the paperback book 'Camp Every County, Washington' by Brendan J. McDonald, available on Amazon.com. Included on this website are photographs and texts which could not be included in the paperback edition, where you will find full narrative versions of each section found below.
OKANOGAN COUNTY (Okanogan/Omak)
Pearrygin Lake State Park (Okanogan Co.'s BEST CG FOR ENTIRE FAMILIES)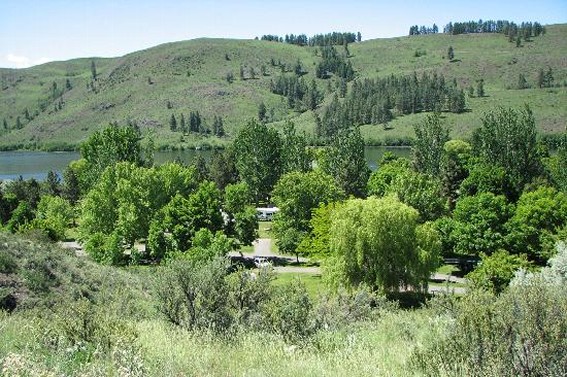 Lake Pearrygin State Park, although named after a rowdy western "pirate," has become one of that State's most family-friendly campgrounds
For more photos of Pearrygin Lake S.P. click HERE
Conconully State Park (Okanogan Co.'s MOST UNIQUELY WASHINGTON CG)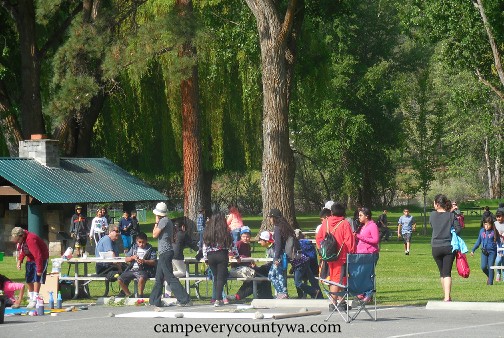 The Old West town of Conconully gave up its school yard for a State Park
For more photos of Conconully S.P. click HERE
Osoyoos Lake Veterans Memorial Park

(Okanogan Co.'s BEST BIKE-IN CG)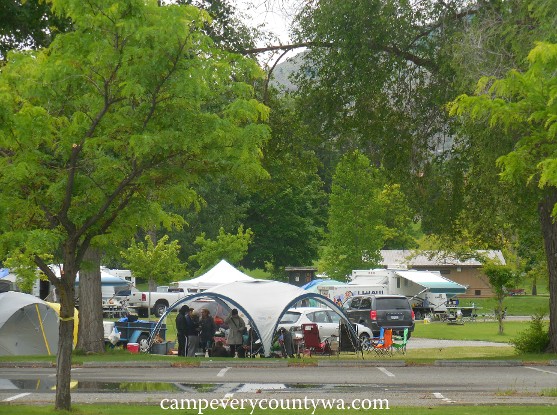 Lake Osoyoos Campground is "one big happy family" on a terrific lake
For more photos of Osoyoos Lake CG click HERE
Bridgeport State Park (one of Okanogan Co.'s MOST UNIQUELY WASHINGTON CGs)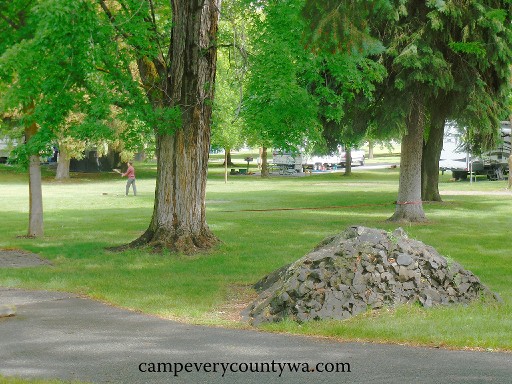 Multiple basalt "haystacks" dot the grounds of Bridgeport State Park
For more photos of Bridgeport S.P. click HERE
Crawfish Lake Campground (one of Okanogan Co.'s BEST FREE CGs)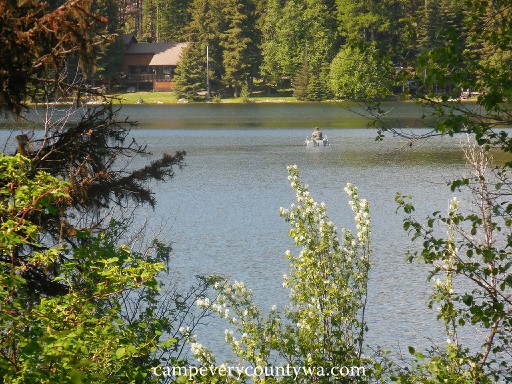 Crawfish Lake has a natural blue glow that will appeal to everybody
For more photos of Crawfish Lake CG click HERE
Leader Lake Campground (Okanogan Co.'s BEST RUSTIC CG)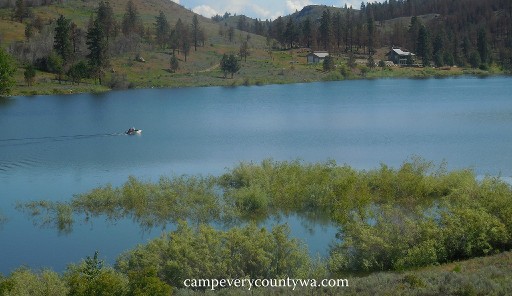 Leader Lake Campground is rugged with an Old West feel that explains its popularity
For more photos of Leader Lake CG click HERE
Bonaparte Lake Campground (one of Okanogan Co.'s MOST APPEALING CGs TO THE SENSES)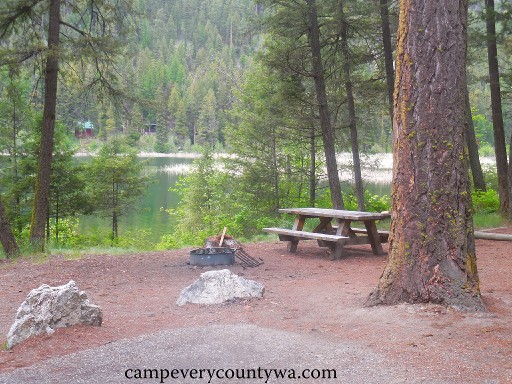 Bonaparte Lake shines even on a gray day
For more photos of Bonaparte Lake CG click HERE
Lost Lake Campground and Group Campground

(Okanogan Co.'s BEST GROUP CG)


This picture perfect campground has the look and feel of the postcard summer camp, but sized for adults. Great forest, great lake, and great camping, both for large or small groups, or individual families.




Overview

: Located 34 miles west of Tonasket on the shore of 50-acre Lost Lake, operated by the USFS at 3800' elevation, open Memorial Day Weekend to Sept. 30; GPS 48.8531, -119.0503.


Facilities

: Meticulous facilities include flush toilets, drinking water, picnic tables, fire rings/grills, amphitheater, boat ramp, garbage service, playground, swimming platform, and camp hosts.


Recreation

: Swimming and boating (no gas motors) are the main draws, along with berry picking. This place, however, seems to invite mingling with the trees and wildlife as an activity of all its own.


Campsites

(13 single sites and 6 double sites for tents and RVs up to 31', one group site for up to 100, no hookups, reservations required for group site): The campground is a single loop nicely forested with tamarack/larch and mixed conifers. Sites are on native material, many with lake views.


Trip Notes

: This lake is not hard to find, and is hardly lost. In fact, judging from the number of local school buses buzzing through the campground on presumed field trips, I would say it is both quite well known and popular. It is easy to see why. The Five Lakes Recreation Cabin (note that only 4 of the lakes remain) was built by the Civilian Conservation Corps in 1941 and adds to the campground's vintage character. The small lake is perfect for small, drifting flotillas of canoes, kayaks, and tubes. The forest here is meticulously manicured, rivaling that of our state parks without the commercialism. This is not only the best group campground in Okanogan County, but one of the very best in Washington.


Local Attractions: One mile away is the Big Tree Botanical Area that highlights two 900 year old Western larch and other trees with interpretive trails. The "lightly inhabited" ghost town of Chesaw is to the north with many pioneer buildings still standing, providing great photographic opportunities that can be enjoyed by people of all ages.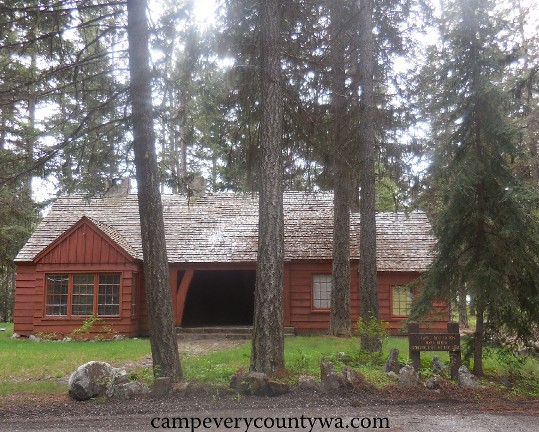 The Lost Lake Group Campground greets campers with the Five Lakes Recreation Cabin built by the CCC in 1941
For most photos of Lost Lake CG and Group CG click HERE
Twisp Pass - Dagger Lake Hike-In Only Campground

(Okanogan Co.'s BEST HIKE-IN CG)


You'll have to work to get to this old mining road turned trail, but you have options. You can take the shorter 4.8-mile hike from the Twisp River Road, but the you'll have a 24-mile drive on FS roads from Twisp. You can also take the longer 7.6-mile hike from Rainy Pass just off of Highway 20. The good news is that after a short hike of moderate difficulty, you'll be camping in some of the most beautiful mountain wilderness in all of Washington.




Overview

: The Trailhead is located 24 miles northwest of Twisp, with the campground operated by the NPS at 6064' elevation, open June to September; TH GPS 48.4686483, -120.6566679 (see directions below).


Facilities

: No bathrooms, no water, no whining. This is the wilderness.


Recreation

: Once at Dagger Lake, side trips are worthwhile to Stilleto Lake just one mile away. Note that dogs and hunting are prohibited within the National Park. Also remember the "Leave No Trace" policy.


Gilbert Trailhead

: To get to the TH from Twisp, drive west on Twist River Rd (Okanogan Co. Rd 9114). After 10 miles it becomes FS Rd 44. Drive 4 miles and continue past Mystery C.G. where FS Rd 44 becomes FS Rd 4440. Continue 6 miles and cross North Creek to find Gilbert Trailhead on the right. Twisp Pass Trail #432 begins at the left fork of the TH (elevation 4500'). Hike 4.8 miles to the Lake Chelan-Sawtooth Wilderness at Twisp Pass. The trail continues a short distance to NCNP and a mile's descent to Dagger Creek C.G. This approach makes either day or overnight hiking possible.


Campsites

(multiple dispersed sites, FREE with a NW Forest Pass for the trail and a back country permit to camp overnight in NCNP): Sites are located near the shallow lake's edge surrounded by tamaracks that turn golden yellow in the fall, and red vegetation along the trail, surrounded by a backdrop of mountain peaks. These include Twisp Mtn (7166' in height) and Stiletto Peak (7200').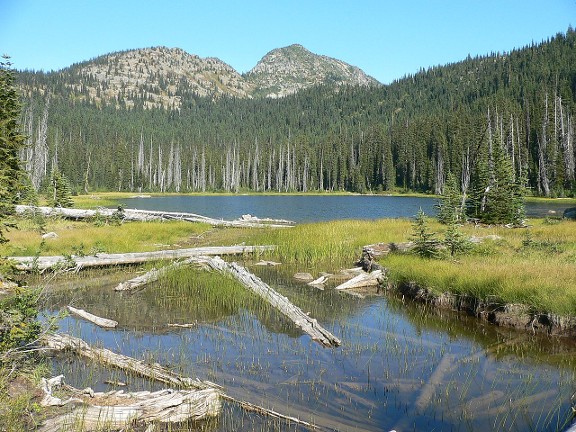 It will take some doing to get to the Dagger Lake Hike-In Campground
For more photos of Twisp Pass - Dagger Lake Hike-in click HERE
Blue Lake Campground in the Okanogan

(one of Okanogan's Co.'s BEST FREE CGs)
This lovely campground is hidden away south of the historic town of Loomis in the little known Sinlahekin Wildlife Area, where the mountains rise up sharply from the green valley floor and narrow greatly, as if concentrating the beauty into one small island of land few will ever experience. #Be careful -- there are 3 Blue Lakes in this part of Okanogan County alone#


Overview

: This quiet gem is located 12 miles south of Loomis on 210-acre Blue Lake, managed the the WDFW at 1690' elevation, open year round; GPS 48 40 18.62, N 119 41 20.70 W.


Facilities

include 2 Vault toilets and 2 gravel boat launches. This is considered a primitive campground.


Recreation

: Fishing is good for rainbow and brown trout. Kayaking, canoeing, and tubing are excellent. This is a reservoir, so swimming is possible depending on lake levels and shoreline definition.


Campsites

(about 14 dispersed sites, divided into southern and northern clusters on native material, no hookups or reservations, FREE with Discover Pass): The southern cluster of campsites is prettier, with partial shade beneath towering weeping willow trees and unobstructed views of the lake. The northern cluster is shadier with pines and firs, and smaller sites right on the brushier edge of the lake. Both clusters of campsites are on the southern tip of the lake, where the large triangled northern portion of the lake narrows to a very long, narrow tube making boat access easier.


Trip Notes

: My campanions and I stood in front of the cluttered signpost in Loomis. The day was getting away from us, and we had not found a good primitive campground. We could return east on the all too familiar road to Tonasket, then wind our way back to Conconully and call it quits. Or we could take a chance, follow the sign that indicated a shortcut back to our campground ("Conconully 22") and hope for the best. We quickly found ourselves in the beautiful Sinlahekim Wildlife Area, a designation not included on our maps, with its many WDFW campgrounds. The first (all campgrounds were unmarked) was adjacent to a game reserve/hunting area. That was out. The next two were ORV-oriented campgrounds. Both out of the question. Then the valley narrowed dramatically into a perfect little blue lake, called, well "Blue Lake," the happy little gem described above. Don't give up, campers. Rustic campgrounds don't have to mean wilderness, or risking your life to get there. They are simply nature in its most untrampled form.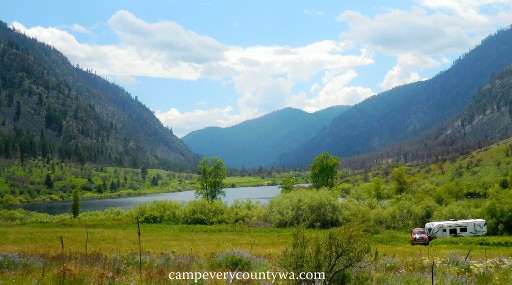 The mountains surrounding the Sinlahekin Wildlife Area narrow and close in around Blue Lake, as if concentrating the beauty into one perfect gem
For more photos of Blue Lake CG click HERE
Riverbend RV Park and Campground

(one of Okanogan's Co.'s BEST EQUIPPED/BEST CG FOR RVs)


This full-service park invites you to fall asleep on the banks of the Methow River. But that's not to say it lacks activities, only that it manages to provide a relaxing atmosphere on one of the prettiest rivers in Washington.




Overview

: This modern campground is located 6 miles south of Winthrop and 2 miles north of Twisp, privately operated at 1768' elevation, open year round; GPS: 48.391344, -120.13563.


Facilities

: This well-equipped campground boasts bathrooms with showers, picnic tables, fire pits and wood, a playground and playfield, basketball, horseshoes, a half-acre Dog Park, Picnic Shelter, a laundry, Wi-Fi, cellphone and TV reception, propane, a Gift Shop, RV parts and supplies, and an RV dump station.


Recreation

: The Park itself offers swimming, boating, and fishing. The greater Twist-Winthrop area provides a multitude of activities, including hunting, mountain biking, rock climbing, hiking, rafting, and horseback riding, as well as museums, hot air ballooning, music festivals, and rodeos.


Campsites

(3 tent sites plus a group tent area, 75 sites for RVs up to 80' with full hookups 20/30/50 amp, one cabin, reservable): Sites include pull-throughs and big rig-friendly spaces. Most sites are large and well-spaced, particularly those along the River, and most are shady or partially-shaded. Most RV pads are gravel, but all are flat.


Trip Notes

: Unlike many RV parks, we may find yourselves waking up to deer grazing outside your window, with the quiet flow of the River reminding us to slow down and take it all in. This is a place where RVing definitely feels like camping, but with better facilities.


Local Alternative

: The best alternative for RVers is the Winthrop/North Cascades KOA.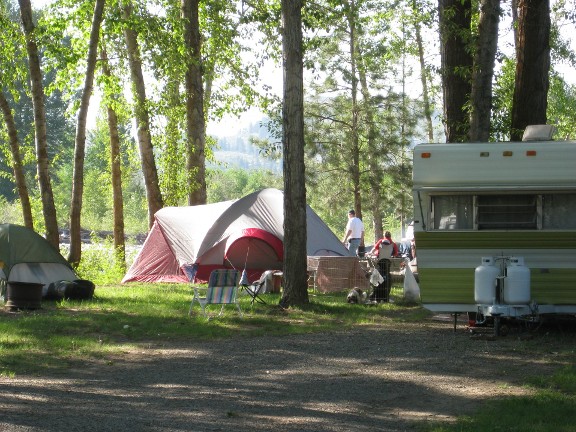 Riverbend RV Park and Campground is a place where you'll wake up to deer grazing outside your window
For more photos of Riverbend RV Park and Campground click HERE