OKANOGAN COUNTY (Okanogan/Omak)
Washington's largest county was also the last to be settled, driven by gold and silver booms in the late 1800s. It is home to Old West towns, ghost towns, river towns, the Omak Stampede, and much of the Colville Indian Reservation. It proudly maintains its reputation as unspoiled, independent and unrestrained.
Methow Valley Region
The Methow River Valley sits just east of the North Cascades National Park, finally emptying into the Columbia River at Pateros. It is one of Washington's most revered natural playgrounds extending over 80 miles through the Western-themed town of Winthrop with its many resorts and tourist attractions, and Twisp, with its own history of colorful antiheroes. Camping is equally rich, set among snow-capped alpine peaks, mountain lakes, and the inviting but treacherous waters of the Methow River.
Lone Fir Campground

(Okanogan

Co.'s MOST APPEALING CG TO THE SENSES)


Awe-inspiring mountain views dominate this lovely campground set high on the dry side of the North Cascades Highway. Quick access to such natural icons as Washington Pass and Liberty Bell combine with great camping without the restrictions of being in the National Park.




Overview

: This Okanogan National Forest campground is located 27 miles northwest of Winthrop on 13 acres at 3618' elevation, open June to September, weather permitting; GPS: 48.5813, -120.624.


Facilities

: Adequate facilities include vault toilets (ADA), running water, picnic tables, fire rings, and camp hosts.


Recreation

: Two trails make this the best hiking locale in the Upper Methow Valley. The first is the aptly named Lone Fir Trail #535, an easy partially paved 2.0-mile interpretive loop trail that starts in the campground and follows Early Morning Creek (no fishing). The second is Cutthroat Creek Trail #583, which crosses a footbridge over Cutthroat Creek and on to Cutthroat Lake. From there the trail gains 1900' over 3.8 miles to meet up with the Pacific Crest Trail. Here you will likely see the mountain goats so iconic to this area, as well as western-looking views over the North Cascades and spectacular wildflower displays.


Campsites

(27 sites for tents or RVs up to 42', no hookups or reservations): Sites are arranged in a single loop. Half of the loop is in dense spruce, hemlock, and fir, with the more distant half opening up to full sun. There is some road noise, muted by heavy vegetation that also provides privacy, but the less private sites along the Creek are best for those seeking quiet. Camping is on native material with graveled parking aprons. Be aware that the temperatures plummet at night at this elevation, but days are cooler in July and early August when the temperatures in the Methow Valley can exceed 100 degrees.


Trip Notes

: This is among the last of the sites we have yet to camp, and we will likely due so in the summer of 2019.


Nearby Alternative

: The best is just 6 miles away at Klipchuck Campground. Its lower elevation of 2920' gives it noticeably less temperature fluctuation at night, which can be an advantage to bikers or tent campers who travel light. It is also larger with 46 sites that can accommodate RVs up to 34'. The best recreation here is simply staying put, drinking in the beauty of the eastern slope of the North Cascades Area. Like Lone Fir Campground, there are no reservations, and sites are first come first served.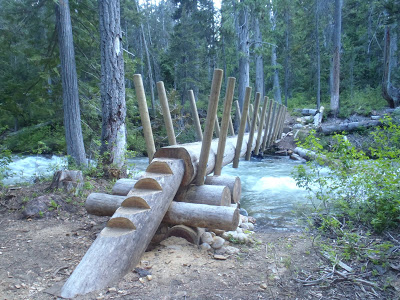 Lone Fir Campground and its trails feature hand-hewn bridges and rails
For more photos of Lone Fir CG click HERE
Pearrygin Lake State Park

(Okanogan Co.'s BEST CG FOR FAMILIES):


This lovely park was named after B.F. Pearrygin, an early settler on the Lake whom history remembers in very unflattering terms, dubbing him as a rowdy western "pirate." Ironic, given how much this lake and campground are loved by campers from all over Washington and beyond. It is near the equally popular Wild West town of Winthrop.




Overview

: This family-friendly campground is located 4 miles northwest of Winthrop on 743 acres with 11,000' of lakefront on 183.2-acre Lake Pearrygin at 1768' elevation, open April to October; GPS: 48.4866, -120.1459.


Facilities

: This well-equipped spot includes bathrooms (ADA) with showers, running water, picnic tables, fire grills, boat launch, 60' of boat dock, amphitheater, a Junior Ranger Program for children, Camp Store, RV dump, and camp hosts. The popular Day Use Area includes a bathhouse, 4 barbecue stands, a marked swimming beach, volleyball court, and large lawn with shade trees.


Summer Recreation

: The Lake provides opportunities for swimming, fishing, wildlife viewing, boating, and good water-skiing. For hikers, the Rex Derr Trail is a 3.1-mile loop on a shrub steppe hillside above the Lake that skirts the old Graves Homestead . Fishing is best for rainbow trout.


Winter Recreation

: This was named an official non-motorized Sno-Park in 2015. Nordic skiing, snow shoeing, and cross-country skiing are excellent.


Campsites

(183 sites, including 77 with full hookups 30/50 amp for RVs up to 60', 2 cabins & 1 vacation house, reservable): Sites are in two loops, East and West; sites in East Loop are more wooded with average to good privacy and shade from willow and ash trees; many sites in West Loop lack privacy and shade, but have better lake access. Campers with children might prefer the West Loop. Sites 86-104 and 138-148 are especially suited to those with young swimmers. The West Loop cabins sleep four, and have kitchenettes and air conditioning, a welcome amenity during the typically hot summers.


Trip notes

: Lovely lake, very inviting for boating and, for the kids, swimming. The West Loop was a beehive of activity with enthusiastic kids running back and forth (usually through our campsite) to the lake. There were marmots everywhere, and beautiful, healthy deer with just enough survival instinct to stay out of the campsites. Gotta tell you, though, the 107-degree temperature cut our stay short. Next time we'll be staying in the East Loop, with or without kids. It's just too hot and exposed otherwise. Late spring, early summer, or early fall visits might be best.


Washington History

: The refurbished Wild West town of Winthrop has a wild and varied history. On one hand, you had early settlers like B.F. Pearrygin, of whom it was said "he sold his soul to the devil but never collected the pay!" On the other, Winthrop founder Guy Waring was a cum laude graduate of Harvard and a classmate of President Theodore Roosevelt. In 1891 he opened Waring's Methow Trading Post, around which grew the town that catered to cattle ranchers and miners. The town flourished, but by 1915 the mines floundered and so did the town. In 1971, with news of the opening of North Cascade Highway, local merchants put up the capital to restore the town to its original Western mining look. The original building of Waring's Methow Trading post still stands proudly (although renamed Last Trading Post), as do most of the original buildings. It turns out that Guy Waring's influence outlived that of scoundrel B.F. Pearrygin, who by happenstance has his name attached to one of the prettiest lakes and state parks in Washington

.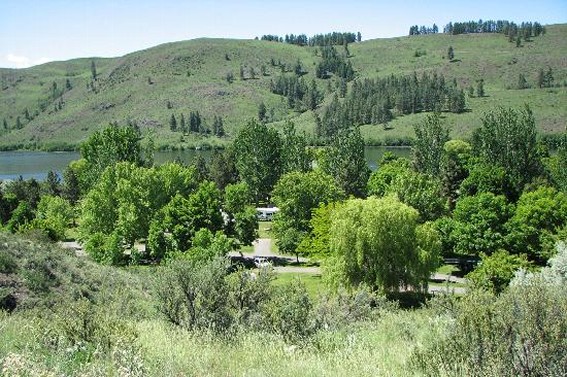 Lake Pearrygin State Park, although named after a rowdy western "pirate," has become one of that State's most family-friendly campgrounds
For more photos of Pearrygin Lake S.P. click HERE
Riverbend RV Park and Campground

(Okanogan's Co.'s BEST EQUIPPED/BEST CG FOR RVs)


This full-service park invites you to fall asleep on the banks of the Methow River. But that's not to say it lacks activities, only that it manages to provide a relaxing atmosphere on one of the prettiest rivers in Washington.




Overview

: This modern campground is located 6 miles south of Winthrop and 2 miles north of Twisp, privately operated at 1768' elevation, open year round; GPS: 48.391344, -120.13563.


Facilities

: This well-equipped campground boasts bathrooms with showers, picnic tables, fire pits and wood, a playground and playfield, basketball, horseshoes, a half-acre Dog Park, Picnic Shelter, a laundry, Wi-Fi, cellphone and TV reception, propane, a Gift Shop, RV parts and supplies, and an RV dump station.


Recreation

: The Park itself offers swimming, boating, and fishing. The greater Twist-Winthrop area provides a multitude of activities, including hunting, mountain biking, rock climbing, hiking, rafting, and horseback riding, as well as museums, hot air ballooning, music festivals, and rodeos.


Campsites

(3 tent sites plus a group tent area, 75 sites for RVs up to 80' with full hookups 20/30/50 amp, one cabin, reservable): Sites include pull-throughs and big rig-friendly spaces. Most sites are large and well-spaced, particularly those along the River, and most are shady or partially-shaded. Most RV pads are gravel, but all are flat.


Trip Notes

: Unlike many RV parks, we may find yourselves waking up to deer grazing outside your window, with the quiet flow of the River reminding us to slow down and take it all in. This is a place where RVing definitely feels like camping, but with better facilities.


Local Alternative

: The best alternative for RVers is the Winthrop/North Cascades KOA.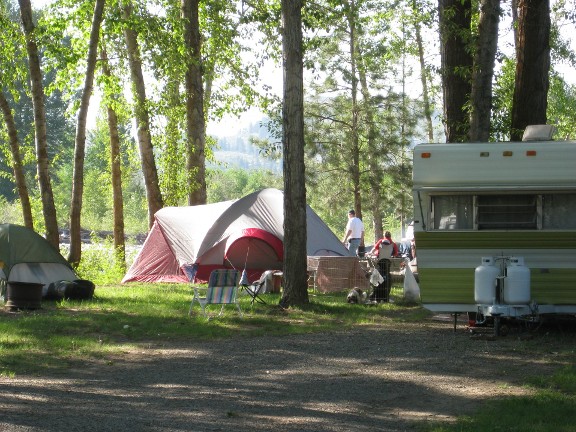 Riverbend RV Park and Campground is a place where you'll wake up to dear grazing outside your window
For more photos of Riverbend RV Park and Campground click HERE
Twisp Pass - Dagger Lake Hike-In Only Campground

(Okanogan Co.'s BEST HIKE-IN CG)


You'll have to work to get to this old mining road turned trail, but you have options. You can take the shorter 4.8-mile hike from the Twisp River Road, but the you'll have a 24-mile drive on FS roads from Twisp. You can also take the longer 7.6-mile hike from Rainy Pass just off of Highway 20. The good news is that after a short hike of moderate difficulty, you'll be camping in some of the most beautiful mountain wilderness in all of Washington.




Overview

: The Trailhead is located 24 miles northwest of Twisp, with the campground operated by the NPS at 6064' elevation, open June to September; TH GPS 48.4686483, -120.6566679 (see directions below).


Facilities

: No bathrooms, no water, no whining. This is the wilderness.


Recreation

: Once at Dagger Lake, side trips are worthwhile to Stilleto Lake just one mile away. Note that dogs and hunting are prohibited within the National Park. Also remember the "Leave No Trace" policy.


Gilbert Trailhead

: To get to the TH from Twisp, drive west on Twist River Rd (Okanogan Co. Rd 9114). After 10 miles it becomes FS Rd 44. Drive 4 miles and continue past Mystery C.G. where FS Rd 44 becomes FS Rd 4440. Continue 6 miles and cross North Creek to find Gilbert Trailhead on the right. Twisp Pass Trail #432 begins at the left fork of the TH (elevation 4500'). Hike 4.8 miles to the Lake Chelan-Sawtooth Wilderness at Twisp Pass. The trail continues a short distance to NCNP and a mile's descent to Dagger Creek C.G. This approach makes either day or overnight hiking possible.


Campsites

(multiple dispersed sites, FREE with a NW Forest Pass for the trail and a back country permit to camp overnight in NCNP): Sites are located near the shallow lake's edge surrounded by tamaracks that turn golden yellow in the fall, and red vegetation along the trail, surrounded by a backdrop of mountain peaks. These include Twisp Mtn (7166' in height) and Stiletto Peak (7200').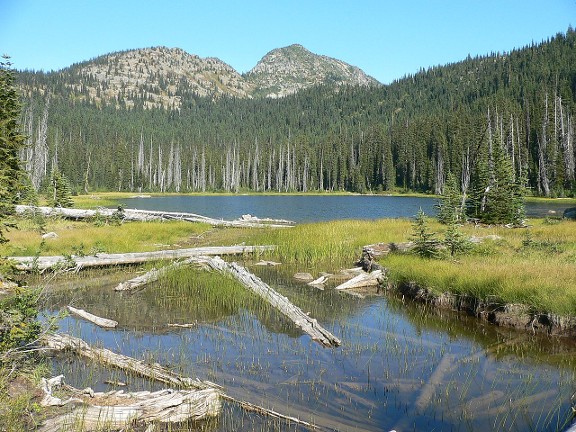 It will take some doing to get to the Dagger Lake Hike-In Campground
For more photos of Twisp Pass - Dagger Lake Hike-in click HERE
Heart of the Okanogan Region
This region is characterized by the Cariboo Trail, where cattle drives followed the Okanogan River to the hungry mining camps of the British Columbia gold boom of the 1860s. U.S. 97 now follows this north-south trail, but the area maintains a distinctly cattleman flavor, much like the better known Chisholm Trail delivering beef-on-the-hoof from Texas ranches to Kansas railheads.
Conconully State Park

(Okanogan Co.'s MOST UNIQUELY WASHINGTON CG):
Conconully, a town of just over 200 people, has been everything from the rip-roaring silver town of "Salmon City" (its former name), to the Okanogan county seat, to the little town between the reservoirs that gave up its old schoolyard to build the now arboretum-like State Park. Spend a few minutes in this little western town, and it will charm your spurs off.


Overview

: The Park is located 15 miles north of Omak in the town of Conconully on 81 acres with 5400' of freshwater shoreline on Conconully Reservoir and Conconully Lake at 2303' elevation, open March 15 to December 1; GPS 48.5558, -119.751.


Facilities

: The park is equipped with ADA flush toilets, ADA showers, running water, picnic tables, fire grills, a playground with wading pool, 2 boat launches, 1 dock for smaller boats, Park Store, one kitchen shelter, campground hosts, and an RV dump.


Recreation

: Bird-watching (hawks, herons, ospreys), boating, swimming, water-skiing, and especially fishing are popular here. Described as a "fisherman's paradise," the lakes provide kokanee salmon, largemouth bass (no limit), and rainbow trout. Another popular activity is "ghost towning," as this is the center of the Okanogan Silver Boom of the 1890s. Gold-panning is best on the Similkameen River to the north, but also good just beyond the ghost town of Ruby. Hiking is limited to a half-mile nature trail, and access to the Golden Stairway, a 6-mile hike above Conconully Reservoir. Wildlife-viewing is extensive, and includes coyotes, mule deer, elk, and muskrats.


Campsites

: (69 tent sites, 15 RV sites with water & electric 50 amp hookups , 4 small and 1 large cabin w/electric & water for rent, reservable): Sites are grassy w/adequate privacy. RV sites 56D-60D are the only reservable RV hookup sites. The trees are large and well-manicured, including weeping willow, big leaf maple, Douglas fir, Ponderosa pine, poplar, and scrub oak.


Washington History

: This Park was built in 1910 by the Bureau of Land Reclamation Project in Central Washington. Replicas of the town's original schoolhouse and courthouse are on the grounds. The park became a state park in 1945.


Trip Notes

: The amazing thing about Conconully is that the State Park and the town are like a single unit. Mule deer graze in the park, then cross the street to graze in private yards. You will meet your fellow campers at the General Store sitting on the colorful Adirondack chairs eating ice cream cones and discussing fishing, history, you name it. Conconully Lake stretches for about 5 miles into the forest, making the entire "Park"-- including both reservoirs, the compact little town, and the park itself -- stretch for 7 miles or so. And best of all, Conconully isn't so much "wild west" as it is "old west." It is very peaceful, very engaging, and a place that is hard to leave.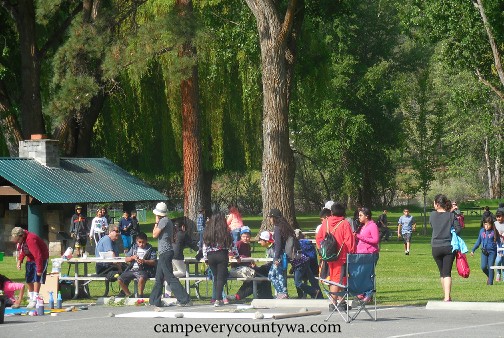 The Old West town of Conconully gave up its school yard for a State Park
For more photos of Conconully S.P. click HERE
Osoyoos Lake Veterans Memorial Park

(Okanogan Co.'s BEST BIKE-IN CG)


Osoyoos is the native word for "narrowing of the waters," as the Okanogan Highlands on both sides of the Okanogan River dip down nearly 3000' for this long lake that backs up well into British Columbia. The American Legion donated most of the campground land, giving it the designation of the Veterans Memorial Park.




Overview

: This bike-accessible Park is located in the City of Oroville on 300' of lakefront on the southern shore of 12-mile long Lake Osoyoos, operated by the City of Oroville Parks at 932' elevation, Open mid-March to October; GPS 48.935032, -119.436943.


Facilities

: These include a bathhouse with showers, picnic tables, fire rings, concession stand, 40' fishing dock, railed lake trail for shore fishing, and an RV dump.


Recreation

: Fishing is fair for smallmouth bass from spring to fall. Other fish include Chinook trout, kokanee, and yellow perch. Canoeing and kayaking are ideal here due to the still lake waters.


Campsites (86 tent and RVs up to 35', 13 sites have water & electric 30 amp hookups, 6 walk-in sites, and 2 ADA sites): These campsites seem designed for that "one big happy family" atmosphere, lacking privacy but creating a festive mood. Those seeking more solitude will find solace at the 40' foot fishing dock, the huge grassy Day Use Area, or canoeing/kayaking on the lake. The most private campsites are the hookup sites on the lakeshore.




Trip Notes

: This was a very happy environment, and quite lush for our May visit. It was nice to withdraw from the arid Okanogan Valley and find this green oasis. It is certainly "everybody-oriented," but those who need more privacy and solitude might want to explore Blue Lake or Bonaparte Lake.


Local Attractions

: Those camping with or without children need to set aside the better part of a day to drive 12 miles east into the Okanogan Highlands to visit the nearly 4000' Nine Mile Loop. Its best feature is the reassembled ghost town of Old Molson. This town sprang to life in the early 1900s until, a year or so later, they learned they had built their town on someone else's legal homestead. They abandoned everything, moving the new town one-half mile north. All of the original buildings were left in tact, along with farm equipment, a bell tower, and some houses/cabins all open to public view. The Loop also includes the original sites of those towns Circle City and Sidley, British Columbia (borders were much less well defined in those days). Most people find Old Molson the best part of their trip to the Upper Okanogan Valley. Just 12 miles west of Osoyoos visitors may visit the remnants of the old ghost town of Nighthawk, which is privately owned but scattered and left much in its natural state.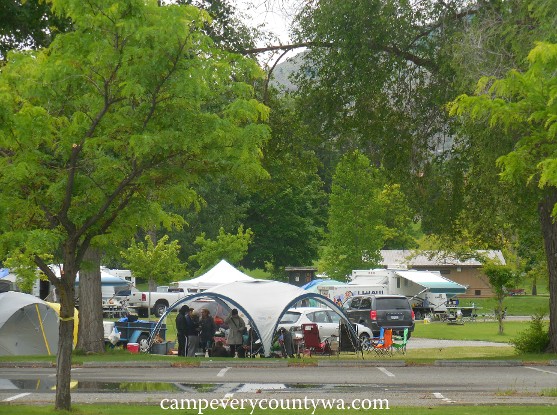 Lake Osoyoos Campground provides a "one big happy family" atmosphere on a terrific lake
For more photos of Osoyoos Lake CG click HERE
Blue Lake Campground in the Okanogan

(one of Okanogan's Co.'s BEST FREE CGs):
This lovely campground is hidden away south of the historic town of Loomis in the little known Sinlahekin Wildlife Area, where the mountains rise up sharply from the green valley floor and narrow greatly, as if concentrating the beauty into one small island of land few will ever experience. #Be careful -- there are 3 Blue Lakes in this part of Okanogan County alone#


Overview

: This quiet gem is located 12 miles south of Loomis on 210-acre Blue Lake, managed the the WDFW at 1690' elevation, open year round; GPS 48 40 18.62, N 119 41 20.70 W.


Facilities

include 2 Vault toilets and 2 gravel boat launches. This is considered a primitive campground.


Recreation

: Fishing is good for rainbow and brown trout. Kayaking, canoeing, and tubing are excellent. This is a reservoir, so swimming is possible depending on lake levels and shoreline definition.


Campsites

(about 14 dispersed sites, divided into southern and northern clusters on native material, no hookups or reservations, FREE with Discover Pass): The southern cluster of campsites is prettier, with partial shade beneath towering weeping willow trees and unobstructed views of the lake. The northern cluster is shadier with pines and firs, and smaller sites right on the brushier edge of the lake. Both clusters of campsites are on the southern tip of the lake, where the large triangled northern portion of the lake narrows to a very long, narrow tube making boat access easier.


Trip Notes

: My campanions and I stood in front of the cluttered signpost in Loomis. The day was getting away from us, and we had not found a good primitive campground. We could return east on the all too familiar road to Tonasket, then wind our way back to Conconully and call it quits. Or we could take a chance, follow the sign that indicated a shortcut back to our campground ("Conconully 22") and hope for the best. We quickly found ourselves in the beautiful Sinlahekim Wildlife Area, a designation not included on our maps, with its many WDFW campgrounds. The first (all campgrounds were unmarked) was adjacent to a game reserve/hunting area. That was out. The next two were ORV-oriented campgrounds. Both out of the question. Then the valley narrowed dramatically into a perfect little blue lake, called, well "Blue Lake," the happy little gem described above. Don't give up, campers. Rustic campgrounds don't have to mean wilderness, or risking your life to get there. They are simply nature in its most untrampled form.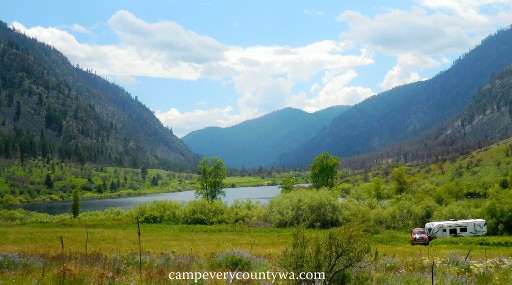 The mountains surrounding the Sinlahekin Wildlife Area narrow and close in around Blue Lake, as if concentrating the beauty into one perfect gem
For more photos of Blue Lake CG click HERE
Crawfish Lake Campground

(one of Okanogan Co.'s BEST FREE CGs)


This pretty lake provides the perfect home for those tasty little miniature lobsters we call crawfish. Or at least they did at one time. Once crawling with them, the lake has been so overfished that they are now hard to find. All that is left is the perfect camping lake.




Overview

: This Okanogan National Forest campground is located 20 miles east of Riverside on the northeast shore of 80-acre Crawfish Lake at 4500' elevation, open mid-May to October, weather permitting; GPS 48.4838, -119.2146.


Facilities

include vault toilets (ADA-friendly), picnic tables, fire rings, wooden benches, and a gravel boat launch. There is no water or garbage service.


Recreation

: Fishing is fair for rainbow and eastern brook trout. Note that the southern end of the Lake is on the Colville Indian Reservation, and special fishing permits are required. Boating is allowed with electric motors or human-powered boats. Crawfishing is possible, but overfishing has made them scarce. This is a natural lake with good swimming.


Campsites

(19 sites for tents or RVs up to 35', 11 sites have lakefront, 2 are double sites, FREE with NW Forest Pass): Ponderosa pines and mixed conifers provide both mixed shade and a buffer from the Indian lands, so that those unfriendly "no trespassing" signs won't be found here. The best campsites are 1, 2, 13, and 18. If you come on a weekday, you should easily get a lakefront site. Most of the off-lake sites, however, are nicely forested with good privacy, and may be preferred by some.


Trip Notes

: This little azure gem is not as remote as critics claim (if you've traveled extensively in Okanogan Co., 20 miles from the nearest town is pretty typical). The road is mostly paved, except for the last 2 miles, which were flat gravel roads without potholes, but a bit washboardy. I was also surprised to find houses around most of the lake, making it remote, but certainly not wilderness. Each campsite was delightfully different from the rest, and the lake seemed to have a natural blue glow about it. This has great general appeal, rating high on the "everybody-friendly" list and a good all-around getaway.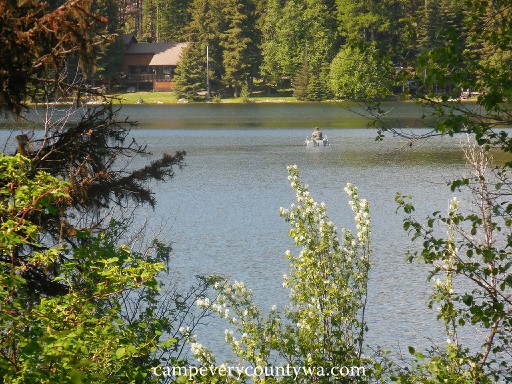 Crawfish Lake has a natural blue glow that will appeal to everybody
For more photos of Crawfish Lake CG click HERE
Loup Loup State Forest Region
This often overlooked area of Okanogan County sits on a forested mountain pass separating the Methow and Okanogan Valleys. Most of us know it as Highway 20, the short-cut between the Winthrop-Twisp area and the Okanogan-Omak area. Slow down, look around, pitch your your tent, and grab your fishing poles and hiking boots.
Leader Lake Campground

(Okanogan Co.'s BEST RUSTIC CG):


This is not only the closest campground to services in Okanogan, it is also the best campground in the region: Quiet, natural, welcoming, and prized by locals. It is also just off Highway 20, with easy bicycle access.




Overview

: Located 8.8 miles west of Okanogan on the shore of 155-acre Leader Lake (reservoir) on 159 acres, managed by the DNR at 2293' elevation, open year round; GPS 48.3617, -119.6973.


Facilities

include vault toilets, picnic tables, fire rings, 2 boat launches, a fishing platform, and a wooden deck with bench for lake viewing.


Recreation

: Fishing is good for bass, bluegills, crappie, and rainbow trout. The great hiking here is less known. The Ray Trail is a 1.0-mile long wilderness trail of average difficulty. The Beaver Lake Trail is more strenuous at 4.1 miles and 1877' elevation gain leading to a mile-high lake that invites foot and body soaking. Granite Trail is more strenuous at 11 miles of hard hiking that most make a 2-day trek. All give clear views of the Loup Loup Forest and Okanogan Valley.


Campsites

(14 sites for tents and RVs up to 30', no hookups, water, or reservations, FREE with Discover Pass): Campsites are in two areas. Sites on the Northshore are dry and lack shade, with at least one site suitable for larger RVs. The Southshore sites are more shaded, but require a rather uneven and rough paved road around a steep hill to get there, and most RVers might want to avoid this area. Pads are on native material. This campground is close to services in Okanogan, which seems many miles away.


Trip Notes

: We found the lake far more beautiful than anticipated, with diverse shoreline, vegetation, and very "Old West" looking barns and houses. The Northern campsites are the most accessible to bicyclers. There is one semi-concealed site at the northwest corner of the earthen dam that has a culvert of water running past with excellent shade that we strongly recommend for weary bicyclers.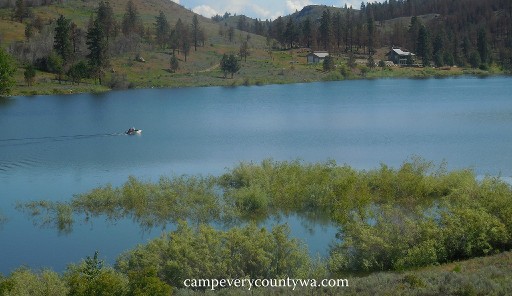 Leader Lake Campground is rugged, but has an Old West feel and natural beauty that explains its popularity
For more photos of Leader Lake CG click HERE
Okanogan Highlands/Five-Mountains Region
Ever heard of the Bonaparte Mountains? Small wonder, very few have. Reason: almost no one lives there. This remote northeastern corner of Okanogan County is "inhabited" by such towns as Wauconda, Bodie, Old Toroda, and Chesaw -- all of which are listed as ghost towns. What is left behind is an unspoiled mountain chain with high altitude lakes and perfect camping getaways.
Bonaparte Lake Campground

(one of Okanogan Co.'s MOST APPEALING CGs TO THE SENSES)


In the shadow of 7257-foot high Mount Bonaparte lies little Bonaparte Lake, the gem of the series of 5 lakes, with the campground on the south shore and Bonaparte Resort on the north shore.




Overview

: This Okanogan National Forest campground is located 36 miles east of Tonasket on the south shore of 80-acre Bonaparte Lake at 3567' elevation, open mid-May to late September; GPS 48.79246, -119.05742.


Facilities

: This uncharacteristic USFS campground includes both vault and flush toilets, drinking water, grey water disposal, picnic tables, fire rings/grills, a sand play area, boat launch, a wheelchair-friendly fishing pier, and camp hosts. There are plans for a swimming dock and new group site with a covered picnic shelter.


Recreation

: As most would expect, fishing looms large, producing lake trout, rainbow trout, and smallmouth bass. Only electric boat motors are allowed with a speed limit of 10 mph, so quiet is king. Swimming is available. Hiking is the best way to see this part of Washington, particularly the 4.5-mile (each way) Bonaparte Mountain Trail #306. The mountain rises 3500' above its surroundings, making it somewhat difficult going up, but leads to an historic lookout tower and cabin built in 1914 and now on the National Register of Historic Places. It gives 360-degree panoramic views of Tiffany Mountain (8245') and Copper Butte (7140'), the Kettle and Selkirk Mountains.


Campsites

(27 sites for tents and smaller RVs, including multiple sites, no hookups or reservations): Tamarack and Douglas fir trees provide ample shade, but ground vegetation and privacy are minimal. Sites are organized into two loops. The smaller loop has only vault toilets, while the larger loop has both flush and vault toilets. Some parking aprons are paved, others are on native material. Both loops have sites on the water's edge, and all have good lake views. The sites are very individual, including 2 triple sites, 7 double sites, 14 single sites, 3 walk-in tent sites, and 1 group site. This gives flexibility to any sized group, a rarity among USFS campgrounds.


Trip Notes

: Here we go again, with the perfect little USFS campground on the perfect little lake -- so you know I'm smitten. This campground has getaway written all over it -- sites on the lake, nice mountain views, quiet, and good paved roads to get there. The lake was even nice enough to form itself into a dumbell shape, separating it from the busier campers at Bonaparte Lake Resort. This one is calling you.


Local Alternatives

: Bonaparte Lake Resort has RV hookups (electric 20 and 30 amp), cabins, showers, and boat rentals, but is cluttered and even shabby. Campgrounds at Beaver Lake, Beth Lake, and Lost Lake, the other lakes in this 4-lake Bonaparte chain, have better than average campgrounds that appeal to hunters, fisherfolk, hikers and, of course, campers.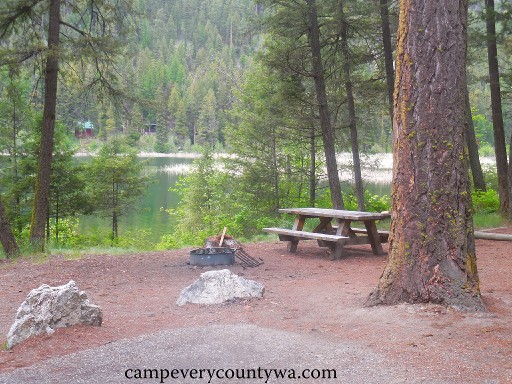 Bonaparte Lake shines even on a gray day
For more photos of Bonaparte Lake CG click HERE
Lost Lake Campground and Group Campground

(Okanogan Co.'s BEST GROUP CG):


This picture perfect campground has the look and feel of the postcard summer camp, but sized for adults. Great forest, great lake, and great camping, both for large or small groups, or individual families.




Overview

: Located 34 miles west of Tonasket on the shore of 50-acre Lost Lake, operated by the USFS at 3800' elevation, open Memorial Day Weekend to Sept. 30; GPS 48.8531, -119.0503.


Facilities

: Meticulous facilities include flush toilets, drinking water, picnic tables, fire rings/grills, amphitheater, boat ramp, garbage service, playground, swimming platform, and camp hosts.


Recreation

: Swimming and boating (no gas motors) are the main draws, along with berry picking. This place, however, seems to invite mingling with the trees and wildlife as an activity of all its own.


Campsites

(13 single sites and 6 double sites for tents and RVs up to 31', one group site for up to 100, no hookups, reservations required for group site): The campground is a single loop nicely forested with tamarack/larch and mixed conifers. Sites are on native material, many with lake views.


Trip Notes

: This lake is not hard to find, and is hardly lost. In fact, judging from the number of local school buses buzzing through the campground on presumed field trips, I would say it is both quite well known and popular. It is easy to see why. The Five Lakes Recreation Cabin (note that only 4 of the lakes remain) was built by the Civilian Conservation Corps in 1941 and adds to the campground's vintage character. The small lake is perfect for small, drifting flotillas of canoes, kayaks, and tubes. The forest here is meticulously manicured, rivaling that of our state parks without the commercialism. This is not only the best group campground in Okanogan County, but one of the very best in Washington.


Local Attractions: One mile away is the Big Tree Botanical Area that highlights two 900 year old Western larch and other trees with interpretive trails. The "lightly inhabited" ghost town of Chesaw is to the north with many pioneer buildings still standing, providing great photographic opportunities that can be enjoyed by people of all ages.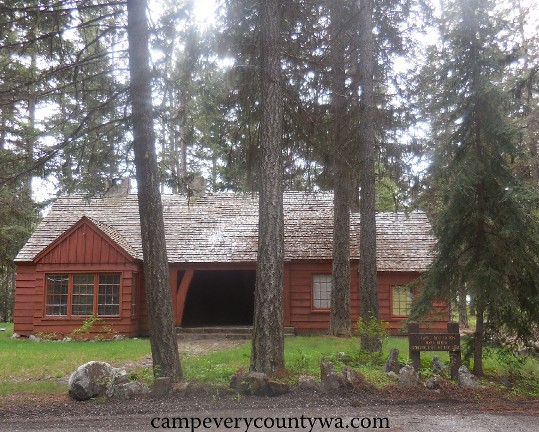 The Lost Lake Group Campground greets campers with the Five Lakes Recreation Cabin built by the CCC in 1941
For most photos of Lost Lake CG and Group CG click HERE
Columbia River Region
This southern border of Okanogan County stretches from Pateros to the Grand Coulee Dam. It is difficult to call this the "Columbia River," as the majority of the water is taken up with Rufus Woods Lake and Lake Pateros, two exceptionally wide reservoirs created by Chief Joseph and Wells Dams. As such, this area provides diverse aquatic recreation and fascinating geological features: the place where cowboy sagebrush meets the inland ocean.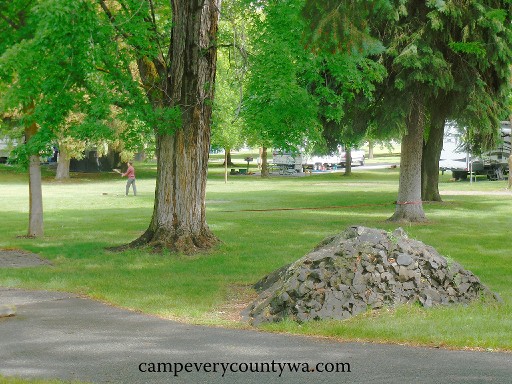 Multiple basalt "haystacks" dot the grounds of Bridgeport State Park For more photos of Bridgeport S.P. click HERE