This may be the smallest county on the Olympic Peninsula, but is also the gateway to such natural wonders as the Olympic Rain Forest, the Skokomish Valley, and captivating Hood Canal. Originally named Sawamish County in 1854, it was later renamed after Charles H. Mason (1830-1859), the territory's first Secretary of State and acting governor. It was built up first by logging, then by railroads, and soon after by tourism, due to its many waterways, inlets, mountains, lakes and virgin forests. It maintains its pioneer spirit, with some of the most unique camping in Washington.

Hood Canal Region
The fjords of Norway have nothing on Mason County. Okay, that may be overstated, but Hood Canal is a 70-mile long natural fjord that cuts past the glacially-clad mountain peaks of the Olympics, before turning sharply east toward Puget Sound. It is a shell fisherman's, hiker's, boater's, and camper's dream come true.

Belfair State Park

(Mason Co.'s BEST CG FOR ENTIRE FAMILIES)
When Hood Canal hits this southernmost point at "The Heel" and hooks sharply east, it forms the "Southshore," a more sheltered, gentler waterway giving way to incredible wetlands and streams at "The Toe," better known as Belfair S.P.
Overview: Located 3 miles west of Belfair on 65 acres with saltwater shoreline on Hood Canal at 19' elevation, Beach Loop open year round; GPS 47.42972, -122.87556.


Facilities

: The park comes equipped with bathrooms with showers (both ADA), picnic tables (ADA), fire rings, a playground, sports field, a Kitchen Shelter, camp hosts, and an RV dump.


Recreation

: The gentle breezes and calmer waters at this southernmost tip of Hood Canal lend themselves to kite flying, windsurfing, and kayaking. Clam and especially oyster harvesting are good, while both freshwater and saltwater fishing are fair. Be mindful that WA state licenses are required. Stream and saltwater swimming are also popular. Birding is excellent (see below).


Campsites

(167 sites, including 47 with full hookups 50 amp, 8 cabins, 3H/B sites, reservable): Sites are in three loops. The Main Loop (sites 49-62, 73-82, 99-111, C1-C4 for cabins, and T2-T19 for hookups) is a relatively open and borders Big Mission Creek. The grassy Beach Loop (sites 83, 98, 101, and T20-T47 for hookups) also borders Big Mission Creek. Both this and the Main Loop are best for swimming. The Forest Loop (sites 113-184) is the prettiest of the 3 Loops, situated along Little Mission Creek, but can only accommodate RVs up to 30', so is best for tenters. It is set among extremely large conifers acting as a wind break and providing shade.


Trip Notes

: The South Shore of Hood Canal has always had a calming effect on me - a great amalgam of wetlands and forest. It is superior to nearby Twanoh S.P. and Potlatch S.P, both which have a beautiful waterfronts, but are congested and bisected by busy highways.


Local Attraction

: The Theler Wetlands is a series of wetland trails and boardwalks at the tip of Hood Canal where it meets the Union River. It is noted for excellent bird watching (no dogs allowed here). Frequently observed birds include the American bald eagle, American wigeons, buffleheads, goldeneyes, golden-crowned kinglets, green-winged teals, horned grebes, northern pintails, ospreys, red-breasted mergansers, red-necked grebes, and red-tailed hawks.

Belfair State Park offers both marine and woodland camping
For more photos of Belfair S.P. click HERE
South Fork Skokomish River Region
The South Fork of the Skokomish River forms one of the most bucolic, idyllic, Fairy Tale valleys in all of Washington. It has also battled flooding, due to upstream logging and other industries. In the meantime, we can take the high ground (literally) and find remarkable camping opportunities upstream along this much loved river.

Brown Creek Campground

(one of Mason Co.'s MOST APPEALING CGs TO THE SENSES)


This is one of the most sustainable, people-pleasing campgrounds in Washington. Why? Because it had been "unofficially" used by locals for decades. This was never Party Central -- this was used for fishing, hunting, and river camping for so long that the USFS finally recognized the need, took control, and developed it into one of the best getaways in the area.




Overview

: This Olympic National Forest beauty is located 23.7 miles northeast of Shelton and 15 miles up the Skokomish Valley Road at the confluence of Brown Creek and the South Fork Skokomish River at 600' elevation, 6 sites are open year round; GPS 47.412121, -123.322013.


Facilities

are minimal, but comes with vault toilets, drinking water (summer only), fire rings, and picnic tables.


Recreation

: Hiking, tube floating, and fishing are the mainstays here. The 0.8 mile Brown Creek Nature Loop Trail #877 is a beautifully forested walk around the donut-shaped wetland within the park, allowing wildlife and bird viewing. Wading and tubing in the South Fork Skokomish River get rave reviews. Fishing for Chinook, coho and chum salmon round out the highlights.


Campsites

(13 back-in sites for tents or RVs up to 21', plus 9 pull-through sites for larger RVs, one site is ADA, no hookups or reservations): Sites are located in 3 unnamed sections: (1) Sites 1-6 (open year round) are the most rustic and back up to the river; (2) Sites 7-11 have a more developed, groomed appearance along the campgrounds' paved roadway. It is a small loop meandering through a stand of white barked conifers and alders with a "deep woods" feel offering good to excellent privacy; and (3) Sites 12-22 comprise a larger loop in a stand of maples, Douglas fir, and hemlock with an open, airy feel with fair to good privacy.


Trip Notes and Directions

: This remote campground was a pleasant surprise with some of the largest and most private campsites we have seen. It is a little difficult to find: We recommend you be prepared to always veer to the right, and you should be fine. When the Skokomish Valley Road finally forks, take the right fork onto Forest Rd 23. This will alternate between paved and gravel surfaces for about 15 miles until you come to the Brown Creek Bridge. Once over the bridge, make a very sharp right, hugging the river, and you'll drive right to it. This "driving by karma" as we call it, is less stressful than following maps or uncertain GPS in unfamiliar territory. Another warning regarding maps: Brown Creek Pond is not really the donut-shaped little lake that appears in drawings of the campground. Rather, it is a beaver pond wetland with a grove of trees in the middle. The hiking trail around the pond (above) is terrific, but the pond won't support any boats. Leave your canoes and kayaks at home, or you'll find yourself up Brown Creek without a paddle.


Local Attraction

: The "steel bridge," the only named ascribed to this towering structure over the South Skokomish Gorge, is a logging bridge that has captured the respect of local folks in the Shelton area. If you're a guest of the locals, you'll be taken to see this before the sun sets. Be nice, it's worth a look and a walk across. From here you can also see Vincent Creek Falls, a narrow 125' high tumble of water into the Skokomish River.


Local Alternative

: Those looking for something less remote and less rustic might try Cedar Arms CG along the South Skokomish River just one mile from Hwy 101. It has just 5 individual tent sites, including one group site. Swimming is excellent in the beautiful, slow-moving stretch of the River. This is largely a "boutique-ing" campground, as each site is highly individualized, with strings of Mexican prayer flags colorfully decorating each custom site. GPS coordinates are 47.334° N, 123.27°W.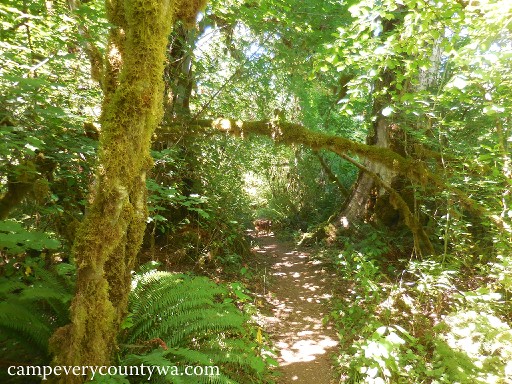 The trail around the "Pond" at Brown Creek Campground has aspects of both alpine forest and Rain Forest
For more photos of Brown Creek CG click HERE
North Fork Skokomish River Region
Most campers get very little opportunity to see the North Fork of the Skokomish River, except for the portions that form Lake Cushman. This river has been claimed by both the Tacoma Power Company and the Skokomish Tribe for over a century, but due to an arduous series of negotiations, much of the land has been returned to the Tribe, while leaving the dams in place. The result is that camping is much improved in the area, showcased by the Tribe as their pride and joy.

Staircase Campground, ONP

(Mason Co.'s MOST UNIQUELY WASHINGTON CG and includes BEST HIKE-IN CAMPSITES)
The name Staircase" was first used in the 1890 diaries of the O'Neil Expedition. In mapping and exploring this southeastern corner of the Olympic Peninsula, they felled logs in zig-zag trails and covered them with moss and brush for the mules to cross a rock bluff that was otherwise impassible -- thus "staircase." Today the name staircase is used to describe the series of regular recurring rapids one mile upstream from the campground.


Overview

: This Olympic National Park campground is located 31.2 miles northwest of Shelton on 8 acres on the North Fork of the Skokomish River at 1066' elevation, open year-round weather permitting. GPS 47.515, -123.328.


Facilities

: There are flush toilets and potable water during summer season only, but pit toilets and no water in off-season. Other amenities include picnic tables, fire grills, animal-proof food lockers, an amphitheater, a vintage Ranger Station, equestrian trails, hiking trails, and camp hosts.


Recreation

: While visitors enjoy fishing, biking, swimming, boating, canoeing, kayaking, picnicking and wildlife viewing, this campground is famous for its direct access to splendid hiking. The

Staircase Rapids Loop is an easy flat 2-mile trail that winds through old growth forest to a 200' suspension bridge over the North Fork of the Skokomish River. From this bridge hikers can veer off an additional 1.2 miles to where Four Stream meets the Skokomish in a red cedar forest. Shady Lane Trail is flat and only 0.9 miles to the Four Stream Road and Lake Cushman. The first 0.1 mile along the River is wheelchair accessible. More strenuous hikes include the Wagonwheel Lake Trail at 2.9 miles with an elevation gain of 3,365'. The Flapjack Lakes Trail is a 7.8-mile one-way hike with a 3,115 foot elevation gain. The two lakes lay side by side just below tree line at the base of the Sawtooth Range. Note that no dogs are allowed on these trails, and a camping permits are required.

Campsites

(49 sites for tents and RVs up to 21', with a few for up to 35', some ADA, 5 sites are walk-ins, no hookups or reservations): Campground sites are set in old growth forest, and are heavily shaded, even damp at times. Many sites have river access, most are flat. They are fairly large, but can lack privacy from other sites. Alternatively, this closer spacing can be an advantage for larger groups. Parking is on native material. The campsites on the less strenuous trails are dispersed, but always surrounded by water and mountains.


Trip Notes

: The recently upgraded campground can surprise visitors with the beauty of the Skokomish River and the sudden shift to a more rain forest feel. It would be easy to stand on top of the concrete bridge and stare down at the translucent blue flowering river water, free of pollution, damming, and human interference. It surrounds the campground on two sides, giving it its irresistible draw. The vintage Ranger Station adds a sense of nostalgia and timelessness. This has been a go-to hike-in camping spot for my brothers and I, as the quicker access up the flat trails left more time for the camping experience.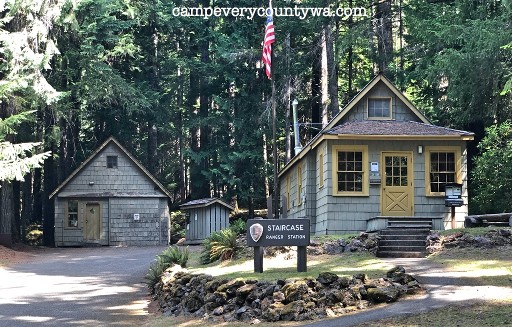 The vintage Ranger Station at Staircase Campground give it a timeless feel
For more phtos of Staircase CG, ONP click HERE
Skokomish Park

(Mason Co.'s MOST APPEALING CG TO THE SENSES and includes BEST GROUP CG within North Camp)
Formerly known as Lake Cushman S.P., this land was returned to the Skokomish Tribe in settlement for land lost due to the damming of Lake Cushman. The Tribe has transformed a fairly good park into one of the very best in Washington.


Overview

: This well-appointed campground is proudly located 22.7 miles north of Shelton and 7 miles northwest of Hoodsport on 600 acres with 41,500' of shoreline on 4,010-acre Lake Cushman, operated by Skokomish Indian Tribal Enterprises at 1000' elevation, South Camp Loop is open year round; GPS 47.4633, -123.2178.


Facilities

: Featured are bathrooms with coin-op showers in each loop, picnic tables, fire rings/grills, hand-hewn benches, 9 miles of trails, camp hosts, and an RV dump.


Recreation

: Kayaking and canoeing are excellent, with kayak, stand-up paddle board, paddle boat, and mountain bike rentals in the South Loop. Swimming is also exceptional, though the water can be cold. Water skiing on this large lake tends not to be disturbing to campers. Hiking at nearby Staircase Recreation Area and Big Creek CG is highly recommended, including the hike to the top of Mt. Elinor. The Lake Cushman Gold Course provides links for golfers without leaving the Cushman environment.


Campsites

(60 sites for tents and RVs of all sizes, including 30 with full hookups 30/50 camp, 2 H/B sites, 1 small group camp for 20 and one large group camp for 80 in the North Loop, reservable): Sites are divided into South and North Camp Loops. Both are excellent and well maintained by the Skokomish Tribe, who add hand-hewn benches and other touches not seen at other parks. The South Camp Loop is more manicured, has access to supervised swimming and boating areas, and is preferable for campers with children. The North Camp Loop is preferred by some parties without children, is intentionally more rustic, more heavily wooded, and includes the larger of the Group Camps, adding more private, unrestricted access to the Lake. Both loops accommodate RVs of any size, but the only the South Camp Loop has hookups. This is clearly superior to nearby Big Creek CG which is dusty and brushy despite recent upgrades compared to the evergreen coolness of Skokomish Park. It is also superior to Cushman Resort, which is extremely congested, and another example of "camping in fast motion." Dow Creek RV Park and CG remains the best local alternative.


Trip Notes

: Some of my campanions will tell you emphatically that this is their favorite campground in Washington. I could easily add it to my top 10 based on privacy, and the lush atmosphere of the Olympic foothills. The personal touches added by the Tribe, and the complexity and positioning of the sites are near perfection. In short, this is a "park on a lake that's not about the lake" -- it's about the camping. And this is our ultimate criteria for campgrounds. The beaches are fine -- they offer good mountain and lake views -- but the campsites themselves put this park among our favorites.


Washington History

: The Antlers Hotel was built in 1895 on the shores of Lake Cushman as a luxury getaway for seasoned outdoorsmen. In 1903 Theodore Roosevelt was invited to stay here in order to secure his signature to open up the land to logging. He did not do so, but focused instead on the local elk, which were nearly wiped out. By 1909 he created the 610,000-acre Mount Olympus National Monument inside the Olympic National Forest. This led to the preservation of the "Roosevelt Elk" and set the stage 30 years later for the creation of the Olympic National Park by another President Roosevelt (see WA History under Willaby Campground, Grays Harbor Co.). Incidentally, the Antlers Hotel was flooded by the newly dammed Lake Cushman in 1924, but Teddy's legacy remains.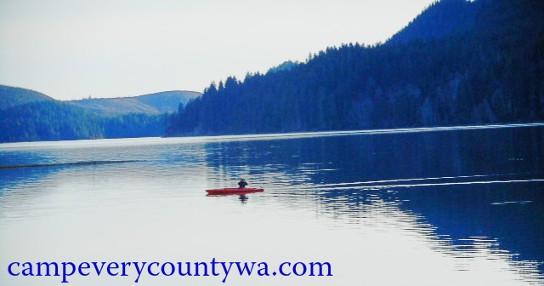 The vivid colors of Skokomish Park at nightfall are a delight to the eye
For more photos of Skokomish Park click HERE
Dow Creek RV Resort and Campground

(Mason Co.'s BEST EQUIPPED/BEST CG FOR RVs):


Sometimes, rarely, you find a campground that is about the Creek. Well, you found it: small, bubbly, winding through moss and vine maples. Sometimes we need nothing more.




Overview

: This facility is strategically located 18.1 miles north of Shelton and 2.7 miles west of Hoodsport, operated by Sunrise Resorts at 641' elevation, open year round; GPS 47.411877, -123.190665.


Facilities

: The RV section is equipped with bathrooms with showers, fire rings, picnic tables, sections of cut logs for seating/tables, a playground, sports court, laundry, vintage picnic shelter, camp hosts, and is a short walk to Lake Cushman Grocery.


Recreation

includes tennis, walking/hiking trails at adjacent Hoodsport Trail (formerly a S.P.), and golfing 1 mile away at Lake Cushman Golf Course. Hood Canal itself provides shellfish harvesting, boating, and scuba diving. Great hiking is nearby at Staircase, Big Creek, Mount Elinor, and other trails within the Olympic National Forest and ONP.


Campsites

(94 sites for tents or RVs of any size, 17 with full hookups and 50 with electric & water hookups 50 amp, 5 cabins, reservable): The RV sites in the main park are wooded and well-spaced, particularly those on the back loop furthest from N. Lake Cushman Rd. The tent sites (open summer only) are detached just down the road, across from the Lake Cushman Golf Course. These sites are large, wooded, and private. There is some evidence of logging just beyond the treeline, but does not detract from the simple beauty of the place. The tent sites (10 in all) are more rustic, with vault toilets, picnic tables, and fire rings. They are also quieter, but closer to walking trails and the golf course.


Trip Notes

: This park was the surprise of the year. It just felt good. Dow Creek runs through the park, one of the prettiest creeks anywhere, pristine and gentle, eventually flowing to Lake Kokanee ("Lower Lake Cushman"). Vintage remnants of older campgrounds are visible throughout the park. This fit our ultimate criteria for a good campground: we didn't want to leave when our time was up, and extended our stay. Twice.


Local Attractions:

The Hoodsport Winery in Hoodsport is popular with wine connoisseurs.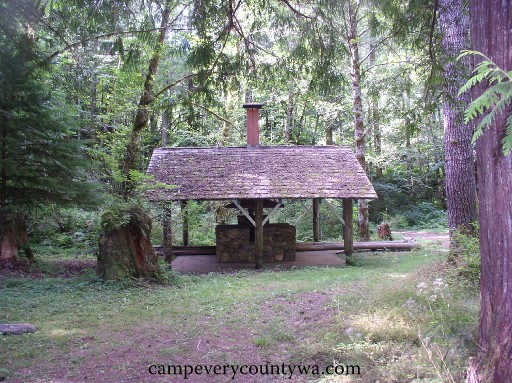 Vintage remnants of older campgrounds are visible throughout Dow Creek RV Park
For more photos of Down Creek RV Park click HERE
Tahuya State Forest
The 23,000-acre Tahuya State Forest strikes a delicate balance of providing sustainable revenue for public services through timber production, and leaving undeveloped land as habitat for native plants and animals, water retention and water quality benefits. Campers will find some areas popular with motorized off-road vehicles and equestrians, with the remainder being a very natural and unspoiled habitat for the campers themselves.

Dewatto River Campground

(Mason Co.'s BEST RUSTIC CG)


The tiny, virtually unknown town of Dewatto lies on the eastern bank of Hood Canal with an ideal, perfectly located vista of the Olympic Mountains, without the crush of tourists along Highway 101. Primitive and pristine, this is the place to get acquainted with this remote area "from the ground up."




Overview

: This campground is quietly situated 37 miles northeast of Shelton and 13.5 miles west of Belfair at the confluence of the Dewatto River and White Creek, operated by the Port of Dewatto, open seasonally; GPS: 47.476334, -122.927353.


Facilities

: These are limited to vault toilets, picnic tables, fire rings, a community kitchen, an electrical source, and camp hosts.


Recreation

includes fishing, hiking, and shellfish harvesting at Dewatto Bay (0.75 miles away).


Campsites

(60 sites for tents or RVs up to 30', electrical hookups available, reservable): Best sites are along the River (3, 4, 5, 6, 7, 10, 11 & especially 51). The reservation system is archaic, but under development, and you may end up mailing in cash well in advance. The sites themselves are rather open to one another, but shaded by ample fir and spruce. IMPORTANT: Payment is by cash only. Early check-in is not allowed without charge


Trip Notes

: Readers may well wonder why a campground with electrical outlets can be considered "rustic," but one visit and you will understand. The place has a very natural, almost primitive character. Glampers will want to steer a wide birth around this one. That leaves more for those of us who appreciate nature in its most unspoiled form -- plus we can recharge our phones! Well, you can, anyway.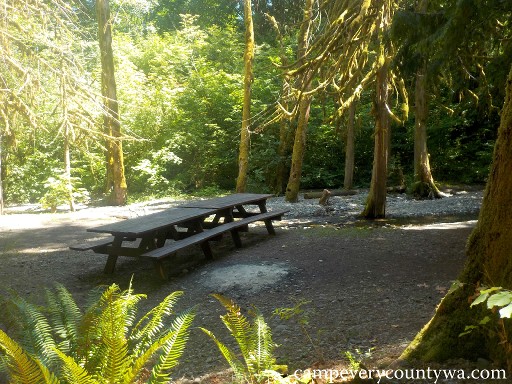 Sites line the Dewatto River, giving a rustic mixture of sun and shade
For more photos of Port of Dewatto CG click HERE
Aldrich Lake Campground (Mason Co.'s BEST FREE CG)
This is rustic campground is sometimes called Aldridge Lake. Its old world feel and isolation make it a campworthy find at any price.
Overview: This remote campground is tucked away 38.2 miles north of Shelton and 14.7 miles west of Belfair on 10.6-acre Aldrich Lake, operated by the DNR at 448' elevation, open April 15 to Sept. 15; GPS 47.432623, -123.0822558 (see directions below).
Facilities: These are limited to a concrete pit toilet plus two older pit toilets, picnic tables, metal fire rings, and an unimproved boat launch.
Recreation: Mushroom gathering and berry picking are a big deal here, and in the area generally. Swimming is popular at the Lake, despite snags in the water. Fishing is fair, with some rainbows and bluegills caught here. There are also other lakes close by for fishing, plus an extensive system of hiking trails throughout the Tahuya Forest.
Campsites (5 sites for tents or truck-mounted campers; no hookups, water or reservations, FREE with Discover Pass): The spacious sites wrap around the north side of this small lake, with site 5 at the turnaround at the end of the road. A small creek runs between sites 2 and 3. The sites are forested with Douglas fir, pines, dogwood, and wild rhododendrons. Sites 2 and 3 are pull-throughs, but not level enough for RVs. The back-in sites are more level. Site 1 is adjacent to the boat launch and small Day Use Area, giving it more space. All campsites face the Lake. Take note: the small lake is shared by the Boy Scout Camp Hahobas on the southwest corner of the Lake.
Trip Notes: The addition of dogwood and wild rhododendrons, plus modern, clear signage to the campground were big surprises. I would recommend camping on weekdays, however, as this is often full on summer weekends. Overall, this is a little rustic, but very campworthy, in a wonderful forested area.
Directions:
1. From the intersection at Bremerton/Gorst, head southwest on Hwy 3 for 8.4 miles to the town of Belfair.
2. Turn right at the first stoplight (NE Clifton Lane/Hwy 300).
3. Continue on Hwy 300 for 3.5 miles just past Belfair S.P., then turn right onto Belfair-Tahuya Road.
4. Travel 7.6 miles to Dewatto Road, and turn right.
5. After 2.2 miles the paved road makes a 90-degree turn to the right -- but turn left onto the gravel road marked Hahobas Way, Hahobas Camp, and Aldrich Lake.
6. This road will quickly fork. Veer to the right, and drive 0.6 miles to a triangle intersection.
7. Take a right toward Camp Hahobas and drive another 0.6 miles to the next intersection.
8. Turn right onto the DNR property and the campground.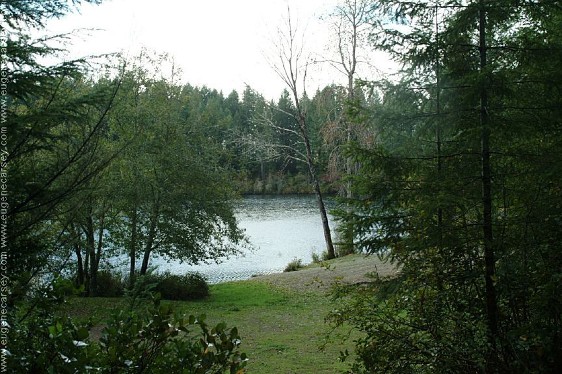 Aldrich Lake has an isolation and old world charm that make it popular with locals
For more photos of Aldrich Lake CG click HERE
Puget Sound Islands
The Mason County islands of Puget Sound form an administratively interconnected series of marine parks that are both magnificent and underutilized. They vary in size from tiny 11.5-acre McMicken Island to noteworthy 1,194-acre Hartstine Island. What they offer is a quieter, less crowded alternative to the San Juans with similar boating and camping opportunities.
Hope Island Marine State Park

(Mason Co.'s BEST BOAT-IN CG)
Early in the 1900s the Louis Schmidt Family homesteaded Hope Island, planting apple, pear, and walnut orchards and a small vineyard, constructing farmhouses, and raising cattle and horses. The old family farmhouse is now the caretakers residence, surrounded by remnants of the orchards and vineyards. The newest addition, of course, is the campground on the south end of the Island.


Overview

: This island campground is located on Puget Sound between Shelton and Squaxin Island on 106 acres with 1.5 miles of saltwater beach, open year round; GPS 47.187318 -122.9287545.


Facilities

: Simple facilities include vault toilets, picnic tables, a Day Use Area, five mooring buoys, and a caretaker on the island during summer months. No campfires are allowed. There is no drinking water.


Recreation

: The myriad of possibilities include 2 miles of hiking trails; clamming and oyster harvesting (license required); mushroom hunting; sea kayaking; bird-watching and wildlife viewing, including many offshore seals.


Campsites/Trip Notes

(8 sites plus one Cascadia Marine Trail site, no reservations, FREE with Discover Pass): Sites are on the south end of the Island amid old growth forests, saltwater marshes, and meadows. This island campground gets a lot less use than its San Juan equivalents. It is surrounded by Indian land (Squaxin Island) and the distant outskirts of Shelton, so it has a desert island feel, without looking at vacation homes or yachters.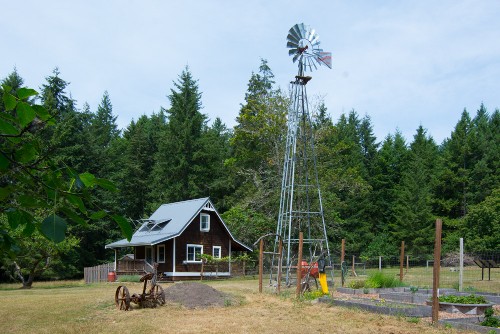 The original homestead cabin on Hope Island is now the caretaker's residence
For more photos of Hope Island Marine S.P. click HERE
Jarrell Cove State Park Drive-In/Boat-In

(one of Mason Co.'s BEST BOAT-IN CGs)
This place is both a haven for boaters and a miniature marine playground for campers, the best of two worlds.


Overview

: This quirky Hartstine Island campground is located 15 miles west of Shelton via a bridge over Pickering Passage on 43 acres with 3500' of saltwater shoreline, open year round; GPS 47.284, -122.885.


Facilities

include bathrooms with showers, picnic tables, fire grills, 2 fire circles, 2 kitchen shelters, a horseshoe pit, one mile of hiking/biking trails, an amphitheater, a sports court, 650' of boat dock, 682' of moorage, 14 mooring buoys, a marine pump-out station, and camp hosts.


Recreation

: Kayaking and boating are perfect here. Hiking is available at Hartstine Island S.P., which is connected to Jarrell Cove by a 0.5-mile trails. Bird watching is also popular. Birds seen and heard here include brown creepers, common goldeneyes, Downy woodpeckers, Hutton's vireos, Pacific-slope flycatchers, red-breasted mergansers, red-breasted nuthatches, red-throated loons, ring-billed bulls, and surf scoters.


Campsites

(22 sites for tents and RVs up to 34', one ADA site, no hookups, one walk-in group camp for up to 45 with a kitchen shelter, reservable, open year round): Sites are in two areas: the grassy flat area as you drive into the campground, and walk-in/boat-in sites above the entrance dock on the shoreline (keep in mind that most campers arrive by boat). Only a few of the grassy sites are separated by vegetation, but are large enough to give average to good privacy. The walk-in sites near the entrance dock are terraced with good views of the Cove, and are more private. These are also more wooded, compared to the grassy sites that are open but surrounded by forest on 3 sides.


Trip Notes

: It's official -- this place is charming; a word I hate, but Jarrell Cove is just that pretty. There are two large docks, each nestled into its own arm of the Cove. One arm looks across at another dock on the far shore; the other is just beneath the walk-in campsites. Together, you begin to feel what boaters feel when they approach the land from the water, feeling nature bumping up against nature. Various short trails lead to the Group Camp, another to Hartstine Island S.P. (a Day Use Camp), and two others to the docks. Small, compact, surrounded by water and... charming.


Local Attractions

: Jarrell Cove administers 5 satellite parks: Hope Island S.P. (above), Hartstine Island S.P. (also above), McMicken Island S.P. (a boat-in Day Use Park with a land bridge accessible at low tide that s noted for great harvesting of Manila clams, butter clams, and horse clams), Stretch Point S.P. (another boat-in Day Use Park12 miles north of Shelton), and Eatle Island S.P. (a 10-acre Day Use Park between McNeil and Anderson Islands in Thurston Co.).

Boaters can enter Jarrell Cove State Park from two docked entrances; car campers can enter from Hartstine Island
For more photos of Jarrell Cove S.P. click HERE