This website is intended as an adjunct to the paperback book 'Camp Every County, Washington' by Brendan J. McDonald, available on Amazon.com. Included on this website are photographs and texts which could not be included in the paperback edition, where you will find full narrative versions of each section found below.
Mason County (Shelton/Belfair/Hoodsport)
Belfair State Park offers both marine and woodland camping
For more photos of Belfair S.P. click HERE
Brown Creek Campground (Mason Co.'s BEST RUSTIC CG)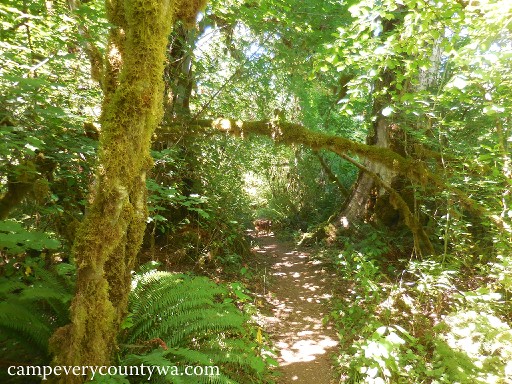 The trail around the "Pond" at Brown Creek Campground has aspects of both alpine forest and Rain Forest
For more photos of Brown Creek CG click HERE
Staircase Campground in ONP (Mason Co.'s MOST UNIQUELY WASHINGTON CG and includes BEST HIKE-IN CAMPSITES)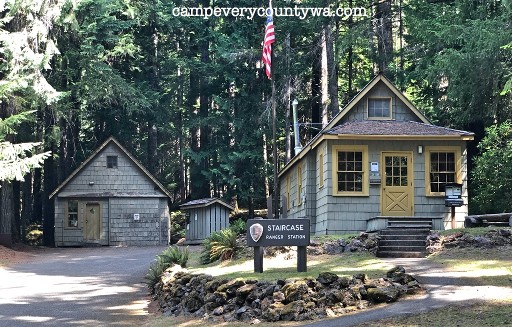 The vintage Ranger Station at Staircase Campground give it a timeless feel
For more phtos of Staircase CG, ONP click HERE
Skokomish Park (Mason Co.'s MOST APPEALING CG TO THE SENSES and includes BEST GROUP CG within North Camp)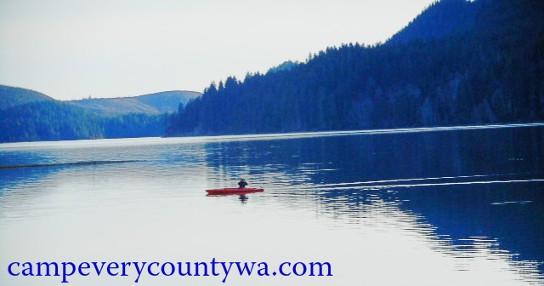 The vivid colors of Skokomish Park at nightfall are a delight to the eye
For more photos of Skokomish Park click HERE
Dow Creek RV Resort and Campground (Mason Co.'s BEST EQUIPPED/BEST CG FOR RVs)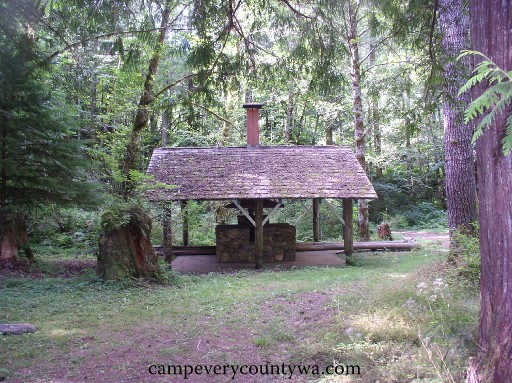 Vintage remnants of older campgrounds are visible throughout Dow Creek RV Park
For more photos of Down Creek RV Park click HERE
Aldrich Lake Campground (Mason Co.'s BEST FREE CG)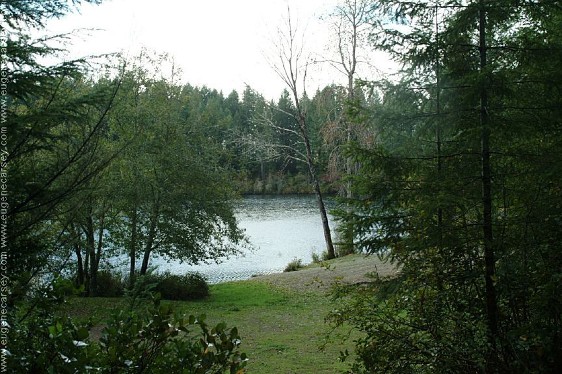 Aldrich Lake has an isolation and old world charm that make it popular with locals
For more photos of Aldrich Lake CG click HERE
Jarrell Cove State Park (Mason Co.'s BEST BIKE-IN CG)

Boaters can enter Jarrell Cove State Park from two docked entrances; car campers can enter from Hartstine Island
For more photos of Jarrell Cove S.P. click HERE
Dewatto River Campground

(one of Mason Co.'s BEST RUSTIC CGs)


The tiny, virtually unknown town of Dewatto lies on the eastern bank of Hood Canal with an ideal, perfectly located vista of the Olympic Mountains, without the crush of tourists along Highway 101. Primitive and pristine, this is the place to get acquainted with this remote area "from the ground up."




Overview

: This campground is quietly situated 37 miles northeast of Shelton and 13.5 miles west of Belfair at the confluence of the Dewatto River and White Creek, operated by the Port of Dewatto, open seasonally; GPS: 47.476334, -122.927353.


Facilities

: These are limited to vault toilets, picnic tables, fire rings, a community kitchen, an electrical source, and camp hosts.


Recreation

includes fishing, hiking, and shellfish harvesting at Dewatto Bay (0.75 miles away).


Campsites

(60 sites for tents or RVs up to 30', electrical hookups available, reservable): Best sites are along the River (3, 4, 5, 6, 7, 10, 11 & especially 51). The reservation system is archaic, but under development, and you may end up mailing in cash well in advance. The sites themselves are rather open to one another, but shaded by ample fir and spruce. IMPORTANT: Payment is by cash only. Early check-in is not allowed without charge


Trip Notes

: Readers may well wonder why a campground with electrical outlets can be considered "rustic," but one visit and you will understand. The place has a very natural, almost primitive character. Glampers will want to steer a wide birth around this one. That leaves more for those of us who appreciate nature in its most unspoiled form -- plus we can recharge our phones! Well, you can, anyway.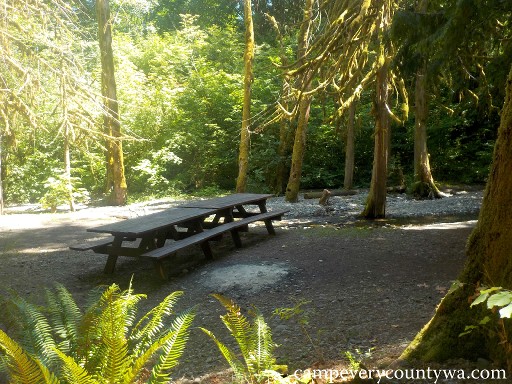 Sites line the Dewatto River, giving a rustic mixture of sun and shade
For more photos of Port of Dewatto CG click HERE
Hope Island Marine State Park

(Mason Co.'s BEST BOAT-IN CG)
Early in the 1900s the Louis Schmidt Family homesteaded Hope Island, planting apple, pear, and walnut orchards and a small vineyard, constructing farmhouses, and raising cattle and horses. The old family farmhouse is now the caretakers residence, surrounded by remnants of the orchards and vineyards. The newest addition, of course, is the campground on the south end of the Island.


Overview

: This island campground is located on Puget Sound between Shelton and Squaxin Island on 106 acres with 1.5 miles of saltwater beach, open year round; GPS 47.187318 -122.9287545.


Facilities

: Simple facilities include vault toilets, picnic tables, a Day Use Area, five mooring buoys, and a caretaker on the island during summer months. No campfires are allowed. There is no drinking water.


Recreation

: The myriad of possibilities include 2 miles of hiking trails; clamming and oyster harvesting (license required); mushroom hunting; sea kayaking; bird-watching and wildlife viewing, including many offshore seals.


Campsites/Trip Notes

(8 sites plus one Cascadia Marine Trail site, no reservations, FREE with Discover Pass): Sites are on the south end of the Island amid old growth forests, saltwater marshes, and meadows. This island campground gets a lot less use than its San Juan equivalents. It is surrounded by Indian land (Squaxin Island) and the distant outskirts of Shelton, so it has a desert island feel, without looking at vacation homes or yachters.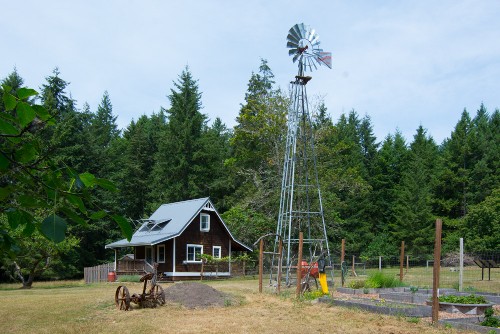 The original homestead cabin on Hope Island is now the caretaker's residence
For more photos of Hope Island Marine S.P. click HERE