LINCOLN COUNTY (Davenport)
Cut from the so-called channeled scablands formed by Ice Age floods and later transformed by irrigation, this is farming country. It is very flat, except for rolling hills along Lake Roosevelt, which makes up most of its northern border. This is where recreation thrives, with 27 campgrounds in the Lake Roosevelt Recreation Area alone.
Lower Lake Roosevelt
Lake Roosevelt is a 130-mile lake of the Columbia River created by the Grand Coulee Dam. Named after President Franklin D. Roosevelt, it is part of the Lake Roosevelt National Recreation Area and managed by the National Park Service. The Lower Arm runs east-west from Fort Spokane to the Grand Coulee Dam, separating Lincoln Co. from Ferry and Okanogan Counties. There are dozens of campgrounds along on this Lake, making it a veritable camper's smorgasbord.
Spring Canyon

Campground

(Lincoln Co.'s MOST APPEALING CG TO THE SENSES and BEST BIKE-IN CG)
This is the closest public campground to the Grand Coulee Dam (2 miles to the west), which is in clear view. Roosevelt Lake is at its widest and deepest here, making is an inviting place to cool off in the intense summer heat.


Overview:

This hillside campground is located 47 miles northwest of Davenport and 2.5 miles east of Grand Coulee, managed by the NPS at 1500' elevation, open year round; GPS 47.93306, -118.93907.


Facilities

: This moderately well-equipped campground includes vault toilets, running water (shut off during winter months), a huge Day Use Area along the Lake, a playground, a good boat launch/dock, swimming area, RV dump, and camp hosts.


Recreation

: Boating and water sports on Lake Roosevelt take center stage here. This comes with abundant wildlife and birds, including eagles and osprey. Dozens of species of fish inhabit the lake. For walkers and hikers, the Bunchgrass Prairie Nature Trail offers a short interpretive walk through sagebrush and bunch grasses.


Campsites

(74 sites for tents and RVs of any size, no hookups, two small group sites for 25 people each, all reservable): There are two distinct loops in this campground. The lower loop is closer to the water with green but minimal shade trees and average privacy from good site spacing. Sites on the uppermost loop have carport-like shade covers built over the paved parking pads.


Trip Notes

: Sometimes campers complain about dogs off leash, wandering through other people's sites. I did too, at 5:00 a.m. as I watched a large, sniffing creature dig its nose into the door of one of my campanion's tents. Then I realized... that was no dog. I remembered the advice from my favorite book "How to Stay Alive in the Woods," and explained in a calm, monotone voice that eating Sherry and Ron would be a very, very bad thing. The bear looked up, and meandered over to another campsite where fish had been left overnight in the back of a boat in 90+ degree heat. Just remember: when it comes to camping, you have nothing to fear except fear itself. And bears.


Local Attraction

: A nearby attraction is Northrop Canyon, which provides hiking with great views of the area and Northrup Lake.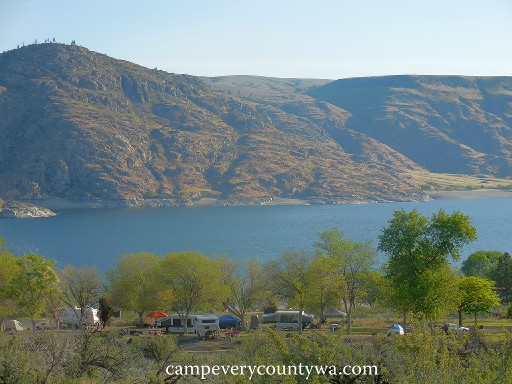 Spring Canyon Campground is near Grand Coulee Dam
For more photos of Spring Canyon CG click HERE
Keller Ferry Campground

(Lincoln Co.'s MOST UNIQUELY WASHINGTON CG)


You can get there by car, by boat, or by the only Washington State Ferry in Eastern Washington. But best of all -- the ferry is FREE. An 8- minute crossing takes you from prairie to the lush forest.




Overview

: This magnificent little campground is 55.6 miles northwest of Davenport and 6 miles north Wilbur on lower Lake Roosevelt, operated by Dakota Columbia Houseboat Adventures at 229' elevation, open year round; GPS 47.9285, -118.6942.


Facilities

: This nicely equipped campground comes with vault toilets, running water, boat launch/dock, marina, swimming area, RV dump, and camp hosts. There is a store, restaurant and snack bar on site.


Recreation

: As with most Lake Roosevelt campgrounds, boating and water sports loom large.


Campsites

(55 sites, 2 group camps for up to 25 people each, no hookups, reservable): Sites are shady, grassy, and well spaced, and, despite some puzzling reviews, completely level. The campground is in a transition period, previously run by the NPS. As of 2014, it is run by Dakota Columbia, the same company that operates Seven Bays Marina, a wonderful day use facility just up the Lake. New upgrades and development are promised by the new company. The new marina is already showing vast improvements.


Trip Notes

: Dropping down those steep, sharp switchbacks from Wilbur into Keller Ferry made this lovely campground seem all the more peaceful, but somehow still buzzing with quiet activity. The ferry runs non-stop all day long, while the the people resting in their lounge chairs on the grassy campsites were doing something I'd been meaning to do for quite some time -- RELAXING. Everything was just so easy. When we finally decided to cross the mighty Lake Roosevelt to our favorite Ferry County (no pun intended), it took all of 20 minutes. I couldn't help but look back for as long as possible.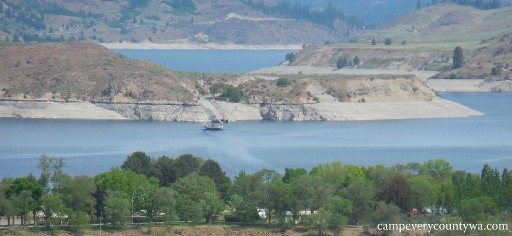 You can reach Keller Ferry Campground by the only Washington State Ferry in Eastern Washington
For more photos of Keller Ferry Campground click HERE
Sterling Point Boat-In Campground (Lincoln Co.'s BEST BOAT-IN ONLY CG)
This exceptional boat-in beauty is located on one of the most scenic stretches of Lake Roosevelt. It showcases lava cliffs and ice age Missoula Flood sands, situated on the border between steppe desert and the heavily forested Okanogan Highlands. You'll be glad car campers can't access this one, and if you arrive mid-week, you may have the entire place to yourself.
Overview: This peaceful campground is located 29 miles northwest of Davenport and 8 miles north of Creston on lower Lake Roosevelt, operated by the NPS at 1361' elevation, open year round; GPS 48.123, -118.229.
Facilities are limited to a pit toilet. There is no drinking water.
Recreation is mostly boating, of course. Fishing is also an option.
Campsites (5 primitive tent sites, no hookups or reservations): Sites sit on a peninsula and are flat and spacious with some shade, separated by Ponderosa pine and bitterbrush. The lakeshore has plenty of sandy beaches to tie boats off, and suitable for wading on one side, with mixed rocky/sandy areas on the other.
Local Alternatives: Other Lincoln Co. Boat-In Only CGs include Plum Point (4 sites), Goldsmith (3 sites), Penix Canyon (3 sites), and Halverson Canyon (4 sites), all on Lake Roosevelt; plus Crystal Cove (3 sites), Ponderosa (13 sites), and Detillion (12 sites), all on the Spokane River Arm of Lake Roosevelt. Many other Lake Roosevelt CGs in Lincoln Co. are accessible by both boat and automobile.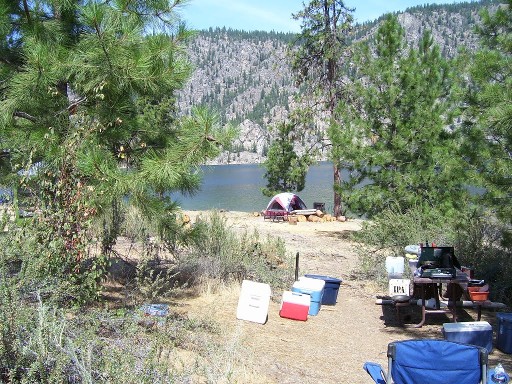 Sterling Point Boat-In Campground offers sandy beaches and seclusion
For more photos of Sterling Point Boat-In C.G. click HERE
Hawk Creek Campground (Lincoln Co.'s BEST RUSTIC CG)
This campground is well-loved by nature lovers, but under-appreciated by luxury seekers. Backed by Hawk Creek Falls, which plunges 50' into a bathing pool just behind the rustic campground, trails lead to the "Great Bend" of Lake Roosevelt, with panoramic views of the 130-mile long lake. Or you can climb the hills to view the same from basalt caves formed by Ice-Age floods. But don't come looking for well-manicured lawns or 5-Star restaurants. You'll need to look elsewhere for those.
Overview: Located 14 miles north of Davenport on the Hawk Creek spur of Lake Roosevelt, operated by the NPS at 1305' elevation, open year round; GPS 47.8157, -118.3255.
Facilities include vault toilets, pumped water, gravel pads, and a boat ramp.
Recreation: Fishing for bass and walleye gets two fins up. Fishing trails lead to views of the "Great Bend" of Lake Roosevelt, the basalt Hawk Creek Caves, and several small canyons filled with wildlife. Fifty-foot Hawk Creek Falls is located at the end of the campground. Canoeing, swimming, and wildlife viewing are also popular.
Campsites (21 sites for tents or RVs up to 25', no hookups or reservations): Sites are rustic but well-shaded, and small to medium in size. Privacy can be limited when the campground is full on weekends. This is offset by the beauty of Hawk Creek, best visited in late spring or early summer when the waters of Lake Roosevelt are lowest and the Creek is in its most natural condition. The waterfall offers swimming and bathing opportunities in the plunging pool. Be aware that cacti and thorny vegetation occur away from the campground and creek bed.
Trip Notes: I plan to visit here again in September 2018 to provide further narrative.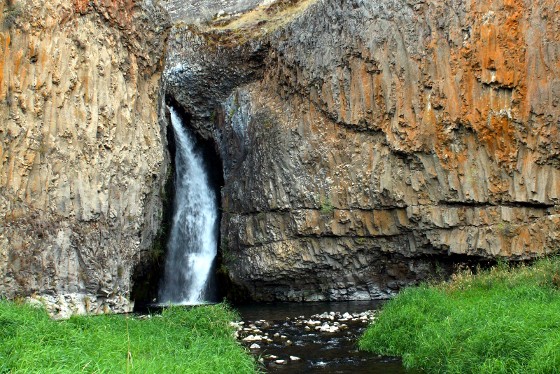 The 50' waterfall at Hawk Creek Campground offers bathing and swimming opportunities in the plunging pool below
For more photos of Hawk Creek CG click HERE
Fort Spokane Campground

(Lincoln Co.'s BEST CG FOR FAMILIES and BEST GROUP CG)
The Park sits at the confluence of the Spokane River and Lake Roosevelt. Fort Spokane operated as a military fort from 1880 until the beginning of the Spanish-American War to keep peace between early settlers and American Indians. It was later used as the Fort Spokane Indian Boarding School with disastrous results. Displays through the Park illustrate this confluence/conflict of two cultures.


Overview

: This very unique campground is located 23 miles north of Davenport on the Spokane River Arm of upper Lake Roosevelt, operated by the NPS at 1417' elevation, open year round; GPS 47.9046, -118.30915.


Facilities

: This uniquely equipped campground contains ADA-accessible flush and vault toilets, drinking water (shut off in winter), picnic tables, fire grills, campfire circles, amphitheater, playground, boat ramp and dock, visitor center, fish cleaning stations, an RV dump, and camp hosts. Unique to this campground is the historic, restored Fort Spokane Interpretive Center just across SR 25 from the campground.


Recreation

: Boating, swimming, and viewing the self-guided tour of Fort Spokane (open summer only) are the most popular activities. Fishing is good for bass, rainbow trout, salmon, and walleye. Fort Spokane also boasts some of the best bird habitats in the Lake Roosevelt National Recreation Area. Birders often see bald eagles, blue herons, finches, golden eagles, ospreys, and even peregrine falcons. Wildlife viewing is also excellent -- you won't have to go out and find it -- the deer will come to you, as they seem to be everywhere.


Campsites

(67 sites for tents and RVs up to 40', 2 group sites for up to 45 people each, no hookups, reservable): Campsites are large and shaded, but lack privacy. There is little vegetation apart from the Ponderosa pines, so the campgrounds tends to be noisy when it is full.


Trip Notes

: Two things surprised us on our first visit here. First, old Fort Spokane is entirely separate from the campground, connected by a 0.5 mile walking trail. The campground in 2015 was under severe fire watch, so all ground vegetation was removed, and even the pine needles were meticulously swept away to reduce the danger. This left us with a rather sterile view of the campground, but upon reflection, we badly want to go back and camp during a less dry season. In fact, I will be personally camping here in September of 2018 to make a more balanced assessment.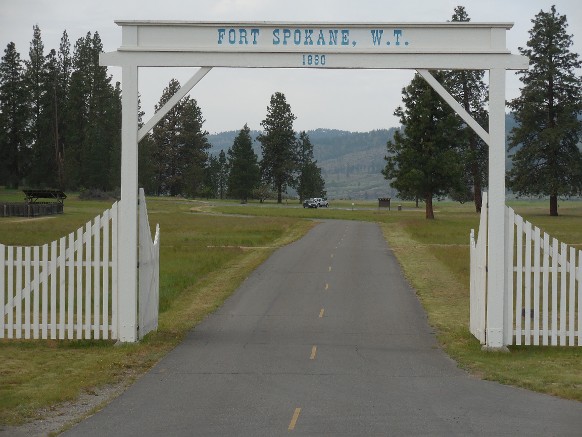 The historic, restored Fort Spokane Interpretive Center lies just across SR 25 from Fort Spokane Campground
For more photos of Fort Spokane CG click HERE
The Sage-Steppe Channeled Scablands
The Telford-Crab Creek Tract of the channeled scablands in Lincoln Co. is a 40-mile wide swath of devastation known for its curving grooves worn into the landscape by Ice Age Floods. This is reflected in the many lakes that remain. Rock Lake and Coffeepot Lake were the deepest cut, but all the lakes show this long, curved, slightly crescent-shaped pattern. This is interspersed by many flood-scoured, wide ringed circular moats or "craters" that lie in wait for exploration by those inquisitive enough to come and find them.
Pacific Lake Recreation Area

(Lincoln Co.'s BEST HIKE-IN/RIDE-IN C.G.)


This is not a true Hike-In ONLY campground, as there is vehicle access to the nearby Lakeview Ranch; however, the most popular access is via hiking trail along the 13-mile Odessa - Lake Creek Trail. This stands out as one of the longest shrub–steppe hikes in Washington, where Ice Age glaciers sculpted the volcanic bedrock into a maze of buttes, mesas and coulees. Shallow rocky soils showcase sagebrush buttercup and desert parsley in spring, and bitterroots dot the otherwise barren ground with pink in early summer.




Overview

: Located 41 miles southwest of Davenport and 8 miles north of Odessa, operated by the BLM at 1610' elevation, open year round; GPS: 47.41366, -118.73869.


Facilities

: Limited facities at Pacific Lake CG include one vault toilet, picnic tables, grills and fire rings. There is no potable water available. The nearby Lakeview Ranch Recreation Site has buildings and functional horse corrals that are usually available for trail horses overnight.


Recreation

: A surprisingly wide variety of recreational opportunities include horseback riding, hiking/backpacking, wildlife watching, wildflower viewing, and photography. From the campground the Cache Craters Trail (0.16 miles) leads to the Odessa Craters Loop (1.5 miles). Other hiking trails include the Gloyd Seeps Hike.


Campsites

(Several dispersed campsites, no hookups or reservations, FREE of charge): The campground is a grassy area with a few sparse shade trees. Though Pacific Lake has been dry since 2004, the area is still quite scenic, with vertical basalt walls defining both sides of the coulee, with interesting basalt "craters" near Pacific Lake into which to peer. Most hike-in or ride-in campers never encounter motor vehicles.


Trip Notes

: We are planning to visit in September of 2018 to provide better narrative.


Odessa Trailhead

: Travel west on Hwy 28 through Odessa, go one block past N Alder St. and take a right, cross the train tracks and then turn left onto Alice Ave, continue down Alice Ave to the end of the road.


Local Attraction/Camping Alternative

: Lakeview ranch, a 12,000+ acre former working ranch, is within easy walking distance of the campground. It is now owned by the BLM as part of the Pacific Lake/Lakeview Ranch Recreation Area. It has 4 campsites a toilet, one picnic table, fire grills, and corrals for horses.


Trailhead to Campground

: While the trail is frequently used by scouts and young families, it is less well-marked than most trails.

Follow the signed singletrack as it dips over and around hunks of pockmarked basalt. At 0.4 mile, turn left on a powerline right-of-way.

At 1.2 miles, pass through a gated fenceline, and at 2.2 miles intersect a second fenceline; turn right to parallel the fenceline uphill. The track passes through more gates at 2.9 and 4.2 miles. At just over 5 miles, you will see the fluted basalt buttes known as Odessa Towers. Continue to the edge of Lake Creek Coulee.

At 6.1 miles, cross the now dry Bobs Lakes drainage, and hike up the west side of the coulee. When you intersect a two-track dirt road turn north, and cross through a gate near rusting farm equipment. The route jogs east then north. At 10.6 miles turn right on an old roadbed. The route winds between shallow duck-filled ponds before reaching the back forty of Lakeview Ranch and, beyond that, Pacific Lake CG.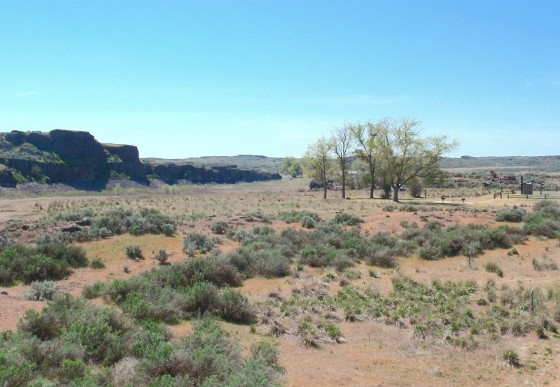 Pacific Lake has been dry since 2004, but the area still offers vertical basalt walls with interesting basalt "craters"
For more photos of Pacific Lake Recreation Area click HERE
Coffeepot Lake Campground

(Lincoln Co.'s BEST FREE CG)


This is arguably the most popular lake in the Lincoln Co. portion of the channeled scablands. It is larger than most lakes, and, thanks to Ice Floodwaters that cut well below the water table, one of the deepest. Now it sits in the prettiest of canyons, with a beautiful campground resting on a rock bench at the base of the canyon. For once, those Ice Age Floods did us one big favor.




Overview

: This delightful campground is located 29 miles southeast of Davenport and 15 miles west of Harrington on 310-acre Coffeepot Lake, operated by the BLM at 1818' elevation, open year round; GPS: 47.499567, -118.557197

.


Facilities

: Limited facilities include rest rooms, drinking water, picnic tables, a covered picnic site, trash cans, and a fishing dock. The boat launch is occasionally closed due to muddy conditions, and boats may need to be hand-launched.


Recreation

includes boating, canoeing/kayaking, and fishing (March 1st to September 30th) for largemouth bass, black crappie, rainbow trout, and yellow perch. This is also known as a good canoeing and kayaking lake. Wildflowers include serviceberry, chokecherry, and mock orange shrubs.


Campsites

(6 campsites for tents and RVs up to 35', no hookups or reservations, FREE of charge): Sites are small here, but each is separated by cottonwood trees with some shade. They sit on a bench, so are quite flat. They tend to be green in the spring, and not so green in the summer, plus close to the water and nestled nicely in the steep canyon.


Trip Notes

: Just why this place is named Coffeepot Lake seems a mystery. The Lake is certainly not shaped like any coffeepot we've ever seen, nor does it bubble, boil, or blow off steam. It just sits there quietly like so many other lakes in the scablands. What we DID experience, located as it is in this vertical basalt canyon, was waking up early in the morning, nursing an entire pot of coffee for several hours, as the morning moisture slowly lifted, studying the more delicate blotches of color and subtle sounds of this hearty but fragile geological wonder as it slowly gave way to the heat of the day. I will be personally camping here again in September of 2018.


Local Alternative

: Other recommended FREE CGs in Lincoln Co. (not already listed above) include Twin Lakes CG, with its 3 grassy sites and one additional site on a grassy knoll. Each site contains a table and fire grate. There is also a toilet and boat launch; GPS 47.529749, -118505917.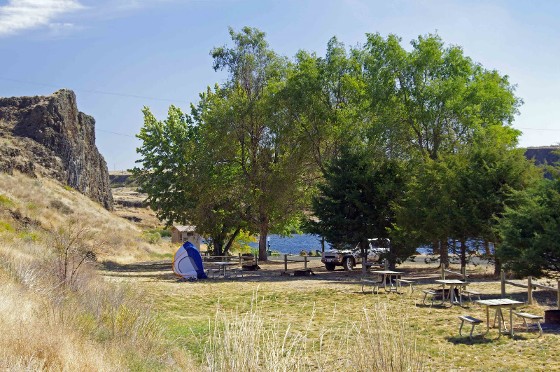 Coffeepot Lake is not shaped like a coffee pot, but it is a great place to nurse a pot of coffee and take in the geological wonders of the area.
For more photos of Coffeepot Lake CG click HERE
Sprague Lake
This mostly Lincoln County lake stretches so for far along Interstate 90 that it crosses over the Adams County line to the west. The area was first formed by lava flows about 16 million years ago, laying down a thick bed of basalt. Then, about 16,000 years ago, the floods from Lake Missoula covered the area in 200 feet or more of raging water. When the floods receded, carving out much of the basalt, we were left with numerous basalt mesas, coulees and basins, including the Sprague Lake that we know and love today.
Sprague Lake Resort

(Lincoln Co.'s BEST EQUIPPED/BEST CG FOR RVs)
This private resort lies on the eastern end of Sprague Lake, where it is quieter and less windy than the windsurfing-ready west end. The State of Washington regularly stocks the Lake with game fish of all kinds.


Overview

: This very established resort lies 39 miles south of Davenport and 2 miles southwest of Sprague on 1841-acre Sprague Lake, privately operated at 1903' elevation, open seasonally, usually April through November ; GPS 47.2878, -118.0215.


Facilities

: This well-equipped campground comes comes with bathrooms, showers, boat dock, Wi-Fi, Cell phone service is adequate to strong at all points along the Lake.


Recreation

: Fly fishing is at its best here, especially for bluegill, channel catfish, black crappie, yellow perch, rainbow and cutthroat trout, and largemouth bass.


Campsites

(55 sites for tents and RVs of any size, including 34 with full hookups 30 amp, reservable): The grounds are immaculate and shady with old growth cottonwoods that tower over the campground. Sites are grassy with grass pads, but a little "lumpy," so bring leveling blocks. Most sites face the Lake. There is less train noise here that at Four Seasons Resort on the west end of the Lake.


Trip Notes

: Check your expectations before you arrive, and camp here with an open mind. The approach may lead you to believe that you've driven up a dead end road of houses whose owners have given up maintaining their properties. And when you arrive, even though meticulously maintained, the resort is really quite small. No playgrounds, Kamp Stores, or swimming pools you may find at other resorts, but a very quiet campground on the end of a lake managed by an extremely helpful friendly host. You can rest here, enjoy the lake, and be assured that you will be undisturbed with a helpful host just a short walk away.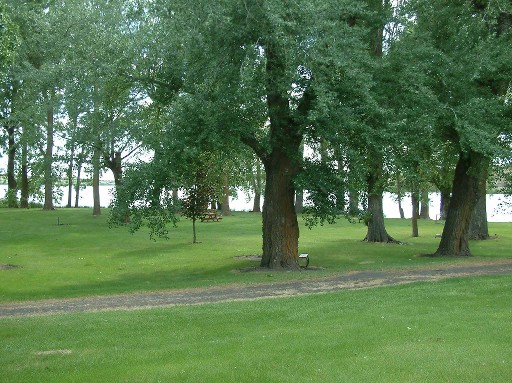 Sprague Lake Resort lies on the quieter east end of the Lake
For more photos of Sprague Lake Resort click HERE