This website is intended as an adjunct to the paperback book 'Camp Every County, Washington' by Brendan J. McDonald, available on Amazon.com. Included on this website are photographs and texts which could not be included in the paperback edition, where you will find full narrative versions of each section found below.
LINCOLN COUNTY (Davenport)
Spring Canyon Campground (Lincoln Co.'s MOST APPEALING CG TO THE SENSES and BEST BIKE-IN CG)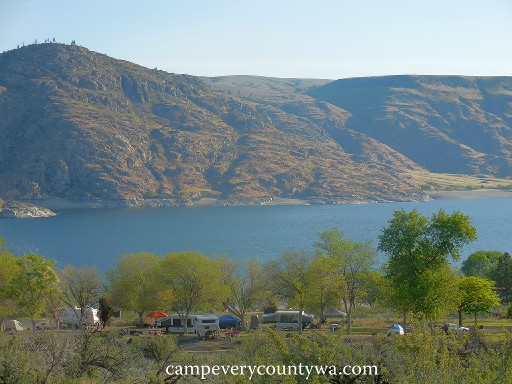 Spring Canyon Campground is near Grand Coulee Dam
For more photos of Spring Canyon CG click HERE
Keller Ferry Campground (Lincoln Co.'s MOST UNIQUELY WASHINGTON CG)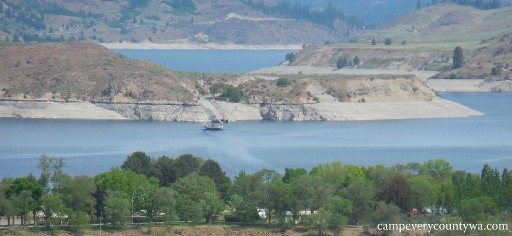 You can reach Keller Ferry Campground by the only Washington State Ferry in Eastern Washington
For more photos of Keller Ferry Campground click HERE
Hawk Creek Campground (Lincoln Co.'s BEST RUSTIC CG)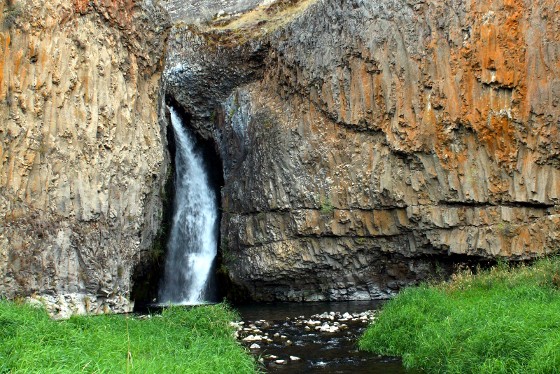 The 50' waterfall at Hawk Creek Campground offers bathing and swimming opportunities in the plunging pool below
For more photos of Hawk Creek CG click HERE
Fort Spokane Campground (Lincoln Co.'s BEST CG FOR FAMILIES and BEST GROUP CG)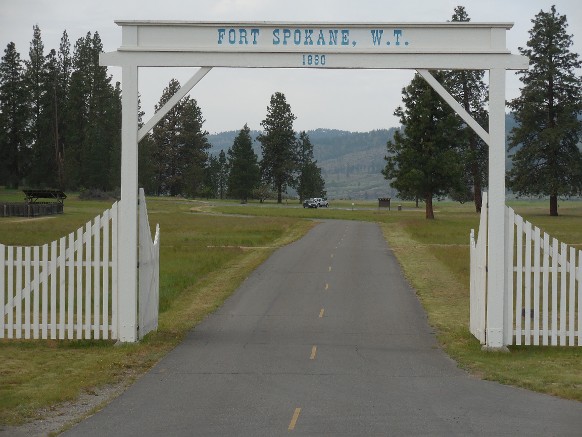 The historic, restored Fort Spokane Interpretive Center lies just across SR 25 from Fort Spokane Campground
For more photos of Fort Spokane CG click HERE
Coffeepot Lake Campground (Lincoln Co.'s BEST FREE CG)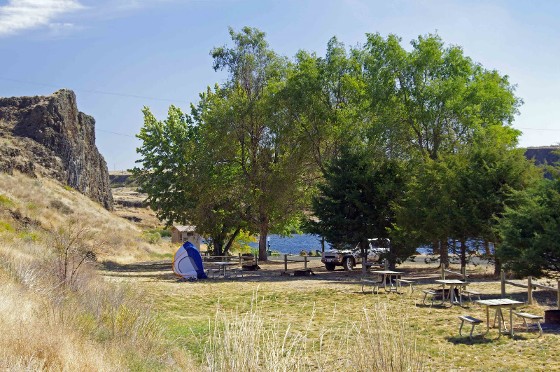 Coffeepot Lake is not shaped like a coffee pot, but it is a great place to nurse a pot of coffee and take in the geological wonders of the area.
For more photos of Coffeepot Lake CG click HERE
Sprague Lake Resort (Lincoln Co.'s BEST EQUIPPED/BEST CG FOR RVs)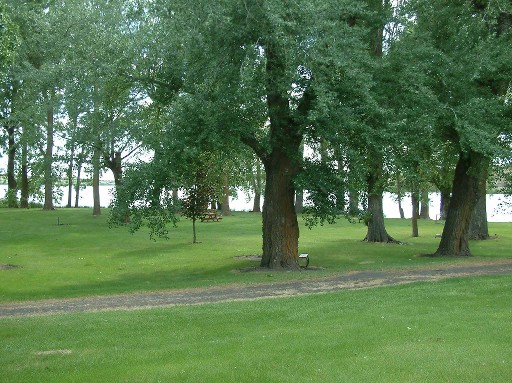 Sprague Lake Resort lies on the quieter east end of the Lake
For more photos of Sprague Lake Resort click HERE
Sterling Point Boat-In Campground (Lincoln Co.'s BEST BOAT-IN ONLY CG)
This exceptional boat-in beauty is located on one of the most scenic stretches of Lake Roosevelt. It showcases lava cliffs and ice age Missoula Flood sands, situated on the border between steppe desert and the heavily forested Okanogan Highlands. You'll be glad car campers can't access this one, and if you arrive mid-week, you may have the entire place to yourself.
Overview: This peaceful campground is located 29 miles northwest of Davenport and 8 miles north of Creston on lower Lake Roosevelt, operated by the NPS at 1361' elevation, open year round; GPS 48.123, -118.229.
Facilities are limited to a pit toilet. There is no drinking water.
Recreation is mostly boating, of course. Fishing is also an option.
Campsites (5 primitive tent sites, no hookups or reservations): Sites sit on a peninsula and are flat and spacious with some shade, separated by Ponderosa pine and bitterbrush. The lakeshore has plenty of sandy beaches to tie boats off, and suitable for wading on one side, with mixed rocky/sandy areas on the other.
Local Alternatives: Other Lincoln Co. Boat-In Only CGs include Plum Point (4 sites), Goldsmith (3 sites), Penix Canyon (3 sites), and Halverson Canyon (4 sites), all on Lake Roosevelt; plus Crystal Cove (3 sites), Ponderosa (13 sites), and Detillion (12 sites), all on the Spokane River Arm of Lake Roosevelt. Many other Lake Roosevelt CGs in Lincoln Co. are accessible by both boat and automobile.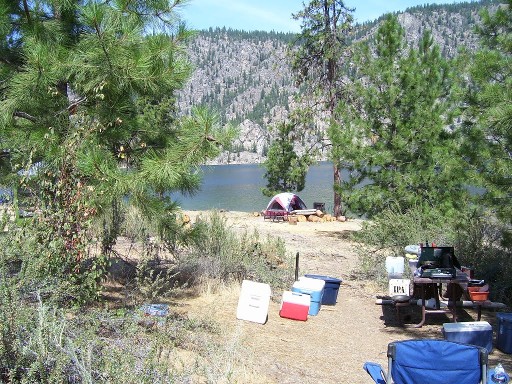 Sterling Point Boat-In Campground offers sandy beaches and seclusion
For more photos of Sterling Point Boat-In C.G. click HERE
Pacific Lake Recreation Area

(Lincoln Co.'s BEST HIKE-IN CG)


This is not a true Hike-In ONLY campground, as there is vehicle access to the nearby Lakeview Ranch; however, the most popular access is via hiking trail along the 13-mile Odessa - Lake Creek Trail. This stands out as one of the longest shrub–steppe hikes in Washington, where Ice Age glaciers sculpted the volcanic bedrock into a maze of buttes, mesas and coulees. Shallow rocky soils showcase sagebrush buttercup and desert parsley in spring, and bitterroots dot the otherwise barren ground with pink in early summer.




Overview

: Located 41 miles southwest of Davenport and 8 miles north of Odessa, operated by the BLM at 1610' elevation, open year round; GPS: 47.41366, -118.73869.


Facilities

: Limited facities at Pacific Lake CG include one vault toilet, picnic tables, grills and fire rings. There is no potable water available. The nearby Lakeview Ranch Recreation Site has buildings and functional horse corrals that are usually available for trail horses overnight.


Recreation

: A surprisingly wide variety of recreational opportunities include horseback riding, hiking/backpacking, wildlife watching, wildflower viewing, and photography. From the campground the Cache Craters Trail (0.16 miles) leads to the Odessa Craters Loop (1.5 miles). Other hiking trails include the Gloyd Seeps Hike.


Campsites

(Several dispersed campsites, no hookups or reservations, FREE of charge): The campground is a grassy area with a few sparse shade trees. Though Pacific Lake has been dry since 2004, the area is still quite scenic, with vertical basalt walls defining both sides of the coulee, with interesting basalt "craters" near Pacific Lake into which to peer. Most hike-in or ride-in campers never encounter motor vehicles.


Trip Notes

: We are planning to visit in September of 2018 to provide better narrative.


Odessa Trailhead

: Travel west on Hwy 28 through Odessa, go one block past N Alder St. and take a right, cross the train tracks and then turn left onto Alice Ave, continue down Alice Ave to the end of the road.


Local Attraction/Camping Alternative

: Lakeview ranch, a 12,000+ acre former working ranch, is within easy walking distance of the campground. It is now owned by the BLM as part of the Pacific Lake/Lakeview Ranch Recreation Area. It has 4 campsites a toilet, one picnic table, fire grills, and corrals for horses.


Trailhead to Campground

: While the trail is frequently used by scouts and young families, it is less well-marked than most trails.

Follow the signed singletrack as it dips over and around hunks of pockmarked basalt. At 0.4 mile, turn left on a powerline right-of-way.

At 1.2 miles, pass through a gated fenceline, and at 2.2 miles intersect a second fenceline; turn right to parallel the fenceline uphill. The track passes through more gates at 2.9 and 4.2 miles. At just over 5 miles, you will see the fluted basalt buttes known as Odessa Towers. Continue to the edge of Lake Creek Coulee.

At 6.1 miles, cross the now dry Bobs Lakes drainage, and hike up the west side of the coulee. When you intersect a two-track dirt road turn north, and cross through a gate near rusting farm equipment. The route jogs east then north. At 10.6 miles turn right on an old roadbed. The route winds between shallow duck-filled ponds before reaching the back forty of Lakeview Ranch and, beyond that, Pacific Lake CG.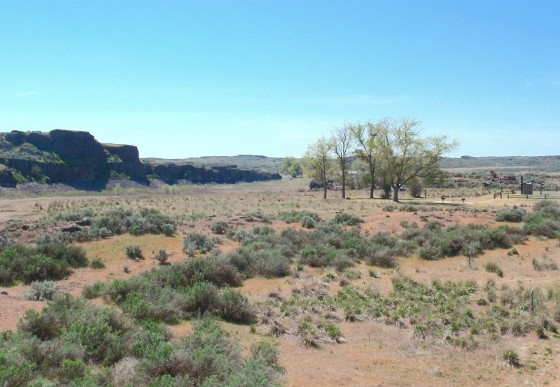 Pacific Lake has been dry since 2004, but the area still offers vertical basalt walls with interesting basalt "craters"
For more photos of Pacific Lake Recreation Area click HERE