KITSAP COUNTY (Port Orchard/Bremerton)

This spade-shaped county, sitting in the middle of Puget Sound, is over 90% surrounded by water. It gives both the best views of Mount Rainier and the Olympic Mountains, both in the distance. But the saltwater campgrounds make this one of the most overlooked counties in Washington.
Puget Sound
This section of Puget Sound faces east toward Vashon Island, Blake Island, Bainbridge Island, and the City of Seattle, with an unobstructed view of Mt. Rainier. It is far from the madding crowd of the east Puget Sound shoreline, keeping more than just a physical distance with its own unique rural character.
Manchester State Park

(Kitsap Co.'s BEST EQUIPPED/BEST CG FOR RVs, and includes Kitsap's BEST GROUP CG)


Overview

: This, our favorite campground, is located 5 miles east of Port Orchard on 111 acres with 3400' of saltwater shoreline on Puget Sound, open year round; GPS 47.5773, -122.555.


Facilities

: Generous facilities include flush toilets, showers, running water, picnic tables, fire rings, 2 covered shelters, and the old torpedo warehouse which is big enough for weddings and other large events.


Recreation

: This includes 1.9 miles of hiking trails which pass abandoned military batteries and sheds, plus views of Vashon and Bainbridge Islands with views of downtown Seattle and Mt. Rainier. Good blackberry picking within the campground (not the preferred black caps). This is part of the Cascadia Marine Trail with kayak access.


Campsites

(49 sites for tents and RVs up to 60', including 15 with water & electric 30 amp hookups, one group site for up to 130, 3 H/B and kayaking sites, reservable): Sites are large, wooded and private on a well-terraced and gentle hillside. The Group Camp includes a large fire circle, 12 RV hookups, a covered shelter with eight picnic tables, electricity, several unsheltered picnic tables and braziers. There are two unisex ADA restrooms and showers.


Trip notes

:

Of all the campgrounds we have visited in Washington State, this our personal favorite. This is odd, since in two of our six visits, it rained so hard that it actually toppled trees and blocked both the entrance to and our exit from the Park. Despite this, we found it not only invigorating, but stayed dry and had the best camping experiences of our lives. This is due to the thick forest and carefully terraced sites, which soak up the rain as quickly as it hits. At dusk, you can hear the sea lions on the docks of the nearby Naval Supply Center. There are great walks on the bluff looking across at downtown Seattle and Vashon Island, and the Park even supplies blackberry picking in late summer. And just for the record, we had just as much fun when it was sunny.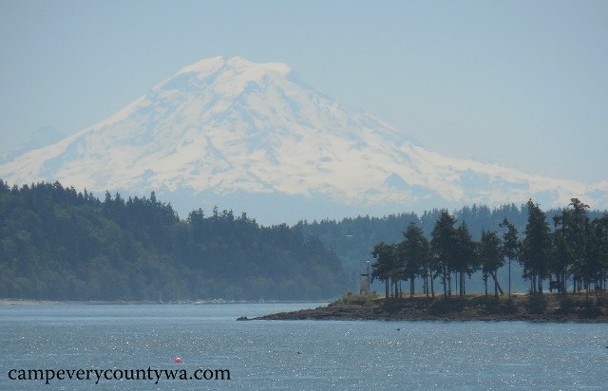 Mount Rainier is much further from Manchester State Park than it appears.
For more photos of Manchester S.P. click HERE
Blake Island State Park Boat-In Campground

(Kitsap Co.'s BEST BOAT-IN CG)


Most people know Blake Island for Tillicum Village, a Washington-flavors dinner location with Native American-themed stage performances. Few know there is much more here including peaceful trails, fishing, clam digging, and camping, complete with magnificent sunsets over the Olympic Mountains.




Overview

: This campground is located on 476-acre Blake Island (between the south end of Bainbridge Island and the north end of Vashon Island) with 5 miles of saltwater shoreline, open year round; GPS 47.53833, -122.49222.


Facilities

: These include restrooms with showers (May through October) or vault toilets in off-season, picnic tables, fire grills, a playground, two picnic shelters with fire circles (Group Camp), an Adirondack Shelter (Group Site), 7.5 miles of bike trails, 8 miles of hiking trails, 1500' of mooring dock, 24 mooring buoys, and a marine dump station. Tillicum Village is a licensed concessionaire that provides transportation to the Island plus a Camp Store, longhouse, totems, and meals, Native American story-telling and traditional dance, plus educational programs on the Island.


Recreation

: Kayaking, canoeing, and/or motor boating are a given. Scuba diving is popular at the south end of the Island, and bird watching is popular throughout.


Campsites

(44 tent sites plus 3 boat-in only sites, no hookups or reservations): The island is a triangle shape with the tip pointing straight down/south. The three Cascadia Marine Trail sites are located in the northwest corner close to mooring, and rests on open beach, but are the most private sites. The West Point Campground is just south of the marine sites, and consists of six beach sites, sheltered by towering madronas. They are also very private, and are best for kayaking from the mainland of Kitsap Co. The Main Campground is located near the northeast corner, just south of Tillicum Village. Privacy is minimal here, being in the shadow of considerable activity. The Group Camp, which can accommodate up to 100 people, is ajacent to that. Most campers in the Main and Group campgrounds arrive from the Argosy Cruise boats out of Seattle. Additional dispersed campsites are in the South End Campground on the southern tip of the Island. These are also protected by tall madronas, primitive, and very private.


Trip Notes

: The best thing about camping on Blake Island is having the luxury of choosing sites ranging from total seclusion to total inclusion in the activities and dining at Tillicum Village. There are no other boat-in campgrounds quite like it in all of Washington. Its proximity to populated areas allows quick, spontaneous island adventures to a large number of people. This is a great addition to the already complex and diverse array of campgrounds available to boat-in and all other types of campers in Washington.


Getting There

: The shortest paddle to Blake Island is from the Manchester city dock (just north of Southworth), or Manchester S.P. (about 2 miles). Others launch from Fort Ward S.P. or Eagle Harbor on Bainbridge Island. Seattle kayakers typically launch from Alki Beach Park at 1702 Alki Ave. S.W. (4 miles). Most power boats launch from the Don Armeni Boat Ramp and Viewpoint at 1222 Harbor S.W. in West Seattle/Alki Beach. Most campers arrive by Argosy tour boats which leave from downtown Seattle from March to October. Campers can catch the 9:00 a.m. boat for campers only, which returns in 24 hours. For more information on Argosy Cruises see https://www.argosycruises.com/argosy-cruises/tillicum-excursion/


Washington History

: Blake Island was an ancestral camping ground of the Suquamish Indian tribe. According to legend it was the birthplace of Chief Sealth, for whom the City of Seattle was named. The earliest European settlers knew it as Smuggler's Island (it was also a hot spot for bootleggers during prohibition), until 1841 when it was named after George Smith Blake, the officer in charge of the United States Coast Survey (1837-1848). It was completely logged in the early 1900s, and purchased in 1917 by Seattle millionaire William Pitt Trimble. He established Camp Sealth, an influential Campfire Girls camp that moved to Vashon Island upon the tragic death of his wife in 1929. She established the island as an ad hoc bird and wildlife sanctuary, but the island was abandoned after her death. In 1959 the Washington State Board of Natural Resources set aside all of Blake Island for a park. It became a State Park in 1960 with the inclusion of Tillicum Village.


Local Alternative

: The best alternative for boat-in campers in Kitsap Co. is the Cascadia Marine Trail sites at Fay Bainbridge S.P. (see below).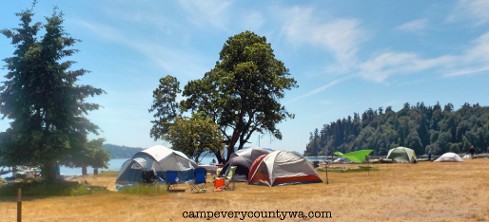 Blake Island State Park offers campsites ranging from total seclusion to total inclusion in the activities of Tillicum Village
For more photos of Blake Island S.P. click HERE
Hood Canal
The Kitsap County view of Hood Canal faces due east, with a direct shot of the magical Olympic Mountains. Here they'll be right at your feet, with enough distance so that you can see the entire range and bask in its mystical peaks.

Scenic Beach State Park

(Kitsap Co.'s MOST APPEALING CG TO THE SENSES, BEST CG FOR FAMILIES, and MOST UNIQUELY WASHINGTON CG)
This rhododendron and madrona-clad campground is strategically located to look straight up Hood Canal from a lush peninsula separating Hood Canal from Seabeck Bay. It has the feel of an island garden surrounded by mountain peaks to the east and west.


Overview

: This campground is beautifully situated 19.3 miles northwest of Bremerton and 2.4 miles west of Seabeck on 88 acres with 1500' of saltwater shoreline on Hood Canal, open year round; GPS 47.6466, -122.8468.


Facilities

: These include bathrooms with flush toilets and coin-op showers, running water, picnic tables, fire rings, a playground, horseshoe pits, a volleyball area, a kitchen shelter that can accommodate 100, a wheel-chair accessible country garden, gazebo, and bridge at the historic Emel House, camp hosts, and an RV dump.


Recreation

: Campers come here with recreation on their mind but typically end up staying put in the campground and enjoying the views. Bird watching and beach exploration are popular.


Campsites

(52 sites, no hookups, one group site for 20-40, the Emel House for rent, one Adirondack Shelter in the Group Camp, reservable, open year round): Sites are either pull-throughs or long narrow sites divided by wild native rhododendrons that provide privacy as well as space. There are no bad sites.


Trip notes

:

This beautiful park rests on the eastern shore of Hood Canal with our favorite waterfront view, looking north toward Dabob Bay and the Olympic Mountains. There is a large common area, access to the rocky beach, and the historic Emel House with its English gardens that have been restored and maintained. Spring is the best time, as the flowers are in bloom. We have visited here multiple times, and are never disappointed. If nothing else, drive over and get a shot of that VIEW. If that doesn't get you, the rhododendrons will. Just keep one thing in mind: We learned the hard way that the native, wild rhododendrons bloom much later than the commercial, nursery rhododendrons. It's only natural, of course. But if you come to see the rhodies, look to late May or early June.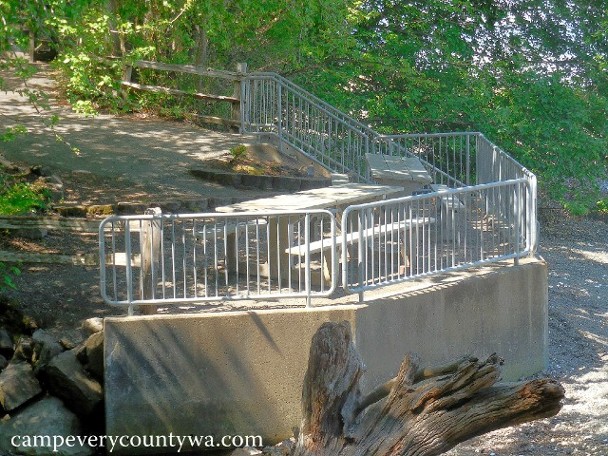 A small promontory on the beach gives the most scenic views of Hood Canal and the Olympic Mountains from Scenic Beach State Park
For more photos of Scenic Beach S.P. click HERE
Bainbridge Island
This residential island is ten miles long and 5 miles wide, protecting most of the inland bays in Kitsap County. It is an island of parks, bicycle trails, hills, secluded beaches, and vibrant villages available by ferry, all with a rural character that make camping both accessible and extraordinary.
Fay Bainbridge Park and Campground (Kitsap Co.'s BEST BIKE-IN CG)
There was never anyone named Fay Bainbridge; rather, the State purchased the land from the estate of Temple S. Fay, a noted neurosurgeon. His children sold the land to be a State Park on the stipulation that they always retain the name "Fay." When budget cuts came in the late 2000s, Bainbridge Island Metro Parks purchased the Park and made capital improvements, and camping is better for the change.
Overview: This park is discreetly located 5 miles east of Poulsbo on Bainbridge Island on 17 acres with 1420' of Puget Sound shoreline, operated by Bainbridge Island Metro Parks and Recreation District, open year round; GPS 47.70194, -122.50639.
Facilities: Generous facilities include bathrooms with flush toilets, showers, and running water, picnic tables, fire grills, a playground, a regulation-size sand volley ball pit, very spacious picnic sites, two beach boardwalks, a rain garden, 3 kitchen shelters (reservable), 2 mooring buoys, and camp hosts.
Recreation: This might possibly be the best bike-in campground in Washington, with only a 7-mile ride to the campground from the ferry terminal in Winslow, and many other metro parks to visit on the Island. It is also part of the Cascadia Marine Trail, with a large site set aside for kayakers, and mooring buoys for other boaters.
Campsites (10 tent sites, 26 sites with water-only hookups for RVs up to 30', one group site for up to 16, all reservable, plus 3 H/B sites and one kayaker site, all non-reservable and one-night-only): This campground has two decided parts: the large, flat beach area, and the "grassy knoll" above the beach that includes the tent and group sites. These have a very layered look, with grassy sites, with conifers and deciduous trees intertwined -- a delight to the eye in autumn. Sites are medium in size and very shady, with a rather "snug" but private feeling, hemmed in by windswept trees and hillsides.The beach area has a natural look with boardwalks giving passage through the driftwood to the sandy beach. The beach area has panoramic views of Puget Sound, looking north to the south end of Whidbey Island, and south towards Edmonds and North Seattle, with views of Mount Baker and Mount Rainier beyond. The RV sites are small to medium, and are side-by-side, but have a much larger feel due to the openness of the huge beach area. RV sites are well shaded and up against the hillside, whereas the H/B and kayak sites are more exposed.
Trip Notes: This former State Park seems to have flourished under the management of Bainbridge Island Parks, who began operations of the Park in 2011. I have been here on both sunny days and stormy days. While true Washingtonians are seldom deterred by the rain, and even feel that the rain brings out the "real Washington," sunny days have a big advantage at this campground. The beach area can take a full on hit from weather fronts, good for storm watchers, but making the marvelous beach area less accessible. Non-storm watchers will find the grassy knoll more protected and enjoyable.
Local Alternative: The only other camping alternative on Bainbridge Island is for kayakers only at Fort Ward Marine Park on the south end of the Island. This former state park is 137-acres on Rich Passage, and is part of the Cascadia Marine Trail.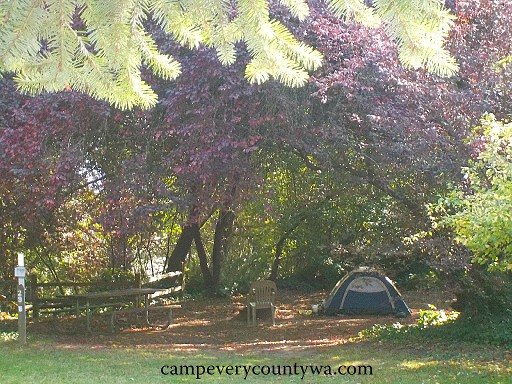 The tent campsites that sit on the "grassy knoll" above the beach area at Fay Bainbridge Park have a very "layered" look in autumn.
For more photos of Fay Bainbridge Park click HERE
Green Mountain State Forest
This 6,000-acre State Forest is adjacent to the Tahuya State Forest in Mason County, and is part of an extensive network of working forest lands that provides revenue for county services, state universities, and local schools. It includes its namesake Green Mountain, giving views of the entire Puget Sound Region, the Olympic and Cascade Mountains. You'll have to get here on foot, mountain bike, or horseback, but camping at the end of the trail will be well worth the effort.


The views from the top of Green Mountain take in two mountain ranges and the entire central Puget Sound region.
For more photos of Green Mountain Bike-In/Hike-In click HERE
OTHER CAMPGROUNDS: There are no FREE or Rustic Campgrounds in Kitsap Co. that we can recommend at this time.