This, the most populous county in Washington, is much more than the Space Needle and the Seattle sports stadiums. It is a very diverse place, with its beginnings in logging, fishing, coal, and hops. These have largely been supplanted by such companies as Starbucks, Boeing, and Amazon.com. But outside the big population centers -- near the farms of Enumclaw, the railroad towns of the Skykomish Valley, the raging waters of the Green River Gorge, the sandy beaches of Dash Point, and the Cascade Mountains of Snoqualmie Pass -- are surprisingly remote campgrouds that make better attractions than you'll ever see on television or the Fortune 500.
Puget Sound Region
Federal Way, the largest city in southwest King County, began as a trading post along a north-south Indian trail. The trail become a government road, informally known as the "Federal Highway," the first between Tacoma and Seattle. Seven small communities grew along this "Federal Way," but those along the Puget Sound shoreline avoided the ensuing suburban sprawl, giving way to parks, a scout camp, retreat centers, conference centers, a live theater, and one of the nicest sandy beaches beaches in all of Puget Sound.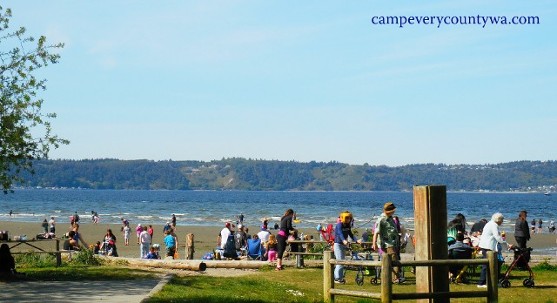 Beaches, like this one at Dash Point State Park, are always a big draw, even in rainy Washington.
For more photos of Dash Point S.P. click HERE
Green River Valley
Most know the Green River as a slow, meandering canal through the City of Kent, where it has been subdued by dikes and re-channeling. Closer to its source in the Cascade Mountains, however, it flows through a gorge where it tears through ravines, tumbles over smooth moss-covered boulders, and challenges to be tamed. And this is where our camping adventures begin...
Kanaskat-Palmer State Park

(King Co.'s MOST APPEALING CG TO THE SENSES):
The Park is named for two tiny communities (Kanaskat and Palmer) of the North Pacific Railroad in this coal-mining district of east King County. This stretch of the Green River is a premier spot for expert whitewater kayakers, and campers who love to sit and watch them pass by from the comfort of their lawn chairs.


Overview

: Located 10.4 miles north of Enumclaw on 320 acres with 2 miles of shoreline on the Green River at 761' elevation, open year round; GPS 47.3197, -121.9053.


Facilities

include bathrooms with showers (some ADA-accessible), picnic tables, fire rings/grills, 4 fire circles, 3 covered shelters in Day Use Area, and camp hosts.


Recreation

: Whitewater rafting and kayaking (experts only, Class III-IV) is the Park's biggest draw. Fishing is great for steelhead. You will see tubers and swimmers here, but the water is very treacherous and caution is advised. There are also 3 miles of hiking and biking trails. The most popular trail is the River Walk, which follows the Green River for over a mile, running the entire length of the campground.


Campsites

(50 sites, inc 19 w/water & electric 30 amp, 2 ADA sites, 1 group camp for up to 80 people, 6 ADA-accessible yurts, reservable): Sites are spacious and wooded with average to good privacy. The Group Camp has two great Adirondack shelters, a dining shelter, and consists of a labarynth of interconnected campsites. While it claims to accomodate 80 people, I would be more comfortable with 30-40 people, given the close proximity of the shelters and tent sites.


Trip Notes

: Here's the thing – this park is located at the base of the Cascades, and when it rains it dumps enough rain to damage equipment and the spirits of even the happiest of campers. That being said, the park is gorgeous, with beautiful walks along the Green River Gorge. The group camp is inviting, with wooden bunkhouses in vintage style. Great dog walking, forests and river. Camp here on a sunny stretch of days!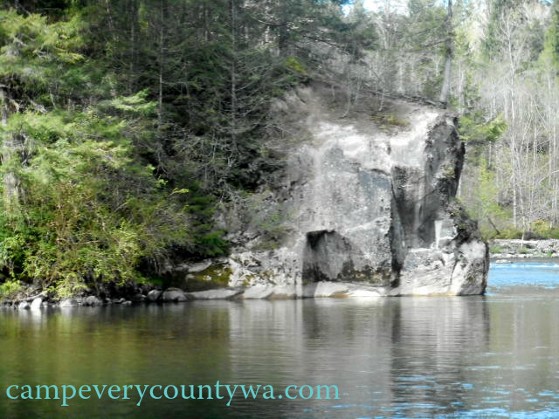 The River at Kanasket-Palmer State Park takes on a rugged beauty not seen further downstream.
For more photos of Kanasket-Palmer S.P. click HERE
Blake Island Boat-In Campground

(King Co.'s "would be" BEST BOAT-IN CG)




This terrific boat-in is accessible by charter boat from the piers in Seattle, but actually is designated as part of Kitsap County. See the Kitsap County page for more details.
South Fork Skykomish Valley (Highway 2)
Highway 2 starts in Everett and follows the old railroad towns of Sultan, Startup and Gold Bar (Snohomish Co.) before dipping down into the King County towns of Baring, Grotto, and Skykomish. And this is where the River changes from all too ordinary to strikingly beautiful, with camping to boot.
Money Creek Campground

(King Co.'s BEST BIKE-IN CG)
The stream from which this campground gets its name was first explored for its mineral wealth. In fact, Money Creek was named because of a large sum of money sent by eastern stockholders to develop a mine and other resources of the stream. Fortunately, the mining was a bust and the campground is a keeper.


Overview

: Located 2 miles south of Skykomish with extensive South Fork Skykomish River shoreline, operated by the USFS at 833' elevation, open late May to mid-September; GPS 47.7292, -121.4075.


Facilities

includevault toilets, picnic tables, fire rings, running water, and camp hosts.


Recreation

: Fishing is good for steelhead and rainbow trout. Two swimming holes provide informal swimming. There is no hiking within the campground, but nearby opportunities include Iron Goat Trail #1074.


Campsites

(25 sites including 4 ADA/wheelchair accessible sites, no hookups, reservable): Sites are large, well-spaced, and wooded. They all lie across the South Fork of the Skykomish River from busy Highway 2. The spur has sites along the River, is sunnier, and has double-wide parking aprons, but a tight turn around, so large RVs are not recommended here. The loop is in old growth forest of cedar, Douglas fir, and big leaf maple. It is shadier and better for larger RVs. The sites in the loop have less road noise, but possibly more railroad noise.


Trip notes

: I preferred the sites on the spur due to prettier and better river access. The big drawback is the trains, which pass through and blow their whistles hourly. Railroad lovers like me find it comforting, others find i

t ann

oying -- but if you want to experience this part of Washington "from the ground up," it will include railroads. Those desiring more quiet may want to consider nearby Beckler River CG in Snohomish Co.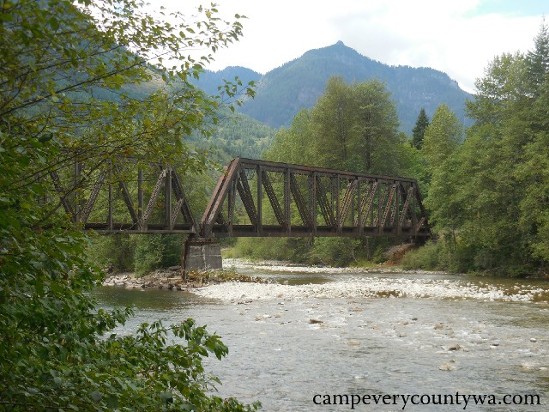 Railroads are as much part of the Skykomish Valley as trees and rivers
For more photos of Money Creek CG click HERE
Miller River Group Camp

(King Co.'s BEST GROUP CG)
This is regarded as the best Group Camp in Western Washington due to its privacy. This is located where the Miller River meets the South Fork of the Skykomish, and erosion is becoming an issue.


Overview

: Located 5 miles southwest of Skykomish with riverfront on Miller River, operated by the USFS at 928' elevation, open late May through mid-September; GPS 47.6894, -121.3927.


Facilities

include vault toilets, picnic tables, fire rings, water by hand pump, and campground hosts in nearby Money Creek CG.


Recreation

: anyone who has camped here knows of Lake Dorothy Trail #1072, a steep boardwalked trail to a high alpine lake where clothing often becomes optional.


Campsites

(19 individual tent sites comprising one group camp for up to 60 people, no hookups, reservations required): Sites vary from tiny to large, but beautifully forested, well-spaced and relatively private.


Trip Notes

: This park has traditionally held up to 100 people, but the beach area, with a large dispersed camping area, has eroded due to flooding of the Miller River and camping is no longer permitted. There are now just 19 other individual sites making up the group campground. It includes a common area, good river access, great forest, and unparalleled privacy. For a medium to large-sized group that wants privacy, this is a one of a kind, in all its rustic charm.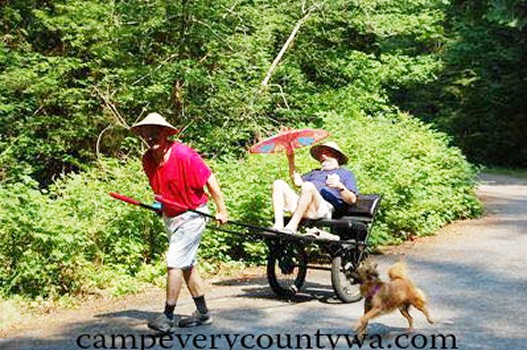 A makeshift rickshaw helped us celebrate the Beijing Olympics while camping.
For more photos of Miller River Group Camp click HERE
Snoqualmie Valley
This majestic valley is situated between Seattle and the foothills of the Cascade Mountains. The quaint towns of Duvall, Carnation, and Fall City have a traditional main-street look, melding pastoral beauty with arts, culture, and some of the most unique recreation touches anywhere.
Tall Chief RV Park and Campground

(King Co.'s BEST EQUIPPED CG)


This campground has more than enough amenities, is close enough to the attractions in Seattle, and yet is wooded and quiet enough to appeal to entire families. And not just young families with kiddies -- extended families with restless teenagers, excessively energetic school kids, your Aunt Sophie who hasn't been camping since 1492, and the entire gang. If you don't like this campground, you probably don't like camping.


Overview

: L

ocated 4 miles west of Fall City and 25.6 miles east Seattle on 70 acres, operated by Encore RV Resorts at 300' elevation, open year round; GPS 47.5986, -121.942.


Facilities

include bathrooms with showers (ADA-accessible), a playground, outdoor pool, hot tub, a Clubhouse, a billiards/game room, mini golf, sports courts, horseshoes, library, laundry, Wi-Fi, walking trails, camp hosts, and RV dump services 3 days per week.


Recreation

includes swimming, forest walks, and birdwatching.


Campsites

(172 RV sites, most with water/electrical hookups 30 amp, 6 designated tent sites, 6 cabins, 2 yurts, reservable, open year round): Sites are above average to large, all wooded, private, many configurations, no street noise. Best sites are 85-98, built out over the edge of a forested hill with small ravines between each site.


Trip notes

: We were lucky to set up before the rains came, but spent most of the first two days in our dry campsites under awnings and easy-ups. My first impression was that it was a typical, representative forested campground, better than many. But, for the purposes of this website, "good enough" is not good enough to be included. Once I had the opportunity to move around and talk to other campers, it clicked. The vast majority of campers were from out-of-state. For them, this otherwise "typical" forest was nothing less than amazing. Most also came to see such nearby attractions as the Experience Music Project and the Space Needle in Seattle, the Microsoft Campus, and the Amazon.com building. For us native Washingtonians, these are simply local icons -- but for them, the out-of-staters, this is a necessary stepping stone to experience "the real Washington."


Local Attraction

: Snoqualmie Falls and Lodge are not to be missed.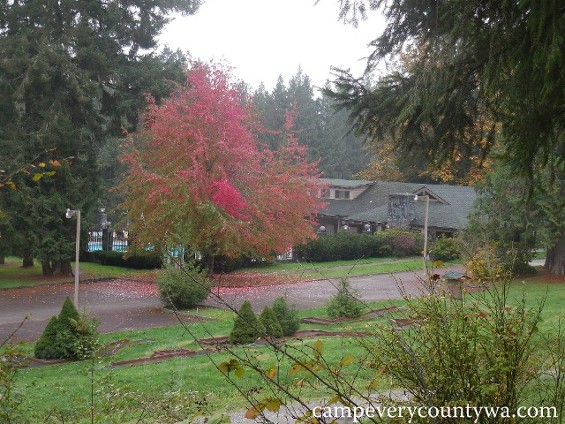 The swimming pool and Clubhouse are seasonable, but the foliage makes autumn the best season to visit Tall Chief RV Park and Campground
For more photos of Tall Chief, click HERE
Tolt-MacDonald Park and Campground (King Co.'s MOST UNIQUELY WASHINGTON CG):




Whenver I hear people complain that all Western Washington Parks are the same -- a refrain with which I categorically disagree -- I recommend this campground. Three-sided cabins? Mountain bike trails? An A-frame amphihteater? Cabins made from shipping containers? Suspension bridges? I rest my case.




Overview: Located 24 miles east of Seattle in the town of Carnation on 574 acres at the confluence of the Snoqualmie and Tolt Rivers at 82' elevation, operated by King County Parks, open year round; GPS 47.6439, -121.9246.




Facilities include flush toilets, running water, showers, picnic tables, fire pits, a playground for small chilren, and camp hosts. Most notable are re-purposed shipping containers fashioned into eco-friendly "cabins" with radiant heating, LED lighting, tables, benches, cupboards, and futons bunks plus a futon chair/bed. There is a 500' suspension bridge over the Snoqualmie River leading to the west camping area. Two large picnic shelters and a beautifully restored barn are also available for larger day-use groups. Nearby are a playground, soccer field and two ballfields.




Recreation: The park contains an extensive set of mountain biking trails on the Ames Lake Plateau, plus 12 miles of hiking trails. Bicyclers have access to the 27-mile Snoqualmie Valley Trail to view local farms and forests.




Campsites (44 sites, including 16 RV sites w/water & electric 30 and 50 amp, 6 yurts - 2 ADA, two 3-sided cabins, reservable by phone): The west camping area, across the suspension bridge, has 11 walk-in sites, the yurts, and the 3-sided cabins. There is also one large group site with a picnic shelter and raised fire pit for up to 60 people. A smaller group site includes an A-framed amphitheater and 2 fire pits for up to 40 people. Wheelbarrows are available to move equipment from the parking lot. The east camping area comprises the RV loop. All sites are pull-throughs with paved pads. This is spacious and grassy with shade trees on the periphery. It includes a spur with 12 tent sites that are somewhat small and less than perfectly level, so come prepared.




Trip Notes: Nothing is typical here. The beach was the big surprise, whith its sandy shores on the Snoqualmie River. Sunbathers, kayakers, and inner tubers were having a bawl. The 3-sided cabins were more like rustic 3-1/2-sided modified Adirondack shelters. What struck me were the number of Day Use visitors who came out just to walk around this spectacle and add some spice to their day. Camping was even spicier.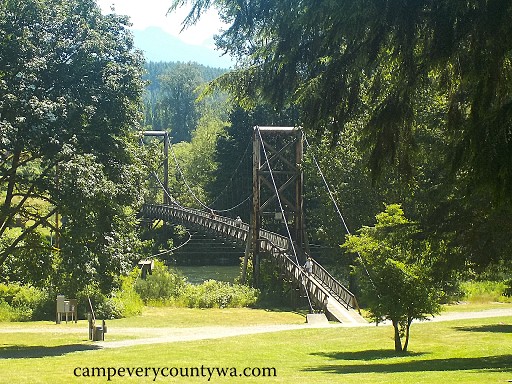 The footbridge at Tolt-MacDonald campground takes campers to the more private tent camping area.
For more photos of Tolt-MacDonald CG click HERE
North Bend/Western Slope of Snoqualmie Pass
This part of Washington is extremely fortunate to have one of the most accessible and beautiful mountain passes so close to the State's largest metropolitan area, giving quick access to the entire interior of Washington State. The snow-capped peaks, the fragrant conifers, and even the split-lane, high-rise construction of Interstate 90 are nothing short of spectacuar. The downside is overcrowding, overuse, and freeway noise. King County, always the innovator, has provided some very innovative camping alternatives.
Middle Fork Campground

(King Co.'s BEST RUSTIC CG)


Sometimes campgrounds get built because they are close to a natural wonder, an outdoor tourist site, or because an overnight stop is needed along a busy highway. Then there are the good ones -- those that get built out of a grass roots need from campers. In this case, another campground was needed on the western slope on Snoqualmie Pass, both to ease the overused existing campgrounds and bring law enforcement into an area inundated with increased illicit activity. This campground was opened in 2006 and upgraded in 2014 to meet that need, providing the best (and quietest!) camping in the area.




Overview

: This busy, forested campground is located 12 miles northeast of North Bend at the junction of the Middle Fork of the Snoqualmie and Taylor rivers, operated by the USFS at 1145' elevation, open May - September; GPS 47.5532378791, -121.538198048.


Facilities

: Less rustic than in the past, amenities now include vault toilets, picnic tables, fire grills, and running water.


Recreation

: The first thing you'll notice about the Middle Fork Valley is the plethora of trailhead signs. They're everywhere, on the 12 mile drive to the campground, the "hiking spur" across Taylor River, and in the campground itself. These include the Middle Fork Trail #1003 (25.3 miles in and back), the Pratt River Trail #1035, and the CCC Trail (upper and lower), with access to the Iron Horse Trail.


Campsites

(38 sites for tents or small RVs up to 40', plus one group site for up to 35-40, no hookups, reservations recommended): Sites are large, flat, and shady beneath a canopy of cedars, Douglas fir, and western hemlock. The best sites are the higher priced sites, particularly sites 10, 14, and 28.


Trip Notes

: First, a word of warning. When you see the Middle Fork C.G. sign, turn left. Do not cross the Taylor River Bridge, and do not drive to end of this hiking spur road. It is treacherous, and you may not be able to turn around, especially on weekend mornings when the hikers show up.


That having been said -- this is the real thing here. We immediately felt that calming USFS campground effect, and were presented with more places to explore than time. The mountains here are phenomenal! Some rise straight up from the ground like giant sea stacks, but lush and forested. The Middle Fork River in particular had a green translucent quality one moment, then breaks into a wall of small rivulets the next. There was a need here, and it has been met. If you camped here in the past, come back. The upgrades have made all the difference.




Nearby Alternative

: The best local alternative is Denny Creek CG, which regrettably rests below and between the east and westbound lanes of Interstate 90. The good news is that it is heavily forested, well laid out, well-equipped and very accessible. The road noise surrounding the campground is surprisingly muffled but creates a persistent white noise. If you need a stopover, however, this is your best and most accessible choice, but you may want to head out in the morning.


The Middle Fork of the Snoqualmie River has a green translucent quality one moment, then breaks into a wall of small rivulets the next
For more photos of Middle Fork CG click HERE
Iron Horse State Park

(King Co.'s BEST HIKE-IN CG)
The Iron Horse refers to the railroads, as this trail of campgrounds occupies the one-time path of the Chicago-Milwaukee-St. Paul-Pacific Railroad. It is officially called the "John Wayne Pioneer Trail."


Overview

: The Trail stretches from North Bend to Wanapum S.P. in Kittitas County covering 1612 acres, managed by the Dept. of Natural Resources at 1670' elevation, open year round. See trailhead directions below.


Facilities

include vault toilets and picnic tables.


Recreation

: There are 110 miles of hiking/biking/horse-riding trails.


Campsites

(4 campgrounds w/3-4 campsites each, no reservations): The Park connects many campgrounds, but has 4 distinct campgrounds of its own (going west to east on I-90): (1) Alice Creek, milepost 2127.1 near exit 42, sites very close (too close?) to the trail; (2) Carter Creek, milepost 2123.2 near exit 47, the largest and most private of the 4 campgrounds; (3) Cold Creek, milepost 2113.2 near exit 54, on west bank of Lake Keechelus; and (4) Roaring Creek, milepost 2109.5 near exit 62, on the south bank of Lake Keechelus. #NOTE: Alice Creek and Carter Creek lie in King County; Cold Creek and Roaring Creek are in Kittitas County# It passes near several other campgrounds, including Middle Fork Campground (above) near North Bend, Denny Creek and Tinkham Campgrounds (not recommended), Lake Easton State Park (Kittitas County, recommended) with 2 H/B sites, and Wanapum S.P. (Kittitas County, recommended). In addition to being bicycle and hiker friendly, it is also attractive to horse owners and pets of all kinds. The Iron Horse Trail itself extends all the way to Idaho, and is the only east-west cross-state trail.


Main Trailhead Directions

:

Head east from North Bend on I-90 approximately 18 miles to Exit 54 (at Hyak). Take Exit 54 and turn right at the end of the off-ramp onto the unmarked road. You will quickly come to another stop sign. Turn left onto SR 906. Proceed slowly, and look carefully for the Iron Horse S.P. sign. Continue for 0.5 miles and take a right at the sign for the Iron Horse S.P./Snoqualmie Tunnel. There you will find a parking lot where you will find an automated pay station before beginning on your trip.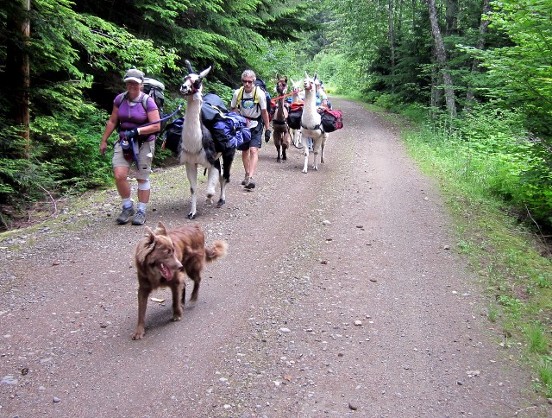 It is common to see animals of all kinds of animals along the Iron Horse Trail, both wild and domestic.
For more photos of Iron Horse S.P. click HERE
OTHER CAMPGROUNDS: There are no FREE Campgrounds in King Co. that we can recommend at this time.