This website is intended as an adjunct to the paperback book 'Camp Every County, Washington' by Brendan J. McDonald, available on Amazon.com. Included on this website are photographs and texts which could not be included in the paperback edition, where you will find full narrative versions of each section found below.
Dash Point State Park (King Co.s BEST CG FOR ENTIRE FAMILIES)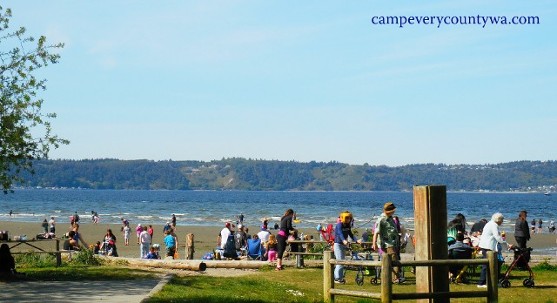 Beaches, like this one at Dash Point State Park,
are always a big draw, even in rainy Washington.
For more photos of Dash Point S.P. click HERE
Kanaskat-Palmer State Park (King Co.'s MOST APPEALING CG TO THE SENSES)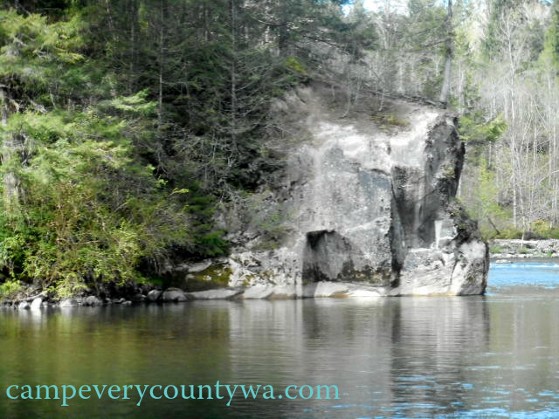 The River at Kanasket-Palmer State Park takes on a rugged beauty not seen further downstream.
For more photos of Kanasket-Palmer S.P. click HERE
Money Creek Campground (King Co.'s BEST BIKE-IN CG)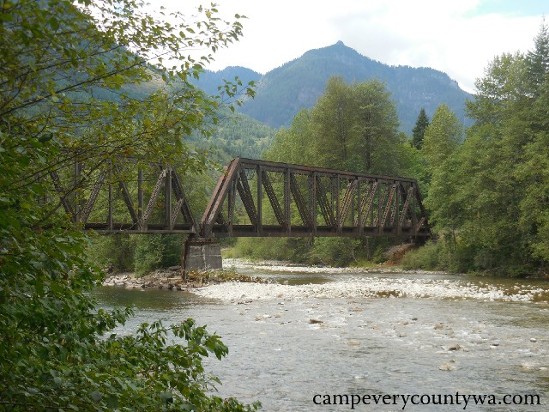 Railroads are as much part of the Skykomish Valley as trees and rivers
For more photos of Money Creek CG click HERE
Tall Chief RV Park and Campground (King Co.'s BEST EQUIPPED CG)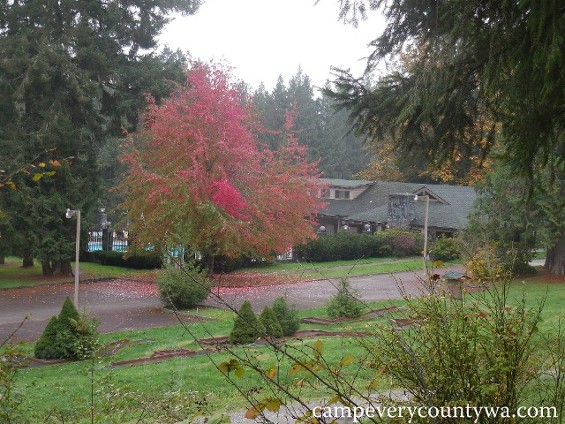 The swimming pool and Clubhouse are seasonable, but the foliage makes autumn the best season to visit Tall Chief RV Park and Campground
For more photos of Tall Chief, click HERE
Tolt-MacDonald Park and Campground (King Co.'s MOST UNIQUELY WASHINGTON CG)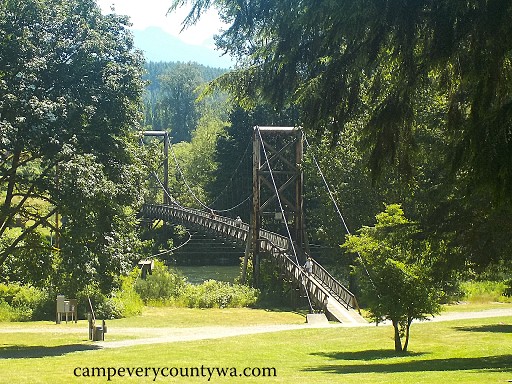 The footbridge at Tolt-MacDonald campground takes campers to the more private tent camping area.
For more photos of Tolt-MacDonald CG click HERE
Middle Fork Campground

(King Co.'s BEST RUSTIC CG)


The Middle Fork of the Snoqualmie River has a green translucent quality one moment, then breaks into a wall of small rivulets the next
For more photos of Middle Fork CG click HERE
Miller River Group Camp

(King Co.'s BEST GROUP CG)
This is regarded as the best Group Camp in Western Washington due to its privacy. This is located where the Miller River meets the South Fork of the Skykomish, and erosion is becoming an issue.


Overview

: Located 5 miles southwest of Skykomish with riverfront on Miller River, operated by the USFS at 928' elevation, open late May through mid-September; GPS 47.6894, -121.3927.


Facilities

include vault toilets, picnic tables, fire rings, water by hand pump, and campground hosts in nearby Money Creek CG.


Recreation

: anyone who has camped here knows of Lake Dorothy Trail #1072, a steep boardwalked trail to a high alpine lake where clothing often becomes optional.


Campsites

(19 individual tent sites comprising one group camp for up to 60 people, no hookups, reservations required): Sites vary from tiny to large, but beautifully forested, well-spaced and relatively private.


Trip Notes

: This park has traditionally held up to 100 people, but the beach area, with a large dispersed camping area, has eroded due to flooding of the Miller River and camping is no longer permitted. There are now just 19 other individual sites making up the group campground. It includes a common area, good river access, great forest, and unparalleled privacy. For a medium to large-sized group that wants privacy, this is a one of a kind, in all its rustic charm.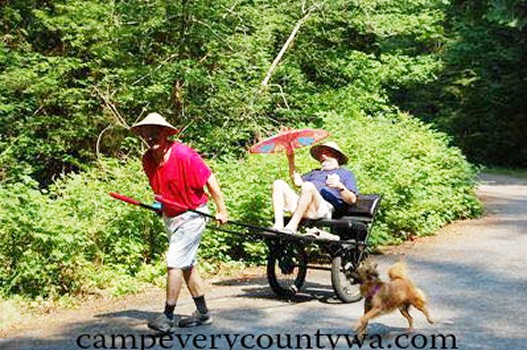 A makeshift rickshaw helped us celebrate the Beijing Olympics while camping.
For more photos of Miller River Group Camp click HERE
Iron Horse State Park

(King Co.'s BEST HIKE-IN CG)
The Iron Horse refers to the railroads, as this trail of campgrounds occupies the one-time path of the Chicago-Milwaukee-St. Paul-Pacific Railroad. It is officially called the "John Wayne Pioneer Trail."


Overview

: The Trail stretches from North Bend to Wanapum S.P. in Kittitas County covering 1612 acres, managed by the Dept. of Natural Resources at 1670' elevation, open year round. See trailhead directions below.


Facilities

include vault toilets and picnic tables.


Recreation

: There are 110 miles of hiking/biking/horse-riding trails.


Campsites

(4 campgrounds w/3-4 campsites each, no reservations): The Park connects many campgrounds, but has 4 distinct campgrounds of its own (going west to east on I-90): (1) Alice Creek, milepost 2127.1 near exit 42, sites very close (too close?) to the trail; (2) Carter Creek, milepost 2123.2 near exit 47, the largest and most private of the 4 campgrounds; (3) Cold Creek, milepost 2113.2 near exit 54, on west bank of Lake Keechelus; and (4) Roaring Creek, milepost 2109.5 near exit 62, on the south bank of Lake Keechelus. #NOTE: Alice Creek and Carter Creek lie in King County; Cold Creek and Roaring Creek are in Kittitas County# It passes near several other campgrounds, including Middle Fork Campground (above) near North Bend, Denny Creek and Tinkham Campgrounds (not recommended), Lake Easton State Park (Kittitas County, recommended) with 2 H/B sites, and Wanapum S.P. (Kittitas County, recommended). In addition to being bicycle and hiker friendly, it is also attractive to horse owners and pets of all kinds. The Iron Horse Trail itself extends all the way to Idaho, and is the only east-west cross-state trail.


Main Trailhead Directions

:

Head east from North Bend on I-90 approximately 18 miles to Exit 54 (at Hyak). Take Exit 54 and turn right at the end of the off-ramp onto the unmarked road. You will quickly come to another stop sign. Turn left onto SR 906. Proceed slowly, and look carefully for the Iron Horse S.P. sign. Continue for 0.5 miles and take a right at the sign for the Iron Horse S.P./Snoqualmie Tunnel. There you will find a parking lot where you will find an automated pay station before beginning on your trip.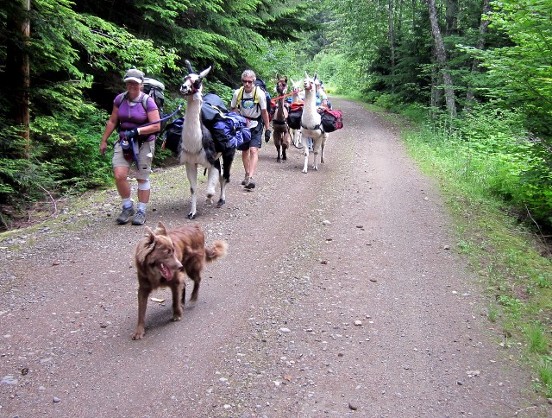 It is common to see animals of all kinds of animals along the Iron Horse Trail, both wild and domestic.
For more photos of Iron Horse S.P. click HERE
OTHER CAMPGROUNDS: There are no FREE Campgrounds in King Co. that we can recommend at this time.