This website is intended as an adjunct to the paperback book 'Camp Every County, Washington' by Brendan J. McDonald, available on Amazon.com. Included on this website are photographs and texts which could not be included in the paperback edition, where you will find full narrative versions of each section found below.
JEFFERSON COUNTY (Port Townsend)
Fort Flagler State Park (Jefferson Co.'s BEST EQUIPPED/BEST CG FOR RVs)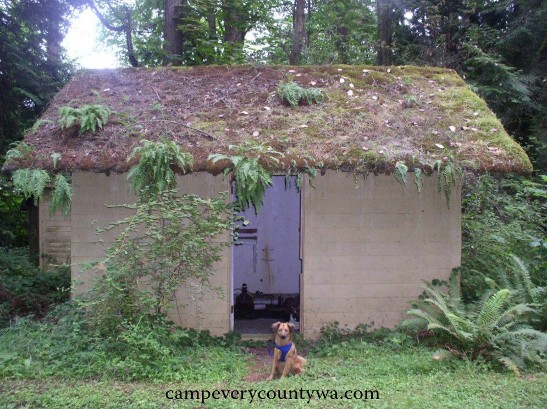 Abandoned military buildings pop up all along the trails of Fort Flagler State Park
For more photos of Fort Flagler S.P. click HERE
Fort Townsend State Park (includes Jefferson Co.'s BEST BIKE-IN CAMPING)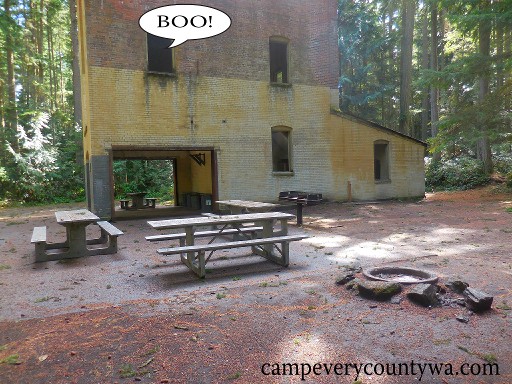 The Torpedo Tower at Fort Townsend's S.P. Group Camp is rumored to be haunted
For more photos of Fort Townsend S.P. click HERE
Collins Campground (Jefferson Co.'s BEST RUSTIC CG)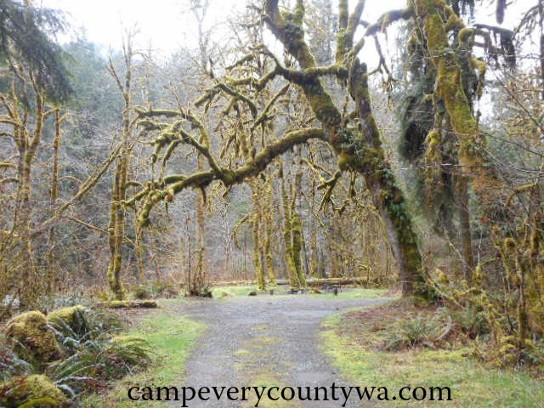 The trees at Collins Campground resemble the wicked, talking, apple-throwing trees from the Wizard of Oz
For more photos of Collins CG click HERE
Lena Lake Hike-In Campground (Jefferson Co.'s BEST CG FOR ENTIRE FAMILIES and BEST HIKE-IN CG)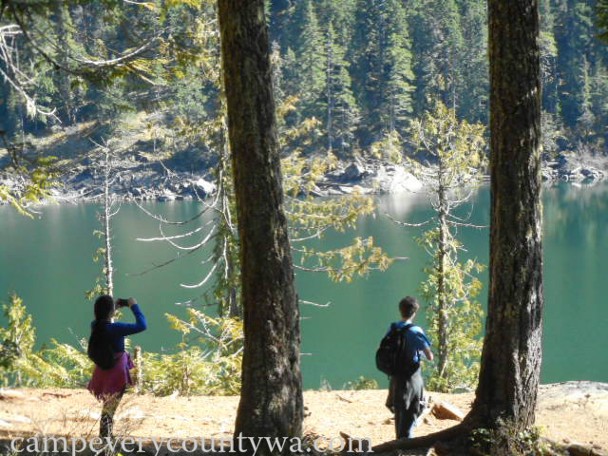 At Lunch Rock at Lower Lena Lake, teenagers stand spellbound near the log jam that formed the Lake 1300 years ago.
For more photos of Lena Lake Hike-In click HERE
Kalaloch Campground, ONP (Jefferson Co.'s MOST APPEALING CG TO THE SENSES)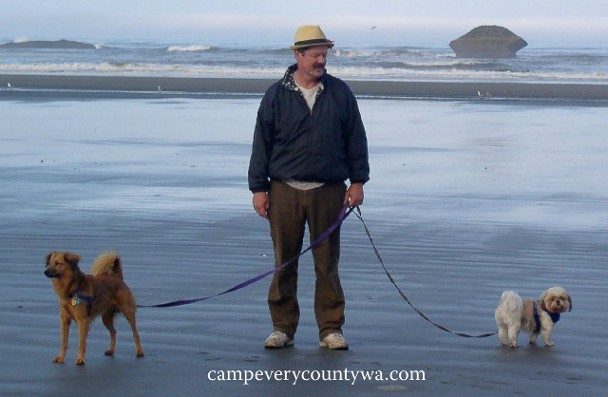 The beach at Kalaloch is so sweeping you'll want to explore forever
For more photos of Kalaloch CG, ONP click HERE
Hoh Rain Forest Campground at ONP (Jefferson Co.'s MOST UNIQUELY WASHINGTON CG)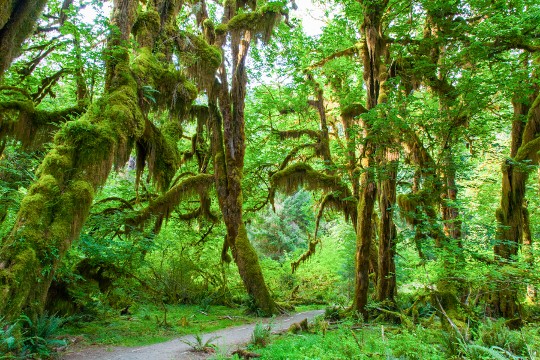 Hall of Mosses in the Hoh Rain Forest
For more photos of Hoh CG, ONP click HERE
Coppermine Bottom Campground (Jefferson Co.'s BEST FREE CG)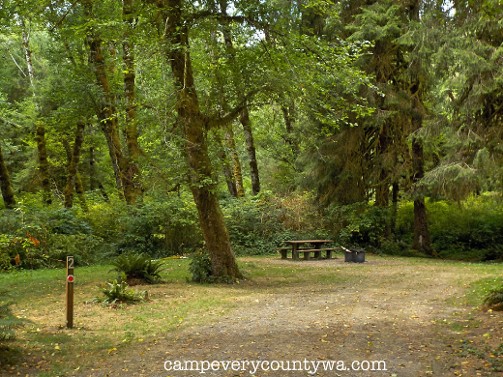 The sites at Coppermine Bottom Campground range in size
from extra large to group size
For more photos of Coppermine Bottom CG click HERE
Seal Rock Campground

(one of Jefferson Co.'s MOST UNIQUELY WASHINGTON CGs)
Not all National Forest Campgrounds are in the forest. This rare gem sits proudly on the north end of Hood Canal where the seals come out to play.
Overview: Located in the Olympic National Forest 4 miles north of Brinnon with extensive saltwater shoreline on Hood Canal at 335' elevation, open May 1 through Labor Day; GPS 47.707963, -122.893516.


Facilities

: Better than usual USFS amenities include flush toilets, running water, electricity in the bathrooms, camp hosts, and an RV dump at Dosewallips S.P.


Recreation

: This includes the 0.5-mile boardwalked Marine Interpretive Trail and 0.3-mile Yesterday and Today Interpretive Trail (both wheelchair accessible) . This is a prime location for digging butter clams, native littleneck clams, Manila clams, horse clams, cockles, and especially oysters . Just south, at the mouth of the Dosewallips River, lies one of the best beaches for digging the famed giant geoducks. Be aware that these beaches are rocky, and different equipment is needed compared to the ocean beaches. Check with the WDFW for details.


Campsites

: (41 sites for tents or RVs, 12 of which have views of Hood Canal and accommodate larger RVs, 3 ADA sites, no hookups or reservations): The best sites are 10, 17, 25, 28, 29, 30. Sites 1-9 are close to Highway 101 and have some road noise. Sites 29-40 have views of Hood Canal with have paved pads that allow larger vehicles, and the sites we recommend. Overall, sites are wooded, lush, and private. They are seldom flat and very "vertical" but inviting.


Trip Notes

: When it comes to campgrounds, I don't always like "quirky." But this very vertical, unique, and even peculiar campground works very well, with a charm not found in nearby campgrounds. Those who have great difficulty with slopes, less pristine bathrooms, and beaches with briny oyster and barnacle shells may prefer more manicured campgrounds like Dosewallips S.P. But I have been coming to this beach since I was a child (the water here is warmer than elsewhere on Hood Canal), and have come scuba diving here since I was a teenager, drawn by Seal Rock, exposed only at low tide. This is where seals sun themselves, sound off, and even taunt campers with the slapping of their fins. Because of its natural, briny, "mountains meet the sea" environment, I consider this one of the best examples of the "real Washington."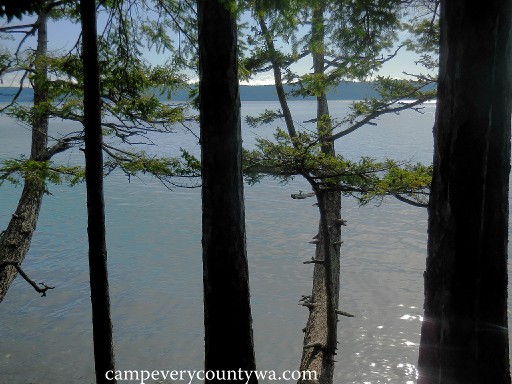 Seal Rock Campground is a rare USFS "mountains meet the sea" terraced campground that overlooks the fjord we call Hood Canal
For more photos of Seal Rock CG click HERE