JEFFERSON COUNTY (Port Townsend)

Jefferson County stretches from Puget Sound, across the Olympic Peninsula, all the way to the Pacific Ocean. But with 95% of this county's population living in the far northeastern corner, there is plenty of space for pure recreation: start with the amazing Kalaloch Beach, the Hoh Rain Forest, Mount Olympus, and the pristine waters of Hood Canal.
Port Townsend/Quimper Peninsula
It is rare that an entire community, especially one as large as Port Townsend, is on the National Register of Historic Places. Not only that, but continue around the Quimper Peninsula, and you'll find 58 other locations on the National Historic and/or the Washington State Registry. But that doesn't mean this northeast corner of Jefferson County is on historical lock down. On the contrary, this peninsula, surrounded by Puget Sound, the Strait of Juan de Fuca, and Discovery Bay is home to far too many quality campgrounds to feature in this guide. But the historic aspect makes the camping come alive!

Fort Flagler State Park

(Jefferson Co.'s BEST EQUIPPED/BEST CG FOR RVs and BEST BOAT-IN CAMPING)


A sign at the entrance to the Island states, "Marrowstone: A Tiny Island Nation Slightly Off the Coast of America, where the living is easy, the water is sweet, and ALL the beaches are clothing optional." Local law enforcement begs to differ. You decide which laws have authority here.




Overview

: This expansive campground is located 8 miles south of Port Townsend on 1,454 acres on Marrowstone Island with 19,100' of saltwater shoreline at 150' elevation, open year round; GPS 48.094, -122.6973 (more below).


Facilities

: These include flush toilets, showers, running water, 5 miles of hiking/biking trails, 2 boat ramps with 256 feet of dock and moorage, a military museum with gift shop, camp hosts and an RV dump. Rentals include the Engineers House (sleeps 4), the Hospital Steward's House (sleeps 4), the non-Commissioned Officer's Quarters North & South (sleeps 4 per unit), and the Waterway House (sleeps 8). Camp Hoskins, Camp Richmond, and Camp Wilson each contain multiple buildings and can accommodate from 180-273 people each.


Recreation

: Viewing the extensive military buildings and trails within the campground will occupy most for multiple days. Kite-flying, hang gliding, clam digging, oyster harvesting, fishing, and boating (motorized and human-powered) are popular. Marine birds are plentiful for viewing, including black-bellied plovers, black turnstones, Bonaparte's gulls, Brants, California gulls, Caspian and common terns, double-crested cormorants, glaucous-winged gulls, Hermann's gulls, horned grebes, long-tailed ducks, mew gulls, Pacific loons, pelagic cormorants, pigeon guillemots, red-breasted mergansers, red-necked grebes, Thayer's gulls, and western sandpipers.


Campsites

(117 sites for tents and RVs from 25 to 50', including 57 w/full hookups 50 amp, two H/B sites, one Cascadia Marine Trail site, 5 military "houses" and 3 larger military group camps for up to 250 people, two small group camps, and a Scout Camp, reservable): The Upper Forest Campground (sites 1-47) is heavily wooded, and relatively flat with good privacy. RV length is limited to 25'. This is the best camping option for tenters due to wind protection. Included are 2 primitive walk-in H/B sites. The Lower Beach Campground (sites 48-116) is near the beach with little shade, limited privacy, and windy. Sites are, however, all flat and very popular with longer RVs. The larger group sites are very close to the main clusters of buildings and staging area with a rather "classroom" feel, and are best suited for school age groups or historical societies. The one lowly Cascadia boat-in site is right on the beach with adequate separation/privacy from the other beach campsites.


Trip notes

: We never expected to enjoy this park as much as we did. I spent countless hours walking with my dog through the flat, wooded trails to the military facilities at the end of the bluff , the marine research facility, many military batteries hidden in the woods, encountering small bands of deer feeding in the open areas, and watching the activities in nearby Port Townsend from afar. Camping was relaxing and quiet in the upper campground, although the lower less wooded RV campground did not seem appealing.


Historical Note

: Fort Flagler was once part of the "Triangle of Fire" (made up of Fort Flagler, Fort Worden and Fort Casey) that was the primary military defense of Puget Sound in the 1890s through the 1950s when Fort Flagler was closed. The property was purchased as a state park in 1955.


Local Alternative

: If boat-in campers find the Fort Flagler site occupied, a good alternative is Kinney Point S.P. Boat-In CG (GPS 48.0748, -122.7896) on the south end of Marrowstone Island. It has multiple sites, a view of Puget Sound to the south, and is part of the Cascadia Marine Trail.


Note on directions

: Both Indian and Marrowstone Islands are connected to the mainland by land bridges, making for easy access from Port Hadlock.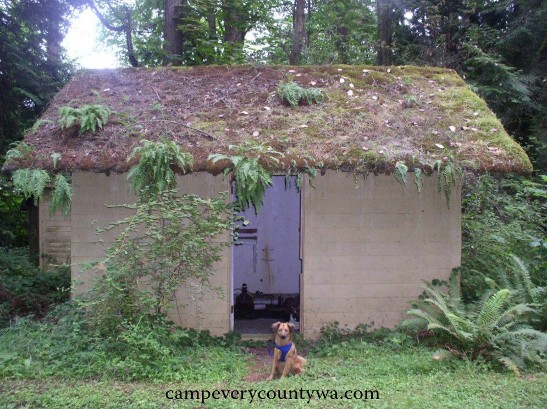 Abandoned military buildings pop up all along the trails of Fort Flagler State Park
For more photos of Fort Flagler S.P. click HERE
Fort Townsend State Park

(includes Jefferson Co.'s BEST GROUP CG and BEST BIKE-IN CAMPING)
The fort was used sporadically between 1856-1895 to provide "protection" to the promising town of Port Townsend from a Native American "threat" that never materialized. The wooden barracks and fort burned to the ground in 1895, and were never rebuilt. The land was not used again until WW2 when a torpedo-defusing station was built in what is now the Group Camp. This is the only structure still standing, and is believed by many to be haunted. Hmm. Sounds like the perfect setting for a Group campout, wouldn't you say?
Overview: Located 3 miles south of Port Townsend on 367 acres with 3,900' of saltwater shoreline at low elevation, open year round; GPS 48.0748, -122.7896.


Facilities

include flush toilets, 1 shower, running water, 3 picnic shelters, 6.5 miles of hiking mountain biking trails. Rentals include the "Friends Barn" for up to 100 people for weddings, family reunions, etc.


Recreation

: Hiking and mountain biking are popular inside the campground, as is beach combing, clam and oyster harvesting, crabbing, and salt water fishing.


Campsites

(44 sites, no hookups, 4 H/B sites, 1 group camp for 80, reservable): Best are 1, 7, 16, 24. Sites in the wooded loop are in average size, private, and very wooded with lush vegetation. However, the road is difficult to navigate with larger vehicles (heed their warning for trailers > 21'). The sites in the RV strip are just that -- side-by-side parking with two gravel roads that border both the front and back of each site. These will not be for everybody. The H/B sites are excellent, and even have their own set of toilets.


Trip Notes

: This park is unlike the other parks in the area built on old forts (Fort Warden S.P., and the wonderful Fort Flager S.P.). It leaves the modern mind wondering why the fort ever existed at all. It is only until you explore the 6.5 miles of trails, stumble upon the abandoned cemetery, and realize that lives once both flourished and ended here. But it is the trails themselves, perfect for mountain bikers and walkers, and the almost 4000' of beach front with its straight-on views of Port Townsend, Whidbey Island, and the waters of Puget Sound that finally grabs you. My favorite part was the Group Camp itself, with the seemingly haunted Torpedo Tower. I can imagine inviting all my friends, young and old, to camp out and tell ghost stories. The building is perfect for ghoulish pranks that people are likely to remember for a long time.


Local Alternative

: Fort Warden S.P. is likely the most popular of the area's three State Parks. The camping, however, is more exposed to the elements than even the Lower Beach Campground at Fort Flagler, and has less privacy. For those of you who love it --- follow your bliss! We just can't recommend it over Fort Flagler or Old Fort Townsend.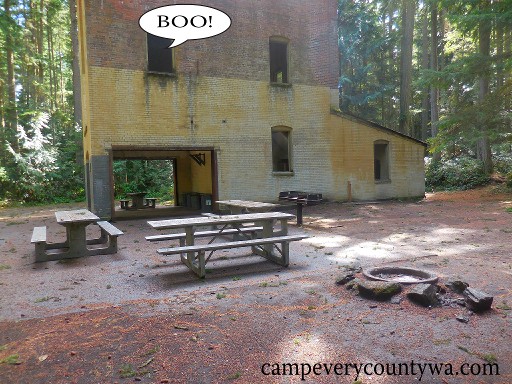 The Torpedo Tower at Fort Townsend's S.P. Group Camp is rumored to be haunted.
For more photos of Fort Townsend S.P. click HERE
Hamma Hamma, Duckabush and Dosewallips Rivers
These three short but wild rivers flow out of the eastern slopes of the Olympic Mountains, and all flow east before emptying into Hood Canal in quick succession along Hwy 101. Three vintage, concrete bridges are listed on the National Register of Historic places, and rank among the most iconic sites along this stretch of highway. What the rivers also provide is quick and deep access into this lesser-known side of the Olympics for recreation of all varieties.

Collins Campground

(Jefferson Co.'s BEST RUSTIC CG)


Sometimes you want rain forest, and at other times you want freedom from the restrictions of the National Parks. Eureka! Here you can have both. This out-of-the way campground on the ethereal blue-green Duckabush River takes campers away from the bustle of Highway 101 and into the over-the-rainbow world of the Olympic National Forest.




Overview

: This campground is nestled on the Duckabush River 43.5 miles south of Port Townsend and 4 miles southwest of Brinnon on 4 acres at 200' elevation, open mid-May to late Sept.; GPS 47.6831, -123.0216.


Facilities

: Limited amenities include vault toilets, picnic tables, and fire rings. There is no drinking water.


Recreation

: Note that the Duckabush River has access to the Duckabush and Ranger Hole Trailheads (each about 1 mile from the park), and close access to Murhut Falls (3 miles from campground) with a 0.8-mile hike to the dramatic falls. Interrorem Cabin, just 1.5 miles before the park, is available for rent. Duckabush Trail #803 is a 10.6-mile round trip trail that leads to the Brothers Wilderness and the vistas of "The Big Hump."


Campsites (16 sites total, 6 for tents only and 10 for tents or RVs up to 21', no hookups or reservations, no drinking water): Sites vary in size, 6 of the 16 being walk-in tent only sites. Several sites are close to the Duckabush River (8, 9, 10, 11, 12, 13, 14), but its soothing flow can be heard from every campsite. All sites are medium to large, have heavy vegetation, and excellent privacy. Parking pads are mixed gravel and native materials. For RVs, we recommend sites 1, 3, 14, and 15.




Trip Notes

: Pulling into Collins CG can be likened to Dorothy, Toto, and the Scarecrow following the Yellow Brick Road past the wicked, talking, apple-throwing trees from the Wizard of Oz. The trees here loom over the campsites, each with their own personality, moss hanging low, their limbs pointing at us with narrow, craggy fingers, as if following our every move. But they've become friendly in their old age, providing a soothing canopy for campers to unwind while the river lulls them to sleep at night.


Local Alternative: Dosewallips S.P. is a popular destination for campers who also enjoy the pursuit of the famous molluscan geoduck. Deal breaker for us: Hwy 101 runs right through the middle of campground. Enjoy it if you will, but you'll find us at Collins CG.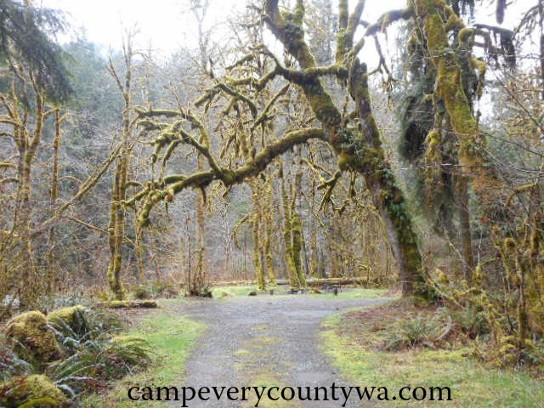 The trees at Collins Campground resemble the wicked, talking, apple-throwing trees from the Wizard of Oz
For more photos of Collins CG click HERE
Lena Lake Hike-In Campground

(Jefferson Co.'s

BEST C.G. FOR FAMILIES and

BEST HIKE-IN CG

)




This is Washington's most popular hike-in campground. Not just with families. Not just with the young. Not just with the old. Everybody. The Lake was formed 1300 years ago by a log jam on Lena Creek. Now it has given way to some of the most diverse camping in the area.




Overview

: The trailhead for the 3.2-mile hike-in is located 5 miles east of Eldon on 55-acre Lena Lake (more below), operated by the USFS at an 1800' elevation, FREE with a Northwest Forest Pass, open spring through fall; GPS 47.37205, -123.09728.


Facilities

: These include picnic tables, fire grills, and a picturesque but nonfunctional composting toilet sitting on the edge of a steep bank. You may want to bring a portable toilet and water purification tablets.


Recreation

: For those who need even more to do after reaching Lower Lena, Upper Lena Lake (also with campsites) is just 3 miles beyond. A boulder blocks the trail and must be scaled, so children and dogs are prohibited on Upper Lena.


Trailhead

: From Olympia head North on Highway 101 for 51 miles. You will pass through the towns of Shelton, Hoodsport, Liliwaup, and Eldon. Turn left at the brown and white sign that indicates the Hamma Hamma Recreational Area. This will be Forest Road 25. (If you come to the town of Brinnon, you have gone too far). Continue for 8 miles until you reach Lena Creek Campground and trailhead.


Campsites

(29 sites, no drinking water or reservations): Sites are scattered around the lake, providing space and privacy. Some sit at the base of Lena Creek as it flows into the Lake, others sit high on the Lake's banks, while others are tucked into little "hollers" along the way. If you follow the trail around the Lake to its absolute end, you will find a large, flat sandy area that few ever find, which is also the best campsite on the Lake.


Trip Notes

: As I watched the small children in the crowded trailhead parking lot, each strapped into their tiny Hello Kitty and Spiderman backpacks, I knew immediately what this trip confirmed: that this is an "everybody-oriented" campground that any child, adolescent, or adult would love. The trail is an ingenious series of switchbacks, some with bridges to cross, and others crossing under rock outcroppings. Once at the Lake, I saw people everywhere. A dad and his three young children seemed to spend hours simply throwing rocks into the Lake. On Lunch Rock, teenagers seemed spellbound by the floating logs near the log jam. On the opposite side, teenage girls in bikinis could be heard giggling from a hundred yards away, though they quieted when they saw me on the trail. In short - everyone seemed to be rediscovering how to play. I think anyone who camps here will turn out to be a lifelong outdoorsman.


Local Alternative

: Lena Creek CG (GPS: 47.598306, -123.151361) is a small but campworthy spot on the Hamma Hamma River just past the Lena Lake Trailhead. Its greatest feature is the Living Legacy Trail constructed by the Civilian Conservation Corps in the 1930s. #Note that Lena Creek CG is in Mason Co., while Lena Lake CG crosses into Jefferson Co.#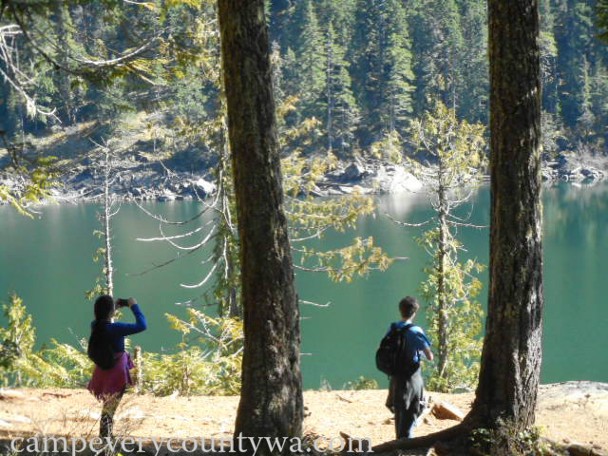 At Lunch Rock at Lower Lena Lake, teenagers stand spellbound near the log jam that formed the Lake 1300 years ago.
For more photos of Lena Lake Hike-In click HERE
Hood Canal Region
The Hood Fjord, mistakenly called a "canal" by Lord Samuel Hood, runs 50 miles north to south, before making a sharp turn east for another 15. As such, it is the second longest fjord in the U.S., surpassed only by Alaska. Like the fjords of Norway, Hood Fjord/Canal is a perfectly natural, unaltered stretch of waterway averaging about one-half mile wide defining the eastern boundaries of the Olympic Mountains, creating infinite recreational opportunities.

Seal Rock Campground

(one of Jefferson Co.'s MOST UNIQUELY WASHINGTON CGs)
Not all National Forest Campgrounds are in the forest. This rare gem sits proudly on the north end of Hood Canal where the seals come out to play.
Overview: Located in the Olympic National Forest 4 miles north of Brinnon with extensive saltwater shoreline on Hood Canal at 335' elevation, open May 1 through Labor Day; GPS 47.707963, -122.893516.


Facilities

: Better than usual USFS amenities include flush toilets, running water, electricity in the bathrooms, camp hosts, and an RV dump at Dosewallips S.P.


Recreation

: This includes the 0.5-mile boardwalked Marine Interpretive Trail and 0.3-mile Yesterday and Today Interpretive Trail (both wheelchair accessible) . This is a prime location for digging butter clams, native littleneck clams, Manila clams, horse clams, cockles, and especially oysters . Just south, at the mouth of the Dosewallips River, lies one of the best beaches for digging the famed giant geoducks. Be aware that these beaches are rocky, and different equipment is needed compared to the ocean beaches. Check with the WDFW for details.


Campsites

: (41 sites for tents or RVs, 12 of which have views of Hood Canal and accommodate larger RVs, 3 ADA sites, no hookups or reservations): The best sites are 10, 17, 25, 28, 29, 30. Sites 1-9 are close to Highway 101 and have some road noise. Sites 29-40 have views of Hood Canal with have paved pads that allow larger vehicles, and the sites we recommend. Overall, sites are wooded, lush, and private. They are seldom flat and very "vertical" but inviting.


Trip Notes

: When it comes to campgrounds, I don't always like "quirky." But this very vertical, unique, and even peculiar campground works very well, with a charm not found in nearby campgrounds. Those who have great difficulty with slopes, less pristine bathrooms, and beaches with briny oyster and barnacle shells may prefer more manicured campgrounds like Dosewallips S.P. But I have been coming to this beach since I was a child (the water here is warmer than elsewhere on Hood Canal), and have come scuba diving here since I was a teenager, drawn by Seal Rock, exposed only at low tide. This is where seals sun themselves, sound off, and even taunt campers with the slapping of their fins. Because of its natural, briny, "mountains meet the sea" environment, I consider this one of the best examples of the "real Washington."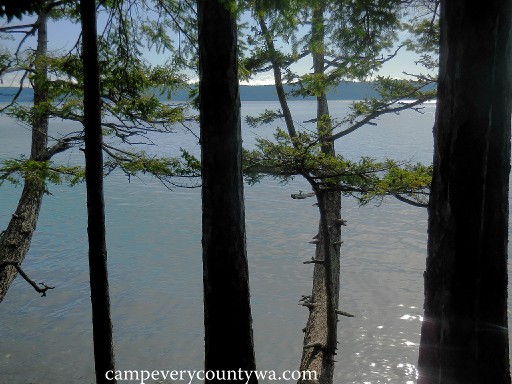 Seal Rock Campground is a rare USFS "mountains meet the sea" terraced campground that overlooks the fjord we call Hood Canal
For more photos of Seal Rock CG click HERE
Olympic National Park Ocean Strip (South)
While the northern border of the 73-mile ONP Ocean Strip begins at Cape Flattery, it ends at the more accessible southern border of Jefferson County. Ruby Beach, Destruction Island, and the Kalaloch Lodge are among its most iconic locations.
Kalaloch Campground, ONP

(Jefferson Co.'s

MOST APPEALING CG TO THE SENSES)
The word Kalaloch (pronounced CLAY-LOCK) in the Quinault language means "a good place to land." It features the best walking beach on the Peninsula; but beware, in the stormy winter weather it becomes treacherous with drifting logs.


Overview

: This popular campground is located 45 miles south of Forks on the ONP Ocean Strip at 75' elevation, open Memorial Day weekend to late Sept.; GPS 47.61306, -124.37472.


Facilities

include with flush toilets, drinking water, picnic tables, fire rings with grates, garbage collection, fish cleaning stations, a one-mile hiking trail along Kalaloch Creek, camp hosts, and an RV dump. There are several stairwells providing access to the beach 40' below.


Recreation

: Birding is terrific here. So terrific, in fact, there are too many birds species to name. Some of the more unusual include the black oystercatcher, chestnut-backed chickadee, dark-eyed junco, fox sparrow, golden-crowned sparrow, marbled murrelet, ruby-crowned kinglet, spotted towhee, and the occasional puffin.


Campsites

(168 sites for tents and RVs up to 21-35', including 4 ADA; no hookups, one group tent site, reservable): Sites sit on a high bluff above the Pacific Ocean, organized into 6 loops. The A, B, and C loops are conjoined, the A loop encircling the B and C loops. Many sites seem overgrown, small, and awkwardly placed, especially in Loop F. Best sites by loop are: A - 4, 7, 11, 13, 16, 18, 24, 25, 58; B - 2, 3, 13, 19; C - 2, 10; D - 2, 23, 24, 31, 33, 36; E - 3, 4, 6, 12; and F - 2, 4.


Trip notes

: I would rank this among the best beach campgrounds, particularly where Kalaloch Creek joins the ocean between the park and the lodge. It sits high over the Pacific, with tide pools, bird watching, and endless walking. The iconic floating tree has roots that ford both sides of a deep but narrow ravine, and high enough that even the tallest person can stand under it. The vistas from the bluff are so sweeping it makes you want to explore forever. Kalaloch means "a good place to land." It certainly was that.


Local Attractions

: Rugged and rocky Ruby Beach, located 10 minutes north of Kalaloch, is a readily accessible beach filled with offshore sea stacks, whale sightings, and ruby-colored crystals in the sand. The Olympic National Park's "Big Cedar, located" 4 miles north of Kalaloch, is believed to be over 1000 years old. Note that it partially collapsed in a storm during March of 2014, so if you want to see this behemoth beast before it is you late, you should come here soon.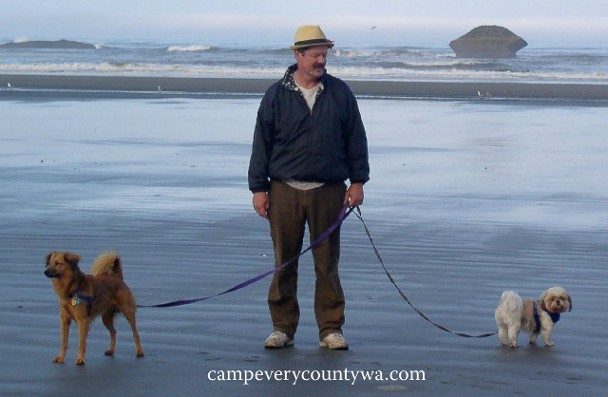 The beach at Kalaloch is so sweeping you'll want to explore forever
For more photos of Kalaloch CG, ONP click HERE
Hoh Rain Forest
Everyone knows about the Amazon Rain Forest, and the rainy City of Seattle with its shocking 36 inches of rain per year. The Hoh Rain Forest, by comparison, is one the world's largest temperate rain forests. Its dew, fog and mist alone contribute 30 inches of "wet" per year. All told, it receives 14 feet of rain in 12 months time. But when you dry off your glasses and zip up your Gor-Tex, you will find yourself in the most carefully preserved rain forest in the northern hemisphere, which has remained unchanged for thousands of years.

Hoh Rain Forest Campground, ONP

(Jefferson Co.'s MOST UNIQUELY WASHINGTON CG)
What would it take to get you to visit a campground that gets 140-170" of rainfall per year? The answer is simple: Hoh, Hoh, Hoh.
Overview: This ONP campground is located 40 miles northeast of Kalaloch along the picturesque Hoh River at 581' elevation, open year round; GPS 47.857977, -123.93207.


Facilities

include flush toilets, running water, picnic tables, fire rings, an amphitheater, camp hosts, and an RV dump.


Recreation

: The park has access to many easy walking and longer hiking trails, including the Hall of Mosses Trail (.8 miles), the Spruce Nature Trail (1.2 miles), and the Hoh River trail, which leads 17.3 miles to Glacier Meadows, on the edge of Mount Olympus.


Campsites

(88 sites for tents and RVs from 19 to 35' with a couple for larger, no hookups or reservations): Sites are small to huge with average to good privacy with paved parking pads, heavily shaded and often wet. Vegetation includes huge Sitka spruce, some reaching 250 feet in height and 30 to 60 feet in circumference (note you can stay dry if camping under one of these); Douglas fir, many more than 100 years old; western hemlock and western red cedar; moss-covered big leaf maples; stair-step moss; groups of sword ferns that grow up to your waist; and, growing from the limbs of trees are licorice ferns, cattail moss, and hundreds of species of lichens, lungwort, and liverworts forming a thick canopy over many campsites. Sites are arranged in three loops. The A Loop (sites 1-35) has larger sites nestled against the River; Loop B (sites 39-56) has some larger sites, but is away from the River, and may have the driest sites; Loop C (sites 60-89) has smaller sites, but sites sit in a saddle surrounded by the River, and is the preferred loop for tenters. Best sites are 5, 8, 19, 23, 29, 44, 63, 65, 68, and 69.


Trip Notes

: I travelled to this park several times in college, and even camped along some of the trails, but had never camped in the campground itself. What struck me now is how gloriously wet everything is. I don't mean dripping wet, just rich and verdant and flowing. The waters of the milky Hoh River make me want to dip my feet for hours and wait for wildlife to come to me. The moss hangs from the tree limbs like billowing, delicate scarves in a chic boutique. This isn't just a rain forest, this is fairyland.


Local Alternatives

: There are four smaller but campworthy campgrounds in the immediate vicinity, all of which are FREE. Minnie Peterson CG sits right on the Hoh River on the edge of the rain forest. It has large sites, but also some road noise. The popular Hoh Oxbow CG is situated on a bluff overlooking the River It comes with both a boat launch and road noise. Willoughby Creek CG is situated where this creek joins the Hoh River. It is more rustic with 8 sites for tents and RVs less than 25'. Cottonwood CG comes with a boat launch and is free of road noise. It includes a group camp for up to 10 people, and is popular with anglers and hunters.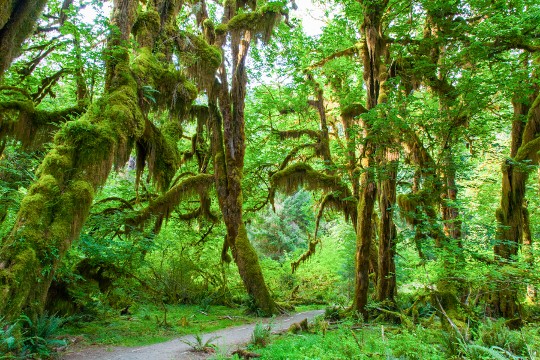 Hall of Mosses in the Hoh Rain Forest
For more photos of Hoh CG, ONP click HERE
Coppermine Bottom Campground

(Jefferson Co.'s BEST FREE CG)
This hidden campground occupies a nice stretch of the shallow, pebbly-bottomed Clearwater River, a tributary of the Queets River. The campground gets is name from its location on the floor or "bottom" of the River, plus copper mines that long ago occupied the area. It represents one of the best getaways in this area, known largely only by locals, with an abundance of marshland vegetation and wildlife.


Overview

: This secluded campground is located 33.6 miles south of Forks and 84.1 miles north of Aberdeen near Queets on the Clearwater River, operated by the DNR in the Bert Cole State Forest (adjacent to the Hoh Rain Forest) at 1317' elevation, open year round; GPS 47.6554451 -124.1882553 (more directions below).


Facilities

: Primitive facilities include vault toilets, picnic tables, fire pits, a Day Use Area with group shelter, and hand boat launch. There is no drinking water.


Recreation

: An added bonus of this campground is its excellent salmon and steelhead fishing, due largely to a unique dory-launch, enabling flat-bottomed boats to launch into shallower water.


Campsites

(10 sites for tents or RVs up to 16', no hookups or reservations, FREE with Discover Pass): The sites swing in an arc around a turn in the Clearwater River, ranging in size from large to XXL. Vegetation is heavy with cottonwoods along the River. Pads are on native material, with sites secluded from one another, each with paths leading to the River.


Trip Notes

: Much like Klahowya CG to the north, and Campbell Tree Grove CG to the south, Coppermine Bottom is overlooked due to its "assumed" similarities to the logging lands and primitive roads that surround them. But this is not a case of "getting there is half the fun." In this case, the last mile of the ride (the only gravelled portion) can be offputting. But once you arrive, you are away from the city, away from crowds, and nested down into one of the most pristine and secluded campgrounds anywhere. If seclusion is what you seek, your paradise awaits.


Local Alternatives

: Upper Clearwater CG has 7 tent sites with tent pads (RVs are not recommended). The campground includes covered shelters and a primitive boat launch. Yahoo Lake GC is set at 2400' elevation with a 500' boardwalk along Yahoo Lake.


Directions

: Starting in Aberdeen, drive north on Highway 101 for approximately 70 miles to milepost 147 and turn right/northeast on Hoh-Clearwater Rd for 12.6 miles. Turn right off the paved road onto the gravel one lane road and go 1.5 miles. Note there is no sign marking the campground from the south, though a sign exists of coming from the north. Site is on left.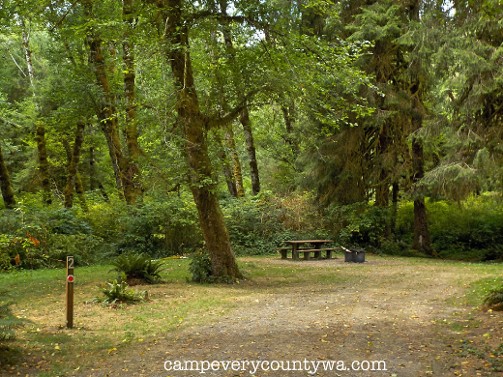 The sites at Coppermine Bottom Campground range in size
from extra large to group size
For more photos of Coppermine Bottom CG click HERE