ISLAND COUNTY (Coupeville/Oak Harbor/Camano)
Whidbey Island and Camano Island are homes to 5 camping state parks and more shoreline than you will ever have time to explore. Unless you get started now, of course.
Camano Island
This 18-mile long island is connected by a land bridge to Stanwood in Snohomish County, making it more accessible to the greater Puget Sound Area, but removed from its counterpart Whidbey Island -- except for the killer views of Whidbey across Saratoga Passage.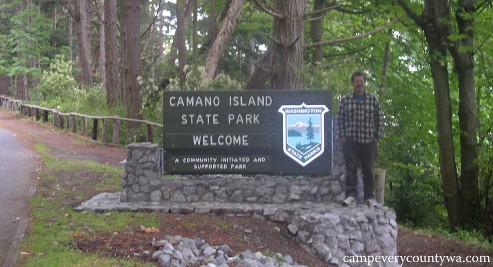 Camano Island State Park is a community initiated and supported park
For more photos of Camano Island S.P. click HERE
Whidbey Island
This 45-mile long island is connected to Fidalgo Island in Skagit County by the scenic 2-span Deception Pass Bridge in the north, and to the mainland by the Clinton-Mukilteo Ferry in the south. It is the largest island in Washington, and the fourth largest island in the contiguous United States. The Island has a diverse landscape, with equally diverse recreational opportunities.
Cranberry Lake Campground at Deception Pass State Park




(Island Co.'s BEST EQUIPPED/BEST CG FOR RVs and MOST UNIQUELY WASHINGTON CG)




Deception Pass S.P. includes 3 campgrounds - Bowman Bay CG north of the Bridge in Skagit Co., and Quarry Pond and Cranberry Lake CGs south of the Bridge in Island County. Cranberry Lake CG is located on the northernmost tip of Whidbey Island between North Beach, West Beach, and Cranberry Lake. It is visually stunning, with bluffs and rock formations at every turn, making it one of the most iconic campgrounds in the Washington State Park System.




Overview

: Located 8 miles north of Oak Harbor on the northernmost tip of Whidbey Island on 4134 acres at 116' elevation with extensive saltwater shoreline, open year round; GPS 48.3931, -122.6473.


Facilities

include bathrooms with showers (some ADA), drinking water, picnic tables, fire pits, , amphitheater, 3 picnic shelters for 50-300 people each, 40 miles of hiking trails through the Park, camp hosts, RV dump.


Recreation

includes swimming for kids in Cranberry Lake, fishing, beachcombing, hiking, and viewing Deception Pass and its islands from the amazing 2-span Deception Pass Bridge.


Campsites

(147 tent sites, 83 sites with electric & water hookups 50 amps for RVs of any size, 3 primitive Group Camps for 25-50 people each including one with Adirondack shelter, Ben Ure Cabin, reservable): Sites are large, wooded, and shady with good privacy, although so heavily forested that it can be too cool, even in mid-summer. Sites are both back-ins and pull-throughs. Tent pads are on native material. The Forest Loop sites are the best for camping, but also the furthest from the swimming area on the West Beach of Cranberry Lake. The Forest Loop, as well as the H/B sites, have good access to the North Beach underneath the bridge, which is the most scenic. Otherwise, the campground is remarkably quiet for the crowd, allowing campers to relax. And if you're more adventurous but want some luxury, rent Ben Ure Cabin on its own island in Cornet Bay. You'll have to bring your own boat.


Trip notes

: This is arguably the most scenic campground we've experienced. The shoreline and bridge over the Pass are spectacular. The biggest complaint by far was the military planes from Oak Harbor that regularly passed over, drowning out all conversation for several minutes, and being a deal breaker for at least one of our campers. Yet, it is possibly the most visually appealing campground in Washington. Be aware that the waters are treacherous here, and children should be very closely watched (limit their swimming to the very safe Cranberry Lake). But this campground, as well as its counterpart Bowman Bay C.G. across the bridge in Skagit Co., should be on everyone's camping bucket list. They're not perfect, but they're unforgettable.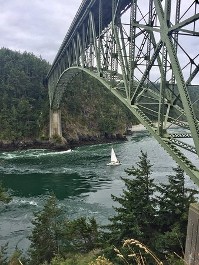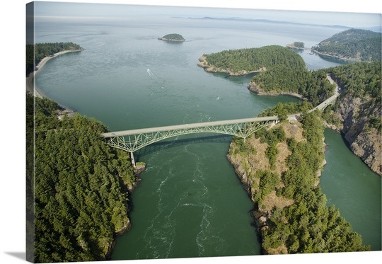 Deception Pass Bridge, with its two spans across the treacherous passage, is a destination in itself.
For more photos of Cranberry Lake CG and Deception Pass click HERE
Fort Ebey State Park

(includes Island Co.'s BEST GROUP CG)
This former World War Two (WW2) gun emplacement site has given way to a little known campground filled with grasslands, bluffs, paragliders, surfers, and killer marine views. This is Whidbey Island in slow motion, stripped down to its bare essentials.


Overview

: This peaceful, sweeping park is located 6 miles west of Coupeville on 645 acres with 3 miles of saltwater shoreline on the Straight of Juan de Fuca at 82' elevation, open November 1st to April 1st; GPS 48.2226, -122.7632.


Facilities

: These include restrooms with showers, picnic tables, fire rings, 28 miles of hiking trails, 25 miles of biking trails, Beach Picnic Shelter for 50 people, Gun Battery Picnic Shelter for 150 people, 2 BBQ grills, a surfing beach, 2 primitive sports fields, an amphitheater, sports fields, and a Park Store. Vista Group Camp, located on a bluff down Partridge Road, includes a vault toilet and running water, with flush toilets and showers a 5-minute walk away.


Recreation

includes hiking, surfing, paragliding, limited fishing on Lake Pondilla, and exploration of WW2-era concrete military bunkers. The Park features the bluff walk which gives breathtaking views. This is a double bonus, as the park is adjacent to the Kettles Trail System which includes over 30 miles of hiking and mountain-biking trails. Paragliders also gravitate to the bluff here, and provide great visuals.


Campsites

(39 tent sites, 11 sites with water & electric hookups 30/50 amp for RVs of any size, 6 H/B walk-in sites near Lake Pondilla, one marine trail campsite, one group campground (Vista Group Camp) for up 20-60 people, reservable): Sites are very large with good vegetation, some of the trees and shrubs being windblown and smaller, as the campground sits on top of a large bluff overlooking the Sound towards Port Townsend. The heavy vegetation provides a windbreak and some relief from rainfall. The very pretty, compact Vista Group Camp is decorated with large shade trees and natural vegetation.


Trip Notes

: Step up to the grassy, barren shelf on the bluff just beneath the military bunkers, and you suddenly find yourself immersed in a reflective, contemplative, even zen environment. This is the launching place for many a paraglider, and you can almost imagine the Karate Kid practicing his karate kicks under the tutelage of Mr. Myagi. It is so different from the more popular Deception Pass S.P., with its many rock ledges, scenic beaches, sea life and, to its own detriment, throngs of visitors and noise from military planes. Fort Ebey is stripped away Whidbey Island, relaxing and less known. The heavily forested campsites protect you from the wind and rain, the beautiful Vista Group Camp gives you the best view of the Straight anywhere, and the trails will lead you over the entire central portion of Whidbey Island -- so underrated, so peaceful, so inviting.


Local Alternative

: A good alternative for select people would be nearby Fort Casey S.P., with extensive military bunkers and batteries which pre-date World War I, plus, for lighthouse fans, the Admiralty Head Lighthouse, which is open to visitors. However, the campsites sit on the pebbly beach near the Keystone Ferry, are subjected to exhaust fumes from the boats, have limited boating due to the wakes created by the ferries, and have little privacy.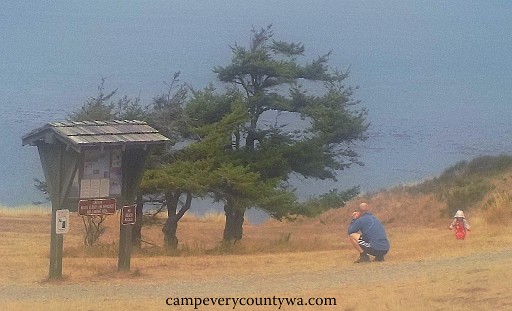 Fort Ebey State Park provides a reflective, contemplative, even zen environment
For more photos of Fort Ebey S.P. click HERE
Rhododendron County Park and Campground

(Island Co.'s BEST BIKE-IN CG)
This bicycle campground, also popular with car campers, is centrally located on Whidbey Island with its own complex trail system, plus access to trails and roads all over the Island.


Overview

: Located 1.5 miles southeast of Coupeville on 192 combined acres at 200' elevation, operated by Island Co. Parks, campground open April 1 to Nov. 1; located 20265 SR 20, Coupeville, WA.


Facilities

include vault toilets, BBQ's, picnic tables, fireplace rings, fresh water, connection to Rhododendron Park Trails and picnic area, 3 athletic fields, playground and picnic shelter.


Recreation

: Bicycling is king here, in one of the best bicycling counties in Washington.


Campsites

(12 tent sites, 3 sites for any-size RVs with water hookups only, all first come, first served): Sites are large, flat, and heavily forested with good privacy. They are especially picturesque when the wild rhododendrons bloom in late spring and early summer (slightly later than commercial rhododendrons).


Trip Notes

: This is a lovely campground, regardless of whether you are biking, hiking, or driving. This may even rival Fort Ebey S.P. for the quietest campground on the Island. I can picture whole families, from tykes to grandparents, all on bicycles exploring the ball fields, playgrounds, and forests away from the campground proper.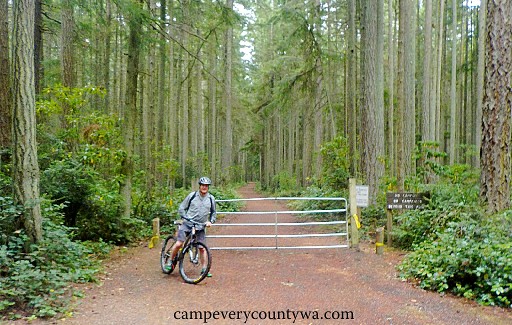 Bicycling is the thing at Rhododendron County Park, but car campers love it too
For more photos of Rhododendron County Park click HERE
Possession Point State Park

(Island Co.'s BEST BOAT-IN CG)
This Day Use Park is part of the Cascadia Marine Trail (CMT) System with camping for boaters only. It has the advantage of being on grass with toilets nearby, with great views of Saratoga Passage, and overnight parking for boaters looking for a launching point. Disadvantages include wind, occasional strong currents, lack of drinking water, and distance to services.


Overview

: Located on Sandy Hook on the southernmost tip of Whidbey Island with 1175' of saltwater shoreline on Possession Sound on 25 acres, open year round.


Facilities

include chemical toilets, a boat launch, and a ranger's residence just south of the Park.


Recreation

: The Day Use Park gets very light use. A bluff dominates the landscape. It is accessible via a steep trail behind an old barn. The beach below is popular with scuba divers and fisherfolk. An old cabin on supports gets everyone's attention, and is facing restoration.


Campsites

(3 CMT sites for boaters, first come first served): Sites occupy a grassy area up from the old bulkheads on the shore and nestled beneath the unobtrusive but watchful eye of the Caretaker's House.


Approach for Boaters

: The compact landing is on sand and pebble in front of the Caretaker's House. Boats must be carried around the rusty gate into the grassy area.


Local Boat-In Alternatives

: Ebey S.P. has one CMT site. Joseph Whidbey S.P., another Day Use Park on the Marine Trail System, is more developed, with the disadvantage of having just one site. Oak Harbor City Park is also on the "Trail" with the most developed CMT sites in Island County. It is a full-service Park with water, showers, and is close to services, but is situated in the heart of the commercial district. Camano Island S.P., one of the best campgrounds in the County, has CMT sites right on the beach, but requires a 0.5-mile walk to toilets or water. All of these Marine Trail Parks are exceptional in their own way, depending on individual needs.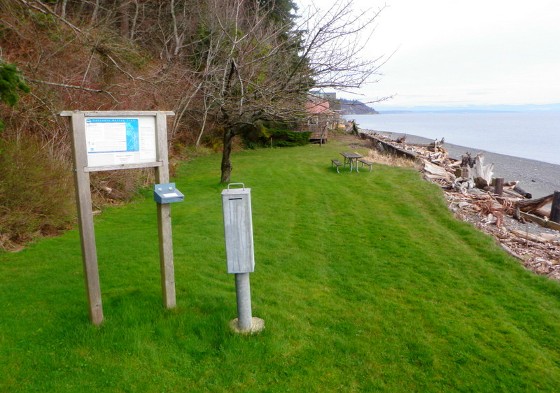 Take heart, boaters: You'll have Possession Point State Park all to yourselves
Other Campgrounds:
Island County has no rustic campgrounds, hike-in campgrounds, or FREE camgrounds that we can recommend at this time.