This website is intended as an adjunct to the paperback book 'Camp Every County, Washington' by Brendan J. McDonald, available on Amazon.com. Included on this website are photographs and texts which could not be included in the paperback edition, where you will find full narrative versions of each section found below.
ISLAND COUNTY (Coupeville/Oak Harbor/Camano)
Camano Island State Park (Island Co.'s MOST APPEALING CG TO THE SENSES and BEST CG FOR FAMILIES)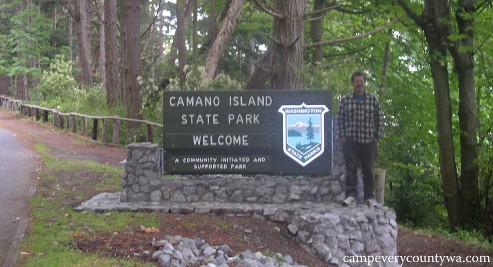 Camano Island State Park is a community initiated and supported park
For more photos of Camano Island S.P. click HERE
Cranberry Lake Campground at Deception Pass State Park
(Island Co.'s MOST UNIQUELY WASHINGTON CG)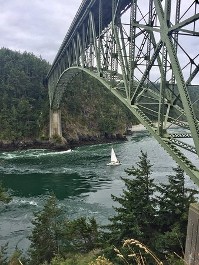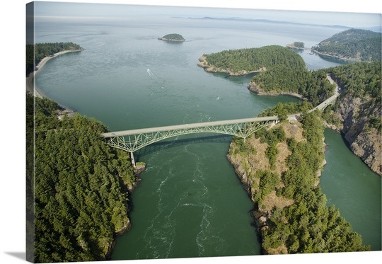 Deception Pass Bridge, with its two spans across the treacherous passage, is a destination in itself.
For more photos of Cranberry Lake CG and Deception Pass click HERE
Fort Ebey State Park (includes Island Co.'s BEST EQUIPPED CG with BEST GROUP CG)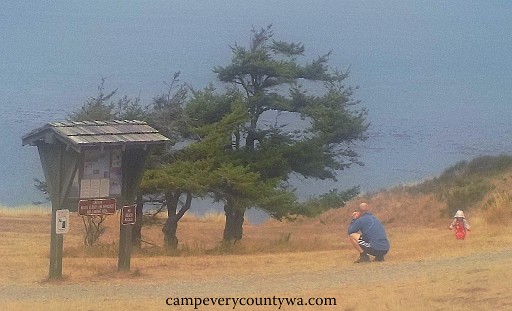 Fort Ebey State Park provides a reflective, contemplative, even zen environment
For more photos of Fort Ebey S.P. click HERE
Rhododendron County Park and Campground (Island Co.'s BEST BIKE-IN CG and HIKE-IN CG)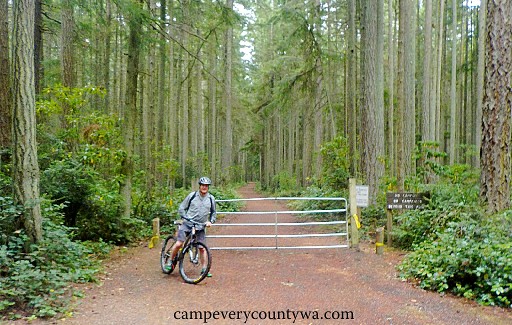 Bicycling is the thing at Rhododendron County Park,
but car campers and hikers love it too
For more photos of Rhododendron County Park click HERE
Possession Point State Park

(Island Co.'s BEST BOAT-IN CG)
This Day Use Park is part of the Cascadia Marine Trail (CMT) System with camping for boaters only. It has the advantage of being on grass with toilets nearby, with great views of Saratoga Passage, and overnight parking for boaters looking for a launching point. Disadvantages include wind, occasional strong currents, lack of drinking water, and distance to services.


Overview

: Located on Sandy Hook on the southernmost tip of Whidbey Island with 1175' of saltwater shoreline on Possession Sound on 25 acres, open year round.


Facilities

include chemical toilets, a boat launch, and a ranger's residence just south of the Park.


Recreation

: The Day Use Park gets very light use. A bluff dominates the landscape. It is accessible via a steep trail behind an old barn. The beach below is popular with scuba divers and fisherfolk. An old cabin on supports gets everyone's attention, and is facing restoration.


Campsites

(3 CMT sites for boaters, first come first served): Sites occupy a grassy area up from the old bulkheads on the shore and nestled beneath the unobtrusive but watchful eye of the Caretaker's House.


Approach for Boaters

: The compact landing is on sand and pebble in front of the Caretaker's House. Boats must be carried around the rusty gate into the grassy area.


Local Boat-In Alternatives

: Ebey S.P. has one CMT site. Joseph Whidbey S.P., another Day Use Park on the Marine Trail System, is more developed, with the disadvantage of having just one site. Oak Harbor City Park is also on the "Trail" with the most developed CMT sites in Island County. It is a full-service Park with water, showers, and is close to services, but is situated in the heart of the commercial district. Camano Island S.P., one of the best campgrounds in the County, has CMT sites right on the beach, but requires a 0.5-mile walk to toilets or water. All of these Marine Trail Parks are exceptional in their own way, depending on individual needs.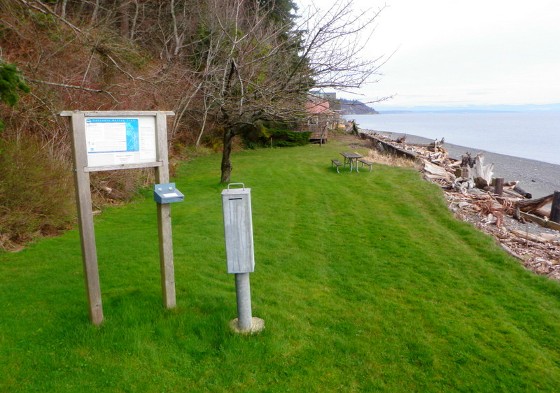 Take heart, boaters: You'll have Possession Point State Park all to yourselves
Other Campgrounds: Island County has no RUSTIC campgrounds or FREE camgrounds that we can recommend at this time.