GRANT COUNTY (Ephrata/Moses Lake/Grand Coulee)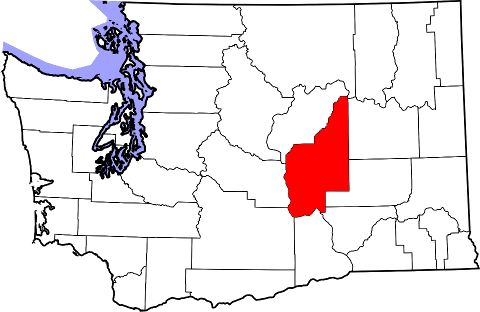 The Columbia Basin Reclamation Project has transformed these "channeled scablands" created by Ice Age floods into some of the richest farmland anywhere, while leaving behind lakes, coulees, and other canyonland wonders as reminders of its turbulent geological past. Grand Coulee Dam, Dry Falls, and the Columbia National Wildlife Refuge further meld the past with the future in this best of recreational counties.

Grand Coulee Area
This land was shaped by the Missoula Floods, a series of cataclysmic floods occurring several times over a 2,000 year period between 15,000 and 13,000 years ago. Ice dams formed on the Columbia River, causing it to change course over what is now Banks Lake and the Grand Coulee Area. This explains the unusual patterns of erosion, cutting through basalt deposits, scouring away the soil, creating a landscape we now call the "Chaneled Scablands." As the glacial lake retreated and the ice dams eventually broke, the Columbia River resumed its original course, leaving behind such geological wonders as Dry Falls, the Grand Coulee, and Steamboat Rock. 27-mile long Banks Lake later took shape with the building of Grand Coulee Dam, as the Banks Coulee was used to store
irrigation water for the Columbia Basin Irrigation Project.
Steamboat Rock State Park

(Grant Co.'s MOST UNIQUELY WASHINGTON CG)
Steamboat Rock was once an island in the middle of the glacierally-diverted Columbia River. Now it looms like a huge battleship in the middle of Banks Lake, towering 800' high and covering over 600 acres. Native peoples and explorers relied on this landmark for directions, and now campers rely on it for the best camping in the entire Grand Coulee Region.


Overview

: This indescribable campground is located 56 miles northeast of Moses Lake and 11 miles south of Electric City on 3522 acres with 50,000' of freshwater shoreline on Banks Lake at 1650' elevation, open year round; GPS 47.8695, -119.0903.


Facilities

: The main campground features flush toilets (ADA), running water, showers (ADA), 7 boat ramps, 5 moorage buoys, 320' of dock, a Park Store with concessions, sand dunes, and a great playground.


Recreation

: Hiking and boating fight for the main stage here. Steamboat Rock, the basalt monolith that rises straight out of the desert, is the must-do hike of the area. This 4-mile round tripper gains 650' elevation in a very brief distance, and requires considerable scrambling on loose shale, but provides magnificent 360 degree views of the entire area. Dogs and smaller children are understandably not allowed on this trail. An easier trail for hikers, children, dogs, horses, and bird-watchers is the Northrup Canyon Trail, across highway 155 from Steamboat Rock. This canyon has an unusually high density of bald eagles, red-tailed and Cooper's hawks, horned owls, woodpeckers and flickers. The trail eventually passes an abandoned homestead on the way to Northrup Lake. Fishing on Banks Lake yields smallmouth bass, rainbow trout, walleye, and lake whitefish. Ice fishing is popular in the winter. Golfers, particularly those at Jones Bay and Osborn Bay, will enjoy the proximity of the Banks Lake Golf Course.


Campsites

(26 tent sites, 136 sites w/full hookups 20/30/50 amps, 5 equestrian sites at Northrup Canyon, 3 cabins, reservable): Keep in mind that Steamboat Rock S.P. is actually a complex of campgrounds and lands occupying the upper east side of Banks Lake and vicinity. The main "campus" of the Park (at the base of the Rock itself) are divided into four areas. The Sage Loop (sites 1-50 and 301-312) is furthest from the Rock and Day Use Area, but is also the most private, with sporadic shade trees and grassy surfaces. The Dune Loop (sites 51-100 and 313-326) is similar, but close to activities like the sand dunes themselves, the Day Use Area, and access to the Rock trail. The Bay Loop (sites B1-B36 and Cabins C1-C3) is the busiest of all, but has no tent camping. All 3 of these loops accommodate RVs up to 50'. Northrup Canyon (also part of the park) has 5 equestrian sites, which must be reserved. See below for Jones Bay/Osborn Bay and Ponderosa Point Boat-Ins.


Trip notes

: This is my favorite park in Eastern Washington. It reminded me of an adult version of Sun Lakes, with much more space and a less frenetic pace. The children were occupied and happy with sand dunes and a large grassy play park removed from the camping areas. Camping was relaxed and quiet, and the lack of privacy was never an issue.


Local Activities

: the Grand Coulee Dam tour is a must for those who have not taken it. The Grand Coulee Dam Observation Rotunda is located on a high ridge where the Dam can be observed from a safe distance. Visits to Dry Falls, the Lenore Caves, and the Sun Lakes are also worthwhile.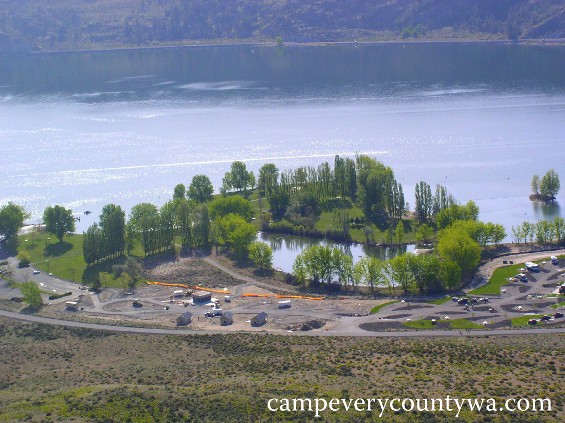 A birdseye view of Steamboat Rock Campground from the top of "the Rock"
For more photos of Steamboat Rock S.P. click HERE
Ponderosa Point Boat-In Sites

(Grant Co.'s BEST BOAT-IN ONLY CAMPSITES)


The captivating Ponderosa Point includes boat-in only sites right on Banks Lake, looking out on geological spires that rise high out of the water, like the "Magic Rocks" we had as kids.




Overview

: These amazing boat-in sites occupy the northern shore of the main campus of Steamboat Rock S.P., but are accessible only by hike-in or boat-in. They are best accessed from the Steamboat Rock Day Use Area, Jones Bay, or the Northrup Bay Day Use Area.


Facilities

: Good facilities for boat-in campsites include vault toilets, running water, picnic tables, and fire grills.


Recreation

includes fishing and boating, of course. But kayakers and canoers are likely to spend the majority of their time navigating through the many rock formations just off shore.


Campsites

(12 boat-in sites for tents, no hookups or reservations): Partially shaded, reasonably spaced, reasonably spaced, and all lakeshore. There is plenty of space to pitch small to medium-sized tents.


Trip Notes

: These boat-in only sites caught me delightfully off guard, with lake views of rock formations rising up out of the water just begging for exploration. The calm waters of Banks lake make this a kayakers dream come true.


The rock formations near Ponderosa Point on Banks Lake resemble the Magic Rocks we had as kids
For more photos of Ponderosa Point Boat-In Campsites click HERE
Jones Bay Campground at Steamboat Rock State Park

(Grant Co.s BEST BIKE-IN CG)


This is the place to go for more primitive camping on Banks Lake, with immediate access to the 27-mile waterway, but away from the crowds at the mothership campground at Steamboat Rock.




Overview

: This primitive campground is located 9 miles north of the main Steamboat Rock CG on Banks Lake at 2255' elevation, open year round. See GPS coordinates for Steamboat Rock.


Facilities

are primitive but include vault toilets, some picnic tables, and some fire grills. Water, flush toilets, and an RV dump are available 2.1 miles south at the Northrup Day Use Area. Full shopping services are available 2.1 miles north in Electric City.


Recreation

: Fishing is good for smallmouth bass, kokanee, panfish, rainbow trout, walleye, and lake whitefish. Astronomy opportunities are excellent, with computerized telescopes located at GPS 47.89205, -119.07860.


Campsites

(as many as 44 dispersed sites for tents or RVs of any size, including a group site for up to 50 people, no hookups or reservations): This is dispersed camping, with some sites resting on Banks Lake. All driving surfaces are gravel, so RV campers usually set up in a parking lot-like area.


Trip Notes

: This otherwise ordinary camping area has easy in-and-out access for bicyclers and is close to services but, most of all, it is on awesome Banks Lake. I enjoy stripping away the finery and camping in an area left in its natural form. But don't expect playgrounds, boat launches, or snack bars. It's just camping here.


Local Alternative

: Osborn Bay CG is a very similar detached area with 37 primitive sites.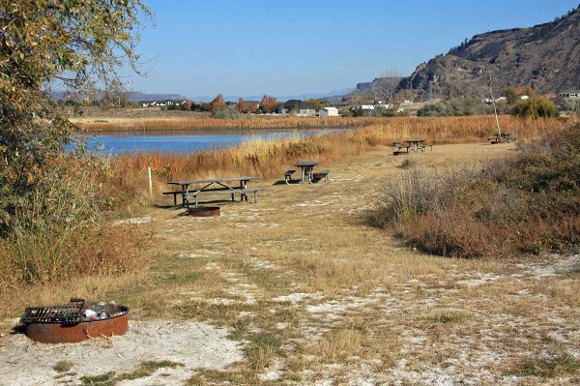 Bicyclers may prefer the rustic sites at Jones Bay to the main Steamboat Rock campground
For more photos of Jones Bay CG click HERE
Sun Lakes Park Resort at Sun Lakes State Park

(Grant Co.'s BEST CG FOR FAMILIES)


Sun Lakes S.P. is a place entirely devoted to fun, but its campground is small and outdated. The Sun Lakes Park Resort picks up this slack, while still very close to the S.P.'s core of activities, adding larger and shadier spaces with room for larger tents and recreational vehicles.




Overview

: Located 43 miles northeast of Moses Lake and 26 miles east Ephrata on Park Lake, privately operated within 4027-acre Sun Lakes S.P. at 1114' elevation, open year round; GPS: 47.5929, -119.3971.


Facilities

: This recreationally-equipped Resort offers bathrooms with showers, picnic tables, a limited number of rustic fire pits, laundry facility, marina, boat launch, boat rentals, heated pool, 9-Hole Vic Meyers Golf Course, Camp Store, Ice Cream Shop, Food Store, and more.


Recreation

: To the above add sports fields, hiking, miniature golf, boating, golfing, fishing, swimming, mini-golf, and Water Wars.


Campsites

(127 sites for tents or RVs of any size, full hookups 20/30/50-amp, 61 cabins, reservable) : Sites at the Resort are typically grassy, while State Park sites are on gravel. Some trees provide shade but little privacy. This is a highly popular pair of campgrounds bursting at the seams with people where solitude can be found just minutes away on the trails and on Park Lake itself; but camping at the Resort provides a greener, lusher atmosphere than the starker, State Park campground.


Trip Notes

: Sun Lakes S.P. remains a very frenetic park, even within the confines of the Resort, but it is still a magical place for the kids. Adults can enjoy themselves vicariously through their children, or find their own peace and more adult recreation opportunities at the Resort, where boating, golfing, and even chilling are very close at hand.


Local Attractions

: If your family or group does nothing else while camping at Sun Lakes, you must visit the Dry Falls Visitor Center just two miles north. Here you will witness the dormant Ice Age waterfall that was once 1.5 miles wide and 400' high, easily surpassing Niagara Falls (0.5 miles wide/167' high) and Victoria Falls in Africa (1 mile wide/256' high). When the Columbia returned to its original channel, Dry Falls was left high and dry for exploration.


Local Alternatives

: We recommend Coulee Lodge Resort (best), Laurent's Sun Village Resort, and Santiam Resort on Soap Lake.

The aptly named Park Lake is the centerpiece of the Sun Lakes parks
For more photos of Sun Lakes Park Resort click HERE
Blue Lake Campground in the Sun Lakes

(Grant Co.'s BEST RUSTIC CG)


This one has a petrified rhinoceros. No, really, an actual fossilized 15 million year old miniature white rhino. Cross Blue Lake, either on foot or by boat, and there it is, on a cave in the cliff, for all the world to see. Okay, it helps if you're a rock climber. And a spelunker. And if you have a boat. But one sight of that little one-horned wonder is all you need to realize how unique and downright peculiar this region is.




Overview

: This primitive camping area is located 34.7 miles north of Moses Lake and 11.3 miles south of Coulee City on 534.4-acre Blue Lake, operated by the WDFW at 1097' elevation, open May through September; GPS 47.580231, -119.448853.


Facilities

: Primitive facilities include vault toilets, and little else. It is recommended that you bring your own water.


Recreation

: Boating and swimming are popular, as well as trout fishing (the Lake is stocked). Rhino viewing is optional.


Campsites

(5 sites for tents or self-contained RVs, no hookups or reservations, FREE with Discover Pass): Campers should know there is little shade here, with only small trees with broken limbs. A pop-up type sun shade or large awning is recommended. There may be some road noise from Hwy 17. Otherwise, the dispersed camping sites are flat and close to the Lake, which is a bright sapphire blue and the real centerpiece of this free campground.


Trip Notes

: The thing about stripping away all the manufactured amenities and aggressive irrigation is that you are left to ponder the complexity and history of this land. Twenty-five million years is a long time for that baby rhino to be up on that cliff, and just its presence leads you to sit back and re-evaluate just about everything. It's easier to let go, relax, and unwind. This might even be the perfect camping spot to spend a little time alone.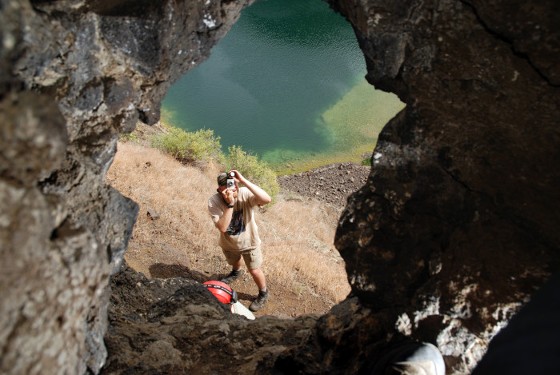 Blue Lake Campground is famous for its petrified rhino, but Blue Lake is the real centerpiece.
For more photos of Blue Lake CG click HERE
Moses Lake Area
Most Washingtonians think of Moses Lake as the city, but there is a lake of the same name. The natural shallow lake was dammed in the early 20th century to create a larger lake with multiple arms and islands. Despite the arid atmosphere, the Lake was not named for the biblical Moses, but for tribal leader Chief Moses, aptly nicknamed the "Sun Chief."

Cascade Campground at Cascade Park

(includes Grant Co.'s BEST GROUP CG)
This is the City of Moses Lake's premier outdoor camping area, located on its namesake lake. This is sun country, and one of Washington's nicest small cities located on one of its prettiest and least known lakes.


Overview

: This sun-drenched 30-acre campground is located in the City of Moses Lake on 6,728-acre Moses Lake, operated by Grant Co. Parks & Recreation at 1050' elevation, open April through September; GPS 45.6032975868, -122.508064634 (see more below).


Facilities

: The Park is well-equipped with bathrooms/showers, picnic tables, fire grills, picnic shelters, a playground, soccer and T-ball fields, boat launch, camp host, and an RV dump.


Recreation

: Fun-in-the-sun activities include swimming and boating. Fishing is good for fishing for black crappie, bluegill, carp, channel catfish, lake whitefish, and rainbow trout.


Campsites

(33 tent sites, 42 RV sites with water & electric 20/30 amp hookups, one 10-site Group Camp for up to 60, reservable): Sites 1-33 are tent sites, including one ADA site along the lakeshore. These are flat, with good privacy and ample shade. Sites 34-75 are RV sites on an elevated bench above the others. They are flat with less shade and average privacy. Sites 76-85 comprise a single Group Camp near the soccer fields and lake. In this case, you might forget about privacy and shade and focus on the group experience!


Trip Notes

: The Group Site was so fun and crazy busy we wanted to jump in and join the crowd. Both the RV and tent areas are more conventional with equally good lake views. We were impressed with this one -- but admit we would have felt more comfortable in the well-shaded lakeshore tent area than the elevated, partial-sun RV area.


Directions

: From I-90, take Exit 176 north onto Broadway. Turn left at the 3rd traffic light (Broadway & Stratford), cross the lake, and turn left at the next traffic light (Valley Road). Continue through two traffic lights and a flashing yellow warning light and down the hill. The Park is on the left.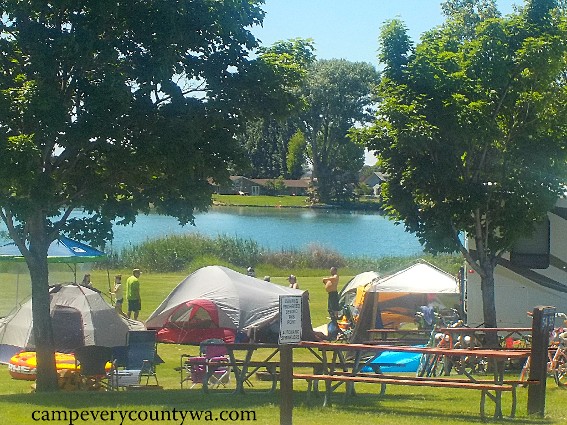 Yes, there is an actual lake in Moses Lake, and the camping forecast is sunny
For more photos of Cascade CG at Cascade Park click HERE
Crescent Bar Recreation Area (CBRA)
Crescent Bar is one of the famous Ice Age flood sites where giant ripples on top of a huge gravel bar worked their Lake Missoula magic to form giant gravel dunes in the middle of a curved stretch of the Columbia River. The 1.5 mile long gravel island is connected by a bridge to the mainland, making it accessible to those of us looking for yet another tasty slice of Washington in which we can sink our recreational teeth.


Crescent Bar Recreation Area (CBRA) Campground

(Grant Co.'s BEST EQUIPPED/ BEST CG FOR RVs)
This area underwent a major renovation in 2017 with the addition of a brand new campground on Crescent Bar Island, and moving the commercial businesses from the Island to the Mainland. All electricity, plumbing, landscaping, and sites are brand spanking new and updated for the future.


Overview

: This popular resort area is located 46 miles northwest of Moses Lake and 10 miles west of Quincy on the Columbia River, operated by the Grant Co. PUD at 628' elevation, open April 1st to October 1st; GPS 47.216538, -119.994974.


Facilities

: Extensive facilities include bathrooms with showers, sports course (tennis courts, basketball, volleyball, pickleball), horseshoes, two boat launches, a swimming area, a picnic shelter, a sun shelter, a playground, a commercial marina, a floating fuel station, multiple beaches, and a 2.5-mile paved walking trail from the mainland to the southern tip of the Island with views of the Gorge.


Recreation

: Of note, the Crescent Bar Golf Course extends through the mainland and then across nearly the entire stretch of Crescent Bar Island. Other recreation includes fishing, swimming, exploring the island dunes, and partaking of the sports facilities in the campground. Note that the water between the mainland and the Bar is fairly shallow and gets quite warm in the summer for great swimming.


Campsites

(55 sites for tents and RVs up to 54' with full 30/50 amp hookups, some ADA, reservable): Sites come with paved parking pads, gravel tent pads, and are well-spaced. The new campground is located on the old driving range, so is perfectly flat, but has no vegetation. Trees have been planted, but do not as yet provide shade. The best sites are 26, 28, 30, 32, and 34, which are right on the Columbia River and the most private. Some sites have good views of the River.


Trip Notes

: Slowly descending the 3 miles from Highway 54 to the "little city" of Crescent Bar is like watching a documentary film on American Recreation. At first you look toward the famous Gorge at George, and layered basalt cliffs just east of Crescent Bar Island. Then the Island slowly unfolds, with its long green lawns and poplar trees. Then you notice the small bridge and the marina and businesses on the mainland. Suddenly you spot some fugly commercial condominiums that seem like scars in the landscape, and realize that this place runs the gamut from unspoiled primordial nature to very unnaural manufactured resort life. But as you approach the Island, you realize that the CBRA has been restructured to accommodate both campers and jet set resorters. Don't worry campers, the resorters are just afraid of you as you are of them! There is something for everyone here, and both co-exist very well. There is a cherry orchard on the mainland whose cherries ripen in mid-June with just enough overhanging branches that wiley campers can steal a taste of the local cuisine. The paved walkway to the end of the Island provides a great getaway, while the layered basalt cliffs allow the campers to sit back and reflect.


Crescent Bar Alternative

: The Crescent Bar RV Resort (a Thousand Trails Resort) is nearby on the mainland of CBRA.


Geological History

: Between 6 and 17 million years ago, this area was engulfed in layer after layer of molten lava (basalt) from volcanic eruptions to the east. These layers are visible from CBRA campground, and identify the various lava flows over 11 million years. Ironically, life flourished between these layers, representing a very long period of this land's history. Crescent Bar itself was formed from swirling eddies during the last Ice Age, due to the short, sudden bend in the Columbia River, forming the gravel island on which the CBRA partially rests.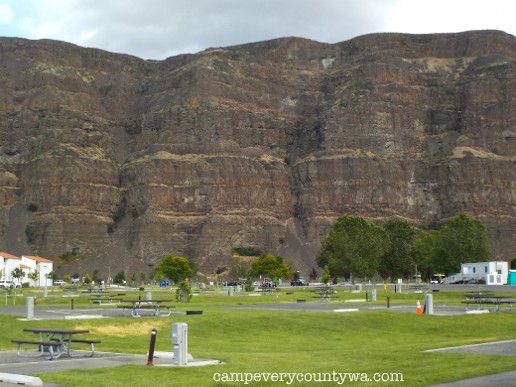 Crescent Bar Island was formed from swirling eddies in a bend of the Columbia River during Ice Age floods
For more photos of Crescent Bar Resort Area CG click HERE
Quincy Lakes Area
The 15,266-acre Quincy Lakes Wildlife Unit is composed of 2 smaller recreational units: The Quincy Lakes Area, with its 4 large fishing lakes (Stan Coffin Lake, Quincy Lake, Burke Lake, and Evergreen Reservoir), all reachable by motor vehicle; and the hike-in area known as the Ancient Lakes.
Quincy Lake Campground

(Grant Co.'s BEST FREE CG)
This is not the largest of the 4 lakes in the region, but is the most popular for both camping and fishing, each in its own season. The sunsets here will be etched on your memory long after the sleeping bags are rolled up and the fishing poles return home.


Overview

: This reservoir/lake campground is located 4.6 miles south of Quincy, operated by the WDFW at 1174' elevation, open March through October; GPS: 47.1409 N, -119.926 W.


Facilities

: Primitive facilities include vault toilets and a concrete plank boat launch.


Recreation

includes fishing for rainbow trout, kayaking and canoeing.


Campsites

(dispersed, no hookups or reservations, FREE with Discover Pass): Sites are primitive but flat with good lake access. Shade is non-existent, and privacy is at a premium, except a few more dispersed sites up from the main area; it gets better after March when fishing season ends and crowds decrease. The camping area is elevated above the Lake with a panoramic view of the area and the many flocks of birds that frequent this and nearby lakes. There is also camping at nearby Burke Lake, but not Stan Coffin Lake or Evergreen Reservoir.


Trip Notes

: This intriguing lake has just enough small arms and secluded bays to make kayaking a real pleasure, plus the views of mountains and basalt cliffs in the distance make it visually appealing. The bullfrogs can be loud at dusk, but they tend to settle in as the night goes on.


Directions

: Follow the directions to the Ancient Lakes (below), but continue straight ahead at the second parking area, and drive approximately one mile.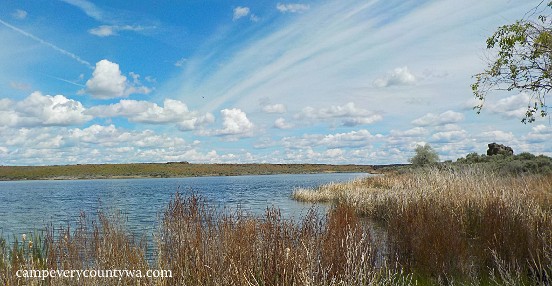 Quincy Lake is the prettiest lake in the area, if not the largest
For more photos of Quincy Lake CG click HERE
Ancient Lakes Hike-In Campsites

(Grant Co.'s BEST HIKE-IN CG)


This portion of the Quincy Lakes Wildlife Unit is the product of erosion from lava flows by glacial flood waters, leaving many layers of exposed basalt in 800-foot cliffs, isolated mesas, surreal waterfalls in the desert, and potholes. These potholes are actually seep lakes from higher elevation reservoirs, leaving wetlands in the desert, where campers can rest at lakeshores with sweet and smoky sagebrush-scented prairie while listing to coyotes and crickets lull them to sleep at night. Yep, this is what cliches are made of.




Overview

: Located 5 miles south of Quincy at 826' elevation, managed by the WDFW, accessible from March until September; GPS 47.1604 N, -119.9808 W (more directions below).


Facilities

: none, except the parking lot at the trailhead.


Recreation

: Many hike-in, then drop their packs and continue exploring the various trails up the hillsides and to Dusty Lake. Fishing is fair in the lakes for yellow perch, crappie, smallmouth bass, largemouth bass, and rainbow trout.


Campsites

(dispersed campsites, no hookups or reservations, FREE with Discover Pass): There are several small campsites located around the 4 Ancient Lakes (Ancient Lake South being the largest at 8.7 acres), several isolated sites along the Ridge, and several more along 41.3-acre Dusty Lake. Most prefer camping in the spaces around the 4 Ancient Lakes, and particularly next to the waterfall located nearby. The sites on the Ridge and Dusty Lake require an extra 90-minute hike, but some prefer the desolate but more private Dusty Lake.


Trip Notes

: This instantly became one of my favorite hike-in camping areas. Boca (my trusty canine) and I hiked this one alone, choosing to take the more strenuous but spectacular upper entrance near Quincy Lake and follow the waterfalls down to the camping area. A small pond signaled the first such waterfall, which could be crossed on foot, with trails beyond. The second two waterfalls were lined with shale and slower going, but a treat to stand before the free fall of the third and final waterfall. We struggled a bit over small boulders to the barren hills to the camping area, where we could finally take a deep breath and take it all in. We were surrounded on three sides by basalt cliffs, with a direct view of the stream and 3 waterfalls right before us. This is how camping should be!


Directions

: From George, take SR 281 north towards Quincy/Wenatchee for 5.6 miles. Turn left/west on White Tail Rd. Drive another 3 miles to the public fishing sign and turn left/south. Continue 0.3 miles on the gravel road to the second parking area on the right, where you will find the trailhead.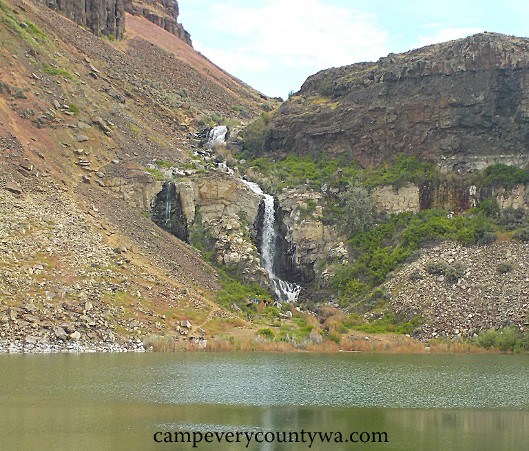 We recommend taking the more strenuous waterfall trail to the Ancient Lakes
For more photos of Ancient Lakes Hike-In click HERE
Potholes Reservoir Area
The Potholes Reservoir, also known as Lake O'Sullivan, is the crowning example of the transformation of the Columbia Basin. As water was pumped from the Columbia River to the north side of the O'Sullivan Dam, the 43.44 square mile Potholes Reservoir was formed. Consequently, an organized plan of irrigation unfolded, both agriculture and wildlife were transformed, and what was once a wasteland become the perfect coulee playland.
Potholes State Park

(Grant Co.'s MOST APPEALING CG TO THE SENSES)


The potholes themselves are actually kolk-carved depressions carved during the Ice Age floods. As the floodwaters gouged troughs in the basalt, swirling eddies of water (or "kolks") plucked out chunks of rock from these channels. Subsequent floods widened them, leaving the area full or large deep holes or "pock marks" in the desert. These later filled with water as the O'Sullivan Dam (forming the Potholes Reservoir) raised the water table in the area, and water seeped through cracks in the basalt bedrock, forming the many seep lakes beyond the reservoir itself.




Overview

: Located 18 miles southwest of Moses Lake on 640 acres with 600' of freshwater shoreline on the Potholes Reservoir at 1047' elevation, open year round; GPS 46.969475, -119.309807.


Facilities

include bathrooms with showers (2ADA), running water, picnic tables, fire grills, sheltered picnic area, 2 volleyball fields (bring your own equipment), boat dock, 4 boat ramps, 3 miles of hiking trails, and an RV dump station.


Recreation

: Fishing, of course, is the thing here. Boat and fishing equipment rentals are available nearby. Fish commonly caught here include largemouth bass, rainbow trout, smallmouth bass, and walleye. The creek running adjacent to the Group Camp is also good for trout and bass. Water birds capture the attention of bird watchers, including the American wigeon, Bullock's oriole, Caspian terns, dusky flycatchers, eared grebes, ferruginous hawks, Savannah sparrows, warbling vireos, yellow-rumped warblers, and many others. Swimming, water-skiing, jet skiing and hiking are also popular.


Campsites

(121 sites for tents and RVs up to 50', 60 with full hookups 50-amp, 5 cabins, reservable, open year round): Note that none of the campsites border the Reservoir itself. The sites start in large irrigated hubs (sites 1-60), fanning north and east toward the Reservoir. Those on the outer edge (sites 61-126, plus the cabins) tend to be dusty and dry late in the season, with sagebrush and other desert vegetation. The sites close to the hub are lush and green (all of the hookup sites are here). The hub also contains many conifers and deciduous trees, including Big Leaf Maples, Russian olive, and poplars providing some shade. There is very little shade in the rest of the park, however, and people should bring their own sun tarps or shade umbrellas.


Trip Notes

: Approaching Potholes S.P. from the south, I asked the driver, "What town is this? I don't see it on the map anywhere." That was not a town, it turns out, but the many resorts crowded together at the south end of the Potholes Reservoir: Mar Don Resort, O'Sullivan Sportsman Resort, and many others. These provide the services, rentals, and even fishing licenses for many at the State Park. The fishing fever here was certainly contagious, and at the campground most people were indeed fishing on the Reservoir. While I liked the lush irrigated portion of the campground, the dry, dusty, sagebrushy tent sites were rather off-putting. But fishing aside, there are enough other good things about the campground -- the birds, the desert animals, the sand dunes and trails to the Pothole lakes, and even just staring at the tiny islands in the northern part of the Reservoir.


Local Attractions

: The Columbia National Wildlife Refuge, just south of the Reservoir, is a scenic mixture of rugged cliffs, canyons, lakes, and arid sagebrush grasslands that attract migrating and wintering waterfowl, nesting birds, and the famous Sandhill Crane. There is also a concentration of native wildlife (pre-irrigation) and an increasing number of deer and elk species that make this a wildlife viewers dream.

A view of Potholes State Park from the O'Sullivan Dam
For more photos of Potholes S.P. click HERE