This website is intended as an adjunct to the paperback book 'Camp Every County, Washington' by Brendan J. McDonald, available on Amazon.com. Included on this website are photographs and texts which could not be included in the paperback edition, where you will find full narrative versions of each section found below.
GRANT COUNTY (Ephrata/Moses Lake/Grand Coulee)
Cascade Campground at Cascade Park (includes Grant Co.'s BEST GROUP CG)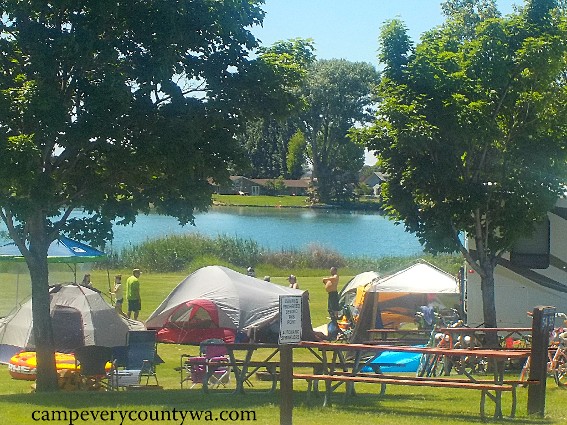 Yes, there is an actual lake in Moses Lake, and the camping forecast is sunny
For more photos of Cascade CG at Cascade Park click HERE
Sun Lakes Park Resort at Sun Lakes State Park (Grant Co.'s BEST CG FOR ENTIRE FAMILIES)

The aptly named Park Lake is the centerpiece of the Sun Lakes parks
For more photos of Sun Lakes Park Resort click HERE
Crescent Bar Recreation Area (CBRA) Campground (Grant Co.'s BEST EQUIPPED/ BEST CG FOR RVs)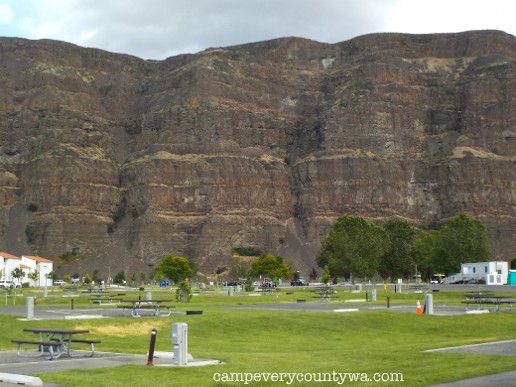 Crescent Bar Island was formed from swirling eddies in a bend of the Columbia River during Ice Age floods
For more photos of Crescent Bar Resort Area CG click HERE
Quincy Lake Campground

(Grant Co.'s BEST FREE CG)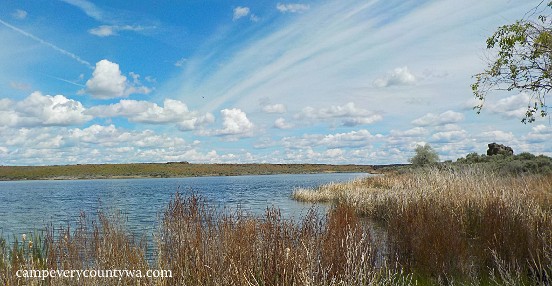 Quincy Lake is the prettiest lake in the area, if not the largest
For more photos of Quincy Lake CG click HERE
Ancient Lakes Hike-In Campsites (Grant Co.'s BEST RUSTIC and BEST HIKE-IN CG)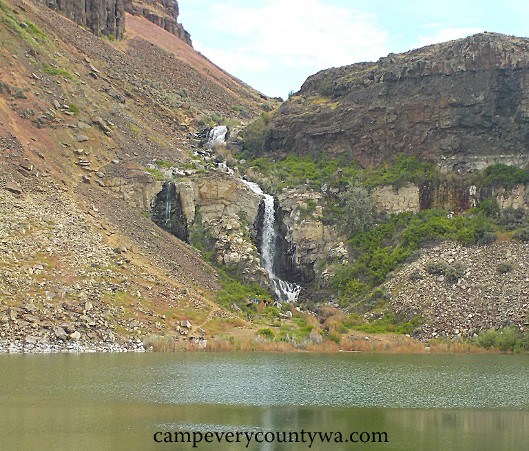 We recommend taking the more strenuous waterfall trail to the Ancient Lakes
For more photos of Ancient Lakes Hike-In click HERE
Potholes State Park

(Grant Co.'s MOST APPEALING CG TO THE SENSES)

A view of Potholes State Park from the O'Sullivan Dam
For more photos of Potholes S.P. click HERE
Steamboat Rock State Park (Grant Co.'s MOST UNIQUELY WASHINGTON CG)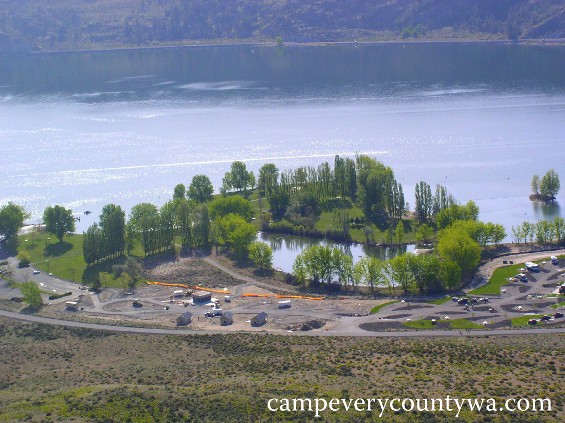 A birdseye view of Steamboat Rock Campground from the top of "the Rock"
For more photos of Steamboat Rock S.P. click HERE
Ponderosa Point Boat-In Sites

(Grant Co.'s BEST BOAT-IN ONLY CAMPSITES)


The captivating Ponderosa Point includes boat-in only sites right on Banks Lake, looking out on geological spires that rise high out of the water, like the "Magic Rocks" we had as kids.




Overview

: These amazing boat-in sites occupy the northern shore of the main campus of Steamboat Rock S.P., but are accessible only by hike-in or boat-in. They are best accessed from the Steamboat Rock Day Use Area, Jones Bay, or the Northrup Bay Day Use Area.


Facilities

: Good facilities for boat-in campsites include vault toilets, running water, picnic tables, and fire grills.


Recreation

includes fishing and boating, of course. But kayakers and canoers are likely to spend the majority of their time navigating through the many rock formations just off shore.


Campsites

(12 boat-in sites for tents, no hookups or reservations): Partially shaded, reasonably spaced, reasonably spaced, and all lakeshore. There is plenty of space to pitch small to medium-sized tents.


Trip Notes

: These boat-in only sites caught me delightfully off guard, with lake views of rock formations rising up out of the water just begging for exploration. The calm waters of Banks lake make this a kayakers dream come true.


The rock formations near Ponderosa Point on Banks Lake resemble the Magic Rocks we had as kids
For more photos of Ponderosa Point Boat-In Campsites click HERE
Jones Bay Campground at Steamboat Rock State Park (Grant Co.'s BEST BIKE-IN CG)
This is the place to go for more primitive camping on Banks Lake, with immediate access to the 27-mile waterway, but away from the crowds at the mothership campground at Steamboat Rock.
Overview: This primitive campground is located 9 miles north of the main Steamboat Rock CG on Banks Lake at 2255' elevation, open year round. See GPS coordinates for Steamboat Rock.
Facilities are primitive but include vault toilets, some picnic tables, and some fire grills. Water, flush toilets, and an RV dump are available 2.1 miles south at the Northrup Day Use Area. Full shopping services are available 2.1 miles north in Electric City.
Recreation: Fishing is good for smallmouth bass, kokanee, panfish, rainbow trout, walleye, and lake whitefish. Astronomy opportunities are excellent, with computerized telescopes located at GPS 47.89205, -119.07860.
Campsites (as many as 44 dispersed sites for tents or RVs of any size, including a group site for up to 50 people, no hookups or reservations): This is dispersed camping, with some sites resting on Banks Lake. All driving surfaces are gravel, so RV campers usually set up in a parking lot-like area.
Trip Notes: This otherwise ordinary camping area has easy in-and-out access for bicyclers and is close to services but, most of all, it is on awesome Banks Lake. I enjoy stripping away the finery and camping in an area left in its natural form. But don't expect playgrounds, boat launches, or snack bars. It's just camping here.
Local Alternative: Osborn Bay CG is a very similar detached area with 37 primitive sites.
Blue Lake Campground in the Sun Lakes

(one of Grant Co.'s BEST RUSTIC CGs)


This one has a petrified rhinoceros. No, really, an actual fossilized 15 million year old miniature white rhino. Cross Blue Lake, either on foot or by boat, and there it is, on a cave in the cliff, for all the world to see. Okay, it helps if you're a rock climber. And a spelunker. And if you have a boat. But one sight of that little one-horned wonder is all you need to realize how unique and downright peculiar this region is.




Overview

: This primitive camping area is located 34.7 miles north of Moses Lake and 11.3 miles south of Coulee City on 534.4-acre Blue Lake, operated by the WDFW at 1097' elevation, open May through September; GPS 47.580231, -119.448853.


Facilities

: Primitive facilities include vault toilets, and little else. It is recommended that you bring your own water.


Recreation

: Boating and swimming are popular, as well as trout fishing (the Lake is stocked). Rhino viewing is optional.


Campsites

(5 sites for tents or self-contained RVs, no hookups or reservations, FREE with Discover Pass): Campers should know there is little shade here, with only small trees with broken limbs. A pop-up type sun shade or large awning is recommended. There may be some road noise from Hwy 17. Otherwise, the dispersed camping sites are flat and close to the Lake, which is a bright sapphire blue and the real centerpiece of this free campground.


Trip Notes

: The thing about stripping away all the manufactured amenities and aggressive irrigation is that you are left to ponder the complexity and history of this land. Twenty-five million years is a long time for that baby rhino to be up on that cliff, and just its presence leads you to sit back and re-evaluate just about everything. It's easier to let go, relax, and unwind. This might even be the perfect camping spot to spend a little time alone.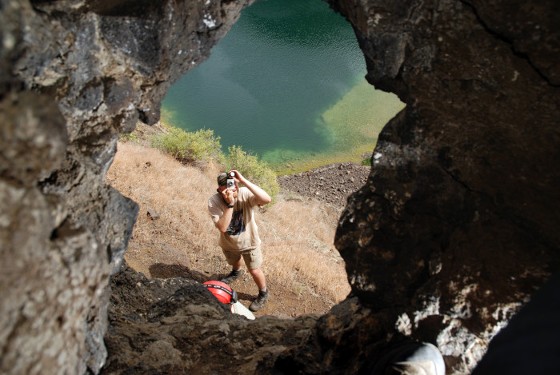 Blue Lake Campground is famous for its petrified rhino, but Blue Lake is the real centerpiece.
For more photos of Blue Lake CG click HERE