FRANKLIN COUNTY (Pasco/Connell)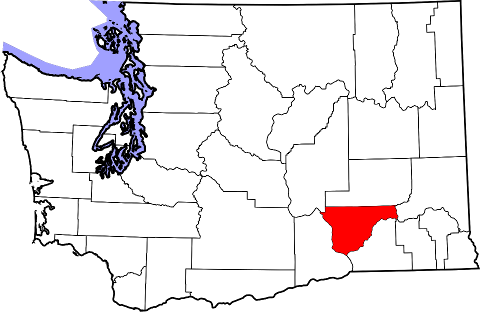 This Columbia Basin county is about irrigation and railroads. There is enough space here for campers and railroads to co-exist brilliantly. Box cars carry wheat, hay, potatoes, and sugar beets while the birds, insects, and other wildlife sound off informing you of the richness of this land, until it finally wins you over.
Connell Area
Water destroyed this area during the last Ice Age when torrents of water from Lake Missoula unleashed to scrub away the soil and pluck at the underlying bedrock, resulting in these Channeled Scablands. 13,000 years later, water saved the very same area with irrigation when farms, formerly struggeling on sagebrush and sweat, were made green again. The town of Connell now buzzes with prosperity, becoming the prettiest and second largest town in Franklin County.

Scooteney Reservoir Campground (Franklin Co.'s BEST EQUIPPED/BEST CG FOR RVs)
The reservoir is part of the Columbia Basin Project which also includes Grand Coulee Dam, but the name Scooteney derives from native words meaning "a place to watch fish." You can also catch them, eat them, and brag about them, but mostly this is a place for people to watch nature and enjoy being off the grid.
Overview: This lovely 1200 acre "dry" RV park and campground is located 36 miles north of Pasco and 10 miles west of Connell on 710-acre Scooteney Resevoir operated by the Federal Bureau of Land Reclamation as part of the Columbia Basin Project at 925' elevation, open year round; GPS 46.70638, -119.00931.
Facilities: This smart, tidy campground includes bathrooms with running water, picnic tables, fire rings, and a Day Use Area with gazebo. There is a swimming area, but check for closures due to algae. There are also 3 boat launches (one primitive) and an RV dump.
Recreation includes canoeing and kayaking, swimming, birdwatching, and fishing for bass, carp, channel catfish, walleye and yellow bullhead. The reservoir is also popular for ice fishing when conditions allow. It is situated along a major flyway for migratory birds, including sandhill cranes, ducks, geese, northern harriers, American kestrels, merlins, plus great horned owls, barn owls, golden eagles and bald eagles. For fans of vintage boats, Scootney Reservoir hosts the Annual Antique Boat Races.
Campsites (36 sites for tents and RVs of any size, two ADA sites, no hookups or reservations): All sites are very flat with trees for shade, and include paved parking pads. The two ADA sites, with their wheelchair-accessible concrete pads and paths, are the best we have seen. The camping and Day Use areas are irrigated, green, and well-managed
Trip Notes: The charm of this campground is that, while the facilities seem a bit outdated, everything is so well maintained that it's like wearing your favorite old shirt. The reservoir twists and winds, with fingers of land and water intertwining. This makes boating, and especially boating/kayaking, an adventure it itself. It's no wonder that RVers love this place, despite lack of hookups or internet technology.
Local Attractions include the Windmill Ranch and Esquatzel Coulee Wildlife Areas for wildlife viewing.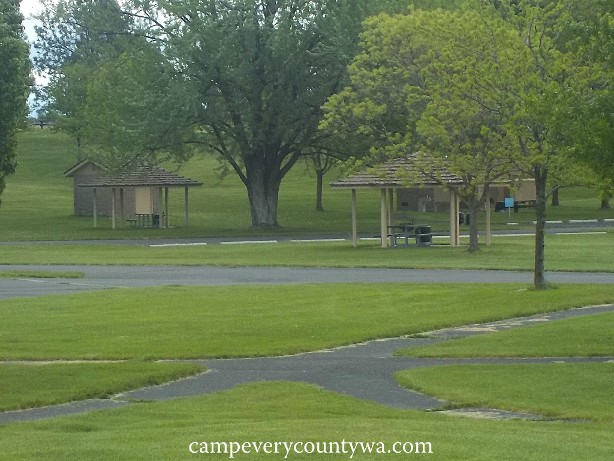 Scooteney Reservoir Campground is a smart choice for "dry" RV campers
For more photos of Scooteney Reservoir CG click HERE
Snake River/Lake Sacajawea
Named after the Shoshone woman, Sacajawea, who was a member of the Lewis and Clark expedition, this 32-mile long lake was formed by the Ice Harbor Lock and Dam on the Lower Snake River. The north bank of the Lake has very few roads to its isolated shores, guaranteeing solitude for those willing to come and find it.
Windust Park

(

Franklin Co.'s

BEST C.G. FOR FAMILIES, BEST RUSTIC CG, and BEST FREE CG)


This remote not-so-windy, not-so-dusty park on the Snake River/Lake Sacajawea hums with railroads and bare hills, while mature shade trees and the coolness of the water allow you to relax and watch the world going by.




Overview

:

This family-friendly Park is

located 36 miles northeast of Pasco on 54 acres with extensive shoreline on Lake Sacajawea, operated by the US Army COE at 902' elevation, open year round; GPS 46.53306, -118.58333.


Facilities

include flush toilets, water available seasonally, playground, swimming area with dock, fenced play area, picnic shelter, boat launch, and camp hosts during peak season.


Recreation

: Fishing is easy for smallmouth bass, catfish, panfish, and perch. Stargazing is considered good, far from the city lights of Pasco.


Campsites

(24 sites, 10 of which are suitable for RVs up to 22' long, no hookups or reservations, FREE of charge): Sites are open on lush grass with mature shade trees, of average size with varying privacy depending on the site, all have lake views. Only 10 of the 24 sites are suitable for RVs. The low use of this park makes up for any lack of privacy. Of the three Parks on this website along Lake Sacajawea, Charbonneau Park has the marina, Fishhook Park has the great campsites, but Windust Park has SOLITUDE.


Trip Notes

: We had some preconceptions about this Park before camping there. With a name made up of the words "wind" and "dust," we imagined a "dead zone," a place devoid of much wildlife, plantlife, or trees, and where the only sound would be the persistent whistle of the wind. This proved to be quite wrong. Even before pulling into the Park, we shared the road with trucks delivering grain to the Windust Grainery adjacent to the Park (only operational on weekdays). We also heard trains clacking from across the River, doves cooing and crickets chirping, some unidentified ground creatures chattering down small holes, and the low hum of barges pushing their way up the River. Before long, we realized that we were in the heartland of Washington, a desert made to bloom, and the source of much of our food. It was full of life -- sometimes too much, as the birds were noisy all night long (yes, it was breeding season, curse them). It turned out to be a great getaway -- not from nature, but from the more complicated cares of life. One caution: this is a very remote Park, with extremely limited resources for groceries or supplies, so come prepared.


Local Alternative

: Devil's Bench CG, just 3 miles north of Windust is a more primitive alternative on 52 acres with 6 sites run by the US Army COE. Boating and fishing are popular.


Nearby Attractions

: None. But that's the point, I think.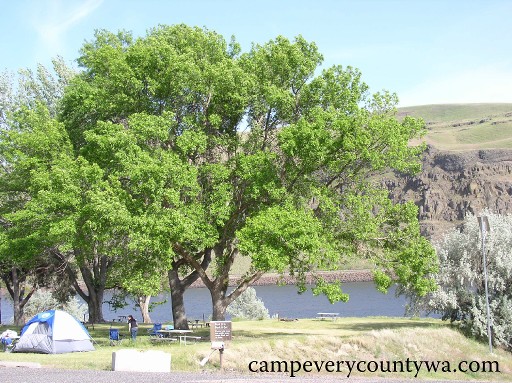 Windust Park is neither windy nor dusty, but a rare oasis on the Snake River
For more photos of Windust Park click HERE

Juniper Dunes Wilderness Area (Franklin Co.'s BEST HIKE-IN ONLY CAMPING AREA and MOST APPEALING TO THE SENSES)
The United States Congress designated the Juniper Dunes Wilderness in 1984 to preserve the northernmost growth of western juniper, some of which are 150 years old, along with windswept sand dunes measuring 130 feet in height and 1200 feet in width. This is where you can experience Washington "from the ground up," up close and personal.
Overview: This unique wilderness hiking and camping area is located 18 miles northeast of Pasco, operated by the BLM on 7,140 acres at 750-1300' elevation, open year round; GPS 46.25708, -118.49523. See special directions below.
Facilities: There is neither water nor facilities, so bring everything you need. Visitors should be well-versed in Leave No Trace ethics and pack out all trash. There are no formal hiking trails within the Refuge. Campfires and mechanized equpment are prohibited, but camp stoves are allowed and recommended. While dogs are allowed (a rarity for Wildlife Refuges), the rugged nature and thorny vegetation of this area may mean it's best to leave them at home.
Recreation: Wildlife viewing includes badgers, bobcats, coyotes, doves, grasshopper mice, hawks, kangaroo rats, lizards, mule deer, owls, partridge, pheasants, pocket gophers, porcupines, quail, rattlesnakes, ravens, skunks, numerous songbirds, and weasels. Vegetation includes old-growth juniper trees, sagebrush, wild rye grass, and wildflowers, including phlox, larkspur, and prickly pear cactus.
Campsites: (Dispersed camping only, FREE of charge with a free overnight permit from the BLM): There are no formal campsites. Leave No Trace Rules are in effect. The entire Wilderness Area is surrounded by private land. Do not travel on random jeep trails without permission from land owners. The only entrance to the Wilderness Area (which is surrounded by a single 15-mile fence) is on an otherwise impassable, sandy ORV road. It may be necessary for hikers to hike an additional 3.5 miles through the Juniper Forest (a nice hike in itself) to the fenced entrance. Some high clearance 4-wheel drive vehicles can make it up this road in the wetter part of the year, but given the area only gets 8 inches of rainfall per year, opportunities are limited. This entrance is at the southwestern end of the Refuge. Hikers/campers entering the southern end of the refuge will find native grasses, which undulate in the hills. Further north, the land becomes hillier with shrubs and tall sagebrush replacing the grasses. The real treasures, of course, are the beautiful, ancient junipers. Birds feed on these bushes in wintertime, when other foraging is at a minimum. Winter is also the time, at least when free of snow, when the land is lush, green, and at its most spectacular.
Trip Notes: The light green and white sandy mosaic of this land make it a delight. Various Indian tribes have relied on the giant sagebrush leaves for a type of spiritual aromatherapy, rubbing the grey-green leaves between their fingers to release a cleansing scent. The juniper berries have been used for centuries to flavor foods, including venison. They have also been used as a soak to treat sore feet and calf muscles. Now if there were only some water out here, it could be put to good use at the end of along hike.
SPECIAL INSTRUCTIONS/DIRECTIONS: Call the BLM office in Spokane before going out to be sure you can get access: 509-536-1200.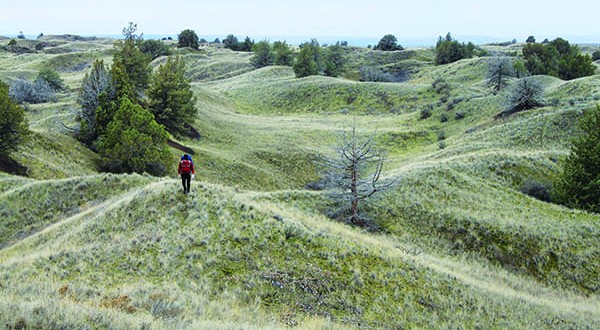 Stands of western juniper, some 150 years old, stand among the sand dunes in the Juniper Dunes Wilderness Area
For more photos of Juniper Dunes Wilderness Area click HERE
The Palouse River
The Palouse River Canyon defines Franklin Co.'s easternmost border. The Canyon is 1,000 feet deep in places, zig-zagging with its high basalt walls directly to the Snake River. This magnificent, meandering river once flowed through the less direct Washtucna Coulee. The Palouse Indian legend states that the formation of the current Palouse River Canyon came when four giant brothers battled a mythical creature called Big Beaver, spearing him five times before he gouged the canyon walls with his massive claws, causing the river to bend and change to its present course. Geologists, wishing no dispect to Mr. Beaver, believe that the Palouse River changed course during the Missoula floods, when Ice Age waters spilled into the Snake River and its tributaries, then receded suddenly, causing the Palouse to cut a more direct path to the Snake River, forming the waterfall and jagged, basalt-walled canyon we know and love today.

Palouse Falls State Park (Franklin Co.'s BEST BIKE-IN CG and MOST UNIQUELY WASHINGTON CG)
This park has a unique geology and history, offering a dramatic view of one of the state's most beautiful waterfalls. Palouse Falls drops from a height of 198 feet, higher but narrower than Niagara Falls, with high volumes of water year round. It was named the official Washington State Waterfall in 1914.
Overview: This iconic campground is located 69 miles northeast of Pasco and 17 miles south of Washtuctna on 105 acres at 784' elevation, open year round with limited facilities in winter; GPS 46.66694, -118.22278.
Facilities: These consist of pit toilets (ADA), piped water available April to October, picnic tables, fire grills, a 2-acre picnic area with shelter, 0.5 miles of ADA hiking trails, and interpretive panels about Ice Age floods and the creation of the basalt-walled canyon.
Recreation includes nearby Lyons Ferry S.P. (Day Use Only), at the confluence of the Palouse and Snake Rivers, which offers fishing, swimming, and boating opportunities.
Campsites (11 primtive tent sites, one of which is ADA, no hookups, no reservations, payment by cash or check only - no credit cards): All sites (except the ADA site) rest on a knoll, and are less than flat. There is shade, but no privacy, and so accomodates only parties who travel very light. Overnight campers have the advantage of being near the falls at sunset, as the light and shadows changing along the canyon walls are magnificent.
Trip Notes: We were most surprised that the waterfall, which was as magnificent as advertised, was so close to the camping area. We expected an arduous hike, when all it took was a short stroll from the parking lot. The trails to the bottom of the falls have been closed due to safety concerns, but the Falls are in full view for even wheel-chaired onlookers. Yellow-bellied marmots also scour the area, another source of delight, foraging both the campground and campsites. That being said, the campground is a beehive, with visitors coming and going at all hours. While we loved the park, it is likely best for one-night only stays, particularly for bicyclers.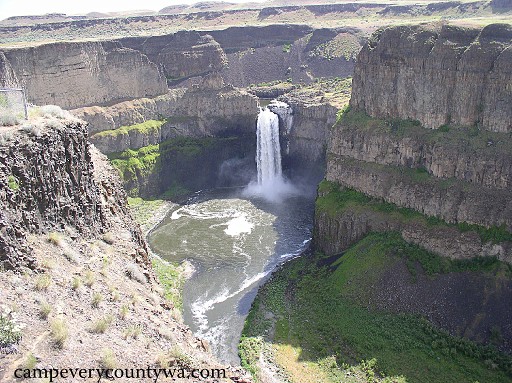 Palouse Falls was named the official Washington State Waterfall in 2014.
For more photos of Palouse Falls S.P. click HERE
OTHER CAMPGROUNDS: There are no Boat-In Only campgrounds or Group Campgrounds in Franklin Co. that we can recommend at this time.