With the Lewis & Clark Expedition and Hudson's Bay Company dominating this "Cradle of Northwest History," this small southwestern county gets overlooked for its recreational opportunities. Magnificent waterfalls, volcanic lakes, and wild rivers are the real headliners here.
Prairie Region/Klickitat Trail
Little Clark County is outlined by the Lewis River to the north, the 5000' high Cascade foothills to the east, and the Columbia River to the west and south. In the middle you have the prairies -- those flat, often low-lying regions known by natives and pioneers as the Klickitat (or Klikitat) Trail. The Klikitat Indians had a "prairie-oriented" subsistence strategy of moving with the seasons to take advantage of plant resources ripening at different elevations. Today, these diverse plains and prairies are home to the best camping facilities in Clark County.
Battle Ground Lake State Park

(Clark Co.'s

BEST CG FOR

FAMILIES and BEST GROUP CG

)


This unique park features the perfect fishing, canoeing, and swimming lake that is a 400' volcanic crater/caldera. It may not be Crater Lake, but is the centerpiece of an exceptionally campworthy campground.


Overview

: This quietly volcanic campground is located 2 miles northeast of Battle Ground on 280 acres surrounding 25.4-acre Battle Ground Lake at an elevation of 509', open year round; GPS 45.80556, -122.4925.


Facilities

: Good facilities include flush toilets, running water, picnic tables, fire grills, equestrian trails, walking/hiking trails, boat ramp and fishing dock (no motors allowed on the lake), a playground, swimming area, concessions, a ball field, camp hosts, and an RV dump


Recreation

: Fishing is popular for many species including bass, catfish, and an emphasis on trout. Horseback riding has also found a home here, with multiple trails surrounding the camping areas and lake.


Campsites

(31 sites, some walk-ins, inc 6 w/electric & water, 4 cabins, 2 group camps - one for equestrians, and one w/4 Adirondack shelters, reservable): Sites large and wooded with good privacy, arranged among a series of small hills, yet level. The camping loop includes the cabins, and the best sites are 1, 4, 7, 9, 16, 23, and 27. These include pull-through and back-in sites. The camping spur is a walk-in tent area, also resting above the lake with peek-a-boo views. Wheelbarrows are available for transporting equipment. Best sites here are 31, 37, 44. The G-1 Group Camp has 4 Adirondack shelters, a covered cooking/meeting area for 25-32 people, but does not allow RVs due to the sloped terrain. Tent camping here is dispersed, but does not detract from the very cozy, close knit arrangement of this best of group campgrounds. The G-2 Group Camp is for horse campers, and includes corrals, and can accommodate 4 equestrian families. All camping areas are set in mature forest with mixed shade and sun.


Trip notes

: We've camped here in the rain, and we've camped here in the sunshine, and I can tell you that the sun outshines the rain every time. Yes, that may be obvious, but when the sun comes out, the lake erupts with children playing with great abandon, adults proudly unloading their kayaks onto this perfect lake, and cars cruising in and out of the parking lot. In fact, the Park's strength is that, despite this little core of high energy, campers rest high above the banks with great privacy and even seclusion. The noise rising up from that little caldera only serves to keep everyone in the best of moods.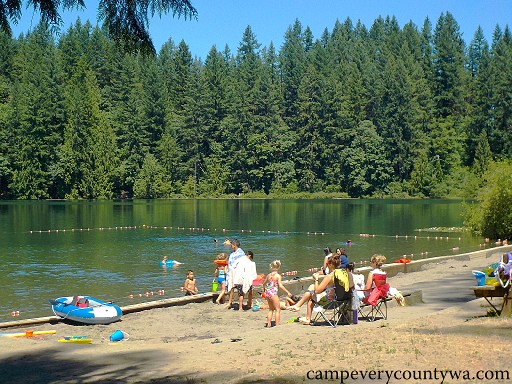 You can hear the glee of kids at the swimming area all over Battle Ground Lake State Park
For more photos of Battle Ground Lake S P click HERE
Paradise Point State Park

(Clark Co.'s BEST EQUIPPED/BEST C.G. FOR RVs and BEST BIKE-IN CG)
Here's the good news for RVers: It's right off the freeway. Here's the bad news: The freeway cuts right through the middle of the campground. In truth, the freeway was built long after the Park was established. But though we recommend this campground with some reservations, it is not paradise lost; just be sure you choose your campsites carefully.


Overview

: This tidy, picturesque campground is located 17 miles north of Vancouver and 6 miles south of Woodland, with 6180' of freshwater shoreline on the Lewis River, set on 88 prime acres at 230' elevation, open year round; GPS 45.865430, -122.704110.


Facilities

: This well-equipped campground includes ADA bathrooms with showers, picnic tables, fire rings, 4 miles of hiking trails, an amphitheater, a huge Day Use Area along the Lewis River including a Disc Golf field, and an RV dump.


Recreation

: This includes boating (no launch), swimming, freshwater fishing, and hiking within the Park. The secluded 3/4-mile River Walk is by far the best of the trails.


Campsites

(58 tent sites, 18 sites for RVs up to 40' with water & electric 50 amp, 9 H/B sites, 2 yurts, most are reservable): In this tiny county, it is difficult to find good RV facilities that feel less like lodging and more like camping. This is where Paradise Point comes in -- it may rest beside the Interstate, but it is definitely campworthy. Campsites are located in two joined loops and a spur. The larger Loop (utility sites 1-20 and tent sites 26-43) are closest to the freeway on grass and among older trees. The smaller loop (non-utility sites 51-68) are heavily forested with good privacy and shade, but some residual highway noise. Most are large back-ins with a few pull-throughs. Sites 1-68 are in a partially wooded/grassy area with average to good privacy. The Walk-In Spur Sites (tent sites 71-79) are the most private and quietest in the Park, and especially good for bicyclists. The quaintest sites are those in the small apple orchard (sites 21-24 and 44-50). Here you have more sun, but more open space.


Trip Notes

: Before we camped here, we didn't realize this was set on the EAST fork of the Lewis River. This smaller branch is very slow moving with muddy banks, very reminiscent of the Mississippi, but of course on a smaller scale. As we walked the River Walk Trail, we were taken by the "ole swimmin' hole" where we watched a boy climb the steep bank, grab the rope swing, then hurl himself headlong into the silky waters, flailing his arms and letting lose with a primal, giddy yell. A large woman in a colorful one-piece swim suit paddled carelessly from the middle of a black inner tube until she spotted a "gentleman" on the path, and turned shyly away. On the slow moving waters, paddle boarders stood tall on their tiny vessels, directly themselves in the current with long, colorful poles. Back at the campground, the old apple orchard (the last remnant of the old homestead) reminds campers that this old campground has one foot planted firmly in the past -- a slower, less mechanized time when people were more connected to the land, less self-conscious, and less a part of the incessant noise of the modern age.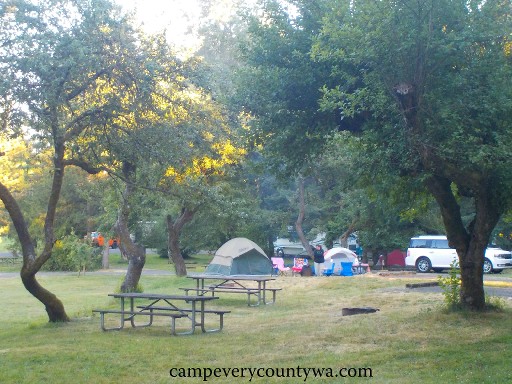 The apple orchard is the last remnant of the homestead that once stood at Paradise Point State Park
For more photos of Paradise Point S.P. click HERE
Yacolt Burn State Forest
The forest is named for the dozens of wildfires that ravaged Clark and surrounding counties during September 1902. With no organized system for fighting wildfires, the fires spread across nearly 239,000 acres and caused 38 deaths. This lead to the establishment of the Washington Fire Protection Association and funded a system of fire wardens and a program of fire prevention on private lands. Now, recreation activities in the Yacolt Burn State Forest include whitewater rafting, horseback riding, off-road vehicle riding, mountain biking, hiking, and, of course, great camping.
Cold Creek Camp

(Clark Co.'s BEST FREE and BEST RUSTIC CG)
This semi-rustic campground is fought over equally by the whitewater rafters along the East Fork of the Lewis River and experienced mountain bikers on the immense trail system of the Yacolt Burn State Forest. The rest of us can just sit back and watch them fight for supremacy.


Overview

: The campground is located 26 miles northeast of Vancouver and 10 miles southeast of Yacolt on Cedar Creek, operated by the DNR at 1050' elevation, open year round with a 7-day limit; GPS 45.76369, -122.34444.


Facilities

: Limited amenities include vault toilets, picnic tables, fire grills, tent pads, a large Day Use Shelter, and camp hosts. There is no drinking water, and garbage must be packed out.


Recreation

: The Dole Valley Road to East Fork Lewis River stretch of Rock Creek-Lewis Drainage is 3 miles long and a class II-III+ section of whitewater with a reputation for being unforgiving, even among more experienced whitewater rafters. But mountain biking is king here, and Cold Creek is the most heavily biked section of the 35-mile Tarbell trail system. This strenuous trail, within the Yacolt Burn, definitely produces a "burn" of its own. And, for those who wish to stay closer to the campground, blackberry picking is excellent.


Campsites

(8 sites for tents or RVs up to 20', some ADA, one group site for up to 6 people, no hookups, reservable, FREE with Discover Pass): Sites are heavily wooded though not heavily pruned with a rugged feel -- but far more well-appointed than most DNR campgrounds.


Trip Notes

: Cold Creek falls well under the radar as one of the most beautiful campgrounds in Washington. The campsites are defined by log borders along most paths, and are flat and ADA-accessible. They are well-shaded, large, and very private. But good news -- the Day Use Area is even prettier. Cedar Creek takes on a deep blue sheen along the Cedar Creek Falls Trail and Overlook, leading to the smallish but striking waterfall less than a mile in.
One more thing -- don't be intimidated by the ominous direction signs or confusing directions found online (see our simplified directions below). There is only 1-1/4 miles of gravel to travel, and the campground can be easily reached by any vehicle.


Directions

: Many have experienced difficulty locating this remote campground. We have simplified the directions to 7 easy steps:
1. From Vancouver, drive north on I-5 to Exit 9 (NE 179th St) and turn right/east. This will put you on Hwy502/Battle Ground Hwy.
2. Drive 5.5 miles to to Hwy 503 (Lewisville Rd and turn right/east;
3. Drive 8 miles and turn right onto NE Rock Creek Rd. This will soon turn to NE Lucia Falls Rd.
4. Drive 6 miles to just past Moulton Falls Co. Park, and turn right/southeast onto Sunset Falls Rd;
5. Drive 2 miles to Dole Valley Rd and turn right/south (this is the only major turn off Sunset Falls Rd);
6. Drive 5 miles until the pavement ends.
7. Drive 1/4 mile past a sign on the left that says "CAMPGROUND PARKING," and turn right.
7. Drive 1 mile to the campground on the left.


Local Alternative

: Rock Creek C.G. and Horse Camp is 1.6 miles from Cold Creek. When the pavement ends, simply turn left (instead of continuing on to the odd CAMPGROUND PARKING sign) and drive to the campground.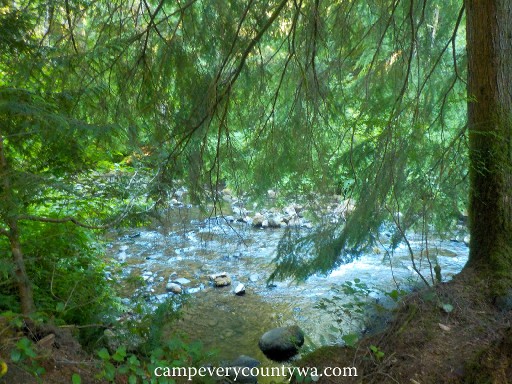 Cold Creek stays well under the radar as one of the most beautiful campgrounds in Washington
For more photos of Cold Creek Camp click HERE
Sunset Falls Campground

(Clark Co.'s MOST APPEALING CG TO THE SENSES and MOST UNIQUELY WASHINGTON CG)
The East Fork of the Lewis River tumbles its way out of the Cascade Mountains and across the Yacolt Burn with 3 successive waterfalls: Lucia, Moulton, and Sunset. Camp at Sunset Falls C.G., but don't forget to check out the trifecta of waterfalls.


Overview

: This delightful campground is located 39 miles northeast of Vancouver and 10 miles east of Yacolt on the East Fork of the Lewis River, operated by the USFS at 1,041' elevation, open year round; GPS: 45.818734, -122.250186.


Facilities

: Good amenities include vault toilets, picnic tables, fire grills, Day Use Area, garbage service, and camp hosts.


Recreation

: Hiking is popular on Sunset Falls Trail #174 and the Silver Star Trail. This stretch of river is also popular with kayakers.


Campsites

(18 sites for tents and RVs up to 22', no hookups): Sites are in two sections. The loop (sites 1-10) is car accessible with pull-through sites with paved pads but poor to average privacy. The walk-in section (sites 11-18) consists of more private tent sites. Both areas are very shady with alders, cedars, Douglas firs, and maples. Paths to the River are very steep. All sites are within 200' of the River, while Sunset Falls is 1/4 mile away.


Trip Notes

: Of course it's nice to have an exceedingly beautiful waterfall so near the campground, but you won't spend too much time there. We found the river itself to be more compelling, being more accessible with its more subtle rock formations, pools and privacy. For us, the campground was not so much about the Falls but was about this gorgeous stretch of the East Fork of the Lewis River.


Local Attractions

: Moulton Falls County Park is a day-use only park that boasts one of the prettiest waterfalls and one of the best swimming areas anywhere. Lucia Falls County Park is another day-use only park that is a "look but don't touch" situation, as fishing and swimming are prohibited due to the sensitive salmon spawning grounds. However, it is worth checking out the incredible rock formations around the falls.


Directions

: From I-5 take exit 9 WA 502 for Battle Ground. Go about 7 miles and turn left on WA 503 and head north for about 5.5 miles. Turn right onto NE Rock Creek Rd, which will turn into NE 152nd Ave and then a slight left onto NE Lucia Falls Rd for about 7 miles. Then turn right onto NE Sunset Falls Road, travel for about 7 miles and the campground will be on your right.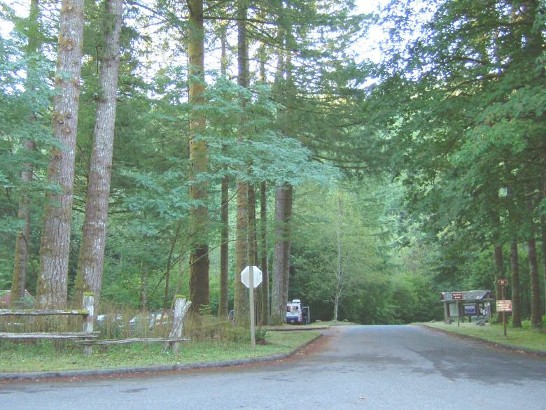 The entrance to Sunset Falls Campground
For more photos of Sunset Falls CG click HERE
Columbia River Area
The Columbia widens greatly in its westward flow past Clark County, first turning due north, then turning again just as sharply west 30 miles later. The region is definined by the City of Vancouver (and Portland, OR), but also by the many wetlands, bird sanctuaries, and wildlife areas.

Reed Island State Park Boat-In Campground

(Clark Co.'s BEST BOAT-IN CG)
This peculiar island is Clark Co.'s contribution to the Columbia River Water Trail. This is not Catalina, Bermuda, or the Isle of Capri, but a small, narrow barrier island inhabited only by the great blue herons and the deer who make the island their home.


Overview

: This 510 acre marine park is located 15 miles east of Vancouver and 3 miles east of Washougal in the Columbia River at 26' elevation, open year round; GPS 45.551164462 -122.30249879.


Facilities

: Limited facilities include a vault toilet, picnic tables, fire grills, two picnic sites with tables and pedestal stoves, and a sandy beach near the campsites for landing boats. There is no water, and garbage must be packed out. At the opposite end of the island is a heron rookery. Note that there are no docks or buoys at the park, so camping access is typically by human powered boat.


Recreation

: This includes bird watching, kayaking/canoeing, swimming, beach walking and hiking. Fishing from the shore is not recommended.


Campsites

(10 sites for tents, no hookups, no reservations): Most of the sites are poorly defined, but it is never crowded. In fact, it is seldom used at all. Your only company is likely to be the occasional heron and the naively tame deer on this brushy island.


Trip Notes

: The first rule of thumb when camping on Reed Island is to remember that this is an adventure, and that you are camping on an island. Not a pretty adventure, nor a comfortable one, but an adventure just the same. Also, try to take the reviews with a grain of salt. The mosquitoes in the campground really are SMALLER than the herons in the rookery. Furthermore, the stumps off the shore do not really EAT fishing lines, they merely tangle them. Just keep in mind that this island can be yours for the taking -- a unique opportunity for adventure.


Getting There

: Power boats typically launch from the Port of Camas/Washougal (3 miles from the Island). Kayaks launch from Cottonwood Beach at Captain William Clark Regional Park in Washougal (a worthy destination in itself!).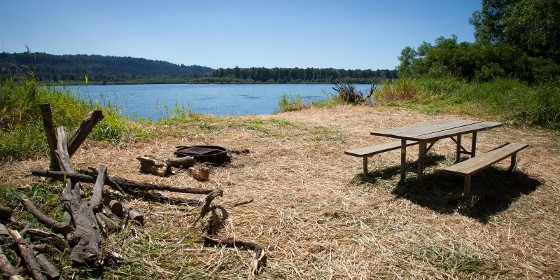 Reed Island State Park may not be the Isle of Capri, but a small barrier island inhabited only by the great blue herons and deer
For more photos of Reed Island S.P. Marine CG click HERE
OTHER CAMPGROUNDS: There are no hike-in campgrounds in Clark Co. that we can recommend at this time.