CLALLAM COUNTY (Port Angeles)
We have the Klallam, Makah, and Quileute peoples to thank for the character of this county occupying the northern coast of the magnificent Olympic Peninsula. The establishment of the the Olympic National Park (ONP), with its 9 Clallam County campgrounds, means this will be preserved. Factor in Cape Flattery, the Strait of Juan de Fuca, and the Dungeness Spit, and you may never want to camp anywhere else.
Sequim/Dungeness River Area
The good news about the City of Sequim (pronounced "Skwim," one syllable) is that it lies in the Olympic Rainshadow, and gets only 17 inches of rainfall annually. The bad news is that, just 40 miles away, the Hoh Rain Forest receives 140 to 200 inches per year. So if you're in Sequim and want to pop over to the Rain Forest, you should probably grab a jacket.

For more photos of Dungeness Recreation Area click HERE
Lake Crescent/Joyce Area
Lake Crescent is Washington's second deepest lake, reaching a below sea level depth of 600'. It also has species and subspecies found nowhere else, including the Bearslee trout and the Lake Crescent cutthroat trout. But it is the Lake's brilliant blue color, even on a cloudy day, that draws the crowds. Insider's note: it's not the the reflection of the sky, but the lack of oxygen in the Lake, that keeps it blue. But let's keep the tourists guessing.

Fairholm Campground, ONP (Clallam Co.'s MOST UNIQUELY WASHINGTON CG)
Certainly the camping gem of Lake Crescent, this park mirrors the "Lord of the Rings" feel of the ONP, with mountain peaks, over sized maples, and pristine lakes.
Overview: This enchanting campground is located on the western tip of Lake Crescent on 196 acres at 580' elevation, open May-October; GPS 48.067719, -123.916423.
Facilities: National Park amenities include flush toilets, potable water, fire grills, picnic tables, amphitheater, RV dump, camp host, marina, kayak and canoe rentals, camp store and cafe.
Recreation includes the many hiking trails, such as the short hike to Devil's Punch Bowl, the kid-friendly Spruce Railroad Trail, the Moments in Time Nature Trail, a half-mile wheelchair accessible loop, Marymere Falls, Mount Storm King Trail, and Pyramid Peak Trail, a 2,600-foot climb with great views of the Strait of Juan de Fuca.
Campsites (87 sites for tents and RVs up to 21', one ADA site, no hookups or reservations): The best sites per campsitephotos.com are 3, 7, 24, 33, 45, 53, 56 and 69, and these are on point. Large private sites are immersed in rain forest vegetation and views of crystalline Lake Crescent. Not all campsites are flat, but the trade off is the views. Note there is some road noise from Hwy 101.
Trip Notes: I expected Lake Crescent to be the star of this campground, and it was spectacular; but it was the trees that made this campground a rival to the Hoh Rain Forest CG in beauty. Great trees plus great Lake makes great camping.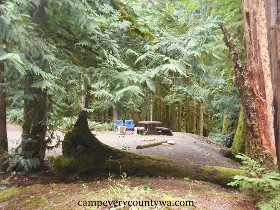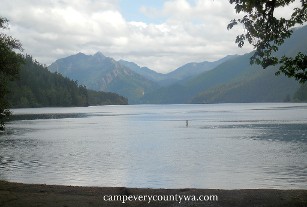 The "Lord of the Rings" feel of Fairholm Campground rivals the majesty of Lake Crescent.
For more photos of Fairholme CG, ONP click HERE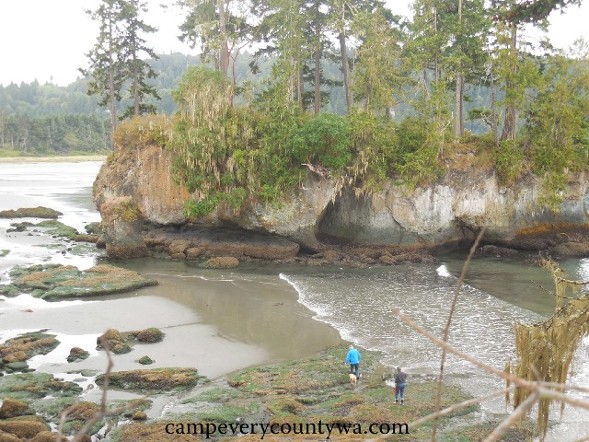 Most campers find themselves drawn to Salt Creek's rocky beaches and tall-bluffed island -- Nature's playland!
For more photos of Salt Creek Recreation Area click HERE
Lyre River Campground

(Clallam Co.'s BEST FREE CG)
The river, named for the "music" native peoples said emanates from its flow, doesn't so much "sing" as it makes a gentle sound akin to low level applause makes for a soothing getaway.


Overview

: This "musical" campground is located 5 miles west of Joyce on 23 acres along the Lyre River, managed by DNR on 23 acres at an elevation of 92', and open year round; GPS 48.1477, -123.8333.


Facilities

: Good amenities as DNR parks go include vault toilets, drinking water, fire rings, picnic tables, a large picnic shelter, and a Fishing/Observation deck.


Recreation

includes steelhead fishing in water (starting early Dec.), and cutthroat fishing in late summer. For rock hounds, the river has produced agate, jasper, and petrified wood.


Campsites

(11 sites for tents and very small RVs, no hookups or reservations, FREE with Discover Pass): Sites are medium to large, wooded, private and individual in layout, some on the riverside. RVs and trailers are not recommended due to the narrow, curved road into the campground, although many smaller tent trailers are able to make it. Three of the campsites are walk-ins, and may be the best sites due to privacy and close proximity to the river.


Trip Notes

: We camped in this small, lush campground in the rain, experiencing it at its wettest. We struggled to get our small tent trailer down the sharp-turning road, but we managed. The camp hosts were extremely welcoming. Both the picnic shelter and observation deck were of remarkable quality for a campground this small, giving high marks in my memory. The only potential problem here is the possibility of a single party of rowdy campers who could potentially disrupt the peace and quiet. The camp hosts are well aware of this, and keep a friendly but watchful presence. We highly recommend this campground for those seeking to unwind and unplug for awhile.


The fishing platform at Lyre Creek Campground far surpasses those of other small campgrounds.
For more photos of Lyre Creek CG click HERE
Sol Duc River Watershed
The Sol Duc River flows for 78 miles through timberland, forming the biggest watershed in the northern Olympic Peninsula. It begins in the Olympic mountains and flows west through both National Forest and National Park before converging with the Bogachiel and Calawah Rivers in the aptly named City of Forks to become the Quileute River. But along the way camping, hiking, and hot spring adventures await.

Bear Creek Campground

(Clallam Co.'s BEST BIKE-IN CG)
This is frequently listed as among the most popular campgrounds in Washington, due in part to its cost (free), its year round availability, and its mostly adult appeal. But it's a nice spot above a very pretty river with a great location for weary car and bicycle travelers ready to venture into another section of the Olympic Peninsula.


Overview

: This rustic but accessible campground is located 20.4 miles west of Lake Crescent, managed by the DNR at 568' elevation, and is open year round; GPS 48.0665588 -124.2395630.


Facilities

: Familiar DNR facilities include vault toilets, picnic tables and fire rings. A special feature is the Sol Duc River Walk. Note that this campground was founded on the homesteads of several Norwegian families (notably, the Ditlefson family), who built the original roads and bridges. The original Ditlefson homestead is said to be hidden in the forest for those tenacious enough to find it.


Recreation

: The River Trail is easily accessible from the campground.


Campsites

(12 sites, no hookups or reservations, no potable water, FREE with Discover Pass): Sites are wooded, flat and private with gravel pads, most lying above the Sol Duc River. Its popularity is enhanced because it has no fees, and due to it's proximity to the landmark Hungry Bear Cafe, which serves some of the best comfort food on Highway 101.


Trip Notes

: DNR campgrounds have their own primitive style, preserving the land but supplying few amenities. I mostly love them, provided I can get one of the best campsites (which we did). There is road noise here, balanced by the quiet beauty of the trail along the Sol Duc River. This campground is not for everybody, but will be near perfect for many. Bicyclers find themselves at a crossroads here, where Highway 101 turns 90 degrees, pointing south to Forks, and east to Crescent Lake and Port Angeles. Highway 113 also branches off here toward Ozette, Clallam Bay, and Neah Bay.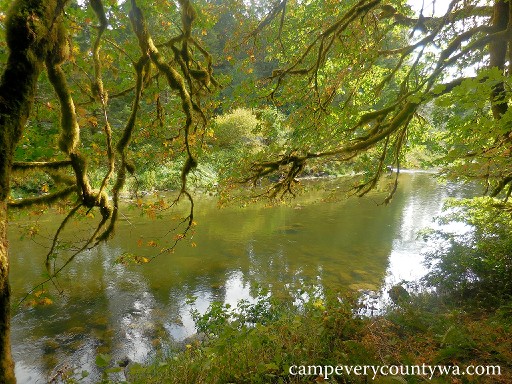 The rustic charm of Bear Creek Campground is enhanced by
the Sol Duc River Walk.
For more photos of Bear Creek CG click HERE
Klahowya Campground

(Clallam Co.'s BEST RUSTIC CG)
"Klahowya," a word meaning "welcome" in the Chinook jargon, is reflected in everything from the spacious campsites, to the soothing Sol Duc River, to the dog-friendly Koshe Nanitch Trail. It also has easy access off of Hwy 101, another welcome feature for road weary travellers.


Overview

: This Olympic National Forest CG is located 14.6 miles west of Lake Crescent on the South Fork of the Sol Duc River on 32 acres at 800' elevation, and open May-Sept; GPS 48.064011, -124.105278.


Facilities

include flush toilets, drinking water, fire rings, and picnic tables, plus Pioneer's Path Trail, a 0.3-mile wheelchair-accessible interpretive trail.


Campsites

(53 sites, including 2 w/electric, 2 hiker-biker sites, no reservations): Sites are wooded and big enough to handle big rigs, and fairly well separated by trees and undergrowth. The biggest sites are 14, 31, 37, and 43, and give more privacy than the more crowded ONP campgrounds. It is near the dog-friendly Koshe Nanitch Trail, has inner tubing in summer (when water levels are lower), kayaking in spring and fall (when water levels are higher), has no gravel roads to travel (unlike Queets and North Fork), and easy access to Hwy 101. It feels like being in the ONP without the restrictions.


Trip Notes

: It is easy to see why Klahowya CG gets overlooked. Its entrance is on a secton of Highway 101 that allows logging and looks, frankly, rather shabby. But drive the quarter-mile to the park entrance, and you are greeted by old growth forest and a very pretty section of the South Fork of the Sol Duc River. True to its name, it is genuinely welcoming, with no road noise and great privacy between campsites. One older camper. A few of the sites are abnormally large. One campsite posted a sign that said "Kla-Howdy!" This is one of the best getaways on the Olympic Peninsula.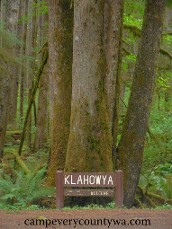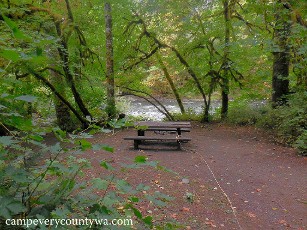 The Olympic National Forest's Klahowya Campground has all the charm of other rain forest campgrounds without the National Park restrictions.
For more photos of Klahowya CG click HERE
Sol Duc Campground ONP and Sol Duc Resort

(Clallam Co.'s BEST CG FOR FAMILIES):
The term "Sol Duc" is a mispronunciation of the Quileute word for sparkling waters. And sparkle they do: at Sol Duc Falls, the Sol Duc River, Sol Duc C.G., and even the Sol Duc Hot Springs Resort.


Overview

: This ONP campground is located 18 miles southwest of Lake Crescent on the Sol Duc River at 1640' elevation, campground open year round, resort open March-October; GPS 47.96675, -123.85782.


Facilities

include seasonal flush toilets and running water April through October, picnic tables, fire grills, drinking fountains, an RV dump, showers at the Resort, camp host and, the biggest facility of all, the Hot Springs.


Recreation

: In addition to the pools at the Hot Springs, fly fishing is good on the Sol Duc River for steelhead, salmon, and trout. Hiking is excellent. Ancient Groves is a 0.6-mile self-guided nature trail. Lover's Lane Loop (6 miles round trip) traverses old growth forest and follows the Sol Duc River, crossing at Sol Duc Falls. There is a $20 fee for this one. Family-friendly Sol Duc Hot Springs Trail is a 3.7-mile out-and-back trail that leads to natural hot springs. Minck Lake (2.6 miles each way) and Deer Lake (3.8 miles each way) Trails pass old growth forests to their respective lakes. More experienced hikers may want to try the Seven Lakes Basin Area. Be mindful that dogs are not permitted on National Park trails.


Campsites

(82 sites for tents and self-contained RVs less than 21' with 2 ADA sites, 17 RV sites w/full hookups 50 amp, 32 cabins with some ADA, reservations for cabins only): The best sites are 8, 9, 10, 11, 14, 44, 54, 59. Five sites are pull-throughs (5 ,17, 18, 28, and 29). Sites are small to average, but well designed and wooded. Not all are level, so any trailers or small RVs should bring leveling blocks. Of note, the 17 RV sites with hookups are on a single asphalt pad 1/4-mile from the campground entrance. Most campers with smaller RVs prefer to dry camp in the campground.


Trip Notes

: When I last visited the campground at the age of 8 or 9, it took 12 grueling miles and about an hour of gravel hell to get there. Once there, the pools looked like large cement septic tanks that smelled distinctly of rotten eggs. What a change! The road is now well paved, the pools have only the faintest trace of sulfur, and are extremely modern. My one disappointment was the RV sites, which were basically a parking lot. Not just close together and side-by-side, but literally a large flat square of asphalt. Some will endure this for the sake of the hot springs, but it's not good camping. The campground itself, and even the cabin area at the Resort were quite charming, if not just a little condensed. But these DO make for good camping and, with all the trails, fishing opportunities and, yes, the hot springs, I think it's pretty swell.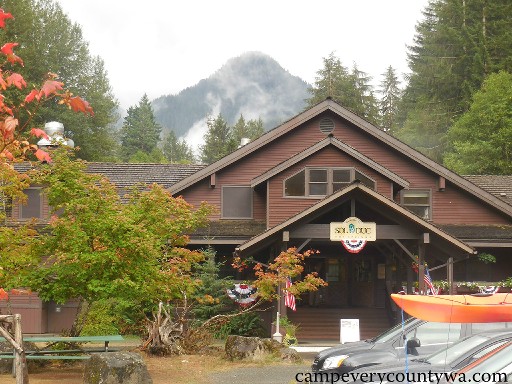 The newly rebuilt Sol Duc Hot Springs Resort is a far cry from the rotten egg-smelling concrete pools I knew as a kid, and we campers couldn't be more grateful!
For more photos of Sol Duc CG, ONP click HERE
Olympic National Park Ocean Strip (North)
Olympic National Park's narrow 73-mile long coastline is a designated wilderness area that stretches from Cape Flattery in the north to well beyond the boundary of Clallam Co. to the south. The offshore waters are part of the Olympic Coast National Marine Sanctuary, and the islands part of the Washington Maritime National Wildlife Refuge Complex. As such, seals, sea lions, and nesting seabirds are protected for perpetuity. Tread lightly here -- you are not alone.

Cape Alava/Sand Point Hike-In Campsites ONP (Clallam Co.'s BEST HIKE-IN CAMPING):
The remote but sad little ONP campground near the Ozette Ranger Station on Lake Ozette is too primitive and small to accommodate all those drawn to the "Ozette Loop Trail" (a 9-mile trail connecting Lake Ozette, Cape Alava, Sand Point, and back again). No, to camp near Cape Alava or Sand Point, you'll want to hike in and find your campsite on the beach. But once there you'll find waves crashing against tree-covered seastacks, high-bluffed islands, seals, sea otters and sea lions lounging in shimmering green kelp beds, spouting gray whales, bald eagles perched high in sullen Sitka spruce, killer sunsets, and even pre-Columbian native history represented in the petroglyphs at Wedding Rocks.


Overview

: These scattered campsites are located along a 3-mile stretch of the ONP Ocean Strip 3.1 miles from the Lake Ozette Ranger Station, reservations are recommended between May 1 and September 30; GPS 48.1537, -124.6687 at the trailhead.
Facilities: Two pit toilets are available at Cape Alava and two at Sand Point . There are streams at both Cape Alava and Sand Point, but the tea-colored water should be treated. Boardwalks are built on most stretches of the trail. Firepits are in most sites at Cape Alava. Firewood gathering from forested areas is strictly forbidden, as some campers have damaged iconic trees. Driftwood gathering for fires is allowed (sparse at Cape Alava), although open fires here are permitted only in the Cape Alava area north of Wedding Rocks (prohibited at Sand Point). Butane stoves are strongly recommended.


Recreation

: Note that a single 9.2-mile loop trail connects Lake Ozette, Cape Alava, and Sand Point. One-half mile north of the beach access point at Cape Alava is the Ozette Indian Village excavation site. Around 1700 this Makah village was buried in a landslide in true Pompeii fashion, and everything preserved. Over 55,000 artifacts have been recovered, including several Long Houses, some dating back 2,000 years. It is closed to the public (artifacts are displayed in the Makah Cultural and Research Center in Neah Bay), but many petroglyphs and other reminders are readily visible in the area. The walk to Tskawahya Island at low tide is a kick, but don't linger too long or you'll be swimming back.


Trailhead

: From Port Angeles, head west on U.S. Highway 101 for about 4.5 miles. Turn right to continue west on SR 112 for 54.6 miles, 4.5 miles beyond the town of Clallam Bay. Turn south/left on Hoko-Ozette Road and drive 22 miles to the Ozette Ranger Station and trailhead. Obtain permits in person at the Wilderness Information Center (WIC) in Port Angeles or at the South Shore Lake Quinault Ranger Station.
Campsites (20 tent sites at Sand Point, including 6 double sites and 2 group sites; and 15 single sites at Cape Alava; a NPS Wilderness Pass is required, along with back country fees and an entrance fee at Ozette): Groups are limited to 12 people. Groups of 6-11 must occupy double sites or group sites, while groups of 12 or more must occupy separate double or group sites. Groups of 12 or more must also travel in separate groups at least 1 mile apart. Be aware that pets and wheeled devices are prohibited on coastal beaches and trails. All food, garbage, and scented items must be stored in park-approved containers due to hungry and tenacious raccoons. A map and tide tables are recommended in reaching your campsites on dry land.


Trip Notes

: This is the westernmost point in the contiguous 48 states, and it feels like leaning out over the hull of an ocean-going ship to take in the entire Pacific Ocean. The briny smell of the kelp beds, the unexpected pocket coves, and the tidepools made for endless exploration. The shorebirds here are a far cry from those of the southern Washington coast where I was born. I wished I had brought my Audubon guide, as I couldn't identify most. This is a world unto itself -- not Willapa Harbor, Grays Harbor, or the Oregon Coast. It is rough, ever-changing, and forever fascinating.


Local Alternative

: Shi Shi Beach, just north of Cape Alava, lies within the Makah Indian Reservation. As such, a Makah Recreation Pass must be purchased in Neah Bay prior to arriving at any reservation trailhead. An NPS Wilderness Permit is also required for overnight camping. The Trailhead is located at the fish hatchery in Neah Bay. The entire hike-in is 8 miles round trip with campsites scattered on the beach and upland forest. It has 3 pit toilets, and access to tidepools and the incredible Point of Arches, the single roughest stretch of shore within the ONP Ocean Strip.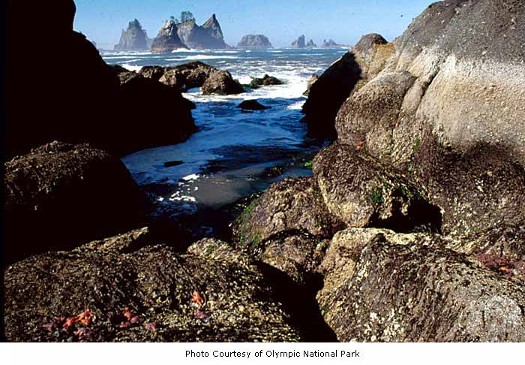 For more photos of Cape Alava and Sand Point click HERE
Lake Ozette Boat-In Campsites ONP

(Clallam Co.'s BEST BOAT-IN CAMPING)
Lake Ozette in one of Washington's most remote and, at eight miles long and three miles wide, the largest unaltered natural lake in Washington. A 2-mile wide strip of land separates it from the Pacific Ocean. At 33' elevation and 300' deep, Lake Ozette reaches far below sea level. This creates a unique, primordial environment that is as close to nature as you'll ever find.


Overview

: These scattered sites are set on the shores of 7787-acre Lake Ozette at 32' elevation, open year round; GPS to Ozette C.G. are 48.153, -124.6669.


Facilities

: There are boat launches at Ozette CG and Swan Bay.


Recreation

: Canoeing and kayaking go without saying. Lake Ozette is home to 13 species of fish, including bass, coho salmon, cutthroat trout, perch, kokanee salmon, and sockeye salmon. Short trails (2.0-3.1 miles) to the coast start at Ozette CG and the east side of Ericsons Bay, but the latter can be slippery. Motorboating and water-skiing are allowed on Ozette Lake, but boats may not exceed 5 mph or create a wake within 150 feet of the shoreline.


Campsites

(primitive sites can be found at Ericsons Bay Camp, Garden Island, the south end of Tivoli Island, Eagle Point near Ericsons Bay, Allens Bay, Benson Point near Swan Bay, and other isolated locations along the shore; a NPS Wilderness Pass is required, along with back country fees and an entrance fee at Ozette): Ericsons Bay Camp is often the primary destination with multiple sites. Other sites are more scattered. The biggest problem boaters have is simply finding them. The large surface of the Lake can cause waves to whip up in a hurry, fog can set it and, more to the point, lake levels can vary up to about 4' according to the season causing disorientation. Remember: the higher the lake levels, the more difficult the landing. Be sure you have a back up plan if you're honing in on a specific location. Most boaters find Ericsons Bay and Tivoli Island the easiest destinations to find, although Tivoli is near the distant south end of the island. Tivoli has sandy beaches, plus sites set back into the woods. Ericsons Bay can be wild and muddy but, much like Allens Bay, has a trail to the coast.


Trip Notes

: Why is boat-in camping at Lake Ozette like a box of chocolates? Yes, we've all heard Forest Gump say, "You never know what you're going to get." The large size and relatively shallow waters around the shore can make it change almost daily. What you will get is privacy, a connection with nature in its more primal form, and getting as far from the city lights as you can get without setting sail on the Pacific. These trips are often made by Boy Scouts. If they can do it, so can most boaters and campers and, like them, you'll want to come back.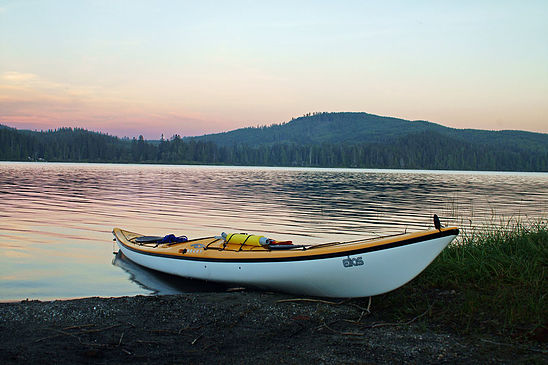 Boat-In Camping on Lake Ozette
For more photos of Lake Ozette Boat-In Camping click HERE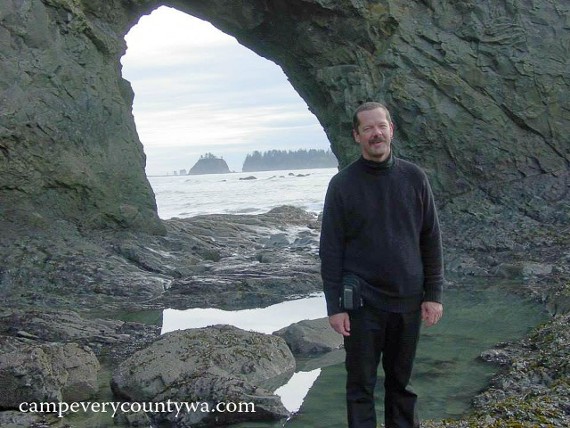 A younger me pauses at the Hole-In-The-Wall on Rialto Beach.
For more photos of Mora CG, Ritalto Beach and LaPush click HERE