This website is intended as an adjunct to the paperback book 'Camp Every County, Washington' by Brendan J. McDonald, available on Amazon.com. Included on this website are photographs and texts which could not be included in the paperback edition, where you will find full narrative versions of each section found below.
CLALLAM COUNTY (Port Angeles/Forks)
Dungeness Recreation Area (Clallam Co.'s BEST CG FOR ENTIRE FAMILIES)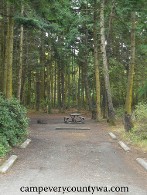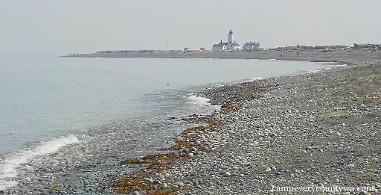 Dungeness Recreation Area combines woodland camping with the world's largest sandspit and the New Dungeness Lighthouse

For more photos of Dungeness Recreation Area click HERE
Fairholm CG at ONP (Clallam Co.'s MOST UNIQUELY WASHINGTON CG)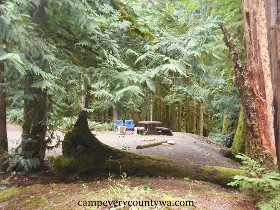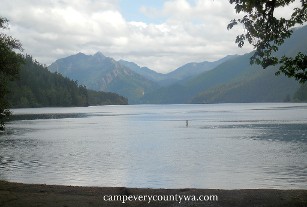 The "Lord of the Rings" feel of Fairholm Campground rivals the majesty of Lake Crescent.
For more photos of Fairholme CG, ONP click HERE
Salt Creek Recreation Area (Clallam Co.'s BEST EQUIPPED CG)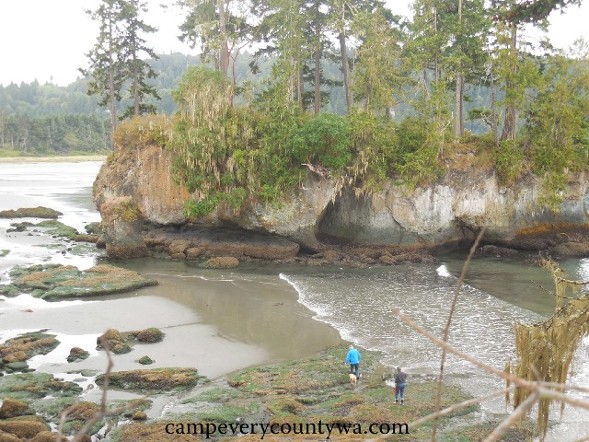 Most campers find themselves drawn to Salt Creek's rocky beaches and tall-bluffed island -- Nature's playland!
For more photos of Salt Creek Recreation Area click HERE
Lyre River Campground (Clallam Co.'s BEST FREE CG)


The fishing platform at Lyre Creek Campground far surpasses those of other small campgrounds.
For more photos of Lyre Creek CG click HERE
Bear Creek Campground (Clallam Co.'s BEST BIKE-IN CG)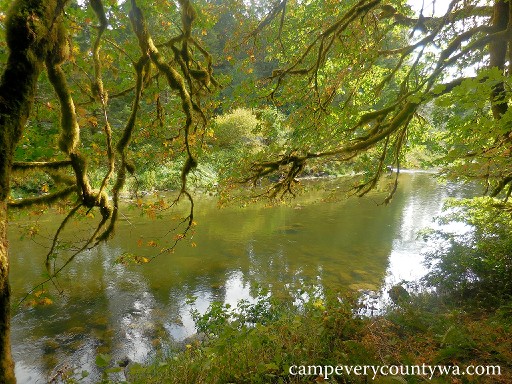 The rustic charm of Bear Creek Campground is enhanced by
the Sol Duc River Walk.
For more photos of Bear Creek CG click HERE
Klahowya Campground (Clallam Co.'s BEST RUSTIC CG)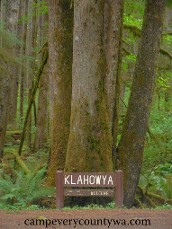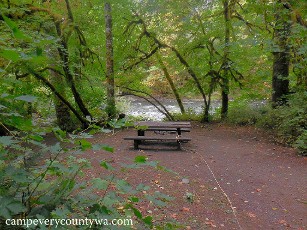 The Olympic National Forest's Klahowya Campground has all the charm of other rain forest campgrounds without the National Park restrictions.
For more photos of Klahowya CG click HERE
Mora Campground, ONP and Rialto Beach (Clallam Co.'s MOST APPEALING CG TO THE SENSES)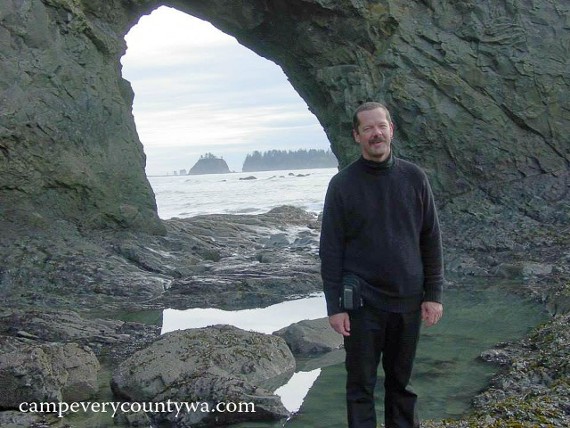 A younger me pauses at the Hole-In-The-Wall on Rialto Beach.
For more photos of Mora CG, Ritalto Beach and LaPush click HERE
Sol Duc Campground ONP and Sol Duc Resort (one of Clallam Co.'s BEST CGs FOR ENTIRE FAMILIES)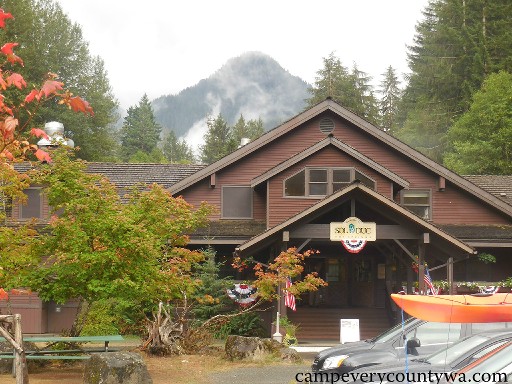 The newly rebuilt Sol Duc Hot Springs Resort is a far cry from the rotten egg-smelling concrete pools I knew as a kid, and we campers couldn't be more grateful!
For more photos of Sol Duc CG, ONP click HERE
Cape Alava/Sand Point Hike-In Campsites ONP (Clallam Co.'s BEST HIKE-IN CAMPING):
The remote but sad little ONP campground near the Ozette Ranger Station on Lake Ozette is too primitive and small to accommodate all those drawn to the "Ozette Loop Trail" (a 9-mile trail connecting Lake Ozette, Cape Alava, Sand Point, and back again). No, to camp near Cape Alava or Sand Point, you'll want to hike in and find your campsite on the beach. But once there you'll find waves crashing against tree-covered seastacks, high-bluffed islands, seals, sea otters and sea lions lounging in shimmering green kelp beds, spouting gray whales, bald eagles perched high in sullen Sitka spruce, killer sunsets, and even pre-Columbian native history represented in the petroglyphs at Wedding Rocks.


Overview

: These scattered campsites are located along a 3-mile stretch of the ONP Ocean Strip 3.1 miles from the Lake Ozette Ranger Station, reservations are recommended between May 1 and September 30; GPS 48.1537, -124.6687 at the trailhead.
Facilities: Two pit toilets are available at Cape Alava and two at Sand Point . There are streams at both Cape Alava and Sand Point, but the tea-colored water should be treated. Boardwalks are built on most stretches of the trail. Firepits are in most sites at Cape Alava. Firewood gathering from forested areas is strictly forbidden, as some campers have damaged iconic trees. Driftwood gathering for fires is allowed (sparse at Cape Alava), although open fires here are permitted only in the Cape Alava area north of Wedding Rocks (prohibited at Sand Point). Butane stoves are strongly recommended.


Recreation

: Note that a single 9.2-mile loop trail connects Lake Ozette, Cape Alava, and Sand Point. One-half mile north of the beach access point at Cape Alava is the Ozette Indian Village excavation site. Around 1700 this Makah village was buried in a landslide in true Pompeii fashion, and everything preserved. Over 55,000 artifacts have been recovered, including several Long Houses, some dating back 2,000 years. It is closed to the public (artifacts are displayed in the Makah Cultural and Research Center in Neah Bay), but many petroglyphs and other reminders are readily visible in the area. The walk to Tskawahya Island at low tide is a kick, but don't linger too long or you'll be swimming back.


Trailhead

: From Port Angeles, head west on U.S. Highway 101 for about 4.5 miles. Turn right to continue west on SR 112 for 54.6 miles, 4.5 miles beyond the town of Clallam Bay. Turn south/left on Hoko-Ozette Road and drive 22 miles to the Ozette Ranger Station and trailhead. Obtain permits in person at the Wilderness Information Center (WIC) in Port Angeles or at the South Shore Lake Quinault Ranger Station.
Campsites (20 tent sites at Sand Point, including 6 double sites and 2 group sites; and 15 single sites at Cape Alava; a NPS Wilderness Pass is required, along with back country fees and an entrance fee at Ozette): Groups are limited to 12 people. Groups of 6-11 must occupy double sites or group sites, while groups of 12 or more must occupy separate double or group sites. Groups of 12 or more must also travel in separate groups at least 1 mile apart. Be aware that pets and wheeled devices are prohibited on coastal beaches and trails. All food, garbage, and scented items must be stored in park-approved containers due to hungry and tenacious raccoons. A map and tide tables are recommended in reaching your campsites on dry land.


Trip Notes

: This is the westernmost point in the contiguous 48 states, and it feels like leaning out over the hull of an ocean-going ship to take in the entire Pacific Ocean. The briny smell of the kelp beds, the unexpected pocket coves, and the tidepools made for endless exploration. The shorebirds here are a far cry from those of the southern Washington coast where I was born. I wished I had brought my Audubon guide, as I couldn't identify most. This is a world unto itself -- not Willapa Harbor, Grays Harbor, or the Oregon Coast. It is rough, ever-changing, and forever fascinating.


Local Alternative

: Shi Shi Beach, just north of Cape Alava, lies within the Makah Indian Reservation. As such, a Makah Recreation Pass must be purchased in Neah Bay prior to arriving at any reservation trailhead. An NPS Wilderness Permit is also required for overnight camping. The Trailhead is located at the fish hatchery in Neah Bay. The entire hike-in is 8 miles round trip with campsites scattered on the beach and upland forest. It has 3 pit toilets, and access to tidepools and the incredible Point of Arches, the single roughest stretch of shore within the ONP Ocean Strip.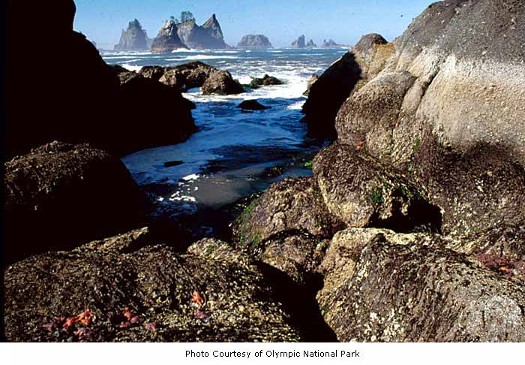 For more photos of Cape Alava and Sand Point click HERE
Lake Ozette Boat-In Campsites ONP

(Clallam Co.'s BEST BOAT-IN CAMPING)
Lake Ozette in one of Washington's most remote and, at eight miles long and three miles wide, the largest unaltered natural lake in Washington. A 2-mile wide strip of land separates it from the Pacific Ocean. At 33' elevation and 300' deep, Lake Ozette reaches far below sea level. This creates a unique, primordial environment that is as close to nature as you'll ever find.


Overview

: These scattered sites are set on the shores of 7787-acre Lake Ozette at 32' elevation, open year round; GPS to Ozette C.G. are 48.153, -124.6669.


Facilities

: There are boat launches at Ozette CG and Swan Bay.


Recreation

: Canoeing and kayaking go without saying. Lake Ozette is home to 13 species of fish, including bass, coho salmon, cutthroat trout, perch, kokanee salmon, and sockeye salmon. Short trails (2.0-3.1 miles) to the coast start at Ozette CG and the east side of Ericsons Bay, but the latter can be slippery. Motorboating and water-skiing are allowed on Ozette Lake, but boats may not exceed 5 mph or create a wake within 150 feet of the shoreline.


Campsites

(primitive sites can be found at Ericsons Bay Camp, Garden Island, the south end of Tivoli Island, Eagle Point near Ericsons Bay, Allens Bay, Benson Point near Swan Bay, and other isolated locations along the shore; a NPS Wilderness Pass is required, along with back country fees and an entrance fee at Ozette): Ericsons Bay Camp is often the primary destination with multiple sites. Other sites are more scattered. The biggest problem boaters have is simply finding them. The large surface of the Lake can cause waves to whip up in a hurry, fog can set it and, more to the point, lake levels can vary up to about 4' according to the season causing disorientation. Remember: the higher the lake levels, the more difficult the landing. Be sure you have a back up plan if you're honing in on a specific location. Most boaters find Ericsons Bay and Tivoli Island the easiest destinations to find, although Tivoli is near the distant south end of the island. Tivoli has sandy beaches, plus sites set back into the woods. Ericsons Bay can be wild and muddy but, much like Allens Bay, has a trail to the coast.


Trip Notes

: Why is boat-in camping at Lake Ozette like a box of chocolates? Yes, we've all heard Forest Gump say, "You never know what you're going to get." The large size and relatively shallow waters around the shore can make it change almost daily. What you will get is privacy, a connection with nature in its more primal form, and getting as far from the city lights as you can get without setting sail on the Pacific. These trips are often made by Boy Scouts. If they can do it, so can most boaters and campers and, like them, you'll want to come back.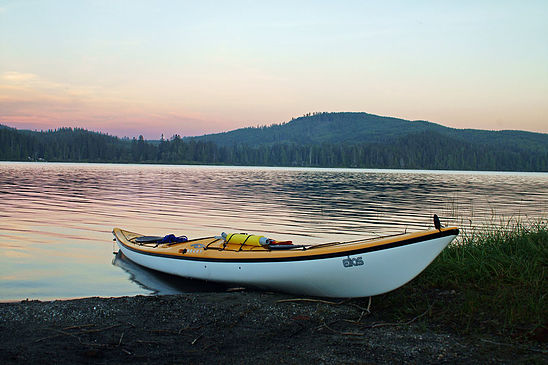 Boat-In Camping on Lake Ozette
For more photos of Lake Ozette Boat-In Camping click HERE