BENTON COUNTY (Prosser/Richland/Kennewick)
Benton County was named for Missouri Senator Thomas Hart Benton (1821-1851), or "Old Bullion," who was a staunch advocate for westward expansion. The County was once sage-steppe desert, but with irrigation from the confluence of the Columbia, Snake, and Yakima Rivers, this county transformed from bunch grass and sagebrush to farm products like wheat, alfalfa, grapes, strawberries, and potatoes, producing much "bullion" to spark the local economy. Later industries included shipping, nuclear power and (Eureka!) tourism and outdoor recreation.

Crow Butte Park

(B

enton Co.s BEST CG FOR FAMILIES and MOST APPEALING CG TO THE SENSES)
This campground is rated by some as the most popular campground in Washington; local promoters tout it as the "Maui of the Columbia." Silly people, this is desert after all. But it is a well-managed desert island experience that is one of our favorites.


Overview

: This utterly unique campground is located 6 miles west of Paterson occupying an entire 1500-acre Columbia River island with a bridge to the mainland, run by the Port of Benton at an elevation of 641', open March 15 - Oct 31; GPS 45.85541, -119.8511.


Facilities

: Wonderfully equipped with Day Use and overnight facilities, these include bathrooms with showers, picnic tables and fire pits, a protected swimming area, concession stand, playground, hiking trails, boat ramp, marina, RV dump, and camp hosts.


Recreation

: We strongly recommend hiking every trail on the island, as they lead to remote beaches, and sweeping views of the Umatilla Wildlife Refuge to the north, with its many islands. Just watch out for rattlesnakes. Boating, swimming, and fishing are also popular.


Campsites:

(50 sites for tents and RVs up to 90' with full hookups 20/30/50 amp, one primitive Group Camp for up to 100 people, reservable): Sites are arranged in one large loop with thorough irrigation -- spacious and grassy with adequate privacy. About half are on the water. The large shade trees provide a cooling effect in an otherwise very hot area. The sprawling, grassy Day Use Area is adjacent to the camping area, with the marina just beyond, making the Park seem much larger.


Trip Notes

: Our much anticipated trip to the "most popular campground in WA" was mostly favorable. The entire greenbelt from the marina through the huge day use area and the spacious camping area was lush and green. Large trees provided shade, and a cool breeze off the Columbia River kept us comfortable most days. This entire strip was meticulous with unobtrusive caretakers. The trails were not well maintained (nor are they irrigated), with sagebrush blocking the paths in several places -- all the while warning of rattlesnakes. Also, the train and highway noise was pretty persistent. The main campground lends itself mostly to large and small RVs, though tent camping would be glorious. The detached Group Camp was not as lush as the main campground/day use area/marina, was somewhat shabby, unused during our stay, and cannot be recommended. However, the bottom line is this fits our ultimate criteria for camping: Would we have been happy staying within the Park without leaving? The answer is a resounding YES, as it is the best of getaways. One word of warning, however. This Park is very remote, and the nearest store is 14.5 miles away in Paterson. Even this has very limited stock, so come prepared and plan to stay put.

So, let's review the promoters' claim that Crow Butte is the "Maui of the Columbia:

Three Reasons Crow Butte is NOT like Maui:
1. Maui doesn't have noisy trains traveling both directions night and day.
2. Maui doesn't have snakes.
3. Maui's sandy beaches have more sand than river rock.

Three Reasons Crow Butte IS like Maui:
1. It is an island known for its lush green foliage.
2. Summer temperatures are similar, and the water is warm in the secluded swimming areas.
3. Crow Butte is part of a chain of islands designated as the Umatilla Wildlife Refuge with exceptional natural beauty.

That should satisfy critics and promoters alike.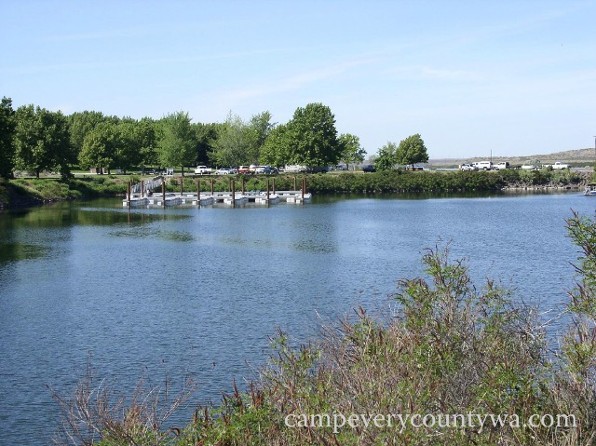 The marina at Crow Butte Park makes it both a drive-in and boat-in destination
For more photos of Crow Butte Park click HERE
Plymouth Park Campground

(Benton Co.'s BEST EQUIPPED/BEST CG FOR RVs and BEST BIKE-IN CG)
No pilgrims at this Plymouth, but the small town and park were named for a huge basaltic rock that projects into the Columbia River, considerably larger than the original Plymouth Rock. The Park has become popular with RVers, tenters, and bicyclists who like to rest near this intersection of Highway 12 and Interstate 83, pondering their options in all directions.


Overview

: Located 26 miles south of Kennewick near the Columbia River, operated by the US Army COE at 285' elevation, open April 1 to October 31; GPS 45.9332, -119.3481.


Facilities

include lush and pit toilets, showers, drinking water, picnic tables, fire grills, laundry facilities, playground, RV dump station and camp hosts. The Day Use Area (located on a small island on Lake Umatilla on the Columbia River) has a swimming beach, boat ramp, and courtesy dock. Although this is regarded as a mostly RV campground, it is good for bicyclers due to its proximity to Highway 14 with amenities and services (albeit limited) in the small town of Plymouth.


Recreation

: This includes fishing for chinook, shad, steelhead, sturgeon, and walleye; star gazing, swimming, boating, water skiing and hunting. Mule deer, waterfowl and raptors are commonly seen.


Campsites

(32 sites for tents and RVs up to 45', 16 with full hookups and 16 with electric & water 30/50 amp, reservable): This tidy, well-maintained park is covered with tall sage and Russian olive trees for shade, with some sites more exposed. Sites are flat, well-spaced, and mostly pull-throughs, but provide only minimal privacy. There is some road noise.


Trip Notes

: This is one of the most meticulous campgrounds around, with all paved roads and parking pads. The grounds are lush and grassy, with a very garden-like atmosphere. The Day Use Area, though popular with fishermen and swimmers, is more arid and brushy.


Local Attractions

: McNary Dam and Visitor Center and Lake Wallula are two miles upstream from the campground.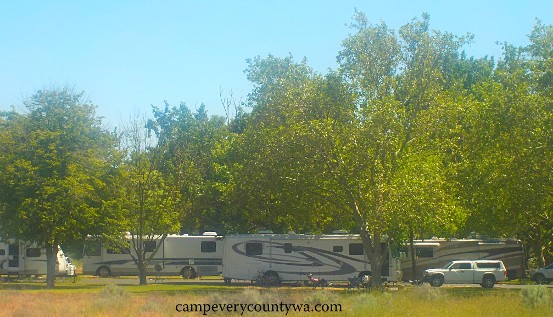 Plymouth Park was made for RVs, but tenters like its flat, lush landscape
For more photos of Plymouth Park CG click HERE
Horn Rapids County Park

(Benton Co.'s MOST UNIQUELY WASHINGTON CG)


This is Benton Co.'s premier natural area with many unique and ecclectic features. Flocks of pelicans, ordinarily found near salt water, gather regularly at the rapids on the Yakima River. Insect lovers come here to visit this renowned sanctuary for the quantity and variety of dragonflies. A model airplane facility run by the Miniature Aircraft Association provides space for remote-control plane flying. That is only the beginning -- they really pack it in here.




Overview

: Located 9.9 miles northwest of Richland with 4 miles of Yakima River frontage on 800 acres, operated by Benton Co. Parks at 375' elevation, open May to September; GPS 46.380968, -119.43391.


Facilities

: Include are bathrooms with showers, piped water, picnic tables, fire grills, boat launch, a Day Use Area with a kiosk/gazebo, hiking/biking trails, equestrian facilities, an RV dump, and camp hosts in the summer.


Recreation

: This includes fishing for small mouth bass, catfish, trout, and salmon. The area is pending as an "Important Bird Area" by the Audubon Society. Stargazing/astronomy opportunites are good. There is no swimming due to swift currents.


Campsites

(16 sites for tents or RVs of any size, full hookups 30/50 amp, resevable): The camping area is one large loop with shade trees on two sides and one towering weeping willow in the middle. The flat and spacious sites have paved pads, average privacy, and are a mixture of pull-throughs and back-ins in a mostly open area with many acres of well-manicured and well-watered lawns.


Trip Notes

: Watching the snow-white pelicans lined up underneath the spillway of the Rapids is a site to behold, where these well-fed beauties have found the ultimate "all you can eat fish buffet." There is a gun range close by, and a shooting tournament in action during our stay, but we heard no noise. The boat launch and fishing area gave a remarkable view of the beautiful Yakima River around the Horn, with its many towering trees, white houses, sea planes, and farmlands beyond. This is, however, a place where you'll have to walk outside your campsite to appreciate the beauty and complexity of this place.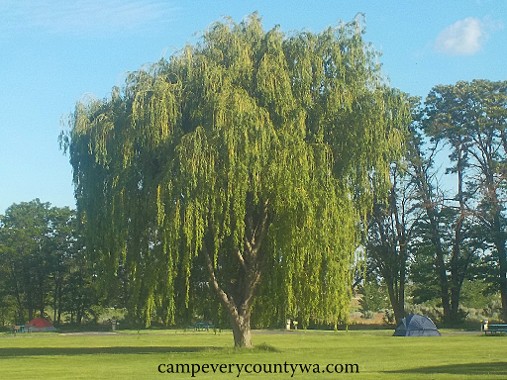 The giant weeping willow is the centerpiece of Horn Rapids Park
For more photos of Horn Rapids Park and CG click HERE
Horse Heaven Hills

(Benton Co.'s BEST FREE and RUSTIC CAMPSITES)


Bands of wild horses once roamed here, in the formerly arid lands between the lower Yakima Valley and Columbia River. Today it is ranked among the most fertile irrigated lands in the U.S. of A, named an American Viticultural Area with livestock, multiple crops, a host of wineries and, if campers look carefully, the occasional campsite from which to view this remarkable area from the inside out.




Overview

: Located primarily just south of the area between Prosser and Benton City, operated by the Bureau of Land Management (BLM), open year round; GPS 46.245328, -119.520915.


Facilities

: The only area with amenities is the BLM Horse Heaven Vista Unit (don't confuse with Horse Heaven Vista Park in Prosser) and includes a privy, a viewing kiosk, a huge interpretive sign, and a 2-acre parking/camping area. There is no water.


Recreation

: There is hiking in the area, including the top of McBee Hill (a 2 mile day hike) and a 6.8-mile round trip hike starting just south of Kiona (trailhead GPS 46.2391, -119.4847). Multiple breweries and wineries in the area include McKinley Springs Winery, Chateau Champoux, Zefina Winery, and Columbia Crest Winery near Paterson.


Campsites

(dispersed camping, no water or reservations, FREE of charge), A special note: This area is largely private cropland, which owners must guard for their livlihood. Be respectful of private property and restrict camping to the edges of parking lots and public rest areas that are not marked otherwise.


Trip Notes

: We came expecting arid, barren hillsides and dust in our coffee. What we found instead were rolling, verdant farmlands, with better viticultural vistas of the lower Yakima Valley than we have ever seen. We entered from the tiny community of Kiona and drove up west of N.McBee Rd where we looked down on Benton City and the many signs that said NO CAMPING! Just beyond, a gravel side road entered at an angle, creating a small bowl-like camping/parking area (which is also the trailhead for McBee Hill trail). We followed the roads west until we found ourselves above the City of Prosser, and pulled into what looked like an unmarked rest stop. Here we found a viewing kiosk with unobstructed views of the valley below, a privy, parking lot, a huge interpretive sign, and a flat area beyond where truckers and campers often stop for the night. While this is not the most remote area in the Horse Heaven Hills, it is certainly the most accessible and the one we chose.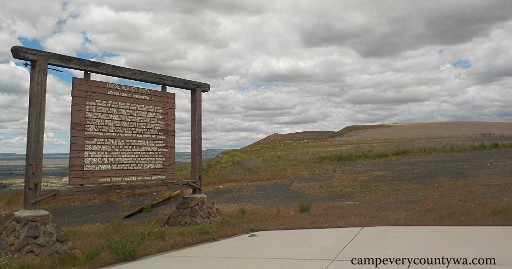 The interpretive sign in Horse Heaven Hills ovlerlooking the City of Prosser
For more photos of Horse Heaven Hills click HERE
OTHER CAMPGROUNDS: There are no Hike-In Only, Boat-In Only, OR GROUP CGs in Benton Co. that we can recommend at this time.