ASOTIN COUNTY (Clarkston/Asotin/Anatone)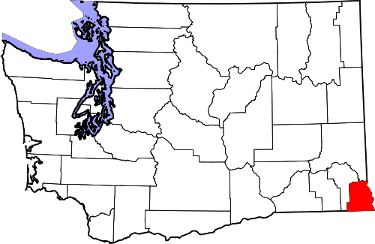 Tucked away in the southeastern corner of Washington State lies the Wild West County of Asotin, with its colorful history as part of the Lewis and Clark Trail and former Nez Perce Indian Reservation. The county is calmer now, part of the Banana Belt of Washington and a county for all seasons with summer sports along the Snake River, year round fishing on the Grande Ronde River, and hiking and winter sports in the Blue Mountains.
Snake River Region
The Snake River defines the northern and eastern boundary of Asotin Co. with two distinct sections. The portion extending in an east-west direction is a series of lakes, formed by the damming and taming of this otherwise wild and mighty river. The north-south portion of the river flows freely, being undammed, and leading into the remarkable Snake River Canyon, better known as Hells Canyon. Recreation here varies from quiet camping on islands in the Snake to whitewater rafting on one of the most challenging river runs in the country.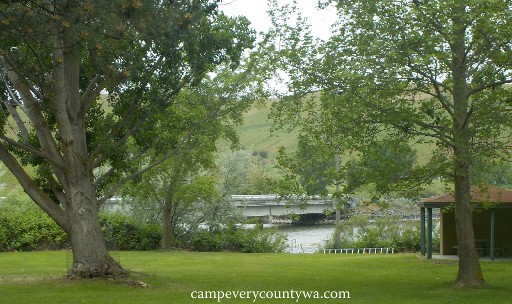 Chief Timothy Park occupies Silcott Island with a bridge to the mainland.
For more photos of Chief Timothy Park click HERE
Blue Mountain Region
This is the Pacific Northwest's "unknown" mountain range, tucked away in the remote corners of southeastern Washington and northeastern Oregon. It is named for the deep blue hue of its pine trees, and known for its deep river valleys and modest peaks, ranging from 1600' to 6500' in height, forming a rampart against Hells Canyon, which plunges over one mile to the Snake River below.
Fields Spring State Park

(Asotin Co.'s MOST APPEALING CG TO THE SENSES and includes BEST GROUP CAMP)
This Blue Mountain beauty sits on top of Puffer Butte with spectacular views of three states, including the Grande Ronde River, the Snake River Canyon, and the Wallowa Mountains. Wildflowers in the spring give way to huckleberries, wildlife and blue skies to match the mountains in the summer, before becoming blanketed with snow for the winter.


Overview

: This remote 792-acre park is located 30 miles south of Clarkston and 4.5 miles south of Anatone at 4003' elevation, open year round; GPS 46.0816, -117.1674.


Facilities

: This uniquely equipped campground includes flush toilets, running water, showers, one ADA bathroom, picnic tables, fire grills, playground equipment, and one kitchen shelter with electricity. Rentals include Wohelo Lodge (capacity for 20), Puffer Butte Lodge (capacity for up to 80), Tamarack Cabin (sleeps 4), and two teepees (sleep 8 each). The two teepees combine for a unique and remarkable Group Camp, and are available July through Labor Day.


Summer Recreation

: Includes 3 miles of hiking trails and 7 miles of biking trails with views that simultaneousy include Washington, Oregon, and Idaho. Berry picking is also popular.


Winter Recreation

: This groomed Blue Mountain Sno-Park features cross-country skiing tracks, a 9km skating land, a designated snowshoe route, a tubing hill, designated snow play area, warming huts, and sanitary facilities. This is one of the most extensive sno-parks in the Washington S.P. system. A Sno-Park Pass is required.


Campsites

(20 sites for tents and RVs up to 30', no hookups, 2 teepees & 1 cabin & 2 lodges, no reservations): Campsites are private, but awkwardly arranged and hilly. Camping areas are covered with ponderosa pine, Douglas fir, grand fir, and western larch -- a far cry from the dry wheatland plateau in the northern half of the County.
Trip notes: This meandering park is great for dog walking and hiking. The campground itself offers a variety of scenery with farmhouses, cabins, teepees and Tamarack Cabin for rent, retreat houses, and the actual spring, framed with "vintage" rockery and wood planking, reminiscent of the 1940s. We had a short stay, and did not hike the trails, which are a main draw.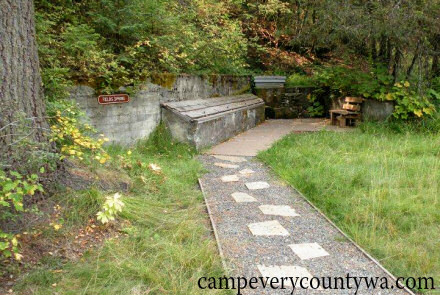 The Spring is framed with vintage rockery reminiscent of the 1940s
For more photos of Fields Spring S.P. click HERE
Grande Ronde River
This magnificent river forms a giant loop beginning in the Blue Mountains of Oregon. Once flowing through Oregon's rugged canyons, it crosses the Washington border and snakes 40 miles through open, grass covered hills with forested pockets and tributary canyons before flowing into the Snake River at Washington State's southeasternmost point. Around every bend of this serpentine river lies another bend, and with each bend a complete change in scenery. One bend may show only basalt cliffs; another might stumble upon mountain goats dropping down to the water's edge; while yet another may reveal a magnificent vista of wildflowers and mountain peaks. It's all there for the visiting.
Bezona Campground

(Asotin Co.'s BEST BIKE-IN CG, BEST RUSTIC C.G., and BEST FREE CG.)
This rustic little campground can boast only of its simplicity, being a quiet getaway, or a launching pad for fishing or boating on the Grande Ronde River.


Overview

: This remote and primitive campground is located 31.4 miles south of Asotin on the Grande Ronde River, operated by the WDFW at 1274' elevation, and open year round; GPS 46.03511, -117.27360.


Facilities

: Vault toilets are the only amenity in this primitive campground. The river water is pure enough for drinking.


Recreation

: In short, the campground is about one magnificent river. From September to April it is one of Washington's best steelehead streams. During the summer you can enjoy shore fishing for smallmouth bass, channel catfish, chinook salmon, summer run steelhead, sturgeon, bull and rainbow trout. Whitewater rafting is popular along this entire river. A pleasant 27-mile long stretch of grade II-IV whitewater stretch from Bezona to the river's mouth at Heller Bar on the Snake River. Two put-in sites lie upstream from Bezona at Botts and Cottonwood (great for tube floaters); other put-in/take-outs can be found at Boggans (also good for tube floaters), Shumaker Grade, Ebsen, and ultimately Heller Bar (all more approriate for kayakers). This campground may be outdone by the beauty of the Grande Ronde River, but hiking is good here as well. Indian Tom Trail, the Wenatchee Creek Trail, and Buffalo Eddy Trail are all nearby. Buffalo Eddy, in particular, is known for its Indian petroglyphs. For more information, contact the National Park Service websites.


Campsites

(several sites for tents or small RVs, no hookups or reservations, FREE with Discover Pass): Sites on gravel pads, partly shady, very flat, and private due to low use.


Trip Notes/Directions

: Yes, this one really is about the River. Here are some tips from a camper who struggled to find the place. Boggan's Oasis sits at the base of a series of extreme switchbacks on the Grande Ronde River. Turn west here on Grande Ronde Rd and drive 1.6 miles. Bezona C.G. lies on the left of the first of 3 areas marked for "Public Fishing." The second public fishing area is the prettiest, but no longer allows campging since the building of the Cottonwood Assimilation Pond Facility. The third, which allows camping, is marked as "Botts" and is very much like the Bezona site. The campgrounds are rather plain, but sit on the most magnificent of small rivers. This is definitely the place for those who love nature more than the comforts of home.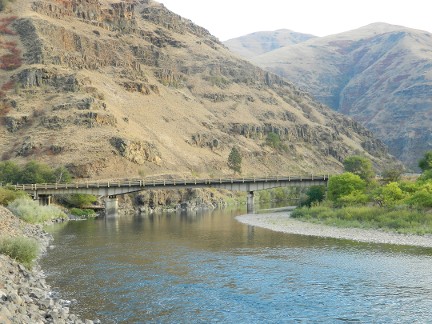 The serpentine Grande Ronde River has surprises around every bend
For more photos of Bezona CG click HERE
OTHER CAMPGROUNDS: There are no Hike-In Only Campgrounds or Boat-In Only Campgrounds in Asotin Co. that we can recommend at this time.