ADAMS COUNTY (Ritzville, Othello)
Wheat fields, apple orchards, and potato farming in the glacially-washed soil left by Ice Age floods dominate this rural and picturesque county. There are few camping options here, with only 7.3% of the County being public land. The majority of land is rolling wheatfields, with a timeless rhythm of its own.

Seep Lakes/Othello Area
The Columbia Basin, or Columbia Plateau to some, was originally designated on maps as the "Columbia Desert." With the coming of the Columbia Basic Reclamation Project in the 1940s, the desert was transformed into rich farmland. High elevation reservoirs and irrigation ditches tended to leak downhill, raising the water table and forming a series of "seep lakes" in the lower lying areas. So what we have now, on the edges of the farmland, is a desert spotted with many lakes, and with it a wide variety and large numbers of birds, a situation not normally found in nature. And you won't find that anywhere else but in Washington.
Lyle Lake Campground

(Adams Co.'s

BEST FREE CG and MOST UNIQUELY WASHINGTON CG

)


The Adams County seep lakes are on the furthest edge of the desert, away from the Reclamation project and irrigation. This is an opportunity to see what is left of the "Columbia Desert," spotted with many lakes, and close to the well-equipped town of Othello -- to marvel at nature and get the desert experience, without being left high and dry.


Overview

: Located 5 miles north of Othello, this area includes 12-acre Lyle Lake, 34.7-acre Herman Lake South, and 12-acre Quail Lake, operated by the Washington Dept. of Fish & Wildlife (WDFW) at 934' elevation, open year round; GPS 46.89540, -119.20274.


Facilities

: Lyle Lake has a pit toilet. Otherwise, the campgrounds are primitive with no drinking water. Roads into the area and between lakes are gravel. Quail Lake is accessible by trail only.


Recreation

: Fishing for rainbow trout has been restored with the eradication of predator carp in 2012. Duck hunting is very good in season. In March and April, over 35,000 sandhill cranes land here on their northern migrations with their throaty whoops, gangly legs, and giant fluttering wings. The Sandhill Crane Festival is held annually in Othello in mid-March. After April, bird watching remains good for pelicans, Canada geese, mallards and swans. There is a birding trail just 3 miles northwest of Lyle Lake that we recommend for its basalt cliffs and desert stream. Canoeing is good in T-shaped Lyle Lake and square Herman Lake. The prettiest and best canoeing lakes are nearby Shiner and Hutchinson lakes, just 3 miles north of Lyle Lake. Hiking is good in 3 nearby trails: Frog Lake Trail (3 miles onto a mesa with views of the refuge landscape), Marsh Loop (1.8 miles circle two marshes), and the more difficult Crab Creek Trail (1 mile following Crab Creek).


Campsites

: Camping is primitive and dispersed on native material and gravel. There are up to about 7 sites, two of which are walk-ins. Use of these lakes is light, so privacy is the norm. Vegetation consists of grasses and sagebrush. Camping is FREE of charge with a Discover Pass. Note that Lyle, Herman, and Quail Lakes lie within one mile of the Columbia National Wildlife Refuge, where camping is not permitted.


Trip Notes

: Have you ever noticed how some people look at a purebred dog, let's say an English Bulldog, and think it's crazy ugly while other people think it has unparalled beauty? Hold that thought. This is an area of extreme stark beauty, but it's not for everyone. People will love it or hate it. It is, however, utterly unique to Washington, part of a designated National Natural Landmark, and its sunsets will win you over -- provided you can appreciate both what it is and what it is not. And if none of that works for you, come in late March or early April when the Sandhill cranes are in migration -- a real experience of the senses.


Local Attractions

: The Columbia National Wildlife Refuge covers 30,000 acres and extends well into Grant County. The Wildlife Headquarters is just 1.5 miles from Lyle Lake. The Refuge provides views of ancient lava flows, additional seep lakes, and a wide variety of birds and other wildlife. The Drumheller Channels National Natural Landmark, just 5 miles northwest of Lyle Lake, provides a vantage point to view steep buttes, cliffs, shallow ponds, and sand dunes left behind by ice-age floods.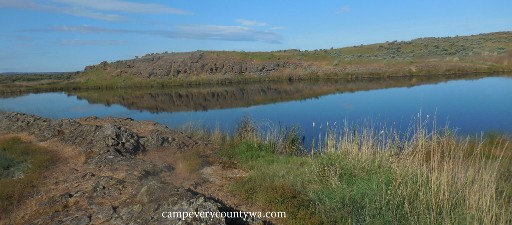 Lyle Lake in the Seep Lakes
For more photos of the Seep Lakes click HERE
Ritzville Area
It would be impossible to represent Adams County without giving a nod to the town of Ritzville, with its rich pioneer history. It is the heart of a huge wheat growing area, and was the largest wheat shipping point in the world. Its historic downtown buildings date from the early 1900s, its greatest period of propsperity. The four-square-block downtown area of Ritzville is listed on the State and National Registers of Historic Places, and should not be overlooked.
The Cedars Inn

(Adams Co.'s BEST EQUIPPED/BEST CG FOR RVs)
This moderately rated Motel with many amenities extends its services to a pleasant, shaded camping area facing the most modern portion of this historic town.


Overview

: Here you'll find camping within the City of Ritzville with good access off I-90. It is adjacent to the Cedars Inn, a full service motel. The RV Park is open year round; GPS 47.11858, -118.36508.


Facilities

: The motel provides access to showers, full bathrooms, laundry, free Wi-Fi and an outdoor pool.


Recreation

: This is a place to both relax and enjoy the sites and history of Ritzville. For golfers, it is close to Ritzville Municipal Golf Course.


Campsites

(39 tent/RV sites for any size RV, full hookups 30/50 amp, reservable): The sites are located behind Cedars Inn, protected from majority of I-90 noise and well shaded, located in the newer portion of Ritzville close to restaurants and services.


Site Visit Notes

: Here's the thing. If you're travelling to Washington all the way from Iowa with six kids, your Uncle Louie and a restless dog, don't make this your destination. Sure, it's definitely the "Real Washington" and it's a lovely site, but it's a very small slice of the pie. Instead, make this a one- or two-nighter as part of a larger camping trip, or use this as a stopover to a more complex campground. But when you do stay here, pay close attention. The campground faces a beautiful green area that includes a pioneer cemetary and the Ritzville watertower. There is a vibrancy to this small town that is infectious, particularly in this newer section of town, providing more than meets the eye.


Local Attractions

: Two museums in Ritzville are heritage tourism destinations: the Dr. Frank R. Burroughs Home (1890) and the Railroad Depot Museum (1910). The downtown area includes the fine Carnegie Library (1907). Historic Ritzville Days, a festival held over Memorial Day weekend, celebrates the community's history and ethnic heritage.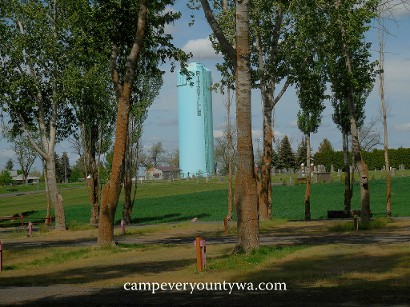 The historic town of Ritzville mixes the old with the new
For more photos of Cedars Inn click HERE
C

ow Lake Campground

(Adams Co.'s BEST RUSTIC CG and MOST APPEALING CG TO THE SENSES)


Cow Lake is a muddy and shallow lake/reservoir in the rolling sage brush covered hills on the northeast side of Adams County. Cow Creek, which drains Sprague Lake, forms Cow Lake, with cattle lapping at the water on the west end. This is Columbia Basin farm country -- life is very basic here, and so is the camping.




Overview

: This 100% rustic campground is located 9 miles east of Ritzville on 199.3-acre Cow Lake, operated by the WDFW at 1753' elevation, open year round; GPS 47.13471679, -118.1600882.


Facilities

: A road and a hand boat launch. Nothing else.


Recreation

: There is good fishing for black crappie, bluegill, brown bullhead, grass pickerel, largemouth bass, and rainbow trout. Kayaking and canoeing are excellent.


Campsites

(Dispersed tent sites only, no reservations, FREE with Discover Pass): Dispersed camping is most popular along the rocky and muddy shore of the east end of the Lake (the western shores are privately owned). The camping area consists of a small, tight, grassy loop protected from the road by rock outcroppings. There are some 6-12' cliffs, plus a large 9 acre island in the middle of the Lake.


Trip Notes

: Our expectations of this were low. Cow Lake? We pictured dodging cow pies through muddy pasture on the way to a murky lake with cattle drinking from the other side. But the lake is beautiful and complex, with many bursts of color and texture. It seems to change and evolve as the sun moves and clouds move in and out. We were impressed by the mere beauty of the place, but scheduled an all too short visit on the way to greener pastures. Don't make the same mistake.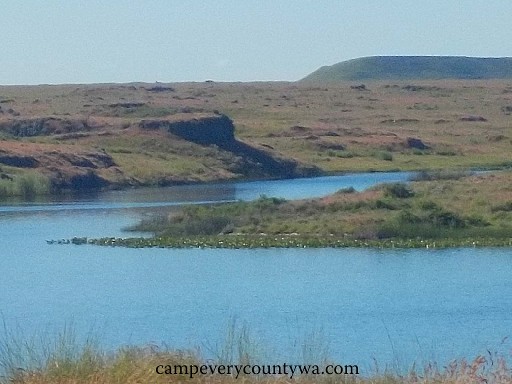 The delicacy and subtlety of the desert creates surprising bursts of color and texture.
For more photos of Cow Lake click HERE
Sprague Lake
This sprawling 1841 acre lake gives up 673 of its acres to cut accros the northeast corner of Adams County. Most people know it only as the lake that parallels Interstate 90 about 35 miles west of Spokane. What they don't know is that it produces some of the best fishing and wind-surfing in this part of the State.
Four Seasons Campground and Resort

(Adams Co.'s BEST CG FOR FAMILIES)


This tucked away campground sits on a game reserve, guaranteeing you will see wildlife during every visit. Go fishing with the rest, or float your kayak out to the island just off shore and see what the birds do in this quiet, undisturbed corner of the county.




Overview

: This cozy campground is located 6 miles west of Sprague on 67 acres with one mile of shoreline on Sprague Lake, privately operated at 1883' elevation, open April 10 to Oct 1st; GPS: 47.2885, -118.0225.


Facilities

: The Resort facilities include bathrooms with showers, running water, picnic tables and fire grills, swimming pool, boat rentals, fish cleaning privy, boat launch, Camp Store, and camp hosts.


Recreation

: This (west) end of Sprague Lake has a consistent low level wind with gusts up to 20 knots, and is the deepest part of the Lake. This gives a big advantage for windsurfing and windsailing, as launching is best here. Additionally, it is great for fishermen, offering shoreline, dock, and boat fishing for bluegill, channel catfish, black crappie, yellow perch, rainbow and cutthroat trout, and large mouth bass. It also faces Harper Island, a designated bird refuge, making good wildlife viewing. Moose and deer also frequent the area. Lake swimming is not permitted due to algae blooms.


Campsites

(38 tent and RV sites w/full hookups 30 amp and 4 rental cabins, all reservable): Sites are spacious with ample vegetation. Tent sites are on a sloped hillside overlooking the dock, while the RV sites are side-by-side and well spaced, all facing the Lake.


Trip Notes

: I normally don't list a campground centered around a single activity other than camping, but the camping can be quite good. The proprietor was extremely welcoming, eager to show pictures of the huge trout pulled from 7-mile Sprague Lake by his campers. The grounds were meticulously manicured and watered. The cabins are well-maintained single-wide trailers. It was surprisingly quiet, despite the presence of railroad tracks and I-90 within throwing distance. This could be a good camping experience, but may not be great for young children, although older children interested in fishing or sailing will love it.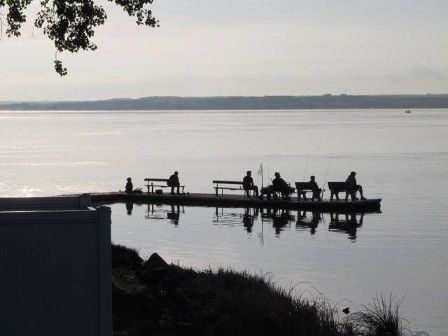 Most campers at Four Seasons indulge in a bit of fishing
For more photos of Four Seasons CG click HERE
OTHER CAMPGROUNDS: There are no Group campgrounds, Hike-In Only campgrounds, or Boat-In Only campgrounds in Adams Co. that we can recommend at this time.